Clever Ideas Under $50 to Instantly Elevate Your Blank Walls
Stop staring at nothing and add some texture and color to your space.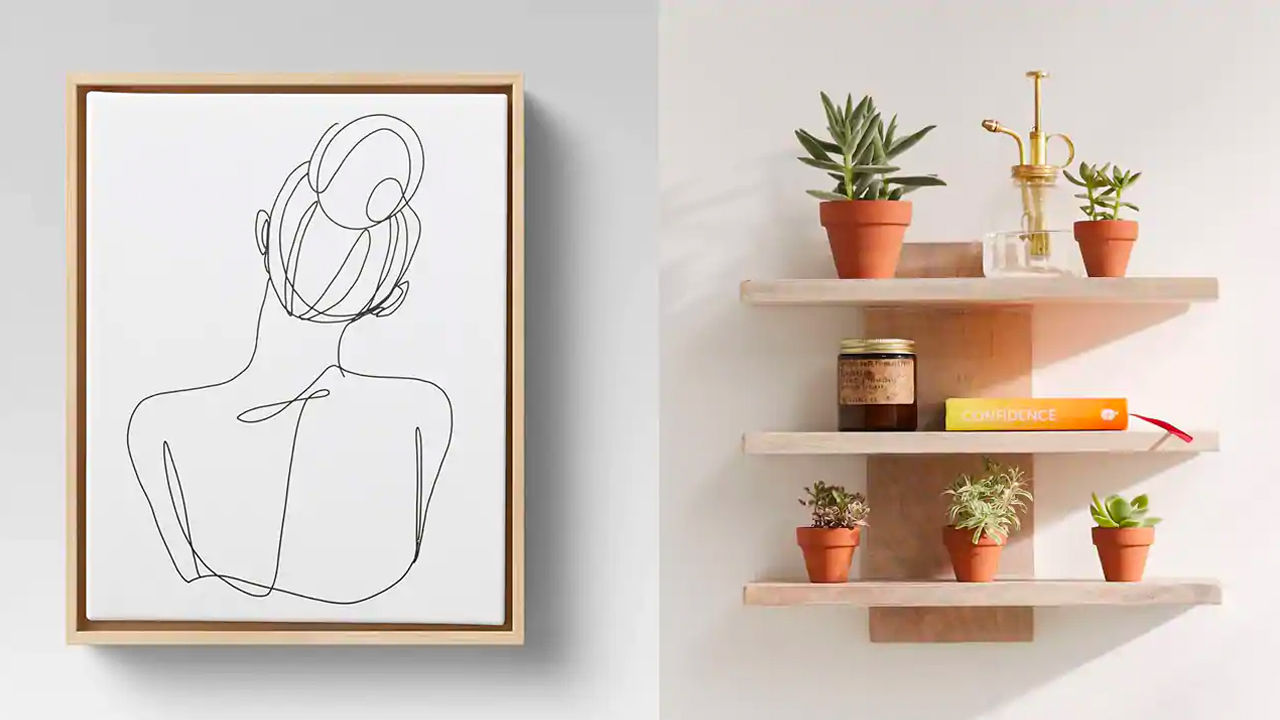 From sprucing things up with a fresh roll of wallpaper to using mirrors to create the illusion that a room is bigger than it actually is, there are many affordable ways to decorate your walls to make them more fun to look at. And it takes no time at all.
Check out all the different ways you can elevate your walls below. What makes each one extra enticing is the fact that we decided to cap this project at $50. Breathe a sigh of relief knowing you can make standout home improvements at a very reasonable price.
Affordable Wall Decorations Under $50
Why not Wallpaper?
Ralph Lauren Anderson Stripe Dress Shirt Blue Wallpaper

Regular Price: $47.75
Treat yourself to next-level decor with Decorator's Best designer wallpaper collection. The brand transforms classic prints like the Ralph Lauren blue stripe dress shirt into budget-friendly wallpaper.
Currently, customers can even save an extra 10% with code SPR20 on all Ralph Lauren fabric and wallpaper along with other select designers. Also, Decorator's Best will make a donation to Feeding America's COVID-19 Response Fund for every order over $50.
Deal Tip: Interested in purchasing wallpaper for multiple rooms? Be sure to sign up for the site's e-mail newsletter to receive a $20 off coupon, which is valid for one purchase of $200 or more (before sales tax and shipping costs).
Add Shelves
Regular Price: $49.00
Shelves can add function and style to any boring background. Once you hang them up, you can customize them with personal framed photos, plants or whatever else you want. Consider Urban Outfitters' Tri-Tier Wall Shelf that just made it under the budget at $49.
Deal Tip: For most online purchases, Urban Outfitters offers interest-free payments through Afterpay. With these shelves, shoppers can choose four interest-free installments of $12.25 instead of paying $49 all at once.
Opt for Art
Opalhouse Woman Figural Wall Canvas White
Regular Price: $9.99
Whether it's colorful or more neutral like Target's under $10 abstract sketch on white canvas, art can brighten up a space and make it more pleasing to the eye.
Deal Tip: Target's complimentary two-day shipping only applies to orders over $35, so feel free to add multiple canvas paintings to your cart and you'll still be under budget.
Pick Some Tile

Metro Gel Peel & Stick Mosaic Tile
Sale Price: $9.99/sq. ft. | Regular Price: $11.05/sq. ft.
Looking for a way to make your kitchen or bathroom more eye-catching? Not only are Wayfair's Peel and Stick Mosaic Tiles super easy to install, you have plenty of clearance styles to choose from.
Deal Tip: Remember, you'll only get free shipping by spending over $49, which is still within the budget. Go ahead, browse the rest of the site for other decorative pieces.
The Ceiling is a Fifth Wall
Sale Price: $41 | Regular Price: $200
Don't overlook the ceiling. Make what many decorators refer to as the "fifth wall" more exciting with a modern light fixture on sale now for $41 from $200, courtesy of Wish.com.
Just Trim It
Magnolia Home Eggshell Cabbage Rose Medium Base Acrylic Paint
Regular Price: $8 per 8 oz. can
If you don't want to take on painting an entire wall, just focus on incorporating color on the trim. It's a lot less work, but will definitely make your walls stand out. Ace Hardware is still open and has a wide selection of indoor acrylic paints for $8.
Deal Tip: Before you finalize your online purchase, sign up for the brand's free Ace Rewards loyalty program to get $4 off a can of paint. That's a 50% discount you certainly don't want to miss out on.
Get a Height Advantage
Hanging Pothos Bush (Set of 3)
Regular Price: $27.99
Get closer to free shipping by pairing Wayfair's peel and stick tile with this hanging Pothos Bush set priced at $27.99. The long dangling ivy plants will highlight the height of your walls and bring new freshness into your home. And it comes in a set of three.
Mirror, Mirror on the Wall
Single Beveled Edge Frameless Mirror
Regular Price: $26.98
Trick the eye into extra space with mirrors. Home Depot has tons of mirrors in different shapes and sizes that you can easily mix and match for a unique accent wall.
Deal Tip: Stay safe by utilizing the home improvement store's free in-store pick-up option. A member of the Home Depot team will gather up your selections for you, so you can be in and out of the store as quickly as possible.
Plate it Up

Sale Price: $27.97 | Regular Price: $34.95
Instead of the dinner table, make your wall one-of-a-kind by hanging your own plate arrangement on it. A solid spot to start is this set of five platter deal from Crate & Barrel on sale for $27.97.
Deal Tip: Become a new e-mail newsletter subscriber and receive an additional 10% off your purchase.
And if you don't like the prices on any of these wall ideas, set up a Deal Alert and get notified of any extra sales.
UP NEXT:
Brighten Up Your Home Office with These Affordable Pops of Color
---
Any product or service prices/offers that appear in this article are accurate at time of publish, and are subject to change without notice. Please verify the actual selling price and offer details on the merchant's site before making a purchase.