5 Athletic Brands as Good as Lululemon but Way Cheaper
Find seriously cheap workout clothes without digging through clearance racks.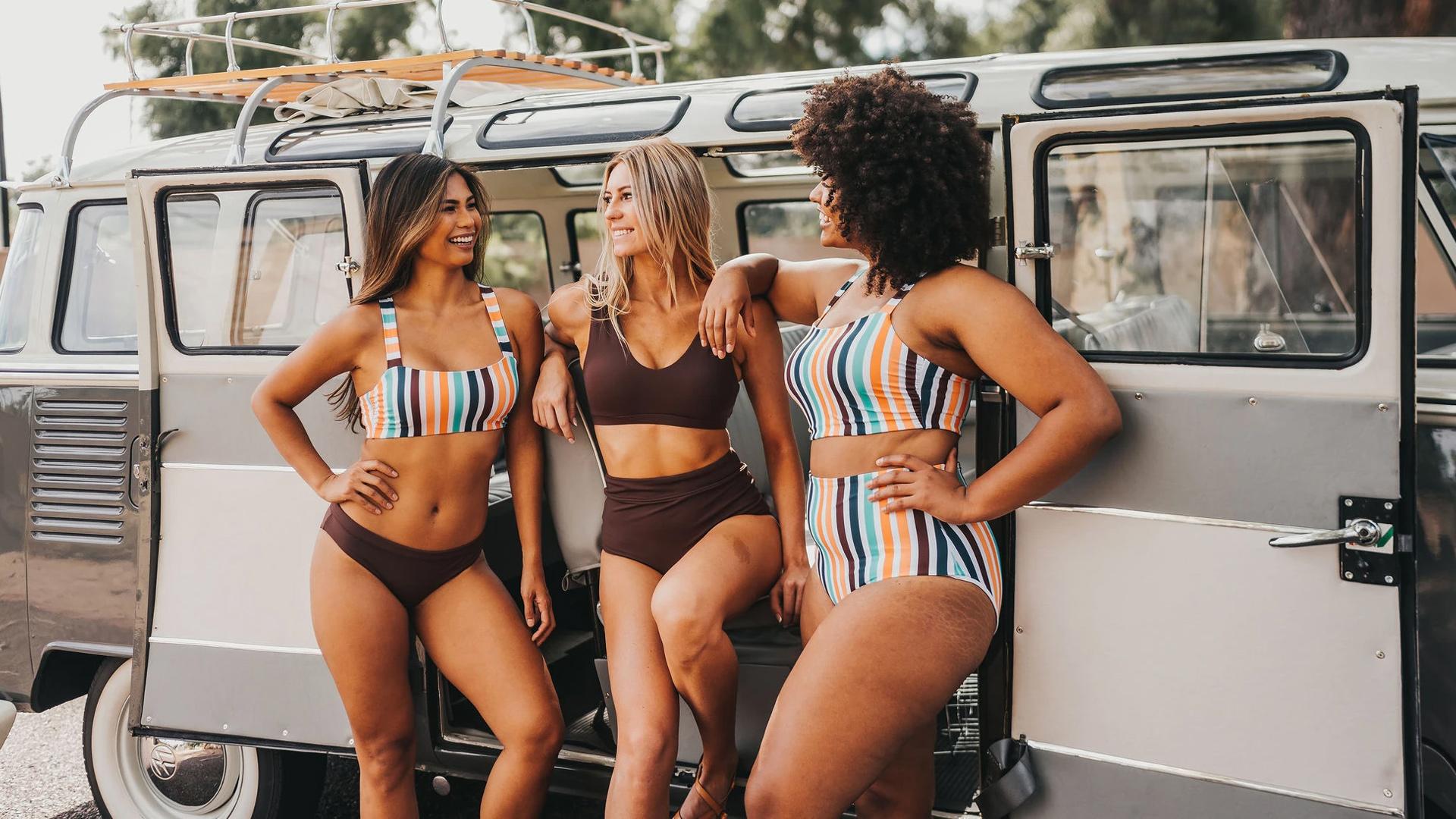 Even for expert deal-hunters, sifting through clearance racks can be a drag — especially when you're looking for new workout clothes, and every pair of shorts you try on doesn't compliment your shape. Count me out. Count yourself out, too, because I've done all the deal-hunting and trying on for you.
I've been exercising for nearly 10 years now, so I've spent more time than I'd like trying and buying activewear. I rounded up my favorite brands and stores for cheap workout clothes, plus where to snag some high-end brands for cheap ahead to save you the time and the money.
---
Where to Find Cheap Everyday Stylish Workout Clothes
Finding stylish workout clothes at the lowest prices, it's is often about scrutinizing clearance racks at stores known to carry quality gear, one hanger at a time. But it's also about knowing where to shop — knowing which stores offer inexpensive clothing year-round, and which ones have high-priced items marked down on the clearance racks.
Target's All In Motion and Champion Gear

Target's activewear has long been a favorite of mine. For years, Target partnered with Champion on a great line, but as of 2020, the retailer has begun phasing out all partner activewear lines and replacing them with its very own called All In Motion.
I can't lie: I was super nervous about All In Motion replacing Champion, but I was pleasantly surprised when I shimmied into a pair of their Sculpted High-Rise Leggings and they fit perfectly. No gap in the back of the waist, no saggy fabric, no weird wrinkles. Best of all? They are only $25 – 30! That's a steal compared to Lululemon's $98 Wunder Train High-Rise Tights.
Old Navy

Old Navy is known for its reasonable prices on everyday clothes, such as jeans, khakis, sweaters and business casual attire. Old Navy workout clothes fall into the same quality category as the rest of Old Navy products: decent and will last at least a couple of years.
In my experience, most Old Navy workout clothes fit pretty well, too — well enough that you feel confident to run, squat and do other workout moves. The quality and prices are certainly worth giving this line a try. Tops typically sell for $20 or less, while bottoms usually sell for $30 or less.
In terms of selection, I can't say much for the in-store stock, because every time I've gone to Old Navy for workout clothes, it always seems to be sold out — which is also a testament to how popular they are. But I've snagged some great deals on workout clothes from the sister brand of Athleta and Hillcity online, both of which have great sale sections worth a look as well.
90 Degree by Reflex

You know that feeling when you finally — I repeat, finally — find that magical pair of leggings that slips over your skin like butter and hugs you in all the right places? Yeah, it's awesome. Every pair of leggings from 90 Degree by Reflex will give you that feeling.
I mainly buy 90 Degree by Reflex from TJ MAXX  and Marshalls. It's worth browsing through the racks for these, because you'll find heavily discounted prices on clothes that were already inexpensive. Basically, it's a sale on top of a sale. But recently, both stores have amazing finds online as well -especially in the brand name workout gear categories.
You can also shop 90 Degree by Reflex online. Don't get sticker shock at their list prices: It seems as if the "sale" price, once you check out the price will drastically drop. For reference, the list price on these Power Flex High Waist leggings is $88, but it's been slashed to $29 –plus get an extra 15% off for signing up for their newsletter.
Shop Marshalls Workout Clothes
Senita Athletics

Senita Athletics blows me away every time I try on a new piece. I consider this brand like Lululemon's cousin or best friend that has a way with frugality. A few reasons I love Senita Athletics:
All Senita fabrics feel like lotion on your skin it's so soft.
The shorts and leggings are 100% squat-proof. Ladies know what I'm talking about.
Everything is under $30!
Senita is a small business that cut out the middle-man to provide cheap but high-quality workout clothes. The founders are two women who were fed up with the high prices of activewear and decided to create their own.
Amazon's Champion C9

Oh, Amazon. You can always count on this massive online retailer to have exactly what you need at a cheaper price. Turns out, that goes for workout clothes, too. As I mentioned before, Target used to sell Champion C9 before they replaced it with All In Motion. It looks like Amazon had no problem scooping up Champion C9, judging by the massive selection of inexpensive athleticwear on the digital storefront.
Shop Amazon Champion C9 for the Entire Family
Champion C9 is a longtime favorite of mine, because most items hover around the $20 range — almost nothing costs more than $40, even outerwear — and the majority of my Champion C9 clothing is going on five or six years with no rips, tears, stretching or discoloration.
Amazon also has its own brand of cheap workout clothes: Amazon Core 10. I haven't personally tried any of these products, but almost all of the items have four to five stars and, judging by the descriptions, materials and reviews, they seem to be rather high-quality.
Shop Amazon Core 10 Women's Workout Clothes
---
Cheap High-Quality Brand Name Workout Clothes
The brands above really do hold their own in terms of quality — but you have to admit there's something grand about a sleek new pair of Adidas leggings or Nike shorts. Any savvy shopper knows to never buy items from these brands at full-price. Outlet stores, clearance sections and, of course, Slickdeals can get you better deals on the big-name workout clothes brands.
Try these stores to find cheap workout clothes from the best brands.
Kohl's has a decent selection of workout clothes from Under Armour and Nike, as well as some Adidas. In-store and online, you can save when Kohl's run sales (or by using your Kohl's card). For instance, these Adidas joggers for men are as low as $0 each.
It's also worth mentioning here that Kohl's has its own brand of inexpensive workout clothes called Tek Gear, which is rather decent and very inexpensive.
Yep, Macy's might be expensive in store, but the online storefront is not. The prices for Nike, Adidas, Under Armour, Columbia and Calvin Klein online often have steep discounts compared to their in-store selection. You can find even bigger discounts on workout clothes on the clearance/closeout section online with many items sell for more than 50 percent off.
There's usually no getting away from markups at Dick's. But every once in a while, this huge sports retailer will run massive sales on Nike, Adidas, Under Armour and other activewear brands, such as Carrie Underwood's Calia.
Yes, Nike.com is worthy of a mention here, because the website often features better deals on workout clothes than what you can find in a Nike store or a retailer that sells Nike workout clothes.
You can set a Deal Alert for all of the above stores on Slickdeals to make sure you never miss a deal on cheap workout clothes.
Shop All Clothing and Apparel Deals
Our editors strive to ensure that the information in this article is accurate as of the date published, but please keep in mind that offers can change. We encourage you to verify all terms and conditions of any product before you apply.