Find The Perfect TV Size for Your Living Space
For the best TV viewing experience, the size of your television should be based on the size of your room.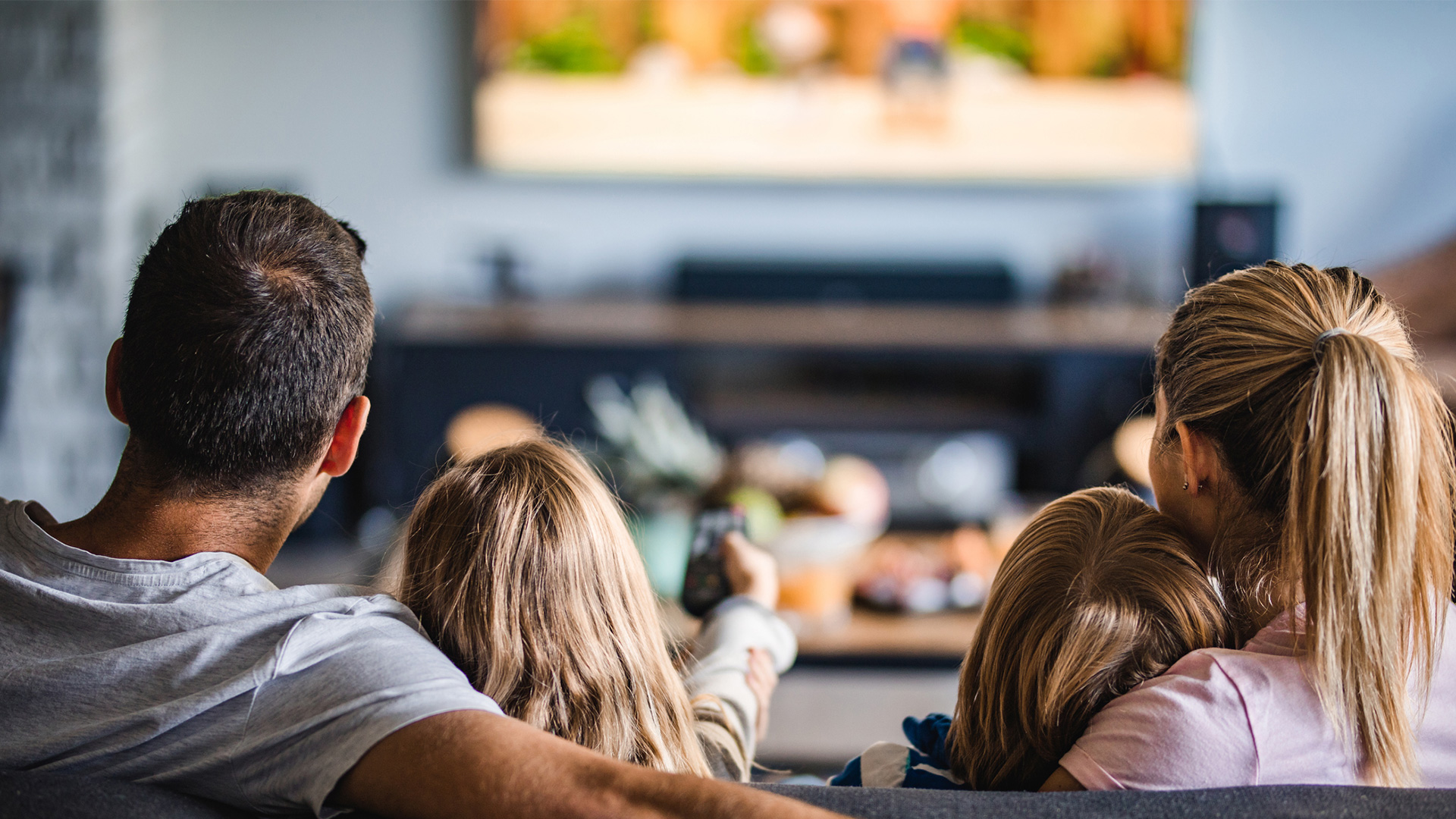 The average American spends more than 3 hours a day watching television, according to the Bureau of Labor Statistics. With that much time glued to the tube, picking an appropriately sized TV for your living room or bedroom is an important consideration.
For some of us, we are tempted to buy the biggest TV we can afford. The average size of a home television in the United States is now 52 inches. But bigger doesn't necessarily mean better, and not every home can comfortably fit a large TV. If you sit too close, your eyes will get strained. If you sit too far away, the images aren't as clear as they could be. When purchasing a new television, make sure you find one the right size based on your home.
How do I choose the right TV size for my room?
Choosing the right size TV for your room primarily depends on the amount of viewing distance available within the layout of your space, as well as the recommended viewing angle.
1. Recommended TV viewing distance

Start off by measuring where you would normally sit to watch TV, and where the TV is placed to get a better idea of the best size TV you need for your room.  The optimal viewing distance changes depending on the resolution display size of your television.
The following optimal distances from TV to viewer are recommended for a 1080p HDTV (1920×1080) display:
50 in. TV = 6.6 ft.
60 in. TV = 7.7 ft.
70 in. TV = 9.2 ft.
For 4K Ultra HD televisions (3840×2160), there is much more detail on the screen compared to 1080p. Some say once you see the quality of 4K you can never go back to 1080p. You can actually sit closer to enjoy the clarity of the image. If you sit too far away, your eyes will see it the same as a 1080p HDTV. The recommended viewing distances for 4K TVs are:
50 in. TV = 3.2 ft.
60 in. TV = 4 ft.
70 in. TV = 4.6 ft.
When it comes to 8K resolution (7680×4320), the amount of detail is even more staggering, but you also have to be even closer to the display for your eyes to really be able to tell the difference from 4K. At further distances it will still look amazing, but you could get the same effect from a cheaper 4K television:
50 in. TV = 1.7 ft.
60 in. TV = 2 ft.
70 in. TV = 2.3 ft.
Here's a simple calculator to easily determine the viewing distance for the TV size you have in mind. Overall, remember that higher definition TVs are best enjoyed up close. If you are going to mount a television on a far wall, in your bedroom for example, a 4K Ultra HD television may look the same as a 1080p TV.
2. Your TV viewing angle (for mounted TVs)

Each viewer in the room needs to be able to have a clear line of sight to the television and shouldn't have to look up more than 15° to comfortably view the screen. If you are mounting a television on a wall you need to keep the angle in mind.
For those who love doing math, here's the equation to determine the right mounting height for your TV:
TV Mounting Height (TVMH) =0.22*VD+ELH
Viewing Distance (VD): How far you are from the TV when watching
Eye-Level Height (ELH): Distance from your eyes to the floor when sitting on your couch
For those who don't want to do the math, here are the general guidelines on the recommended mounting heights for varying TV sizes:
42″ TV = 55 inches from floor to TV center
55″ TV = 60 inches from floor to TV center
65″ TV = 65 inches from floor to TV center
70″ TV = 67 inches from floor to TV center
Do bigger TVs make for a better viewing experience?

When it comes to televisions, bigger is not necessarily better if you have limited space in your home. If you are itching to buy that very large TV that's on sale, you should still consider the viewing experience you, your family and friends will have when watching it. There's a reason not a lot of people sit front row at the movie theater — it can be a neck-craning, eye-fatiguing nightmare. At the same time, you don't want to make the mistake of buying a TV that's too small, so make sure you have all your measurements set before making a purchase.
You also need to consider the design of your living room or bedroom. Does a 75″ TV fit in the design of the room? Will it stand out like a sore thumb? Will it cover critical design aspects? Try outlining the size of your selected TV with painter's tape in the living room or bedroom to see how it will look before ordering the unit.
Should you mount a TV or use a stand?

There are many benefits to using a TV mount over a TV stand:
Save space: If you are in a small apartment, space is a premium. Using a television mount instead of a TV stand means you have one less piece of furniture to fit in your living room.
Open-space aesthetic: Using a TV mount can help create the modern, minimal and open-space feel that many strive for when decorating their home.
Safety: A mounted television is less likely to tip over, which can be scary if you have small children or pets.
At the same time, mounting a TV means you also have to figure out how to hide exposed wires and you'll lose out on the storage of an entertainment center. Whether you mount a TV or use a stand comes down to your personal priorities and preferences on space, aesthetic and safety.
What is a good TV size for a bedroom?

Choosing a perfect television size for a bedroom is a rinse and repeat process from how we figured out the living room, but you are most likely dealing with a smaller space. Overall, people choose a 40″ – 55″ television for a bedroom. A 32″ television will do nicely in smaller bedrooms. You want to avoid choosing a television that's too large for the room size, as it could hurt the viewing experience.
The Big Picture
Buying a television requires some degree of planning. Decide the perfect size of television based on how big your room is first. Then decide if you are going to mount it and do that math to find the optimal placement. Also, consider the sound and picture quality you want in your television. Then check out Slickdeals for best deals on new TVs. If you are looking for a specific TV brand or specs, set a Deal Alert and get instant updates when there is a deal live.
Our editors strive to ensure that the information in this article is accurate as of the date published, but please keep in mind that offers can change. We encourage you to verify all terms and conditions of any product before you apply.