Coffee Maker Buying Guide 2015
There are a lot of options out there, so we put together a list of some of the best options for different types of coffee makers.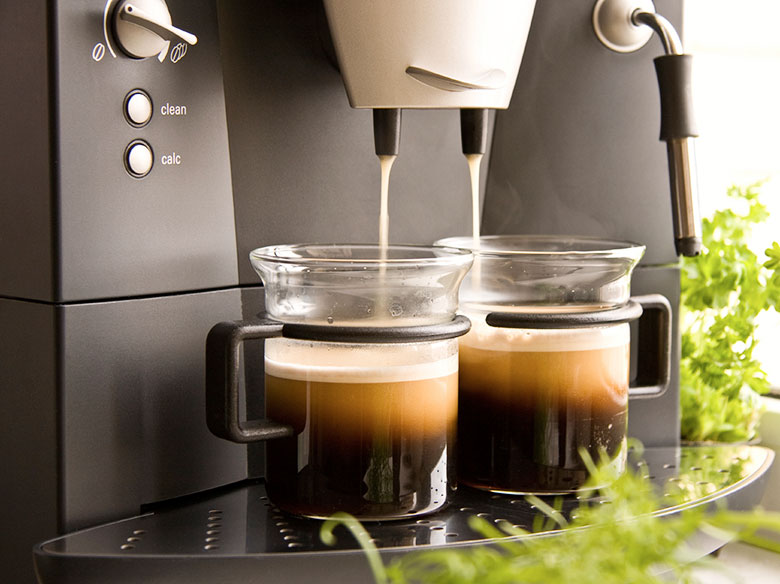 There's a dizzying array of coffee makers on the market, from drip, French press and K-Cups to percolators and espresso machines. Each has its own pros and cons -- not to mention an enthusiastic fan base. Unless you're using a K-Cup or other single cup machine, your best bet for ensuring a heavenly cup of coffee is to start with good quality whole bean coffee and grind it just before using. Coffee snobs often prefer French press or espresso machines for their strong and flavorful brews, but that doesn't mean you can't get a great cup from a drip machine, percolator or other coffeemaker.
Note: the calculated prices for coffee below are based on two cups per day with an estimated cost of $0.42 per cup of coffee (including the cost of high-quality whole beans and a bit of cream and sugar). Prices shown for coffeemakers are current low at time of publication and lowest price seen this year per our
Price Tracker
tool.
Drip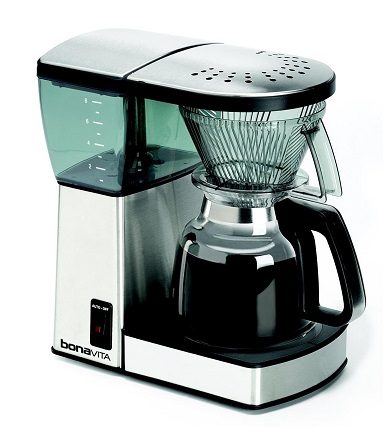 The drip, or automatic drip coffeemaker, is one of the most popular coffee machines on the market today. You'll find thermal, drip and double pot options. Thermals are ideal for brewing large amounts of coffee at once and keeping the coffee warm for an extended period of time. Glass carafe machines are best if you drink your coffee right away and enjoy seeing the quantity of coffee you're brewing. They're also helpful for checking whether there's anything left if you're last to the breakfast table.
Double pot coffeemakers are ideal for entertaining or office settings; they can also simultaneously brew regular and decaf. If you crave convenience, look for machines with pause functionality (which lets you sneak a cup while the machine's still brewing), programmable brewing, and automatic shutoff.
Pros:
Plenty of features
Works with a variety of coffees
Convenient
Cons:
Filters may alter taste
Cumbersome
Flavor sometimes lacking
Price:
$25-$200 for the machine and $25.20 per month for coffee.
Best Bets:
1.
Mr. Coffee BVMC-SJX33GT 12-cup programmable coffeemaker
 (Current low $35/all-time low $19) - This machine comes with a delay brew timer and a freshness timer, which keeps track of how fresh the coffee is once it has been brewed. An optional metal carafe keeps coffee hotter for longer. If you hate messes, you'll love the easy-to-clean filter. A carbon-based water filter tray improves the flavor by removing chlorine during the brewing process. You can push a button for stronger coffee, but some owners still complain of a weak taste. Slickdeal user
bubbadirect's
unit "worked great for 2 months, then stopped working." However, other users give it high reliability ratings.
2.
Cuisinart DCC-1200 Brew Central 12-Cup Programmable Coffeemaker
(Current low $90/all-time low $60) -  Standing out for its accurate heating temperature and charcoal water filter, this model preserves flavor exceptionally well. It emits five audible beeps when the coffee's ready, then gives you around 30 seconds to grab a cup and reinsert the carafe while it's brewing. The housing is quite tall, which can make it tough to lift up the lid all the way if most of your countertop space is underneath cabinets. Several owners say this machine performs best when routinely cleaned or decalcified, especially in households with hard water. Slickdealer
wastedige
cautions that a potentially serious design flaw could cause the machine to catch on fire. However, others say they've had the same unit for years without incident.
3. 
Bonavita BV1800 8-Cup Coffee Maker with Glass Carafe (Current low $142/all-time low $111)
- A 1400 watt heater ensures a precise, ideal temperature for making a flavorful cup in this coffee maker. A unique shower head design promotes full saturation and flavor extraction. Slickdeal user
jaimelobo
notes that while the machine "brews coffee really well," it "doesn't have a timer, it doesn't grind your coffee, and you can't grab a cup while you are brewing." Another user,
barebottoms
, adds that there is no auto drip top, forcing you to wait until the brew cycle is complete to enjoy a cup of coffee. At least one owner took the time to measure the water temperature during the brewing process. The result? 195 to 200 degrees Fahrenheit -- an ideal temperature for extracting optimum flavor.
French Press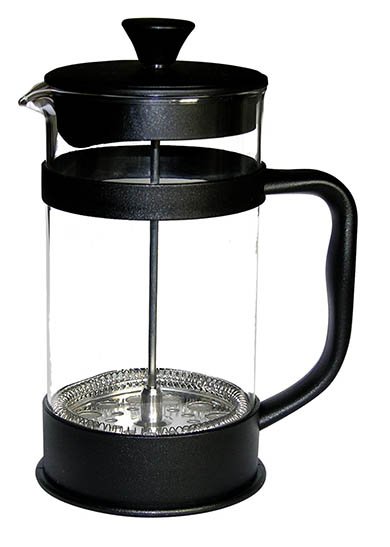 If you enjoy a robust and flavorful cup of coffee, French press is one of the best methods to use. All that's required is hot water and ground coffee. You don't need paper filters -- or even electricity. To use, simply spoon the desired type and amount of coffee into the press, pour hot water over it and stir. Let it sit for a few minutes then slowly press down the filter to separate the grounds from the coffee. The biggest consideration is capacity. If you frequently make coffee for others, you'll want a larger unit. The glass container in a French press is prone to breaking over time, so pay attention to how durable the container feels when you're choosing your press or consider a stainless steel French press. An insulated press will keep your coffee warm for a longer period of time.
Pros:
Simple design
Doesn't require filters
Yields strong, flavorful coffee
Inexpensive
Cons:
Glass beakers prone to cracking
Coffee needs to be served right away
May leave grounds behind
Price:
$15-$50 for the machine and $25.20 for coffee.
Best Bets:
1.
Francois et Mimi Borosilicate Glass French Press Coffee Maker
 (Current low $13.67/all-time low $7) - This model has a micro-mesh filter to catch stray grounds. Despite a recommended brew time of 5 minutes, many owners note that the coffee often gets cold by then. A brew time of 3 to 4 minutes should give you enough flavor without losing heat. Cleaning can be a nuisance, as you'll need to unscrew the filter to get out all the lingering grounds. However, customers really appreciate how durable the glass beaker is, even after using it daily for a long period of time. Many owners note that they can clean the beaker by hand or in the dishwasher without worrying about cracks, chips, or breaks.
2.
Aeropress
(Current low $30/all-time low $21) - Technically, this isn't a French press, but it's pretty close. Slickdeal user
untrueparadox
 calls it a "poor man's espresso machine." While other users noted that it's best for the coffee lover who brews one cup at a time. The Aeropress offers a less acidic cup than most coffeemakers. However, some complain that the flavor is compromised. This may be due to the paper filters it uses -- a problem that can be resolved by purchasing the stainless steel mesh filter instead. The manufacturer suggests using water around 175 degrees F and stirring for 10 seconds for best results. However, several owners have strayed from these recommendations without consequence.
3.
SterlingPro Double Wall Stainless Steel French Coffee Press
 (Current low $47/all-time low $47) - Double-wall construction keeps beverages warm in this model, while ensuring a cool-touch exterior. For best results use 1 rounded tablespoon of coffee per every 4 ounce cup of coffee. The double-wall construction can quickly cool down coffee if the press is cold -- several users suggest pouring a round of boiling water through first or immersing it in hot water to resolve this problem. Once the press is properly heated, it does an excellent job of keeping coffee hot. It's easy to clean by hand, but if you have hard water, you'll want to dry the exterior immediately to avoid a buildup of mineral deposits.
Espresso
There are two types of espresso machines to choose from: pump driven and steam driven. Pump driven machines are typically higher quality and more expensive, while steam driven machines have more modest price tags. Pump machines reach the high bars of pressure (bar) that are necessary for that perfectly flavored espresso. Bar is the steam pressure rating on pump-driven machines. You'll get the best flavor from home espresso machines with 15 bars of pressure, although espresso aficionados will be quick to note that espresso should be pulled at nine to 10 bar. However, you need 15 bar to get to nine or 10 bar during the extraction. Anything above 15 bars is just marketing hype, it won't make a difference in your coffee. It's the equivalent to shopping for a TV and getting caught up in the refresh rate. Check out this
video
 for a more in-depth explanation of BAR pressure and espresso machines.
Pros:
Available in manual to super automatic styles
Works with light and dark roasts
Robust flavor
Cons:
Requires consistent temperature
Expensive
Manual machines can be tricky to master
Price:
$80-$1,000 for the machine and $102.60 for coffee.
Best Bets:
1.
De'Longhi EC155 15 BAR Pump Espresso and Cappuccino Maker
(Current low $83/all-time low $80) - With a 15 bar pump, it's hard to go wrong with this coffeemaker if you enjoy really flavorful espressos. You can use pods or your favorite ground coffee with this machine. Slickdeal user
Geburtenfresser
notes that this machine produces "really nice espresso...if you like thick, rich foam." Many owners suggest buying a high-quality metal tamper to replace the built-in one, which is lackluster at best. The frother is quite low, which means that the small pitcher won't fit unless the machine is propped up. If you detest waiting for your coffee in the morning, you'll appreciate this machine's fast heat up time, which is generally less than a minute.
2.
Nespresso Pixie Espresso Maker
 (Current low $217.50/all-time low $130) - This super-automatic espresso machine has programmable espresso buttons, auto-off, water level detection and a folding drip tray for larger cups. Plus, it's brew ready in just 25 to 30 seconds. Its small footprint makes it a great choice for kitchens with limited countertop space. Slickdealer 
Gonalf
cautions against using non-Nespresso capsules for this machine, as they can damage the machine. You can get this machine as a bundle with their Aeroccino or Aeroccino+ milk frother for $265 as well. It's a neat add-on for those who enjoy thick milk foam (hot or cold) in their coffee, and all you have to do is press a button and wait 70 seconds. The Aeroccino+ by itself cost about $77 on Amazon, but you can get cheaper alternatives like
this one
for $40.
3. 
Breville BES870XL Barista Express Espresso Machine
 (
Current low
$533/all-time low $533) - A 15 bar pump and 1600W thermo coil heating system ensures excellent flavor. Slickdealer
integr8d
 cautions against using oily beans with this machine, as the built-in grinder can't grab them. It may seem intimidating at first, but even first-time espresso machine buyers quickly figured out how to make a great tasting cup of coffee. The key is the user-friendly layout, which includes a handy dial that lets you choose the desired grind amount. Despite its large size, it's quite easy to clean.
K-Cup and Single Serve Machines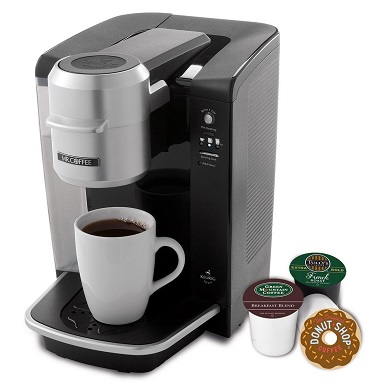 K-Cups and other single serve machines are convenient and easy to use -- making them particularly popular in many offices. To begin, place your desired cup, capsule or pod in the basket. Water from the reservoir will then drip through it into a single coffee cup. With the various types and flavors of available K-Cups, pods and capsules, everyone can make their beverage of choice. If you absolutely insist on using your own ground coffee, look for a machine that accepts an adapter (often bought separately).
Pros:
Convenient
Fast
Wide variety of flavors
Cons:
Only makes one cup at a time
Excess packaging waste
Flavors often not as strong
Price: $15-$160 for the machine and $24 for coffee.
Best Bets:
1.
Hamilton Beach 49970 Personal Cup One Cup Pod Brewer
 (Current low $18.38/all-time low $11) - A user-friendly design on this machine consists of a one-touch start with auto shutoff. It can brew up to 12 ounces. Some users complain of weak coffee. Slickdeal user
ascotnot
suggests trying dark roasts, rather than medium, to enhance the flavor. The machine's two tier basket is helpful for adding a second pod or for making stronger coffee. One drawback is that it isn't tall enough to accommodate travel mugs, leaving users to fill up smaller cups and then pouring them into a larger mug.
2.
Mr. Coffee Single Serve Coffee Brewer BVMC-KG6-001
 (Current low $74/all-time low $74) - It's a Mr. Coffee product, but this machine uses Keurig K-Cup packs. A removable 40-ounce water reservoir makes it easy to brew multiple times without refilling. If you use tap water, be prepared to run vinegar through the machine every few months to prevent mineral deposits. Many users note that it lags when brewing the first cup, but subsequent cups brew much faster. This machine lacks an auto off feature. However, you can set it to turn off after two hours of inactivity by simultaneously pressing the brew size and on/off button for 5 seconds.
3.
BUNN MCU Single Cup Multi-Use Home Coffee Brewer
 (Current low $160/all-time low $128) - This model comes with a Pulse Brew option for richer flavor. The silicone seal in the machine's spray heads produces lackluster results if the beans are ground too fine. Many owners suggest changing the grind to the higher end of medium for best results. Like your coffee particularly strong? The pulse brewing option comes in handy if you want a stronger beverage. This machine doesn't shut off automatically, but it does go into hibernation mode -- a feature that keeps freshly brewed coffee warm for hours at a time without using much energy. When using the coffee ground attachment, the clearance is around 7 inches -- a height that won't accommodate most travel mugs.
Percolator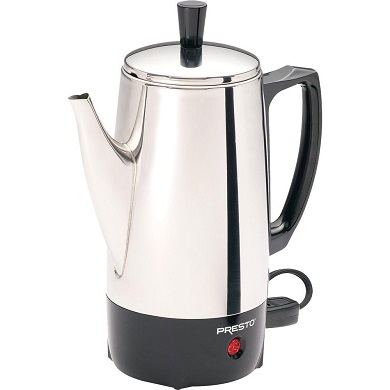 Its popularity has waned a bit over the years, but the percolator is still a respectable option. In fact, it's often the go-to coffeemaker for bigger events and functions because of its large capacity and reliable results. There's a wide selection to choose from, including stove top percolators for camping trips and fully automatic ones for general home use. While some coffee enthusiasts argue that percolators produce flavorful cups, others insist that the taste is a bit weak.
Pros:
Full-bodied brew
Ideal for camping
Makes large amounts at once
Cons:
Easy to accidentally boil coffee
Water temperature is crucial
Requires very fine grind
Price:
$20-$80 for the machine and $25.20 for coffee.
Best Bets:
1.
Farberware Classic Stainless Steel Yosemite 8-Cup Coffee Percolator
 (Current low $19.52/all-time low $17.50) - Features a permanent filter basket, which means no messy paper filters, and a durable polished stainless steel construction that holds up well over time. It's also easily portable, making it an ideal solution for camping out without sacrificing a flavorful cup of coffee in the morning. Slickdeal user
Penguina
 notes that while this machine is reliable over time, you may need to periodically replace its plastic perk window. While this percolator is technically machine washable, you'll find permanent water stains if you use the "heated dry" option.
2.
Presto 02822 6-Cup Stainless-Steel Coffee Percolator
 (Current low $37/all-time low $37) - This 500 watt machine brews between 2 and 6 cups. It also takes up very little countertop space and can fit nicely under most kitchen cabinets. You can use plain basket filters as long as you poke your own holes in the bottom before brewing. This is a relief to many owners, as many percolator filters are quite expensive. Unless you like your coffee weak, it's best to use the grind setting for French press or a bit finer for this percolator. While it's marketed as stainless steel, the bottom portion of this coffeemaker is aluminum. Most owners don't mind, but a few complain of a metallic taste.
3.
Farberware FCP412 12-Cup Percolator
 (Current low $72.69/all-time low $72.69) - This 1000 watt percolator has a 12-cup capacity. You'll need to clean it out with warm water and soap immediately after each use to protect the pot. It's not necessary to use filters with this percolator, but some find that adding a filter to the basket before each brewing session makes cleanup much easier. This percolator lacks an auto shutoff, but it does have a "Keep Warm" mode that keeps the coffee warm enough without burning it. The coffeemaker comes with a detachable power cord -- an added perk for those who prefer a more portable unit. If you thrive on consistency, you'll love how this percolator maintains a consistent brew speed of one cup per minute.
What Do Slickdealers Prefer?
We asked our readers what coffee makers they prefer and there was no real front-runner, probably because your choice of coffee maker usually depends on who you are as a person and your relationship to coffee. If you drink it purely for the caffeine, don't have the patience for a slow brewing process and can't tell the difference between a high-quality bean and something that was grown in a mass production setting, you probably prefer K-Cup machines. If you're an espresso drinker, Nespresso machines are popular for similar reasons, although you can argue the coffee quality is better. Nespresso capsules rarely go on sale, though, but K-Cup capsule deals can be found quite often. If you take your coffee serious, you probably have a coffee bean grinder and use a French Press or an espresso machine that uses loose coffee grounds as opposed to capsules.
@slickdeals French press always!

— GriSpen77 (@GriSpen77) August 13, 2015
@slickdeals Nespresso Pixie and also a Keurig 1.0 for emergencies.

— JD (@nevesytrof) August 13, 2015
@slickdeals One of everything, basically.

— Scott Perdue (@scottperdue) August 13, 2015
@slickdeals NESPRESSO: Best overall, annoying capsule ordering. KEURIG: Most convenient, worst taste. AEROPRESS: Best single-serving drip.

— Scott Perdue (@scottperdue) August 13, 2015
@slickdeals FRENCH PRESS: Easy & versatile (hot or cold brew) DRIP: Good for large quantities. ESPRESSO: Great taste, most labor-intensive.

— Scott Perdue (@scottperdue) August 13, 2015
As far as past deals on Slickdeals, Nespresso machines are the most sought after by our community, followed by Keurig. K-Cup capsules deals are very common, so definitely set up a deal alert for those if you own a Keurig machine. The most popular deal for a coffee maker was the
Keurig K45
, which could be found for $68 in late January this year. If you count French Press,
this deal
from August had 481 up votes, which is understandable. For $10 you might as well get one even if you don't drink coffee. What if you have guests over and they want coffee? It's hard for Slickdealers to turn down 78% off.
See all coffee maker Slickdeals here!
See all French press Slickdeals here!
See all espresso machine Slickdeals here!
See all K-Cup Slickdeals here!
Images courtesy of  ©iStock.com/ovp11 Amazon.com.
Slickdeals content may contain references to products from one or more of our affiliate partners. If you make a purchase on their site through a link on Slickdeals, we receive a small commission. This in no way affects our opinions on products or services mentioned in our content.
Add a Comment