The American Express Green Card Offers One Important Benefit That Other Cards Don't
Speed through airport security every time with $100 off of a CLEAR membership.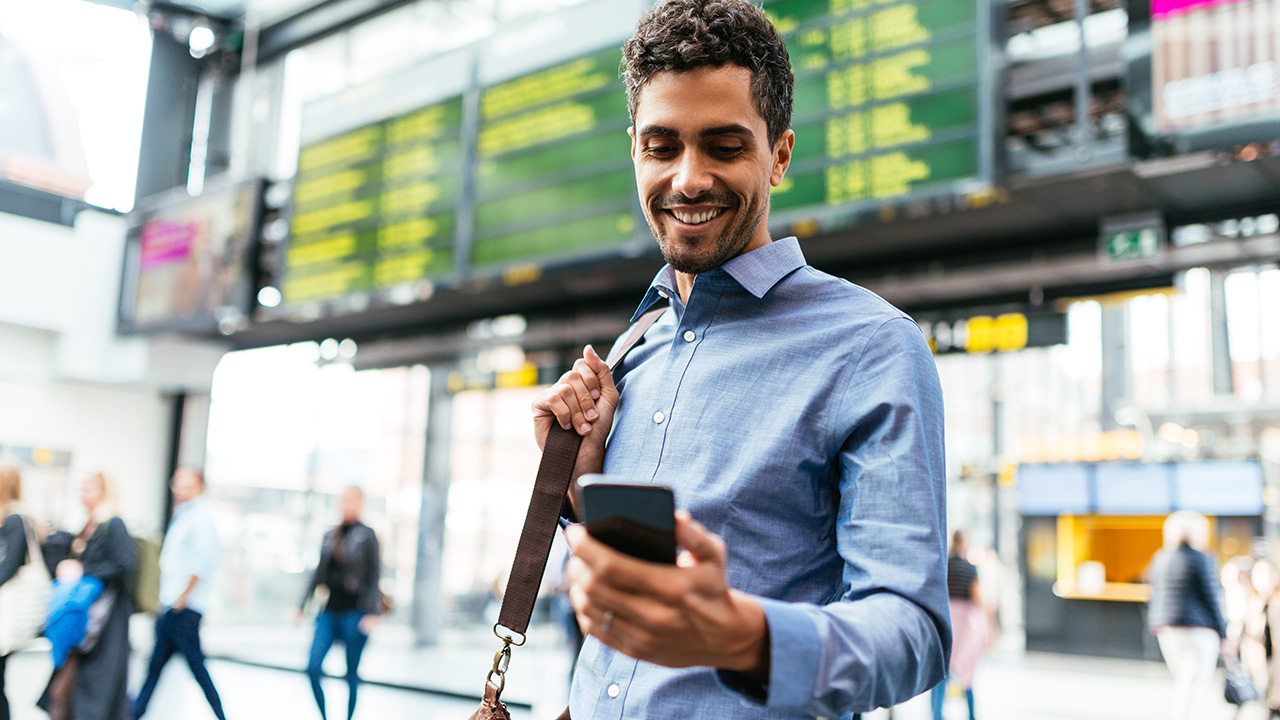 As someone who takes about 25 airline trips a year using credit card rewards, airport security can be the bane of my existence. It's not that there's always a long line, but it happens just often enough that you always have to get to the airport extra early, or risk missing your flight. This can lead to dozens of hours wasted waiting around in airports.
But for several years, I've been able to show up at some of the busiest airports in the U.S., just minutes before boarding begins, and I've never missed my flight. That's because I have a CLEAR membership that allows me to speed through airport security every time.
>>APPLY: The First 12 Hidden Benefits To Use With an Amex Platinum Card
The new American Express® Green Card is the first card to offer you the chance to do the same, with a $100 credit towards the CLEAR service that you can rely on to always start at the front of the line at airport security.
Table of Contents
What Is CLEAR?
CLEAR is a subscription service that uses biometric data to help members bypass TSA document checking and move through security lines faster and with less hassle for a more seamless travel experience. CLEAR is used at a number of airports and stadiums worldwide.
How Does CLEAR Work?
To enroll in CLEAR, you have to spend just a few minutes having your fingerprints and your irises scanned. But after that, you get to have your identity quickly confirmed at a kiosk, before proceeding to the front of the TSA security line. You do this instead of showing your boarding bass and ID to a TSA member.
Is CLEAR the Same as TSA Pre-Check?
Once your identity has been confirmed, then you proceed to the front of the line to have you and your luggage screened. If you have TSA PreCheck, then you go to the front of that line for the ultimate in fast security screening. And even if you aren't a TSA PreCheck member, then you'll go to the front of the regular line, which can still save you tons of time.
How Much Does CLEAR Cost?
CLEAR is currently available at over 30 U.S. airports as well as some stadiums, arenas and even Hertz car rental locations. The regular price for CLEAR is $179, but members of the Delta SkyMiles or United MileagePlus programs can pay just $119. Elite members of these frequent flyer programs pay just $109 per year, and the top tier (Delta Diamond or United Premier 1K members) get it for free. With the $100 credit from the Amex Green card, the net price drops to a much more affordable $19 a year, so long as you're a member of the Delta SkyMiles or United MileagePlus programs, which are both free to join.
Do You Have To Take Off Your Shoes With CLEAR?
Whichever security screening you receive, the rules are the same for CLEAR members and non-members. That means that you can keep your shoes on, and your liquids and laptops packed for the PreCheck screening, but not for the regular screening.
Applying for the American Express® Green Card
How To Redeem Amex Green Card Points
Membership Rewards points can be redeemed for things like gift cards, merchandise and travel reservations. In general, most of these options offer you 1 cent in value per point redeemed, and often even less.
Alternatively, you can transfer your rewards to airline miles or hotel points. American Express partners with 19 airlines including Air Canada, Air France/KLM, British Airways, Delta, Hawaiian, JetBlue, Singapore and Virgin Atlantic.
Most of these point transfers between American Express and its travel partners are on a 1:1 basis and are instantaneous. You can also transfer your points to points with Choice, Hilton and Marriott hotels. While you can transfer your rewards to travel partners, and redeem them for high value rewards, it's often possible to receive several cents in value per point redeemed.
The Best American Express Credit Cards
If you're not sure whether or not the Amex Green Card is right for you, we understand. Choosing the best rewards credit card for your needs is challenging. Luckily, American Express offers some of the best credit cards on the market. Similarly, many of their cards are regularly ranked by Slickdeals to be among the best travel cards and top cash-back cards. Take a look at a few of Slickdeals' favorite American Express cards or visit our marketplace to compare current offers and rewards from a variety of issuers.
Blue Cash Preferred® Card from American Express
The Platinum Card® from American Express
American Express® Gold Card
We want to make sure you get the best deal! Our editors strive to ensure that the information in this article is accurate as of the date published, but please keep in mind that offers can change. We encourage you to verify all terms and conditions of any financial product before you apply. Also, please remember this content wasn't provided, reviewed or endorsed by any company mentioned in this article.