TaxAct Review: Affordable Tax Preparation Backed By a $100K Guarantee
You don't need a TaxAct promo code or coupon to get a deal on your taxes this year.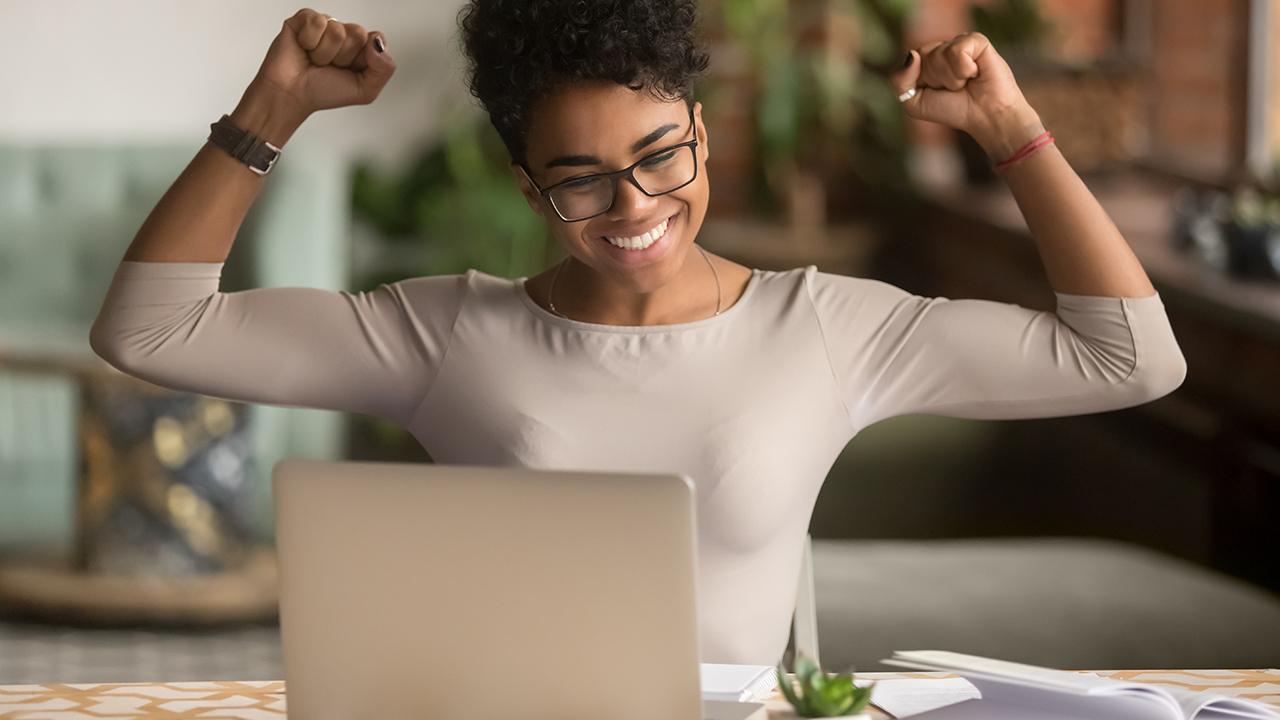 TaxAct is one of the most popular online tax software companies, and for good reason. While it may not have all the bells and whistles that accompany some tax services, it offers more than enough value for most people.
SAVE: 7 Best and Cheapest Online Tax Services
Whether you have a simple tax return or a more complex tax situation, TaxAct can help. It features an easy-to-use interface as well as tons of tools and support options. These reasons, along with its $100k Accuracy Guarantee, make TaxAct one of the best online tax services around.
Table of ContentsHere's our complete review of TaxAct and its many features.
Pricing: Types of Returns
TaxAct has tax preparations for almost every kind of tax return. Pricing varies per version and is subject to change.
Prices below are before the 50% TaxAct discount that is running for a limited time.
Free Edition: Simple Federal and State Filing $0
For simple returns, turn to TaxAct's Free Edition. It's free to prepare and e-file for both federal and state returns with dependents and students. It's meant for 1040 tax filers who aren't itemizing deductions. TaxAct's free version doesn't allow for Schedules 1-3, but does include:
Standard deduction
Earned income credit
Child tax credit
Tuition and fees deduction
The free version allows you to upload last year's return to save time. It walks customers through their returns by asking simple questions. TaxAct does most of the work, but several support options exist if you need extra help. If your tax situation isn't complicated, take advantage of TaxAct's Free Edition instead of paying for premium services.
Deluxe+ Edition: $54.95, State $44.95
For a little more flexibility with your return, TaxAct's Deluxe+ Edition might be a better option. It offers everything that comes with the free version, but also covers most tax forms and schedules, including:
Itemized deductions
Child & dependent care
Adoption credits
Student loan interest
Mortgage interest
Real estate taxes
HSAs
Another nice feature of its Deluxe+ version is the addition of phone support with TaxAct tax specialists. If you have any questions as you work on your return, help is just a phone call away.
Premier+ Edition: $79.95, State $44.95
For more comprehensive support and access to all forms and schedules, check out TaxAct's Premier+ Edition. It expands on the deluxe version's offerings to include investments and investment income expenses, rental properties, various forms of income, and other financial accounts.
It also comes with prioritized support, which means customers will get immediate help to work through their tax return. This includes an option for screen sharing with a tax specialist, eliminating any guesswork.
Self Employed+ Edition: $109.95, State $49.95
TaxAct also has a version of its software specifically for people who are self-employed. This includes small business owners, freelancers, independent contractors and other entrepreneurs. TaxAct Self Employed+ helps customers easily report income, business expenses and depreciation. It also comes with several planning resources to use all year long.
As TaxAct's most expensive edition, TaxAct Self Employed+ users gain access to extra support features like a dedicated phone line, screen sharing support and limited chat support through its mobile app. Another feature you don't want to miss is the Deduction Maximizer, a tool for finding as many deductions as possible.
Other TaxAct Editions
Besides the versions already mentioned, TaxAct also has options for businesses, tax-exempt organizations and tax professionals. There's also a TaxAct version specifically for estates and trusts.
In addition to online software, TaxAct also has downloadable versions of its software still available for those who prefer not doing their taxes online.
TaxAct Reviews
TaxAct is proud of the positive experience its customers have.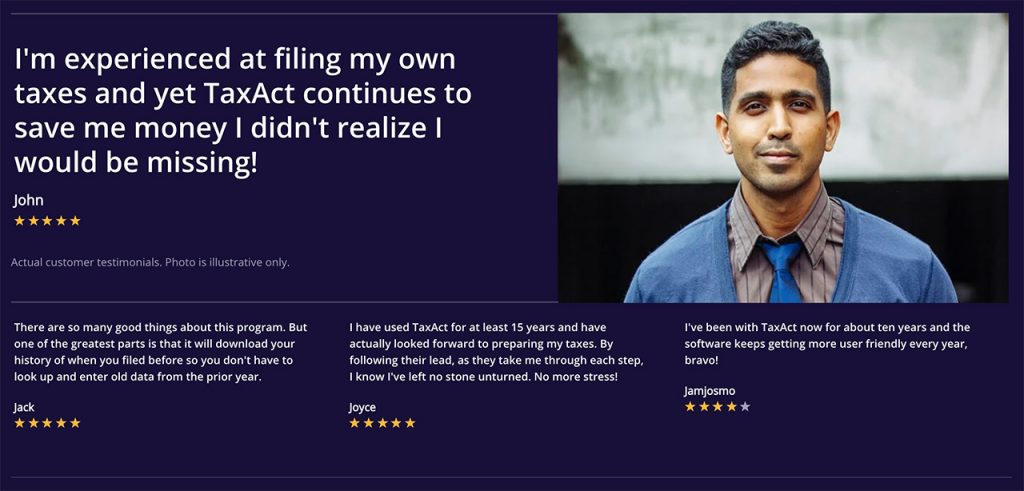 TaxAct Features
TaxAct offers several options that are standard with online tax services, like:
Imports of last year's return
W-2 import
Tax calculators
Tax reform information
TaxAct goes beyond that, though, with other features that most customers will appreciate.
| | |
| --- | --- |
| Donation Assistant | This useful tool helps calculate the resale value of donated items to charitable or non-profit organizations, which will help maximize your deduction. |
| Alerts | TaxAct inspects every return, looking for any errors or omissions that increase your chances of being audited. It also looks for tax savings missed when you filled out your tax return. |
| Real-Time Refund Status | As you work through your return on TaxAct, it automatically updates your refund amount so you can see what you're getting back. |
| Automatic State Return Transfer | TaxAct automatically transfers information from your federal return to your state forms to save time. |
Refund Options
TaxAct customers have a variety of options for receiving tax refunds. Direct deposit to a bank account and receiving a paper check are always good options. There's also options to load funds onto an American Express Serve prepaid debit card or receive your refund in U.S. savings bonds. Direct deposit is the fastest refund option available.
TaxAct Mobile App
If you prefer to file your taxes on the go, TaxAct Express is its mobile app, available on iOS and Android. It allows you to prepare and e-file federal and state returns directly from your smartphone or tablet.

TaxAct Express comes with a host of features that simplify tax preparation regardless of which edition you're using. Like many tax services, it allows you to upload your W-2 through the app. Customers can also set up notifications to receive an alert when the IRS and state have processed their tax returns. You can track your refund status on your phone as well. Live chat is available through the app, depending on which version of TaxAct you have.
Another interesting feature is the ability to jump seamlessly from the app to desktop. You'll pick up right where you left off, allowing you to prepare your tax return from almost anywhere.
TaxAct Support
TaxAct comes with a knowledge base to answer more common tax questions. Support is also available by email and phone.
Phone support is available all year, with extended hours during tax season. Here's a breakdown of its phone support, which is available at (319) 373-3600:
April (post-IRS deadline) through mid-January
Monday-Friday: 8 a.m. – 5 p.m. CT
Saturday and Sunday: Closed
Mid-January through April (up to IRS deadline)
Monday-Friday: 8 a.m. – 8 p.m. CT
Saturday: 9 a.m. – 5 p.m. CT
Sunday: 10 a.m. – 5 p.m. CT
April Filing Date
Premium TaxAct editions also include live chat support through the mobile app, along with screen sharing with tax specialists and prioritized support.
Is TaxAct Secure?
Everyone wants to know their personal information is secure when doing anything online, including tax preparation. TaxAct takes security seriously and has several measures in place to protect customers' information and tax returns. Security measures include:
Complex password requirements
Account authentication
Device verification
SSL encryption
TaxAct's website also features security tips and resources to keep customers safe. TaxAct partners with the IRS and state agencies to ensure it uses the latest security protocols.
TaxAct and Audits
Nobody wants to face an audit, so it's essential to find a tax solution that provides support should it happen to you. TaxAct itself only offers audit support in the form of answers within its knowledge base.
TaxAct also partners with a company called Protection Plus to provide extra audit protection for an additional charge. Protection Plus comes with three years of coverage for your return and includes:
Assistance with federal and state audits
Contact with the IRS or State on your behalf
Preparation of correspondence on your behalf
Tax fraud assistance
You can enroll in this premium audit service during the TaxAct filing process.
TaxAct Guarantees
One of TaxAct's strongest features is its guarantees. TaxAct has two guarantees in place that stand out compared to its competitors.

$100k Accuracy and Maximum Refund Guarantee: TaxAct guarantees its software is 100% accurate and will calculate the maximum refund for your return. If an error occurs that leads to a smaller refund or larger tax liability than you receive using another tax preparation software, TaxAct will pay the difference in your refund or liability, up to $100,000. TaxAct will also refund your software fees.
Satisfaction Guarantee: Customers who aren't satisfied with their TaxAct product can simply discontinue using the product before billing occurs. Unfortunately, there is no option for refunds after printing or e-filing a tax return.
Bottom Line: TaxAct Review
TaxAct isn't a flashy program with tons of extra benefits like some of its competitors. Competitive prices make it a smart option for budget-conscious people who want a simple DIY online tax solution. It offers enough support that most people can file their own taxes without too much hassle.
We want to make sure you get the best deal! Our editors strive to ensure that the information in this article is accurate as of the date published, but please keep in mind that offers can change. We encourage you to verify all terms and conditions of any financial product before you apply. Also, please remember this content wasn't provided, reviewed or endorsed by any company mentioned in this article.
---
Any product or service prices/offers that appear in this article are accurate at time of publish, and are subject to change without notice. Please verify the actual selling price and offer details on the merchant's site before making a purchase.