CyberLink Director Suite 6 Review – Is it Right for You?
This affordable video editing suite offers just about everything the novice content creator could ever want.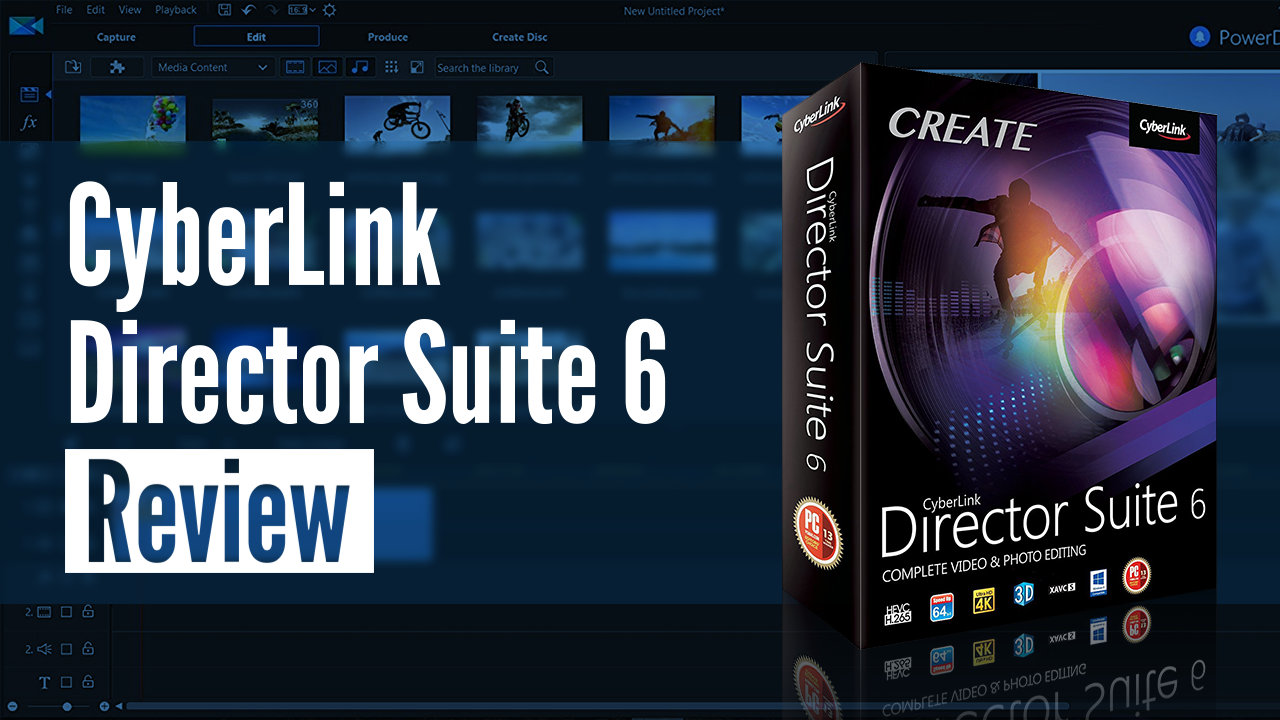 If you're reading this, chances are you've also watched a digital video at some point today. YouTube reports that people collectively view more than a billion hours of video a day, and upload more than 300 hours per minute. And behind most of that content is a video editing program.
If you're an aspiring YouTuber, marketing professional, or just someone who wants to have more polished videos, you're going to want a video-editing program that goes beyond what most free apps can offer. And unless you're already a professional video editor, the program should be affordable as well.
I recently had a chance to check out CyberLink's Director Suite 6 bundle, and there's no doubt about it — the suite packs a lot of punch for the price, and offers an accessible interface for novice users. I've been using it exclusively for the past couple of months as the in-house video editor for Slickdeals, and am excited to share my findings on this powerful, low-cost video editing software.
Special thanks to CyberLink for providing a copy of Director Suite 6 for this review.
CyberLink Director Suite 6 Pricing

The first thing that really caught my attention was the affordability of Director Suite 6. This bundle is normally offered as a one-time purchase of $299.99, but can usually be found for as low as $179.99. The suite contains four full-fledged programs — PowerDirector 16, PhotoDirector 9, AudioDirector 8 and ColorDirector 6 — that can also be bought separately through CyberLink.

When purchased as a bundle, the cost for all four programs comes out to just $45 each. This is a bargain when compared to the Adobe-equivalents of these programs, which require a $49.99 per month subscription for the life of the products!
Personally, I'm not a fan of subscription-based models, so it was a breath of fresh air to see that CyberLink still allows you to actually own what you pay for, and not just rent it.
CyberLink Director Suite 6 Features and Functionality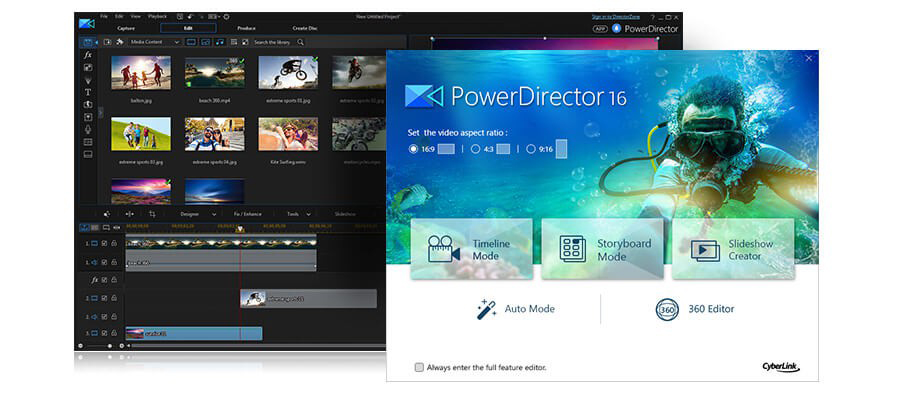 As an all-in-one solution, Director Suite 6 comes with all the tools you could possibly need to create and edit a robust video. You can trim footage, add titles/transitions, process audio, as well as color correct your video without leaving the CyberLink ecosystem.
The four individual programs in the suite are seamlessly integrated, with PowerDirector 16 being the main app. If you're editing footage in PowerDirector 16, you'll automatically be taken to AudioDirector 9 when you need to modify a sound track, and then brought back to PowerDirector to continue with your main project. It's way more efficient than importing and exporting various files between separate programs.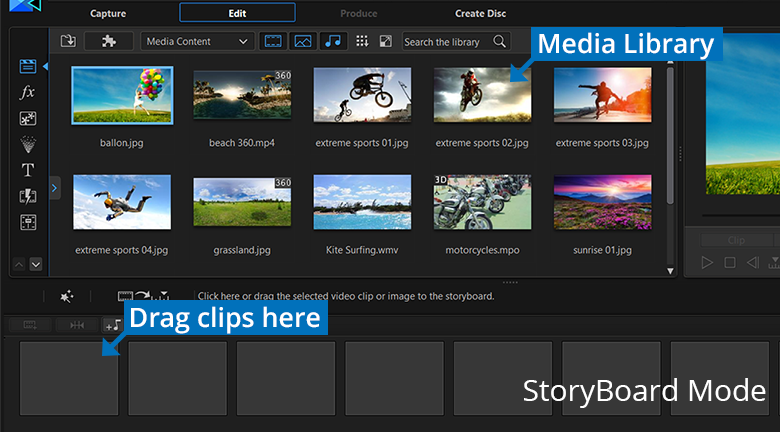 For novice users, Storyboard Mode stitches together multiple clips and then uploads the final video to your favorite social media platform in two easy steps. Simply drag and drop your media onto the storyboard and PowerDirector handles everything else.
When you're ready to graduate into adding your own special effects, there's a large selection of preset filters, transitions, and digital effects that can also be modified with ease. After an effect or transition is dropped onto the timeline, a multitude of adjustments can be made, like duration, colors, movements and more.
While these functions are pretty standard for any video editing software, what really makes PowerDirector 16 stand out is its ability to natively record voice-overs, as well as capture your computer's screen. This is very helpful for those who need to build professional presentations or tutorial videos.
Other advanced capabilities include 360 video editing, working with 4K resolutions, and LUT support (advanced color filtering), all of which are typically found in much more expensive editing suites, like Adobe Premiere Pro.
Overall, I really appreciated the what-you-see-is-what-you-get layout for all of the apps within Director Suite 6. Advanced users may find the workflow to be a bit clunky and the title/transition presets to be rather cheesy, a la Microsoft PowerPoint, but in all fairness, CyberLink set out to create an accessible tool that anyone could use, and they've done exactly that.
Is Director Suite 6 Right for You?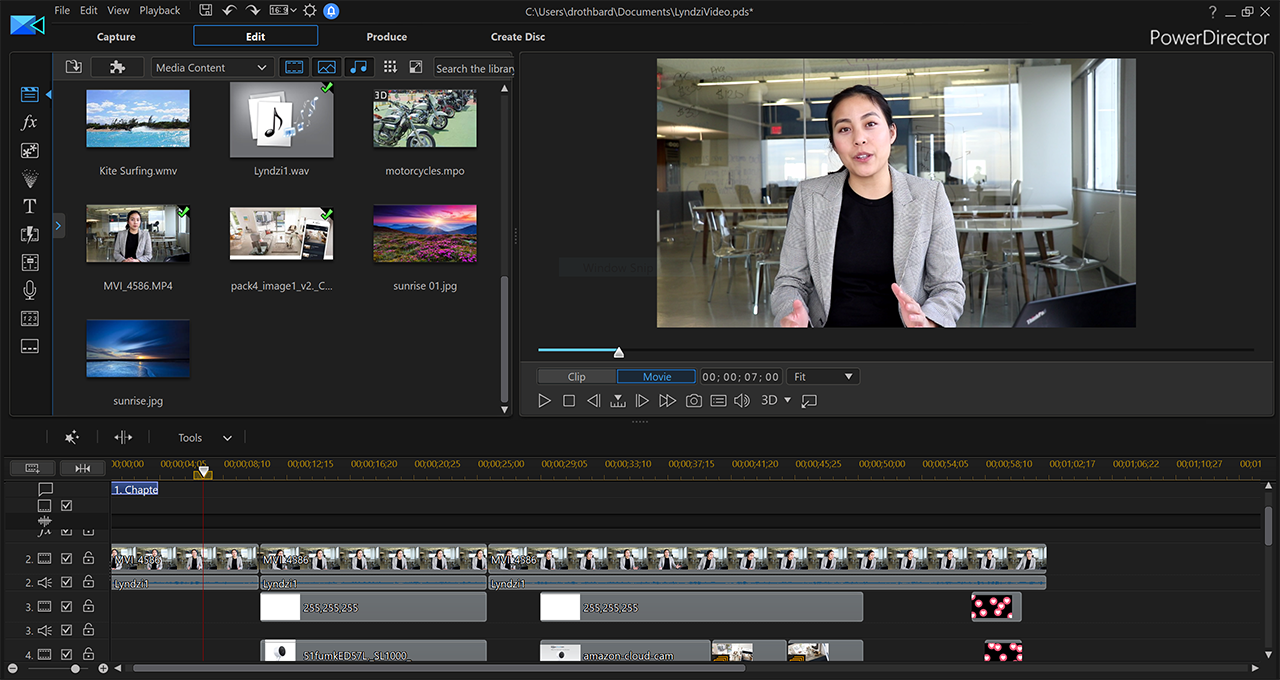 Director Suite 6 is a great choice for the beginning video editor who wants powerful features at a low price. If you opt for a more expensive editor, like Adobe Premiere Pro, as your very first piece of software, you run the risk of getting overwhelmed by all of the professional features. Realistically, a novice user would only use about 10% of its capabilities.
PowerDirector 16 and the rest of Director Suite 6 programs do not have the same intimidation factor — only the essentials are offered, and that's a good thing!
That being said, if you're just looking to create home videos or video game highlights, buying the stand-alone version of PowerDirector 16 is an even better value proposition. Check out this video game highlight created solely in PowerDirector 16 by our resident gamer, @slickdealsdrew:
E5zCq1dp1Kw
Seasoned professionals probably won't be making the switch to PowerDirector anytime soon, though. While it is entirely possible to cut a full-length film on PowerDirector, there are certain high-level features that just aren't up to the same standards. Though Director Suite 6 has most of these features on paper, it is held back by a slower, more casual user interface.
In my opinion, Director Suite 6 is best suited for an entry- to mid-level editor. More experienced users will be frustrated by certain quirks that come with the CyberLink ecosystem, but these nuances will go largely unnoticed by novice users. The suite is perfect for a YouTube content creator who needs more than the basics, but isn't ready to dive into a full-featured professional program.
Given the low cost and ease of use, I wouldn't be surprised if more hobbyists/would-be producers started using Director Suite 6 as an all-in-one, cost-conscious alternative to more expensive editing suites, like Adobe Premiere Pro. From my perspective though, the software is a little rough around the edges, but it more than makes up for it with its capability to price ratio.
CyberLink regularly offers discounts throughout the year, so don't forget to set a Deal Alert to be notified of the next sale! Right now, Slickdeals has a coupon for 15% off one item, which brings the price of Director Suite 6 down to $152.99.
And finally, here's a video I edited entirely with PowerDirector 16 for our Facebook Live show, meant to show off some of the program's capabilities. Enjoy!
6JyvW0DETQw
Our editors strive to ensure that the information in this article is accurate as of the date published, but please keep in mind that offers can change. We encourage you to verify all terms and conditions of any product before you apply.