Dell's G5 Special Edition Is the Best Value Gaming Laptop Available Now
Dell delivers an all-AMD gaming powerhouse for less than $900.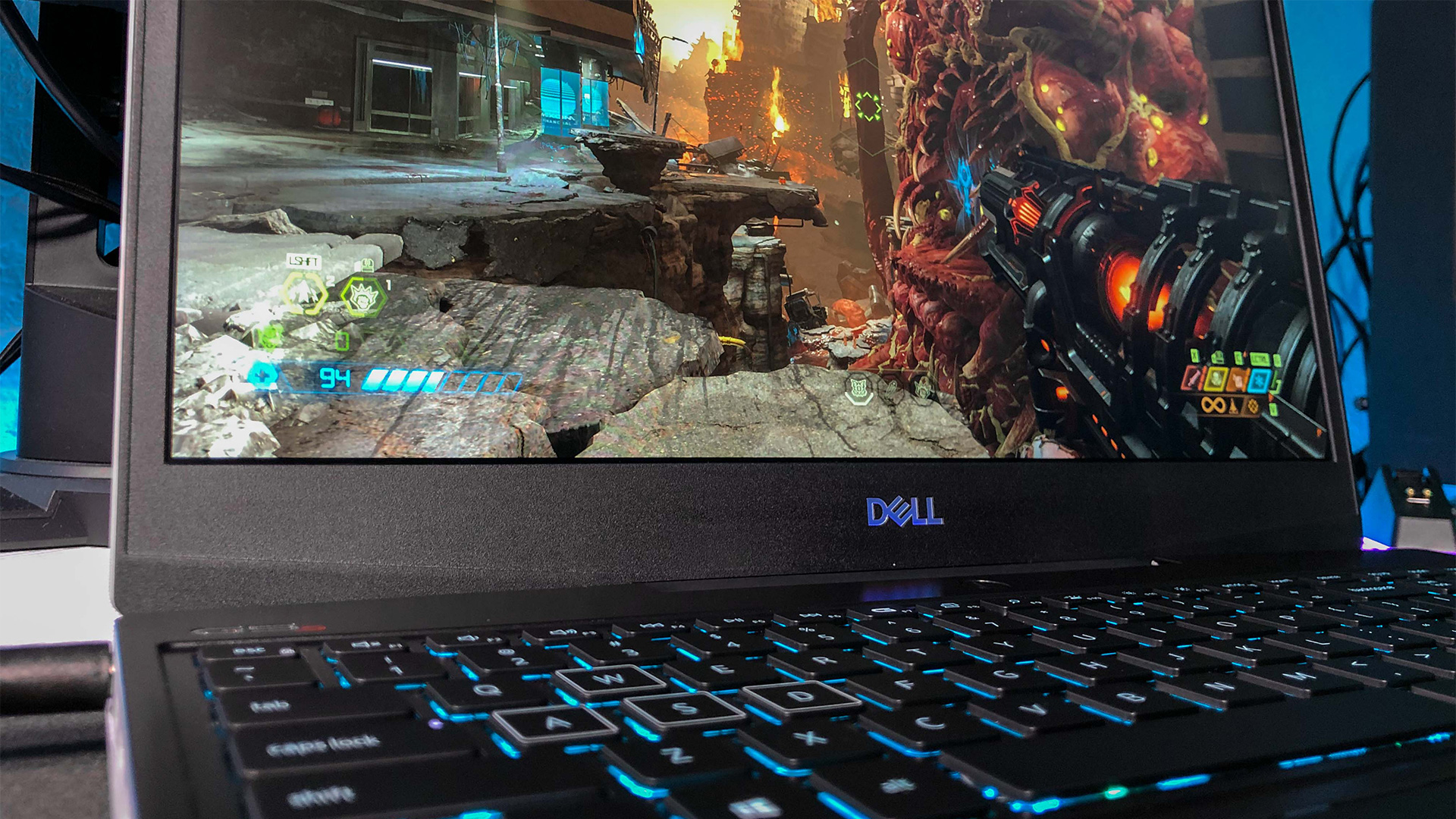 A great deal of hype has been rallied around the Dell G5 15 Special Edition (SE), and for good reason. It's a powerful gaming laptop with a starting price of just $879.99.
With a fast AMD Ryzen 4000 Series processor and a Radeon RX 5600 M graphics card, the G5 SE serves up impressive gaming performance at a price that will please those who shiver at the typical $1,500+ price tags of most performance laptops.
If your priority is getting the best bang for your buck, and you don't care about the more frivolous features of the expensive laptops, this is the best choice for you.
Dell G5 15 SE Technical Specifications
AMD Ryzen 7 4800H CPU
AMD Radeon RX 5600M
16GB DDR4 RAM (2x8GB, 3200MHz)
512GB M.2 PCIe NVMe Solid State Drive
15.6 inch FHD (1920×1080) WVA Display
300nits Peak brightness
144Hz refresh rate
240W Adapter
Killer Wi-Fi 6 AX1650 (2×2) 802.11ax Wireless and Bluetooth 5.1
4-Zone RGB backlit keyboard
3-Cell Battery, 51 Whr (Integrated)
Performance is Top Priority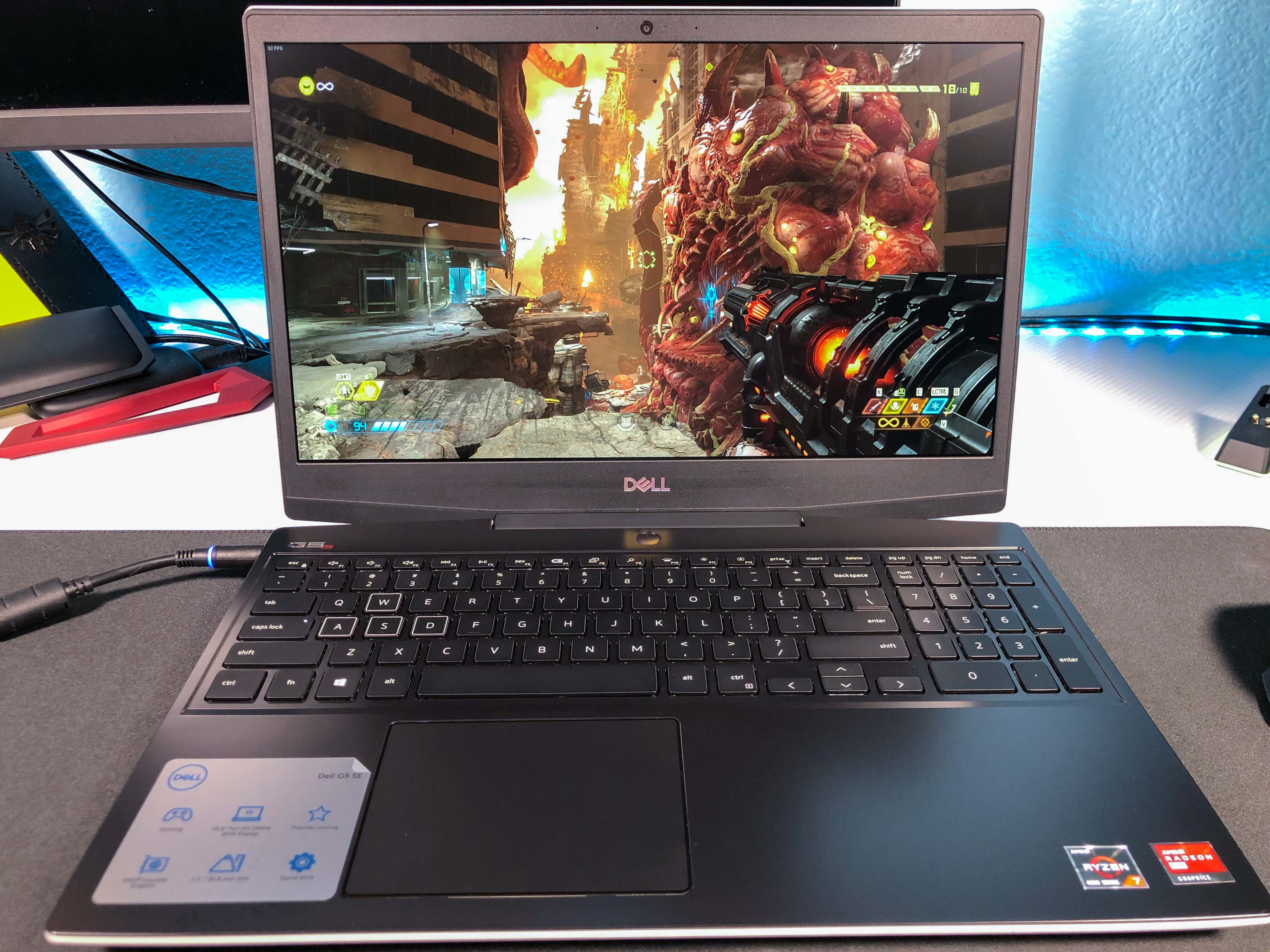 While CPU maker Intel and graphics giant NVIDIA have dominated the gaming market over the past few years, AMD has made a comeback with the release of its latest Ryzen CPUs and RDNA graphics cards. The company has also secured its place as the king of value.
And that's what makes the G5 SE special. It's a budget-conscious, all-AMD system that serves up excellent gaming performance enhanced by proprietary AMD tech.
The Ryzen 7 4800H in our review unit is an eight-core 16-threaded beast with a 4.2Ghz boosted clock speed. This is handy for multi-tasking and production, but on a gaming rig it's important to have processing overhead, and this CPU offers just that — enough speed to let the graphics card zip along at full speed without any bottlenecking.
And that's good because the AMD Radeon RX 5600 M GPU packed into the G5 SE is impressive. Comparable to the NVIDIA RTX 2060 Max-Q in terms of raw performance, this is a strong GPU with the potential to run just about any game at high or max settings comfortably at 1080p resolution.
I enjoyed several hours of DOOM Eternal — one of the best-looking games of 2019 — screaming along at around 90 frames per second with all graphics settings on Ultra.
Exclusive AMD Software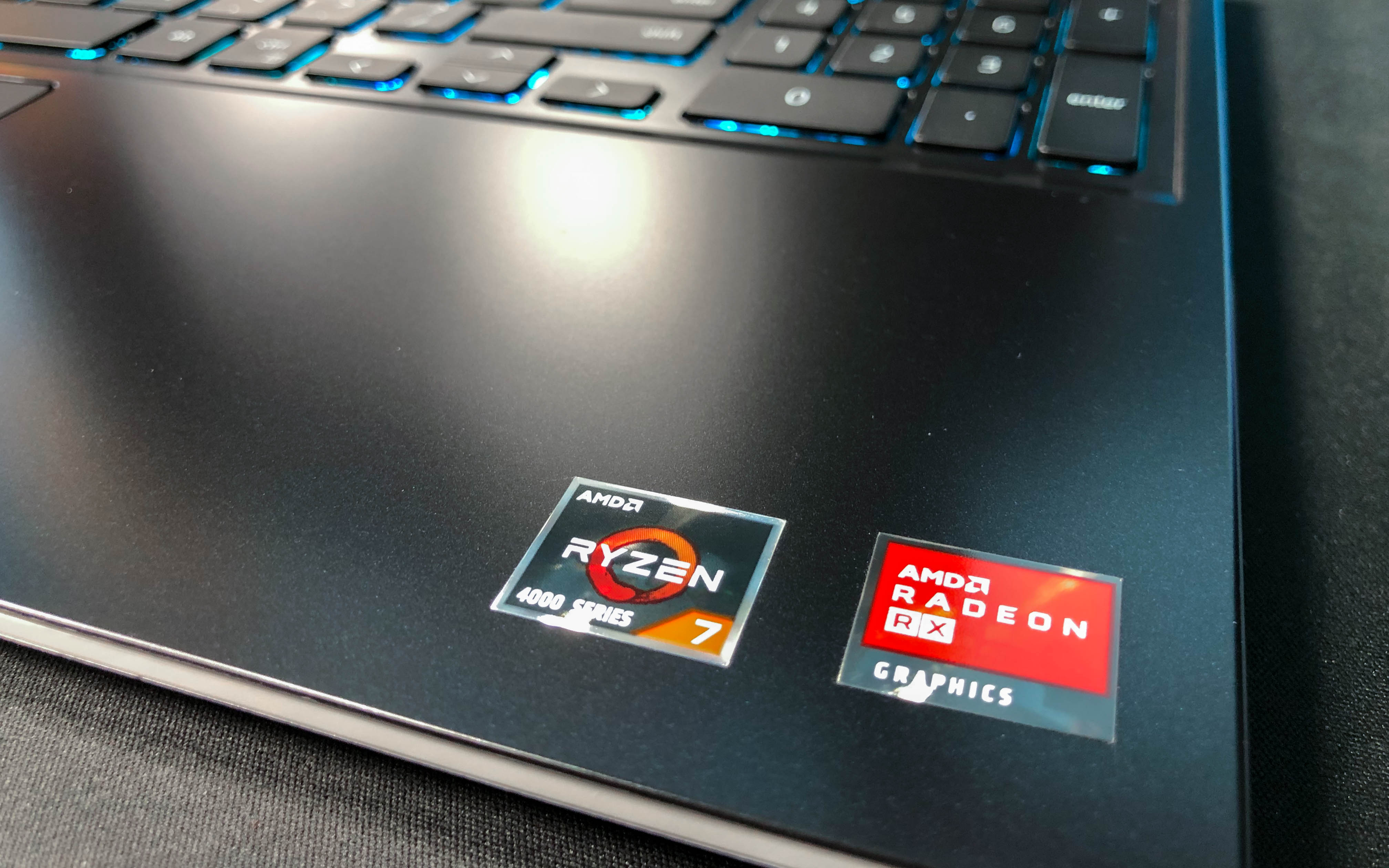 To boost performance, the G5 has two tricks up its sleeve. Being an all-AMD unit, it takes advantage of AMDs proprietary SmartShift technology. This is said to eek out extra performance for your hardware by allowing the system to intelligently distribute power between the CPU and GPU, prioritizing the component that needs the most juice for a given task.
The G5 SE also has Game Shift, which is a performance-oriented mode that, among other things, cranks up the cooling fans to max speed. Activated with a tap of the 'G' button on the keyboard, this mode keeps the hot internals as cool as possible, which helps boost performance by limiting thermal throttling.
In DOOM Eternal, when heat soak started affecting performance in normal mode, switching on Game Shift mode saw temps fall enough to claw back around 10 frames per second — which is nice, so long as you don't mind the fan noise. (And a good pair of headphones easily fixes the issue.)
Fans of AMD graphics cards will also be familiar with the AMD Software suite, which contains gameplay-enhancing features like Radeon Image Sharpening, Anti-Lag and custom graphics profiles.
Meanwhile, Dell throws in the Alienware Command Center, which offers further tweaking of fan profiles, RGB lighting and other hardware monitoring.
The Upgraded Screen is Definitely Worth It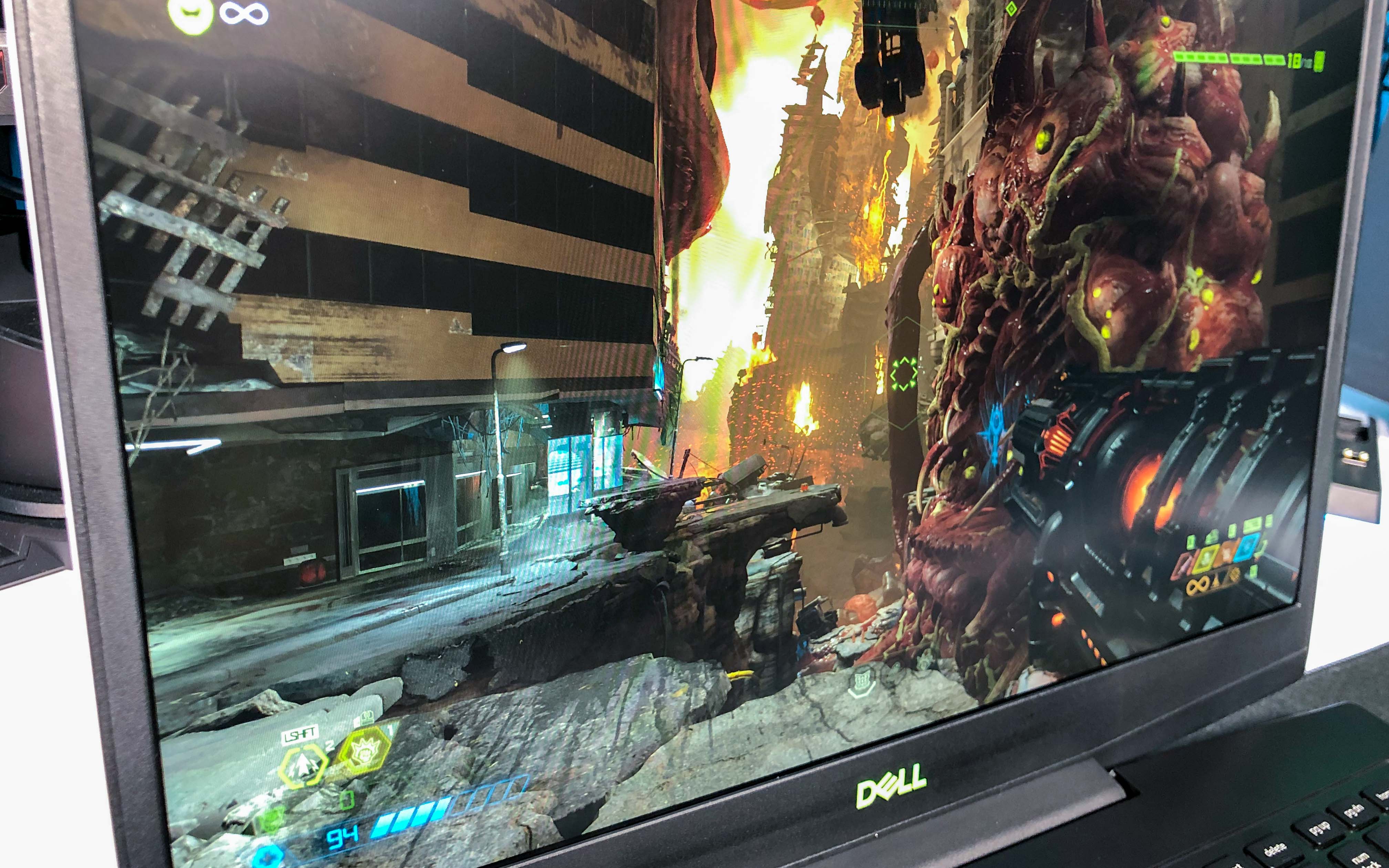 The display is one area where budget laptops typically fall short, but the G5 SE exceeds expectations. Brightness is respectable at around 300 nits and 1080p is the perfect resolution for this spec. Additionally, gameplay is silky smooth thanks to the 144Hz refresh rate. Color delivery is also decent for gaming, although graphic design professionals will want a more color-accurate panel.
It's important to be aware that this is not the screen currently included with the $879 base model. That comes with a 60Hz panel offering a lackluster 200 nits claimed brightness. That slow refresh rate alone will prevent you from getting the most out of the RX 5600 M.
The good news is that Dell says it will be updating the base model to include a 120Hz display in "summer 2020," and will support AMD FreeSync, which is oddly absent from the current versions. This sounds absolutely ideal, and is well worth waiting for.
Essential Features Only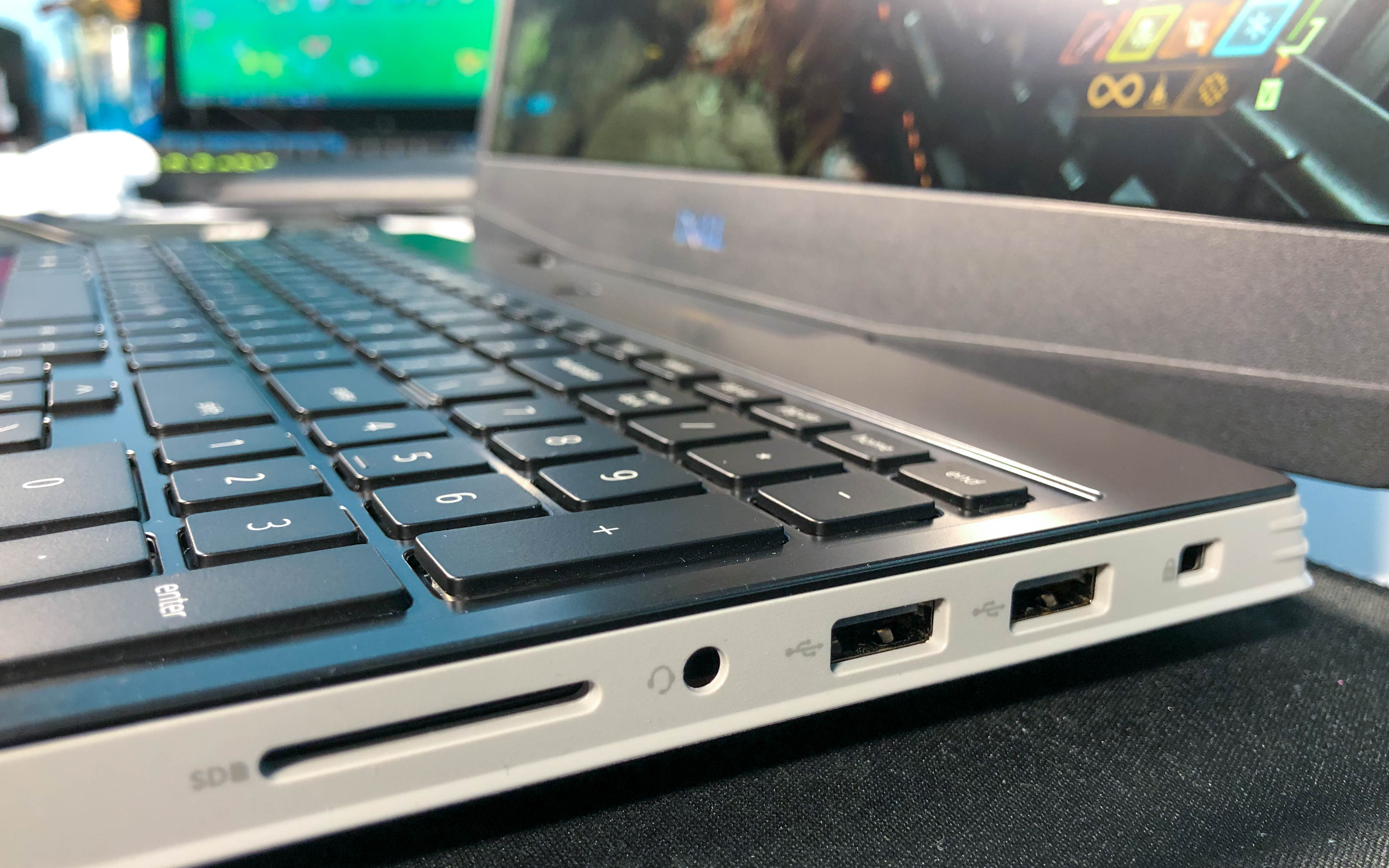 Dell says it designed the G5 SE to be strong in the area that matters most to gamers (performance) without any of the bells and whistles that needlessly inflate the price. And this is evident the moment you look at the G5 SE.
For better or worse, it's clear your dollars are going on the processors and the display. The chassis itself doesn't look bad, but it's understated to say the least. The plain grey plastic upper shell wraps around to meet a thin plastic under panel that doesn't feel the sturdiest. There's no flashy RGB stripes, no aluminum uni-body, and no edgy design language. Depending on your preferences for a gamer-ific exterior design, this may be a good or bad thing.
Inside, things improve slightly, with an all-black look that only starts to show flaws once you put your hands on it. Fingerprints and overall hand oils really stand out on the glossy black palm rest and touch pad. The plus side to this understated look is that this laptop won't stick out like a sore thumb if you take it into an office environment. It's all very sensible.
The keyboard is pretty good, with nice clicky keys and decent, albeit simple, RGB lighting (one or 4-zone optional). The full number pad will please some, but it's not my preference, since its presence forces the letter keys to the left, and relegates the speakers to a down-firing configuration, which is not great. Headphones are a must.
Luckily, Dell didn't skimp on ports. On one side, you have Mini DisplayPort, full-size HDMI 2.0, USB Type-A 3.2 SuperSpeed, USB-C, and an RJ45 Ethernet port for wired internet. On the other side, you'll find a full-size SD Card slot, a good old headphone port, and two more USB Type-A ports of the 2.0 variety. All bases covered, then.
Should You Buy the Dell G5 15 Special Edition Gaming Laptop?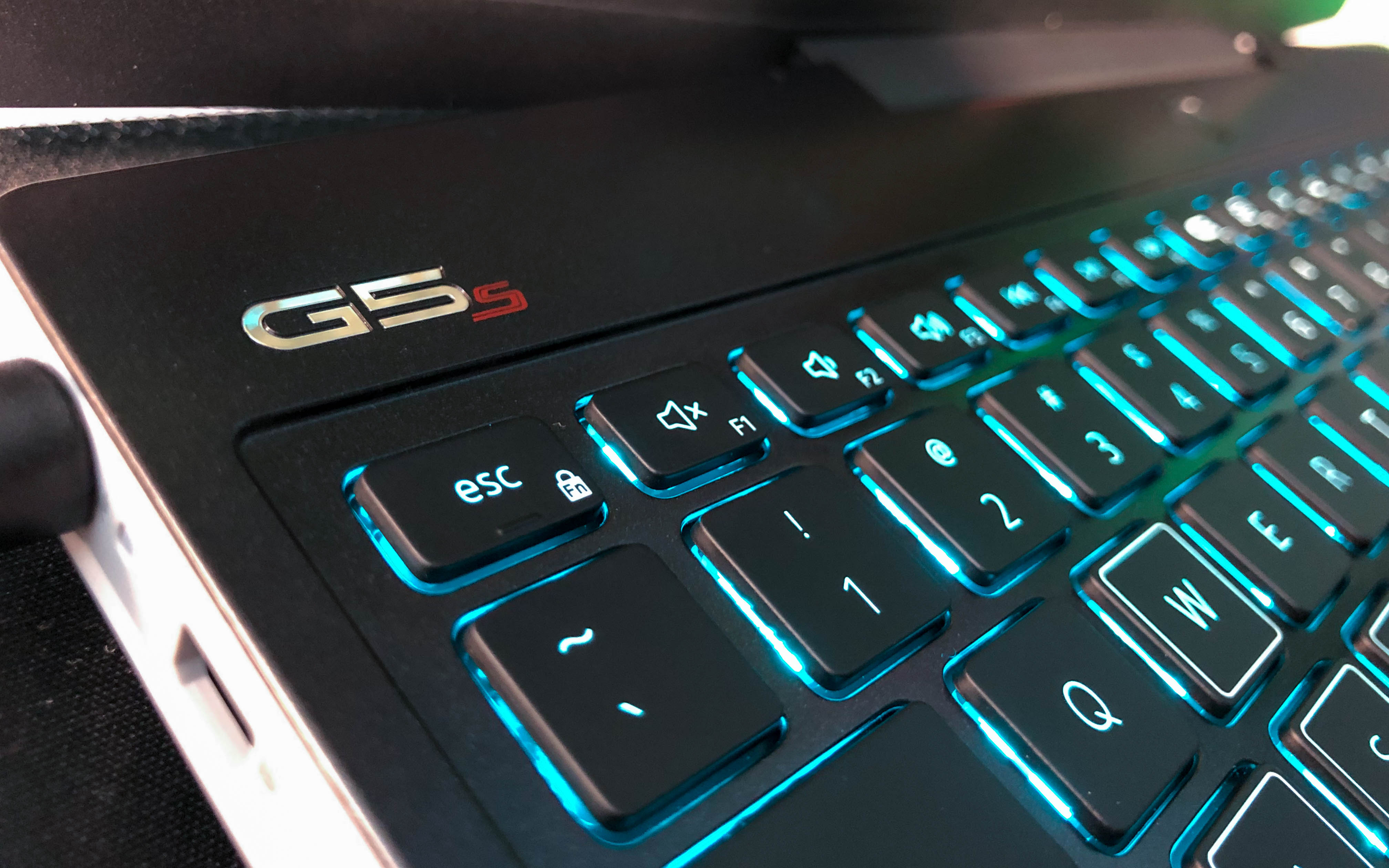 The G5 SE is a laptop with a clear mission statement — to deliver the best possible performance at the lowest price. And this is exactly what it achieves.
It may not be the prettiest laptop on the block with its abundance of no-frills plastics and fingerprint-prone surfaces. But what it sacrifices in aesthetic flair, it more than makes up for with performance. The AMD RX 5600 M GPU that comes as standard in all versions of the G5 makes it a 1080p gaming powerhouse no matter what model you get.
But a little patience may pay dividends. If you can afford the $1054.98 model with the 144Hz screen, go for it. But if you want the $879 base model, wait until Dell releases the upgraded version with the 120Hz FreeSync display this summer.
Shop the Dell G5 Special Edition Gaming Laptop
---
Set a Deal Alert so you can stay up to date on any special offers as they become available. Additionally, visit our Dell Home & Office Coupons page to find all the latest deals on your favorite computers and accessories.
Up Next:
Our editors strive to ensure that the information in this article is accurate as of the date published, but please keep in mind that offers can change. We encourage you to verify all terms and conditions of any product before you apply.