Dell's OptiPlex 7070 Ultra Offers Elegant Minimalism for Your Workspace
This hide-away desktop was made with space-saving productivity in mind.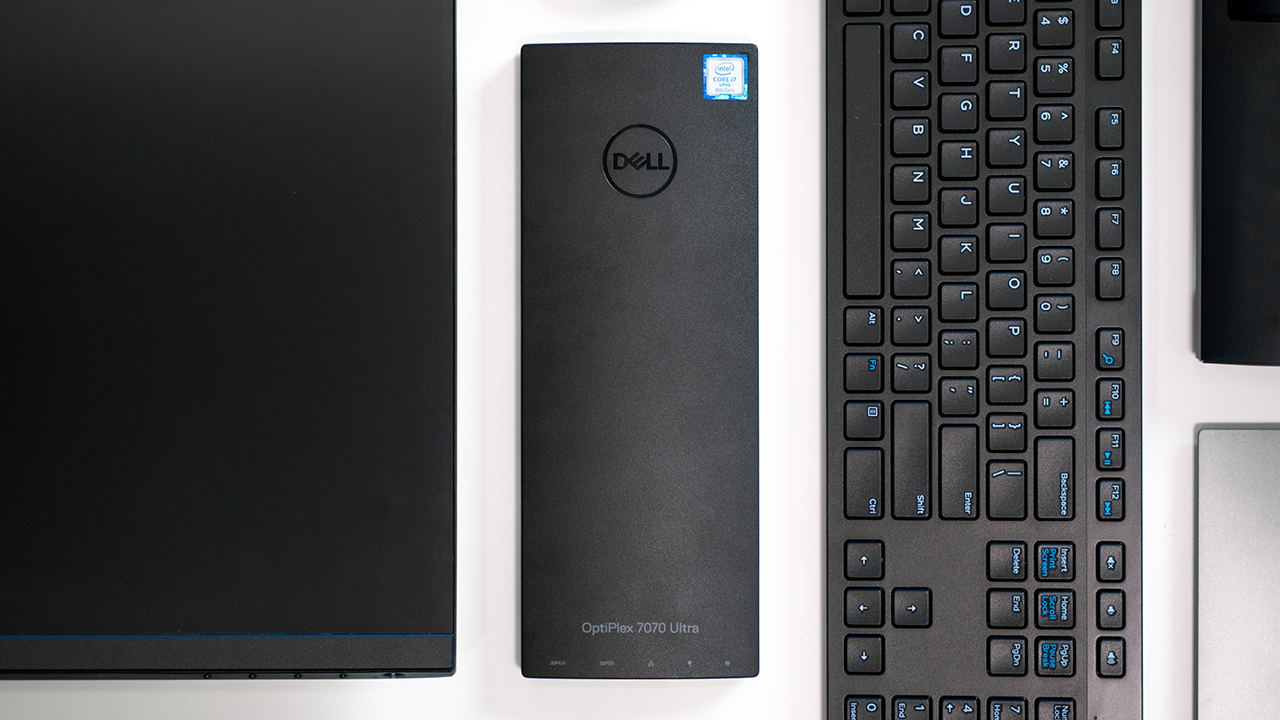 Some all-in-one desktop machines try to appeal to everyone in equal measure. The iMac, for example, is dedicated to delivering multimedia applications and elegant simplicity, which is part of the reason why Macs are so expensive. On the other end of the all-in-one spectrum are the small, bare-bones boxes with no accessories and no monitors (like the Mac Mini or other micro-form factor PCs.) There aren't quite so many bells and whistles to enjoy, but at the same time you're less likely to be paying for features you don't actually need. 
The OptiPlex 7070 Ultra isn't quite trying to be any of these, though it does borrow a little from each. Instead, Dell is betting on a market that wants a good looking, minimal computer with some decent quality-of-life benefits, aimed at college students and modern professionals. 
A PC Hiding in Plain Sight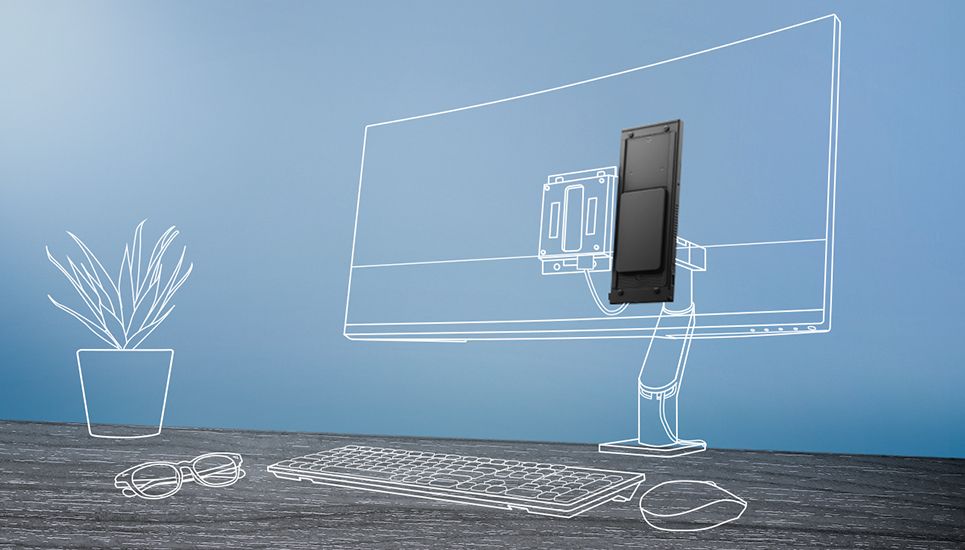 The entire OptiPlex 7070 Ultra is very, very small, even by NUC (Next Unit of Computing, a small form-factor kit made by Intel) standards, and you can use just this tiny box alone if you want to. When configured as intended, you'll never even really see the 7070 Ultra.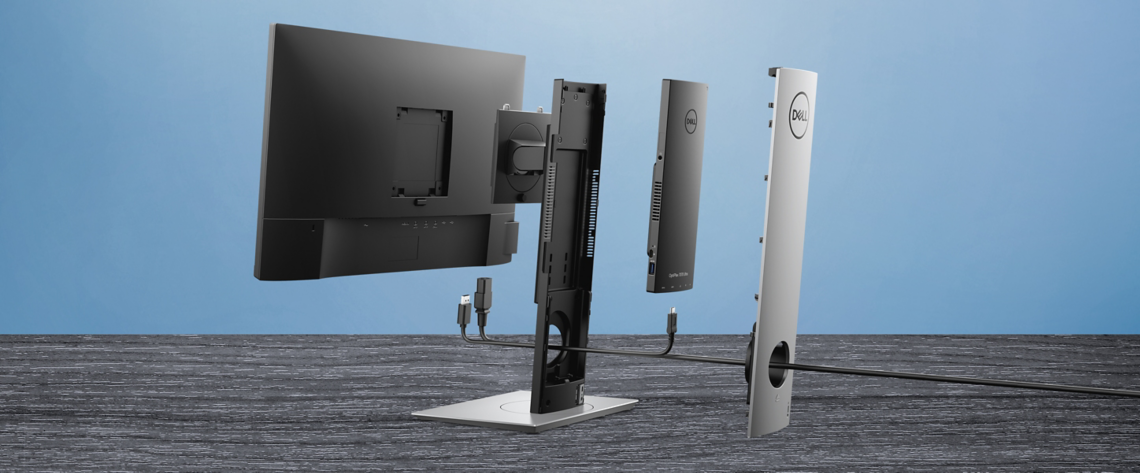 That's because the OptiPlex is designed to fit inside a custom Dell monitor stand or be mounted behind the monitor. The unique stand features a simple spring-loaded latch that, when engaged, slides the back panel up and off, revealing a convenient, almost ingenious slot in which the 7070 Ultra can sit.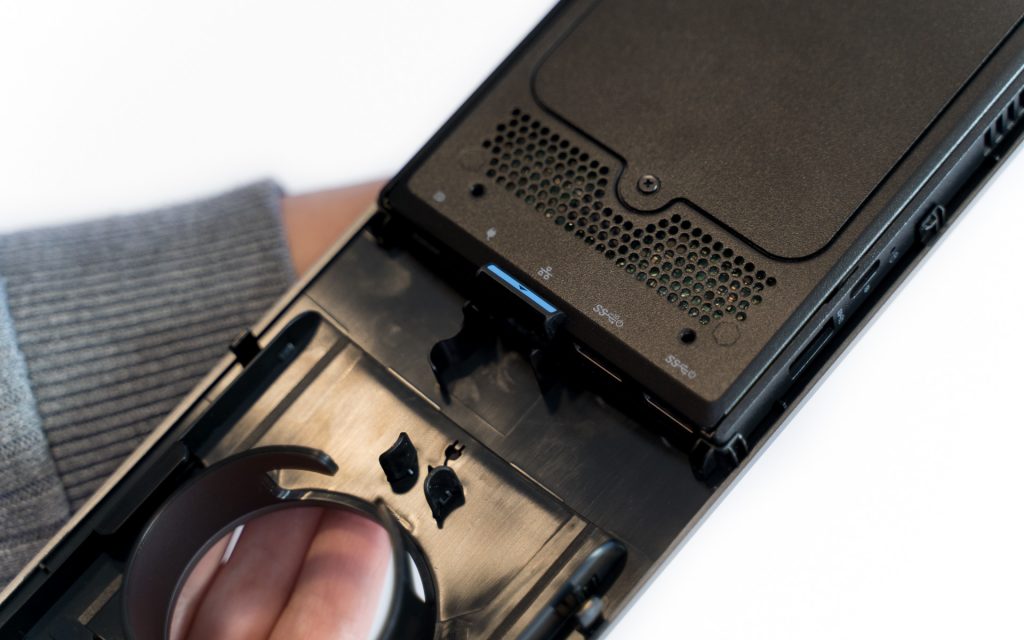 In this regard, the 7070 Ultra succeeds in its minimalist aims. If you set it up properly, using a short USB-C cable and the wireless keyboard and mouse included, the only cord you'll see running from the 7070 Ultra on a regular basis is a power cable for the monitor. The 7070 Ultra is completely powered by that previously mentioned USB-C cable — the monitor powers devices at up to 65 watts — and even though it's 2019, that still feels a little bit magical. 
The 7070 Ultra's main chassis also features a connection point for a normal, laptop-style power supply. While it's never bad to have more options, I can't imagine using the PC that way, since the whole thing is so well integrated into the monitor. 
The Right Display Takes Things to The Next Level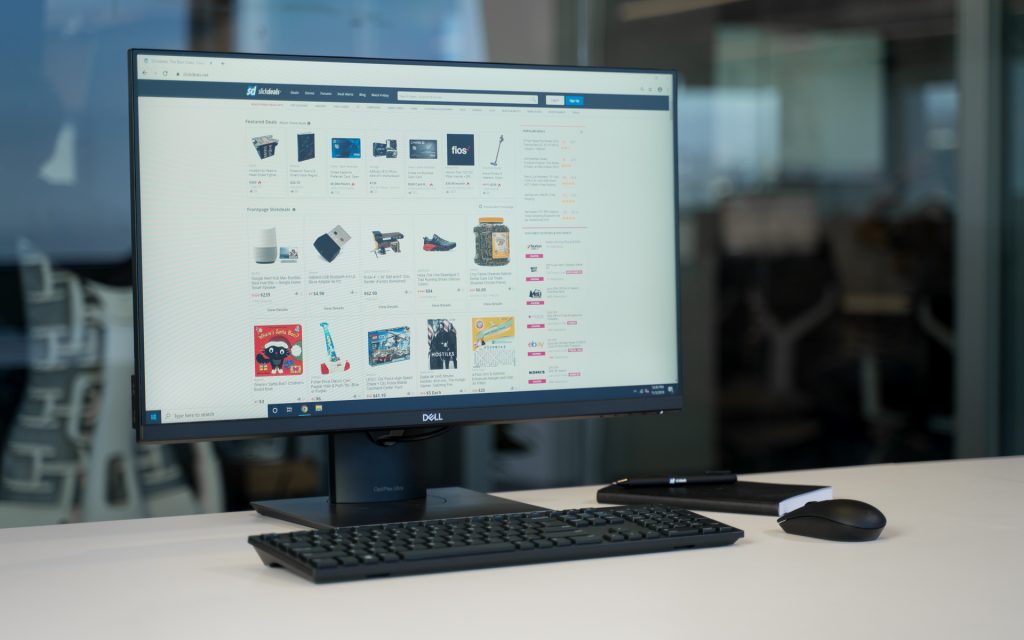 While the P2719HC monitor that Dell supplied for this review doesn't come included with the 7070 Ultra, the two products were clearly made to work together. If you're interested in the 7070 Ultra it's definitely worth considering this combo – it really helps the computer's package feel more premium. 
From a specs standpoint, the P2719HC monitor is a solid performer, although with a 1920×1080 resolution at 27 inches, it can't help but show some of those pixels a bit more prominently than I'd prefer. Its refresh rate is a standard 60hz, and realistically, the 7070 Ultra's hardware isn't designed for games or apps that require higher frame rates, so it works out just fine.
Still, the P2719HC is an attractive display with a very minimal bezel primarily located along the top and bottom of the screen. The bright display also offers decent color reproduction. The pivot and tilt action is very smooth, as is the mechanism by which the monitor slides up and down the stand. From a mechanical perspective, the P2719HC is effortless, and almost pleasurable to adjust. 
The package's premium feel is furthered by the convenience the 7070 Ultra offers. For such a tiny box, the computer actually features an incredible amount of expansion ports, in part due to the additional ports found on the P2719HC monitor. Overall, the PC and monitor offer more expansion options than a number of full-sized systems, to say nothing of small form factor devices. 
Small Computer, Lots of Ports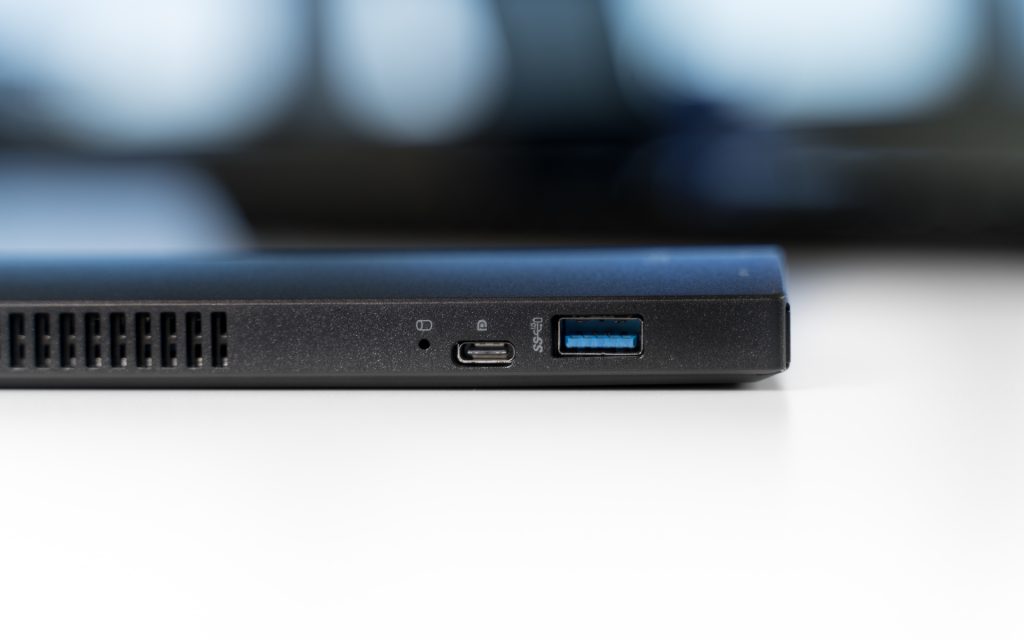 The 7070 Ultra has two fully featured USB-C ports, one of which you'll be using for the display itself. It also has three additional USB 3.1 type A ports — two second gen, and one first gen. 
The P2719HC monitor serves to greatly enhance the ports offered by the 7070 Ultra. That USB-C connection to the mini PC element allows for four additional USB ports — though they are somewhat unfortunately USB 2.0 ports. Still, plenty of things still use USB 2.0, and it's more than enough bandwidth for thumb drives and wireless headphones connections, as well as the dongle for the 7070 Ultra's included wireless keyboard and mouse. 
To top it all off, the 7070 Ultra includes a standard audio jack, gigabit Ethernet and, in a future-facing move from Dell, fully featured 802.11ax Wi-Fi — or Wi-Fi 6, if you prefer. 
Power for Productivity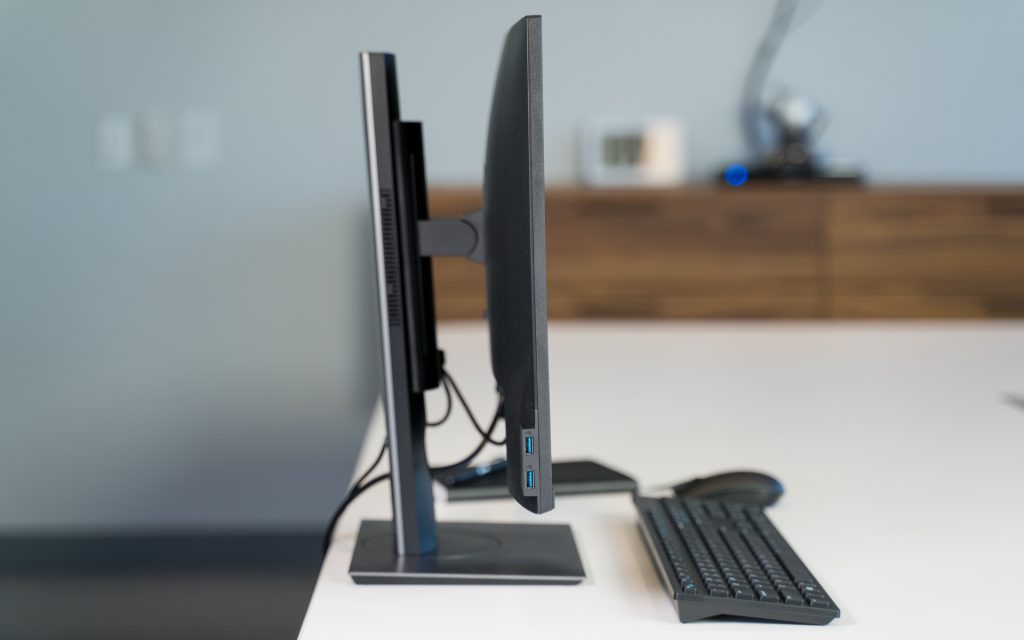 The OptiPlex 7070 Ultra isn't the most powerful device on the market, but it definitely gets the job done. As configured here, it features an Intel Core i7-8565u, a notebook/ultrabook oriented processor from 2018, along with 16GB of DDR4 RAM and an NVMe solid-state drive. An integrated-GPU handles video processing, which is fine for some light Photoshop work, but you should probably avoid intense video editing with professional apps like Adobe Premiere.
While power-users should probably consider a more high-spec machine, the OptiPlex 7070 Ultra offers enough oomph for average daily use. Your browsers and basic office software will function fine, even with a movie, a Twitch stream or some music running in the background. You'll know whether that's enough for your situation, which makes the decision on this kind of system simple. If you have a reputation for giving whatever PC you're using a workout, you likely won't be satisfied with what the 7070 Ultra can do for you. 
However, what the 7070 Ultra lacks in computing power, it makes up for with a lot of practical utility. Many users will never push a desktop-class Core i7 to its limits or benefit from its full potential in a practical way. But lots of USB ports, very fast Wi-Fi, and a decent NVMe drive make for an extremely quiet, fast booting, and expandable machine. If you're looking to outfit a dorm room or home office and you don't need to do a lot of image or video editing, the 7070 Ultra could very well be just what you need. Plus, both those locales tend to be tight on space, so you'll appreciate the extra-modest form factor. 
A Potential Niche, For the Right Price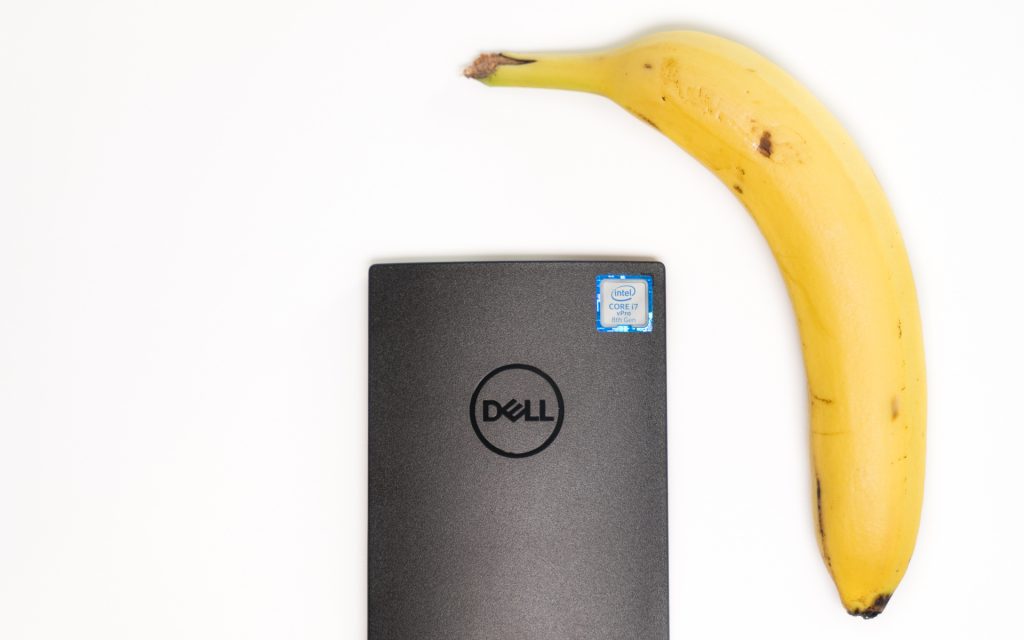 In the configuration I tested, the OptiPlex 7070 Ultra is both purpose-built and uniquely upgradable. Assuming Dell continues to support this form factor-forward approach, it's comparatively simple to disconnect the existing PC element from the monitor stand and replace it. 
The real question then is price. As configured, my review unit retails for just under $2000, which is significantly more than I would suggest paying for this kind of system. However, at the time of this writing, Dell has the OptiPlex 7070 Ultra on sale for considerably less — $829 for the base configuration, and $1399 for the Core i7 version that I tested. The OptiPlex 7070 Ultra comes with a custom monitor stand, so if you have an existing and compatible Dell monitor, simply swap the stands; otherwise, you can add a Dell monitor to your order for as little as $89.99, at the time of writing.
At that price, the 7070 Ultra's value proposition feels much more reasonable. And if an even better 7070 Ultra deal surfaces for a few hundred less, it becomes increasingly easier to justify for a dorm room, guest room or home office. Not everyone needs the time-warping specs seen in Alienware PCs and the like; if you're not going to be using the power, why not save some space in your house as well? 
---
Get the best price on an OptiPlex 7070 Ultra by setting a Deal Alert to be notified as soon as a new deal is posted. And be sure to visit the Dell coupon page for all the latest offers.
UP NEXT:
You also might want to check out today's best Dell deal from our Frontpage:
Search URL: https://slickdeals.net/newsearch.php?firstonly=1&pp=20&sort=newest&rating=frontpage&filter%5B%5D=525818&forumid%5B%5D=9&hideexpired=1&r=1
Our editors strive to ensure that the information in this article is accurate as of the date published, but please keep in mind that offers can change. We encourage you to verify all terms and conditions of any product before you apply.