Review: Dell's Premier Rechargeable Wireless Mouse Is Worth Every Penny
This productive peripheral serves up several months of use with fast recharging and no fuss.
Going wireless is nothing new in the world of computer mice, but not all wireless mice are created equal. Carrying batteries, keeping track of the dongle, and worrying about wireless pairing and compatibility are common concerns.
But with the Premier Rechargeable Wireless Mouse, it seems Dell's goal is to offer a portable mouse that's absolutely hassle-free. It pursues the idea that you spend a minimal amount of time thinking about it, because it just works.
What makes it Premier? It looks rather basic from the outside, but this belies a wealth of thoughtful design choices, intuitive features and surprisingly sophisticated customization options that allow this mouse to genuinely enhance productivity with just a little tweaking.
Dell Premier Rechargeable Wireless Mouse Technical Specifications
2.4GHz, Bluetooth 5.0 (switchable)
7 Buttons (programmable)
Up to 4,000dpi optical sensor
Internal rechargeable battery
Up to six months battery life
USB-C charge cable
Weight: 2.82oz
A Smart Investment for Productivity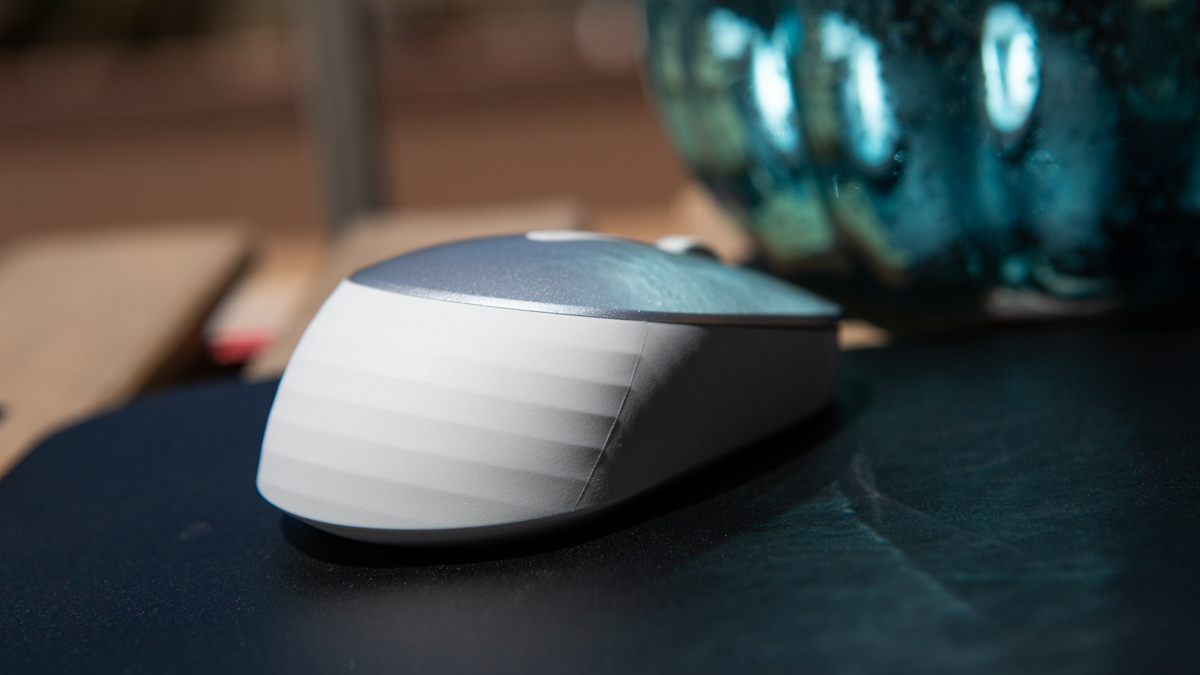 Compact, wireless mice can be had for as little as $20, so what makes the Dell Premier Rechargeable Wireless Mouse worth its $69.99 retail price?
The reasons start on the surface. The main body of the mouse consists of a nice, soft-feel casing that offers confident levels of grip, topped by a premium-looking metallic surface.
The mouse feels nicely weighted at a hair under 80g, not at all like the plastic-y, hollow shells of other cheaper mice. The seven buttons and rubber-coated mouse wheel feel sturdy too. But it's what's under the hood that makes this mouse really worth its price.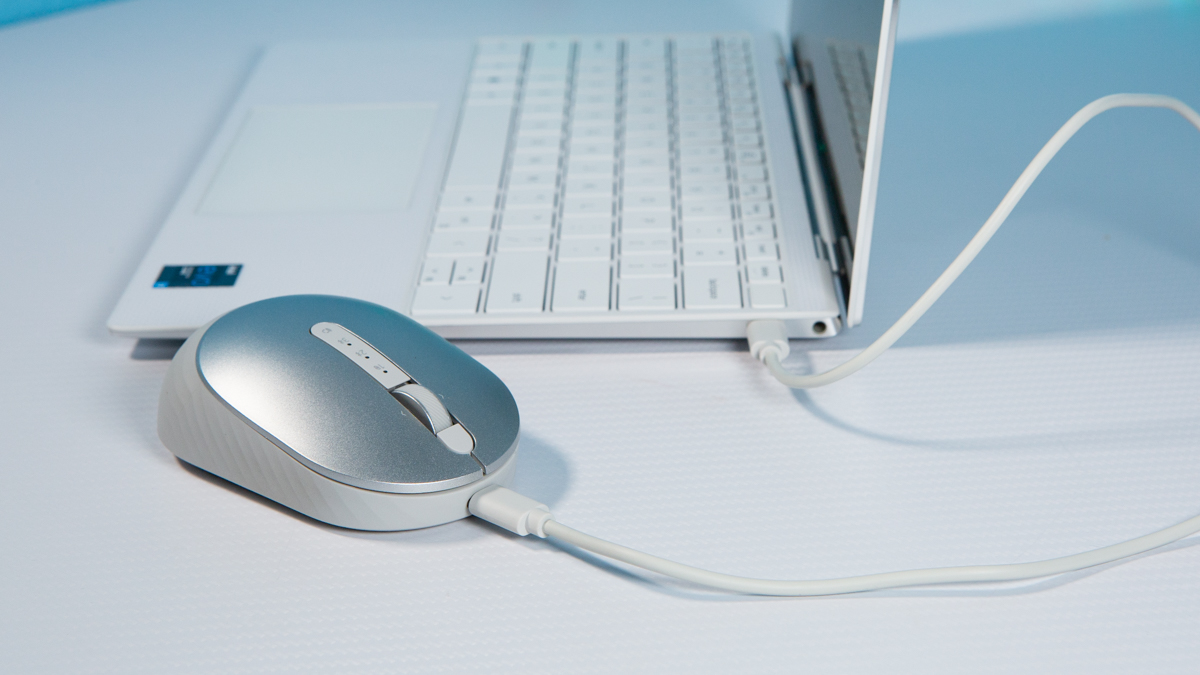 It has an internal rechargeable battery that Dell says can keep the mouse powered for up to six months. Admittedly, that's a vague estimate, but effectively this mouse should serve up hundreds of hours of use on a single charge.
It can be fully charged in just three hours and, should the need arise, a quick two-minute charge will get you a full day's use. It can also be charged while in use.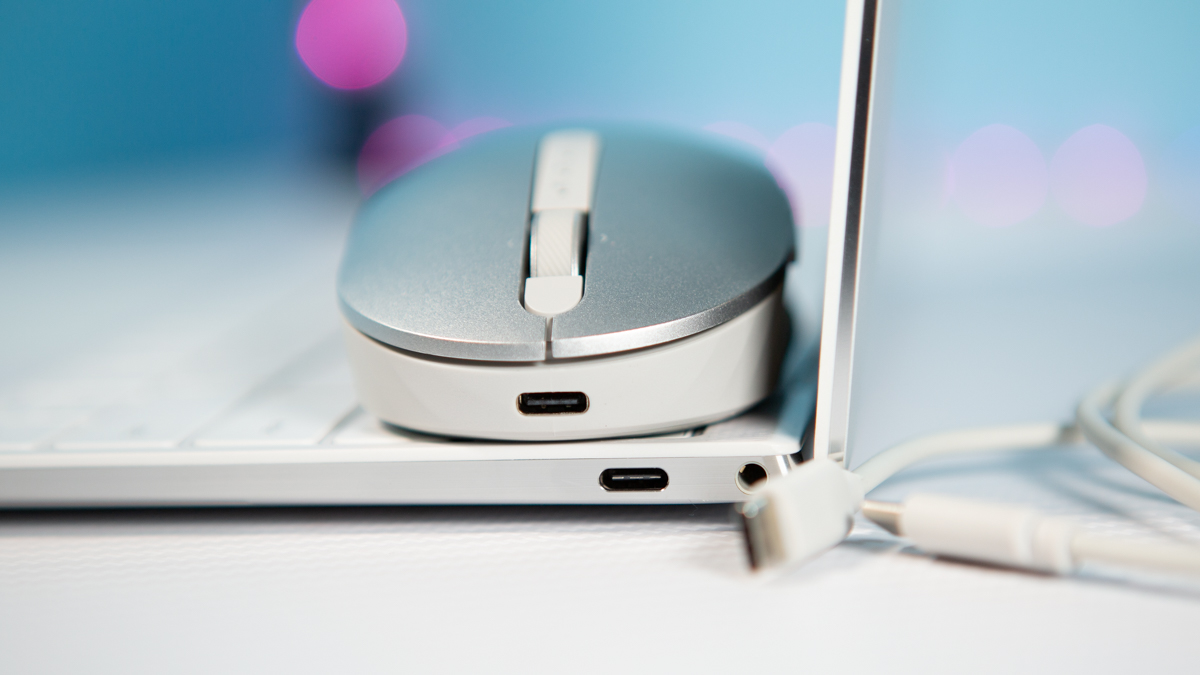 This means that not only do you never have to worry about carrying spare AA-size batteries in your laptop bag, you effectively never have to worry about being stuck with a dead battery.
Be aware, however, that the mouse comes with a USB-C-to-USB-C charging cable. If you don't have a modern laptop with a USB-C port built in, you'll need a USB-C to USB Type-A adapter.
A Convenient Pairing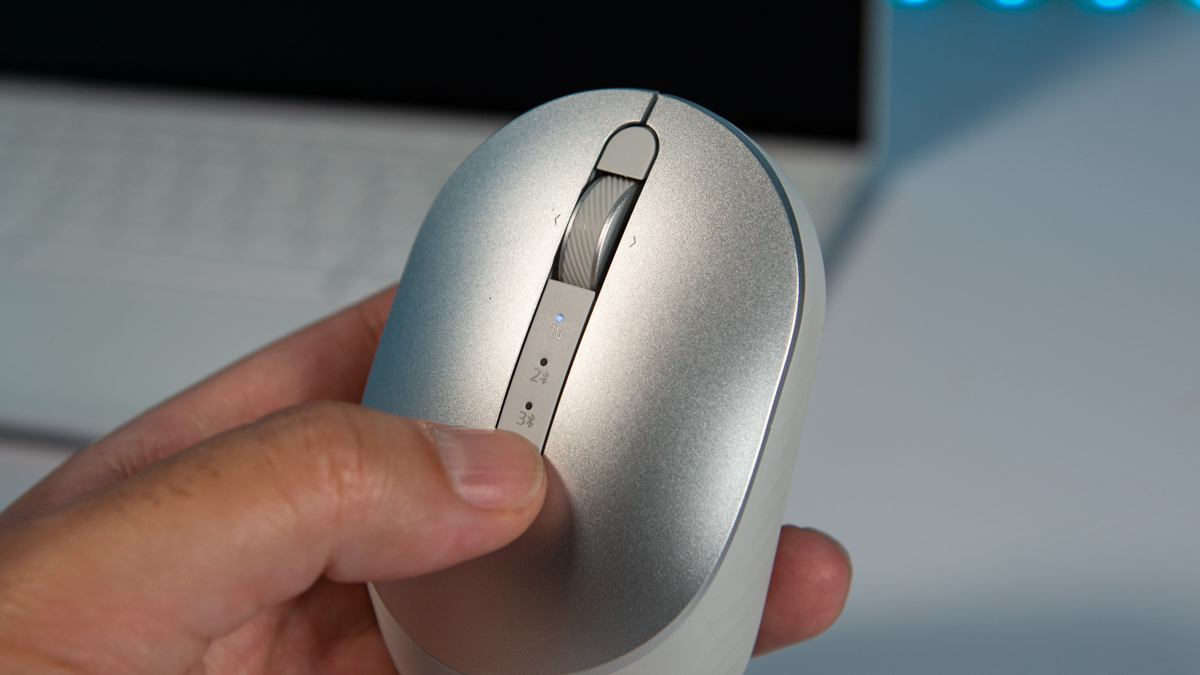 Not having to lug around a pack of batteries is great, but it's not the only clever convenience feature of this mouse.
As you'd expect, pairing the mouse to a Bluetooth-enabled laptop takes seconds. But what you wouldn't expect is the ability to pair it with two different Bluetooth devices and switch between them instantly via a button on the top of the mouse.
This makes it easy to, for example, use this mouse with both your laptop and your desktop PC, or another portable smart device like a phone or tablet, without having to constantly re-do the pairing process.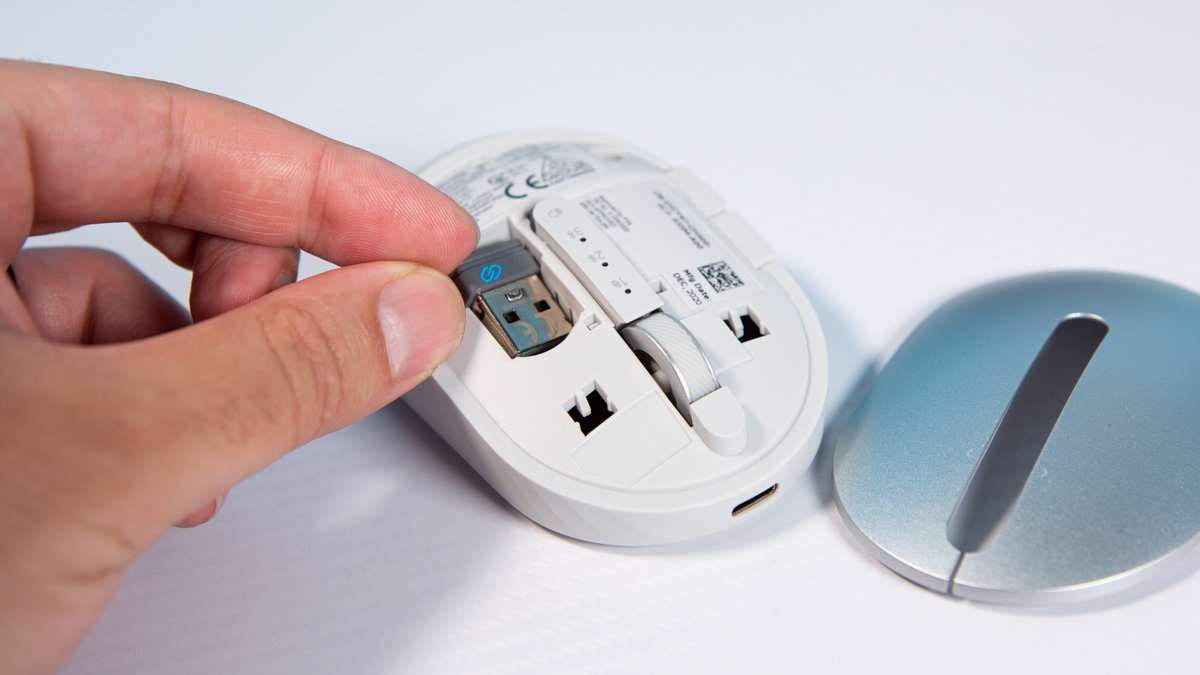 It also has a third wireless connection option: a 2.4GHz RF mode which connects directly to the included USB dongle. This is for use with devices that don't have Bluetooth (like an older PC), but can also be used if you're in a place with strong Bluetooth interference.
For added convenience, the USB dongle stows away nicely in an internal compartment, easily accessed by popping off the metallic top of the mouse, so you'll never lose it while on the go.
For Power Users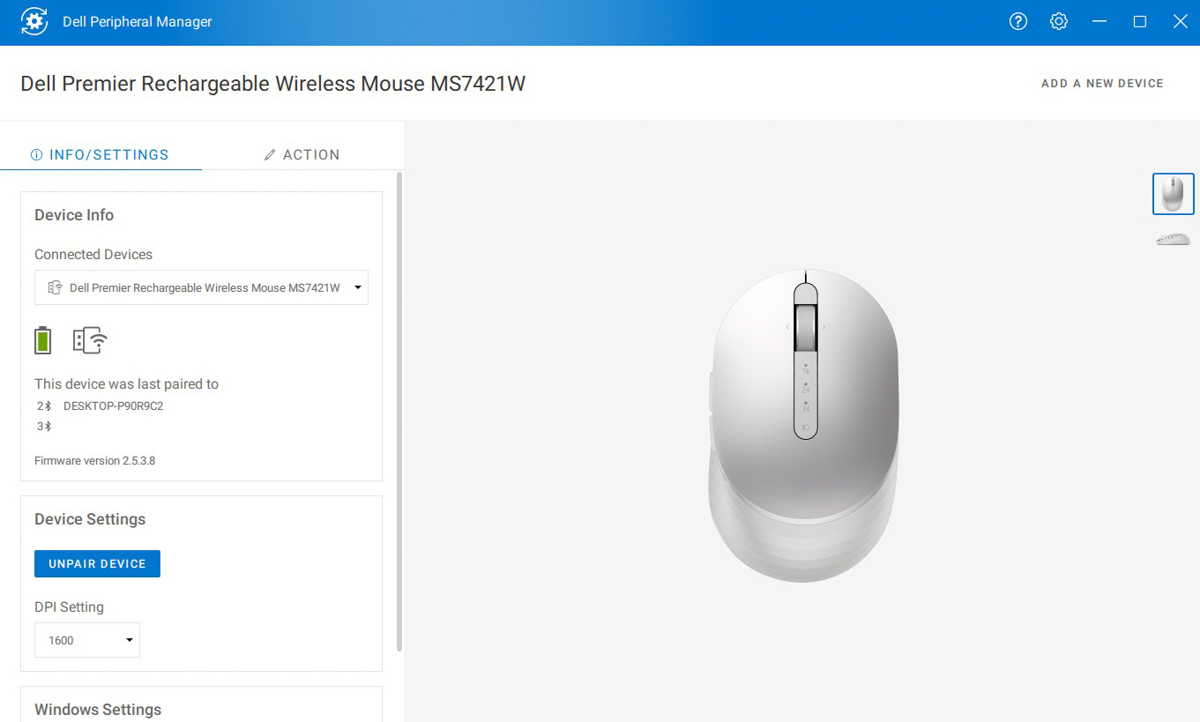 The mouse is plug-and-play, meaning that plugging it into a Windows, Mac, Chrome OS, or Android device will see it spring to life without any fussy installation process.
On Windows 10, however, inserting the USB dongle will prompt the automatic installation of Dell Peripheral Manager. This software lets you customize the mouse in some neat ways to better suit your use case and even enhance the way you use Windows.
Firstly, the sensitivity of the optical sensor can be changed (options range between 1000 and 4000dpi), and you can also see which two devices have been paired to both of its Bluetooth channels.
It also lets you assign custom functions to some of the buttons on the mouse, which can really help speed up your interactions with your laptop. You can assign multimedia controls or Windows actions, such as opening settings, pulling up a search or minimizing a window.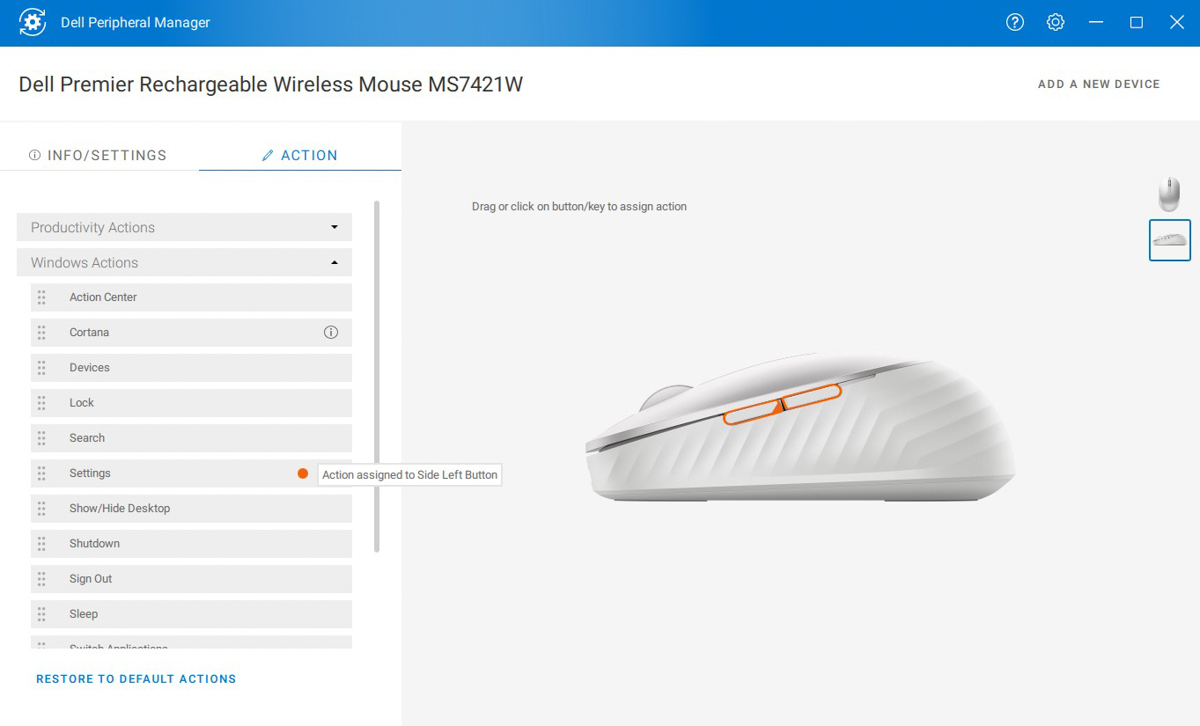 You can even assign custom keyboard inputs (or shortcuts) to a button, like CTRL-S, for example, which will let you easily save your work with the press of a button.
This makes buttons that I'd normally never use, like the mouse wheel tilt buttons, infinitely more useful, and can make previously arduous tasks a breeze with just a little configuration.
Unfortunately, Dell Peripheral Manager is only available for Windows 10. So while the mouse is widely compatible for normal use with many systems, you will only benefit from customizable keys on Windows 10 PCs.
Should You Buy the Dell Premier Rechargeable Wireless Mouse?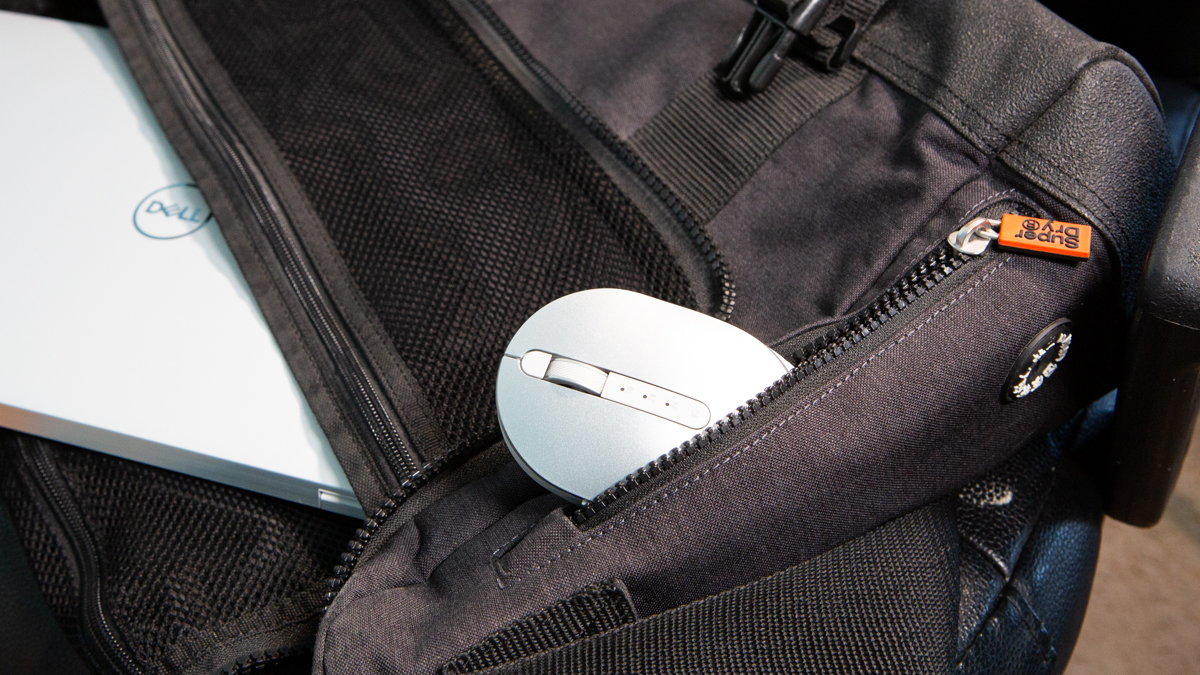 The $62.99 asking price (at the time of writing) places the Dell Premier Rechargeable Wireless Mouse at the premium end of the market for compact wireless mice. But if you work on a modern Windows 10 laptop, you'll have the ability to take full advantage of the features that make this mouse worth every penny.
It's a shame that users of other operating systems aren't able to extract the full potential from this mouse, but the insanely long battery life and super fast charge times makes this a solid purchase for anyone who needs a dependable mouse for the road.
Stay up to date on all the latest tech deals and discounts by setting a custom Deal Alert. We'll let you know the moment a new deal drops so you don't miss out on a good sale. And be sure to check out the Dell Coupons page for all the latest deals.
Up Next:
Our editors strive to ensure that the information in this article is accurate as of the date published, but please keep in mind that offers can change. We encourage you to verify all terms and conditions of any product before you apply.