Review: Dell's UltraSharp 34 Curved USB-C Hub Monitor Is the Swiss Army Knife of Displays
This huge ultrawide is the best version of Dell's productivity-focused 'USB-C hub' monitors available.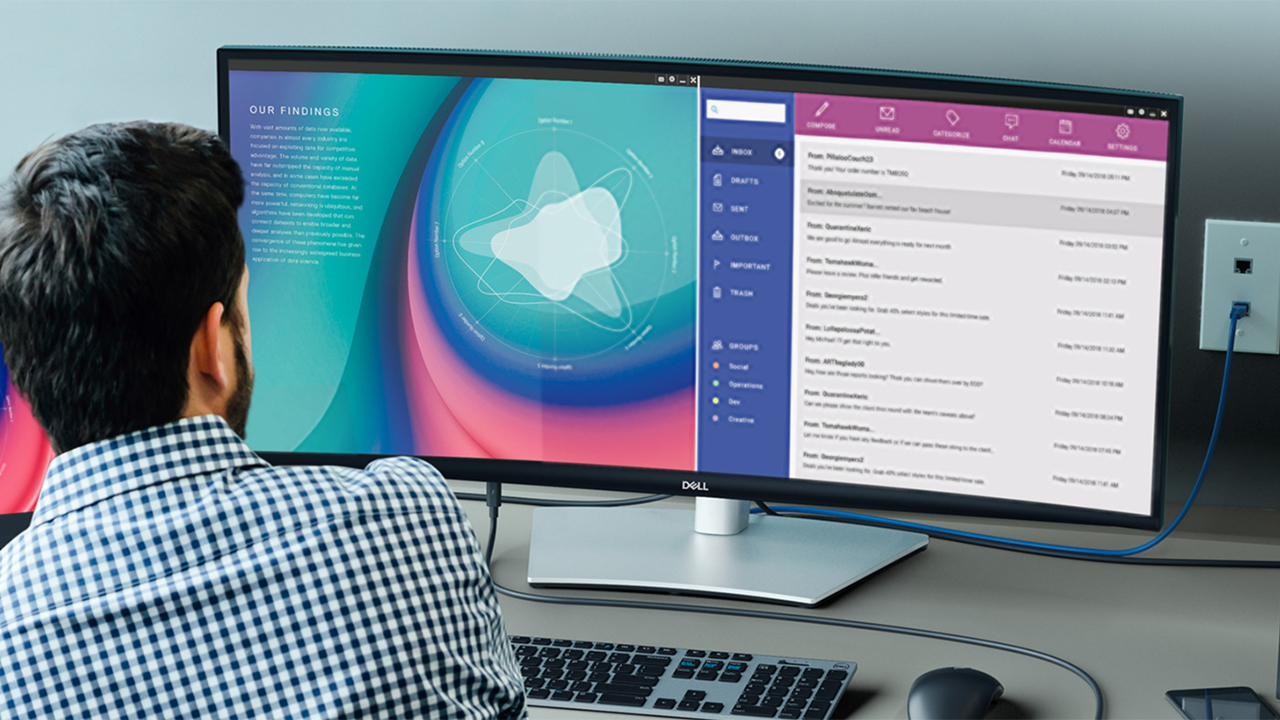 Dell's UltraSharp 34 Curved USB-C Hub Monitor is a massive display for sure, but ironically, the philosophy behind it is about having less — not more — on your desk.
It's wide enough to serve in place of two separate displays, and it has enough connections built in to function as a laptop docking station for charging, video output and wired internet pass through. It will even let you control two PCs with one set of input peripherals via a built-in KVM (keyboard, video, mouse) switch.
Even better, it can do all of this via a single USB-C cable connected to a compatible laptop. When used to its full potential, this display can streamline what was traditionally a multi-device setup to just a laptop, monitor and one cable.
Oh, and it also just happens to be a really nice display, too. But you would expect as much for $1,199.99. At that price, however, this is a monitor for a very particular use case. And if you don't fit the profile, you may want to consider other options.
At the time of publishing, the UltraSharp 34 Curved USB-C Hub Monitor is on sale for $959.99 at Dell.com.
Dell UltraSharp 34 Curved USB-C Hub Monitor Technical Specifications
34.1-inch curved (1900R) display
IPS panel type
3440×1440 resolution (21:9 aspect ratio)
300 nits peak brightness
1000:1 contrast ratio
95% DCI-P3 color space coverage
Tilt: 5°/21°, swivel: -30°/30°
Up to 5ms GTG pixel response
Dual 5W built-in speakers
2x HDMI, 1x DisplayPort, USB-C, 4x USB Type-A Super speed 3.2 Gen 1, Ethernet
Your Partner for Productivity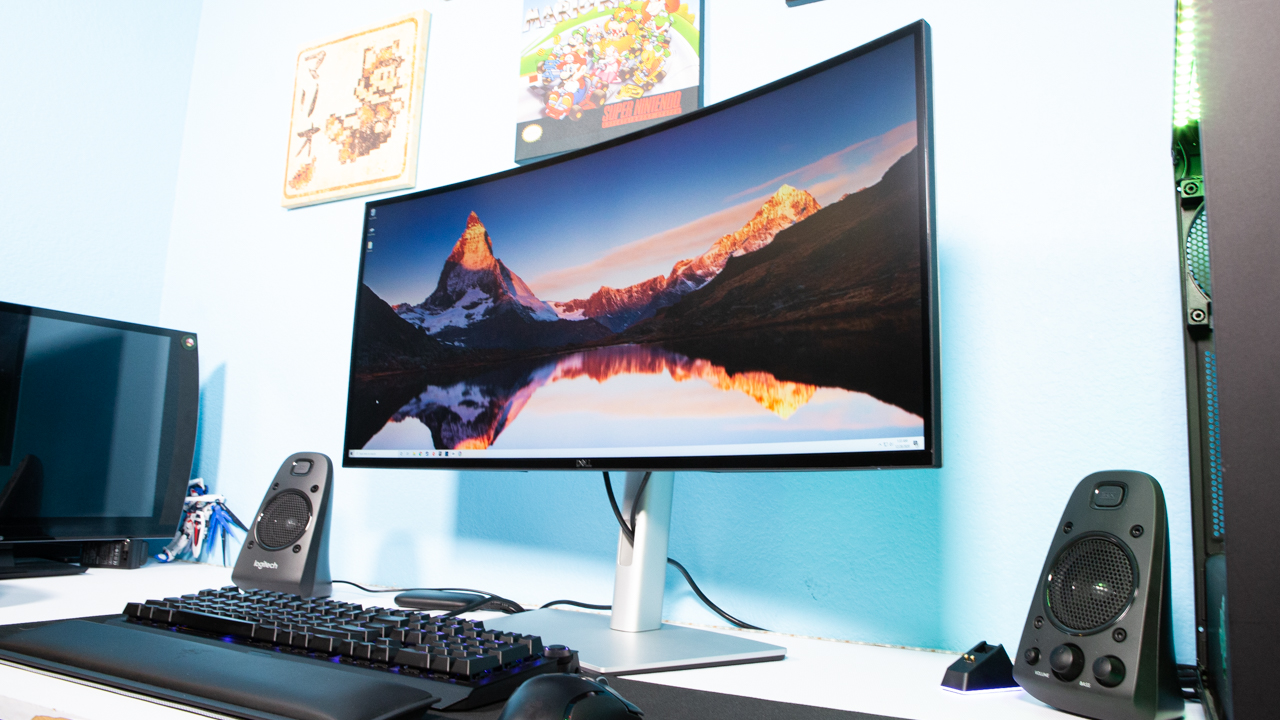 Dell aims squarely at the productivity crowd with the new UltraSharp 34 Curved Monitor. It comes factory calibrated for accuracy out of the box. And I didn't feel the need to change any settings at all, except to switch back and forth between the Standard and ComfortView presets — the former for watching videos and the latter to reduce eye strain during long work hours. Changing between these modes is easy thanks to the four-way control stick on the rear-right of the monitor and a fairly rudimentary but intuitive on-screen display menu.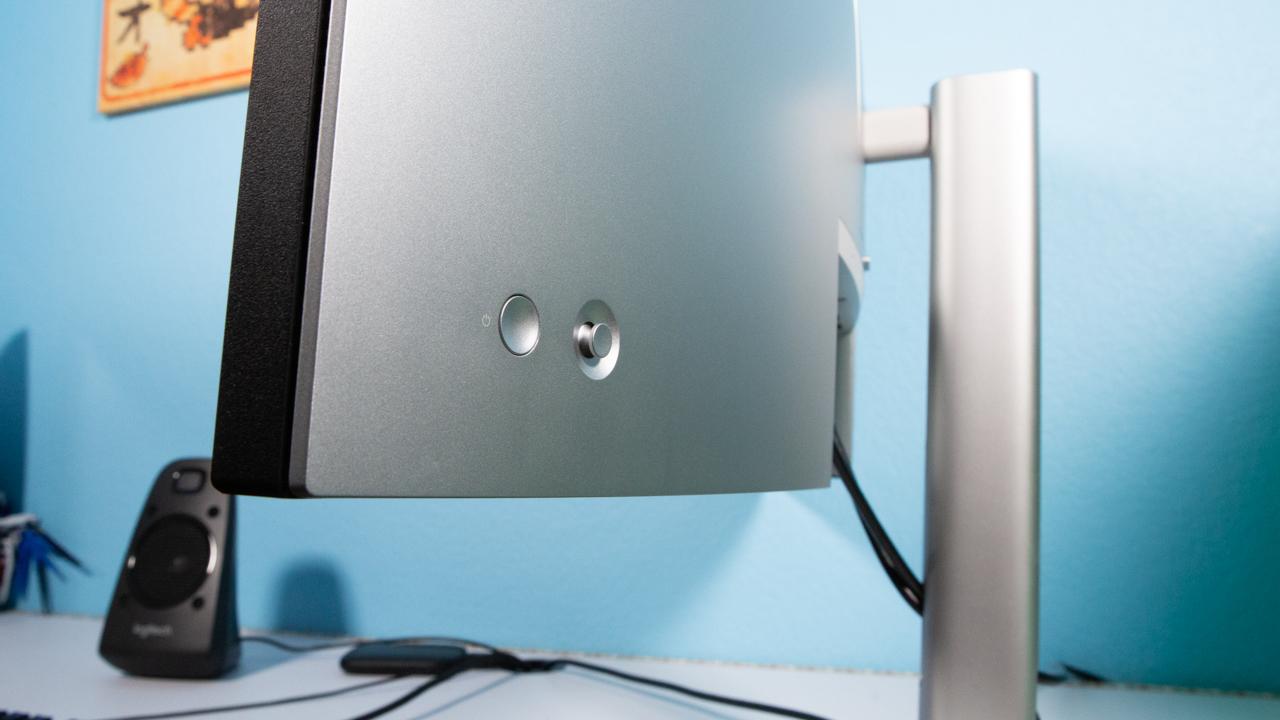 The 3440×1440 panel isn't the most high-resolution on the market, but delivers excellent color reproduction at 95% DCI-P3 color space coverage. Viewing angles are great, and the subtle curve helps keep all areas of the screen pointed directly at the viewer.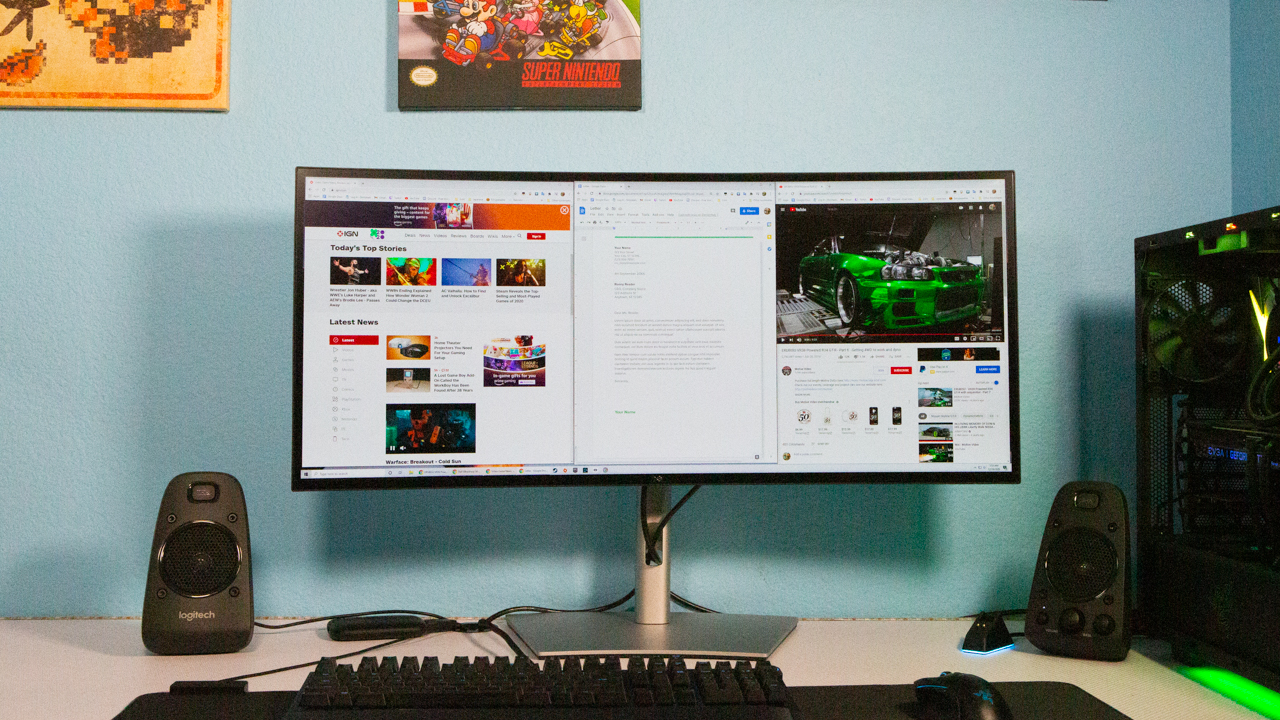 And of course, there's the obvious benefits of its sheer size. There's something so immersive about having multiple windows — a word processor, music application, web browser and more — all open on one large, curved display, versus having your desktop split by two bezels.
Even when you're not multitasking, a single big screen is still beneficial. Editing a video on this panel is amazing. With a huge timeline and multiple preview windows all open at once, it makes the whole process of editing so much easier.
And when you're not working, your entertainment will also look great. It's disappointing that there's no HDR support, but for casually viewing a TV show or movie, the size of this huge panel makes up for its relatively low peak brightness of around 300 nits. Casual gaming is also doable, but serious PC gamers will want more than this 60Hz panel can offer.
An All-in-One Hub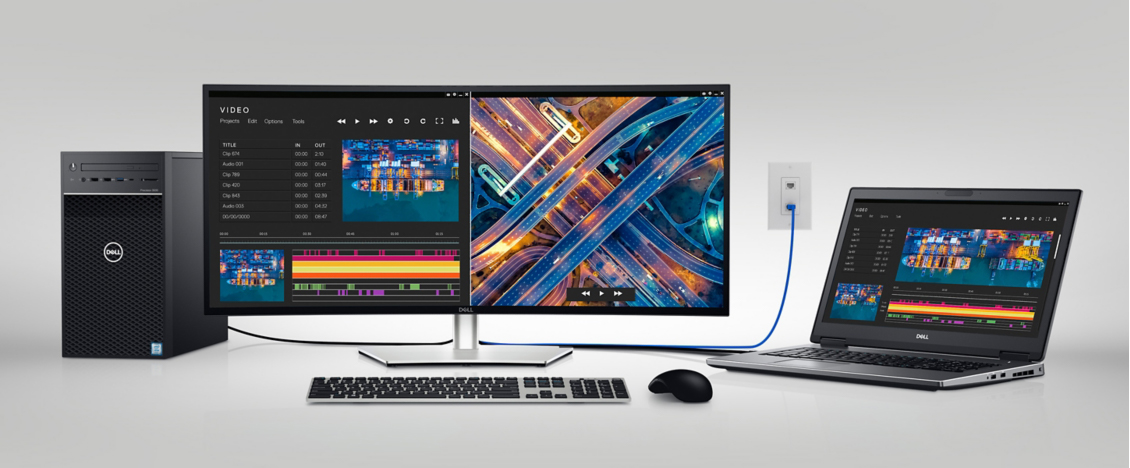 I'm a fan of ultrawides in general. But what sets this product apart is its focus on streamlining connectivity. It does, after all, have the phrase "USB-C Hub" in its name for a reason.
This display isn't just meant to replace a second screen, it also aims to do away with traditional laptop docking stations, USB expansion hubs, Ethernet adapters and even your laptop charger. This monitor can do it all for you.
The basic idea is that you'll connect your laptop with a single USB-C cable, and that one connection will handle everything. Alongside the video and audio signals, it will push a stable wired internet connection to your laptop thanks to its built-in Ethernet port (which, of course, has to be connected to your modem or router). It will also charge your laptop with up to 90W of power delivery, and will massively expand on your peripheral connection options via the four SuperSpeed USB Type-A ports provided.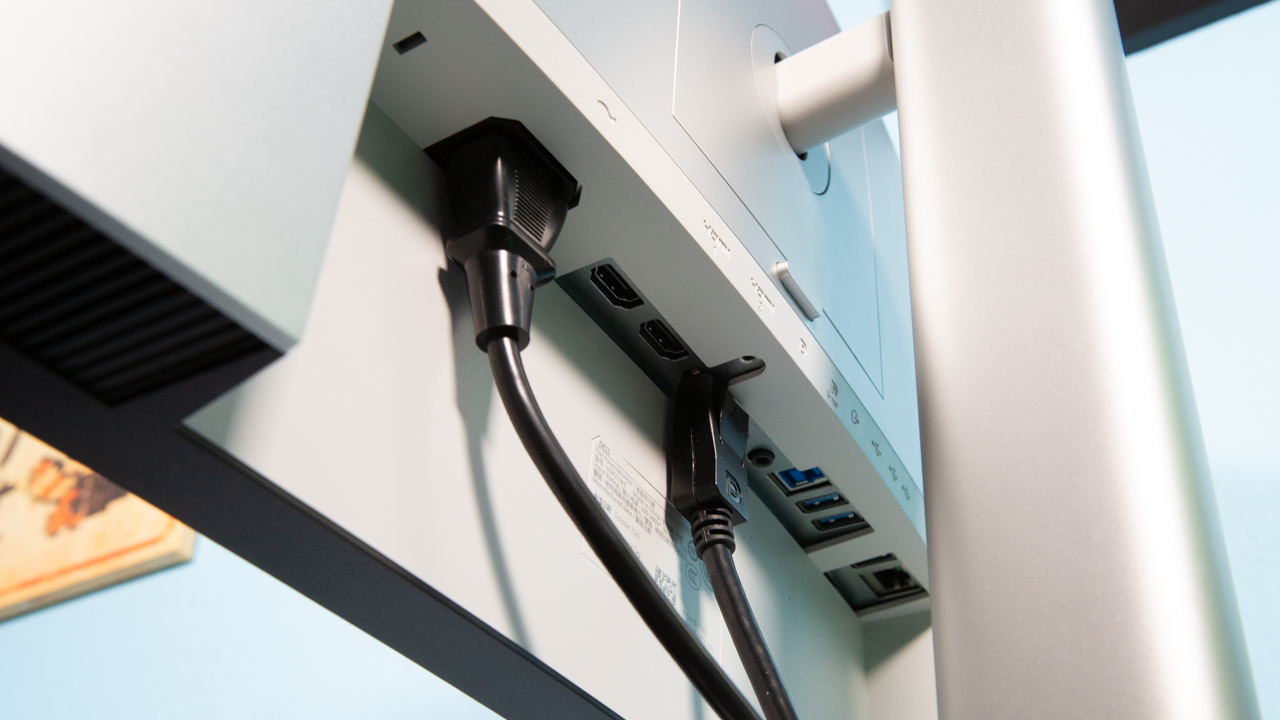 In addition to all that, if you have two computers on your desk (a desktop and laptop perhaps), this panel can act as a KVM (keyboard, video, mouse) switch, allowing you to control both machines with a single mouse and keyboard. The monitor will detect when you connect two video sources, and allow for features like auto-input switching, as well as the ability to display video from both sources at once via its picture-in-picture modes.
This all comes together to offer one of the most streamlined solutions to home office computing available. If deployed effectively, the UltraSharp 34 Curved USB-C Hub Monitor can liberate you from the tangled mess of traditional office setups. But at $1,199.99, you're paying a premium for this connectivity.
To get the best out of this product, you really need to pair it with a laptop that's compatible with USB-C charging. The selection of such devices has grown significantly in the past couple of years, but it's still not by any means ubiquitous.
Should You Buy the Dell UltraSharp 34 Curved USB-C Hub Monitor?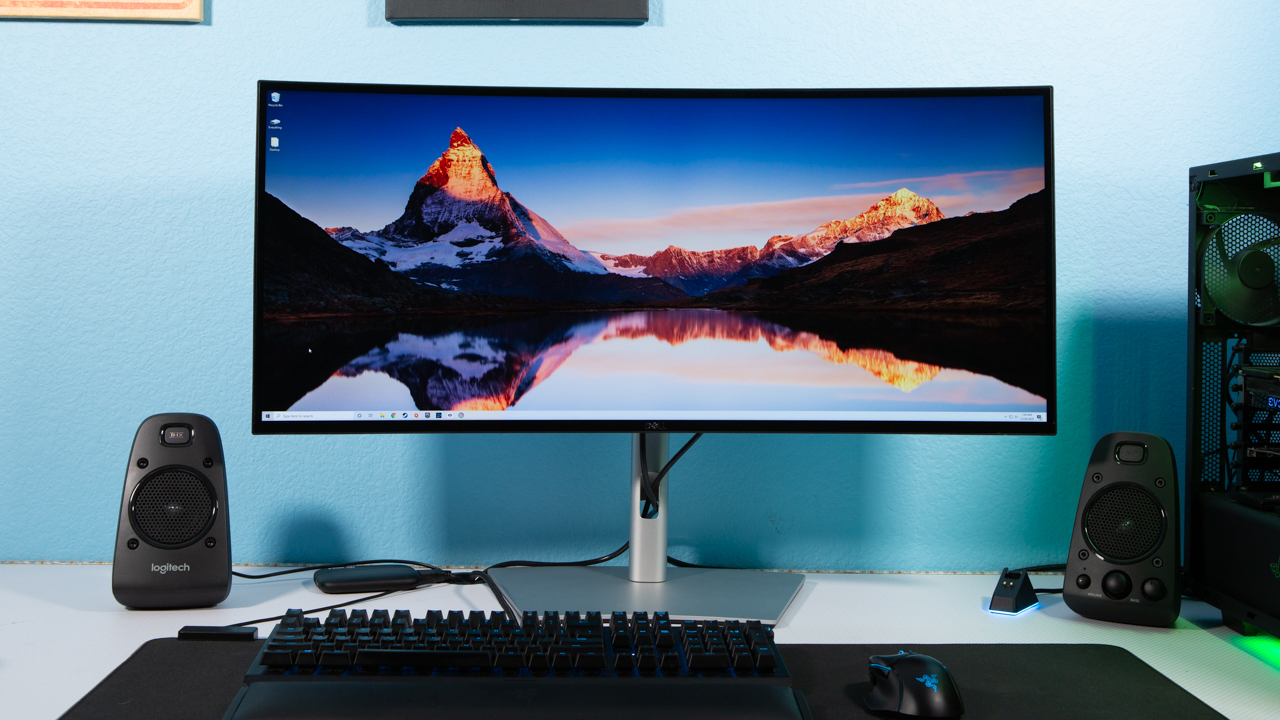 Dell's UltraSharp 34 Curved USB-C Hub Monitor is all about streamlining your home office by providing Swiss Army knife-levels of utility and connectivity.
If you work on a powerful laptop with a compatible USB-C charge and data port that can take full advantage of the hub-style features of this panel, you will likely find it easier to justify the $1,199.99 investment.
That said, if you're simply looking for a screen to connect to a desktop PC via HDMI, and won't utilize any of its one-cable-does-all superpowers, there are far less expensive ultrawide displays which offer the same (and in some cases superior) core display specifications for a lot less money.
Right now, the UltraSharp 34 Curved USB-C Hub Monitor is on sale for $959.99 at Dell.com.
---
Set a custom Deal Alert to be notified as soon as a new discount or sale is posted to our forums. And browse the Dell Coupons page for the latest offers from Dell.
Up Next:
Our editors strive to ensure that the information in this article is accurate as of the date published, but please keep in mind that offers can change. We encourage you to verify all terms and conditions of any product before you apply.