Review: Dell's New UltraSharp Monitor Is an All-in-One Dock for Your Laptop
A premium home office screen with video, power and internet over a single cable.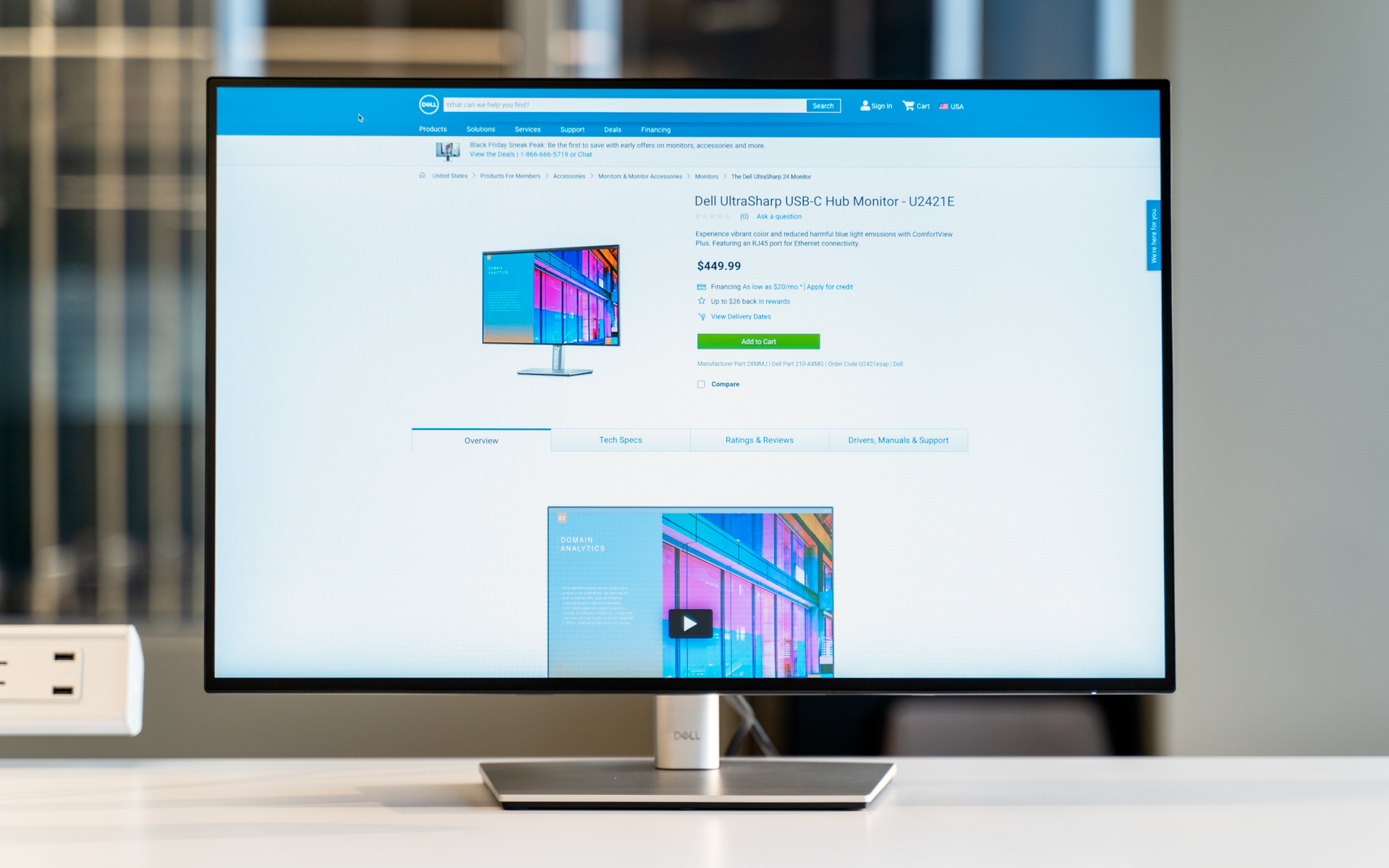 Dell's UltraSharp USB-C Hub Monitor is the perfect example of innovations in technology that offer a tangible improvement to your quality of life.
Instead of serving up a list of tech specs full of big numbers that are meaningless to most people, this monitor's ace card is a single USB-C port so capable that it transforms the display into a fully functioning dock for your laptop.
It fundamentally changes the way you engage with your home office by reducing what was once a bulky and complex setup down to a single cable. It also simplifies multi-screen use with a smart daisy-chaining feature, and is so intuitive that you'll never want to go back to those bulky docking stations that are still painfully commonplace.
It's the perfect solution for a modern home office. But these innovations come at a cost that is only worth paying if you can take full advantage of its features.
Buy the Dell UltraSharp USB-C Monitor
Dell UltraSharp USB-C Hub Monitor (U2421E) Tech Specs
24-inch screen (1920×1200 16:10 aspect ratio)
IPS-type display
Standard low blue light ComfortView Plus
1000:1 contrast ratio
99% RGB Coverage, 350 nits peak brightness
All-in-one USB-C port with DisplayPort (video, 90W power, data)
USB-C downstream data port
RJ-45 Ethernet connector
3x USB Type-A (3.2 Gen1) 5Gbps
DisplayPort, HDMI
Everything Through One Cable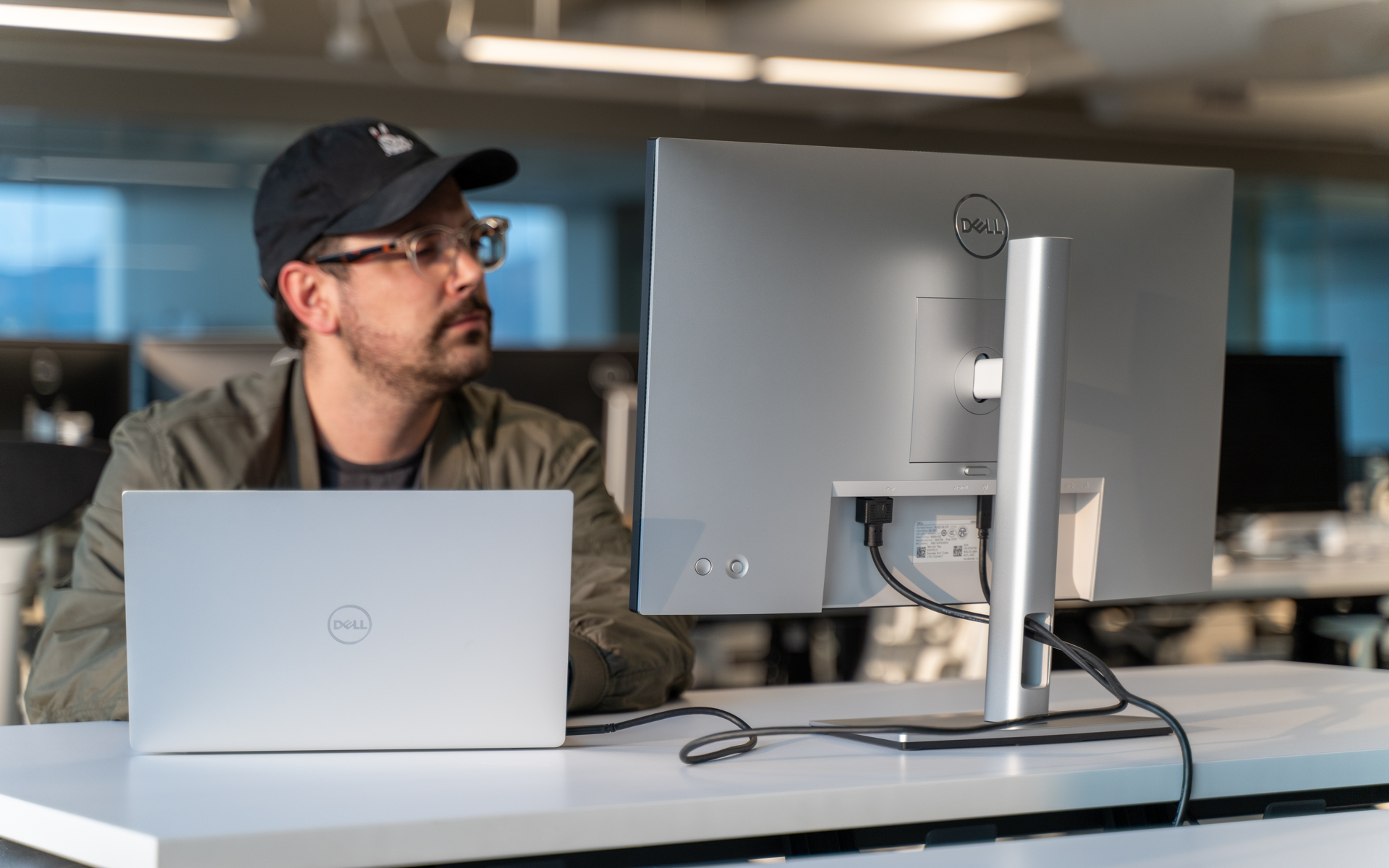 The elevator pitch of Dell's UltraSharp monitor centers on the extreme convenience of its all-in-one USB-C port. This monitor not only serves as a bigger screen for your laptop, it also provides all the functionality of a traditional docking station through a single USB-C cable.
That one tiny USB port handles video throughput, data transfer and up to 90W of charging power. The monitor also features an Ethernet port for wired internet. This means that you only need to connect one cable to your laptop to expand your working canvas to a second screen, gain a more stable wired internet connection, add multiple extra USB ports, and charge your battery while you work.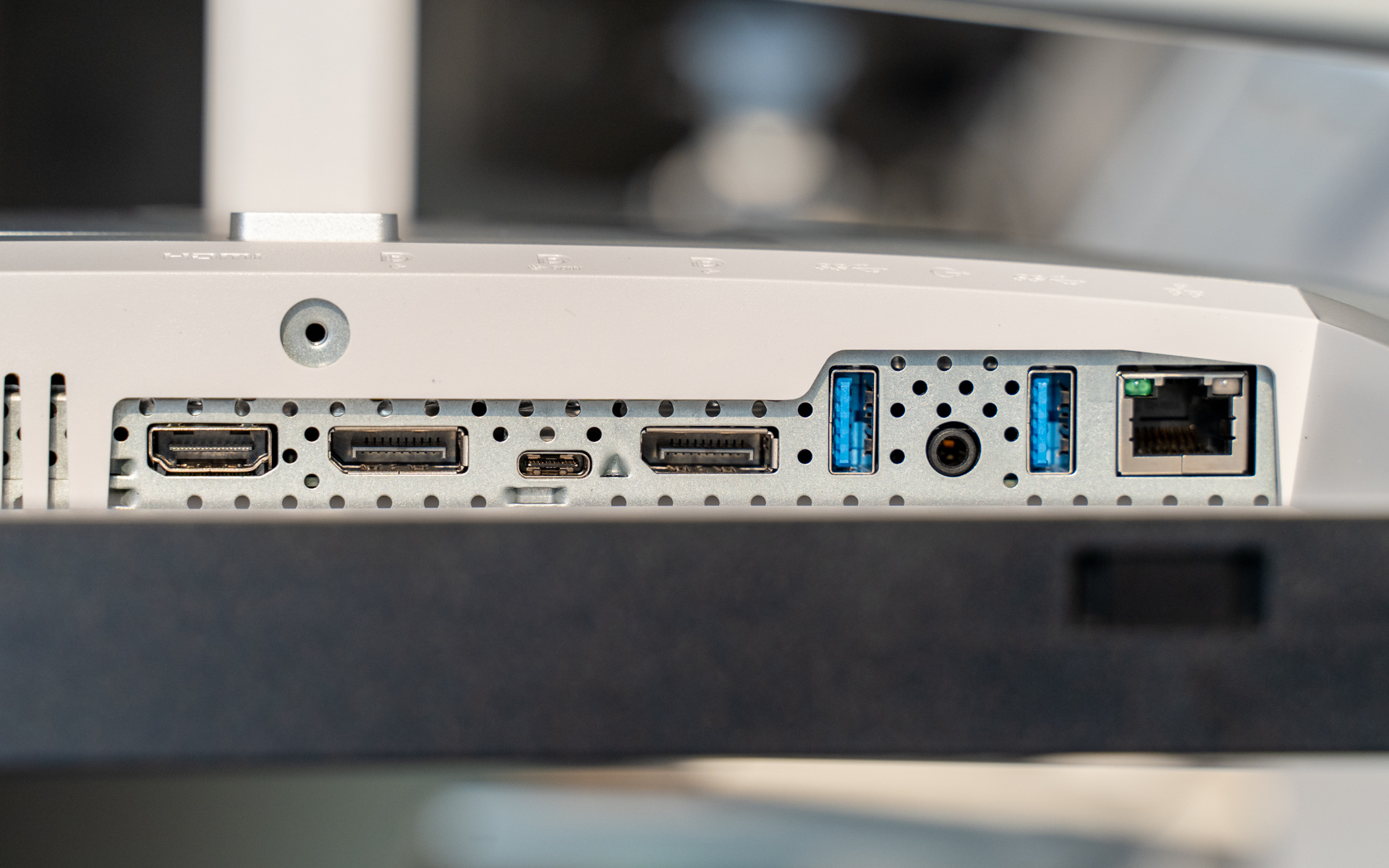 Dell has also simplified multi-screen setups with its Multi-Stream Transport tech (MST), which lets you connect multiple UltraSharp displays via a daisy chain that passes a video feed directly from one monitor to another. This means you can push video to multiple screens using just one video out port on your laptop.
It's such an elegant solution for the home office with a portable workstation at its heart. Plus, it transforms what was once a daunting mass of tangled cables into a streamlined and intuitive setup. This is complimented by a sleek and minimalist base stand with a small cable management channel.
Of course, all of this is contingent on you owning a laptop with a USB-C port that features charging and video output (such as Dell's own XPS line or Microsoft's Surface, for example). If you don't have a modern laptop, this monitor is not for you because you'll be paying a premium for smart features you simply won't be able to use. A more rudimentary display can be had for less than half the price.
A High Quality Office Display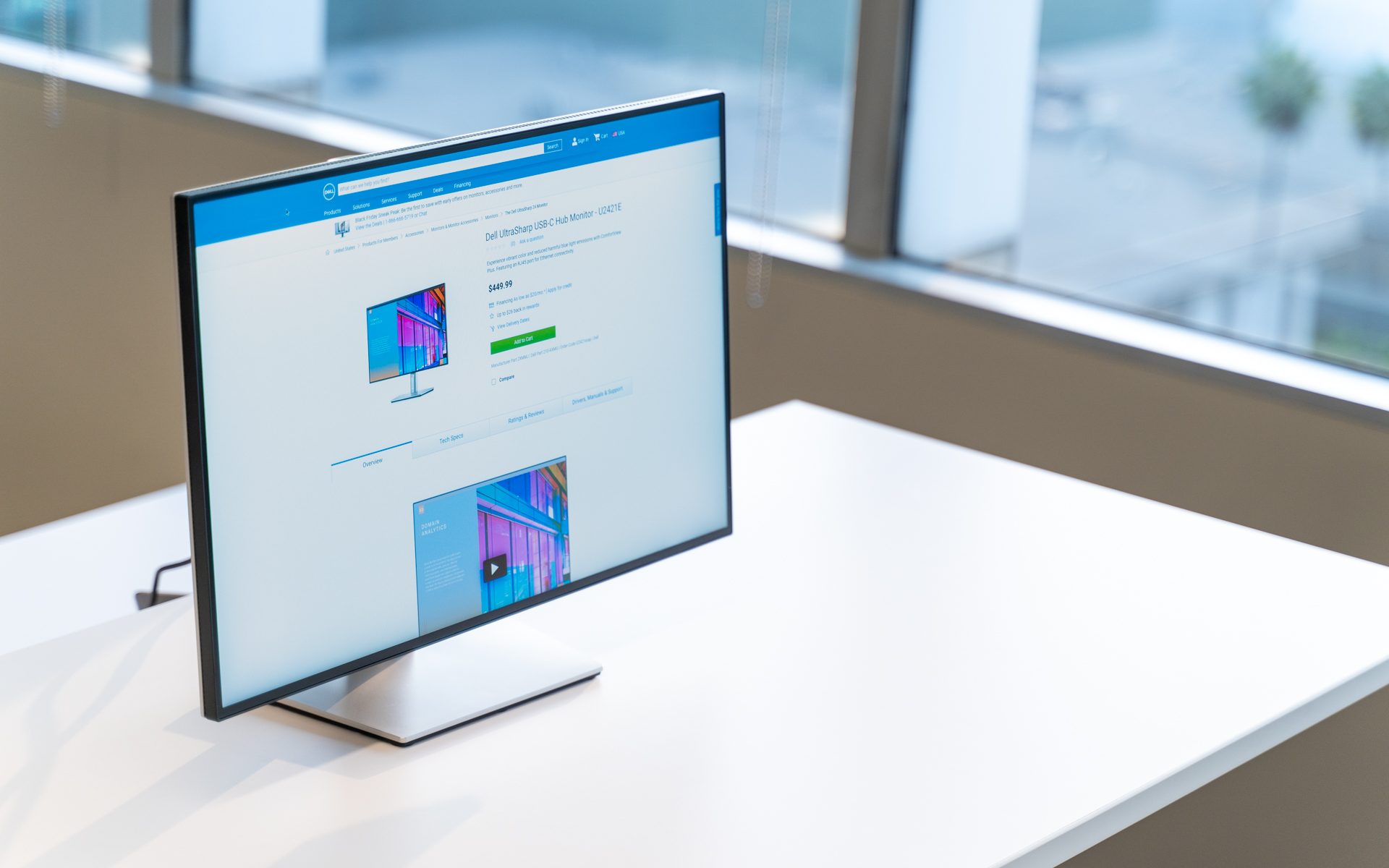 New for the 2020 model year UltraSharp monitors is the introduction of a 16:10 aspect ratio – a widely praised carry-over from Dell's XPS laptops that offers 11% more workspace on the horizontal plane. This taller screen profile is perfect for viewing documents or web pages, but is totally unobtrusive when viewing conventional 16:9 video content – small black borders above and below avoid stretching without being bothersome.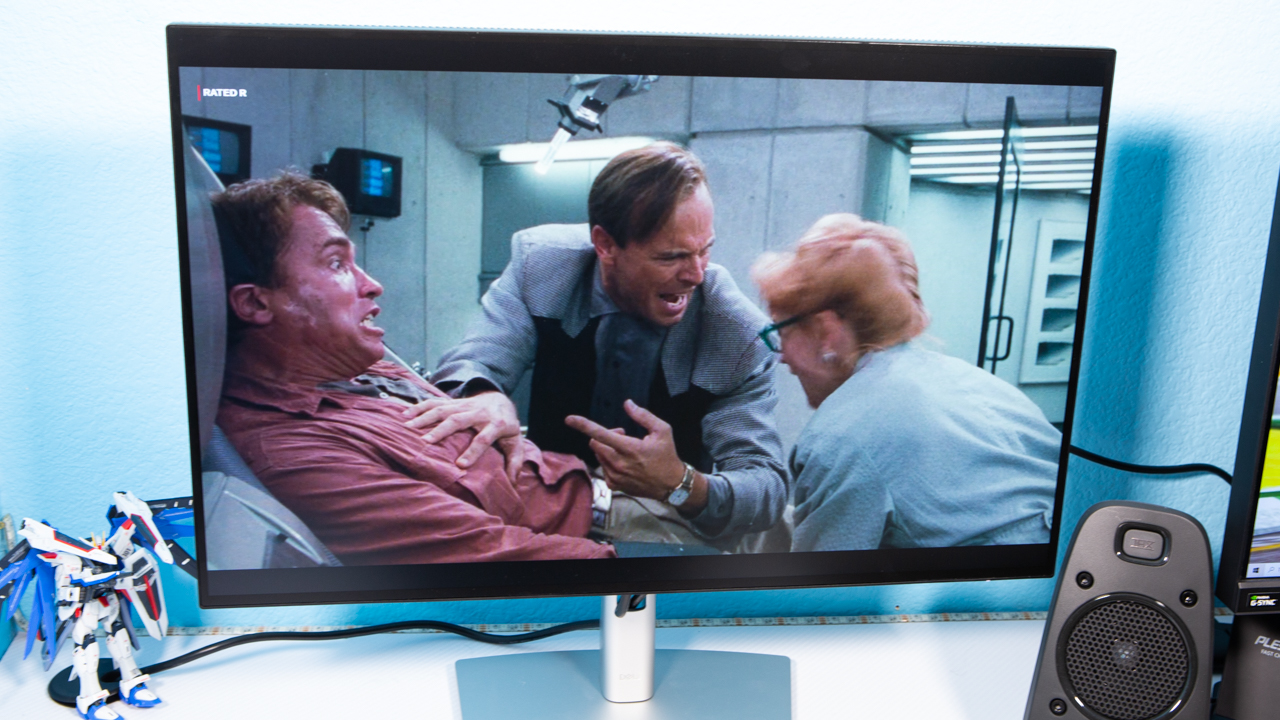 The 1920×1200 resolution is modest by today's standards, but the Dell UltraSharp makes up for this with an IPS-type display that boasts 99% RGB coverage, 350 nits of peak brightness, and a wide 178 degree viewing angle without any color shift.
Video or photo professionals will seek out more high-end specs for sure, but the clear focus here is on more common office use, and this panel presents a clean, accurate view of your images, documents and presentations. It even performs well for movies should you stick around for some after work entertainment. With that said, since there's no HDR support, hardcore movie buffs will likely retire to their big-screen TVs.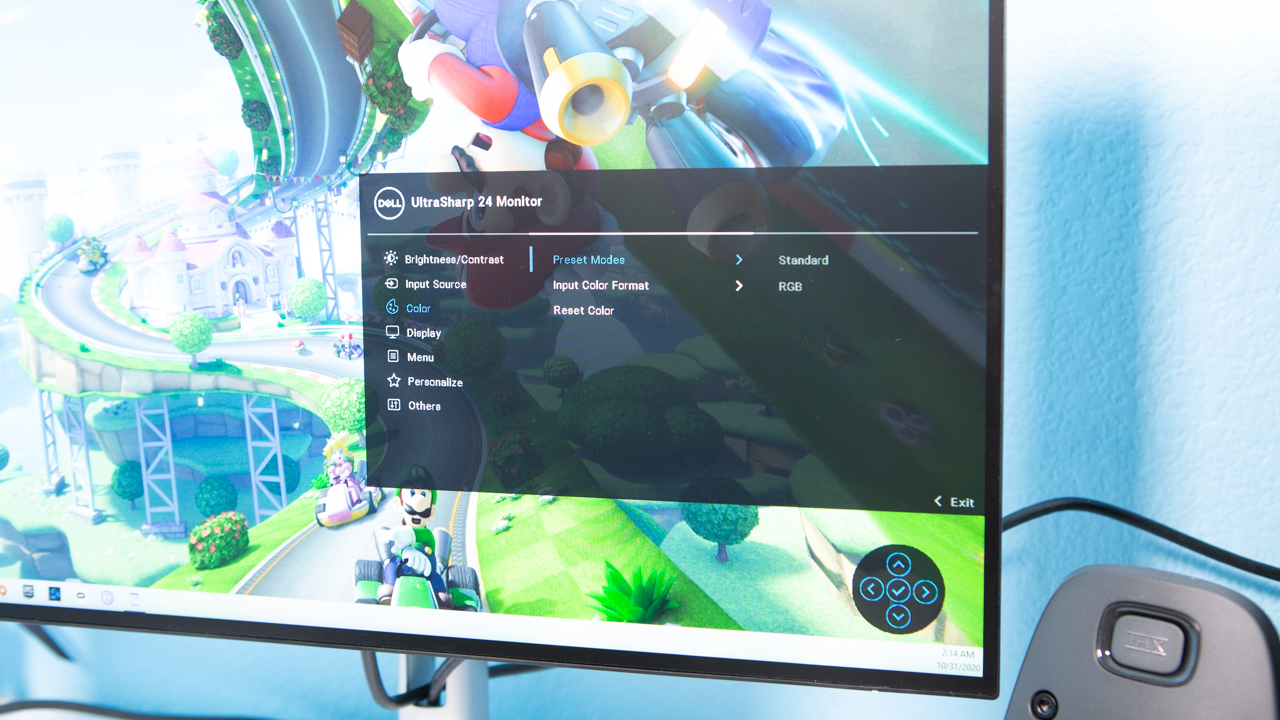 Dell also places a heavy emphasis on minimizing eye strain via its ComfortView Plus; a standard preset that features low blue light emission for improved comfort during long work hours – another clear nod to its focus on office use. Finally, it looks great in an office setting, with a mature metallic silver chassis, compact stand, and ultra-thin bezels.
Should You Buy the Dell UltraSharp USB-C Hub Monitor?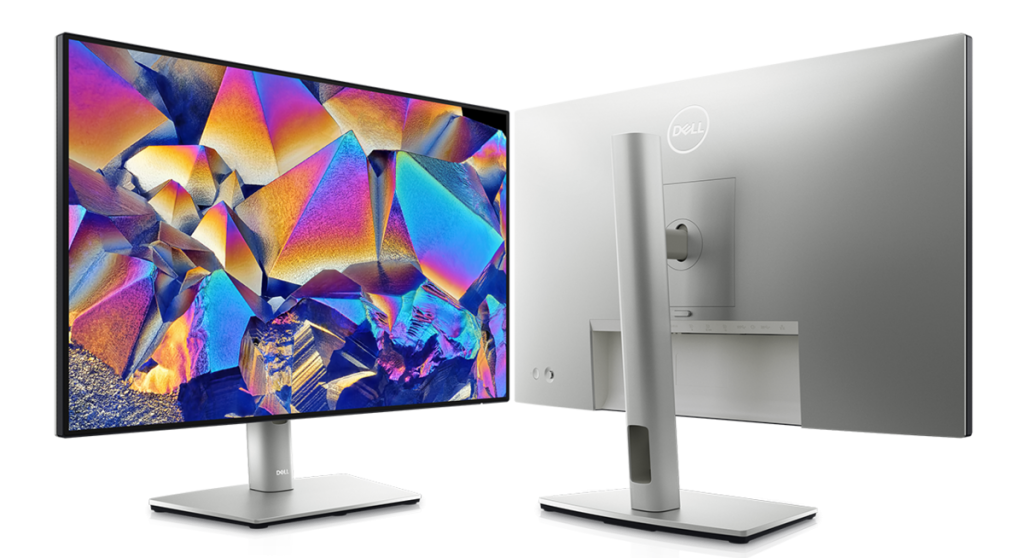 For a relatively modest-looking 24-inch 1200p panel, $449.99 is on the expensive side. And if you simply need a new 1080p monitor to plug into your desktop PC, or you have an older laptop that lacks support for USB-C video out and charging, look elsewhere. Great 1080p monitors can be had for less than $200.
But with a single USB-C port capable of carrying video, power and data, Dell's UltraSharp USB-C Hub monitor serves up a truly transformative all-in-one hub experience for any home office with a modern laptop that supports all of these features.
And with its larger 16:10 aspect ratio and a sleeker base design, this 2020 revision offers further refinement on Dell's already excellent line of premium office displays.
Shop the Dell UltraSharp USB-C Hub Monitor
---
Check out our Dell Coupons page for all of the latest discounts and sales from Dell, or set a custom Deal Alert to ensure you never miss a deal on your favorite products.
Up Next:
Our editors strive to ensure that the information in this article is accurate as of the date published, but please keep in mind that offers can change. We encourage you to verify all terms and conditions of any product before you apply.