Dell UltraSharp Webcam Review: Looking Your Best Has Never Been This Easy
4K HDR, auto-light correction, AI auto-framing, and more help to present you professionally on video conferences.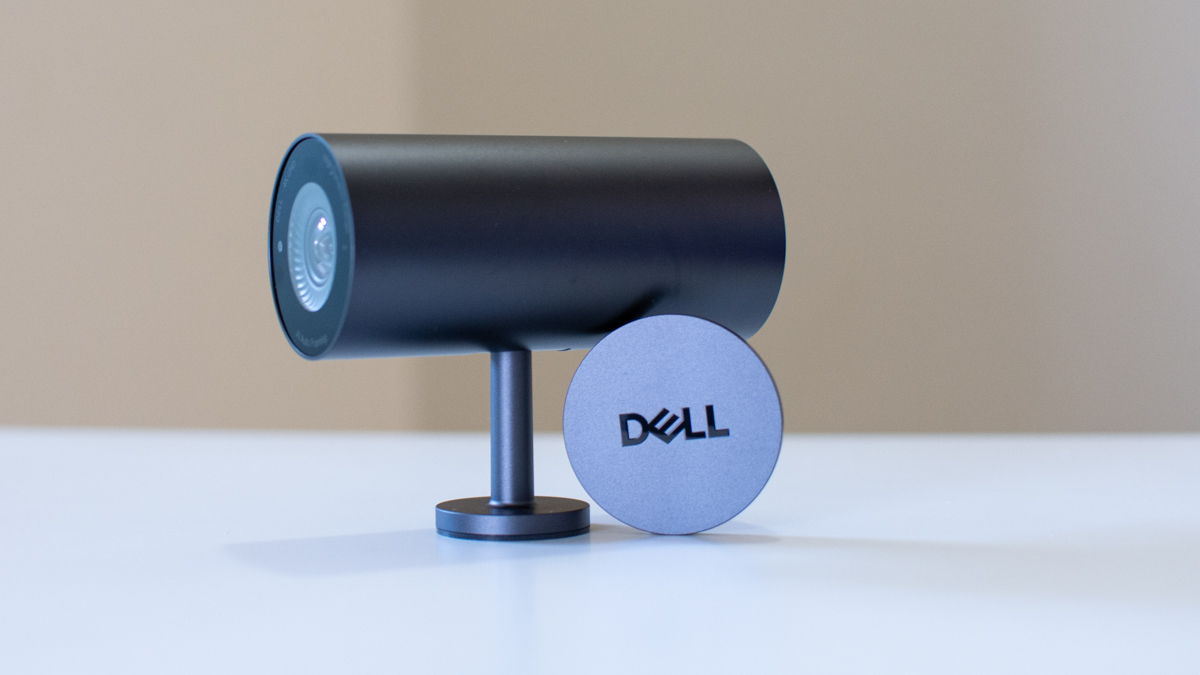 Video conferencing, which was thrust upon many of us as a pandemic-year stop-gap, is now transitioning and being widely adopted as an official way of conducting business in our new future of fully remote or hybrid office spaces.
And Dell, as always, is stepping up to the challenge of enhancing the workplace experience with its brand new UltraSharp Webcam. This 4K High Dynamic Range (HDR) webcam aims to solve all of the most common issues that we experienced during our first foray into work-from-home settings — low visual quality, poor lighting exposure, privacy, and more.
While our laptops have built-in cameras and there are relatively inexpensive external webcams available, their capabilities are still quite limited, especially for challenging environments that require the utmost professionalism.
There are obvious benefits for having a dedicated webcam, but does Dell's newest webcam live up to the high expectations and standards of the UltraSharp marque? I spent over a week working and playing with the UltraSharp Webcam to find out if it's worth the $200 investment.
Dell UltraSharp Webcam Technical Specifications
Resolution: 4K UHD, Full HD, and HD
Frames-per-second (FPS): 24, 30, and 60 (60 FPS for Full HD and HD only)
8.3 Megapixels
Sony STARVIS CMOS sensor
Field of View (FOV): 65, 78, and 90 degrees
HD Digital Zoom: up to 5x
Autofocus, Auto-Light correction, Auto White Balance
AI Auto-Framing
Magnetic lens cap
Windows Hello & Dell ExpressSign-In
Sophisticated Design, Thoughtful Versatility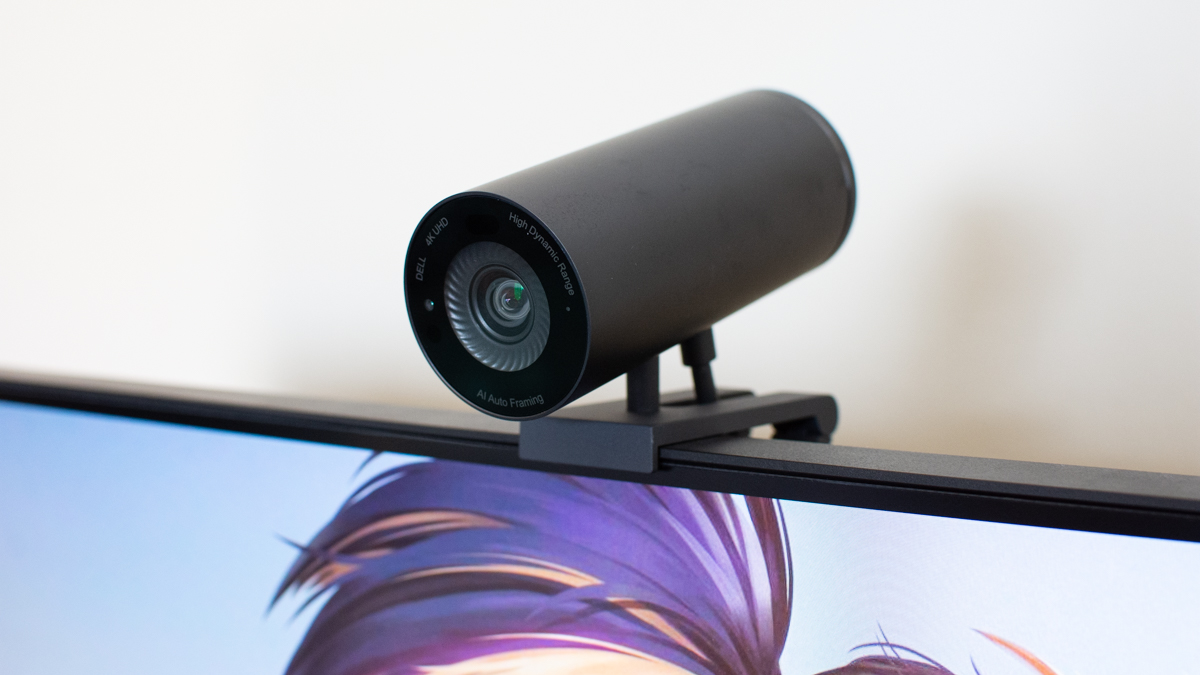 Sleek, premium and understated are the first thoughts that come to mind when I'm looking at or handling the UltraSharp Webcam. It fits right in with Dell's other UltraSharp products thanks to its dark gray anodized aluminum exterior, which is surprisingly resistant to fingerprints.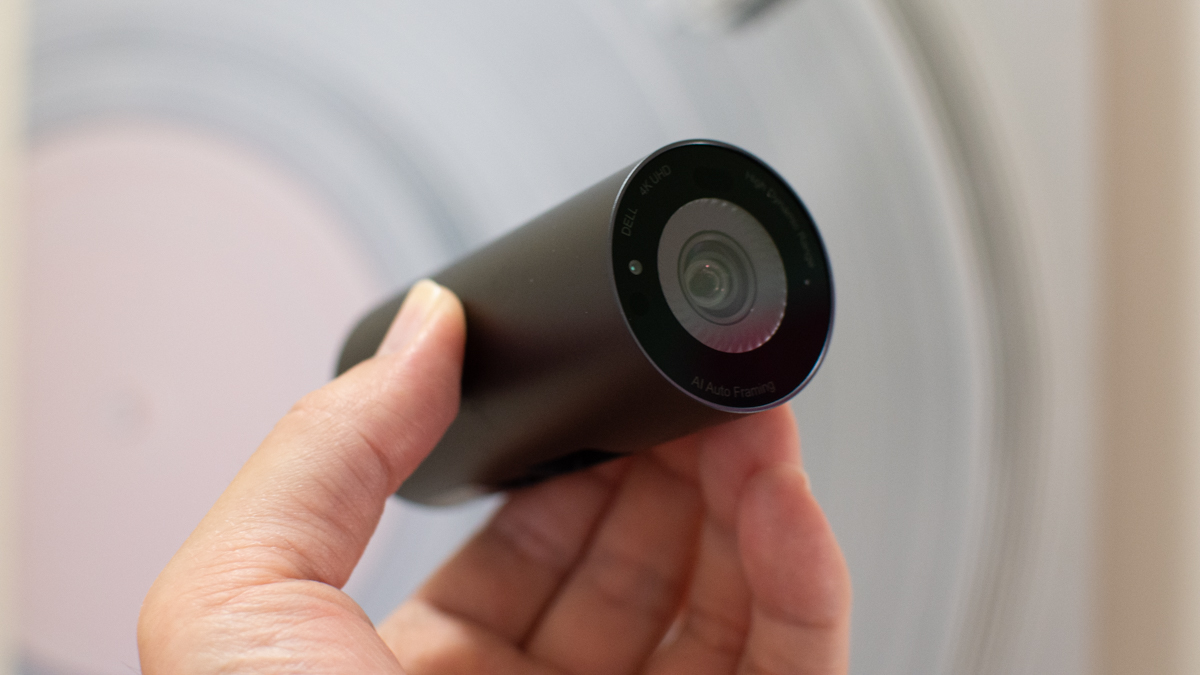 The purposely-simple tube design of the webcam may not win any awards, but its true beauty lies in how it integrates into your desk setup. The UltraSharp Webcam comes standard with two mounting options — a monitor mount and tripod mount — both of which attach magnetically to the underside of the webcam.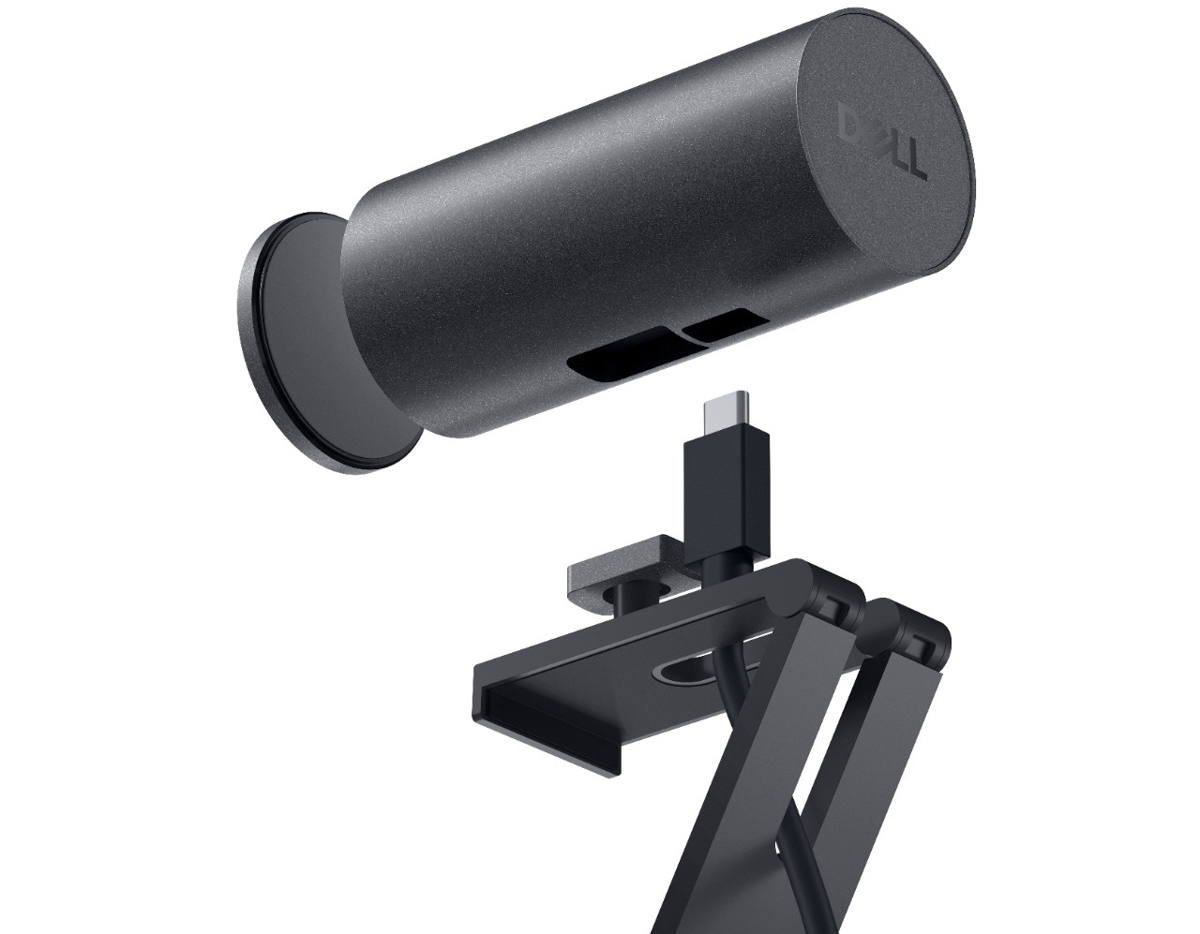 This is one of my favorite features because I tend to move around a lot. I can leave the monitor mount with my desktop PC and quickly pop the webcam onto my tiny tripod so I can take calls out on the patio. It's so nice not needing to unscrew the webcam from either mount, and prevents any accidental drops — things inevitably slip out of my hands when I'm trying to spin them. The monitor mount also features a slot for cable management, and feels just as premium as the webcam itself with metal construction and a non-slip rubberized underside.
In other magnetic news, the lens cap stows on the back of the webcam, perfect for those like me who tend to lose small things. The magnet keeps the lens cap on firmly, but isn't too strong so it's still easy to remove.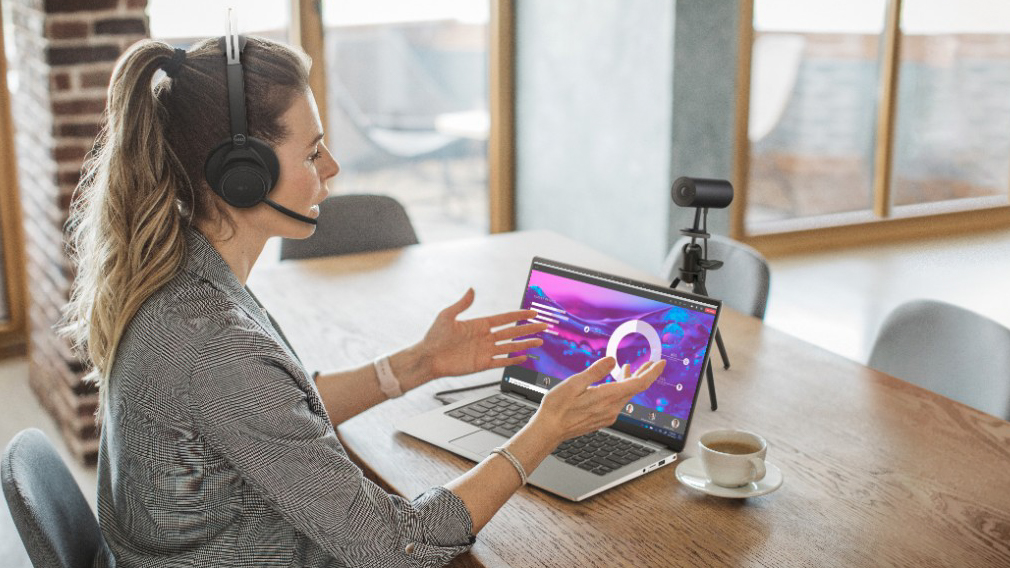 With regards to design and functionality, I think Dell knocked it out of the park. I typically don't see this much attention to detail for a peripheral that most people would consider to be non-essential. For those with multi-monitor setups, it's worth noting that the UltraSharp Webcam only tilts up and down, and does not swivel horizontally. You'll want to mount it on the monitor directly in front of you for the best angle.
Easy-to-Use Professional Performance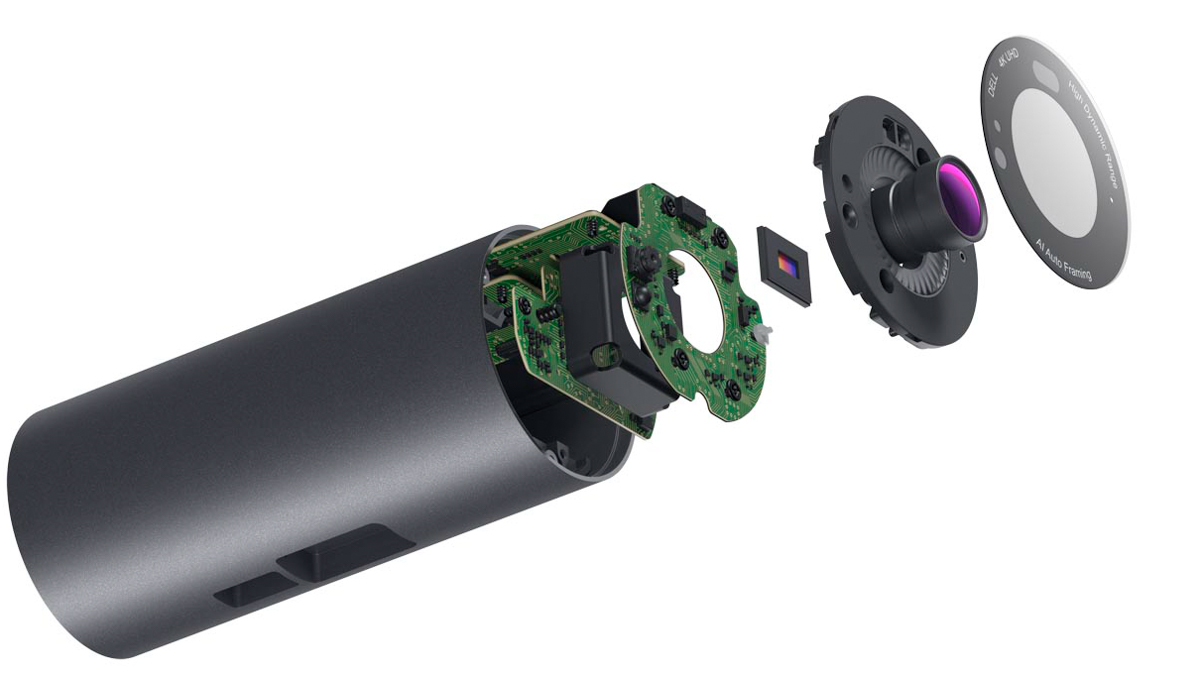 A DSLR camera was Dell's benchmark when setting out to create the UltraSharp Webcam, and as a hobbyist photographer myself, I really appreciate the ease of access to the higher quality performance and customization capabilities typically found on larger cameras.
What this means for UltraSharp Webcam users is that you'll get a much better looking image thanks to the upgraded lens components as well as the enhanced sensor system. Instead of throwing a bunch of technical terms at you, like HDR or temporal noise reduction or back-illuminated pixel technology, I'm going to show you what I mean.
Because our remote workplaces (read: homes) are often non-ideal locations for cameras — there's too much or too little light; the light comes from strange angles — our built-in laptop cameras are forced to function outside of their limits, which produces poor results. The below image was captured with my laptop, placed on my actual desk which is situated in front of a large balcony door.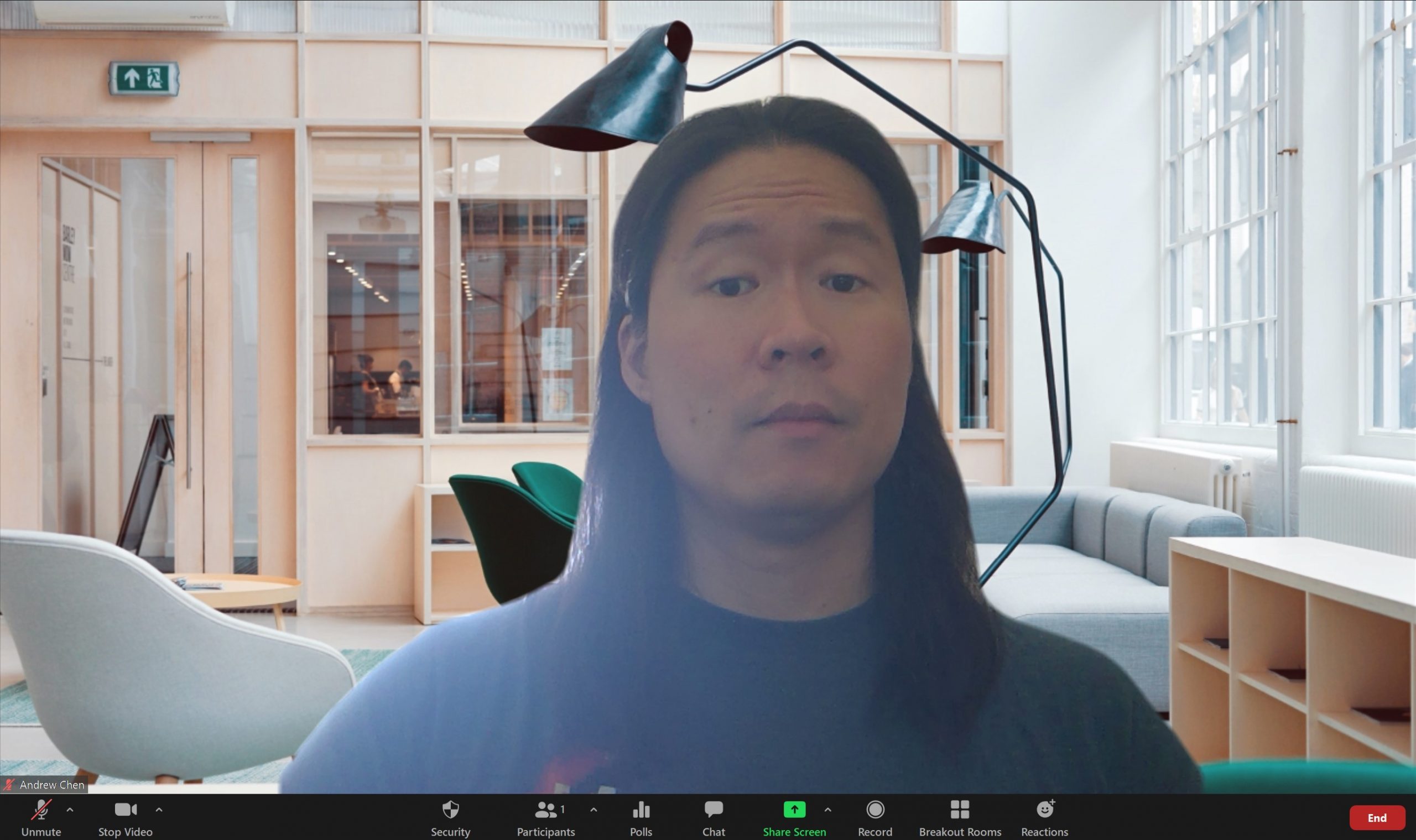 Notice that the light from behind me is overwhelming the laptop's camera, and casting me in shadow. Now, look at the difference in image quality with the UltraSharp Webcam, taken from the same seating location: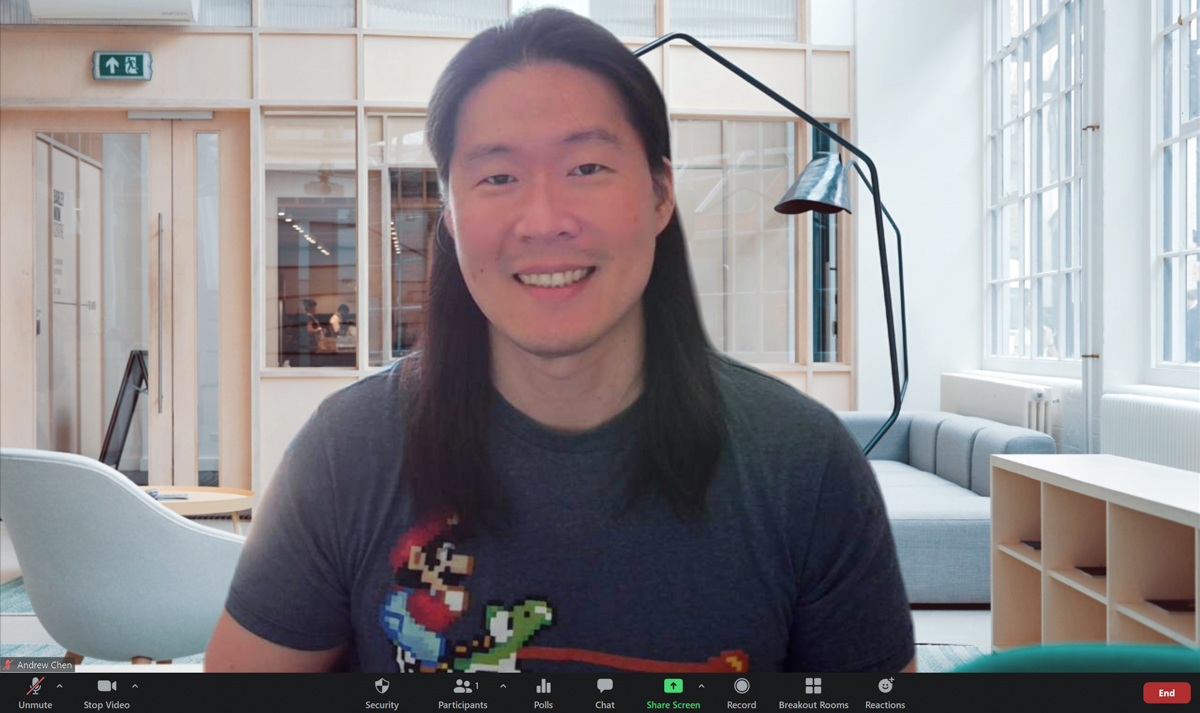 You can still see where the backlighting is trying to come through over my right shoulder, but the UltraSharp Webcam is able to compensate for the poor conditions and provide proper exposure as well as better color accuracy.
Please keep in mind that I'm purposely putting the UltraSharp Webcam in extreme conditions to illustrate its potential. In more "normal" environments, the image quality looks even better because the camera isn't being stressed out: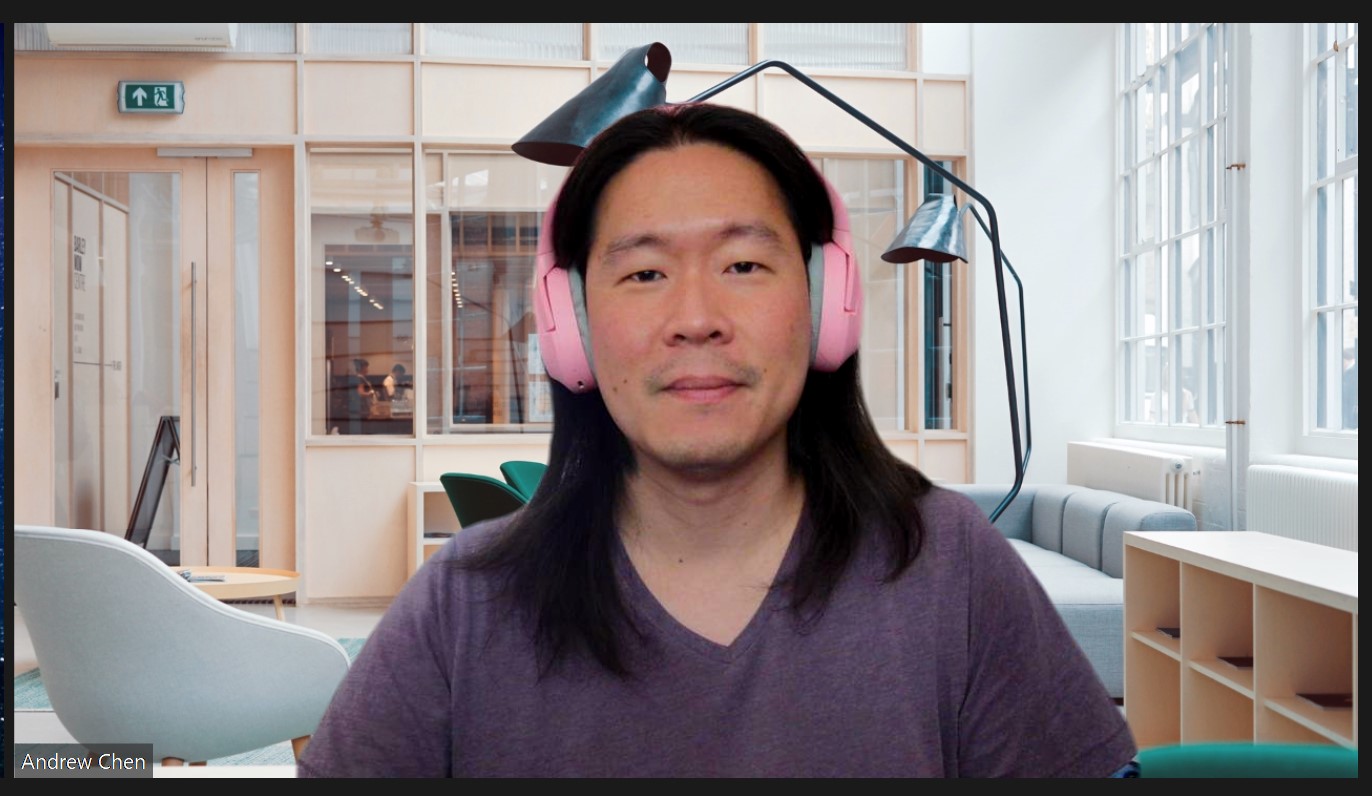 I continued to use the UltraSharp Webcam for all of my video calls, and asked my colleagues what they thought about the image quality of my video broadcast. The consensus from everyone was that my video felt brighter, softer and more "real-life" than their own video feeds.
It goes without saying that when I did the eye doctor exercise — choose which looks better between the two options — the UltraSharp Webcam won hands down every time.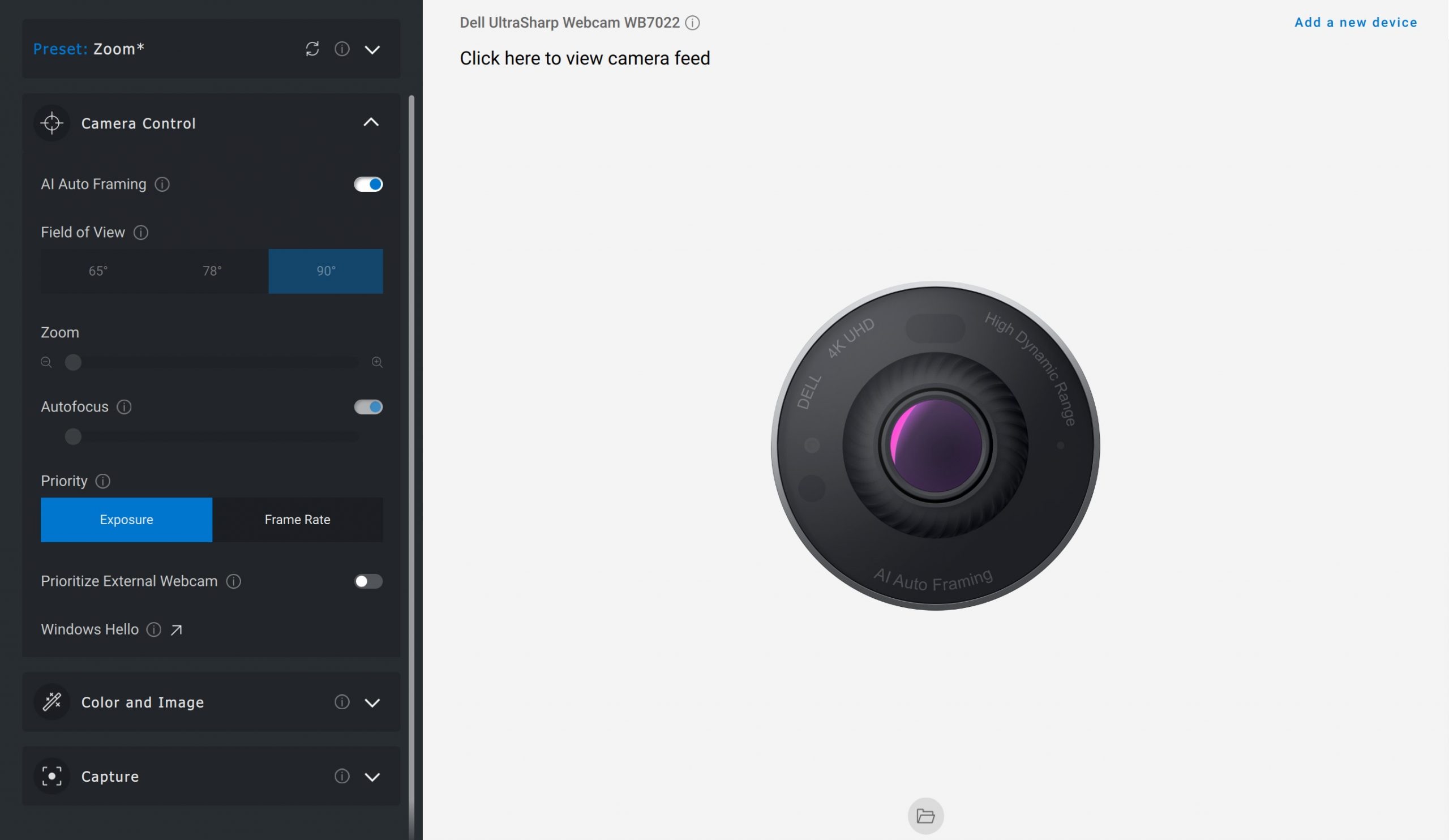 The included Dell Peripherals Manager software offers even more fine tuning capabilities in terms of picture quality, and allows for additional adjustments like zoom, focus and field of view. Personally, I kept the settings in default or auto mode because the webcam does such a good job of optimizing everything as a whole. Plus, with AI Auto Framing turned on, the webcam smoothly re-centers the image when I start to approach the edges of the frame. It feels like the camera is turning to track me, but it's actually moving the digital image to make sure my face is front and center. If I lean back, the webcam zooms in. If I lean forward and my forehead leaves the frame, it will zoom out.
It's worth noting that the UltraSharp Webcam does not come with a built-in microphone, so you'll need to rely on a headset or external mic. Some might find this to be an annoyance, but I appreciate the focused approach that Dell took to prioritize image fidelity over anything else.
Benefits On and Off the Clock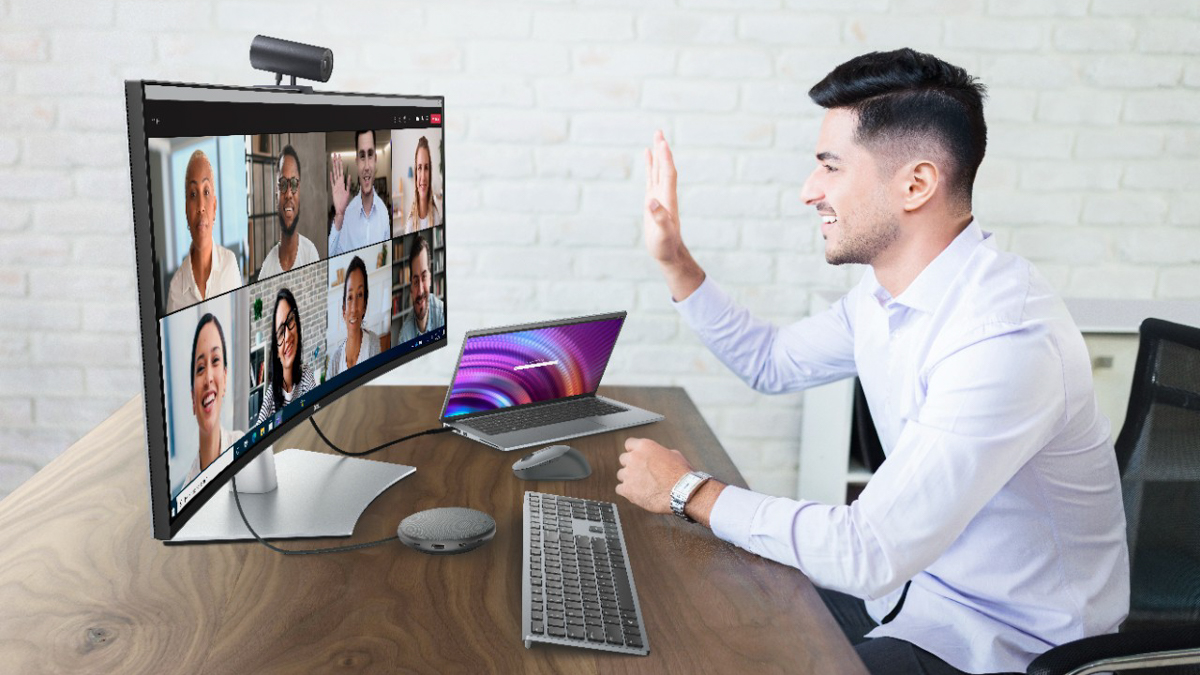 Dell isn't explicitly marketing the UltraSharp Webcam to gamers, but good performance is good performance, and it can be used anywhere. Many professional Twitch and YouTube streamers are already using DSLR cameras because they often broadcast in dimly lit rooms. The UltraSharp Webcam can help budding live-streamers produce higher quality content like the pros that they admire, without the need for a huge budget or an unwieldy setup.
To illustrate a possible (but highly unlikely) live-streaming scenario, here's what the image looks like in a completely dark room, lit by only the game that's on the monitor in front of me. Again, this is my demonstration of the webcam's impressive light correction and noise reduction capabilities by putting it in an extreme situation. For lesser webcams, I'd probably just be a blur of static and darkness.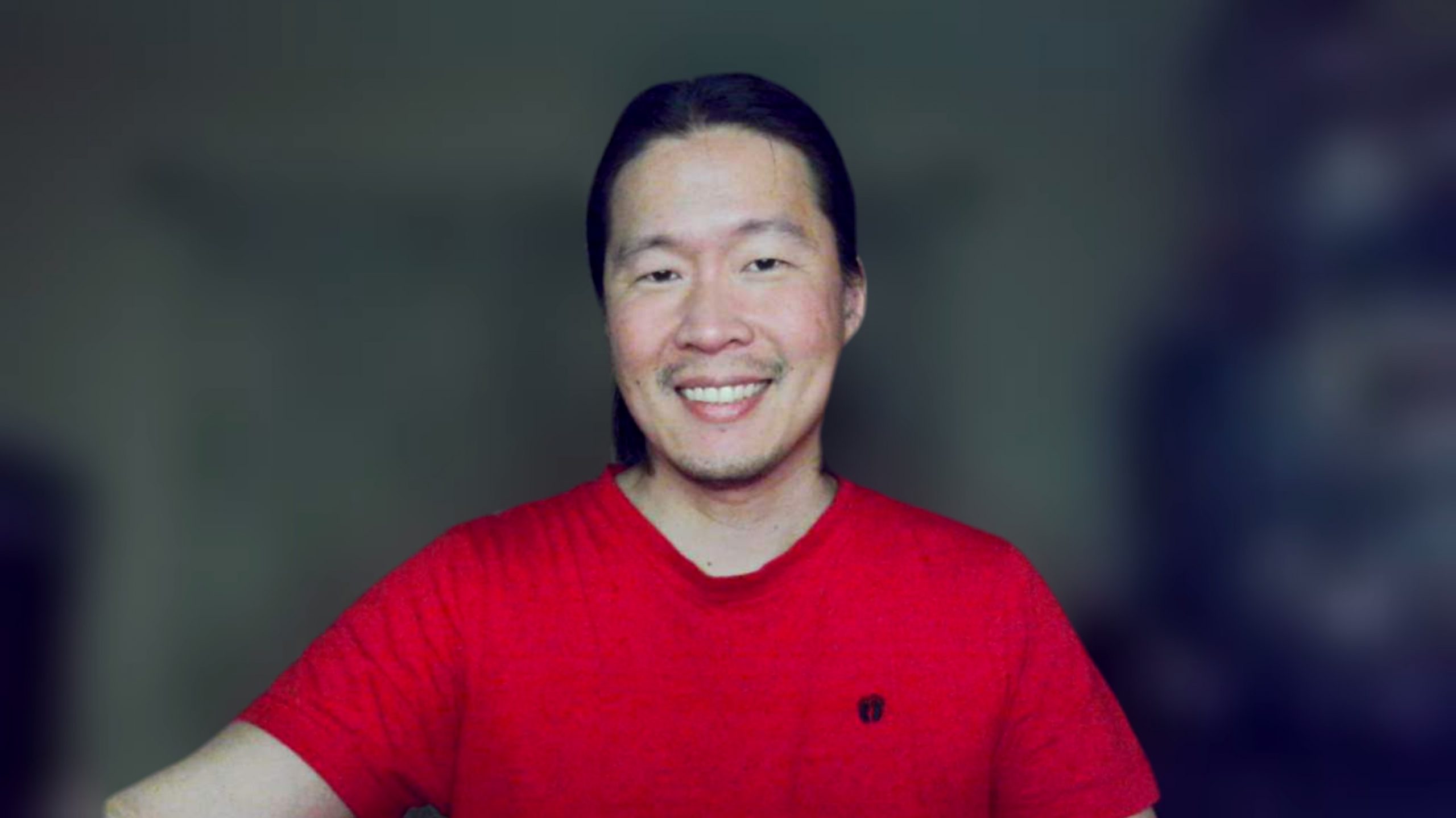 And because the UltraSharp Webcam is so easy to move around with its magnetic mount, I can definitely see families taking advantage of the wide field of view to have group video chats in the living room. A lot of webcams have a very short focal distance, but the UltraSharp Webcam can was able to zoom in and keep me in focus from across a 10'x10' bedroom.
Should You Buy Dell's UltraSharp Webcam?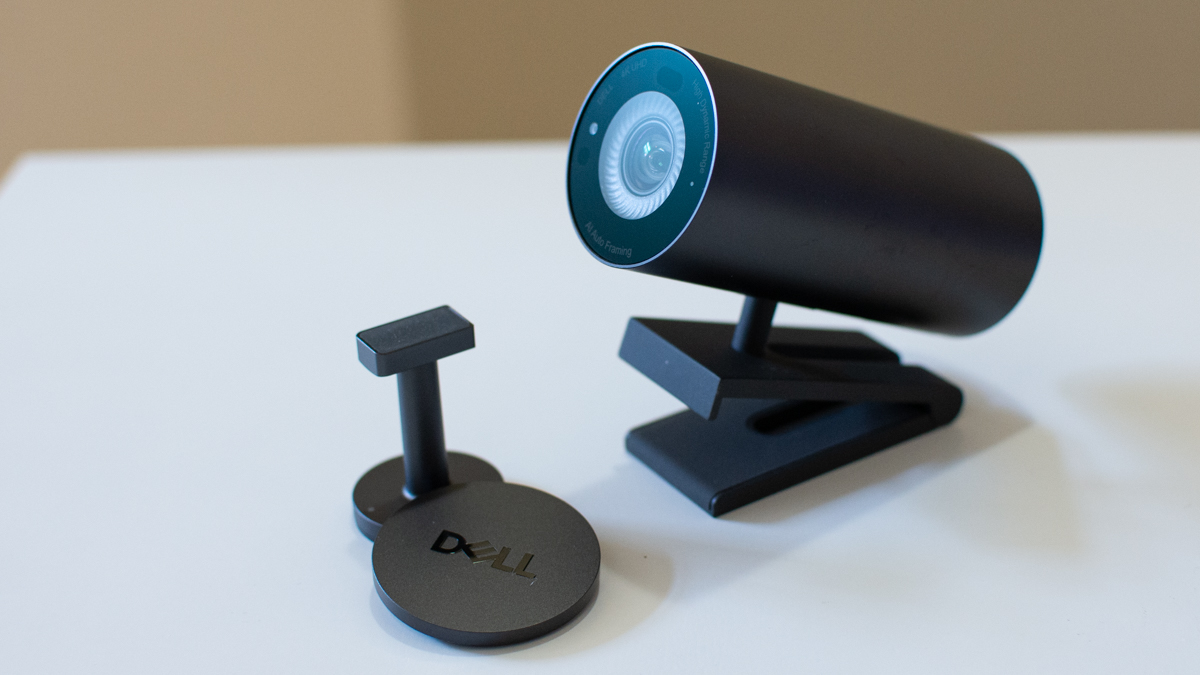 Video conferencing is a major element of the modern workplace now, and investing in Dell's UltraSharp Webcam to ensure a problem-free and professional broadcast is a no-brainer. All of its advanced features come together to eliminate the most common distractions for yourself and your viewers, and allow you to focus on communicating effectively in this new future of telecommuting.
Plus, the UltraSharp Webcam is optimized for today's most popular meeting apps, and supports Dell ExpressSign-in/Windows Hello for fast logins via facial recognition. When you walk away from your PC, you'll automatically be logged out for enhanced security.
There's a long list of benefits for both work and play, and the quality-of-life improvements make it well worth the $199.99 price tag.
Dell's all-new UltraSharp Webcam is available worldwide on June 29th at Dell.com
Our editors strive to ensure that the information in this article is accurate as of the date published, but please keep in mind that offers can change. We encourage you to verify all terms and conditions of any product before you apply.