Dell's XPS 13 2-in-1 is Pretty Close to Being Perfect
This revamped convertible laptop now has the hardware to back up its eye-catching aesthetic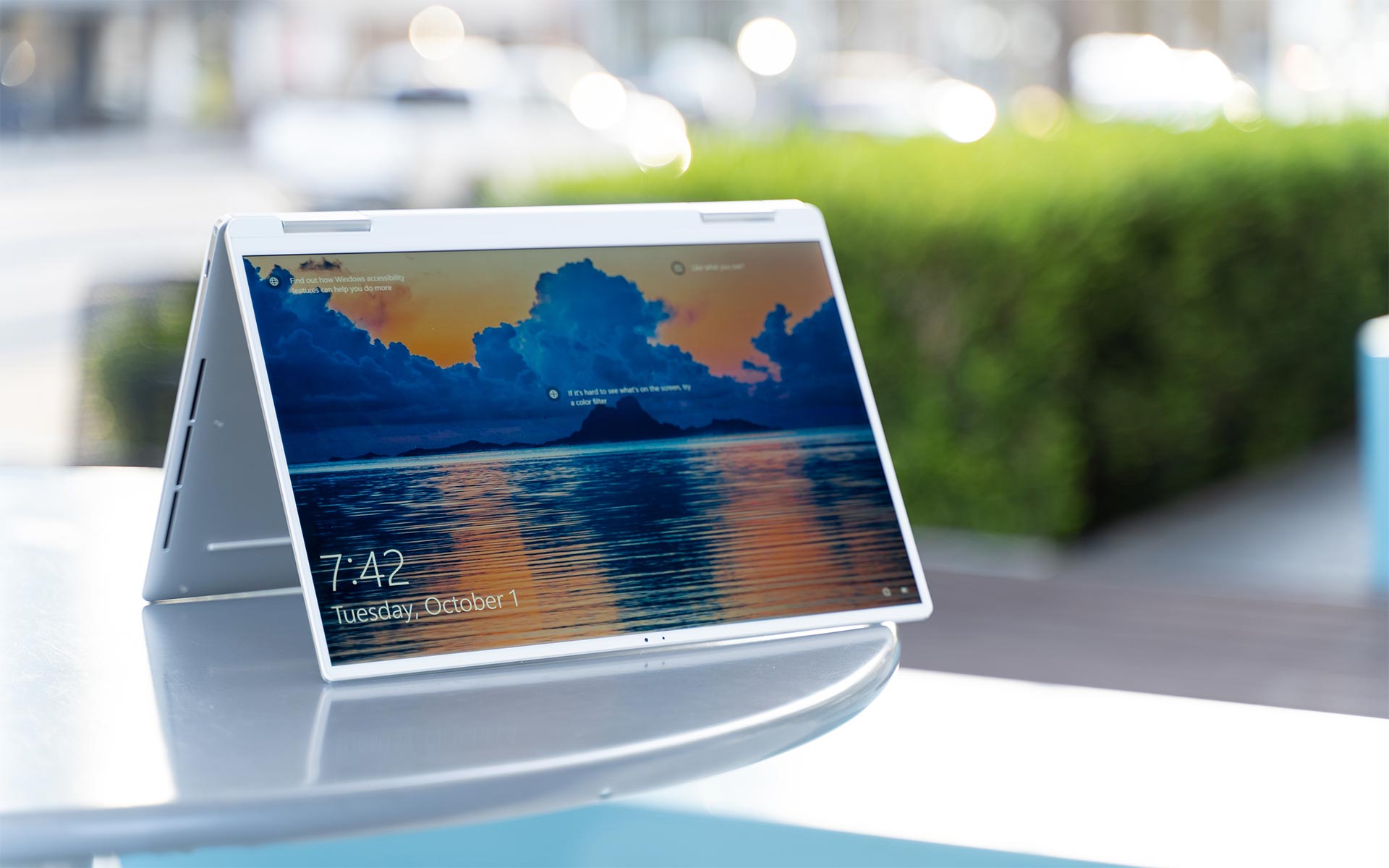 Buying a 2-in-1 laptop is often an exercise in compromise. You're forced to choose between an expanded skill set and outright performance in a svelte package. This was true of the original XPS 13 2-in-1, which was introduced in 2017 and boasted the same sharp looks as its XPS 13 clamshell brethren. However, it lacked the internals to really be a viable primary computing device.
Thoroughly reworked for 2019, the second generation XPS 13 2-in-1 returns with an even more refined design. And, crucially, it also features some seriously beefed-up hardware that promises to turn this convertible laptop into a legitimate workhorse. But it is enough to justify your hard-earned dollars? Let's find out.
Dell XPS 13 2-in-1 Laptop Specifications (as tested)
10th Gen Intel Core i7 Processor
Windows 10 Home
16GB RAM
512GB PCIe Solid State Drive
Intel Iris Plus Graphics
13.4-inch WLED Touch Display (1920 x 1200)
51WHr Battery
Ports: 2x Thunderbolt 3, 3.5mm headphone/mic jack, microSD card reader
Weight: 2.9 lbs
More Than Just a Pretty Face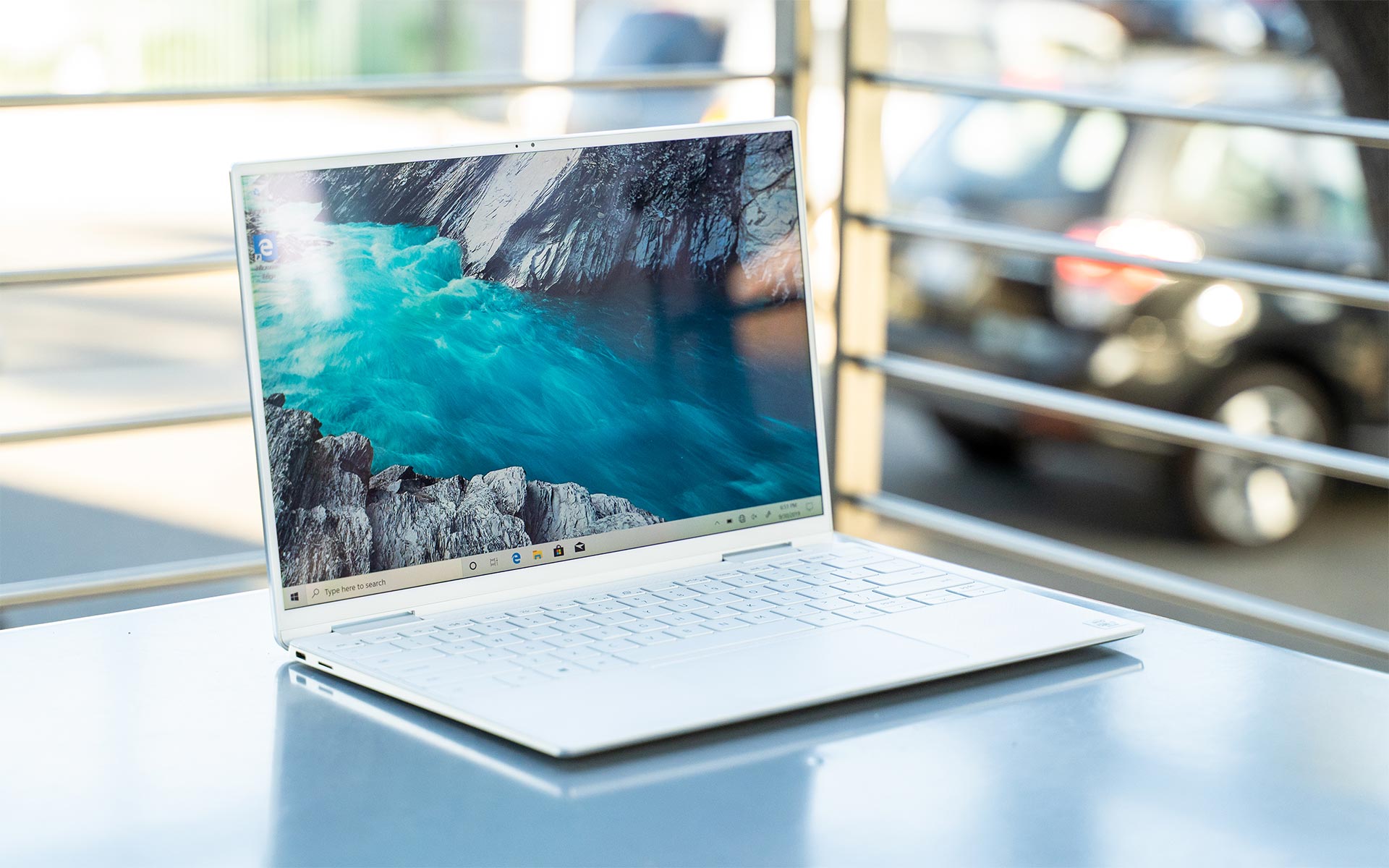 Even at just a glance, it's clear the XPS 13 2-in-1 is a well-made device. Much like Apple's line of Macbooks, the XPS's aluminum unibody construction gives it a sturdy, refined feeling in hand that's bolstered by its minimalist design. It's surprisingly thin, too, tapering from 11mm at the hinged end to just 7mm at the other.
The premium theme continues when you open it up. A new hinge design provides additional real estate for a 16:10 touchscreen display that's 7% larger than its predecessor's. While a larger touchpad and a new edge-to-edge MagLev keyboard work in tandem to give the laptop a decidedly high end feel. Like the latest clamshell XPS 13, the webcam is now above the display, rather than beneath it. This is yet another welcome change from the previous generation.
Inputs are a bit sparse here, likely in an effort to keep the aesthetic uncluttered and the form factor as slim as possible. They consist of two USB-C ports on either side, as well as a headphone jack and a microSD slot. For the sake of users' sanity, Dell also wisely includes a USB Type-C-to-Type-A adapter in the box.
The specs live up to the expectations elicited from the top-notch presentation, too. Now sporting Intel's 10th generation CPUs across the XPS 13 2-in-1 lineup, our tester was outfitted with an Intel Core i7-1065G7 "Ice Lake" processor and Intel's Iris Plus graphics chipset, along with 16GB of RAM and 512GB of solid state storage. Considering the laptop's diminutive footprint and fact that the XPS 13 2-in-1's weighs in at under three pounds, that's some pretty hefty hardware.
Performance & Features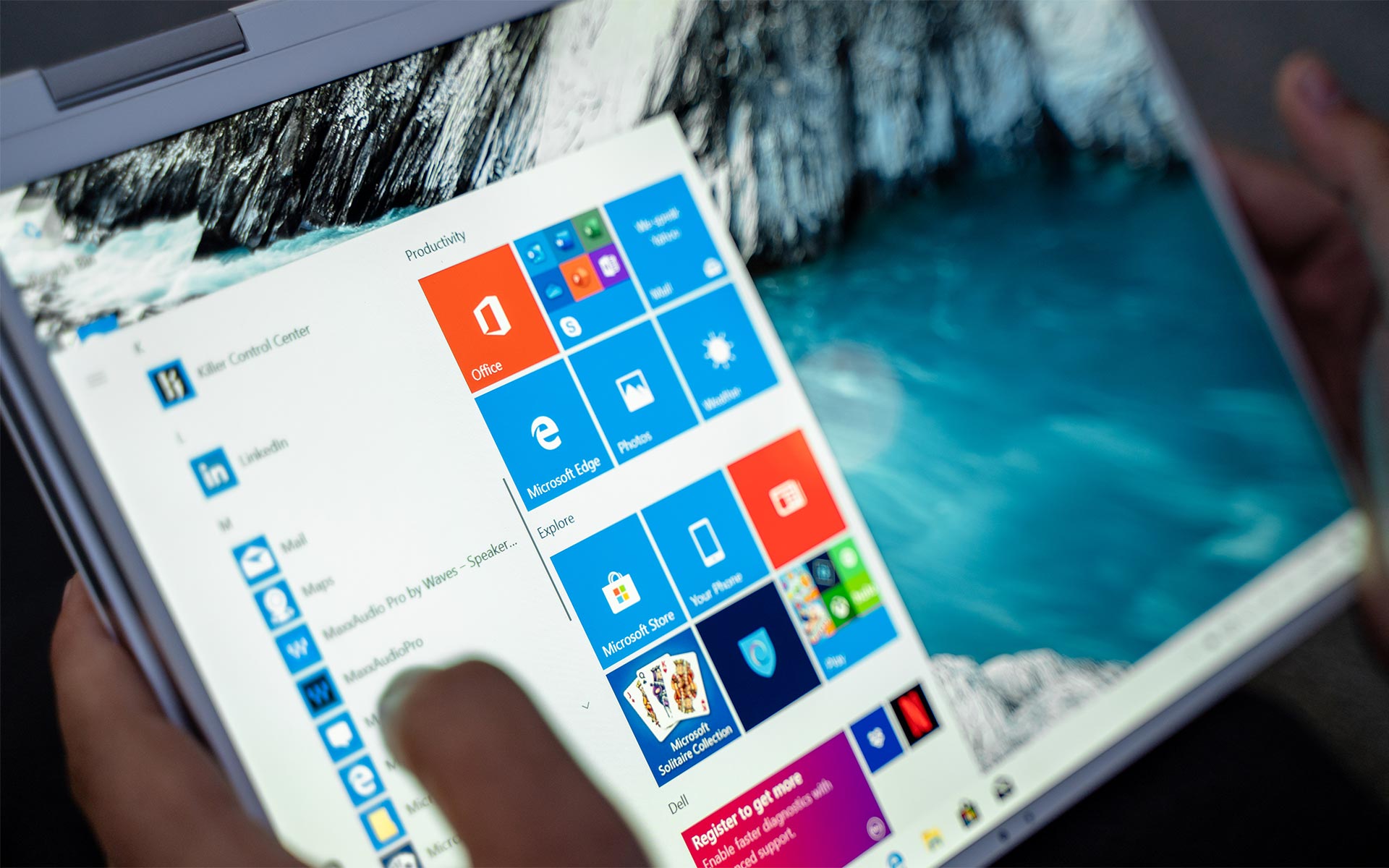 As configured here, the XPS 13 2-in-1 effortlessly tears through tasks both mundane and intensive. Although the Iris Plus chip isn't exactly geared toward gaming, there's enough grunt on tap to handle even graphic-intensive titles like Overwatch at mid-range settings while maintaining a decent frame rate. So it's no surprise that everyday stuff like web browsing, audio streaming, and high resolution video playback dispatched with ease.
Available in 1080p and 4K iterations, Dell's "InfinityEdge" touch display is also impressively bright. And it supports both HDR and Dolby Vision, providing vivid and sharp visuals on this machine's 1080p screen.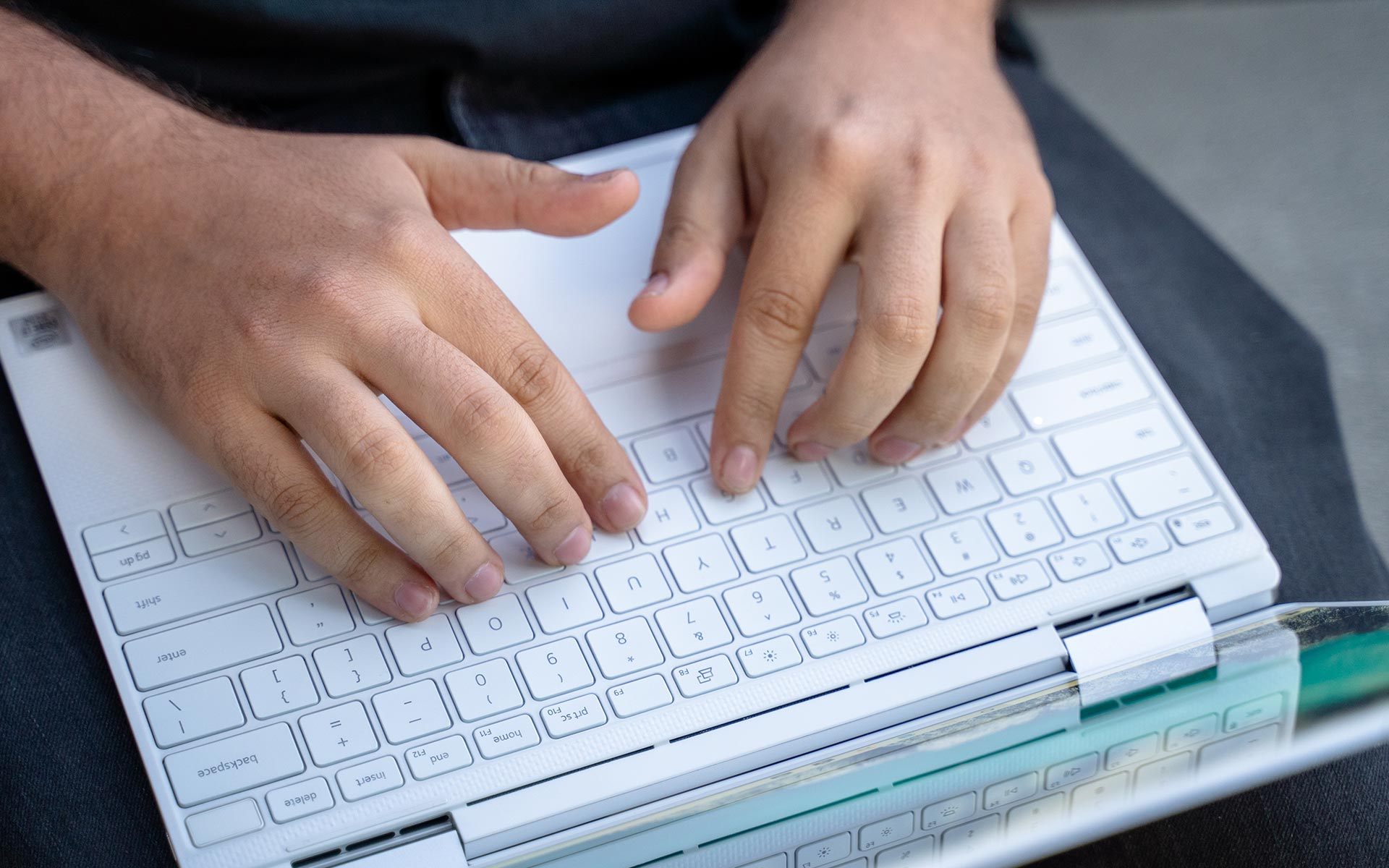 As with Apple's latest Macbooks, the XPS 13 2-in-1 also adopts a low-travel design with its latest MagLev keyboard. For those used to the tactile feel of traditional keys, this might be a bit off-putting. We acclimated to it fairly quickly though. There's enough feedback while typing that the lack of key travel isn't an outright distraction.
The new touchpad's additional real estate is a welcome upgrade that make swiping and multi-touch gestures an effortless affair. While the smooth surface texture and great response make it feel precise, encouraging you to use it whenever possible. The fingerprint reader, on the other hand, was just about hopeless. It failed to read our print on the first try every time we used it, and often on the second and third tries as well.
On the audio front, the XPS 13 2-in-1 has respectable volume considering its compact packaging. However, the down-firing configuration of the speakers could be problematic for those who really care about sound quality. In laptop orientation, the speakers are ostensibly covered by the surface that the device is placed on. And in tablet mode, they're covered up by the other half of the device itself. Both configurations compromise the clarity to a tangible degree. Propping the XPS up in "tent" mode alleviates the issue, though.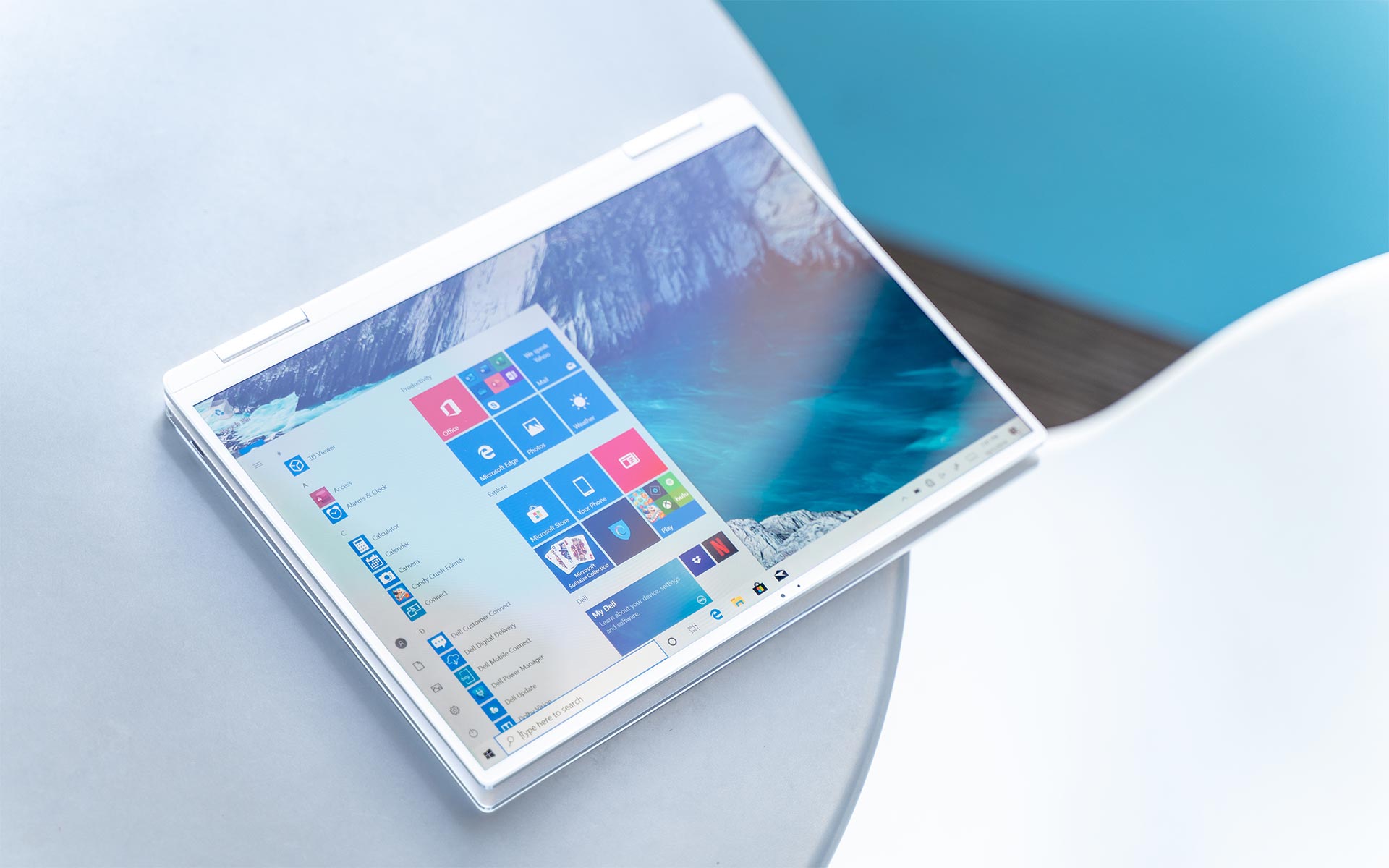 Although there are a few nits to pick here and there, battery life isn't one of them. Dell claims up to 16 hours and 58 minutes on a charge, enough to take you through your day without the need to plug in. While your mileage may vary based on various factors, the bottom line is that the battery life is indeed excellent. After a day's worth of mixed use, with plenty of video playback and processor-intensive testing, we still had plenty of juice left to carry us through the following day.
Should You Buy The Dell XPS 13 2-in-1?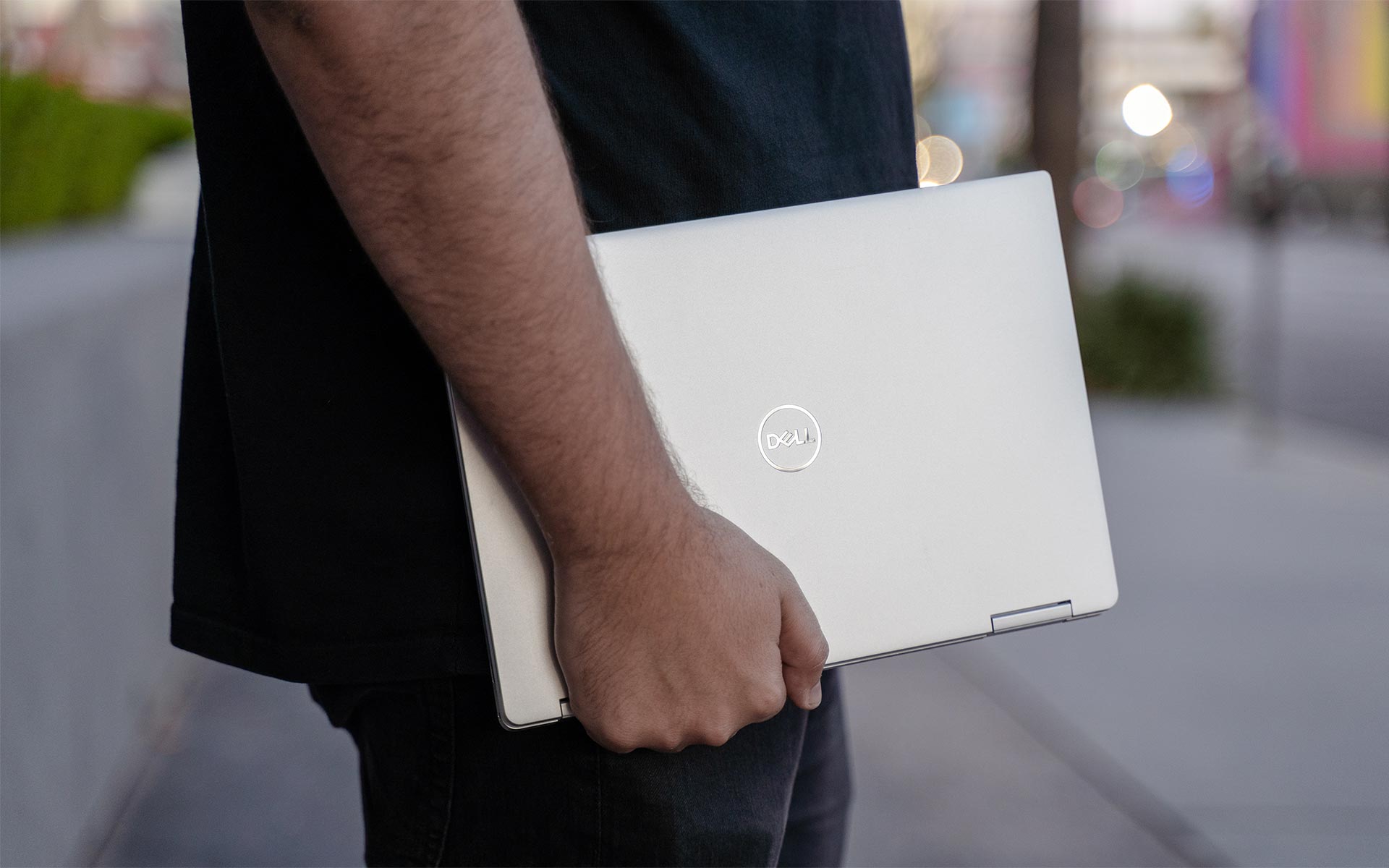 Pricing for the XPS 13 2-in-1 starts at $999.99 with an i3 processor. But it's worth noting that you should expect a substantially different experience with the base model than what we had with our tester. Outfitted with an i7 chip, 16GB of RAM, a 512GB solid state drive (along with the 1920×1200 InfinityEdge touch display and white color option), our model rang up $1,597.
Even at that substantially higher price, the XPS 13 2-in-1 is still a compelling option, not only for those who want a 2-in-1, but also buyers who are just looking for a well-built and powerful ultra-portable. It's a big step up from its predecessor, and well worth the asking price.
Don't forget to explore today's best discounts on Dell products from our Frontpage:
Search URL: https://slickdeals.net/newsearch.php?firstonly=1&pp=20&sort=newest&rating=frontpage&filter%5B%5D=525818&forumid%5B%5D=9&hideexpired=1&r=1
Photos by Austin Nooe | Slickdeals
MddBb9DL-xc
Our editors strive to ensure that the information in this article is accurate as of the date published, but please keep in mind that offers can change. We encourage you to verify all terms and conditions of any product before you apply.