Score Free Nights and Hotel Upgrades To Surprise Your Sweetie This Valentine's Day
Hotel and chill with this proven strategy that mixes credit card rewards and hotel loyalty programs to earn free lodging.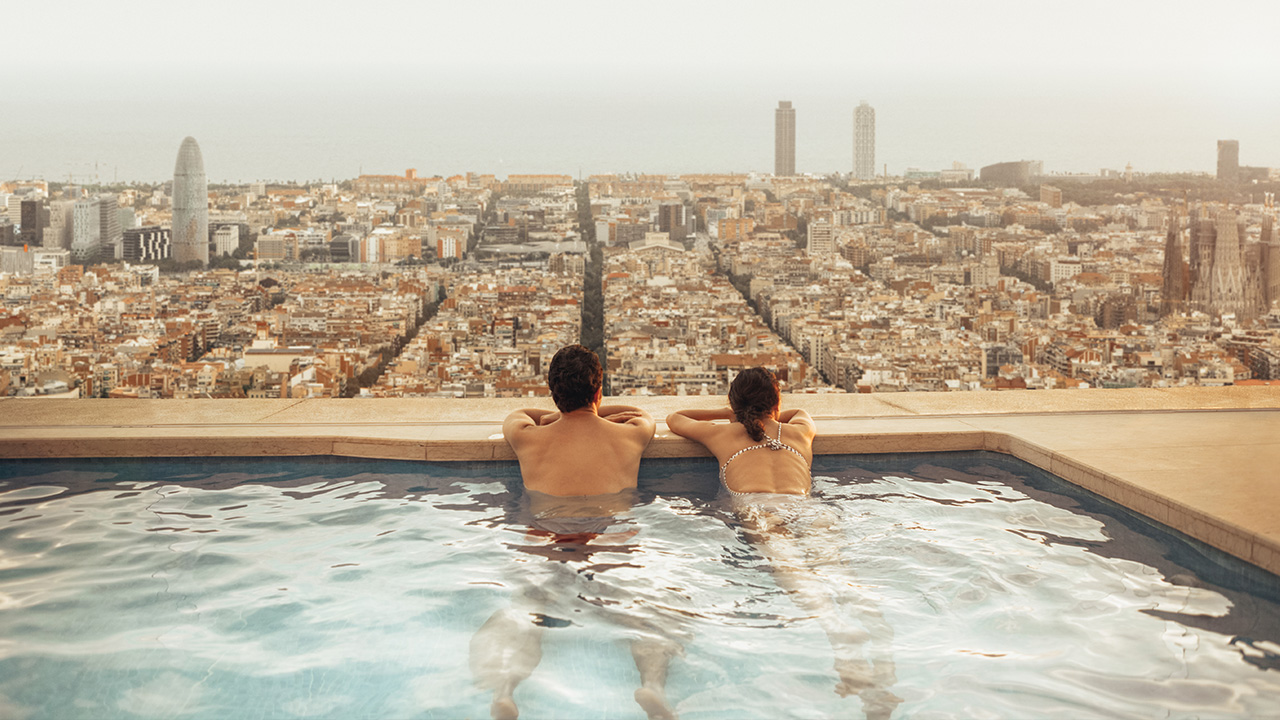 Valentine's Day is coming soon! Have you thought about what you want to do to surprise your sweetie? We know you love a good deal, so we're going to walk you through some of the ways you can score free hotel rooms and even upgrades for free. That way, you can totally impress them without spending a ton of cash.
While it does require a bit of planning, it's nothing that you can't manage. As a bargain hunter, you possess many of the skills already. Let's get to it, shall we?
Table of Contents
Pick an Accessible Hotel Loyalty Program
Hotel loyalty programs are where it's at. They're free to sign up for, and you get access to some amazing perks once you earn enough points. Many have different tiers you can "unlock," offering benefits like bonus points, room upgrades and more. You're essentially leaving money on the table and missing out on the best deals if you don't take advantage of hotel loyalty programs.
Choosing the right hotel loyalty program is essentially a first step to getting free stuff. Though with so many to offer, which is the right one?
Choosing one means picking your own selection criteria for a program. Are you interested in hotels in your immediate location? Or do you want to surprise your sweetie with a fancy suite, therefore needing a way to accumulate as many points as possible?
For example, I am obsessed with getting enough points to get a room at the Ritz-Carlton one day (don't tell my husband, it's supposed to be a surprise!) so I picked the Marriott Bonvoy program. Marriott has hotels in 130 countries. Plus, I found a co-branded credit card that offers free perks like a hotel stay each cardholder anniversary.
Here are some of the most popular hotel loyalty programs:
How To Score Free Nights
Here's where co-branded credit cards factor into the strategy. Depending on what card you get, you can score free nights just by being a cardholder. Getting a hotel credit card gives you the opportunity to turn your everyday purchases into rewards.
>>EARN: "I Get 10 Free Hotel Stays a Year; Here's My Strategy"
Many of these cards do charge an annual fee and might require you spend a certain amount to qualify for a free award stay. However, the free nights you receive can more than outweigh the fee.
How To Score Room Upgrades
Aside from free nights, hotel loyalty programs offer different rewards tiers. Members can score room upgrades when they follow the rules. For example, Hilton Honors Diamond members are eligible for room upgrades based on availability. The Marriott Bonvoy program allows Platinum members to receive unlimited complimentary suite upgrades (sadly not at Ritz-Carlton).
Unfortunately, these statuses can be hard to come by since you are required to meet a certain spend requirement, but that doesn't mean you can't ask for room upgrades. Travelers have reported that if they check in later in the day (and usually in the off-season) and ask nicely for one, it tends to work.
Getting married, or celebrating a special anniversary? Make sure to tell the check-in staff. You might score some free stuff, including a room upgrade!
Apply for Cards With Big Sign-Up Bonus
If you signed up for a "regular" travel rewards card, you can still nab a free room. For example, let's say you got the Chase Sapphire Preferred® Card and grabbed the sign-up bonus by spending $4,000 within the first three months. According to Chase, that's $750 worth of travel.
The Slickdeals guide to the best sign-up bonuses can help you find credit cards with valuable welcome offers worth hundreds of dollars in free travel.
Guess what? You can hold onto those points for a special occasion and transfer them to a partner hotel of your choice when the time comes. It does mean planning ahead a little bit. But all that effort will be worth it when you see the look of sheer joy on your sweetie's face.
Apply for a Popular Hotel Rewards Credit Card
Applying for a hotel rewards card is a key part of the strategy to earn free hotel stays and room upgrades. The cards below are among the most popular in the Slickdeals affiliate marketplace. Who knows? Maybe you and your sweetie will soon be checking into a romantic getaway for two at your favorite hotel.
>>NEXT: The Best Travel Credit Cards: Compare Current Offers, Rewards and Sign-Up Bonuses
While we work hard on our research, we do not always provide a complete listing of all available offers from credit-card companies and banks. And because offers can change, we cannot guarantee that our information will always be up to date, so we encourage you to verify all the terms and conditions of any financial product before you apply.