Sponsored
No Risk, Big Reward Shopping with eBay's Certified Refurbished Program
Save up to 50% on popular brands and get industry-leading protections on your purchase.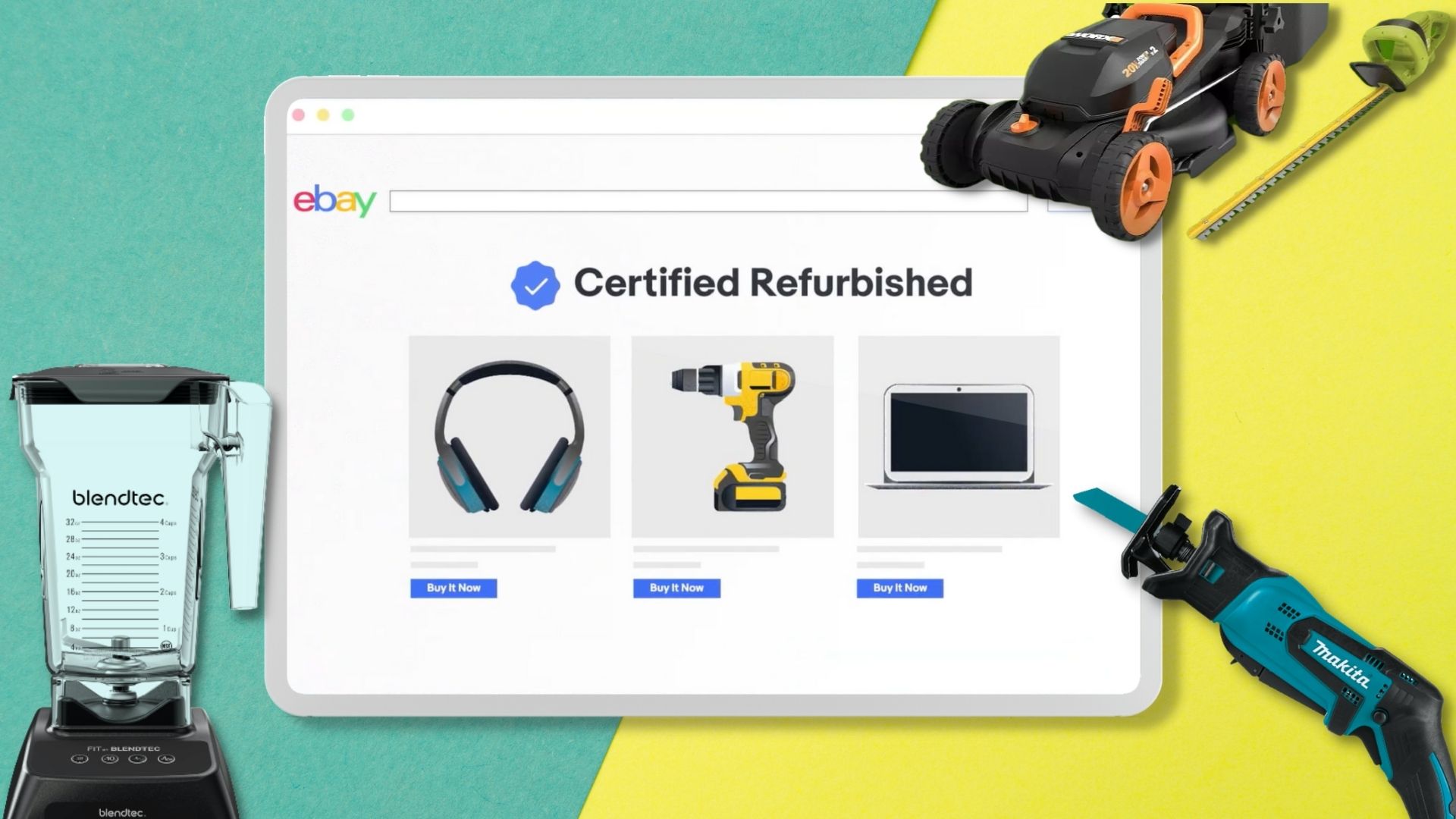 While eBay began as a peer-to-peer marketplace, the platform has grown to include vendors from some of the most reputable brands—especially in the realms of electronics, home appliances, and computers. You can find popular products from big names like Bose, KitchenAid, Razer, and more.
But if you are familiar with any of these brands, then you know that they usually come with a relatively high MSRP. Don't let that dash your dreams of ownership though! One of the best ways to afford a product from a premium brand is to buy it Certified Refurbished on eBay, which entails discounts up to 50% off.
Shop Certified Refurbished on eBay
Mythbusting with eBay Certified Refurbished

When it comes to the shopping community, renewed items don't always have the best reputation. Many customers avoid purchasing a refurbished product with the worry that the item was always destined for some kind of failure. And, of course, it is hard to replicate that shopping high you get when you open a product that came fresh from the factory.
fKSjwxkI6po
There are many myths tied to reconditioned products. Here are some you may have encountered and how eBay's Certified Refurbished program busts them.
Myth #1: Some Unknown Third-Party Refurbished It (Busted)

When you find amazing discounts on refurbished products, you might think that they are being serviced by some guy in a dingy basement. But eBay's CR products go through a rigorous three-part refurbishment procedure (Restoration, Testing, Verification) at the manufacturer or a manufacturer-approved vendor.
Starting with Restoration, any imperfections or defects are fixed and the product is transformed into a fresh, like-new condition. Then the item goes through an intricate Testing cycle to ensure that it's functioning as intended. Lastly, the refurbished device undergoes one final round of inspection to conclude the Verification process.
Myth #2: It Will Conveniently Die Right After the Warranty Expires (Busted)

There's a grand conspiracy out there that refurbished products have a countdown clock to go poof the day after the warranty expires. As entertaining as this sounds, this myth doesn't hold any weight. However, one thing to address is the duration of the warranty. Some sellers may only offer one as short as 30 days. This doesn't necessarily mean that the product is more likely to go bad, but having a longer warranty is always preferable for that extra peace of mind.
This is where eBay's Certified Refurbished program stands out. Every CR product sold comes with an industry-leading 2-year warranty serviced by Allstate. This free coverage encompasses breakdowns, malfunctions, 100% parts and labor with no deductibles, 24/7 online claims, and fast repairs or replacement.
Protection by Product Category
All Products – Mechanical and electrical failures, power surges, won't power on
Laptops – Screen failure, battery/charger failure, Wi-Fi failure, hard drive/USB port failure
Vacuums and Small Appliances – Product breakdowns during normal use, component failure
Portable Audio and Power Tools – Speaker/sound failure, remote failure
Myth #3: It Will Be Missing Accessories and User Manuals (Busted)

A fabricated nightmare for consumers when buying refurbished products is the absence of extraneous goods. For example, you buy a discounted computer and then find out that the charger is not included, or you receive an item that requires assembly, but there are no instructions in the box. These things would certainly grind anyone's gears, but they won't be a concern for Certified Refurbished products from eBay.
Under the CR program, each product is shipped to you as if it were just pulled from the shelf. Within the manufacturer-sealed packaging, you will get your Certified Refurbished device along with new accessories and fresh manuals.
Myth #4: All Sales Are Final (Busted)

There is a misconstrued notion that buying refurbished is getting stuck with the "hot potato" and no take backs. You might get diced potatoes instead of the Dyson you were hoping for, and that's that. Game over. Obviously, this would be a terrible game to play.
With your Certified Refurbished purchase from eBay, your satisfaction is guaranteed. If the product is not exactly what you ordered, you can get your money back. Or, if you happen to be unhappy with your purchase, you can return it hassle-free within 30 days.
Shopping Smarter with eBay

Now that the air has been cleared on some of these urban legends, you may also enjoy the fact that buying refurbished is a greener option too. Giving a reconditioned product a new home is better than sentencing it to an eternity in a trash heap.
To reward this smarter choice, eBay often has deals to promote the adoption of CR products, so make sure to check out their Certified Refurbished section for the latest coupons and discounts on some top-tier brands.
Sign up for eBay's Refurbished Deals
Our editors strive to ensure that the information in this article is accurate as of the date published, but please keep in mind that offers can change. We encourage you to verify all terms and conditions of any product before you apply.