Echobox Ti-22BT Titanium Earphones Review: Perfect Balance of Size and Power
Echobox has managed to succeed where many other earphones have failed, but are they worth buying?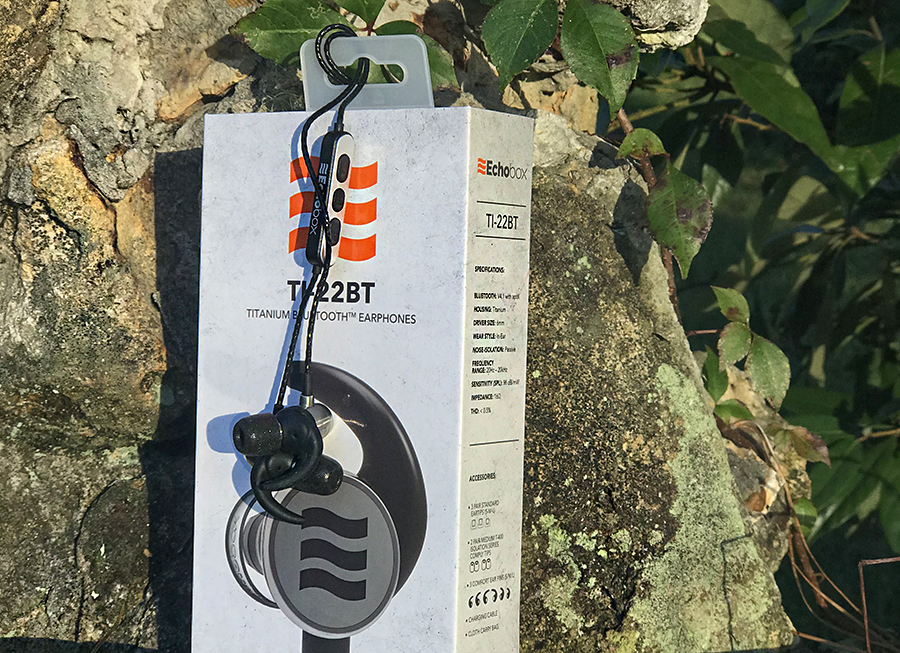 Many of us have a love/hate relationship with wireless earphones. Sure, the lack of wires is convenient, but why is it that so many wireless earphones can't hold a simple Bluetooth connection? Is that asking too much? Part of the issue seems to be that there isn't enough space on small earphones for a decent Bluetooth antenna. While that may or may not be true, it doesn't alleviate the frustration of dropped or sporadic signals. Now, there's this: the Echobox Ti-22BT Titanium Bluetooth earphones. 
The Ti-22BT earphones have done what no other wireless earphone has managed to do, which is actually hold a Bluetooth signal. Let's be even more clear about this; the Ti-22BT earphones never lost their signal in all the hours I've used them. Not once. I can only speak for myself, but that's pretty darned amazing. 
Product Review 27159

Echobox Ti-22BT Titanium Bluetooth Earphones Specs
Wireless Bluetooth: v.4.1
Titanium housing
Driver: 6mm dynamic
Frequency range: 20Hz-20kHz
Impedance: 16 ohms

What's in the Box
3 pair standard eartips (S,M,L)
2 pair medium T-400 Comply foam tips
3 wing-tip ear hooks
Charger cable
Cloth carry bag

Ease of Use
Echobox states that the Ti-22BT earphones' aircraft-grade titanium shells improve the audio quality. I'm not entirely convinced that small earphone shell materials actually matter. However, they do sound good and titanium is one of the toughest metals around, so durability should not be a concern. 
The earphones are wireless, but not totally — they are connected to each other by a twisted silicone cord. The housings are magnetic, so they can be clicked together forming an earphone necklace that makes them harder to lose.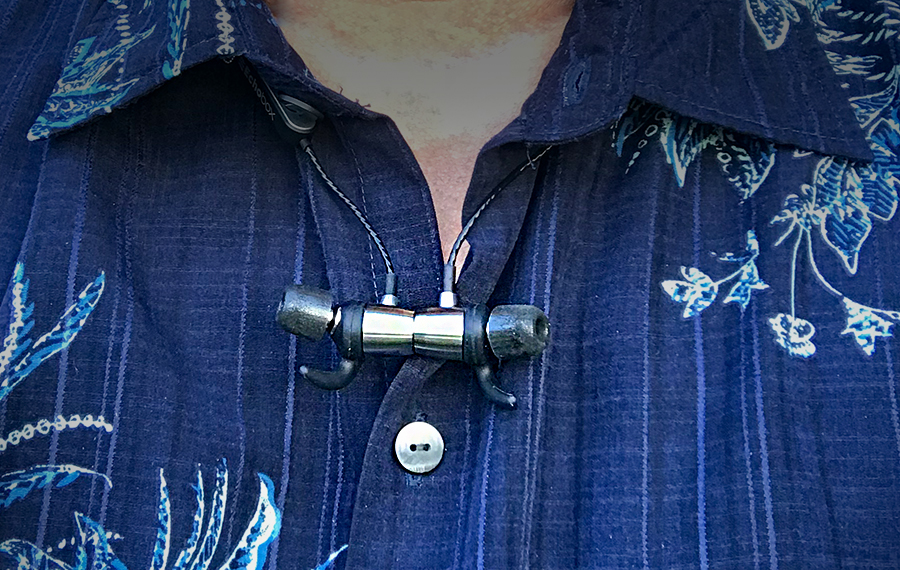 Attached to the cord is a module that controls the earphones, so you won't have to pull out your smartphone. There are buttons that control volume up/down, play/pause, next and previous track selection, answer/hang up phone and Bluetooth pairing. Pairing was easy and error-free. Plus, the buttons are easy to find along the cord only by feel if necessary.
Fit, Comfort and Durability
The Ti-22BT earphones are sweat and water resistant, making them perfect for exercise or outdoor work on hot days. Supplied Comply foam tips help keep the earphones firmly seated in the ear, while also helping reduce outside noises. Three sizes of silicone tips are included, as well.
Echobox also added what are called wing-tip ear hooks. These soft and comfortable silicone hooks come in three sizes and fit into the curves of the outer ear, adding extra security against falling out. After using the wing-tips during hours of sweaty yard work, the Ti-22BT earphones never felt like they would come loose or fall out.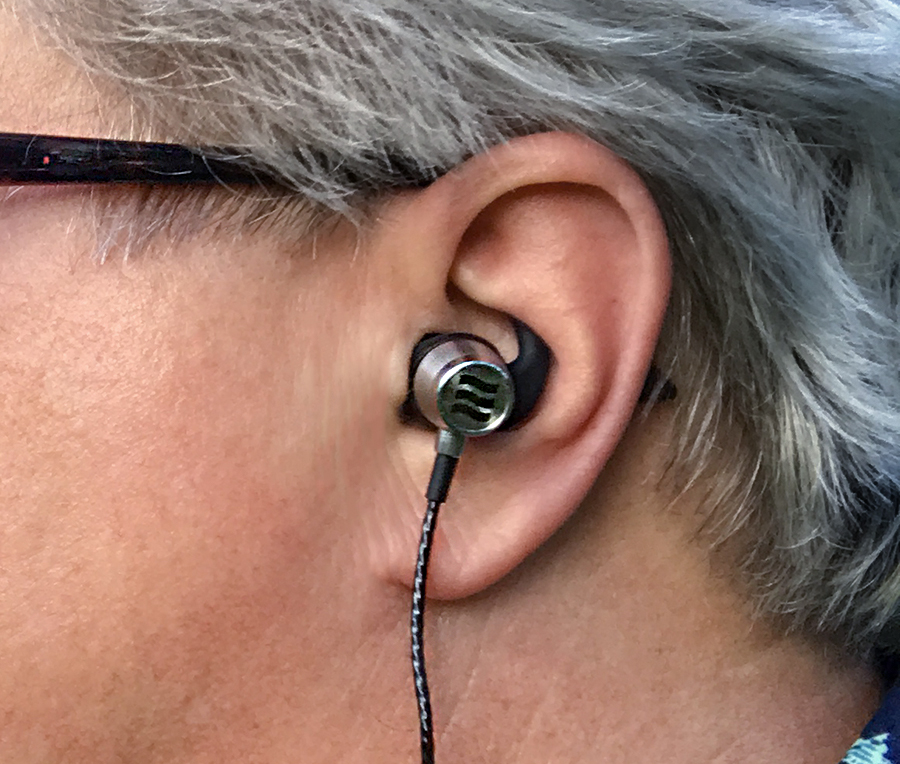 Once in, the Ti-22BT earphones still felt comfortable after extended use. This long term comfort was a huge bonus, since it seems to be a rare quality with most earphones. Additionally, the cord can be tightened at the back for a more snug fit if desired.
A microfiber cloth pouch holds the Ti-22BT earphones and helps keep out dust and dirt. However, it doesn't offers any sort of crush protection. Plus, if the charging cord needs to be brought along, room in the small pouch becomes quite tight.
Because of their fit, finish and accessories, living with the TI-22BT earphones is a breeze. After finding the right tip and ear hook combination, using them with my iPhone for yard work has been simple. I'm no longer tethered by a wire to the iPhone, which gives me much better freedom of movement, even if the phone is still only in my pocket. 
Sound Quality
The Ti-22BT earphones don't care what you like. They make it all sound good.
I've used the Ti-22BT earphones for music, phone calls and listening to audio books. Calls are clear for both parties, with no complaints. Spoken audiobooks can be heard clearly without any tendency towards bass or treble, which can affect the enjoyment of getting lost in a story.
However, it's music where the these earphones shine. My tastes are eclectic — I can listen to an '80s dance track followed by Frank Sinatra followed by punk rock. So I prefer earphones that can handle it all with ease. While various earphones are better for this or that type of music, the Ti-22BT earphones don't care what you like. They make it all sound good.
They have a 6 mm dynamic speaker, which is on the smaller side for earphones. But Echobox has managed to find the right balance between size and power.
Musical detail is the Ti-22BT earphones strength. Bass has punch and oomph — especially on more modern tracks — remaining sharp without becoming muddy or bleeding into the middle frequencies. You can actually feel the bass in your head and body. This is not an easy thing to do with earphones. Keep in mind that the Comply tips help achieve this effect.
Even with the detail, there is no harshness or brittleness in the higher frequencies. Everything remains smooth and pleasant with just a touch of added warmth for hours of fatigue-free listening.
Vocals remain front and center, where they belong. There's no hint of stridency or strain on tracks that rely on a more up front and intimate vocal performance. Frank Sinatra's '50s albums are famous for the quality in the recordings. The Ti-22BT earphones place him in front of you, giving you a private concert for one. 

Should You Buy the Ti-22BT Earphones?
With a strong Bluetooth signal that does not drop out, the Echobox Ti-22BT Titanium Bluetooth earphones have made a believer out of me. Finally, a wireless earphone I can depend on. And at $129, they run cheaper than many other high-end wireless earbuds.
If you're looking for simple-to-use wireless earphones that sound great and won't drive you crazy with Bluetooth dropouts, then the Ti-22BT Titanium Bluetooth earphones are a solid buy.

Echobox Ti-22BT Titanium Bluetooth Earphones
$129.00
Good Fit For:
Sound great -- no matter the musical genre
Simple pairing
Well-made
Magnetic housing helps prevent loss
Wing-tip ear hooks work well
Not a Good Fit For:
Bag is small and only protects against dust and dirt
Some may not like the more effective Comply tips
Our editors strive to ensure that the information in this article is accurate as of the date published, but please keep in mind that offers can change. We encourage you to verify all terms and conditions of any product before you apply.