Ruin a Package Thief's Day With the eufy SmartDrop Package Safe
Save your precious time and money and keep those mail thieves guessing.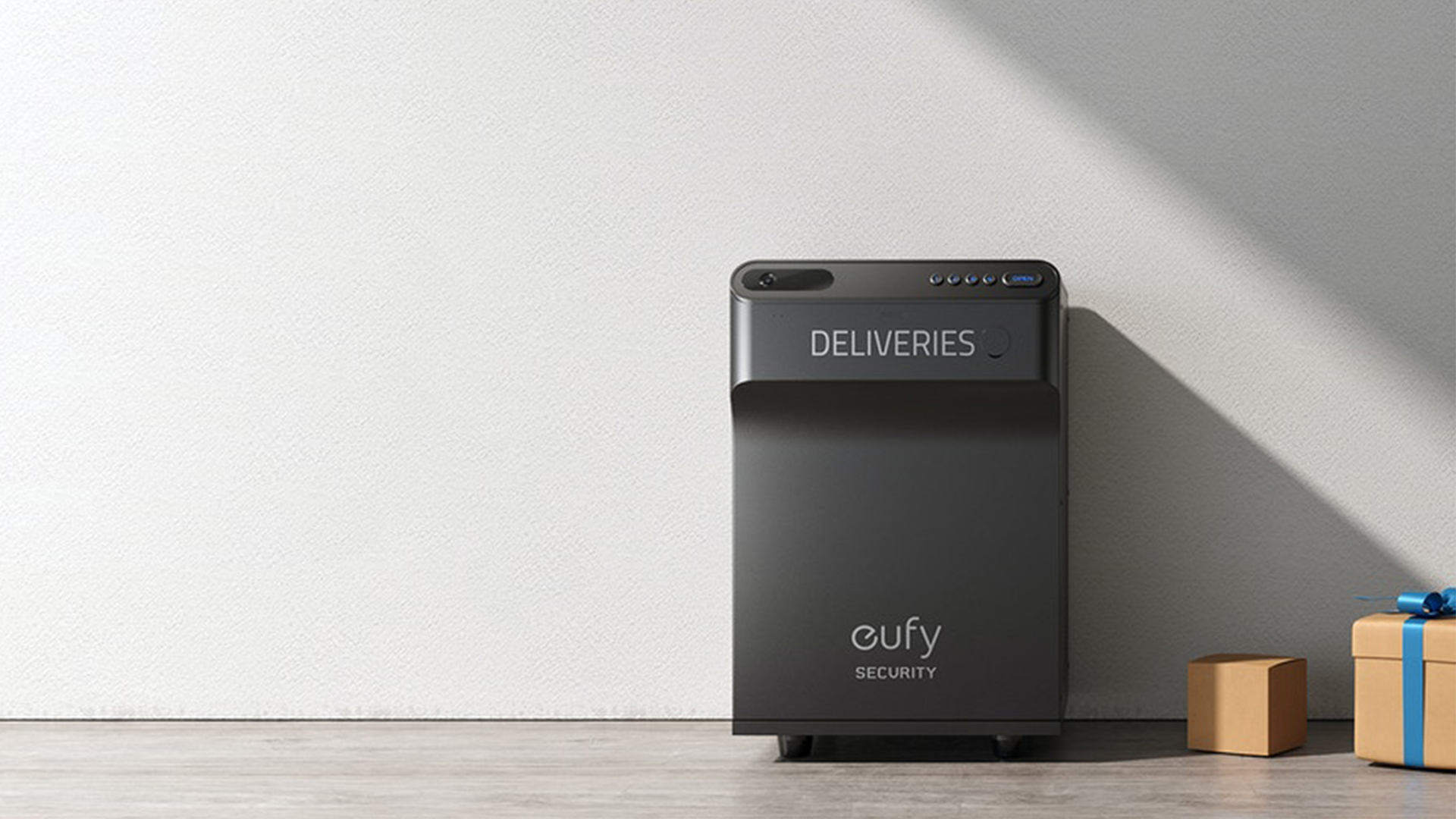 As millions of quarantined shoppers rely on package delivery more than ever before, porch pirates and other "curious" passersby have never had more options. While you can always get a traditional video doorbell or security camera, neither is enough to actually stop a thief who doesn't care about being recorded.
Security camera and adorable robot-vacuum aficionado eufy has decided to approach this problem head-on with its latest creation, the eufy SmartDrop Package Safe. This innovative take on the perfect package safe quickly reached its goal on Kickstarter and is expected to hit the retail market in 2021.
See the SmartDrop Package Safe on Kickstarter
The SmartDrop Package Safe is expected to retail for $299, but those who back this smart package security system on Kickstarter only have to pay $169, or almost 50% off.
Since the project has already met its goal, it's basically the same as placing a pre-order. Even so, you may be a little nervous investing in the eufy SmartDrop Package Safe sight unseen. If you're on the fence or just want to learn more, consider these key features:
eufy SmartDrop Package Safe Specs

Exterior and interior dimensions: 25.6″H x 17.7″L x 15.0″W | 23.0″H x 14.4″L x 12.6″W
68L Capacity | 37 lb. weight
Powered by 10,000mAh rechargeable battery pack with 5V 2Am micro USB charging
1080p full HD camera
160°  viewing angle
IR night vision
Two-way audio
Smart detection zones
Weather-resistant exterior shell
Included with SmartDrop: 
USB charging cable
rechargeable battery pack
foot pumper pads
gas strut
manual key
This Safe Can Double as A Camera

The SmartDrop Package Safe is designed with the shortcomings of current package safes in mind, while also offering way more security than a traditional camera. In addition to safeguarding your packages, this safe doubles as a front door security camera. The 1080p HD camera features human motion detection, night vision and two-way audio.
Once your package has been delivered, you'll instantly receive a notification. Should any delivery issues arise, you can tap into the livestream at any time. While this helps as a thief deterrent, it's also fantastic if you need to check in with whoever is dropping off or picking up something from your Package Safe.
Alexa and Google Assistant users can control their Package Safe from any compatible device. This lets you communicate with food delivery drivers, confused mail carriers and anyone else hanging out on your porch by asking your assistant to, "show me SmartDrop." If you have a eufy HomeBase or a Cloud Storage subscription, you can watch a recording of package delivery (or any potential theft attempts) on the eufy app. Use the app to share your pin with friends and mail carriers or view your order history right on your device.
Keep Things Simple for Your Mail Carrier

Mail carriers have to move quickly, so complicated package safes can sometimes get ignored on a busy day. To make your carrier's life easier, the SmartDrop is designed with their workflow in mind, offering a simple interface and a user-friendly experience. The human detection feature alerts your delivery driver to the presence of your safe using a voice guide, which also provides instructions for operating the SmartDrop.
The SmartDrop's illuminated buttons make the PIN pad easy to see in the dark and during poor weather. If your carrier has any trouble opening your package safe, you can easily guide them through the process via the camera.
Access Methods for All Occasions

With five different access methods, the SmartDrop is user-friendly and easy for mail couriers, family and friends to open. You can choose from:
Tap-to-Open—When the SmartDrop is empty, it can be opened by simply pressing the illuminated "OPEN" button.
PIN Code Access—You have a MasterPIN and codes for couriers can be generated using the eufy Security app. When you're shopping online, include a security PIN code in the address field. This way, when your courier arrives, they can easily open the box using the PIN.
Open via the App—If your courier is having trouble with the PIN, they can press the "OPEN" button, which will notify you instantly. Using the app, you can unlock the safe remotely.
Emergency Key—If your SmartDrop is out of power or you can't remember the MasterPIN code, the SmartDrop can be opened using a traditional key.
Voice Assistant—Alexa and Google Assistant users can open the SmartDrop using a voice assistant device or application.
Depending on your security needs and available technology, you can also choose from four different access modes:
Default Mode—The SmartDrop will open with the button if empty, otherwise it must be opened using one of the other four methods described above.
Locked Mode—The "OPEN" button will not open the SmartDrop, it can only be opened using the other four above methods.
Unlocked Mode—If you're feeling fast and loose, you can leave your SmartDrop unlocked at all times.
Deliveries Denied Mode—The SmartDrop can only be opened using the MasterPIN or physical key.
Crowbar-Proof and Built to Last

The eufy SmartDrop Package Safe is made of cold-rolled carbon steel, sealed with an anti-corrosion coating and topped with a hydrophobic layer. It is built to withstand temperatures as cold as -4° F and as hot as 140° F. The Package Safe is water-resistant, thanks to its hydrophobic layer, and designed to divert water to a drainage trough, keeping your packages safe and dry.
You can bolt your SmartDrop to your porch or wall, so you can make extra sure it isn't going anywhere. The rechargeable battery holds a charge for three months, so it shouldn't require too much maintenance or attention.
Upgrade to a SmartDrop Pro
If you are interested in the eufy-specific security features but don't want to shell out for a SmartDrop and a new camera, you can get both for a discount by backing the SmartDrop Pro for $219, which will cost $329 in stores. In addition to everything included in the original SmartDrop package, the Pro comes with a HomeBase 2 camera, ethernet cable and power adapter. If your SmartDrop is paired with a HomeBase camera, you get 16GB of encrypted local storage for snapshots and video recordings.
Homeowners and Delivery Drivers Weigh In

In Seattle, eufy tested the ease of use, success rate and general opinion of the SmartDrop prototype. From a sample size of 100 mail carriers, only 8% did not use the SmartDrop. Also, 93.5% of packages were successfully deposited into the SmartDrop and 92% of homeowners were excited about using the safe, so it seems like the general opinion is favorable.
UPS drivers spent an average of 12.3 seconds opening the SmartDrop, while Amazon and FedEx drivers took 14.7 seconds and 10.8 seconds, respectively. This is a small sample size in a single metro area, so it's too soon to say for certain—but the success of this package safe's design seems promising.
---
The eufy SmartDrop Package Safe may not be here in time for this holiday season, but there are still plenty of other security solutions to take advantage of in the meantime. If you're waiting for the right price on a floodlight or camera, it's never a bad idea to set a Deal Alert for the one you want. Set it, forget it and we will let you know when the item you want goes on sale.
Our editors strive to ensure that the information in this article is accurate as of the date published, but please keep in mind that offers can change. We encourage you to verify all terms and conditions of any product before you apply.