You Could Save $1,866 a Year on Groceries with These Clever Food Waste Gadgets
Stop throwing away rotten groceries with these simple and affordable gadgets.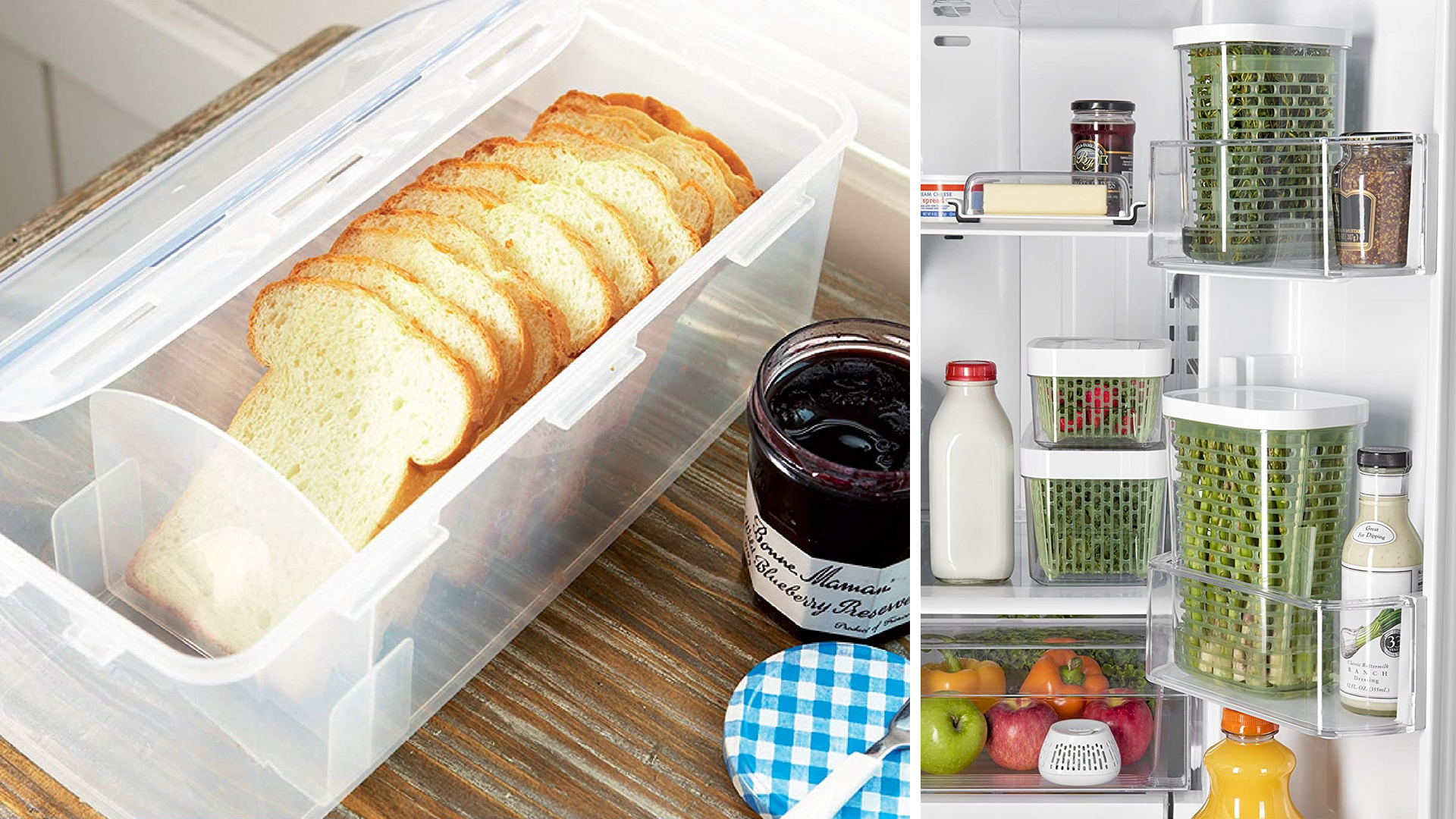 Is your produce drawer sporting more fuzzy fruit and wilted vegetables than you would like? You aren't alone. Food wastes cost the average household $1,866 per year. I don't know about you, but I would rather have spent that money on a tropical vacation than moldy cheese and bread.
The secret to saving on your grocery bill and avoid last-minute takeout after seeing a fridge full of spoiled goods is to store your food correctly. We've gathered nine food waste gadgets for under $20, as well as tips that will keep your produce, dairy and meat fresher longer.
1. Repackage Your Meat with a Tray Vacuum Seal
Sale Price: $18.95 | Reg. Price: $19.95

When you bring home a steak or pack of chicken breast, the meat isn't meant to live on that Styrofoam disc for a week. If you aren't going to use the meat right away from the grocery store, store it in a new container like the Tray Vacuum Seal.
Alternatively, you can marinate your meat and store it in a reusable gallon-sized bag—this way your meat is ready for dinner or the freezer without a lot of effort on your part.
2. Keep Deli Items Airtight with a Progressive Deli ProKeeper
Sale Price: $11.77 | Reg. Price: $14.99

Forget keeping your luncheon meat in the original packaging or wrapping it in aluminum foil. This Deli ProKeeper can be used for deli meat, cheese and bacon and prevents the meat from getting slimy or leaking mystery juice all over your fridge. The company also offers a divided container and smaller containers too.
3. Store Herbs Upright with OXO Herb Keeper
Reg. Price: $11.99

Pinterest might recommend keeping herbs in a glass container with water, but who wants to mess with that in their fridge? Instead, use a container that will help keep the herbs moist and help air circulate around them entirely. OXO also makes a larger Herb Keeper for $3 more.
One reviewer said, "My herbs always go bad within a week. It is a total waste of money…UNTIL NOW. The OXO GreenSaver Herb Keeper is OUTSTANDING! My herbs have been 'crunchy' fresh for 5 weeks solid now."
4. Use Food Huggers to Cover Produce Leftovers
Reg. Price: $12.95 for a set of 5

We know it's a pain to grab the plastic wrap every time you have an unused apple or onion leftover. These Food Hugger silicone covers take the hassle out of preserving your leftovers. The covers will fit over cans and select containers too.
5. Line Your Produce Drawers to Absorb Moisture
Reg. Price: $11.25 for a set of 4

These German-made drawer liners can be cut down to size and will prevent your produce from bruising. The liners also whisk away moisture and keep odors at bay, all while extending the life of your fruits and veggies. One reviewer said, "It seems to do what it says…grapes, plums, peaches and strawberries seem to stay fresh forever…I have not had to throw anything away, since using this item."
6. Keep Lettuce Crisp with Rubbermaid FreshWorks Produce Saver Food Storage
Reg. Price: $16.99 for a set of 4

The key to getting your spinach, lettuce and kale to last longer is to keep the leaves dry and prevent them from getting too cold in the back of the fridge. The Rubbermaid set of containers can be used for any produce, but they are especially useful for keeping lettuce crisp and dry.
Washing and cutting your lettuce can minimize its longevity, but I find that prepping produce right after a shopping trip helps my household eat it more regularly.
Another worthwhile storage container is the Lettuce Keeper Container for under $13. Many of the 2,800 reviews said that their spinach and lettuce stayed fresh for two weeks or longer. The container also comes with a divider to separate different produce.
7. Store Bread in an Airtight Container
Sale Price: $15 after $3.99 coupon | Reg. Price: $18.99

Let's face it: the bag your bread comes in is not doing your loaf any favors. A divided, airtight container like the LOCK & LOCK Bread Box can preserve homemade and store-bought bread alike. The slim box won't take up a lot of room on your counter or in your pantry.
Ready to save even more money? Set a Deal Alert for your favorite containers or pantry essentials so you never overpay.
Up Next:
Our editors strive to ensure that the information in this article is accurate as of the date published, but please keep in mind that offers can change. We encourage you to verify all terms and conditions of any product before you apply.