Gamers Dominated the WFH Challenge — Here's Why
Gaming brands actually make the best products for workplace productivity.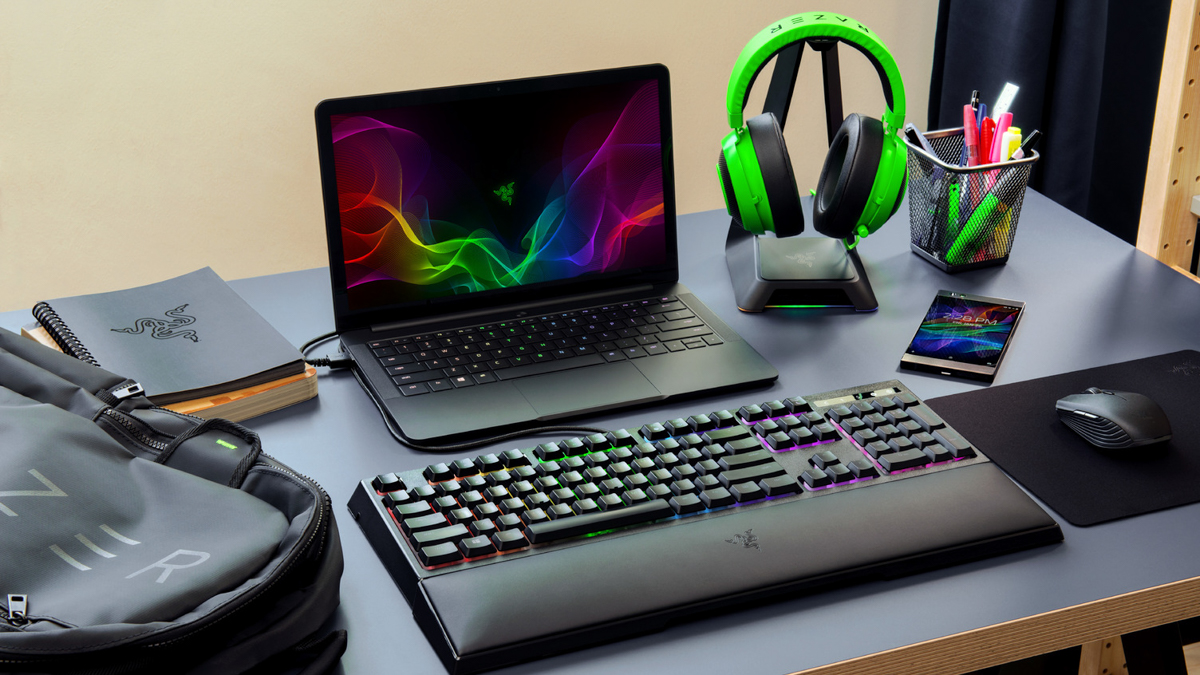 When the pandemic first forced everyone to work from home (WFH), many people struggled to merge an office setting into a living space that didn't quite support the sudden lifestyle change: constant video conferencing, the need for larger or more monitors, wrangling multiple peripherals, etc. But one group was perfectly ready (and dare I say waiting?) for this moment — gamers.
Gaming equipment has always been performance focused and highly optimized, as if it were created to do a specific… job? Yes, that job is providing an advantage over in-game competitors. And this same advantage also directly translates to our 9-to-5 home-office duties.
With most gamers, like myself, already set up for video streaming, multi-device support, and long sessions in front of a desk, the only thing we had to do was swap out the pink kitty headphones for black kitty headphones to gain a more "professional" look.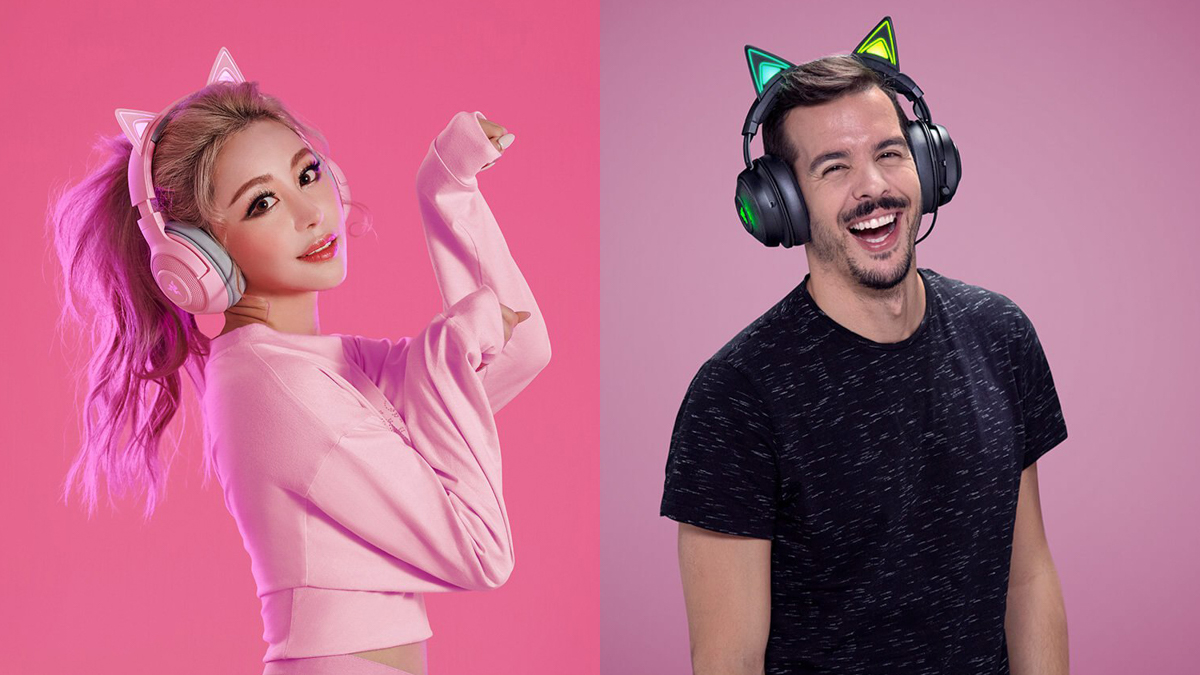 All jokes aside, my transition to a WFH setup was effortless thanks to my existing love affair with Razer, a brand that offers a gamer's perspective for almost every part of our lives. And just in case you wanted to replicate my experience, here's a quick look at how I used my existing Razer arsenal to merge my gaming and office requirements into one glorious RGB-powered lifestyle.
Lights, Camera, Action!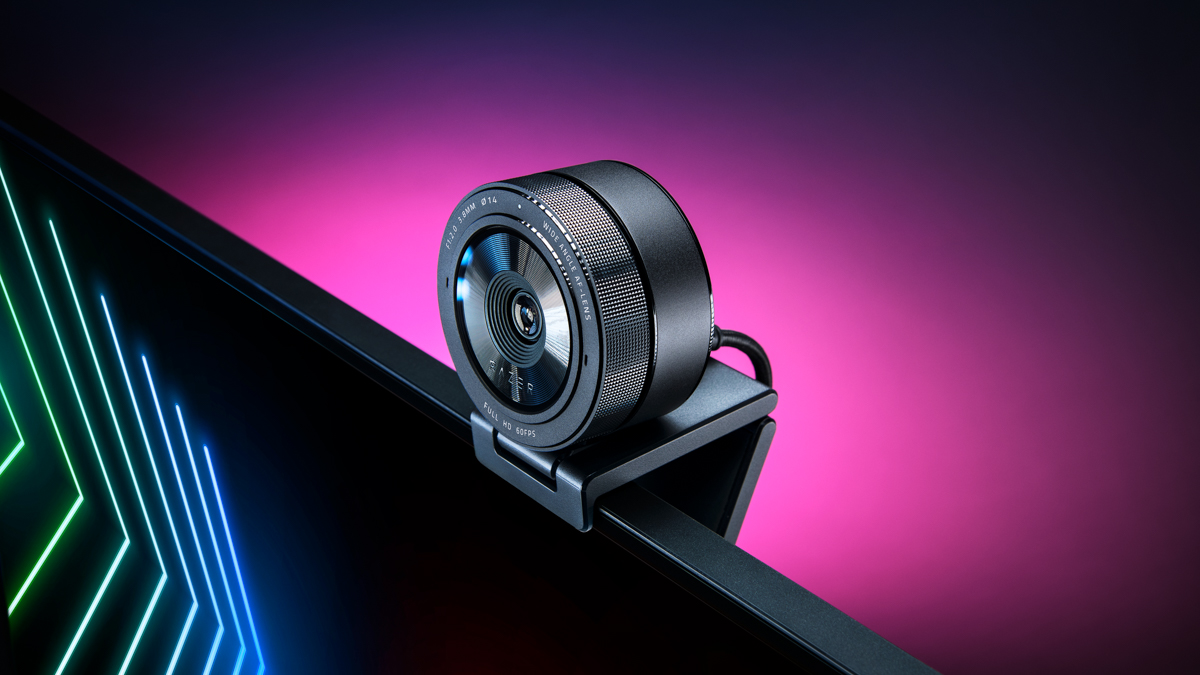 One of the main aspects of WFH that many were not prepared for was the need to be in front of a camera all the time. I often found it difficult to see other people during video meetings because homes aren't well-lit studios, and the lighting changes throughout the day. Plus, a laptop's built-in camera offers the most unflattering up-nostril-double-chin-producing angle for video calls.
Luckily, my coworkers always got my "good side" thanks to a long list of professional-quality features found on Razer's Kiyo Pro:
Monitor or tripod mounting for the best angle
Adaptive light sensor technology that adapts to your environment
1080P resolution and 60 frames-per-second
HDR color support
Wide angle lens with adjustable field of view for single or group broadcasting
Advanced image and color adjustment via Razer Synapse for picture accuracy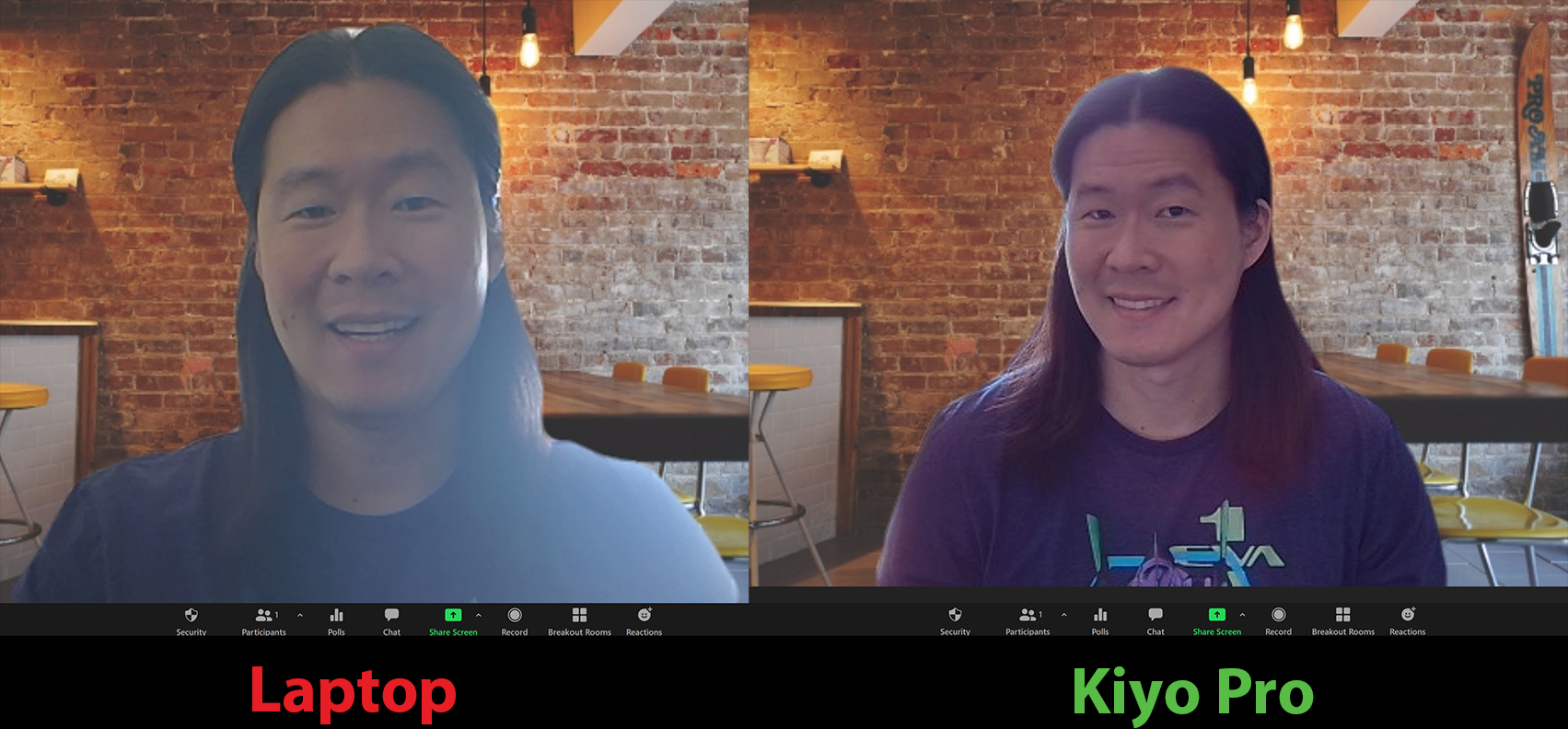 Personally, the Kiyo Pro's adaptive light sensor was the biggest game changer because my back is to a large window and I'm directly underneath a ceiling light. Plus, the monitor blasts my face with harsh lighting. All of these rogue light sources produced weird shadows and effects, but the Kiyo Pro was able to balance the scene so I didn't look like a shadow of a monster.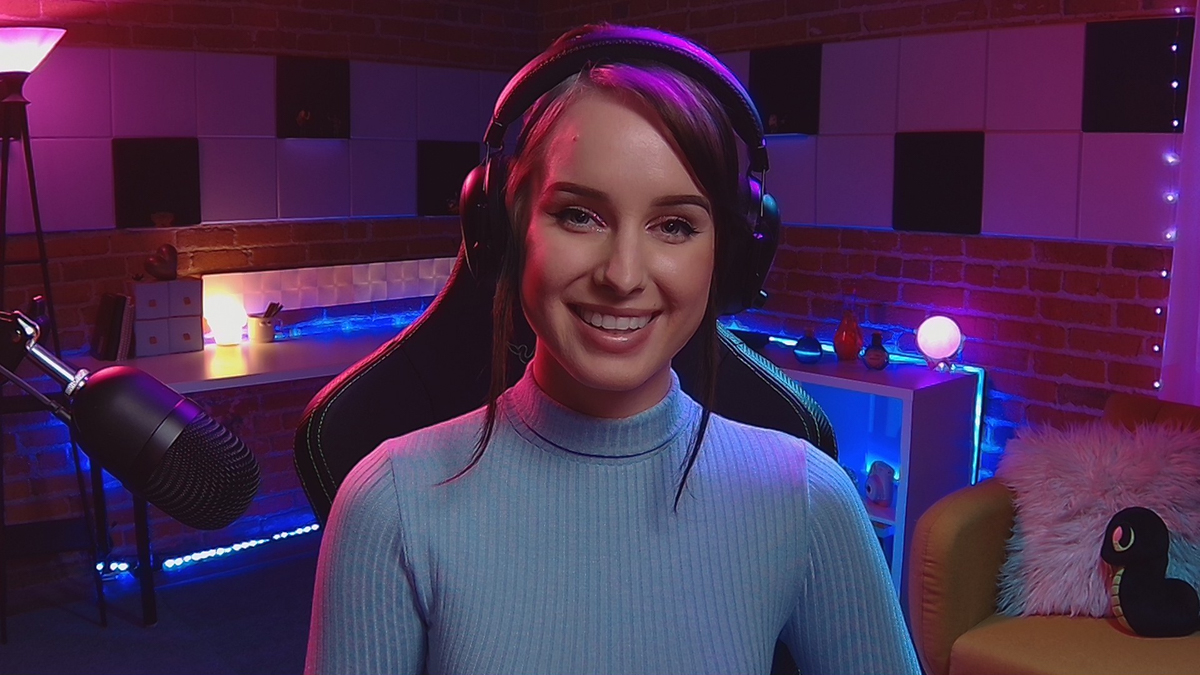 The sensor is also capable of operating in very dim locations, letting streamers show off additional lighting effects in the background for Twitch or YouTube.
Prime Day Savings Alert! Sale Price: $151.99 | Regular Price: $199.99
One Dongle to Rule Them All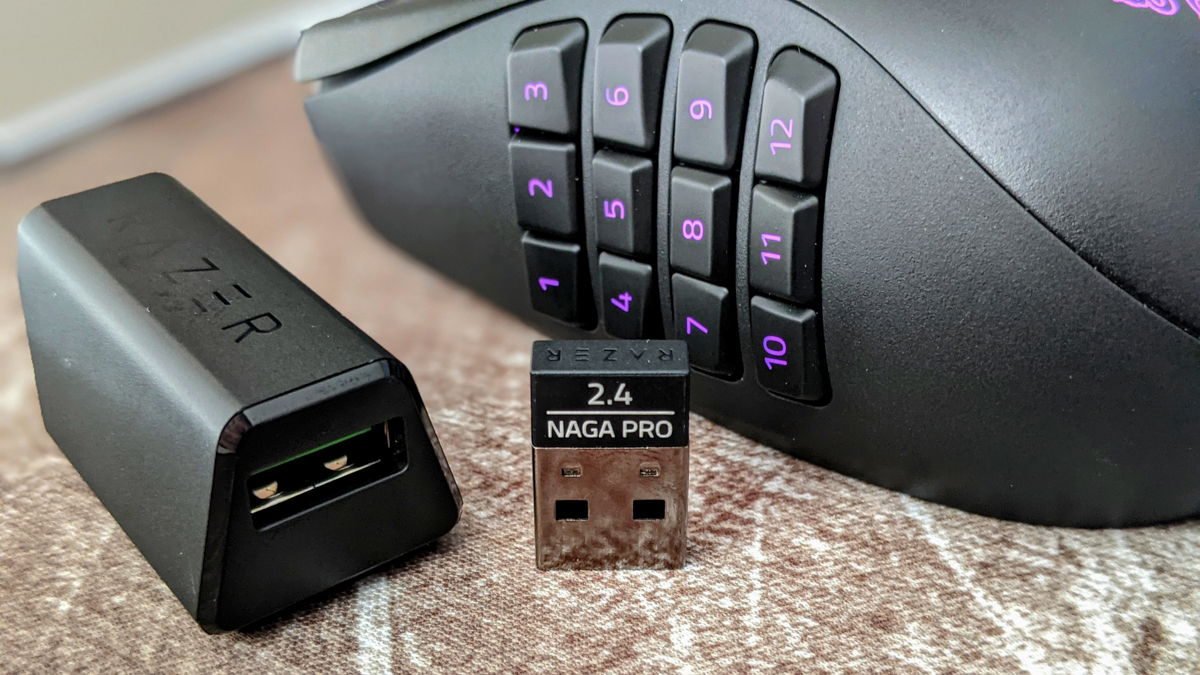 As everyone brought home their work-issued laptops, we suddenly found themselves crowded with an extra device, but only one set of peripherals. USB hubs immediately started selling like hot cakes since it was the quickest solution for switching things between two devices. It was still a pain, but at least there was just one item to unplug.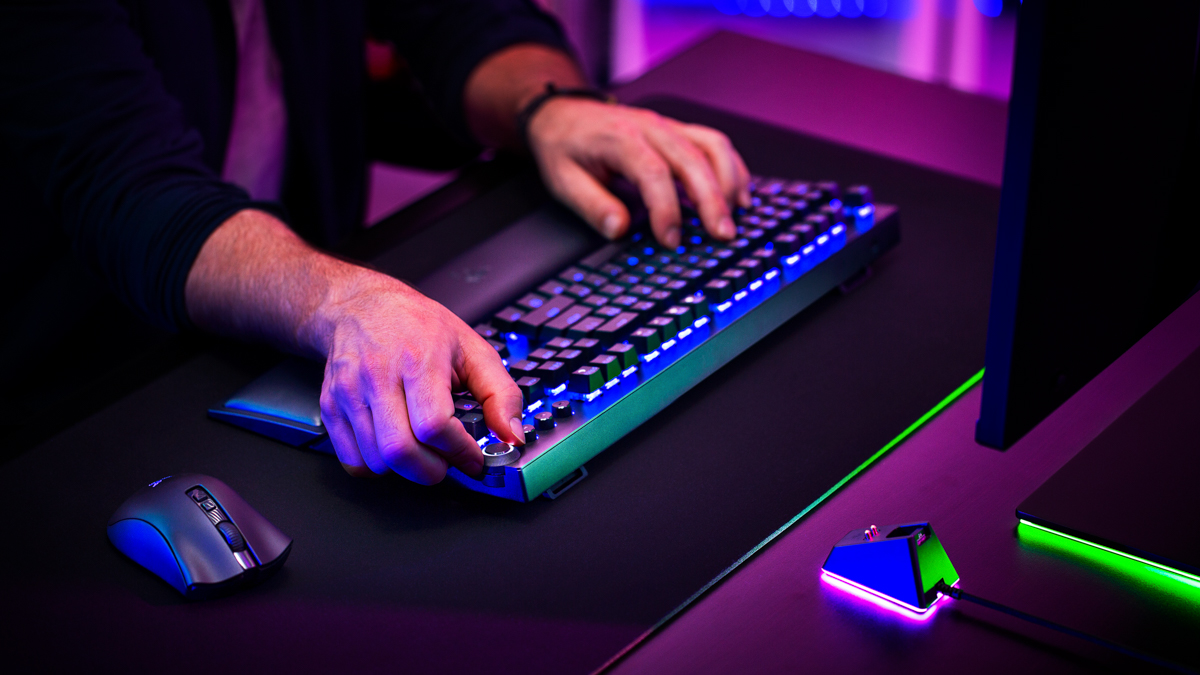 This struggle was never real for me, though, since my Razer BlackWidow V3 Pro keyboard and Naga Pro mouse were already wireless and featured HyperSpeed low-latency technology (read: fast, solid connection signals). And Razer's Multi-Device Dongle supports both the keyboard and mouse at the same time, so if I wanted to, I could simply move the dongle to another device and all my peripherals are ready to go.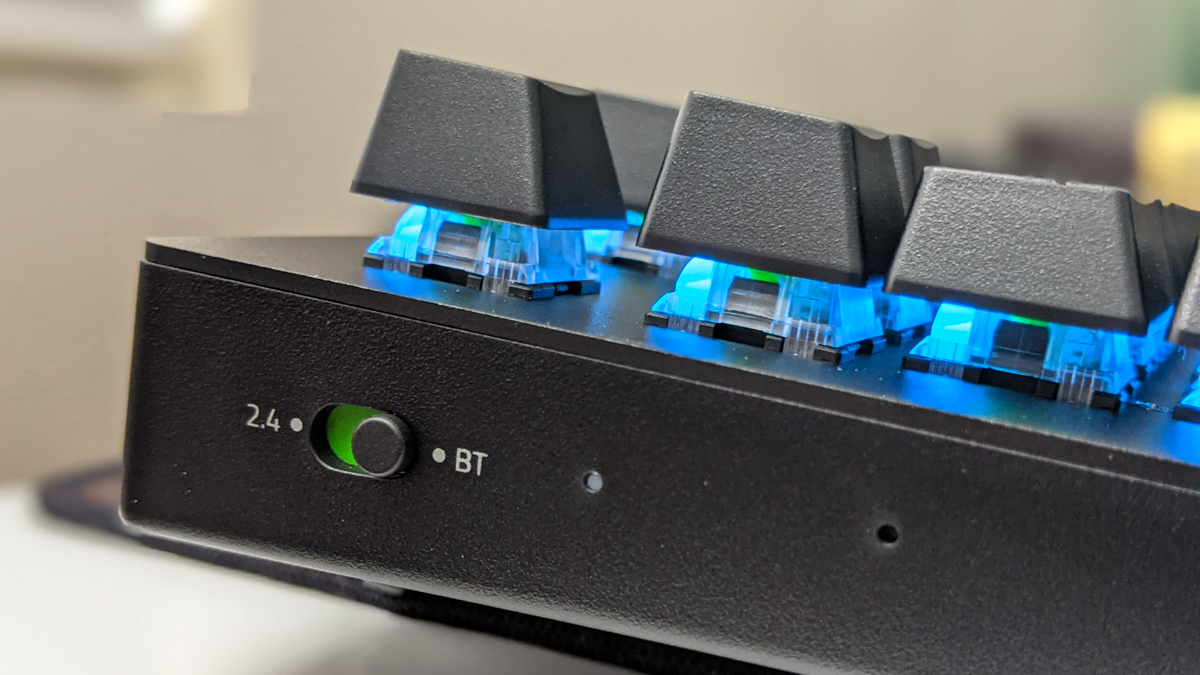 But since my second laptop is only for work, and I don't really need the lag-free input response, switching the mouse and keyboard signal from HyperSpeed to Bluetooth was easier and faster. The Naga Pro supports one additional device on its Bluetooth channel, while the BlackWidow V3 Pro keyboard supports up to three different devices via Bluetooth, all accessible through a dedicated switch.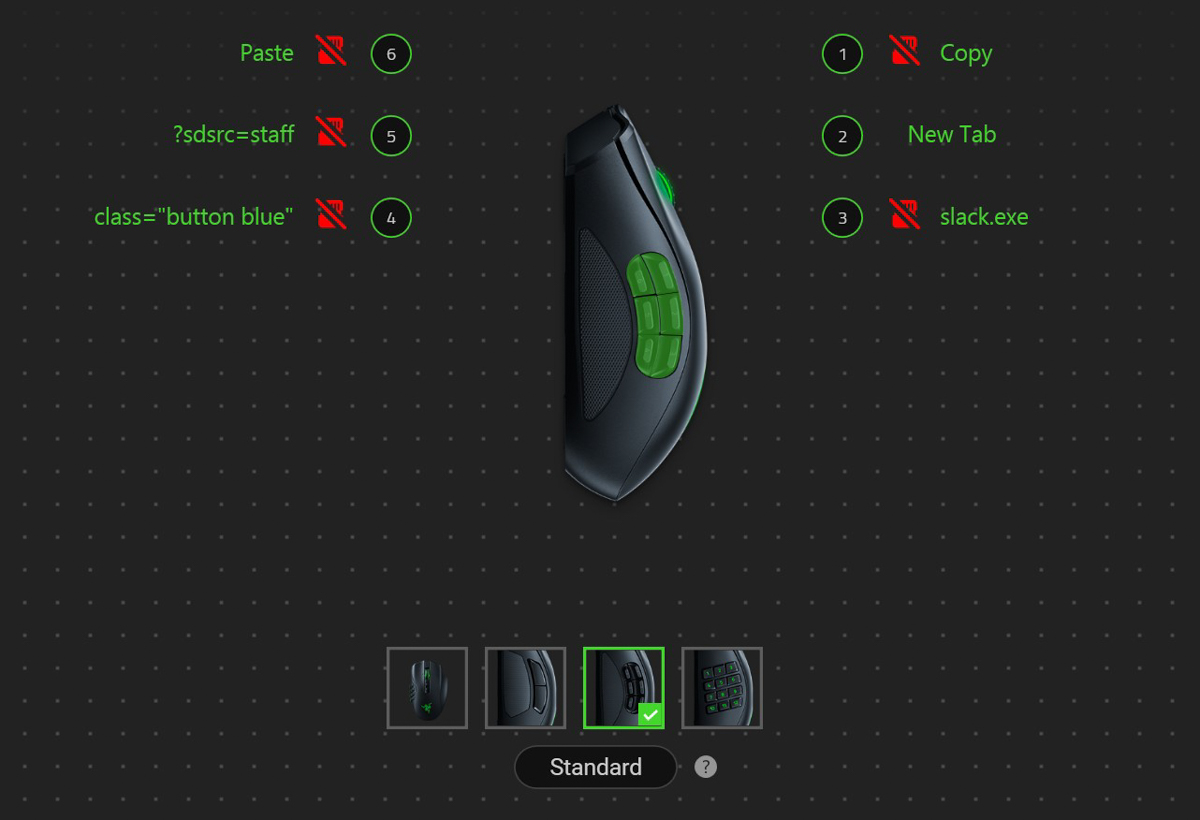 While we're on the topic of "three," the Naga Pro's three interchangeable side plates add up to twelve programmable buttons. I've mapped my most common apps, text phrases and email responses to the various buttons, and my productivity is off the charts! Any of the keys on the BlackWidow V3 Pro can also be programmed to execute custom commands.
Prime Day Savings Alert! Naga Pro Sale Price: $99.99 | Regular Price: $149.99
Prime Day Savings Alert! BlackWidow V3 Pro Sale Price: $179.99 | Regular Price: $229.99
Shop Razer:
Style Meets Ergonomics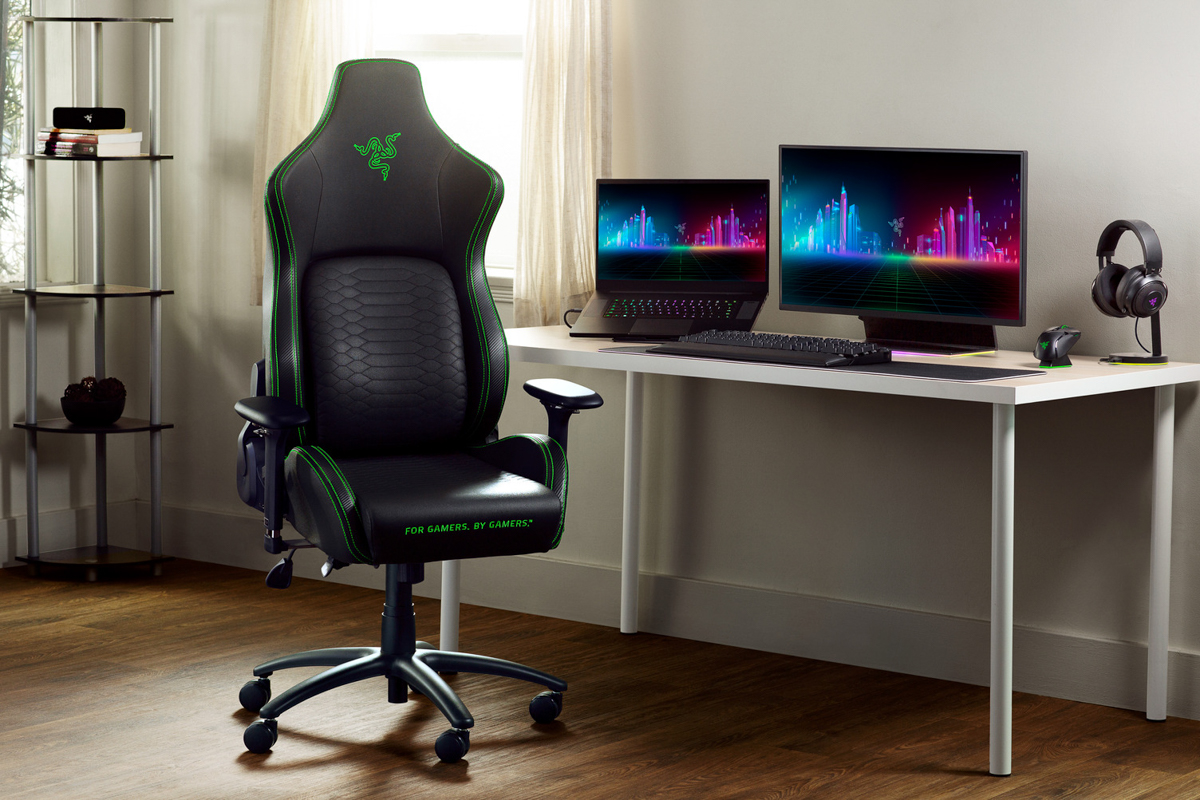 A nice workplace will often have expensive office chairs to support the daily grind, but the term "ergonomics" hardly ever makes it home.
That's not the case for gamers who stream content to Twitch or YouTube, where a single session could last hours. Comfort and good posture are paramount when you're stationary for such a long time, and I've leaned on Razer's Iskur (pun intended!) for an extra level of ergonomic efficiency with its fully adjustable lumbar curve.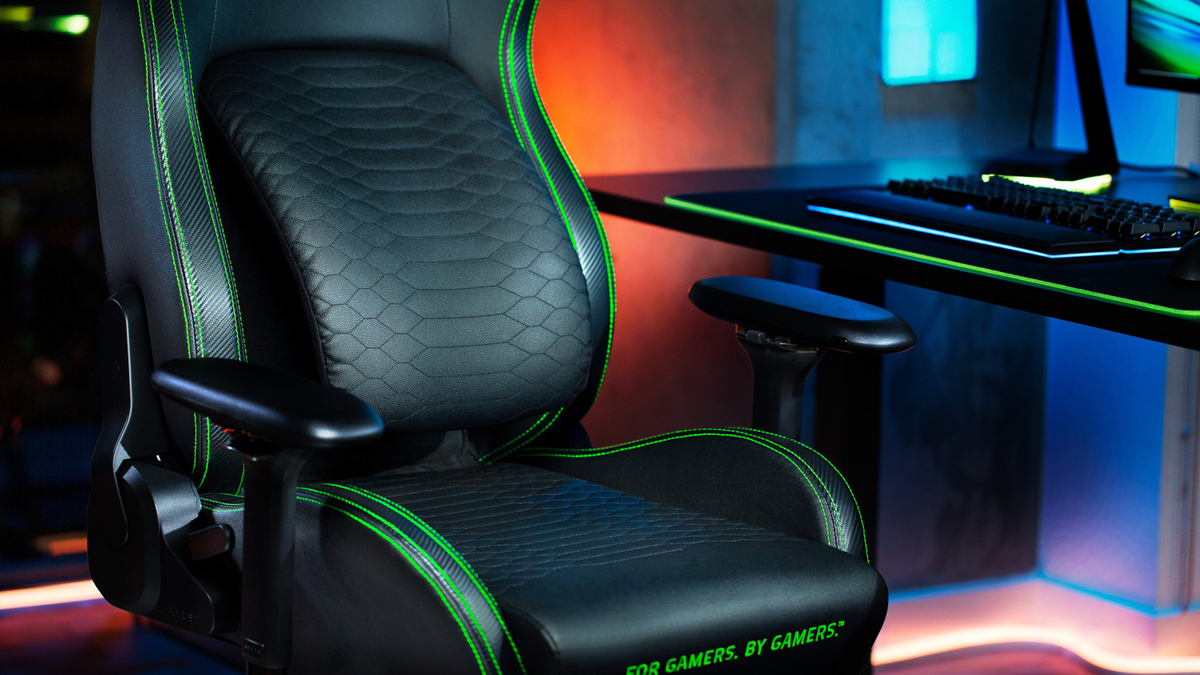 More than just a bulge or extra cushioning, this unique lumbar system extends up to 26 degrees from the seatback to help achieve a neutral spine position. Since I carry a lot of height in my upper torso, the Iskur has worked wonders to get me to stop slouching forward. Plus, the seatback is contoured so that more of my back and shoulders are touching its surface, which provides additional support. I still stand up to stretch every hour or so, and I've noticed that my hips and lower back are much less strained.
The Iskur also offers lots of other adjustments for maximum customization, like 4D armrests, tilt, lean, height and swivel.
Prime Day Savings Alert! Sale Price: $429.99 | Regular Price: $499.99
Can You Hear Me Now?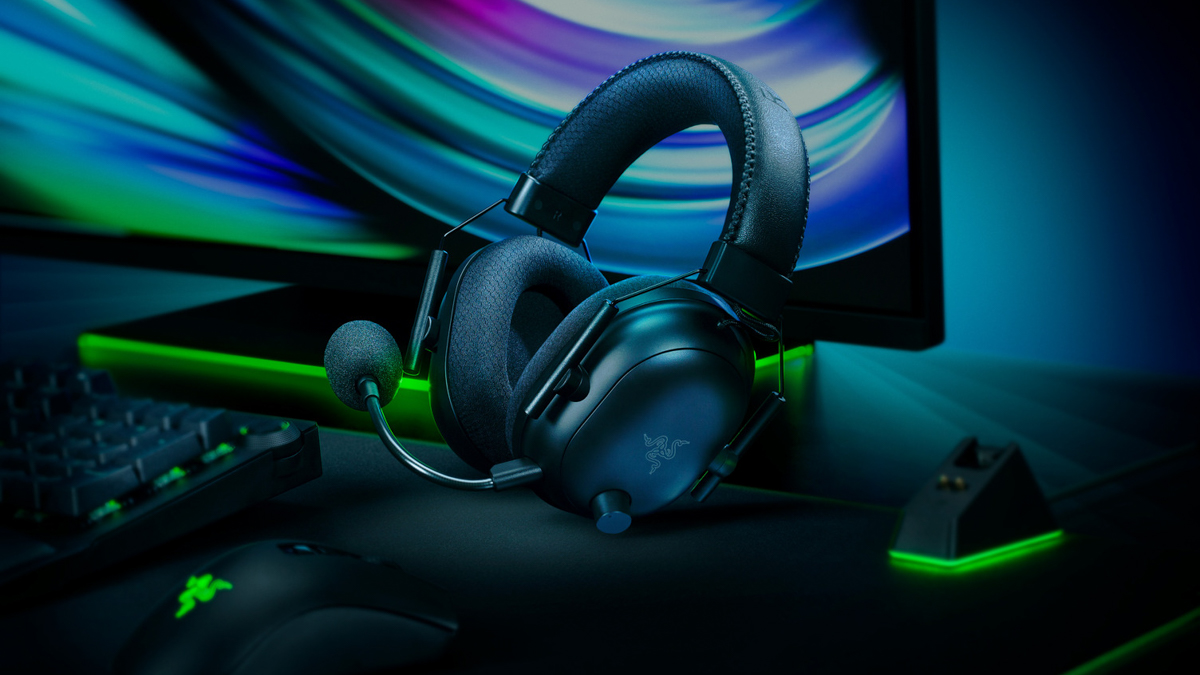 Today's most popular games are almost exclusively multiplayer, and one of the main keys to winning is clear and precise communication with your teammates, especially at higher skill levels. It doesn't feel too different from our current WFH situation with back to back phone calls and video calls, amirite?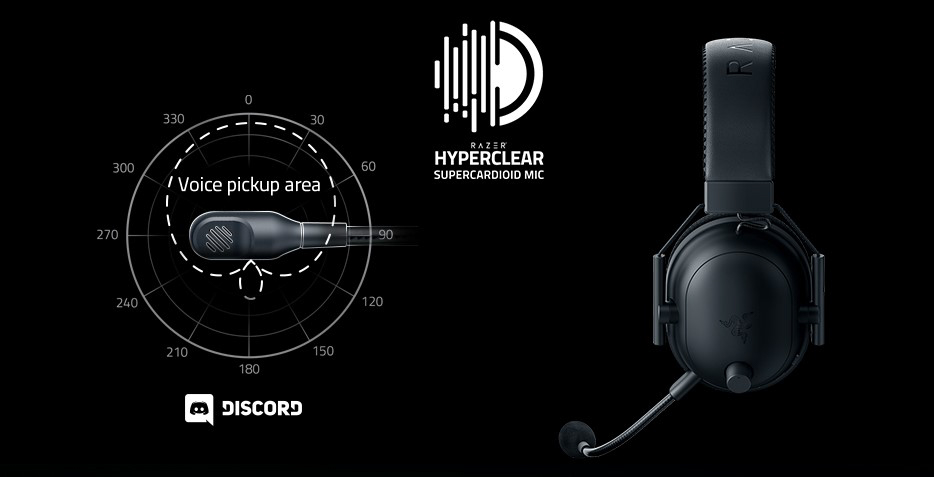 And while a laptop's default speaker and mic can get the job done, I prefer Razer's esports-ready BlackShark V2 Pro. It delivers a much more premium experience thanks to its 50mm titanium drivers, supercardioid mic and HyperSpeed wireless technology. This all might be overkill for a Zoom meeting, but my audio never drops out, my voice is crystal clear, and the mic avoids unwanted background noises. With multiple "offices" operating in my home, the BlackShark's noise isolation and noise rejection has become a much-welcomed benefit.
Prime Day Savings Alert! Sale Price: $139.99 | Regular Price: $179.99
Play Hard, Work Hard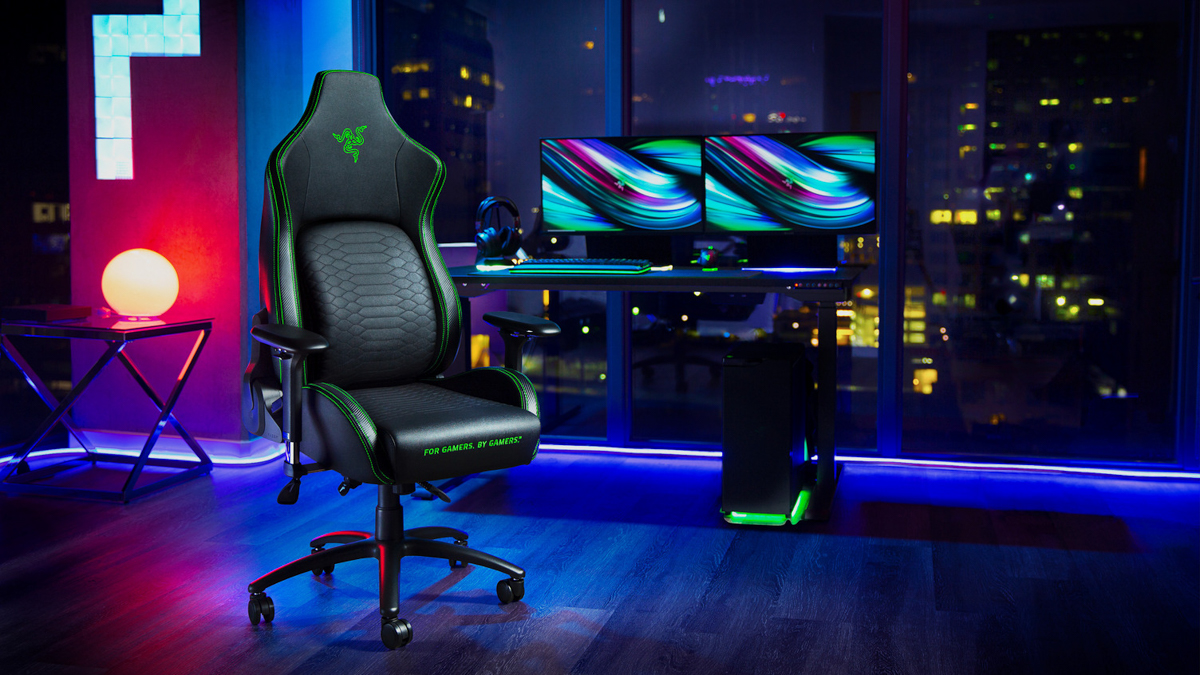 While many people rushed to transform a corner of the house into a temporary workstation, gamers like myself received double the benefits from our current hobby setups.
In my particular case, I benefited from Razer's thoughtful and innovative product designs. And with the brand's rapid expansion into other categories — like streetwear, face masks, environmental sustainability, and energy drinks — the only thing that's missing is a voice-activated motorized standing desk with Chroma RGB.
There are lots of other gaming brands out there that can also help you accomplish this work/life combo. So when you're building out your WFH space, don't limit it to just products that are labeled as "productivity." And hey, you might actually spark a new passion for video games.
Our editors strive to ensure that the information in this article is accurate as of the date published, but please keep in mind that offers can change. We encourage you to verify all terms and conditions of any product before you apply.