Clack to the Future: A Comprehensive Guide to Finding the Best Gaming Keyboards of 2020
We're here to help pair you with the perfect gaming keyboard based on performance, price and aesthetics.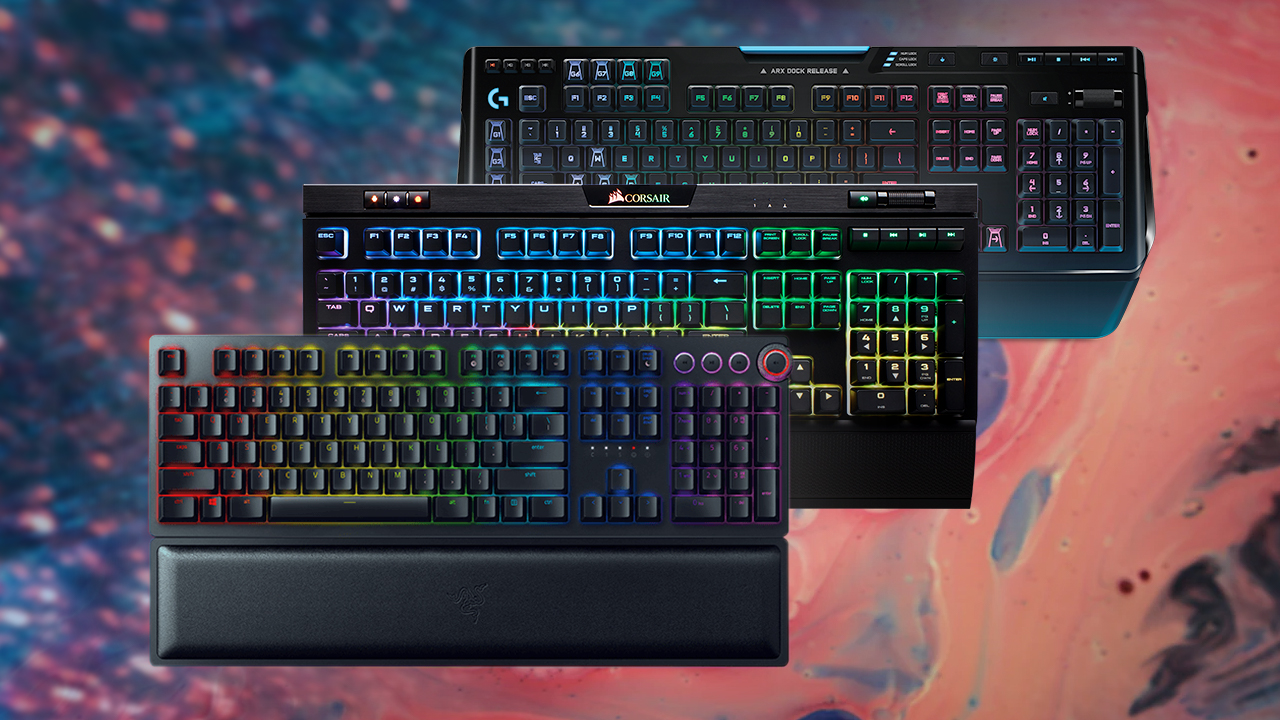 There's no escaping the noise when you tune in to watch streamers like Tfue and Ninja racking up their wins. Behind the commentary, it sounds like a Gatling gun is firing off, and (aside from the video game) the commotion is likely coming from a mechanical keyboard.
If you're interested in getting your hands on a gaming keyboard like these, it takes a lot of research to decide which one is best for you. Each mechanical keyboard model is designed with a specific look, typing feel, software feature-set and more in mind. The moment you step into the mechanical keyboard realm, you'll start noticing words you've never seen before and a bunch of intimidating numbers describing 'actuation force' or 'n-key rollover.' 
This can feel confusing enough to put you off your research, but it's actually very simple to understand once you get acquainted with the fancy lingo. 
With my help, you'll be able to understand the basics of mechanical keyboards and what you should look for when shopping for one. To make things easier, I also put together a list of recommended keyboards from three brands I believe offer the best price to features ratio. And since everyone's keyboard preference varies, you can find all these keyboards at retail stores to try them for yourself.
---
What is a Mechanical Keyboard?
If you aren't sure what type of keyboard you own, you likely have a membrane keyboard (sometimes called rubber dome). These feature a rubber or silicone piece under each key that springs back up when you press it. They appear on almost every single laptop on the market, and while they do the job, they can feel cheap and spongey in comparison to mechanical keyboards.
In contrast to this, a mechanical keyboard has a combination of springs, stems and other parts that make the keys register inputs. Thanks to these separate moving parts, the input is more accurate and the entire typing experience is elevated with satisfying feedback and sound, making the difference in quality apparent. 
So Why Should I Care About Mechanical Keyboards? 
Mechanical keyboards aren't just meant to look and sound cool. People seek them out for the feedback you get when you type. This affects gaming performance, as the added sensation gives you extra assurance your keypress has been registered. This is vital for fast-paced multiplayer games such as DOTA 2 or Counter-Strike: Global Offensive. 
Additionally, some mechanical keyboards allow you to press keys faster because they require less force to register inputs. Mechanical keyboards also tend to feature higher quality materials than membrane keyboards, such as an aluminum chassis, making them last longer and offer a luxurious experience.
It's up to you to decide if you should invest in a mechanical keyboard — take note of the frequency and quantity of words you type on a regular basis and how seriously you play competitive games. As a general guide, if you find yourself playing video games only once or twice a week, it's possible your money is better spent on a premium headset or monitor than a new keyboard.
---
Now that you understand what mechanical keyboards are, here are some things you need to look out for when shopping for one.
Switch Type

It's critical to look out for the type of switch a mechanical keyboard uses. The switch affects how hard you need to press a key for it to register as an input, also known as its actuation force. It also determines how loud keys are when pressed. The actuation point refers to the distance the key traveled downward to register as an input. Additionally, various mechanical switches feel physically different from one another. I recommend you watch some typing videos online to get an idea of how loud keyboards can get. Better yet, find a retail store to sample one for yourself. 
There are three main mechanical switches to choose from:
Silent and linear switches are best for fast-paced games, designed for firing off multiple inputs in quick succession. Keep in mind there is no feedback to your inputs, which means typos are more likely to occur due to double-pressing keys. 
Clicky switches are best for typing and work best for people who want to know if their keypress registered with full confidence. However, this assurance comes at a price — these are by far the loudest mechanical keyboards, so they're not the best fit for office environments or shared dorms. While you can buy yourself some o-rings to reduce sound, it never feels good to have to immediately modify your new premium keyboard. If you're hoping for a one and done purchase, you might want to look elsewhere. 
Tactile switches are the best middle-of-the-road option, providing physical feedback with less sound than a clicky switch. I personally have always used this type of switch because it allows me to type with tactile feedback while not disturbing others in my house.
You may run into a few different keyboard switch brands like Cherry, Razer, Logitech, Kailh and more. If you understand the terms above, then you should have no problem deciphering the varying switch names.
Illumination and Software Features 
Some mechanical keyboards have backlighting for visibility in the dark. Other keyboards come with RGB lighting, which adds a layer of customizability and enjoyment. You can set your keyboard to change to a certain color based on the game you're playing, and some games even offer firmware that adjusts your keyboard colors to display health bars or important keys for macros. 
Design
Pay attention to how keyboards physically look. Some gaming keyboards feature aggressive fonts on the keycaps, which can come off as a bit childish, or at the very least distracting — especially in an office environment. This might sound trivial, but think about how Corsair became the laughingstock of the keyboard community after it switched over to its now-infamous "tramp stamp" logo. Today, Corsair products maintain the company's original sail logo. Clearly, details do matter.
Hardware Features
Look out for extra features manufacturers build into their keyboards. Does the keyboard you're looking at have a dedicated volume control knob? Are there extra buttons included for mapping macros? Does it support USB pass-through? Do you really need a number pad? How customizable are the keycaps? Personally, I feel like a gaming keyboard that lacks a volume control knob is a deal-breaker.
Brand Ecosystem 
Before purchasing a new keyboard, always consider the brands you already have in your setup. I'm not telling you to be a brand evangelist, but some mechanical keyboards use the same software hub as other peripherals. For example, a Razer mouse can synchronize its RGB color with a Razer keyboard.
---
Recommended Keyboards
Now that you understand what to look for in a good mechanical keyboard, it's time to pick out the right product for you.
I recommend starting your research with these three brands because they are reputable among professional gamers and easy to find one in an electronics store. While you can find other mechanical gaming keyboards for under $100, you can find these on sale quite often on Slickdeals.
Corsair K95 RGB Platinum

Reg. Price: $199.99 | Lowest Recorded Sale Price: $100 (Amazon)
The K95 is a staple of most "best mechanical keyboard" lists. It has six programmable macro keys, an aluminum chassis and RGB lighting software configurations that will keep your room looking like a disco. The macro keys can also be useful for content creation, which is why former TSM video editor Pulse uses this keyboard. Corsair is known to use Cherry MX stems, so you can easily find it with Cherry MX Blue, Cherry MX Brown and Cherry MX Red switches.
Corsair K70 RGB MK.2

Reg. Price: $159.99 | Lowest Recorded Sale Price: $85 (Newegg) 
If you want to be part of the Corsair gang but don't want the extra bulk from the K95's macro keys, the K70 is for you. This keyboard has lived on my desk for the past five years and it's held up to my high-apm needs. There is also the K70 RapidFire, which features Cherry MX Speed switches (even faster than Cherry MX Red switches). It's a no-brainer why Ninja's setup includes it.
Logitech G513 RGB

Reg. Price: $149.99 | Lowest Recorded Sale Price: $90 (Best Buy)
Logitech strayed away from using Cherry MX stems, but Logitech's very own Romer-G switches pack a punch. This is a comfortable keyboard with fast switches and RGB backlighting configuration, but keep in mind it lacks dedicated media keys, making it difficult to adjust the volume. 
Logitech G910 Orion Spark RGB

 Reg. Price: $179.99 | Lowest Recorded Sale Price: $90 (Best Buy)
This keyboard cleverly includes a stand for your smartphone, allowing you to read in-game information (if supported), keep track of your notifications or maintain video chats. It even includes macro buttons and dedicated media keys, making it the go-to choice for gamers like TSM's CaMiLLs.
Razer BlackWidow Chroma 

Reg. Price: $139.98 | Lowest Recorded Sale Price: $65 (B&H)
Razer came to market with its own key switches (Razer Green Switch, Razer Orange Switch and Razer Yellow Switch), reducing costs while delivering a premium typing and gaming experience. This is a tournament-ready keyboard with detachable cables and game synchronization, making it a solid pick from karrigan of mousesports.
RELATED: The Razer BlackWidow Elite is a Luxurious Keyboard for Gaming Enthusiasts
Razer Huntsman Elite

 Reg. Price: $199.99 | Lowest Recorded Sale Price: $160 (Amazon)
Razer's Huntsman Elite is a high-end keyboard that was ranked the #1 best-selling gaming keyboard in the U.S. for 2019, according to The NPD Group, Inc. Speed demons may want to consider this fast keyboard with its fully programmable keys, dedicated media control and padded wrist rest. If you want to follow in Dr Disrespect's footsteps and need to quickly badmouth your opponent or tear apart your enemies with lightning speed, this is the go-to. 
---
Noteworthy Mentions

Every gamer has their own preference for keyboard aesthetics and performance. While these aren't the most accessible keyboards, you might want to keep them on your radar as they are lauded by keyboard enthusiasts and sometimes offer unique features that can draw you in. 
UP NEXT: 
You might be interested in this Frontpage deal:
Search URL: https://slickdeals.net/newsearch.php?firstonly=1&pp=20&sort=newest&rating=frontpage&filter%5B%5D=170397&forumid%5B%5D=9&hideexpired=1&r=1
Our editors strive to ensure that the information in this article is accurate as of the date published, but please keep in mind that offers can change. We encourage you to verify all terms and conditions of any product before you apply.