Hands-on with Slickdeals: Dell Inspiron Gaming Desktop Review
This is one of the most affordable ways to experience the world of PC gaming.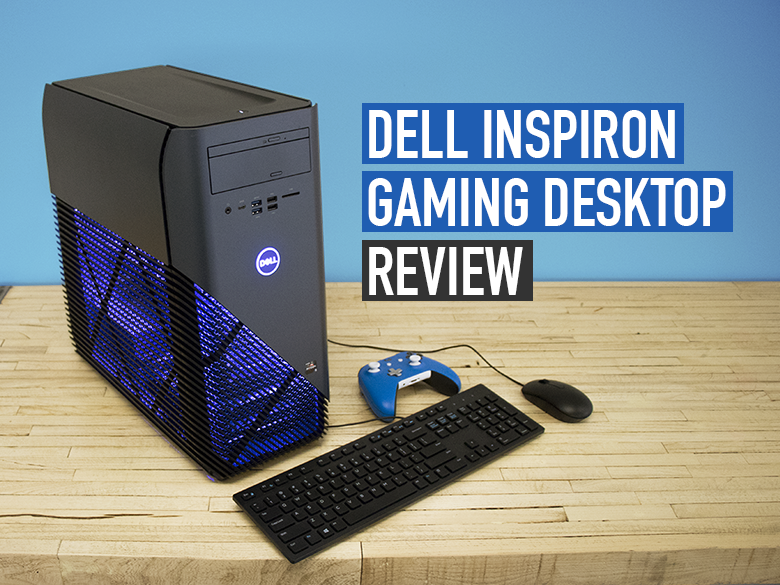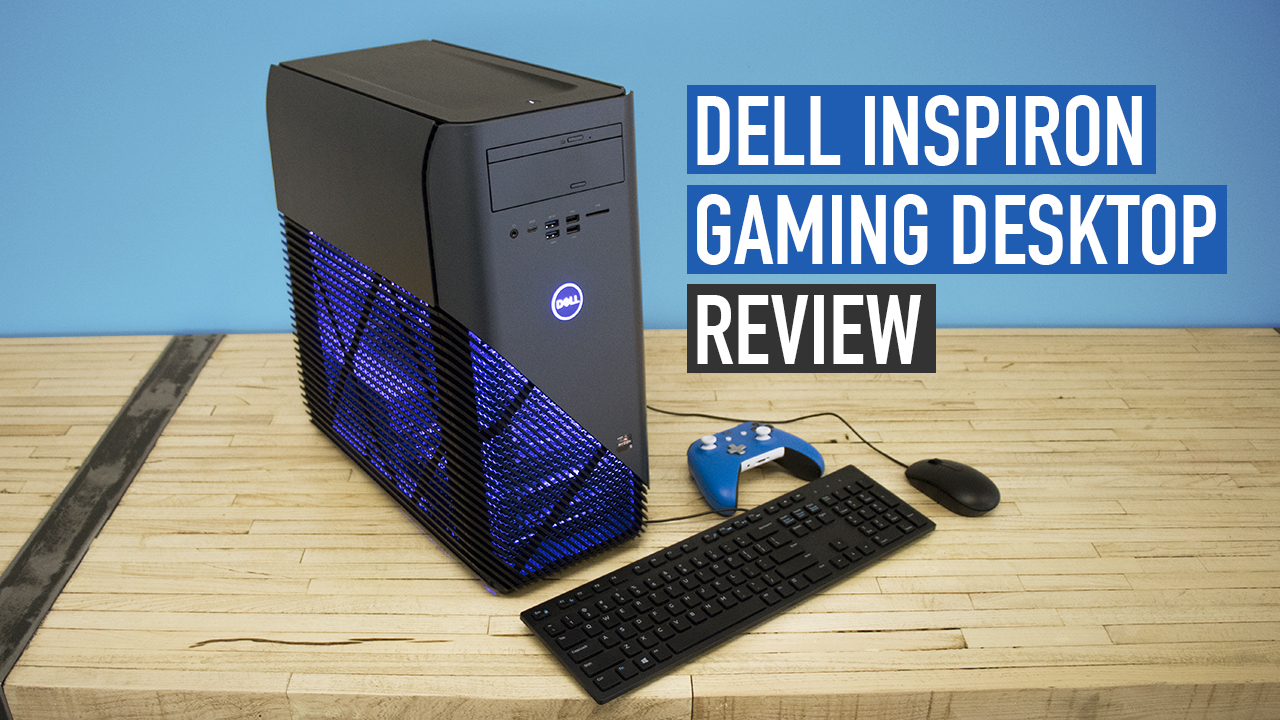 Dell has long been well-known for its reasonably priced productivity computers, and they're applying the same value-based strategy to a new lineup of gaming PCs.
New for the 2017/18 model year, the Inspiron Gaming Desktop offers a performance-focused experience for those entering the PC gaming world, all while maintaining accessible price points, starting at $599.99 (or less with a sale).
We lived exclusively with our Inspiron Gaming Desktop test model for over a month, and we're ready to share our impressions. For reference, the Slickdeals office is filled with PC gaming enthusiasts, and many have built their own high-end machines.
Special thanks to Dell for providing an Inspiron Gaming Desktop for us to review!
Dell Inspiron Gaming Desktop Specs (as tested, Model 5675)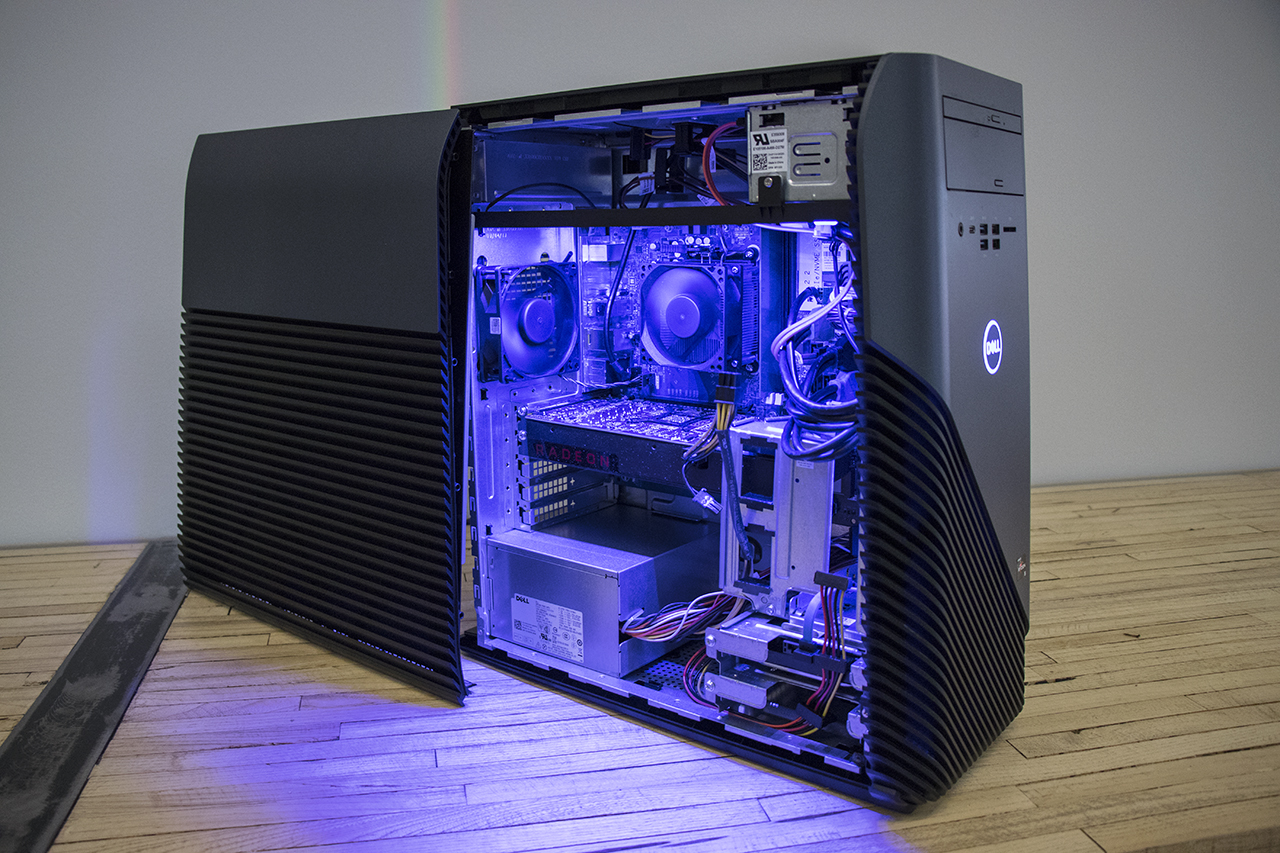 AMD Ryzen™ 5 1400 Processor, up to 3.4 GHz w/ Precision Boost
AMD Radeon RX 580 with 8GB GDDR5
8GB DDR4 RAM at 2400MHz
1TB 7200 RPM SATA 6Gb/s HDD
Tray Loading Dual Layer DVD Burner
WiFi 802.11ac  + Bluetooth 4.1
460 Watt Power Supply
Polar Blue LED Illumination
With this exact configuration seen as low as $599 after a $100 Slickdeals rebate, the Inspiron Gaming Desktop is a low-cost and value-packed machine for both work and play. It comes with a basic wired keyboard and mouse, so all you need to do is supply a monitor and your favorite sound solution, and you'll be prancing in a virtual playground in no time. This configuration is also certified "ready for VR" for those who want to up the ante on immersion with an optional virtual reality headset.
Sleek and Thoughtful Design
Standard Polar Blue LED lighting and a tasteful design give the Inspiron Gaming Desktop plenty of personality without seeming like it's trying too hard — we're fans of the dynamic case lines that double as vents, allowing air to flow freely while giving off a soft glow from the interior lighting.
The sturdy side panel removes easily to reveal a well-organized setup with ample upgrade/expansion potential. There's room for a second graphics card, an additional RAM module, multiple  HDDs or 2.5-inch SSDs, as well as an M.2 SSD.
Dell's engineers did a great job with designing a modular configuration to allow for quick and easy component swaps, and instructions to operate the modules are imprinted on the inside of the removable side panel so you'll never have to search for a user manual. A collection of cable clips keep the various wires out of the way — which contributes to better airflow and heat management — and offers a more appealing visual aesthetic, if that's what you're in to.
Other component highlights include an illuminated Dell logo, a slim optical drive, and a front panel with a 3.5 mm headphone jack, all types of USB connections (2.0, 3.0, and C), and an SD card reader.
We also appreciate the matte grey and black color combo — it looks great in any modern setting.
Powerful HD Gaming With Room to Spare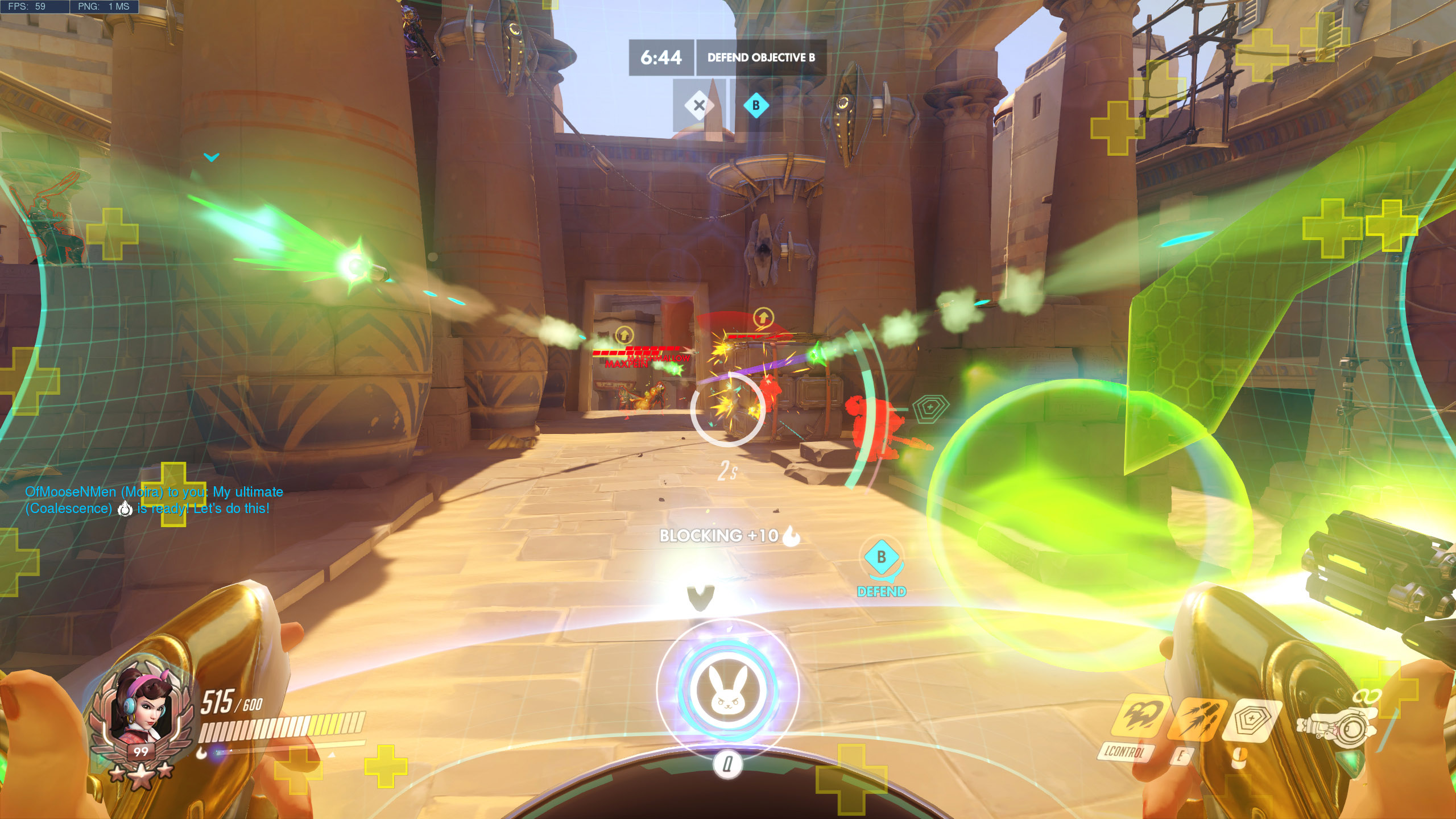 Drawing from our years of PC building experience, we knew the Inspiron Gaming Desktop could handle HD gaming at 1080p resolution with no problem simply by looking at the specs of the included hardware.
So to find out how much breathing room the Inspiron had in its stock state, we pushed it a little harder by connecting it to a QHD monitor (2560 x 1440 resolution) and installed some popular games like Forza Motorsport 7, Destiny 2, and Overwatch.
Much to our pleasure, all of these resource-intensive games ran smoothly between 60 – 70 frames per second (fps) using high graphics settings, and the Inspiron's fans never got above a soft whisper while we were racing/fragging — an indicator of the system's overall efficiency.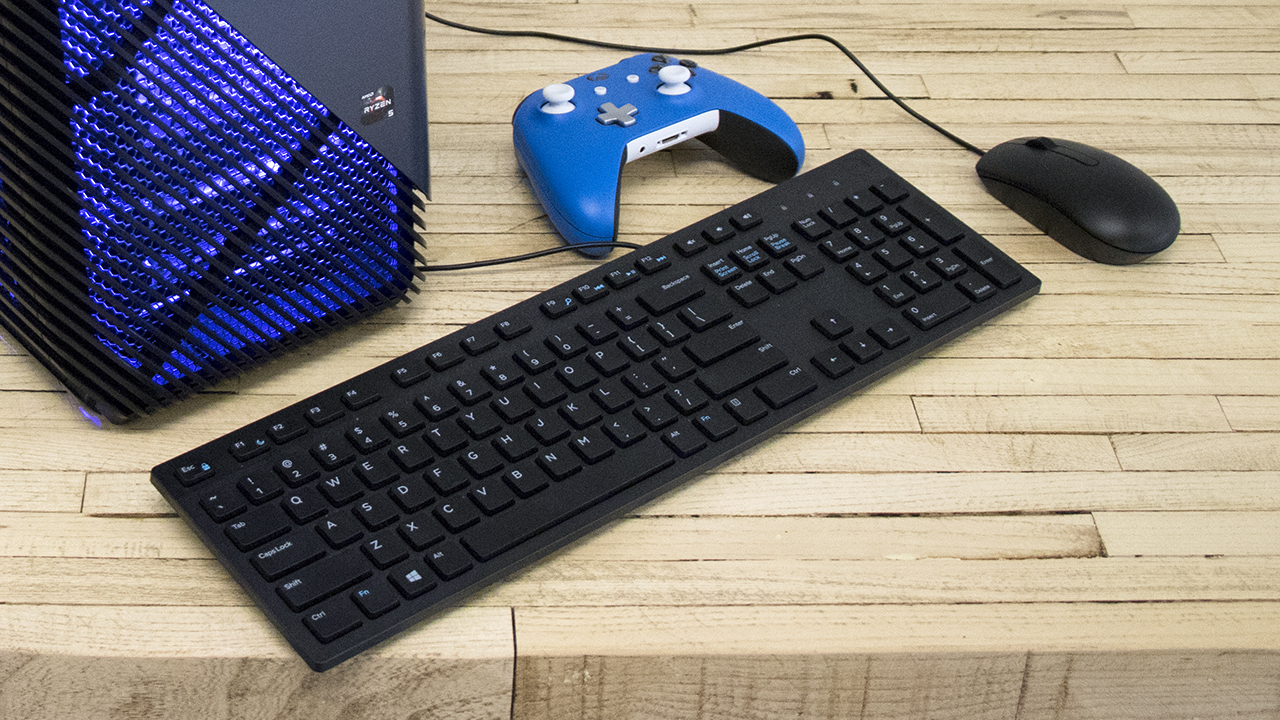 The included keyboard and mouse are acceptable for most gaming scenarios, but if you're more than a casual player, we'd recommend upgrading these first. Having more buttons on the mouse would be nice, and we noticed rollover issues with the keyboard — certain key combinations wouldn't register due to multiple keys being pressed simultaneously; for example, in Destiny 2 and Overwatch, pressing W + Shift + Space Bar to jump while sprinting doesn't work.
It's safe to say that with the Inspiron Gaming Desktop, you're "future-proof" for at least the next few years, especially if you play in 1080p resolution. You can also add a FreeSync-enabled monitor to really take advantage of the AMD graphics card's capabilities.
Is the Dell Inspiron Gaming Desktop Right for You?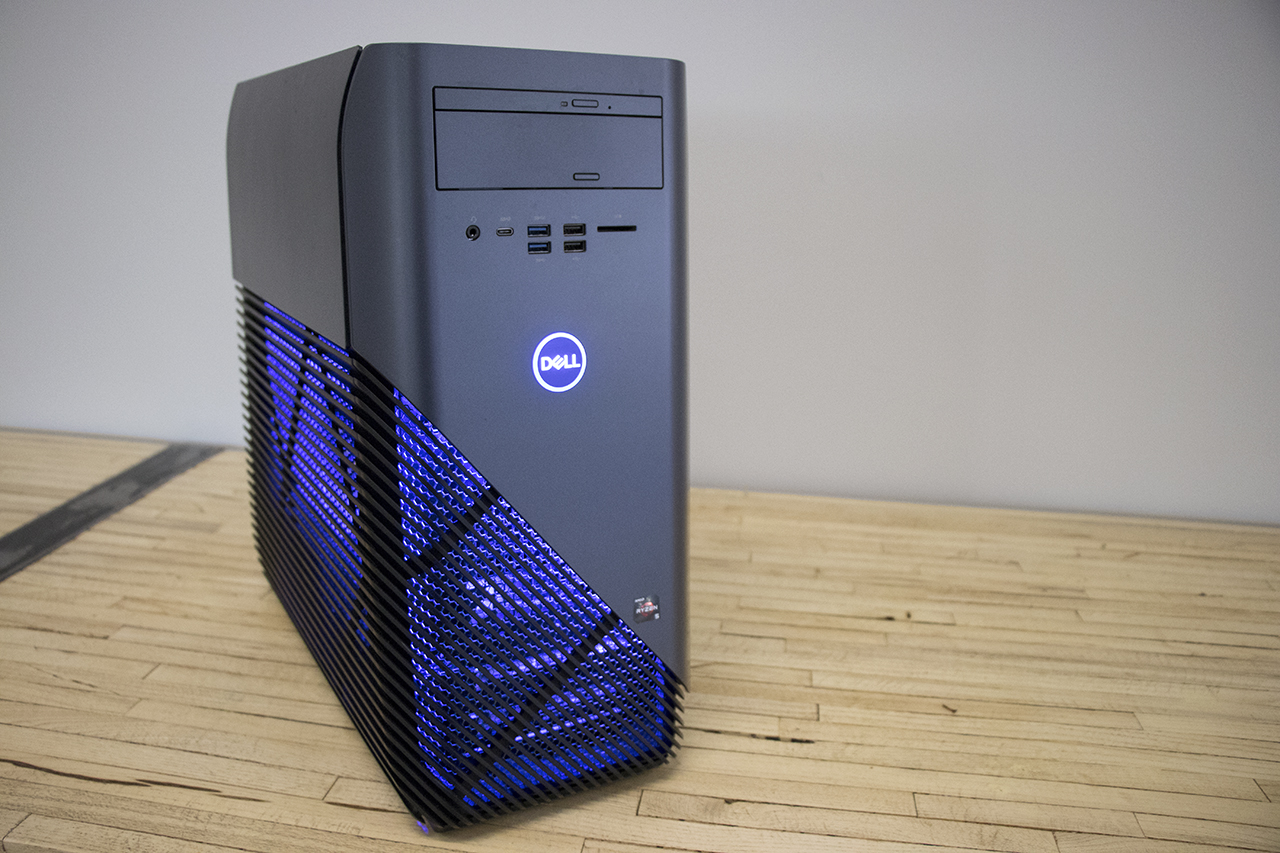 For most entry- to mid-level gamers, this Inspiron is more than enough machine to run every big-studio title currently available.
The list price of $949 (for this particular spec) is on the higher end of things, considering you're getting a Ryzen 5 processor and a traditional HDD, but its current sale price of $699.99 (at time of publishing) definitely steers it towards a valid value proposition. If you see this configuration offered around $600 – $700 via a sale or Slickdeals rebate, you can buy with confidence knowing that it's a great deal — we'd have trouble building you a similar computer at that price point.
Dell's Inspiron Gaming Desktop is an excellent introduction to the PC gaming experience, and offers plenty of room for aftermarket performance upgrades. If you're not quite ready to build your own gaming PC, but want a little more power, the Inspiron can also be fitted with factory upgrades during the checkout process.
See the full Inspiron Gaming Desktop lineup at Dell.com, and keep an eye out for coupons and deals on Slickdeals's Dell store page.
Our editors strive to ensure that the information in this article is accurate as of the date published, but please keep in mind that offers can change. We encourage you to verify all terms and conditions of any product before you apply.