Hands-on with Slickdeals: Motorola Moto Z2 Play and Moto Mods Review
The Moto Z2 Play is a smartphone that takes advantage of some very smart accessories.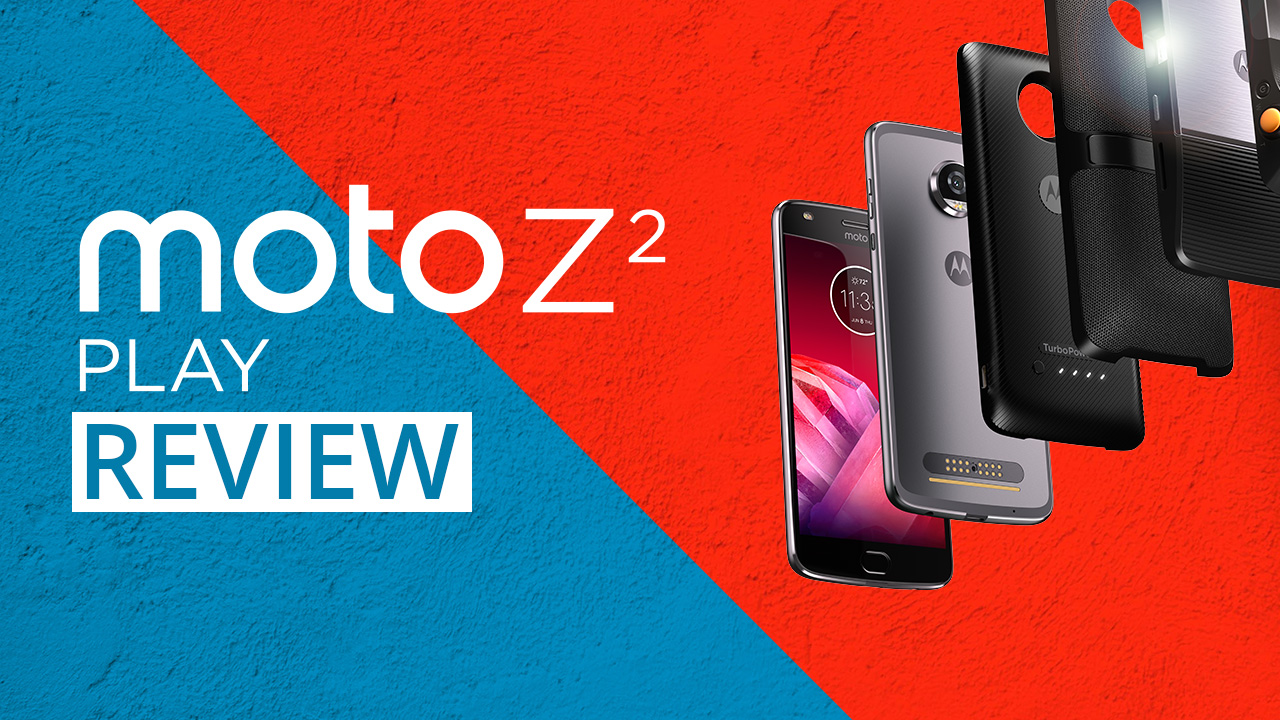 In the current smartphone market, the gap between the technology in the most expensive phones and the cheaper phones has grown smaller. We have reached a bit of a plateau on improvements to speed, displays, storage and even design.
Thus, phone manufacturers are forced to be more creative in order to stand out from the crowd, which is why Motorola designed their Moto Z platform with an interesting party trick. The idea centers around the ability to use Moto Mods to turn your phone into things like an Alexa device or a game controller, or even a projector.
We spent some time with the Moto Z2 Play and a couple of Moto Mods (gamepad and insta-share projector) to see whether they actually added utility or are just a gimmick.
threadID: 11241631
Moto Z2 Play Specs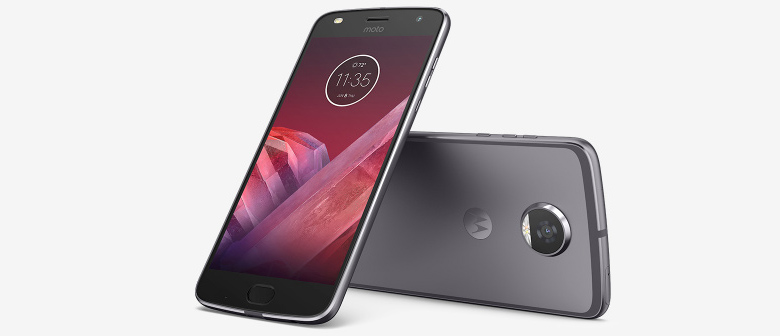 Introduced in 2016, the Moto Z was designed with the ability to swap out different accessories, or Moto Mods, to enhance various aspects of the phone. The current Moto Z2 lineup includes the flagship Force edition, the Force Droid, and the budget Z2 Play edition that we tested.
While both Z2 Force models start at $720, the Z2 Play will only set you back $408 with base specs of 3GB memory and 32GB of storage. Storage is expandable up to 2TB through a MicroSD card slot and is available on all Z2 models. Our tester phone was an unlocked version of the Z2 Play with 4GB of memory and 64GB of storage that is typically priced at $499.99 through Motorola. Despite the relatively low price, the Moto Z2 Play is packed with a speedy 2.2 GHz Octa-Core Snapdragon 626 processor and a large 3,000 mAh battery. The battery was good for well over a day, and you can take advantage of Motorola's TurboPower charging to gain 30% battery life in about 15 minutes.
All of this is packaged in an ultra-slim aluminum body that comes in Fine Gold or Lunar Gray. The Moto Z2 Play is one of the thinnest phones we have ever tested at only 5.99 mm thick — its paper-thin body feels solid, but is also a bit unbalanced in your hand compared to something more robust like the new Moto X4.
On the front, you will find a vivid 5.5-inch full HD super AMOLED display set above a fingerprint scanner. The fingerprint detection works well, plus you can navigate the phone with it by enabling "One Button Nav" in Moto Actions. Fans of the traditional 3.5 mm headphone jack can rejoice as the Moto Z2 Play sets it on the bottom next to the USB-C charging port.
Although the Z2 Play only features a single 12MP rear camera, it is more than capable with an auto-night mode and laser auto-focus. Night photos weren't perfect, but were much better than the Moto X4.
Moto Insta-Share Projector Mod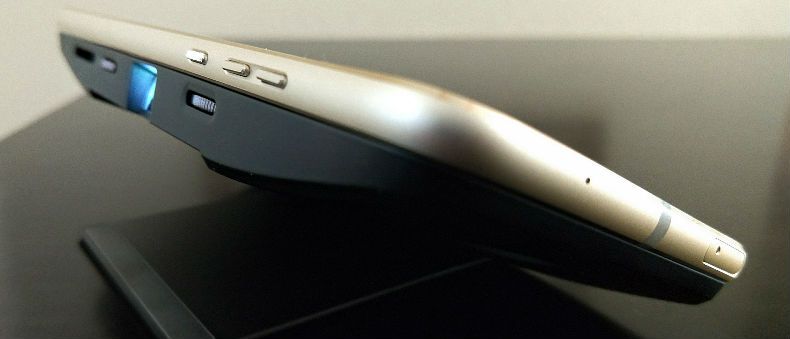 The back of the Moto Z2 is often criticized for its large camera bump, but it becomes less of an issue when connected to the assorted Moto Mods, which attach to the magnetic terminal points on the rear of the phone. We were given the Moto Insta-Share Projector Mod to expand our Moto Z2 Play experience beyond the 5.5-inch screen. This "pocket projector" displays content from the Z2 on any wall or flat surface, delivering a viewable area up to an amazing 70 inches before any distortion occurs. It has a metal kickstand to help angle the phone, as well as an internal battery that provides up to an hour of viewing without draining the phone's battery.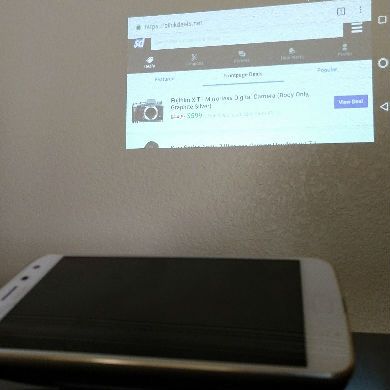 After updating the Moto Mods platform on the phone, you mirror the Moto Z2's screen on the projector by simply pulling down the Quick Settings menu and selecting the "Project Screen" icon. Photos and videos are automatically adjusted to display flat on any surface, and the projector has a manual scroll wheel to dial in the focus, making it easy to get a clear picture.
At $299.99, the Moto Insta-Share Projector nearly matches the cost of the Moto Z2 Play smartphone itself, but frequent deals are available — this particular mod can be found closer to $200 if you are patient. For those who regularly show photos to people, give demonstrations or simply go over slideshows at work or school, the Insta-Share Projector Mod is worth considering. Compared to other compact projectors in this price range, the Moto Mod will outperform them in both portability and picture clarity.
Moto Gamepad Mod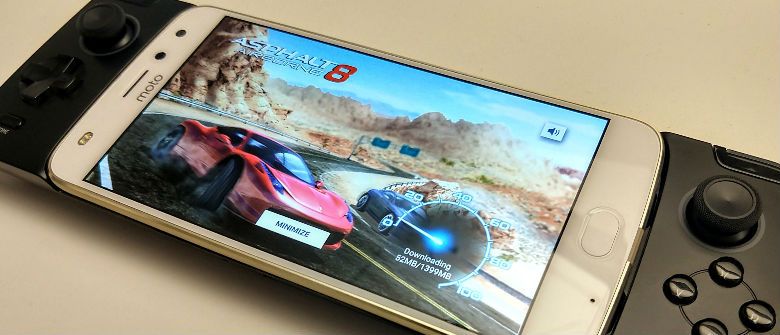 Gaming on your Android phone has always required awkward screen controls or a complicated controller with a phone mount. However, for $79.99 you can purchase a Moto Gamepad Mod for your Moto Z2 and upgrade your mobile gaming experience to Nintendo Switch levels of portability.
This controller mod measures about nine inches wide and features dual control sticks, a D-Pad, four action buttons, and dual right and left triggers. The black plastic has a textured coating for added grip, and features red LED lights in the top triggers as well as the Y-shaped symbol in the back. The controller fits great in your hands and makes it easy to handle both the touchscreen and the gaming controls. To avoid drain on the internal Z2 battery, the Moto Gamepad features its own 1035 mAh battery for up to eight hours of use.
Unfortunately, not all Android mobile games are able to utilize a controller, but the available Moto Game Explorer application can help. Motorola has included a large list of popular apps that can take advantage of this Moto Mod, though some games make better use of the controller than others. For example, while the "Asphalt 8" racing game simply uses tilt-to-steer controls, a first-person shooter like "Modern Combat 5," will take advantage of nearly every button and control stick on the gamepad. There's a bit of lag in the controller inputs, but it is only really noticeable on a fast-moving shooting game.
Is the Moto Z2 Play Right for You?
The Moto Z2 Play is a solid platform for the Moto Mods accessories, and offers decent value as a stand-alone smartphone.
But the biggest selling point for this device, over something like the cheaper Moto X4, is definitely the Moto Mods. And if you aren't especially interested in a particular mod, or don't see yourself paying extra for these enhanced features, then the Z2 Play may not have enough appeal to push it ahead of the competition.
For someone looking for a phone with a 360 camera, or enhanced photo features, or premium JBL stereo speakers, then the Z2 and the Moto Mods may stand apart from everything else on the market. The two mods that we tested were more than simply gimmicks, and delivered on what a gamer or someone looking to display content on-the-go would expect from a phone accessory at this price.
Be sure to watch for advancements in the future if you don't see a specific must-have Moto Mod from the current list. Motorola, along with third-party companies like Amazon and Polaroid, have developed new and innovative Moto Mods, and we expect further support in the future. Also, be sure to check the Slickdeals forums for discounts on both the Moto Z2 Play and Moto Mods.

Our editors strive to ensure that the information in this article is accurate as of the date published, but please keep in mind that offers can change. We encourage you to verify all terms and conditions of any product before you apply.