Hands-on with Slickdeals: New Microsoft Surface Pro Review (2017)
A best-in-class laptop with power and portability for even the most demanding users.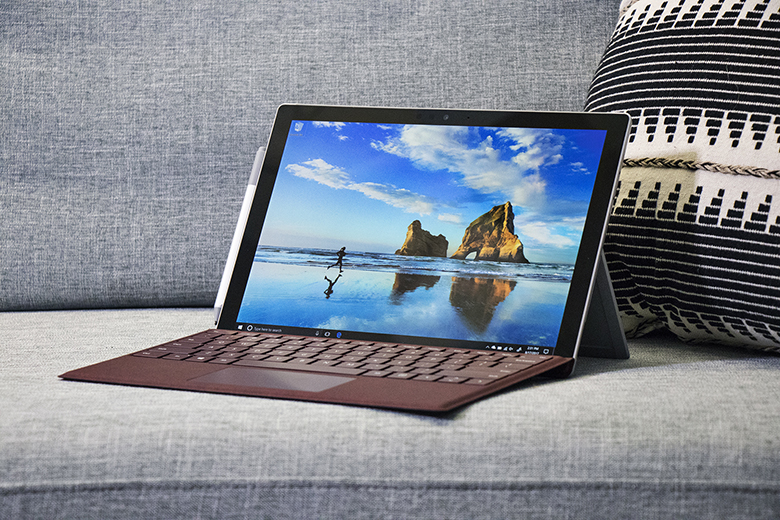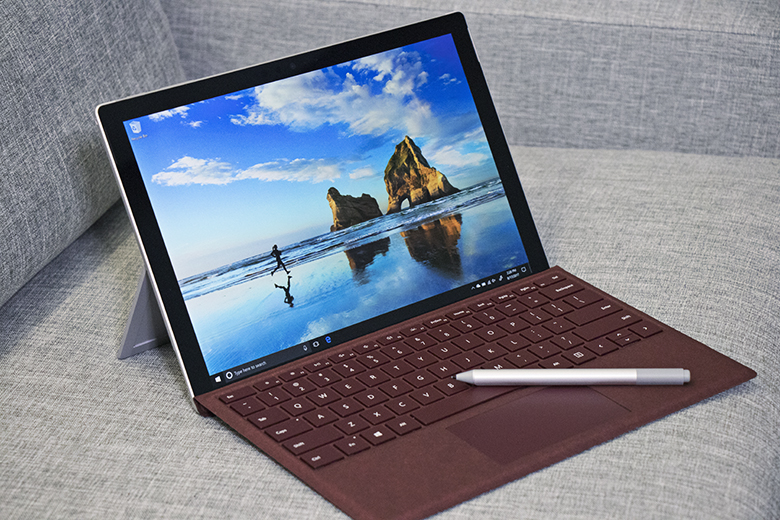 As a content creator whose audience resides in the fast-paced, impatient world of the Internet, I'm always on the lookout for productivity devices that perform well and are highly portable.
So when Microsoft asked if I'd like to experience their most versatile laptop, the new Surface Pro, I jumped at the opportunity — it was perfect timing because I had a few personal and work trips lined up already, and I'd be working remotely for an extended period of time.
Special thanks to Microsoft for sending the new Surface Pro, a Surface Pen, and a Surface Pro Signature Type Cover so that I could produce this review in an effort to help others make an informed purchasing decision.
What's in the Box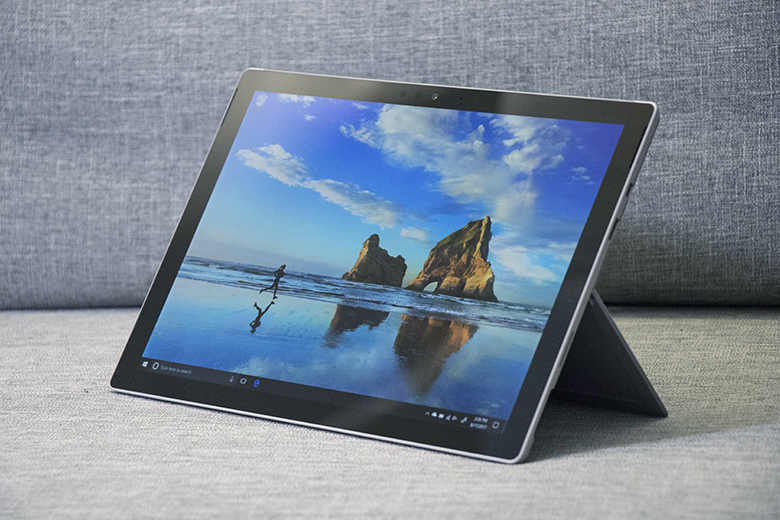 The beauty of the new Surface Pro is that it offers an efficient and streamlined experience, starting from the moment you open the box.
Securely nestled inside the sturdy packaging, you'll find the Surface Pro, a compact power supply with a magnetic connection, and a quick start guide with warranty info.
In just a few short minutes, I was up and running with Windows 10, featuring the new Creators Update.
It's worth noting that the Surface Pen ($99.99) and Surface Pro Type Cover ($129.99) are sold separately, but not required for a complete tablet experience.
Surface Pro (2017) Specifications

The new Surface Pro comes in a variety of hardware configurations, offering up to an Intel i7 processor, 1TB SSD, and 16GB RAM.
For my review model, I chose to go with the entry-level model — Intel Core m3 processor, 128GB SSD, and 4GB RAM — because of its very accessible price-point of $799 (or $719.10 for eligible students, faculty, or staff at Universities and colleges).
As an experienced PC builder, I was confident that base spec could handle my work-specific needs, especially since most of my content creation involves web-based applications.
Don't let my use of "base spec" or "entry-level" fool you though — the $799 version Surface Pro easily handles the best of productivity apps, like Microsoft Office 365, Adobe Photoshop, and Adobe Illustrator, to name a few (more on that later).
Device Highlights:
Screen: 12.3" PixelSense™ Display
Resolution: 2736 x 1824 (267 PPI)
Weight: 1.69 lbs
1 x Full-size USB 3.0
microSDXC card reader
3.5mm Headphone jack
Mini DisplayPort
5.0MP front-facing camera with 1080p Skype HD video
8.0MP rear-facing autofocus camera with 1080p Full HD video
Wi-Fi: IEEE 802.11 a/b/g/n/ac compatible
Bluetooth Wireless 4.1 technology
Consistent and Reliable Performance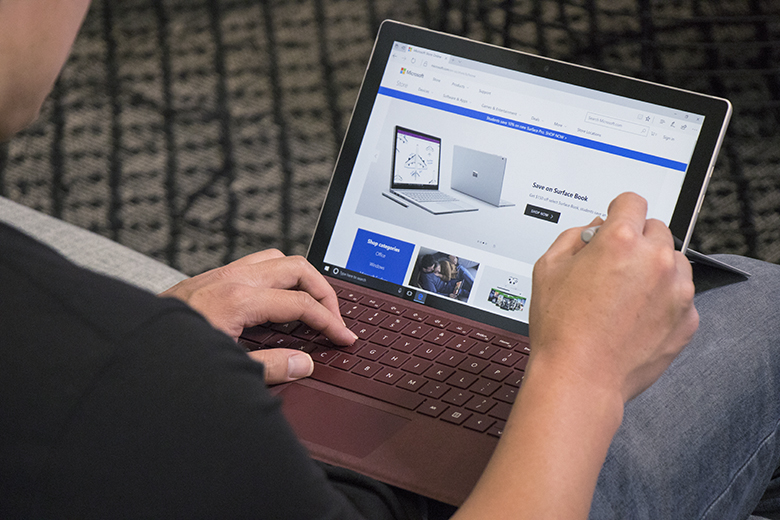 Shoppers often take a deep-dive into comparing specs between different devices, but it's real-world performance that really matters, and the new Surface Pro is the Rolls-Royce of computing devices.
It only takes about 20 seconds to go from a fully powered-off state to displaying your desktop, and about 5 seconds to wake from sleep and sign you in (with Windows Hello face-recognition enabled for both scenarios).
And the best part is that this is how the new Surface Pro performs every. single. time. I've yet to discover any delayed responses to my inputs when I'm using the screen lock button, the Surface Pen, the Type Cover, or the touchscreen.
Where other devices require constant reboots, the Surface Pro marches ahead with zero missteps.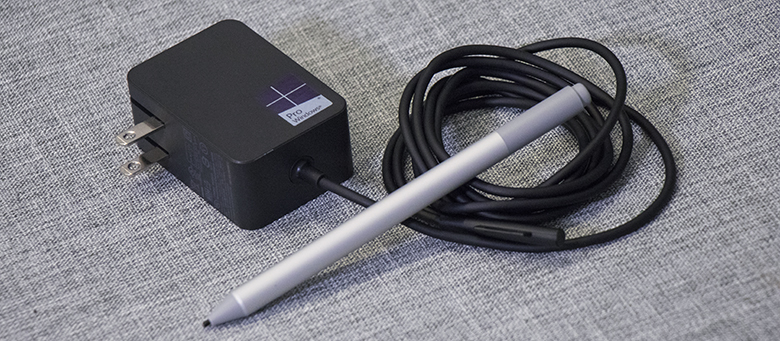 Its battery and power-management are also vastly improved from the previous generation — unplugging after a full charge, I completed an entire workday (including powering a second 27-inch WQHD monitor), and returned to it 24-hours later to find 25% battery life remaining. This is perfect for those who work on-location often because not having to worry about constantly plugging in is a huge relief.
A lot of manufacturers can throw hardware together with impressive specs, but Microsoft has created a fast, consistent, and reliable computing solution with the new Surface Pro, and that translates into valuable confidence and productivity for the user.
Versatility and Portability for an On-the-Go Generation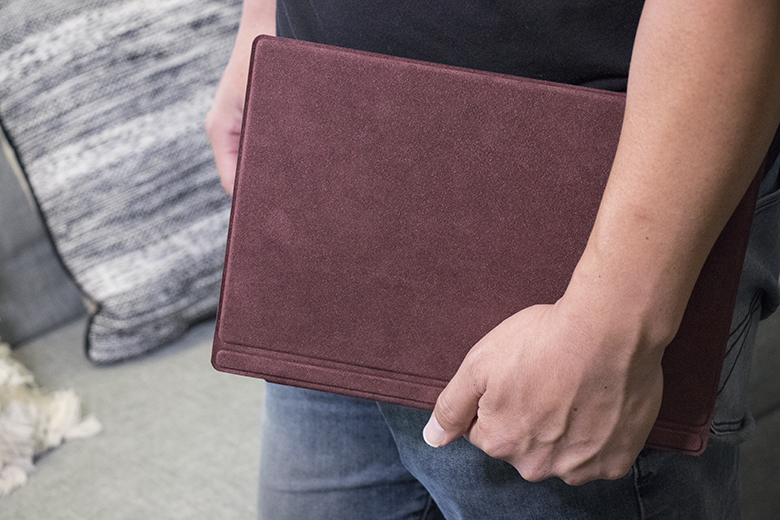 Measuring 0.33-inches thick with a weight of 1.69 pounds and featuring a wide-angle kickstand, the ways in which you can use Surface Pro are virtually endless.
For the first part of my time with Surface Pro, I used it as a tablet only (no accessories) because I was traveling for leisure and knew that I'd only need it for Netflix, e-mails, and social media — all of which are easily accomplished via the touchscreen alone. I love traveling light, and the Surface Pro with its cell phone-style charger hardly occupied any space in my backpack.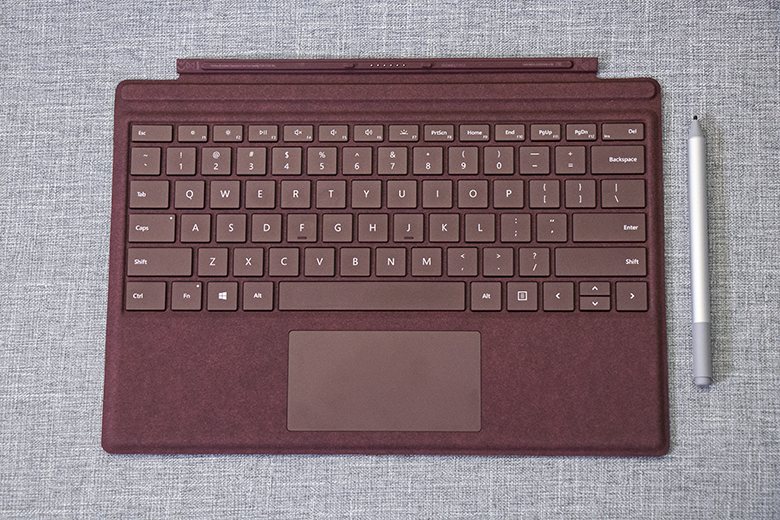 Later on, when it was time to take my work on the road, I attached the Signature Type Cover — wrapped in luxurious burgundy Alcantara — and the incredibly precise Surface Pen to create an all-encompassing workstation.
The Signature Type Cover, which can be connected in reverse and folded back for a notepad style experience, offers a full-size keyboard and touchpad, while the Surface Pen functions as a pointing device as well as a natural writing and drawing tool.
Essential for Creative Types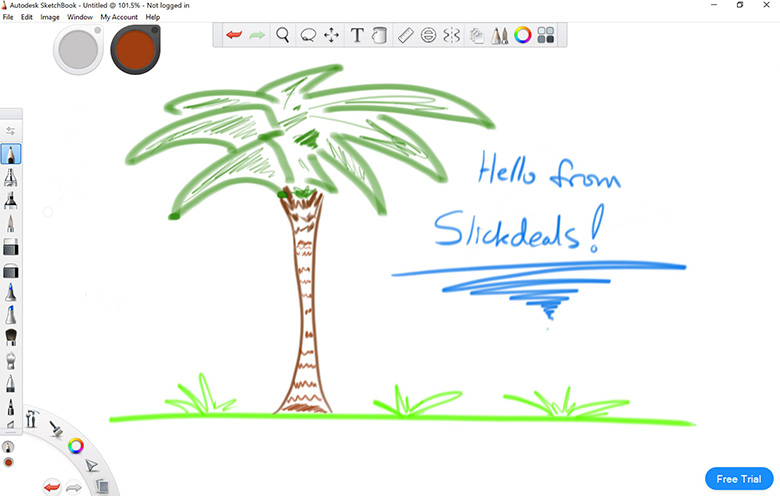 [above] A quick drawing by me, using the Surface Pen and Autodesk Sketchbook.
The Surface Pen ($99.99) is an essential tool for those that draw, design, or mark-up complex documents.
Using over 4,000 pressure points, Surface Pen can act as paint brush, letting you control stroke size by pressing down harder. You can also tilt the pen for shading effects and use the rubber eraser just like a pencil.
A number of professional apps — like Adobe Photoshop, Autodesk Sketchbook, Zen Brush, and more — fully support Surface Pen to deliver an intuitive experience that feels like you're creating on a sheet of paper.
And as cool as these drafting features are though, $100 is not an insignificant investment if you don't have plans to draw on a regular basis. In my particular case, the Surface Pen is only used as a pointing device, and even if I needed to do mark-ups for collaboration, using my finger would be sufficient.
Surface Pen is an amazing peripheral, but it's definitely a nice-to-have accessory unless you're a digital artist — I'd recommend most people save this upgrade for last.
Endless Entertainment, Anywhere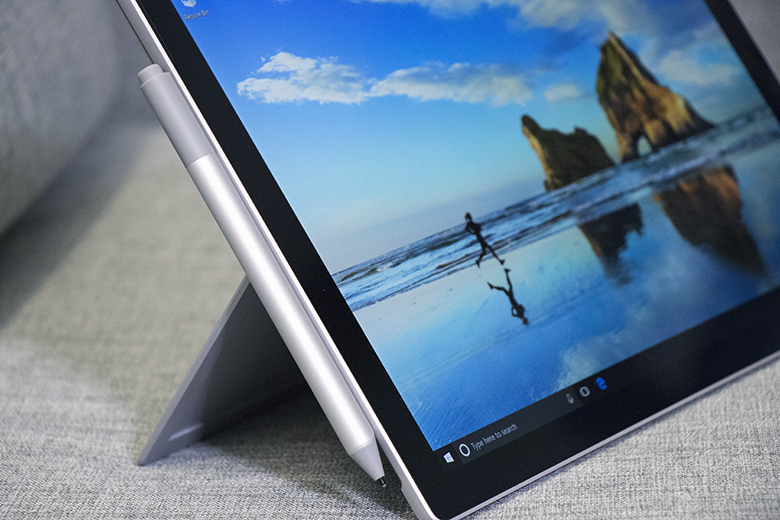 When it's time to unwind, the new Surface Pro doubles as your entertainment hub, offering tons of games, movies, and apps through the Microsoft Store.
And thanks to a versatile kick-stand that pivots almost 180-degrees, the Surface Pro is comfortable to use on your lap, in the bed, and even on those terrible airline seatback trays. During my aforementioned trips, I watched others on the airplane struggle with laptop/tablet viewing angles that were only exacerbated when the person in front leaned back. The Surface Pro, on the other hand, could adapt to any situation, no matter how cramped.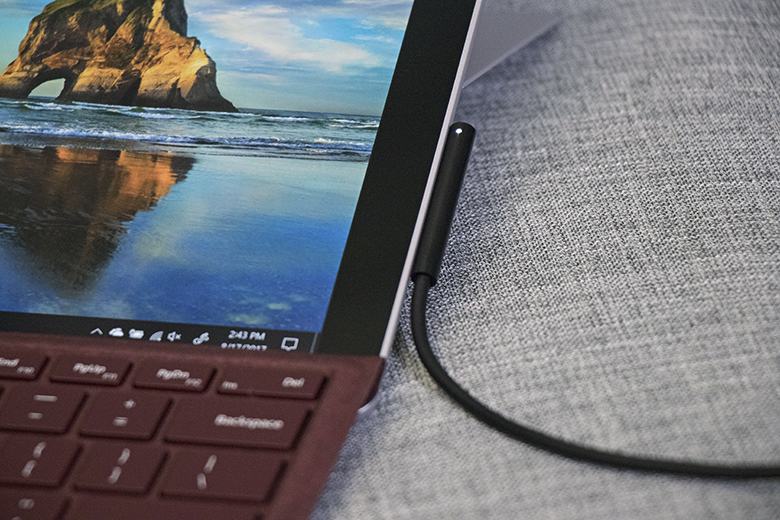 At home, I tested its endurance by streaming 2 hours and 10 minutes of "Rogue One: A Star Wars Story" via Netflix, using the device's built-in speakers to increase power usage. As the credits rolled, the Surface Pro still had 77% battery life left — you can fly across the country and watch all the shows you want without worrying about plugging in.
Overall Thoughts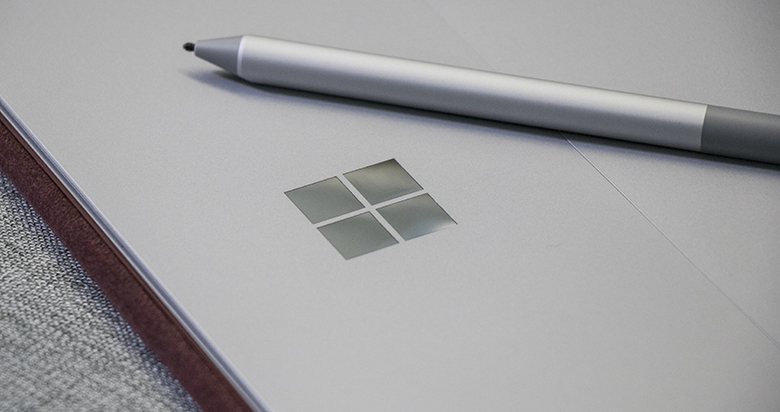 Microsoft's new Surface Pro is an excellent productivity and lifestyle device for a wide range of people, from students to home users to professional content creators.
Its configurable, compact form-factor and available accessories are perfectly suited for those who don't like to be tied to a desk.
In terms of processing power, the base model will satisfy the needs of most people. If you frequently rely on programs that require more graphics processing power, like Photoshop, Lightroom, or Illustrator, I'd recommend going with an i5 or i7 processor for the most efficient experience — in rare instances with the Core m3 processor, programs would stutter when handling extremely large image files.
Personally, I've enjoyed using the Surface Pro so much that I've requested one as my next work-issued computer.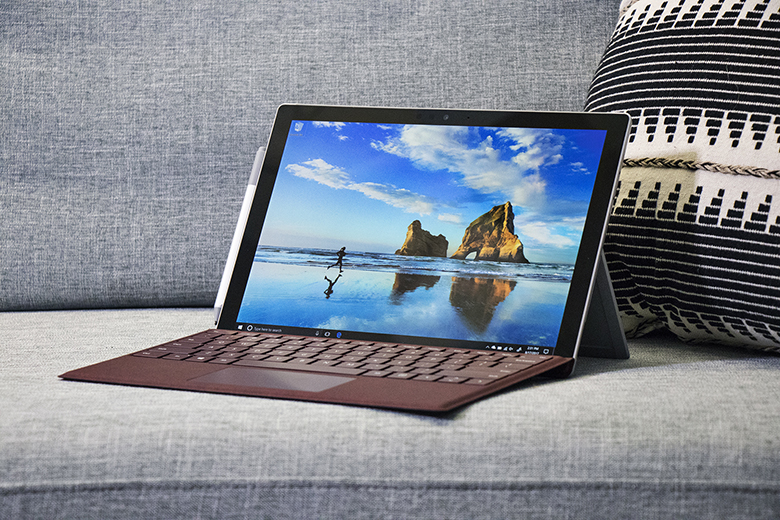 The new Surface Pro (2017 model) is available now with a starting price of $799 (students receive a 10% discount on all models), and when you purchase directly from the Microsoft Store, you'll get additional benefits like free 30-day returns, 90 days of free technical phone support, 12 months in-store support and technical assistance, one complimentary training session, and more.
Set a deal alert to be notified of future Surface Pro deals, and visit our Microsoft Store Page for savings on Xbox One, Office 365, and accessories.
Our editors strive to ensure that the information in this article is accurate as of the date published, but please keep in mind that offers can change. We encourage you to verify all terms and conditions of any product before you apply.