Honor 7X Smartphone Review: Affordable Price, Sleek Design
We may have found the best budget phone on the market.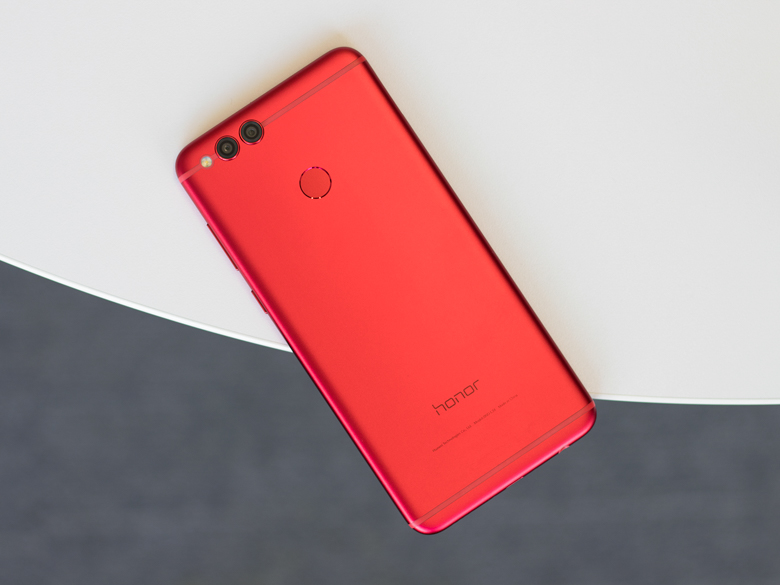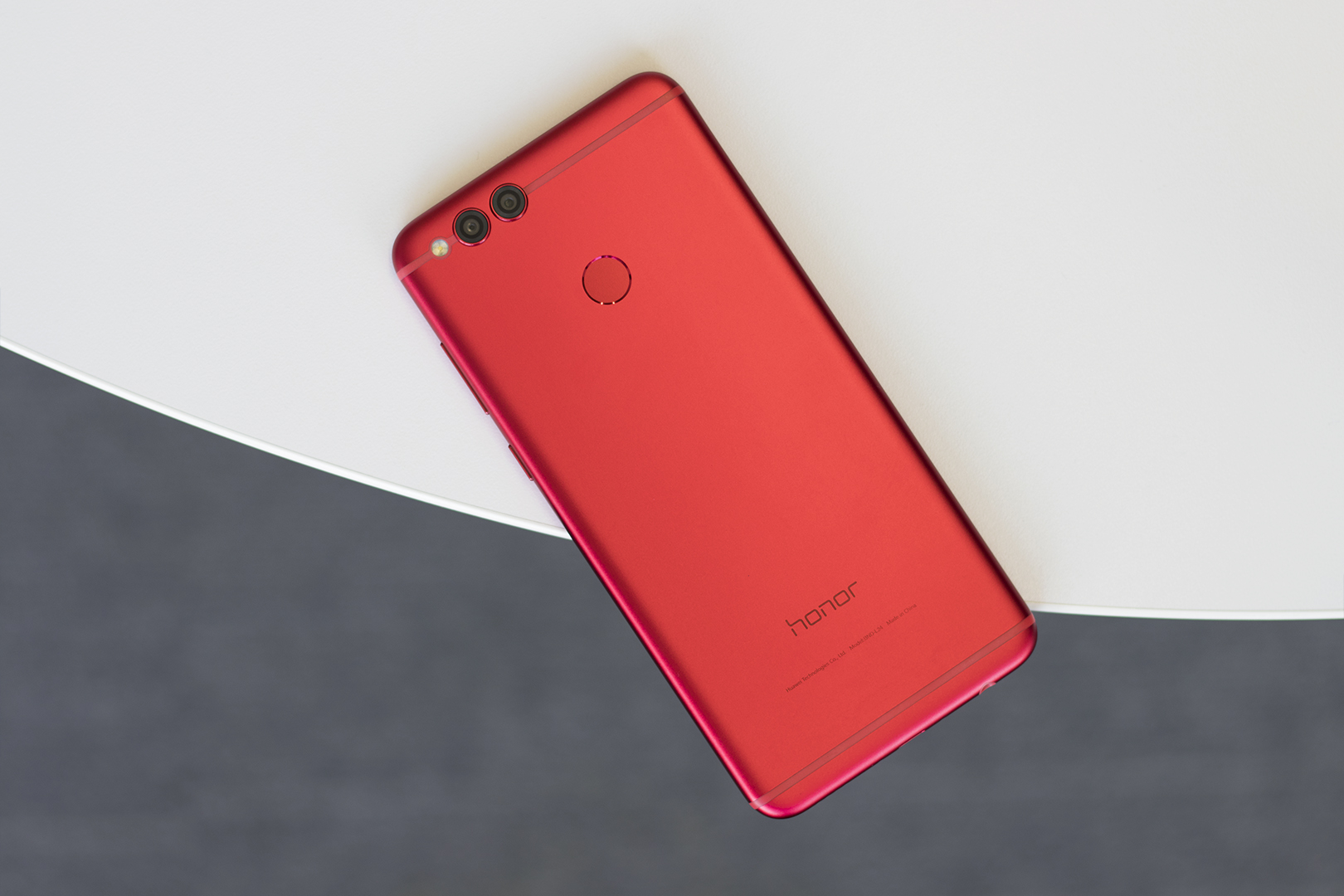 In today's increasingly crowded smartphone market, it's more difficult than ever to sort out which device is right for you. Some people need high-end cameras, some people need lightning-fast connectivity, and some people just want a phone that won't drop calls and will let them surf the internet. However, most people are driven by a single principle when shopping for a new phone: how to get the most for their money.
That's why it's so important to look past labels and find something that accomplishes what you need for a fraction of the cost. Enter the Honor 7X, made by Huawei. At only $200, this smartphone has specs that fight way above its weight class, and it may be the best budget smartphone out there.
We recently put the Honor 7X through the paces to see how it stacks up to the competition. Additionally, we'll see if there are any budget compromises hidden beneath its stylish aluminum exterior.
Special thanks to Honor for providing a 7X smartphone for this review.
Product Review 23447
threadID: 11752343
Honor 7X Full Features And Specifications
Size: 156.5 mm (H) x 75.3 mm (W) x 7.6 mm (D)
Colors: Black, Blue, Gold, Red, and Gray
Screen: 5.93-inch screen, 2160 x 1080 FHD+ resolution (~407 ppi)
CPU: HiSilicon Kirin 659 Octa-core (4×2.36 GHz Cortex-A53 & 4×1.7 GHz Cortex-A53)
EMUI 5.1 interface with Android 7.0 (Nougat) operating system, upgradable to Android 8.0 (Oreo)
Memory: 32GB storage (expandable to 256GB) and 3GB RAM
Connectivity: 4G LTE, Bluetooth 4.1, WiFi (802.11 b/g/n, Wi-Fi Direct, hotspot)
Camera: 16MP dual-lens (f/2.2, 26mm, 1/2.9″, 1.25µm, PDAF) + 2 MP (no AF, depth sensor)
Accessibility: Face and fingerprint unlock
Battery: 3340 mAh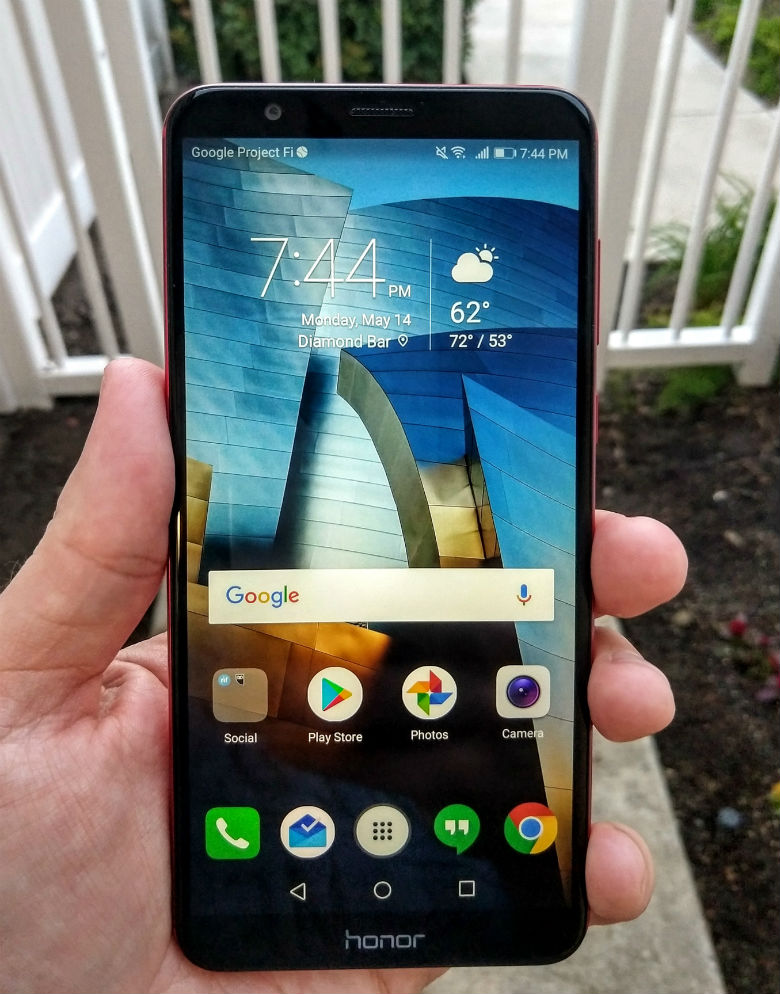 The first things you'll notice about the Honor 7X are its large 5.93-inch screen and small front bezels. This allows for the popular 18:9 aspect ratio (basically, it lets you have the biggest possible display and still hold your phone with one hand) and a 407 ppi display density. If you enjoy watching TV shows on your phone — like Stranger Things, which films in a 2:1 ratio — the Honor 7X is more than up to the task. The LCD screen truly shines and has a great color range with clarity you'd expect from smartphones nearly double its price.
Our test model was outfitted with the brilliant red body color, which helped highlight a rear thumbprint sensor and dual cameras. The rear thumbprint sensor was one of the fastest we have ever sampled at any price range. It even allows for swipe gestures, such as swiping down to view your notifications.
Honor 7X Camera Performance
Those two cameras in the back include a primary 16 megapixel (MP) camera with a f/2.2 aperture and a 2 MP camera for bokeh effects (the blurry, atmospheric quality in the out-of-focus parts of pictures) in portrait mode.
The front camera is only 8 MP and has no front-facing flash, which is definitely challenging if you plan on taking a lot of low-light selfies. Despite those limits, the built-in camera app has cool features like an AR mode (think Snapchat filters) to add bunny ears to your photo, as well as a "beauty level" to smooth out any blemishes on your face.
Surprisingly Fast Processing Speed and Great Battery Life
You might be familiar with quad-core processors from your computer at home. The Honor 7X is powered by an octa-core, Cortex-A53 CPU, and 3GB of RAM in the US model. The processing set up Huawei uses in the Honor 7X is on par with a mid-range device from Motorola. The processing speed makes it easy to quickly switch through multiple apps, play the latest mobile games, or simply navigate through the Android interface.
The Honor 7X ships with Android 7.0, but our device thankfully received the update to Android 8.0 after activation. The OS update was surprising, considering most budget phones typically receive only small maintenance releases from the manufacturer. The update allowed the Honor 7X to be competitive, in terms of speed, with phones that cost hundreds of dollars more.
We had no issues getting more than 24 hours of life with normal usage. While the Honor 7X is only available with 32GB of storage in the U.S., you can get expand that easily with a microSD card.
What Features Am I Missing?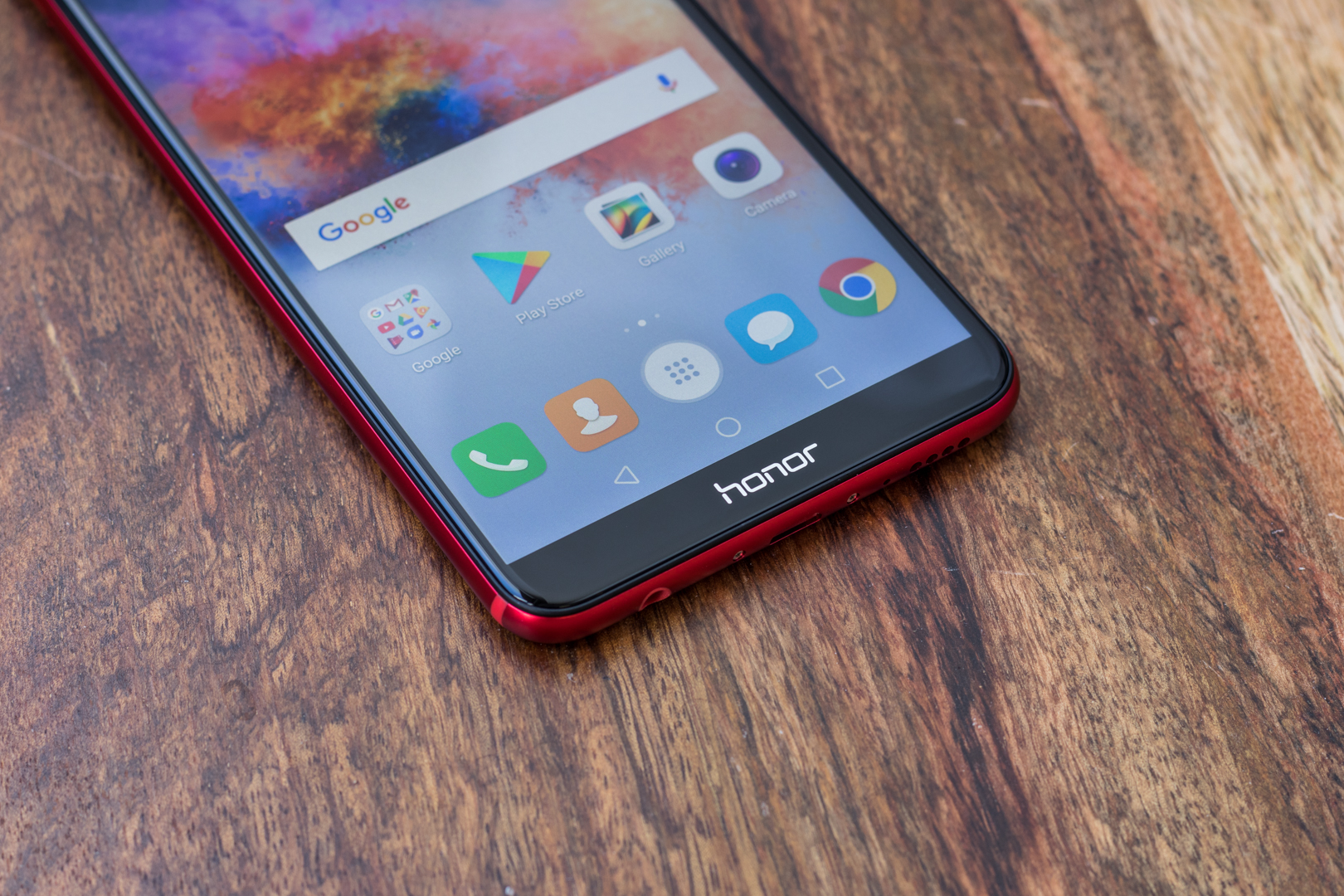 As with most budget products, there are a few sacrifices to consider before turning away from the latest flagships. While the Honor 7X does keep a 3.5mm headphone jack on the bottom, a relief for anyone who hasn't gone wireless, it also retains the mostly obsolete Micro USB charging port. That means you can't take advantage of newer features like USB-C (the new, oval-shaped chargers pretty much every device is predicted to have in the next 5 years), wireless charging, or even fast charging.
On the inside, the 7X lacks both an NFC chip and dual-band wireless connectivity. So don't expect to utilize the growing Google (formerly Android) Pay network, or connect to a faster 5 GHz Wi-Fi band for streaming content. (But honestly, when was the last time you used NFC payments? And can you tell the difference between 2.4 GHz and 5 GHz in a blind test?)
As for performance, we did have a few apps crash or start lagging after running continuously for several hours. The Android 8.0 update seemed to help with overall stability, but if your job or lifestyle requires maximum speed and reliability, you may want to consider the Honor View10.
Looking for an affordable phone with flagship features? Check out our review of the Honor View10 here. 
Huawei Honor 7X vs. Motorola Moto X4
We reviewed the Android One Moto X4, and RobertoT3655 commented asking for a comparison between that $250 device and the slightly cheaper Honor 7X. The first major difference is the pure Android experience found on the Moto X4. As part of the Android One program, the X4 runs an unadulterated Android OS, and receives software updates to at least Android P (the upcoming ninth version of the operating system).
The Honor 7X, and most other Huawei affiliated devices, run their signature user interface Emotion UI (EMUI) on top of Android. Interestingly, EMUI is actually based on Android's OS. The result looks close to a stock experience, but EMUI does omit some native Android features while adding some unique ones of its own. The Honor 7X comes with Huawei's exclusive "knuckle mode," which allows you do do things like take a screenshot just by tapping the screen, or launch apps from the lock screen by tracing associated letters with your knuckle.
Despite the similarities, there are still some user interface tweaks that may bother Google-purists. For example, if you unlock the phone, your notifications will disappear from the lock screen. Additionally, there are also about a dozen pre-installed apps that will likely go unused.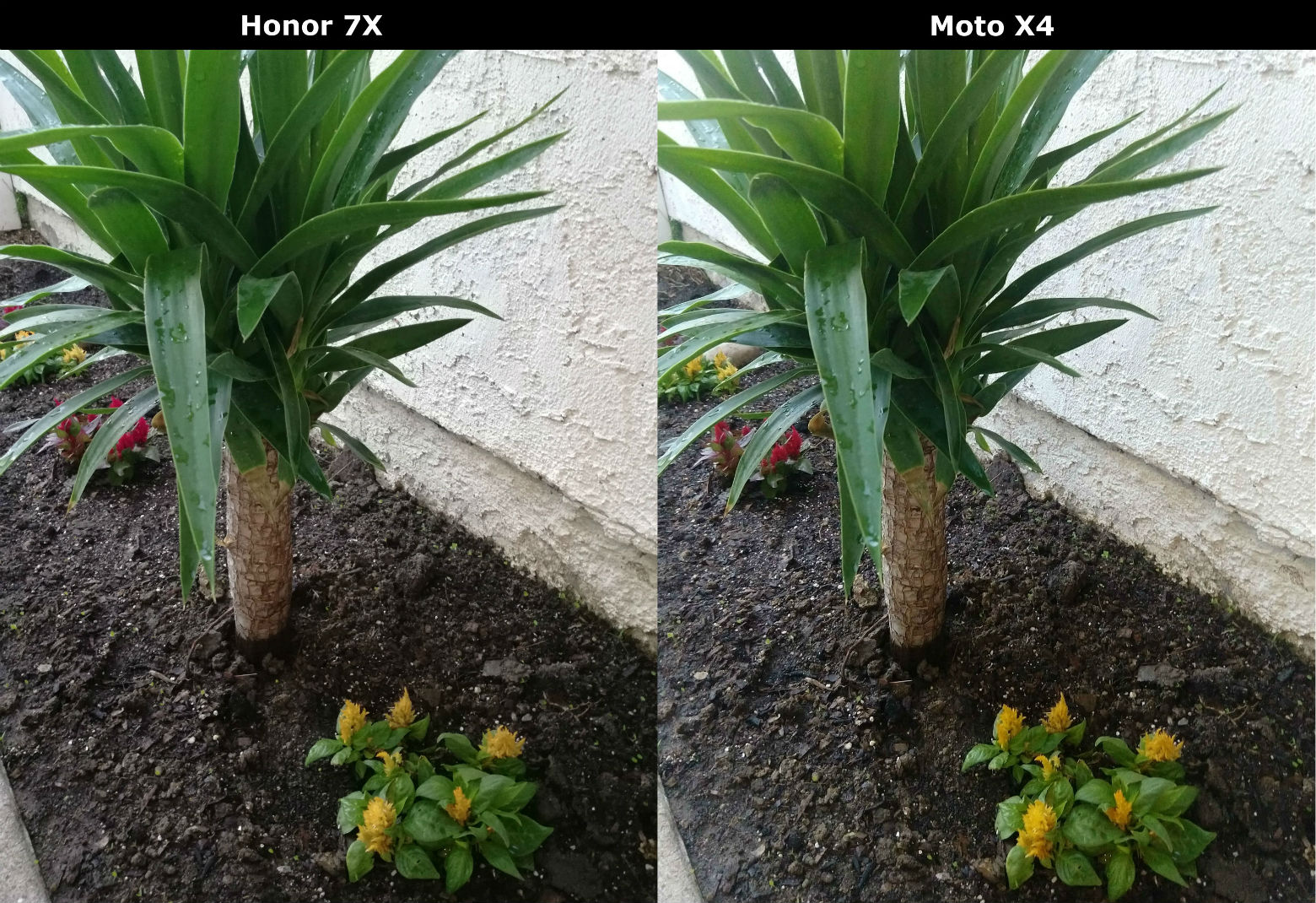 As for the camera, the Honor 7X actually fared quite well capturing photos in low light. The details and saturation were on par with the Moto X4, and the Honor 7X captured motion much better. While Moto X4 shots look better in perfect daylight, the autofocus takes much longer to react. We often needed to take several photos and then adjust the focus on the Moto X4 in order to outperform a simple point-and-shoot photo taken from the Honor 7X.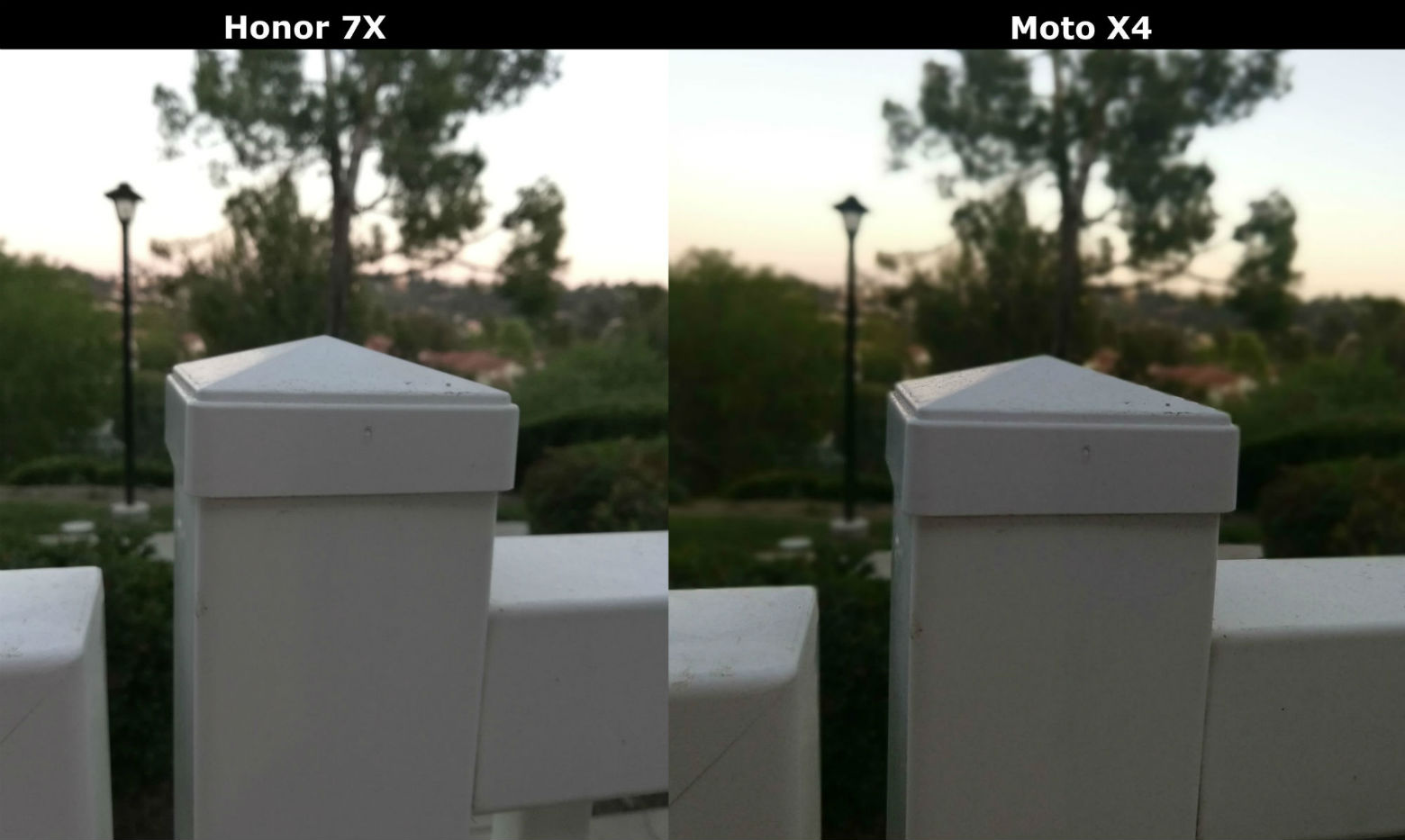 In testing the portrait modes and bokeh effect, the Honor 7X had more muted colors, but maintained a smoother edge on the focused object. The X4 often produced blurred edges in portrait mode, despite both phones using dual rear cameras.
The Moto X4 has items like NFC for Google Pay, fast charging, dual-band Wi-Fi for more efficient streaming options, and the newer Bluetooth 5.0 chip. But in terms of an overall experience with the Honor 7x, you're not missing out on much, especially when you've got excellent battery life, processing speed, and photo quality to balance the equation.
Is the Honor 7X Right for You?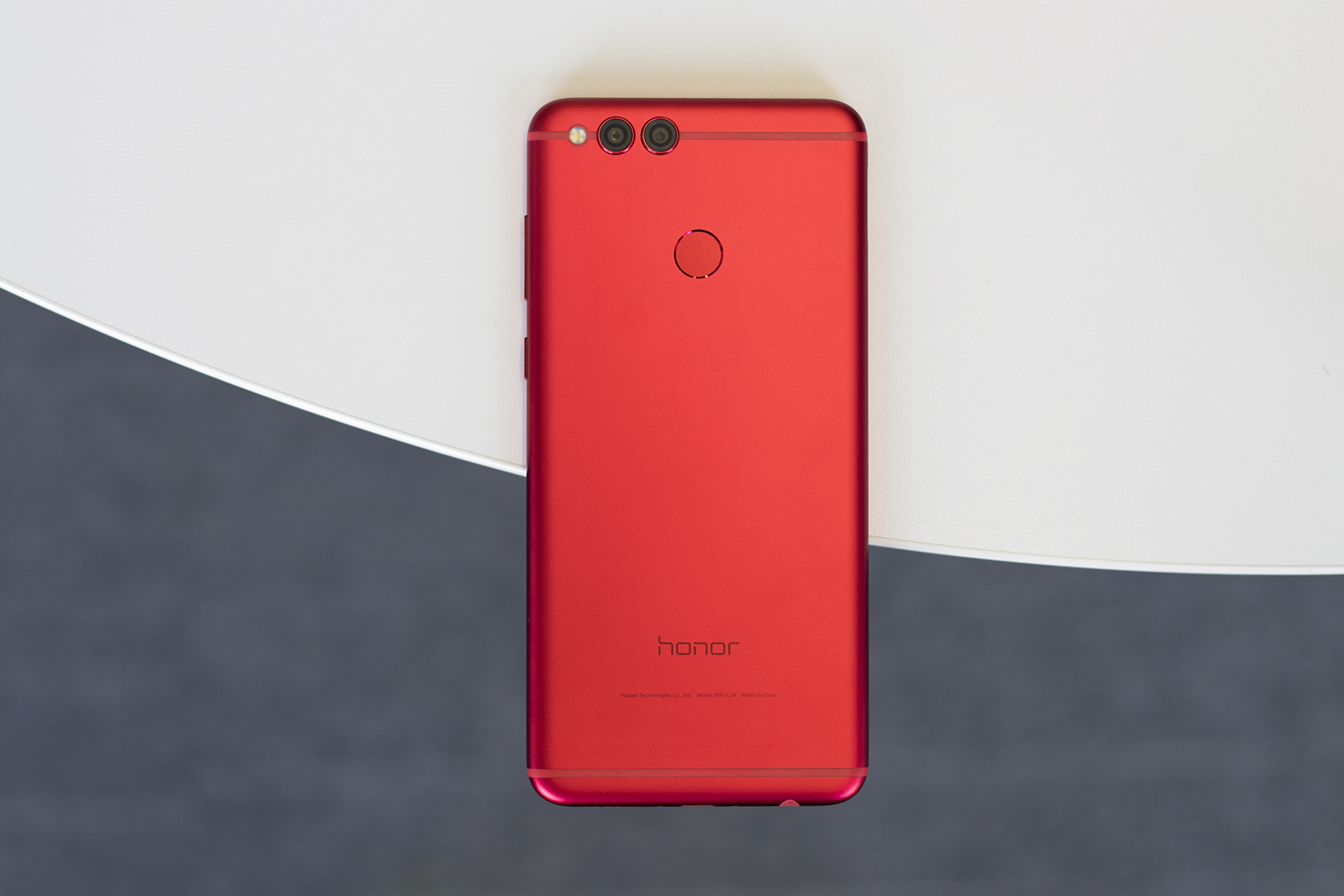 The differences between the newest flagships and entry-level phones are getting smaller and smaller. The Honor 7X can handle just about anything that a modern gaming or social network application can throw at it. Plus, the nearly 6-inch screen and sleek body will have your friends thinking you paid a premium for the phone.
Unless you are truly bothered by fewer upgrades, missing NFC, or lack of Google support, then the Honor 7X is easily the best budget phone on the market. If you're looking for slightly more performance, then the $230 Huawei Mate SE may also be worth a look. It's identical to the Honor 7X, but steps up the internals to 4GB of RAM and 64GB of internal storage for faster processing speed.
threadID: 11752343
Our editors strive to ensure that the information in this article is accurate as of the date published, but please keep in mind that offers can change. We encourage you to verify all terms and conditions of any product before you apply.