How to Assemble an Affordable Gym in Even the Smallest Space
Not able to get to get out and exercise? Try these solutions for staying in shape at home.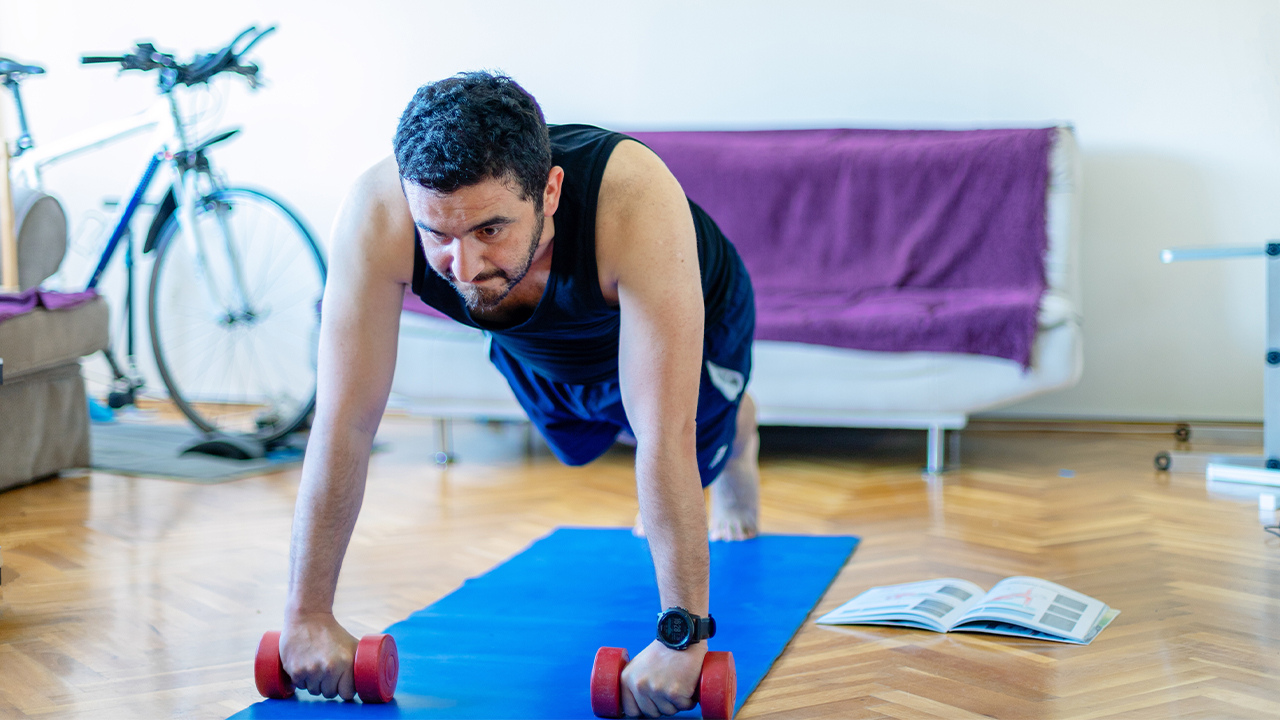 Every year, Americans waste $1.6 billion on gym memberships they don't use. If you're looking to save money, you can easily make the outdoors your gym, but what about when it rains? Or those days when you don't have the time to run to the gym?
In those situations, you can fit a lot of workout power in a small space. That's why we've put together this handy guide to making your own work-out space in the comfort of your own home.
How Much Space Do You Need?
You might be surprised just how tiny your workout space needs to be. For yoga or simple resistance band work, for example, you'll need as little as 36 square feet, or 6' by 6' of space.
As a rule of thumb, the best way to determine what kind of area you need is to clear away enough space that you can lay down, then stretch out and move your arms and legs back and forth, like making a snow angel. Choose an area with the highest ceiling possible, preferably free of obstructions like fans or ductwork, especially if you're going to use jump ropes or perform aerobics.
Before You Begin
Exercise is always a good thing, but before you make a major lifestyle change, be sure you talk to your doctor. This is especially true if you have concerns like a bad back or chronic conditions that might need to be treated.
Give your primary care physician a call, or send an email, and detail what you're planning on doing, and get their advice to do it safely and in ways that get you the most benefit.

Get Some Instruction
If you're used to doing circuits at the gym or following along with an instructor, or if you're using equipment or techniques you're not really familiar with, digital personal training can get you started. There are multiple at-home courses — covering everything from tai chi to weightlifting — to get you started and ease you into using the equipment.
If you're not a fan of video, pick up a few instructional books, or hang a poster on the wall. In particular, look for something different from your usual in-the-gym routine, which will help keep it fresh and fun.
Use The Walls
Walls are a useful space for working out, even unadorned, as you can use them as part of your exercise routine. But you can also fit them out to make your workout easier and save a little space.
For example, you can mount your tablet on the wall with some shelving or Command hooks, to follow along with your workout videos. If you've got the carpentry skills, break out a stud finder, figure out where the wall can take your weight and install a chin-up bar, mounting gear for resistance training, or put up a mirror to check your form.

Consider Isometric and Bodyweight Exercises
If you've read up on working out, you're likely familiar with the phrase "isometric exercise." At its most basic, isometrics use muscle tension by holding a static position. Yoga and pilates are two examples of isometric exercise, and they can be done in a surprisingly small amount of space.
Invest in a good mat, a yoga ball and a folding exercise chair. They can easily be stored away when not in use, and will help you get the most out of your workout.
And, of course, don't forget the gym class staples like push-ups. Get some push-up handles to help vary your routine and make it easier on your arms and elbows.
Build Strength
If you have the room to swing a few kettlebells or heft some dumbbells, then you're already halfway to lifting. Use adjustable dumbbells and kettlebells, so you don't need to fill an entire wall with a weight rack.
But if it's tight enough that you're worried about flinging something into your flatscreen, it's time to consider some alternative methods.
Resistance bands are a good start, and there are a number of different configurations and tools, such as bars, you can add to vary up your workout and substitute for weight machines.

Use Folding Equipment to Save Space
Folding exercise equipment is a space-saver, and can be a life-saver. Most types of cardio equipment, such as exercise bikes, rowing machines, ellipticals and treadmills have folding versions you can easily assemble and tuck away, and for strength exercises, there are folding weight benches and even the Peloton-esque Tonal, which swaps out the metal discs for an engine and a fold-out bench that lets you lift weights wherever you can mount it.
And if you're really squeezed for space, you can even go portable with hide-away stairstepper and under-desk bike and elliptical units. And don't forget you don't need motors at all; step aerobics routines just need a simple riser, and if your ceilings are high enough, bust out the jump rope.
Don't Forget to Clean Up and Be Safe
Just like you shouldn't leave the gym without cleaning off the machine, taking a moment to clean up your exercise space will make a difference. Sweat left to dry can quickly turn your personal space into a locker room, so use a strong cleaner designed to clean up sweat and have fresh towels handy to wipe yourself clean.
For hardwood and tile floors, consider laying down rubber gym tiles or gym mats to make it easier on your feet and protect your finish from the salt dripping off you.
Finally, don't take safety for granted. Have a good first aid kit available to treat minor injuries, and be sure to keep hydrated, and you'll be all set to stay fit without a gym.
And if you're in need of some stylish new workout clothes, check out this deal on our Frontpage:
Search URL: https://slickdeals.net/newsearch.php?firstonly=1&pp=20&sort=newest&rating=frontpage&filter%5B%5D=170329&filter%5B%5D=510020&forumid%5B%5D=all&forumid%5B%5D=9&hideexpired=1&r=1
Our editors strive to ensure that the information in this article is accurate as of the date published, but please keep in mind that offers can change. We encourage you to verify all terms and conditions of any product before you apply.