Summer Solutions: How to Make Delicious Meals Without Heating Up Your Home
These heat-minimizing gadgets let you dish up healthy and delicious meals without breaking a sweat.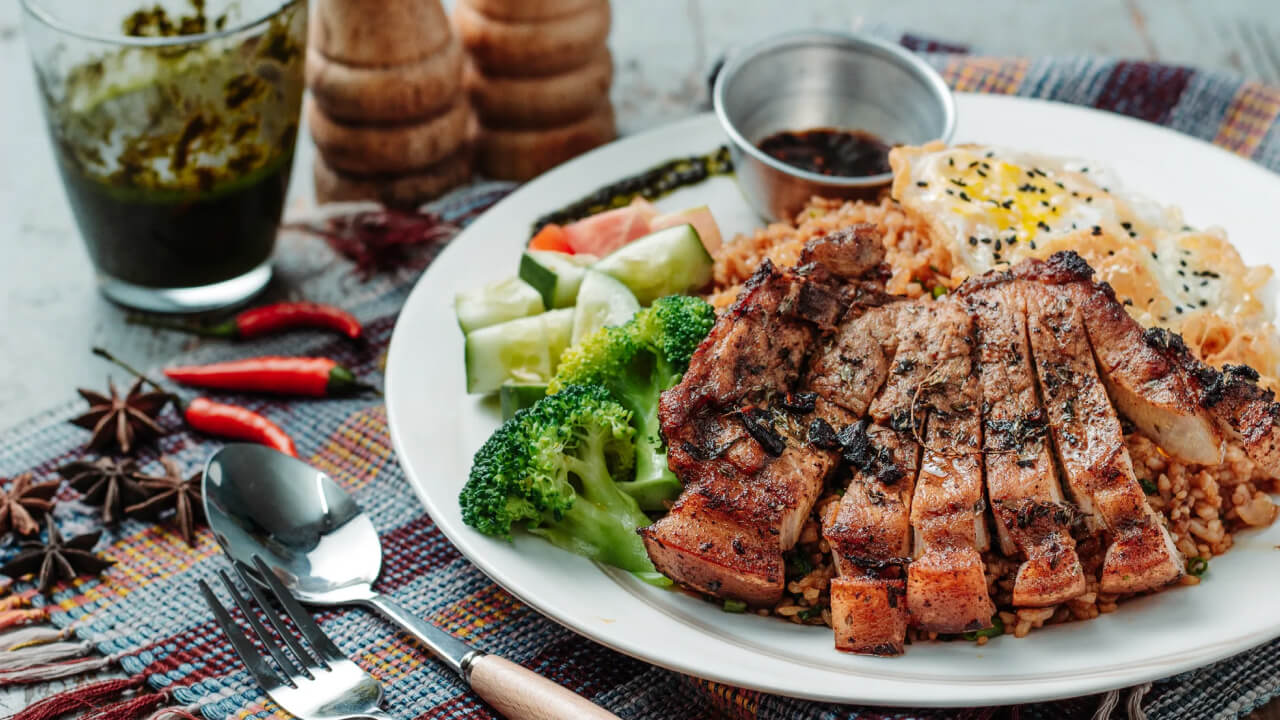 Temperatures might be soaring outside, but you can keep things cool inside your home by using one of these heat-minimizing cooking ideas to dish up healthy and delicious meals without breaking a sweat.
Our guide features ideas for every meal and even includes testimonials from real users and buyers on the efficacy of these kitchen gadgets that let you enjoy gourmet meals without turning on an oven.
---
Make It with a Classic

Slow Cookers and Crock-Pots
Styles may have changed over the years, but a slow cooker itself never goes out of style, for good reason. This kitchen gadget allows you to practically set and forget your meals and won't add a ton of heat into your kitchen.
The Hamilton Beach Temp Tracker™ 6 Quart Slow Cooker earned top marks from Consumer Reports on both the high and low settings while WireCutter said it, "outperformed much more expensive models." Plus, it's just $69.99 on Amazon right now.
"It is so easy to use! I hate electronics but I can operate this crockpot with ease," said one user, adding, "I am a little in love with this crockpot and highly recommend it."
If you'd rather stick with the original slow cooker brand, the Crock-Pot SCCPVL600S Cook' N Carry 6-Quart Oval Manual Portable Slow Cooker is a solid option, and is 40% off on Amazon — just $29.99. One customer said, "It is a perfect pot for beginners and not a bad one for seasoned moms like me."
Microwave
Today's microwaves have come a long way from their 1980s counterparts with way less "ick factor" for cooking up tasty and healthy meals. Microwaves like the Panasonic NN-SN965S use smart sensors in order to deliver perfect results every time. This microwave has a sensor and menu items, so you can select "popcorn," and it will automatically set a time for you. One user said, "It's very easy to use and we like the large oven space." This microwave comes in at under $200, and if you're able to pick it up at your nearest Home Depot, you'll save the shipping cost.
If you prefer an over-the-range microwave option, models from Whirlpool earn consistently high ratings from Consumer Reports, and the Whirlpool WMH54521JZ Microwave with Steam Cooking is on sale through July 22nd at Lowe's for $476, regularly $529. And it's available for free pickup or delivery! One person who purchased and reviewed this microwave said, "This microwave is beyond amazing! It has so many preset and user friendly controls. The space inside is almost double from my old microwave. It is more powerful and quieter than my older microwave."
Toaster Oven
Toaster ovens do more than just toast — they can bake, fry or even broil your favorite meals with much less heat than a full-sized oven.
The Breville BOV900BSS Convection and Air Fry Smart Oven Air is large, highly rated and reduces cooking time by up to 30 percent. One owner shared, "It has exceeded my expectations in every way and so far I absolutely love it. Not only does this oven look great on the counter, it doesn't take up too much space, and the versatility of this oven is amazing. And the new industrial design is timeless and will fit in with any style." Get it for $100 off on Amazon and free shipping.
---
Do It in Less Time

Electric Pressure Cooker
Offering all the convenience of a slow cooker but shaving cooking time down significantly, an electric pressure cooker is worth the investment. While there are budget-friendly models available from companies such as Crock pot or MasterChef, the Instant Pot brand is a cult favorite and is sure to last many years.
We recommend the Instant Pot Duo 7-in-1 Electric Pressure Cooker. One owner shares, "I've had my Instant Pot (IP) going on two years; I bought it on Black Friday 2015. I am still as enthusiastic about it now as I was when I bought it, but I don't use it as much anymore. I use it a few times a week mainly for side dishes or one pot meals. I love it for steaming vegetables, easy peeling hard boiled eggs, creamy risotto, and it makes a mean mac'n'cheese! Lots of one pot meals like chili, sausage and peppers, butter chicken, even ziti spaghetti. Super for soups. I love, love, love making an Olive Garden copycat Zuppa Toscana in it." If you order now from Amazon, you'll save 20%. Plus, it's Prime eligible.
Air Fryer
An air fryer is basically a compact convection oven and can cook anything from fried chicken or steak to broccoli and beets or even desserts. The NuWave 6-Qt Air Fryer not only offers excellent results, it boasts one of the largest cooking baskets on the market. Get it for under $100 with free shipping from Amazon.
One reviewer commented that, "This air fryer is awesome! The buttons are very intuitive – much like a microwave. Easy to clean, not very loud and washes up great in the dishwasher! It also makes great, juicy grilled chicken breasts and salmon, and chicken wings are equally awesome. As a bonus, the curved top fits very nicely on my countertop under the cabinet, but you can still see the buttons on the top."
Sous Vide
The Anova brand sous vide is highly rated, with Forbes writing, "Don't be surprised if your friends start serving you the perfect steak at their next dinner" and WireCutter saying it is "The best immersion circulator for home cooks."
The middle-of-the-line Anova Precision® Cooker is, according to one user, "A very easy device to use and set up is simple. You mount the cooker to your pot, fill up the pot with water, throw in your food and wait. The app lets you search for recipes, and immediately send those settings to the cooker, so you don't have to do anything other than press start. If you do not want to use the app, the buttons (I say buttons, really just a touch screen) are easy to use."
Get it for $70 off MSRP — just $199 — from Best Buy or via the company's website in a bundle with a vacuum sealer for $50 savings!
---
Try It Chilled

Vitamix
Invest in a high-powered blender like the Vitamix for gazpachos and cold soups that are ready in just minutes! Some models will even whip up a hot soup in under 10 minutes. For a chic cold soup option, mix cucumbers, heavy cream and a dash of salt and pepper; then chill until ready to serve. One reviewer says, "Certainly the best blender I have ever owned."
Many people might balk at the Vitamix's hefty price tag (starting at $450 new), but their build quality and lifetime warranty means it'll be the only blender you'll ever buy. That, and its ability to make both hot and cold dishes means it'll become the workhorse of your kitchen. Save on the cost of a new model by opting for a certified reconditioned unit, or hit up a road show sale when the Vitamix rep comes through at your local Costco — happening now until July 26 online.
Juicer
Enjoy juiced breakfasts or lunches for a quick, time-saving and refreshing meal at home or on the go. A high quality juicer — opt for masticating rather than centrifugal models to get the best nutrition — can easily save you $10 or more a day if you're picking up juice from a store.
You could easily spend $1,000 or more on a top-of-the-line juicer, but the AICOK Slow Masticating Juicer Extractor is an excellent performing option. One owner said, "I just received my juicer today. I love it. Quick and easy to assemble and disassemble. I juiced kale, celery, a green apple, and a lemon. The juice was so good I could have smacked myself." Don't forget to apply the $30 coupon on Amazon for added savings!
Some tasty recipes for beginners include apple, beet, carrot and ginger or kale, apple and lemon.
---
Take it Outside

Gas Grill
Your grill is your best friend when it comes to getting a hot dinner on the table without heating things up inside your house. For the low-down on the best barbecue grills of the year, check out our in-depth buying guide.
Most meats can be thrown directly on the grill while fish like salmon benefit from a cedar plank — this set of two from Mr. Bar-B-Q is currently 30% off — or Himalayan salt slab. Larger veggies, such as potatoes and zucchini can grill directly on the grates of your BBQ, but for smaller items, a grill basket makes it easy to cook everything outside.
And don't discount those side burners if your grill has 'em — and really, it should — as you can always heat a heavy pan for sauteed veggies, or boil a pot of water for fresh corn on the cob.
George Foreman Grill
If it's even too hot to grill outside, get the best of both worlds with the highly versatile iconic George Foreman grill! There are so many uses for this clever indoor electric grill which just seems to get better and better each year with new features and sizes.
For large families, this George Foreman 9-Serving Classic Plate Electric Indoor Grill and Panini Press (exclusive to Walmart) can grill burgers or make gourmet paninis for a crew of 9! It also boasts almost 700 reviews raving about this powerful gadget that seems to do it all while keeping everyone cool and well-fed. As if it can't get any better, this mighty food-maker is on sale for $37.78 (reg. price $52.00) and also qualifies for next day delivery from Walmart.
See something you like? Set a Deal Alert, so you'll be notified if it goes on sale.
---
Up Next:
Our editors strive to ensure that the information in this article is accurate as of the date published, but please keep in mind that offers can change. We encourage you to verify all terms and conditions of any product before you apply.