The HP Envy 13t Laptop: One of the Best PC Companions for Your 2020 Travels
This elegant, lightweight and powerful ultrabook is a great choice for any backpack or briefcase.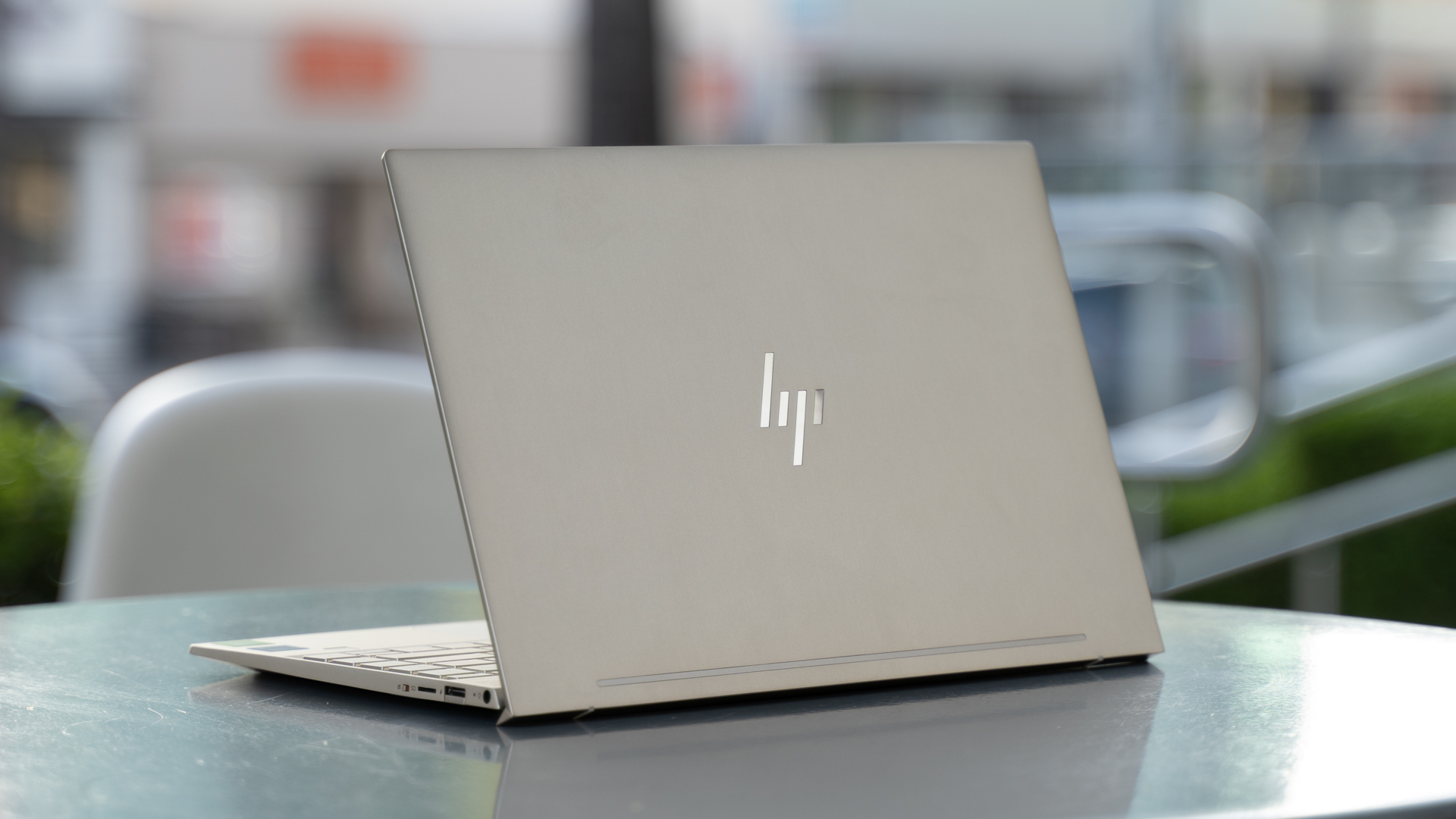 Whether you're a travelling professional or a lecture hall hopper, a light and powerful laptop is essential for your daily sojourns. With so many companies producing travel-friendly laptops, there are lots of devices to choose from. And while Dell and ASUS are the biggest contenders in the Ultrabook category, the beautifully designed HP Envy 13t laptop is no underdog here. We took a closer look at this sleek little machine to see if it's the right choice for you.
HP Envy 13t Laptop Technical Specifications (Price As Tested: $1,419.99)
8th Gen Intel Core i7-8565U (1.8 GHz, up to 4.6 GHz, 8 MB cache, 4 cores)
NVIDIA GeForce MX250 2GB DDR5
16GB DDR4 RAM
13.3-inch 4K IPS BrightView WLED-backlit multitouch-enabled edge-to-edge glass (3840 x 2160)
1 TB PCIe NVMe M.2 SSD
Full-size island-style backlit keyboard
HP Wide Vision HD Camera with Dual array digital microphone
1 combo audio jack | 2 USB 3.1 Gen 1 | 1 USB 3.1 Type-C Gen 1
Intel 802.11b/g/n/ac (2×2) Wi-Fi and Bluetooth 5 Combo(MU-MIMO supported)
Quad Bang & Olufsen Speakers with HP Audio Boost
Supports fast charging: 50% battery life for 45 minutes
12.08 in x 8.32 in x 0.57 in
2.59 lbs
Elegant Composition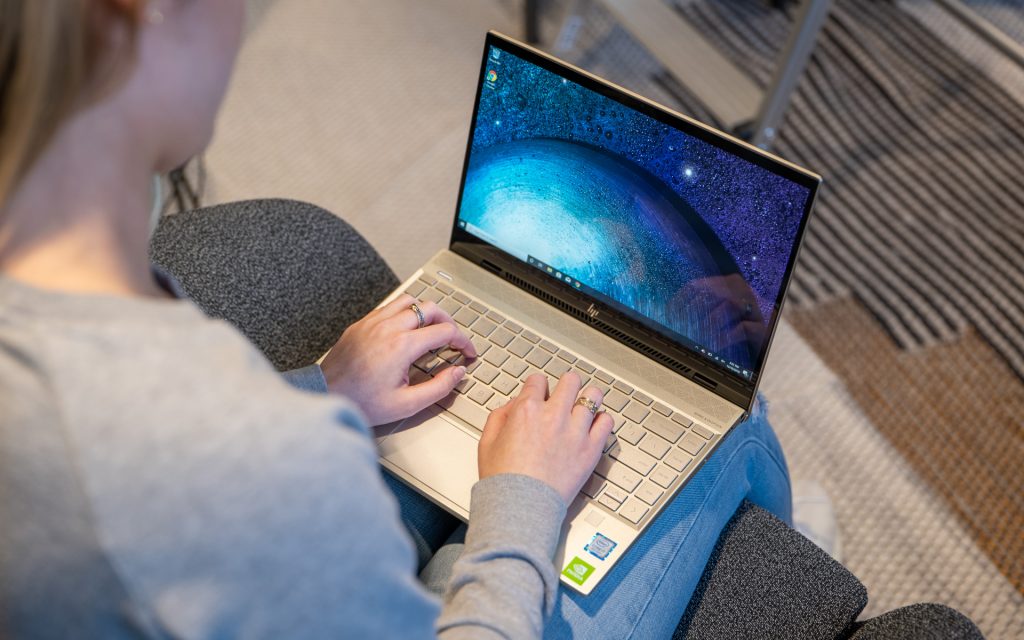 In the world of laptops, you can find numerous products with specs similar to the Envy 13t. But sometimes the real kicker is in the beauty of the design. Our test unit came in Pale Gold — not too flashy, but also gleaming with elegance. The entire chassis is furnished with lightweight anodized aluminum, and just feels like silk in your hands.
Instead of the usual boring audio setup, two of the Bang & Olufsen speakers span the top of the keyboard in a geometrically pleasing fashion. And the other two speakers under the laptop follow suit with a styling that would be approved by Picasso himself.
One of the common gripes with smaller laptops is a tiny and awkward keyboard. But the HP Envy 13t offers a full-size array of back-lit keys so you won't be repeatedly slamming the backspace while punching out an essay. Additionally, the edges of the keys are just as sensitive as the center, which may even increase your words per minute.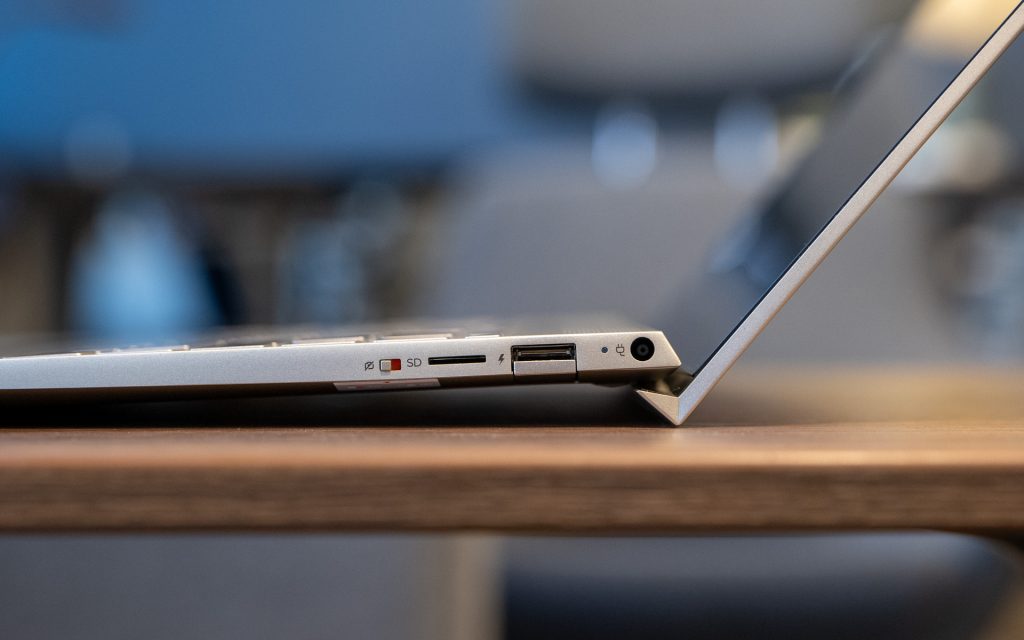 To help with airflow, the screen's bezel elevates the back of the laptop slightly during use. Not only does this prevent heating issues, but it also offers a slightly more ergonomic typing experience for your wrists. This feature is great for the desk, but unfortunately isn't as comfortable when placed on your lap.
The only thing that may take some real adjusting to is the trackpad. It is much wider than usual, which is a plus for the most part. You can move the mouse from side to side without ever lifting a finger. However, the trackpad feels vertically challenged in this aspect. An easy solution, though, is to just alter the mouse speed settings in the control panel.
Satisfying Entertainment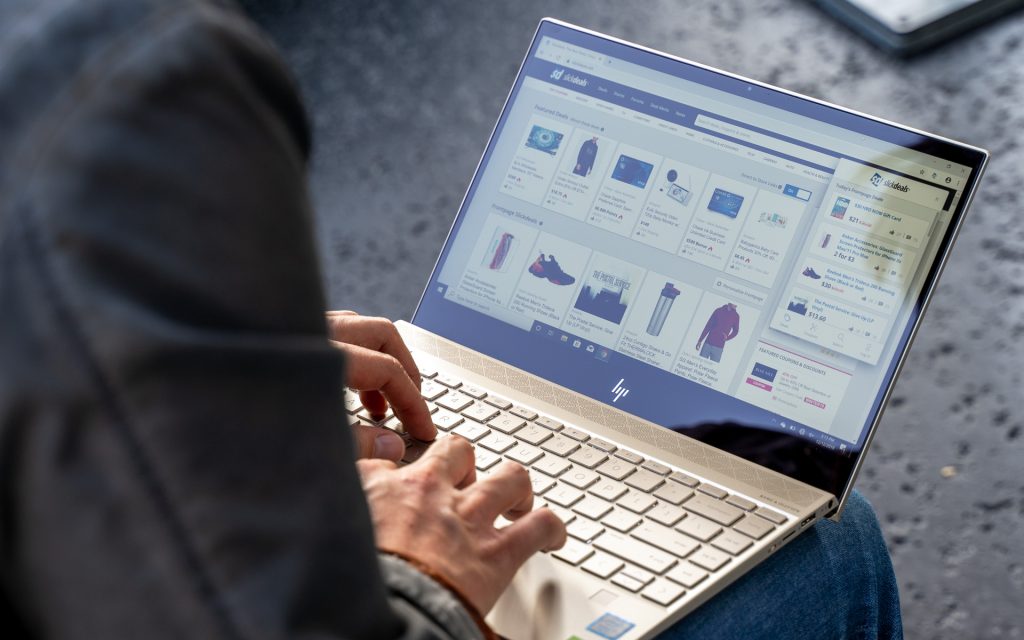 The base model Envy 13t includes a full HD IPS BrightView WLED-backlit display, which is plenty for a 13-inch laptop. But if you don't mind a little indulgence for your eyes, you can upgrade to 4K resolution and a multitouch-enabled screen like our test unit for $140 more. Either way, the brightness of the display is very impressive, as is the vivid imagery. Our only qualm is the lack of anti-glare. Using the laptop outdoors isn't as optimal versus indoors.
As for the audio, the Bang & Olufsen quad speakers come standard no matter which customization of the HP Envy 13t you go for. With two speakers projecting up and the others down, you get a surprisingly full and detailed sound experience. Despite its size, the HP Audio Boost really gives this laptop a decent amount of volume, and there is very little distortion with it set at max.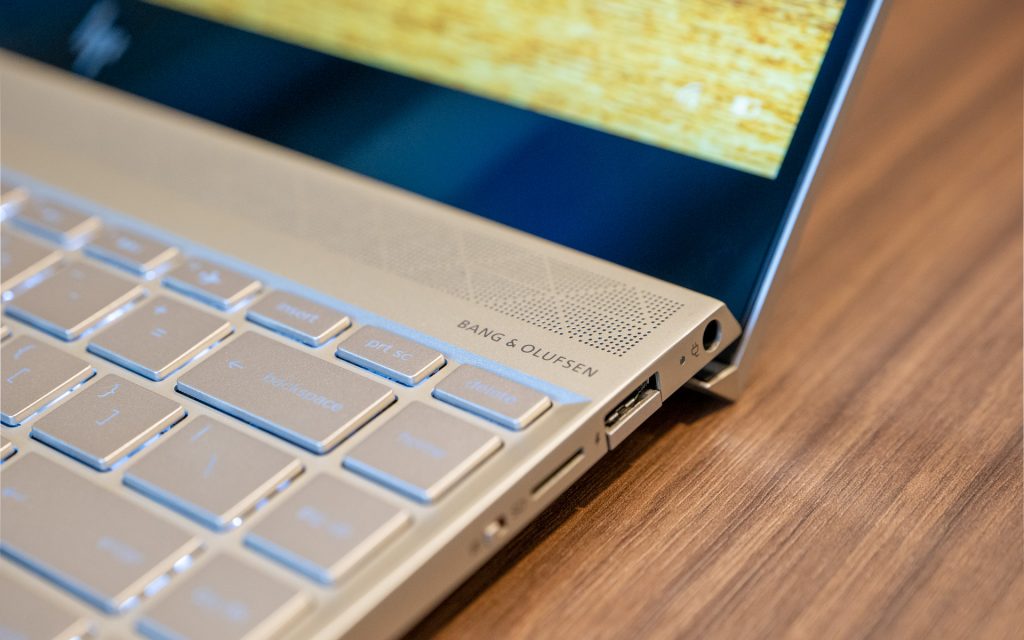 With this harmonious pairing of sight and sound, it was only natural to hit up Disney+ and re-watch the previous Star Wars movies in preparation for The Rise of Skywalker. After hours of galactic enjoyment, it's safe to say that the HP Envy 13t has no problems in this department.
Powerful Productivity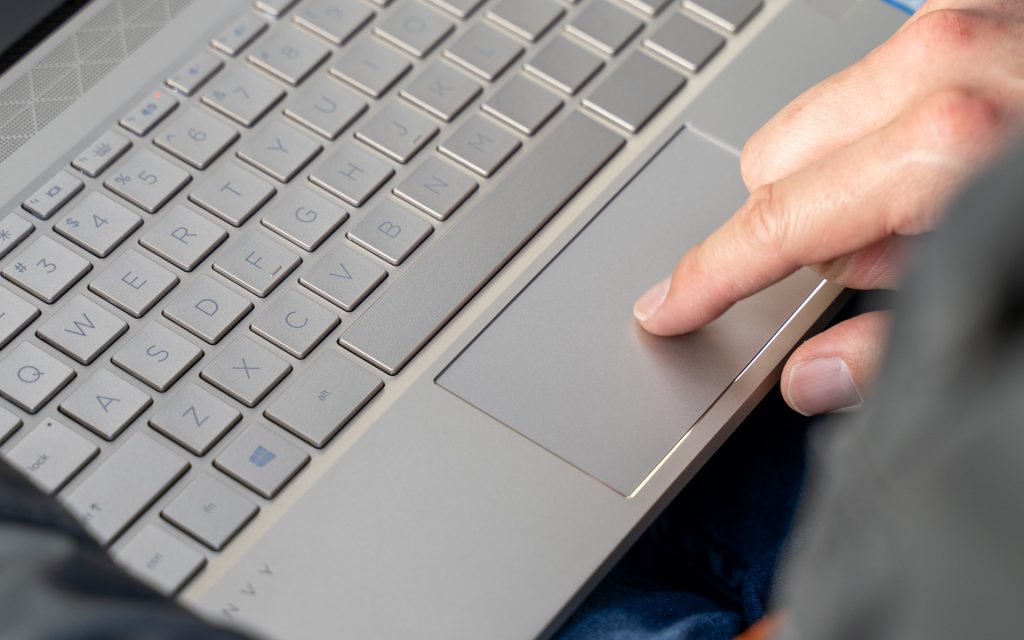 Given its entertainment capabilities, it's really easy to get sidetracked with this ultrabook. But ultimately, the purpose of this device is productivity. The combination of a decently powerful 8th Gen. Intel processor and a solid state drive makes for a very fast experience.
The base model starts with a 256GB SSD, which is plenty if you are using the HP Envy 13t for school or work. Our test unit features a 1TB SSD — the maximum upgrade for this device. However, with how cheap external hard drives are nowadays, the $370 upgrade might not be the best option.
The average multi-tasker should find the 8GB of RAM in the standard model more than sufficient. But if you have a habit of having 20+ Google Chrome tabs open, you can double this up and get a dedicated NVIDIA GeForce MX250 graphics card for $150 more. Unfortunately, HP's website only allows bundled customizations, so you can't upgrade the RAM or GPU individually.
The beautiful display in the base model is fueled by an Intel UHD 620 integrated graphics card. If you do any sort of video editing or graphics design, opting for the dedicated GeForce MX250 is the better way to go. Just note that even with this upgrade, the HP Envy 13t isn't really a gaming machine. It can, however, handle some popular titles in low settings. If you are a fan of Apex Legends, you can play it in minimal graphics at about 60 FPS.
Streaming-Friendly Battery Life
The HP Envy 13t with FHD display is advertised to have an up-time of almost 14 hours on light use. But since we had the 4K display, it was expected to be much less.
Under normal use with some web-surfing, the battery lasted roughly seven hours. However, the device seems to be optimized for streaming media. During my Star Wars binge, I was able to finish Episodes VII and VIII with just under 50% battery left. Given that the total run time for the two movies is four hours and 47 minutes, you can probably stream on the 4K version for a good nine hours.
Is the HP Envy 13t Worth It?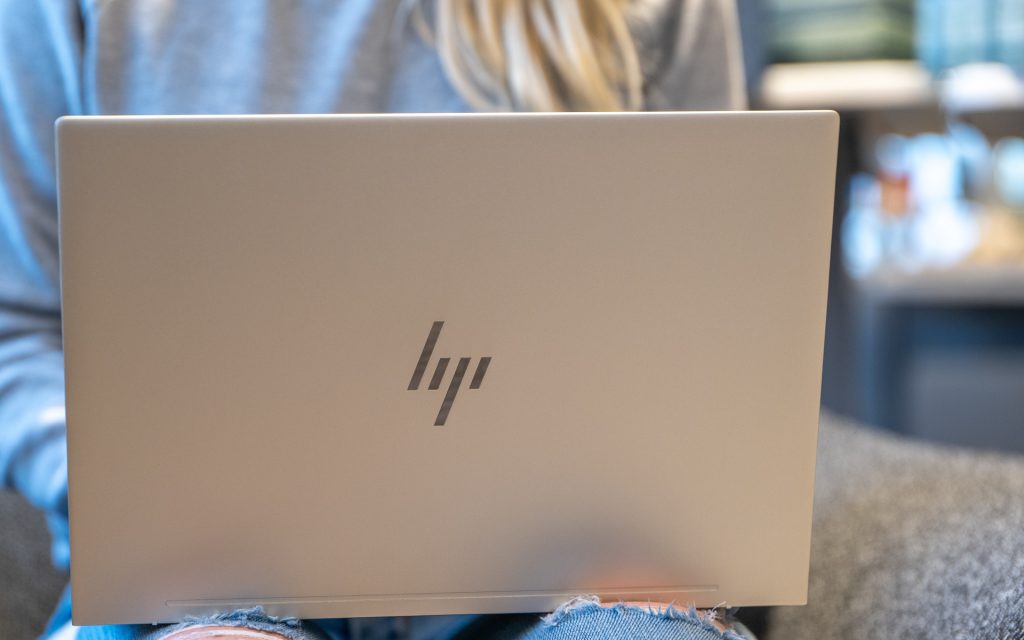 The HP Envy 13t does many things right and, besides the battery, there is very little to complain about. Its lightweight and compact size is perfect for anyone that is constantly on the go. While it serves primarily as a productivity machine, it's got everything you need to stay entertained during some downtime. The 4K display is definitely best in class, and is really worth the upgrade on this laptop.
Given the specs of the base model and a current starting price of $749.99, the HP Envy 13t is definitely worth consideration. Even if you go for the top-tier version like our test unit, you are still getting a pretty good bang for your buck.
---
If you are looking to get the best price on the HP Envy 13t, set up a Deal Alert to get notified of its next price drop. For more promos and coupons on HP products, you can also check out their Slickdeals store page.
Our editors strive to ensure that the information in this article is accurate as of the date published, but please keep in mind that offers can change. We encourage you to verify all terms and conditions of any product before you apply.