Imperfect Produce: Is It Perfect For You?
Imperfect Produce saves the environment and saves on time, but does it save money?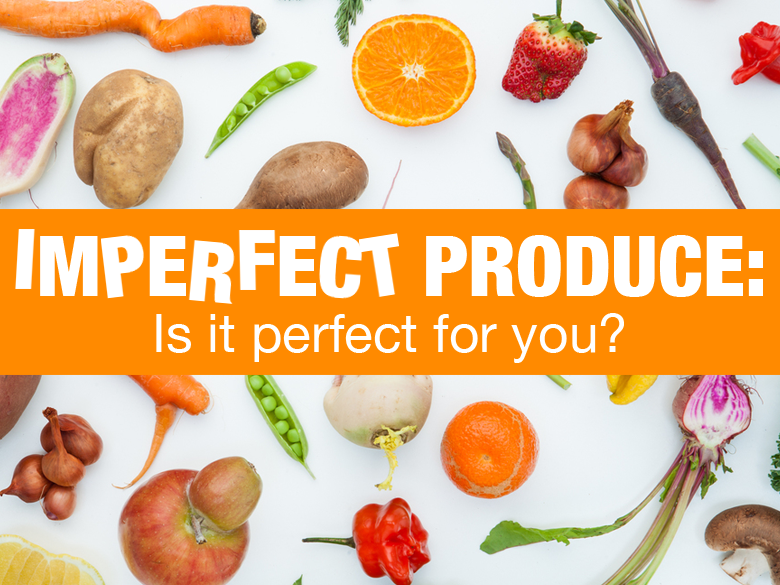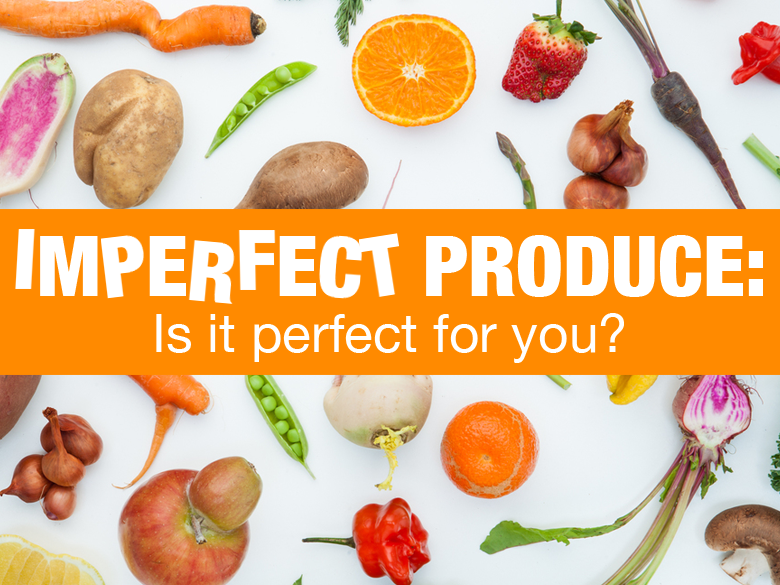 According to the United Nations Food and Agriculture Organization, about one third of food produced in the world gets wasted or lost — approximately 1.3 billion tons a year, around half of which are fruits and vegetables.
Grocery stores are one of the major contributors to food waste in America since they often reject fruits and vegetables due to small blemishes, irregular sizing or because of surplus. That's where Imperfect Produce steps in.
Their mission is to "find a home for these unloved and odd-looking fruits and vegetables at a price that is mouthwateringly affordable." They currently operate in select cities in California, including the Bay Area and Los Angeles, but will soon be serving Orange County and San Diego, as well.
As a person who has a hard time eating healthy on a budget and dreads crowded grocery stores, I was pretty excited to try out Imperfect Produce and hopefully get more leafy greens in my life. But, while the subscription service sounds convenient, is it really cost effective? Here's what I found out when I gave the service a try.
What Is Imperfect Produce?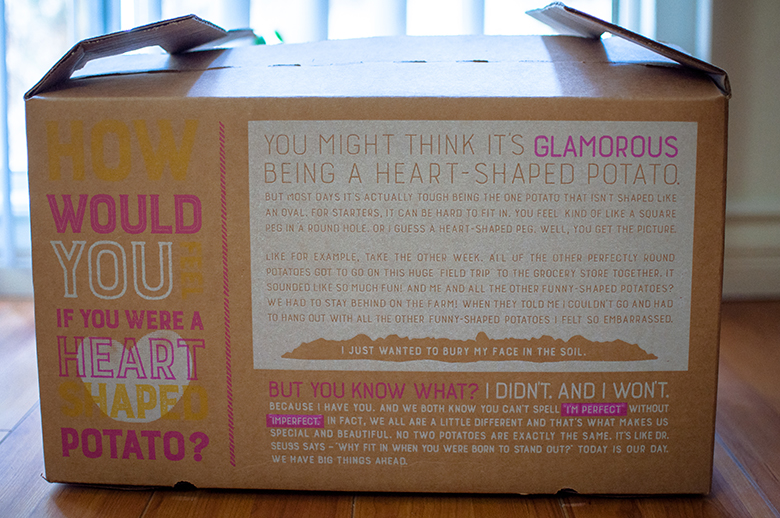 Imperfect Produce boxes range from small (7 to 9 pounds) to large (17 to 19 pounds), and subscriptions can be of mixed produce, all fruit, all veggie or all organic items. You can opt for deliveries either every week or every other week, and you can change your delivery frequency at any time.
I went with the cheapest option: a small, mixed produce box that averages about $11-13 (the price varies due to each item in the box being individually priced, but includes their flat $4 service fee.)
After receiving a few deliveries, I changed my order to come every other week instead of every week, having found that my roommate and I just couldn't eat that much food each week since we eat out a lot. Changing the frequency of a delivery is simple, and there's even a vacation mode that puts a hold on your produce while you're gone. It's also possible to skip a week if needed.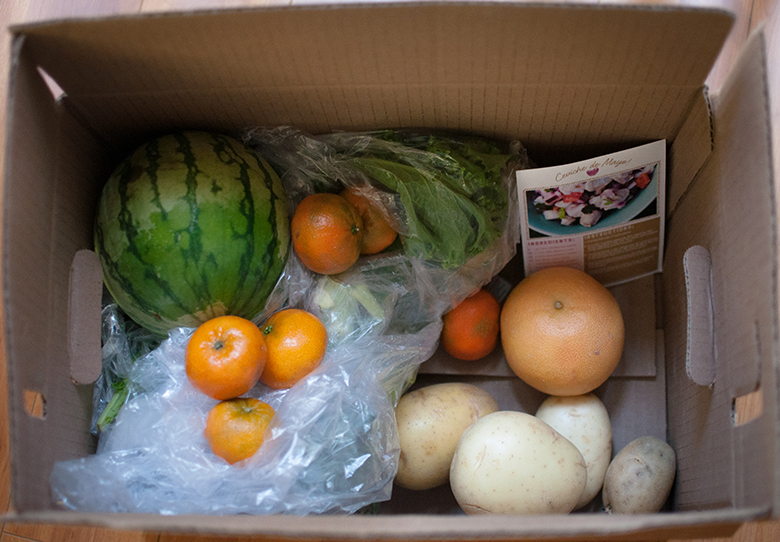 While Imperfect Produce creates a default box for you, it's totally customizable, so you can swap out or add in fruits and veggies from their selection that week. I look forward to customizing my box each week, but when I forgot one week and received the default shipment, I was still impressed with the auto-generated variety.
One final perk of Imperfect Produce is that they don't lock you in to a minimum subscription period and won't charge you any penalties if you decide to cancel. When I looked into the cancellation process, I found that it would only take 3 clicks to end a recurring order, with no hassles, guilting, or fees.
>>Related: AmazonFresh Review — Is it a Good Deal?
How Much Does Imperfect Produce Really Cost?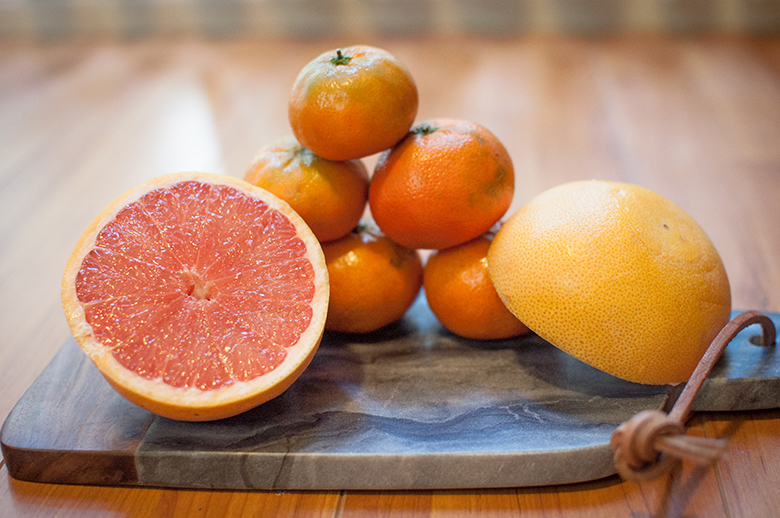 While the advertised rate of about $11-13 a box seems like a pretty good deal for produce, how does the price stack up against conventional grocery stores? I put one of my deliveries to the test.
The following chart shows my selection of produce — after I customized it — from one of the weeks I was due for a delivery. The first column shows the comparable price for the same or similar item in a grocery store (online prices from Ralphs or Costco) and the second column shows the Imperfect price.
In addition to the cost of your box, Imperfect Produce also charges a flat $5.99 for delivery and a $4 service fee. The last column takes the $10 total of shipping and service charges, divides it amongst all the produce I ordered ($10 / 7 items = approximately $1.40 per piece of produce), and adds this to the cost of Imperfect's fruits and veggies, to show the true cost of using their service.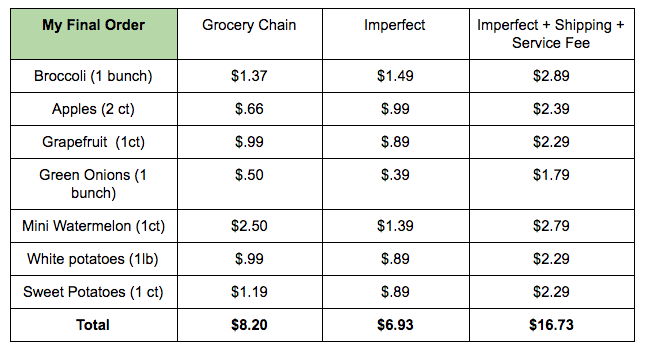 In the end, Imperfect's produce is slightly cheaper overall if you compare just the base price of their fruits and vegetables. However, service fees and shipping charges make the overall cost of Imperfect Produce's services more than if you just shopped at the grocery store — at least for my order.
It's possible that a larger order might have evened out the cost a bit. And, if you're in the Bay Area, Imperfect Produce now offers the option of picking up your box from their warehouse in Emeryville, CA in order to save on the shopping cost.
>>Related: Does Buying In Bulk at Costco Actually Save You Money?
Is It Actually Ugly?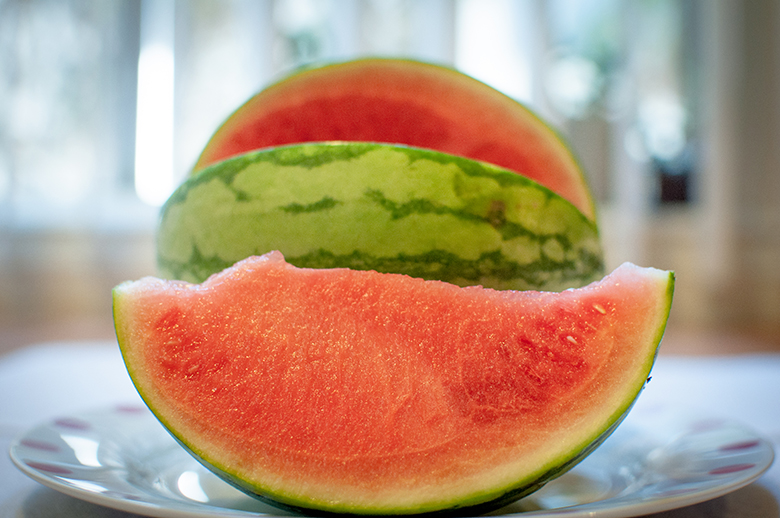 So how "cosmetically challenged" are the fruits and vegetables from Imperfect Produce, and does it affect how they taste? When I first received my delivery, I couldn't understand what could possibly be the problem with any of the produce. They seemed just as good as anything I would see in the grocery store. It took about a month or two of deliveries for me to get my first, even remotely "ugly" vegetable — a carrot that seemed to have two limbs. For the most part though, it seemed like most of the produce came simply from surplus.
The taste and freshness of each delivery was never questionable either and tasted just as good as grocery store produce — even that two-legged carrot. The produce arrived ready to eat or a day or two away from being ripe, and with the right storage, stayed fresh for a long time.
Lastly, I love that the produce comes in a recyclable box and each delivery includes a recipe card to make seasonal dishes with your new fruits and vegetables.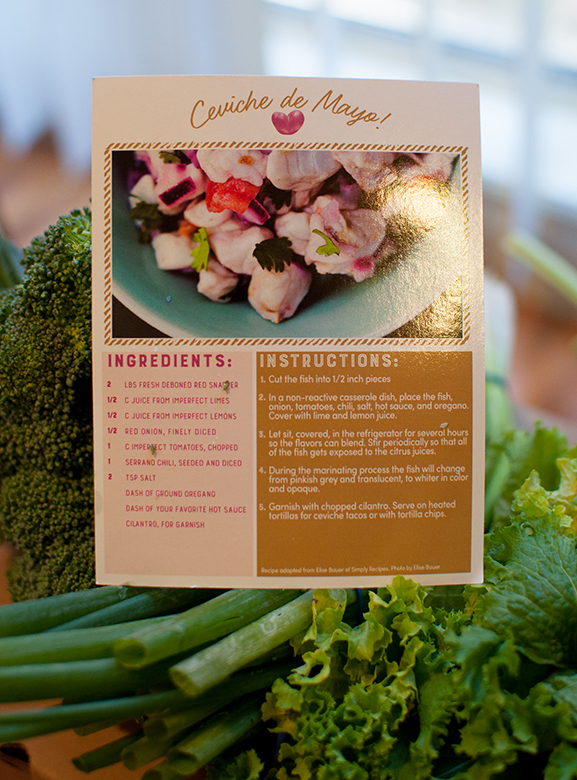 Is Imperfect Produce Worth It?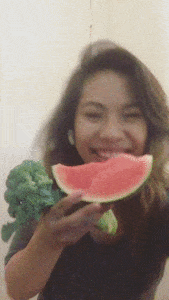 Overall, Imperfect Produce's shipping and delivery fees result in higher costs when compared to simply going to the grocery store. But, the cost isn't that unreasonable if you really just hate shopping at the store, and still want more variety and inspiration in the kitchen.
Plus, the company is truly making admirable strides toward environmental sustainability. They're expanding to new areas across California and will soon be adding other items, such as pastas and bread to the line up, making the future bright for all the "ugly" groceries out there.
Our editors strive to ensure that the information in this article is accurate as of the date published, but please keep in mind that offers can change. We encourage you to verify all terms and conditions of any product before you apply.