Is Amazon Prime Pantry Worth $4.99 per Month?
We compared Prime Pantry to four competing home good delivery services to find the best deal for you.

There's no denying it: Amazon wants to be a big part of your life. With services like Amazon Prime, AmazonFresh, Amazon Pay, and smart home gadgets like the Echo, Amazon has made clear its intentions to provide increasingly ubiquitous and convenient services for all aspects of your existence.
Amazon launched Prime Pantry in 2014 in an effort to, according to them, "offer thousands of items to Prime Members that are cost prohibitive to ship for free individually." However, the global retail and shipping giant has yet to turn a profit from from Prime Pantry. As a result, the company updated their model to include Pantry as yet another subscription tier of Prime membership.
So, is Prime Pantry worth the price of a subscription? How does it stack up against the increasing number of competitors in the home essentials delivery field? And do Prime Pantry prices compare well to those at an actual grocery store? We've broken everything down so you can decide if Prime Pantry is right for you.
How Does Prime Pantry Work?
On the whole, Prime Pantry is fairly intuitive. Selecting and adding items to your cart will feel familiar to anyone who has used Amazon services before. Users fill up a box (which can support up to 45 pounds) with non-perishable goods and pay a flat shipping rate on orders less than $40, while orders of $40 or more ship free with a Pantry subscription. You don't have to fill a box completely for it to go out, but there's obvious pressure to do so. It's incredibly difficult to meet the $40 limit without filling — or mostly filling — a box.
Unlike other localized grocery and dry good shipping services (like Walmart Grocery), Prime Pantry delivers anywhere in the continental United States within one to four days. However, Prime Pantry cannot be delivered to P.O. boxes, A.P.O./F.P.O. boxes or Amazon Lockers. Additionally, waiting four days, rather than the normal two days of Prime delivery, could be frustrating for some users.

How Much Does Prime Pantry Cost?
In March 2018, Amazon announced it was shifting Prime Pantry's delivery fee. Instead of a flat rate of $6 per box, they moved to a subscription model, which runs $4.99 per month. However, Pantry orders of less than $40 still incur a shipping charge of $7.99, even if you're a Pantry subscriber.
Additionally, it's important to remember that you'll still need a Prime membership, which costs $119 annually. Prime members without Pantry can still order boxes through the service, but each one carries a flat $7.99 shipping fee.
How Expensive Are Items On Prime Pantry?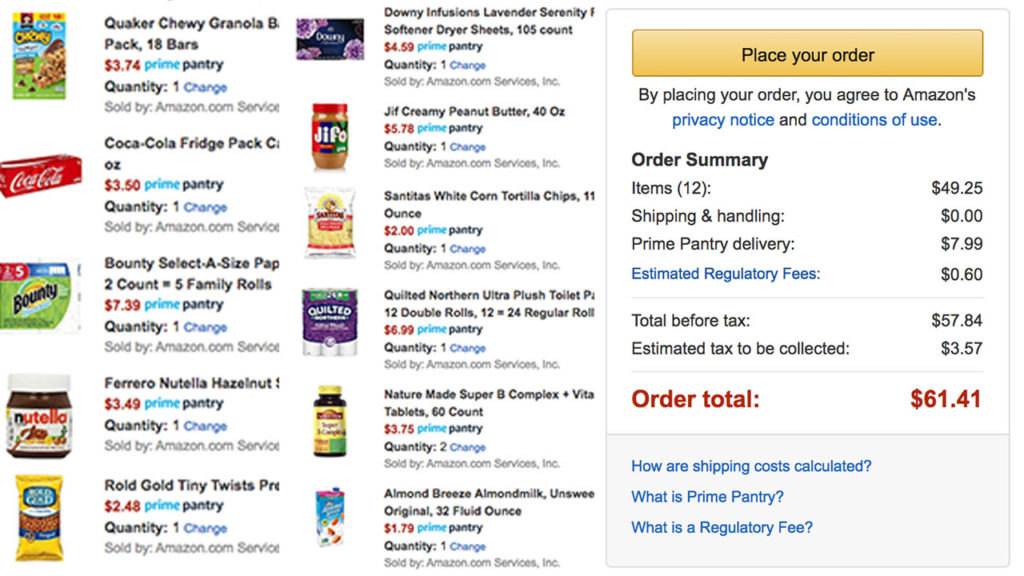 While Prime Pantry aggressively advertises both low everyday prices and regular access to promotional deals, item costs are (at best) a mixed bag. A 12-pack of Coca-Cola cans, for instance, was $3.50, compared to $6.29 through Google Express and Instacart (a 55.64% difference).
Conversely, a 2-pack of Bounty Select-A-Size paper towels went for $7.39 through Prime Pantry, while the same product is available through Target's Restock service for $4.99 (a full 67.53% gap). On average, though, the service compares well to other online options, frequently coming in at a lower price point before delivery.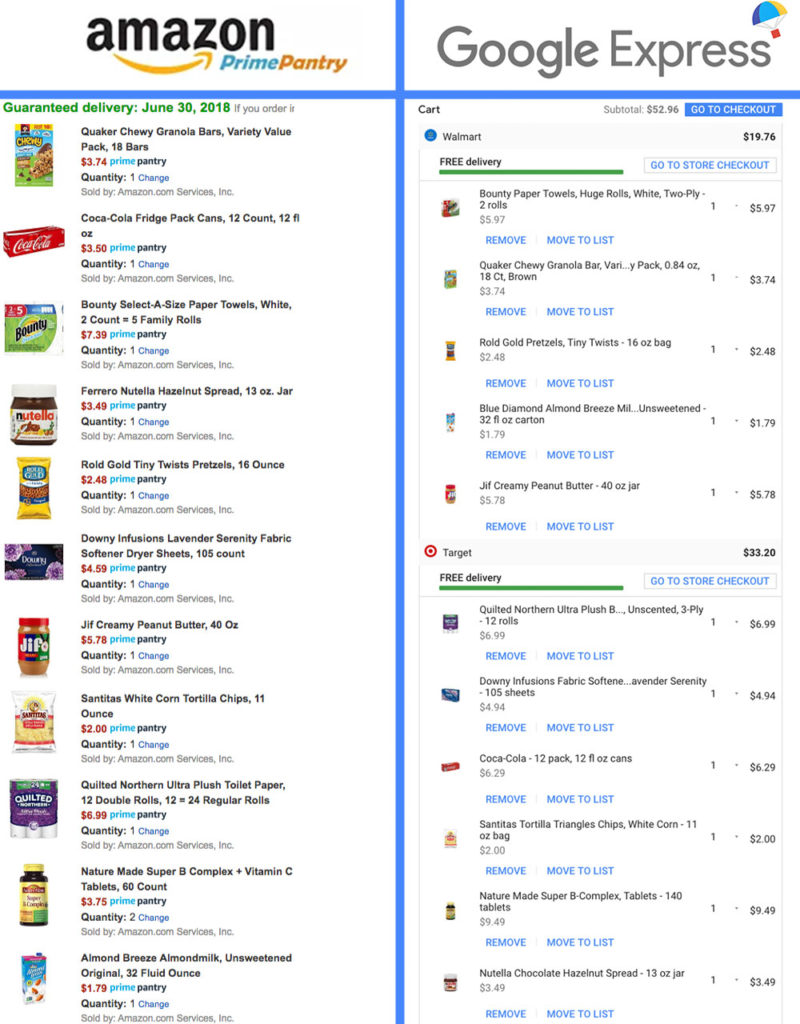 However, Pantry doesn't stack up well against traditional grocery stores. When comparing a sample order to five local Los Angeles grocery stores (which tend to have relatively high prices compared to the national average), the online cart came out between 9% and 15% more expensive.
Also, people hoping to save money by buying dry goods in bulk online are out of luck. After comparing bulk items on Amazon Pantry to several brick and mortar locations, Pantry was about 12% to 16% higher. Pantry does, however, regularly offer certain bulky, non-perishable items (like dry cereal and toilet paper) at lower prices than its sister service AmazonFresh.
How Does Pantry Compare To The Competition?
Ultimately, traditional grocery stores and big box stores still offer the best monetary value, but convenience is a huge factor for many people. Pantry, however, doesn't compare well to other online retailers of household goods on that front. The delivery fees are just so expensive. For a more comprehensive breakdown, check out this comparison:

Want a more in-depth look at the competition? Check out our review of Google Express here.
Overall, Google Express and Target Restock both came out as better deals when considering the lack of a required yearly subscription, faster delivery times, lower minimum price requirements, and low (or free) shipping costs. Express, however, does have a relatively limited selection when compared to Restock and Prime Pantry, which you should keep in mind if you plan on using a home goods delivery service exclusively.
While Pantry may look less expensive once you get the subscription, remember that it charges you whether you use it or not, and it can be difficult to come up with $40 dollars worth of household essentials every month if you're single or a member of a small family. Larger families, however, will likely not have to worry about this issue.
Walmart Grocery was one of the easiest-to-use options, but as of 2018 they don't actually offer delivery services to many areas. Walmart previously promised that it would reach 40% of American homes by the end of 2018 with its delivery service, but their transportation deals with Lyft and Uber failed to get off the ground.
Instacart was easily the worst of the bunch. You have to select stores near you (the delivery is only available in certain metro areas) and compare and contrast prices yourself. Different stores also trigger different delivery fees. So it makes the most "sense" to deliver from one place, even if other stores may offer cheaper options for the same products. If you're thinking about using Instacart, we strongly recommend you use Prime Pantry or Target Restock instead.
Is Prime Pantry Worth It?
While Pantry was not the most expensive or inconvenient online option we tried (that distinction goes to the Byzantine and wildly overpriced Instacart), the delivery fee really put it over the edge. Along with the potential four-day shipping time, the monthly subscription fee, and a relatively high $40 box minimum for free delivery, Prime Pantry seems like a bad deal unless you're:
A) Already a Prime member and spend a lot more than $300 a year (the point where the "free" delivery starts to even out) on dry, non-perishable goods that you don't want to get at the store, or
B) Already a Prime member and live in an area that's prohibitively far away from a grocery store and doesn't get serviced by Target Restock or Google Express.
And remember, you can't order normal groceries through Prime Pantry. If you're waiting two to four days to get some paper towels, it might be smarter (and more cost effective) to just pick them up at the store the next time you need eggs.
————————-
If you want to try out Prime Pantry before you commit, Prime users can get a 30-day free trial membership to Prime Pantry and $10 off an order of $40 or more by entering promo code "PANTRY" at checkout.
Have you tried Prime Pantry? Do you think it's worth it? Let us know in the comments below!
Our editors strive to ensure that the information in this article is accurate as of the date published, but please keep in mind that offers can change. We encourage you to verify all terms and conditions of any product before you apply.