Jewelry Buying Guide
Fill up your jewelry box without emptying your wallet.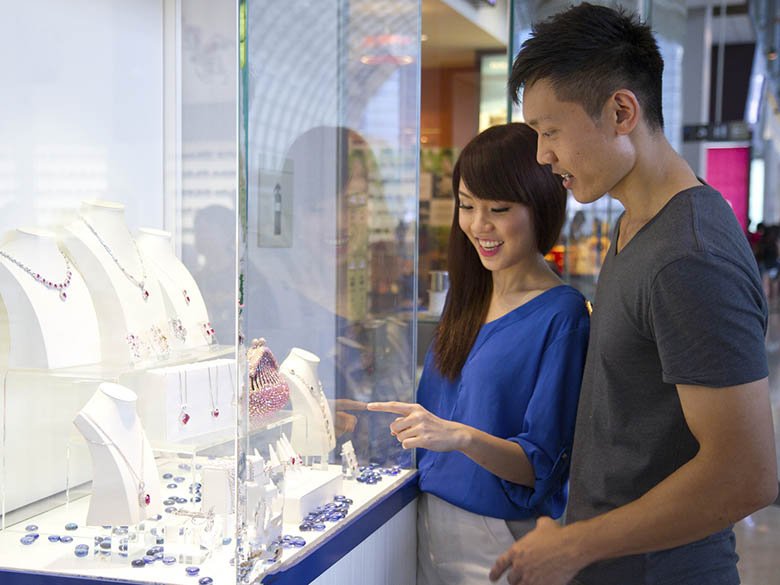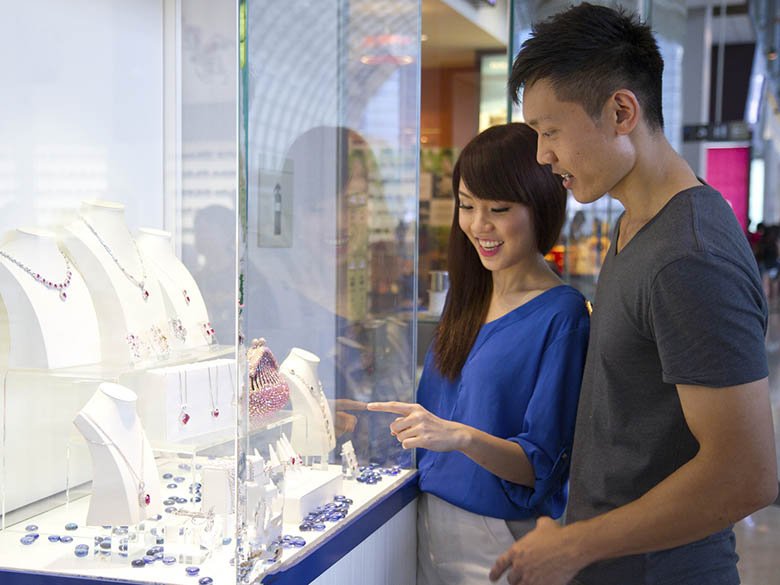 When it comes to jewelry, I have to be honest that while I adore the look of it, I've admittedly never been a jewelry aficionado. Friends of mine would discuss cuts and carats, while I basically just knew that I really liked the Isadora diamond necklace Kate Hudson wore in "How to Lose a Guy in 10 Days," and the Heart of the Ocean from "Titanic." I know, neither of these is affordable, and you're probably asking yourself why you should take advice from a jewelry novice on how to buy jewelry. But please, stay with me. I love saving money and doing my homework just as much you do, which is why I've delved into the mysteries of jewelry shopping to learn the ins and outs of this dazzling, but often confusing, retail hub. Plus, I have great taste in jewelry, right? I mean, just look at my film favorites.
Consider Your Options
Choose a Metal
Most people immediately think of only silver and gold when it comes to metal options, but platinum, which is considered the most resilient of the precious metals, is actually stronger and more durable than its gold and silver counterparts. It doesn't fade, although it does scratch more easily than gold. Many people love the look of scratches, or patina, on platinum though, so this is actually a selling point for those who prefer a vintage-y finish.
Silver and white gold are beautiful alternatives to platinum, and cost considerably less. However, silver can tarnish and white gold can begin to yellow with time, while platinum retains its white finish. Rose gold has a pink tint (think of the new iPhone 6s options for reference) and is a modern favorite. Yellow is the traditional hue for gold, although some people feel that its sunny color can enhance the unwanted yellow tint found in many diamond stones.
If you plan on purchasing a gold piece of jewelry, here's a tip worth its weight in gold: Don't be fooled into buying anything 18k; 14k gold is actually stronger than 18k gold — but it remarkably costs less!
Choose a Stone
Diamonds may be a girl's best friend, but why limit yourself? I was surprised to learn that certain gemstones, like sapphires and moissanite, are found in clear hues that perfectly mimic diamonds, and the price point is way less.
Other alternatives, like freshwater pearls, morganite and lemon quartz, can add character or a hint of color that may suit someone's preferences better than the standard cushion cut diamond. In Asia, for instance, green jadeite is often favored above diamonds, because it's more rare and more affordable.
If you're interested in the look of a real diamond but don't want to contribute to the bloody diamond industry, man-made diamonds are another great alternative. Diamond Foundry, a start-up backed by Leonardo DiCaprio, is an eco-friendly place to look for one-of-a-kind options with no carbon footprints. The prices aren't bad, either.
Choose a Cut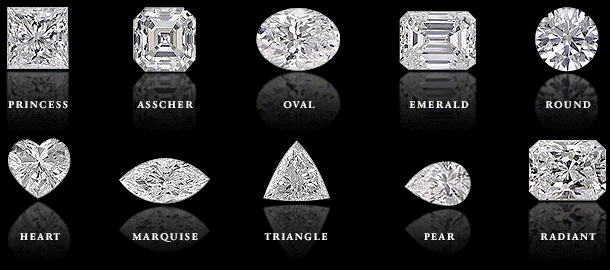 You have plenty of choices when it comes to the cut of the gemstone you're choosing. From ring settings and earring studs to necklace pendants, the main gemstone shapes you'll see are princess, asscher, oval, emerald, round, heart, marquise, triangle, pear and radiant. Round is the most popular choice, but it requires the use of a larger rough diamond. Because of this, it's often the most expensive. On the other hand, the princess cut requires less wasted material, and is typically less expensive as a result.
The Four Cs of Diamonds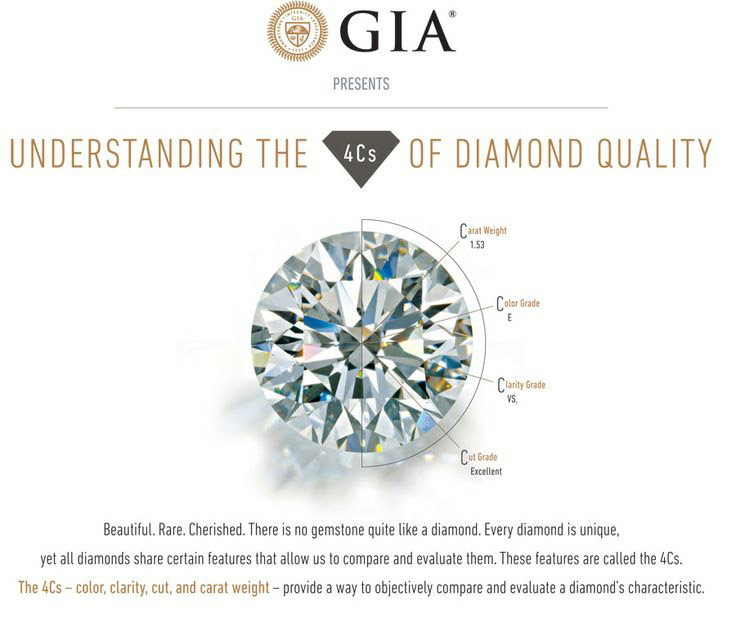 Since diamonds are the most common gemstone used in fine jewelry, you should know the basics before you start shopping. Your purchase will center on four alliterative considerations: cut, color, clarity and carat weight. Click image for full visual of the 4 C's.
Cut
Cut is the single most important criteria when it comes to diamonds, as a great cut can enhance the diamond's overall sparkle. Choosing a better cut usually adds 10 to 20 percent onto the purchase, but the stone's appearance will be dramatically improved. The key to the best light reflection is ensuring the stone is not cut too shallow or too deep.
Color
Diamonds are also categorized by the amount of yellow pigmentation in their coloring. The ideal diamond is purely colorless with no traces of yellow; these diamonds are classes D and E, though the colorless classes F and G are visually almost the same to the untrained eye. Heavier traces of yellow are found in classes H though L.
Clarity
The clarity of a diamond refers to how many exterior imperfections and interior inclusions are found within it under 10x magnification. The grading runs from the rarity of a flawless diamond to a stone filled with inclusions and blemishes.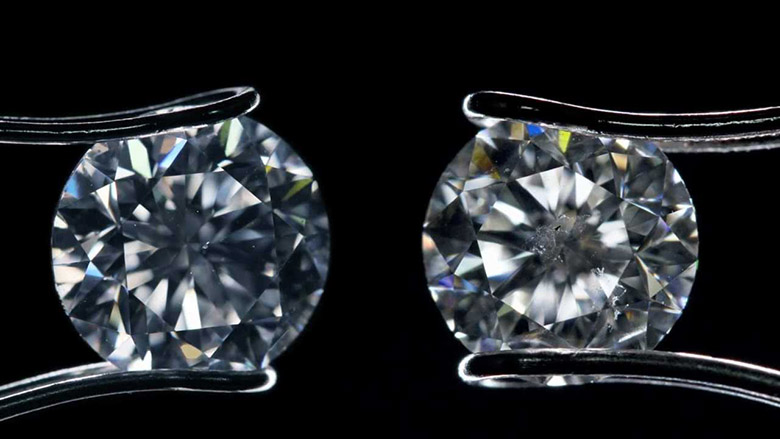 Carat Weight
Another interesting tidbit I learned throughout my research is the importance of diamond sizing. The magic number is apparently one carat, which typically costs around $2000 minimum. But consider this: A .96 carat stone can cost you 20 percent less, and the difference is not even noticeable. Plus, in order to meet the one carat standard, many stones are cut inadequately just to allow for a heavier weight. A poor cut reflects light less efficiently, making the piece look less appealing and valuable. Choosing a smaller weight can actually give you a cleaner, shinier and more affordable piece overall.
Shopping for Engagement Rings
Choosing a Style
"I think men who have a pierced ear are better prepared for marriage. They've experienced pain and bought jewelry." — Rita Rudner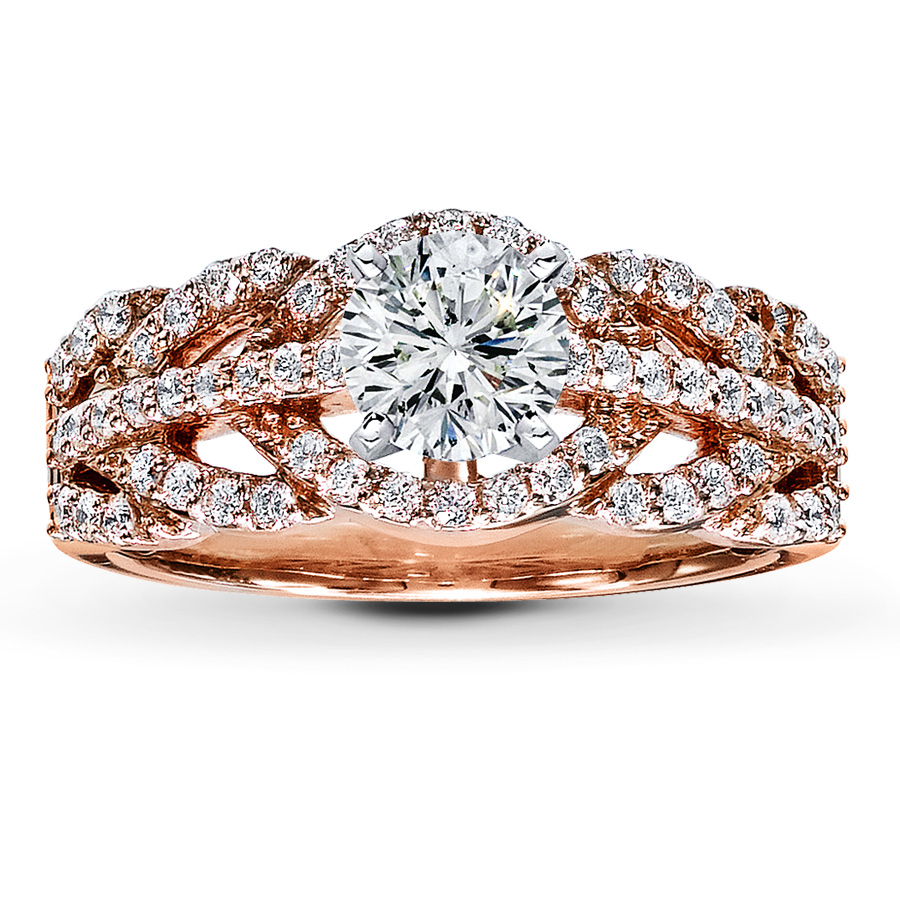 I'm just teasing with the quote, but to avoid some post-retail suffering, it does help to pay attention to what your lady likes. Does she wear gold, silver or maybe rose gold? Does she love the look of vintage, or is she into modern luxuries? Does she have a favorite gemstone or even a color that she prefers to wear? Would a simple knot ring match her minimalist daily style, or does she regularly wear a lot of bling?
The truth is that a woman in love is going to love any ring you give her, but going the extra mile is definitely a sweet gesture. Study what she likes, whether that means paying extra close attention to her jewelry each day or browsing her Pinterest boards. (This is one occasion where cyberstalking is not frowned upon.)
If you see yourself upgrading a wedding ring on milestone anniversaries, be sure to ask the jeweler if you can use the one you're buying as a credit toward a future purchase. Tiffany & Co. is one company that will credit you the full retail price of your older ring toward the purchase of a new one that's at least double the cost of the original.
How Much to Spend
The traditional rule on engagement rings suggests that you spend one to three months' salary on the ring. I say that's ridiculous. If you have the money and just want to, that's great, but let's look at the stats: 66 percent of men actually spend below a single month's salary on a ring, which is a lot more reasonable and realistic.
When to Shop for Jewelry
If you want the best deal – and of course you do, because you're a Slickdealer – you'll want to time your purchase accordingly. July and August are both great months to score savings, because there are no major gift-giving holidays in either one. Jewelry stores are more willing to negotiate and slash prices considering that their sales are likely slow. April and May are also months to consider, as retailers want to entice people to spend their tax returns on a little sparkle. Ultimately, shopping during these months, and avoiding holidays, can save you anywhere from 15 to 40 percent right off the bat.
Creative Ways to Save
Buy Used
"Let us not be too particular. It is better to have old second-hand diamonds than none at all." — Mark Twain
It makes sense that there are plenty of options for buying jewelry second-hand. I Do Now I Don't is one retailer that specializes in selling other people's unwanted jewelry, particularly engagement rings from proposals that didn't quite work out. Zales Outlet, Helzberg Diamonds and Tradesy all sell used jewelry with substantial savings.
Shop Small
Personally, I like the idea of buying from an individual jeweler who can make you a one-of-a-kind piece. You may not be able to get a deep discount on the item because of that jeweler's overhead, but you can get a piece that's really tailored to what you're looking for, which is essentially getting you more bang for your buck. Also, many big retailers mark up their prices exponentially (sometimes even 700 to 800 percent!), so shopping small can help you avoid getting tricked into thinking you're getting a good deal when you're not.
Shop Around
Like they say, it pays to shop around. Don't shop exclusively at jewelry stores — department stores, online merchants and small businesses are all worth checking out to compare deals. In fact, a Credit Donkey study found that Costco (of all places) gives you the best overall deals on engagement rings, so you can shop discreetly at a store known for buying everyday items in bulk.
Also, if you're spending a decent amount of money on a piece of jewelry, you'll probably want to have it appraised to ensure you're getting what you pay for. Have the seller provide you with a detailed invoice, and then have the piece examined by a certified appraiser. Pay attention to return policies, and never buy from a store that won't accept a return after an appraisal. If it's not up to par, you want to know you can return the item with no problem. Furthermore, you'll want to make sure you find an independent and licensed appraiser on your own — not someone the store itself recommends.
Shop Online
Online retailers are often the best places to purchase jewelry, as they don't have the overhead of their brick and mortar competitors. Shopping online also helps you compare prices from multiple retailers to ensure that you're getting the best value for your money. Even better, some jewelry sites offer their merchandise tax-free, which can save you roughly 8 percent in sales tax.
Shop Clearance Sections.
Sites like Kay Jewelers, Jared and Zales all offer clearance sections that are worth browsing for savings of up to 70 percent. Department stores are also good places to look for price reductions on fine jewelry styles.
Shop With Coupon Codes.
Many jewelry stores offer promotional codes to help you save even more off their current deals, and most will give new email subscribers special savings on their first purchases. Slickdealer AllyFrizzle recently used an Amazon coupon code to score an extra 50 percent off already reduced jewelry, reporting that she "got 10 rings for $40." Kohl's allows you to stack up to four coupons at once, which can lead to major savings in its jewelry department. A recent Kohl's deal allowed buyers to stack two coupon codes to get a $99.99 Seiko men's chronograph watch for just $59.99, plus free shipping.
Whew! So there you have it — the basics of buying jewelry. All of this research has given me plenty of sparkle to lust after, but sadly, I made my Christmas list months ago. (Disclaimer to my boyfriend: This article is not a hint. Although, if you take it as one, that's perfectly fine by me.)
Alright, Slickdealers… what are YOUR best jewelry-buying tricks and tips? Let us in on your secrets in the comments below!
Shop all jewelry Slickdeals here!
Images courtesy of Thinkstock/JimmyFam, Merritt Jewelers, GIA , Samara James and Amazon.
---
Any product or service prices/offers that appear in this article are accurate at time of publish, and are subject to change without notice. Please verify the actual selling price and offer details on the merchant's site before making a purchase.