The Lenovo Explorer Makes Virtual Reality Easily Accessible
While it might lack some of the fidelity of higher-priced rivals, headsets like the Lenovo Explorer are making VR more affordable than ever.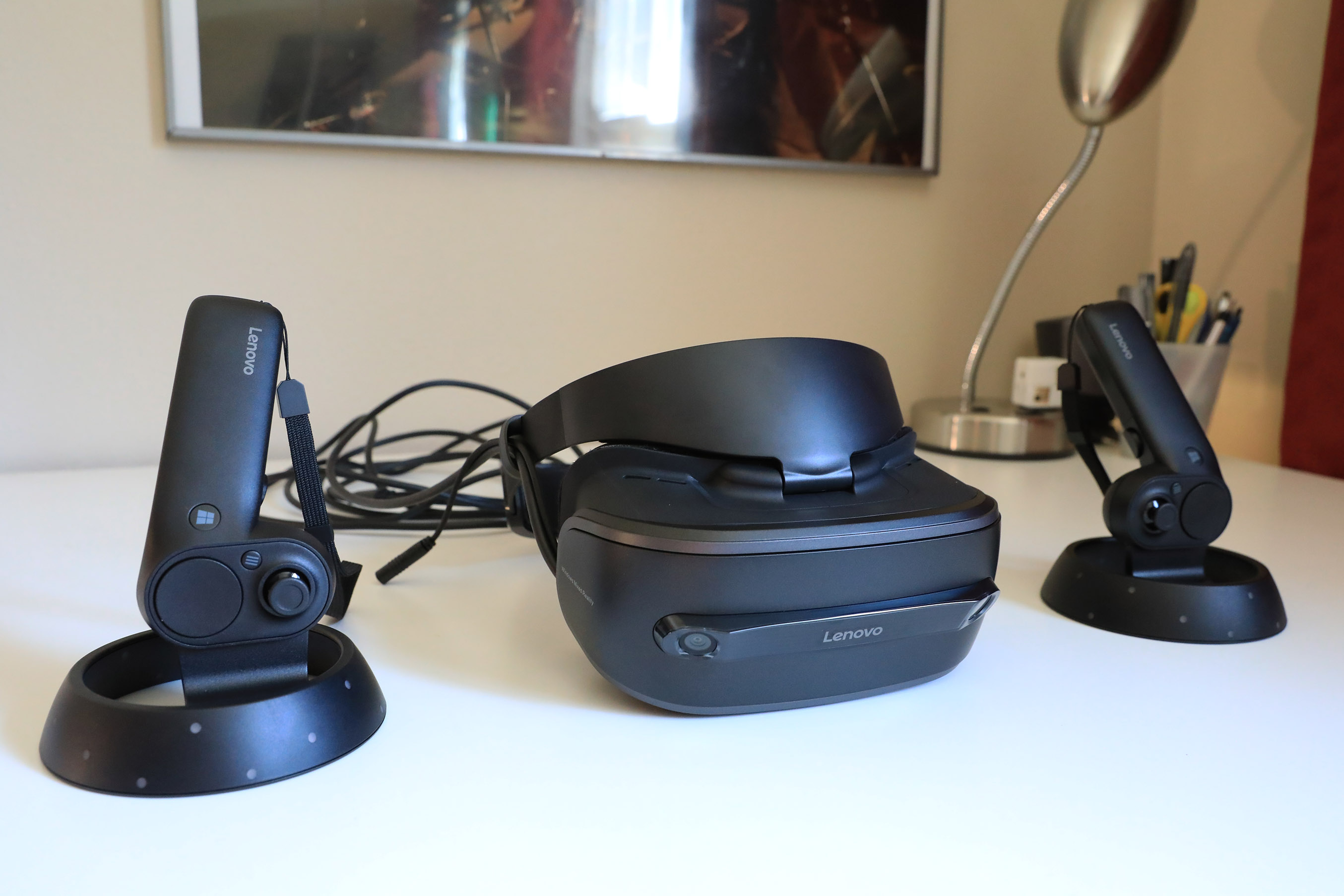 Over the past few years, virtual reality technology has gotten quite a bit of attention. While many consider VR to be the next frontier in personal computing, two significant barriers have hampered mass adoption: price and a lack of standardization. After all, who wants to spend a ton of money on a headset only to discover a few years down the road that you've bet on the wrong horse?
But those circumstances are starting to change since Microsoft's introduction of their Windows Mixed Reality (MR) platform last year. This technology integrates MR-specific software into Windows 10 and establishes a general hardware spec for headset manufacturers. It also takes a lot of the guesswork out of the equation for consumers looking to take the plunge. Since then, a number of companies have introduced new hardware designed for the platform at much lower price points. This, in turn, puts virtual reality experiences within reach of a significantly larger audience.
Boasting solid specs at a low cost, Lenovo's Explorer mixed reality headset is one of the most promising entries in this segment to date. Does it offer consumers an experience that's compelling enough to make the leap into VR? Let's find out.
Product Review 28744
Lenovo Explorer Mixed Reality Headset Specifications
Resolution: 1440 x 1440 (per eye)
Refresh rate: 90Hz
Field of view: 110 degrees
Connectivity: HDMI, USB 3.0, 3.5mm jack, Bluetooth 4.0
Sensors: 6DoF motion tracking, inside-out sensor (B+W VGAx2)
Weight: 13.4oz
Thoughtful Design
The Explorer's look is fairly handsome as far as VR headsets go — minimalist without appearing overtly cheap. A hinge is integrated into the head strap, allowing you to swing the headset upward to see things in the real world without taking it off completely.
The Explorer hooks up to a PC via a four meter-long Y-cable that connects to HDMI and USB 3.0. Although it does not have integrated audio hardware, a 3.5mm jack allows for user-supplied headphones to be plugged in. And an adjustment knob on the back of the head strap provides quick sizing adjustments.
Visuals are provided by a pair of 2.89-inch LCD displays with a combined resolution of 2880 x 1440, a 110-degree field of view, and a refresh rate of 90Hz.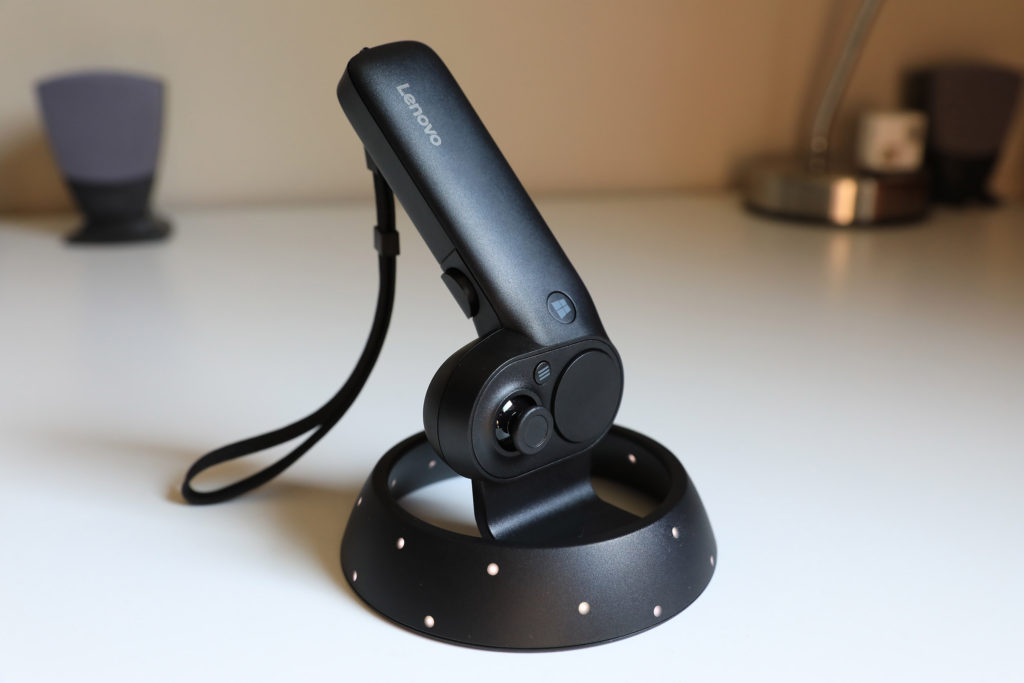 While the Explorer can be purchased as a stand alone headset, ours came with a pair of wireless controllers. These connect via Bluetooth 4.0, and sport five buttons, as well as a thumbstick. Xbox controllers, as well as a traditional keyboard and mouse setup, can also be used.
See More Mixed Reality Products from Microsoft
Easy Setup
Before jumping head-long into mixed reality, it's important to make sure your PC is up to the task. After running Microsoft's Windows Mixed Reality PC Check, we discovered that while our desktop machine had more than enough horsepower when it came to CPU speed, RAM, required connectivity and other criteria, our aging Nvidia Geforce GTX 750 Ti video card wasn't going to cut it.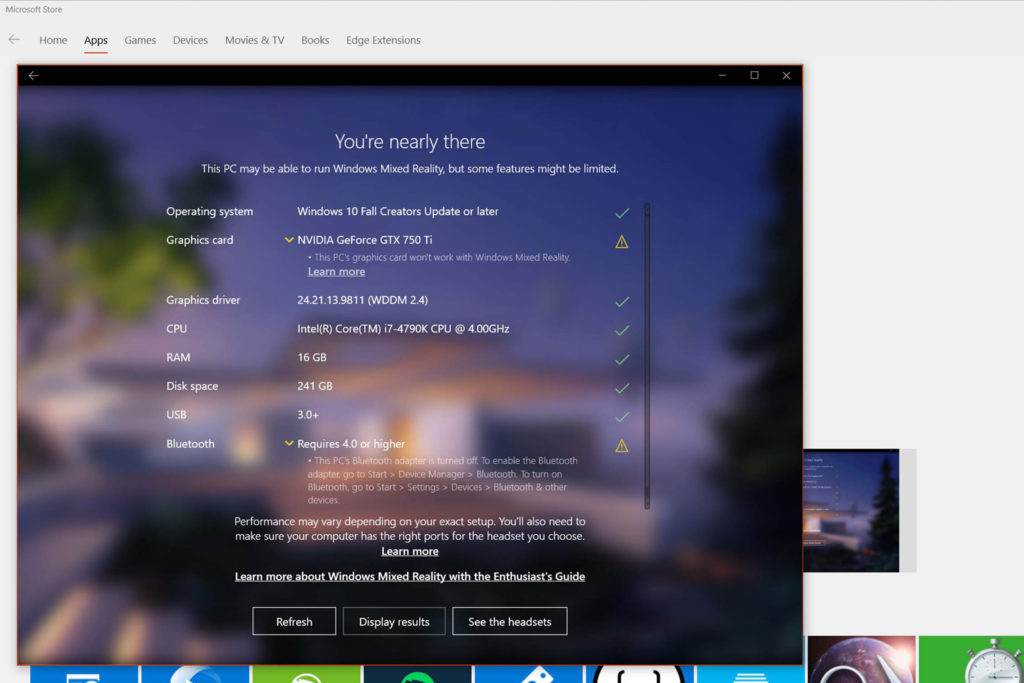 Fortunately, our friends at B&H Photo were nice enough to loan us an EVGA Geforce GTX 1070 for this review. If you're in the market for an upgrade, they're a great option because B&H doesn't collect sales tax from residents who live outside of New York or New Jersey.
Shop Gaming Products at B&H Photo
With the video card swap complete, our PC was ready for action. The software installation couldn't have been simpler. Just hooking up the headset to the computer automatically kicked Windows Mixed Reality into gear. From there, the program guided us through the rest of the setup process. After calibrating the headset, establishing the perimeters of the area in which it would be used, and syncing up the Bluetooth controllers, the Explorer was up and running.
Transport Yourself to Another World
Windows' Mixed Reality Portal starts the user off in a beach house-style environment. From here, you can get better acclimated with the control scheme before firing up an app or browsing the Microsoft Store for VR-related software.
You move around to various rooms of the house by teleporting with the thumbsticks. Push the stick forward and a reticle appears in front of you. The "landing zone" can be adjusted by moving the motion controller to the desired area. After you release the thumbstick, you're warped to that area. There's a bit of a learning curve involved, but after a little practice, it becomes pretty intuitive.
Our testing concentrated mainly on two free-to-play MR games: the oddly addictive Burger Flip and Microsoft's own Halo Recruit. Though the two are worlds apart in terms of visual sophistication, the takeaway from both games was surprisingly similar.
The main snag we hit, literally and figuratively, involved the headset cable. Without an elegant way to tuck it aside there's simply no way to ignore its presence, which distracts from the immersive experience. Also, at more than 13 feet long, you'd expect to have more than enough cable length to work with. While that might be true for, say, a laptop set up in a living room, we were using a desktop PC. Given the required connections on the back of the tower, we regularly longed for additional cable length. We'd recommend HDMI and USB 3.0 cable extensions if you have a similar desktop setup.
Like most VR headsets, the Lenovo Explorer's visuals are sharpest on-center. If you try to focus on something outside of that, the image blurs the further your line of vision moves from center. You'll quickly get in the habit of moving your head, rather than your eyes, when transitioning to different points of interest.
But once you get used to the rules of engagement, the Explorer delivers on its promises with seemingly lag-free movement, a legitimate sense of physical depth, and usable motion controls.
Should You Buy The Lenovo Explorer Windows Mixed Reality Headset?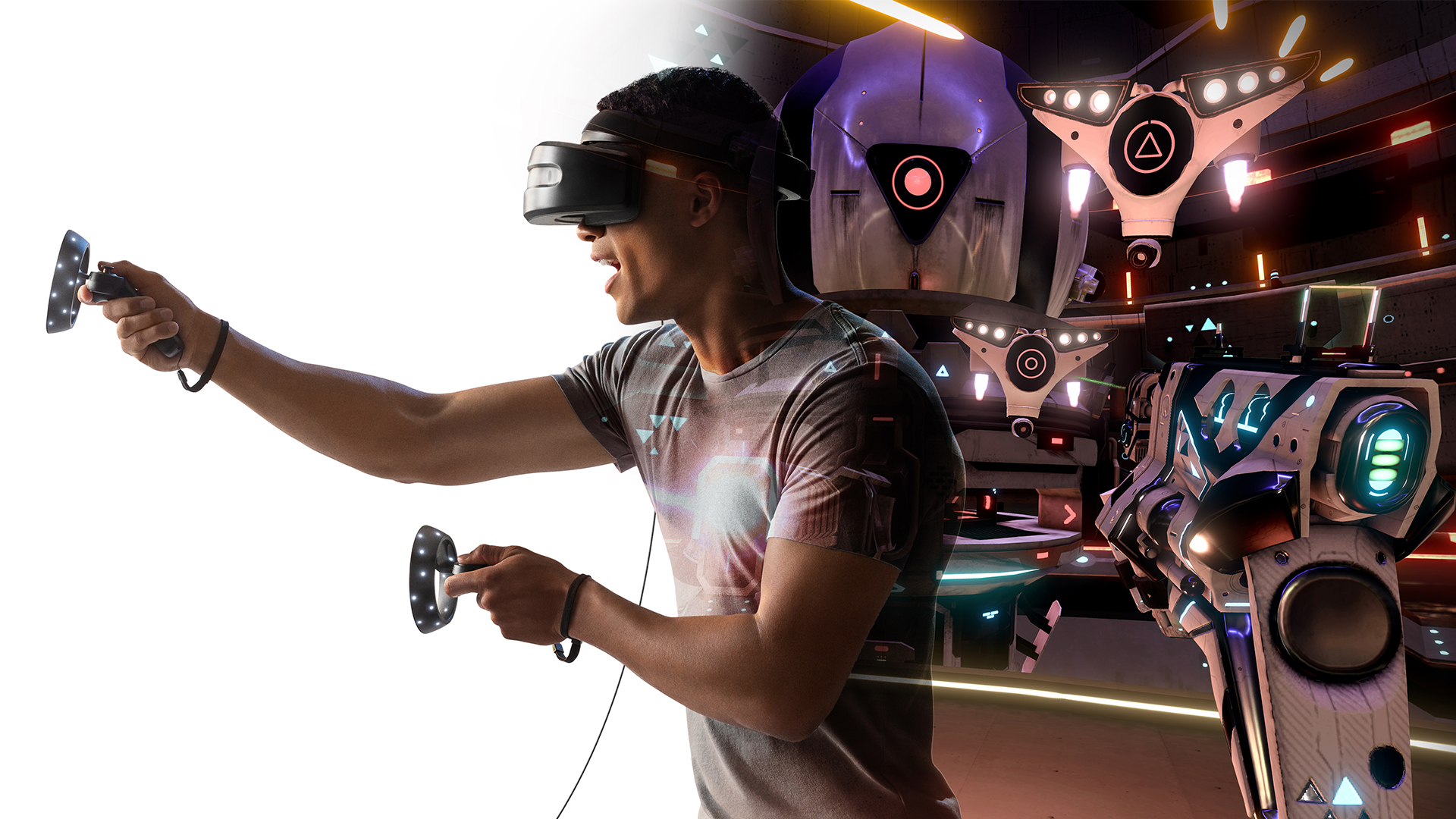 While Windows Mixed Reality is helping pave the way for mainstream VR, it's currently something of a double-edged sword for hardware like the Lenovo Explorer. The headset and controllers perform as advertised, but are ultimately limited by the available software on Microsoft's fledgling platform, which still lacks any true killer apps.
Still, if you're chomping at the bit to bring VR into your home, it's hard to ignore the value proposition currently offered by the Lenovo Explorer. At the time of this writing, the headset and controllers can regularly be found for $179.99, but we've seen deals for as little as $160. Additionally, the standalone headset is selling for less than a hundred bucks at B&H Photo right now.
That's a fraction of what a headset like the HTC Vive will set you back. And although the Explorer's hardware might lose a step or two to the Vive, the cost more than makes up for any shortcomings. For those who have a mixed reality-ready machine and an interest in seeing what all the VR fuss is about, the Lenovo Explorer is definitely a solid option for the price.
See all VR Headset, Game and Accessory deals here!
Our editors strive to ensure that the information in this article is accurate as of the date published, but please keep in mind that offers can change. We encourage you to verify all terms and conditions of any product before you apply.