Nest Cam IQ Indoor is the Smartest Home Surveillance Around
Meet the camera that actually gets to know you and your family.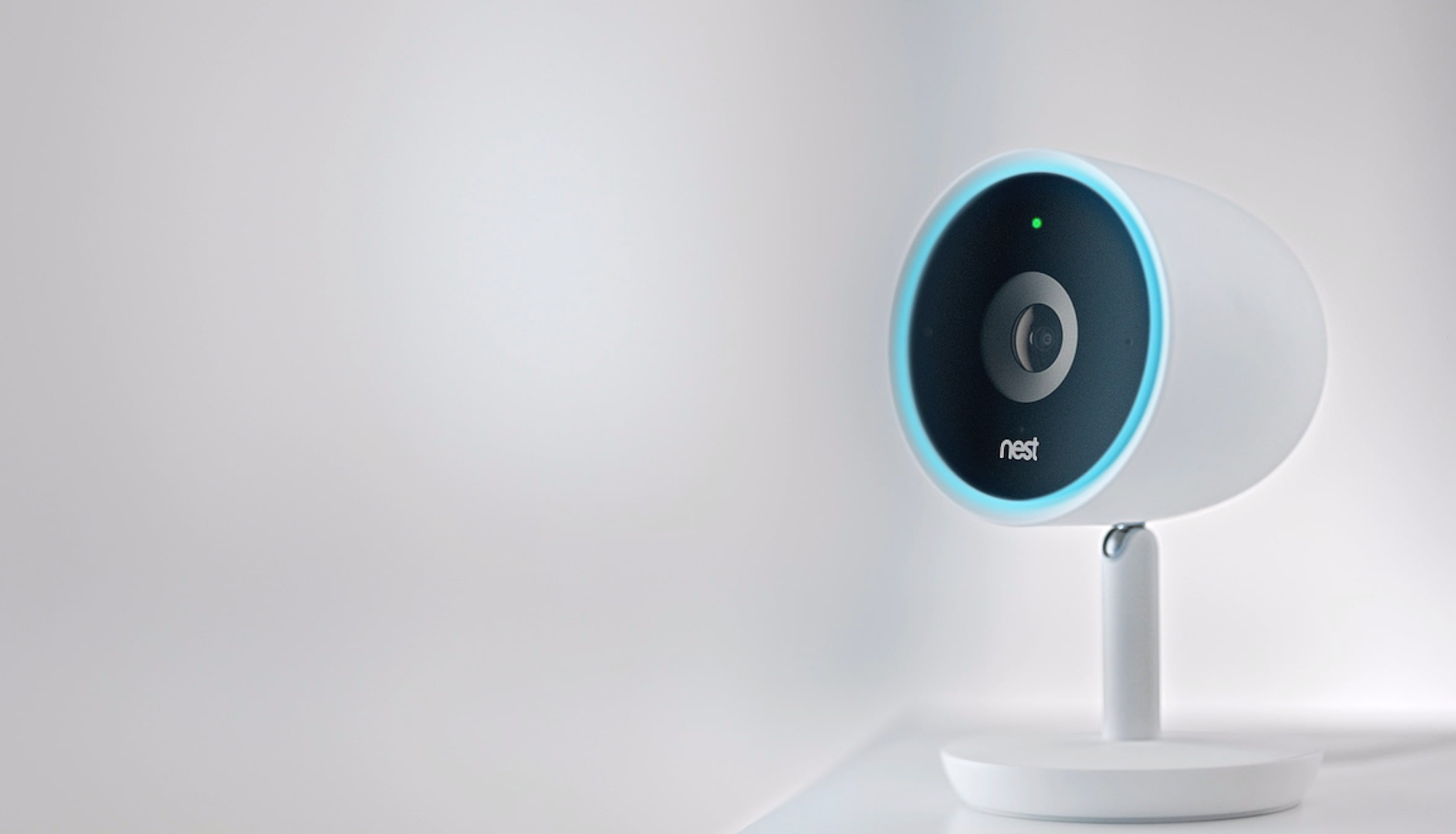 At this point, it's easy to imagine owning a home security camera that streams live video to your phone. But as the name suggests, the Nest Cam IQ Indoor does things a little bit smarter than your average surveillance camera.
The Nest Cam IQ packs a powerful processor and high-quality optics that let it learn and recognize you and your family's faces. This — along with a host of other smart features — makes the Nest Cam IQ so much more than a way to check on your dog while you're at work.
But those snazzy features come at a price; $299, to be exact. So, is the Nest Cam IQ worth the cost? And should you upgrade if you already have one of Nest's older cameras?
Product Review 46395
Nest Cam IQ Indoor Technical Specifications
Video Specs:
Up to 1080p (1920 x 1080) at 30 frames/sec
1/2.5-inch, 8-megapixel (4K) color sensor
12x digital zoom
Enhanced close-up tracking
130° diagonal FOV
Hardware Specs:
Power cable length: 10 ft (3 m)
Mass 12.6 oz (357 g)
Requires Wifi with 800 to 2000 Kbps of upload bandwidth

First Impressions
From the moment you pull this rather heavy camera out of the box, it's clear you have a quality product. And luckily, the premium finish is consistent with the overall user experience.
Setup couldn't be easier. There's no manual in the box because you won't need one. The well-designed Nest app walks you through a straightforward, two-stage setup process that has your camera streaming video within a minute or two.
The app connects to the Nest Cam by using your smartphone camera to scan a QR code on the base of the unit. It then asks for your Wifi name and password, and you're done.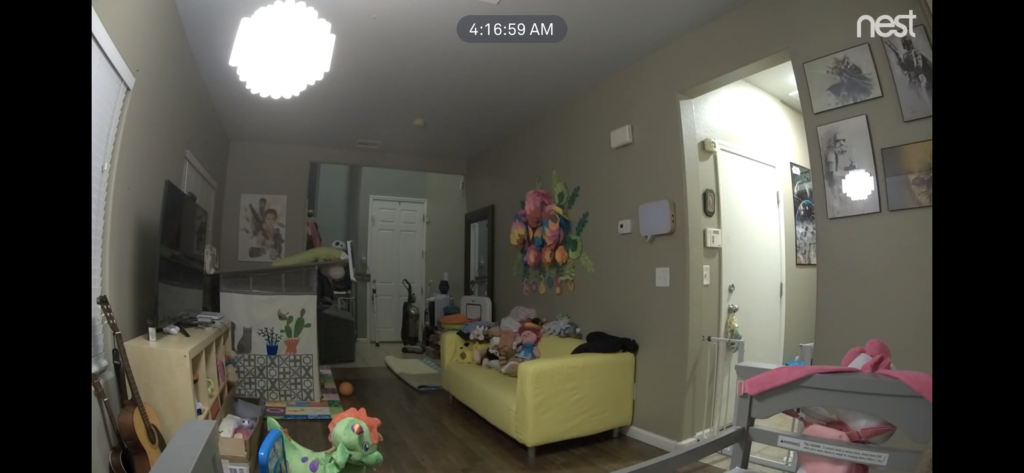 The video clarity is great, with vibrant colors and impressive dynamic range that allow for highlights and areas of darkness to appear simultaneously crisp. This is made possible by a 4k camera sensor, which means the Nest Cam can zoom up to four times magnification with almost no appreciable drop in detail. With all this power, it's frankly a little odd the camera only streams video at 1080p (likely to save on bandwidth).
Two high-powered infrared LEDs ensure surprisingly bright night vision. The sound is also crystal clear due to an excellent microphone and speaker on the back of the unit. And thanks to clever noise and echo filters it's easy to converse with someone over the camera feed.
The unit's speaker even acts as the voicebox for the built-in Google Assistant, which offers features like weather forecasts, sports updates and the ability to control other Google and Nest-compatible smart devices via voice commands.

Facial Recognition Features
The Nest Cam IQ's coolest features is its ability to learn and remember the faces in your household. It quickly builds a library of familiar people and can keep an eye out for any strangers who wander into view.
You can set up "Familiar Face" notifications that let you know when the camera sees someone and who it saw. The Nest Cam IQ will automatically zoom in on faces and keep a high-resolution mugshot every time it detects someone, just in case you should need it later.
Even if you're never the victim of a break-in, this feature is great for letting you know when the kids get home. However, it's important to note these features don't work out of the box — you'll need a monthly subscription to Nest Aware if you want to enjoy them. If you choose not to subscribe, Nest will still alert you when someone walks by, but it won't be able to recognize faces or perform other advanced detection services.
While the facial recognition is undoubtedly cool, it isn't flawless; Nest will occasionally send you a stranger notification for someone it should know. Also, you can't request exclusively stranger alerts and silence familiar people notifications, which is a little disappointing. This option may be added via an app update, but as it stands facial notifications are an all-or-nothing deal.
On the plus side, you can set the Nest Cam to detect when you're home — via geolocation on your smartphone — and deactivate stranger notifications accordingly. You can also tie multiple phones to the same account and have the camera only send notifications when the house is empty, or enable Activity Zones and specify what type of notifications you'd like to receive while in each area.
Go Further with Nest Aware (For a Price)
The Nest Cam IQ features a slew of innovative features that help set it apart from your traditional surveillance camera, but most of them require a paid subscription to the Nest Aware service.
Nest Aware grants you access to continuous video recording for up to 30 days, but it also acts as a paywall for the aforementioned Familiar Face alerts, closeup snapshots and Activity Zones. The ability to create clips from your recordings is also reliant on the paid service. Without the subscription, you'll miss out on all the main reasons to shell out $300 for this premium camera.
Nest Aware subscription fees start at $5 a month (or a discounted $50 per year) for the most basic package, which activates all these features along with five days of continuous video recording history. A 10-day video history costs $10 a month (or $100 per year) while the top tier of $30 per month (or $300 per year) gets you 30 days of recordings. This is also per camera — you'll incur additional fees if you have more than one Nest Cam.
It's also worth noting the video stream requires 800 to 2000 Kbps of upload bandwidth to work smoothly and can chew up 150GB to 300GB of data per month depending on your quality setting. Make sure your internet connection can support this before you buy a Nest Cam IQ.

Is the Nest Cam IQ Worth it?
There's no doubt the Nest Cam IQ is one of the best indoor surveillance cameras on the market, despite the small quirks with its facial recognition software. It's a premium device with premium features, but that also means it's priced like a high-end gadget.
For the peace of mind Nest Cam IQ can deliver, it's absolutely worth the price (assuming you can find it in your budget). But if you already have the previous-generation Nest Cam, you may have a harder time justifying a $300 upgrade.
In the end, the Nest Cam IQ's value hinges on how much you want access to the new facial recognition tech. If you already have a solid home security setup or if your house doesn't see a lot of daily foot traffic, you'll probably want to wait until the price drops a little or an even newer model comes out.
However, if you're running an old-fashioned camera with grainy, low-resolution footage, this is a nice opportunity to upgrade to something that will actually keep a (high-definition) eye on your home.
Check Nest Cam Prices at Google
If you're waiting for the best price on a Nest Cam IQ Indoor, set a Deal Alert to be notified as soon as a sale is posted. Additionally, check out our Security Camera Deals page for the latest discounts.
You should also check out the top Home Automation deal from our Frontpage for more ways to take your house to the next level:
Search URL: https://slickdeals.net/newsearch.php?firstonly=1&pp=20&sort=newest&rating=frontpage&filter%5B%5D=13522&filter%5B%5D=32025&forumid%5B%5D=9&hideexpired=1&r=1
Nest Cam IQ Indoor
299
Good Fit For:
Excellent video quality
Smart facial recognition
Crisp night vision
Continuous recording
Intuitive app
Not a Good Fit For:
Expensive unit price
Pricey subscription
Occasional Familiar Face mistakes
Our editors strive to ensure that the information in this article is accurate as of the date published, but please keep in mind that offers can change. We encourage you to verify all terms and conditions of any product before you apply.