Dell Kicks Off October by Unveiling Some Scary Good Monitors
Regardless of your budget, there's something here for everyone looking to improve their screen.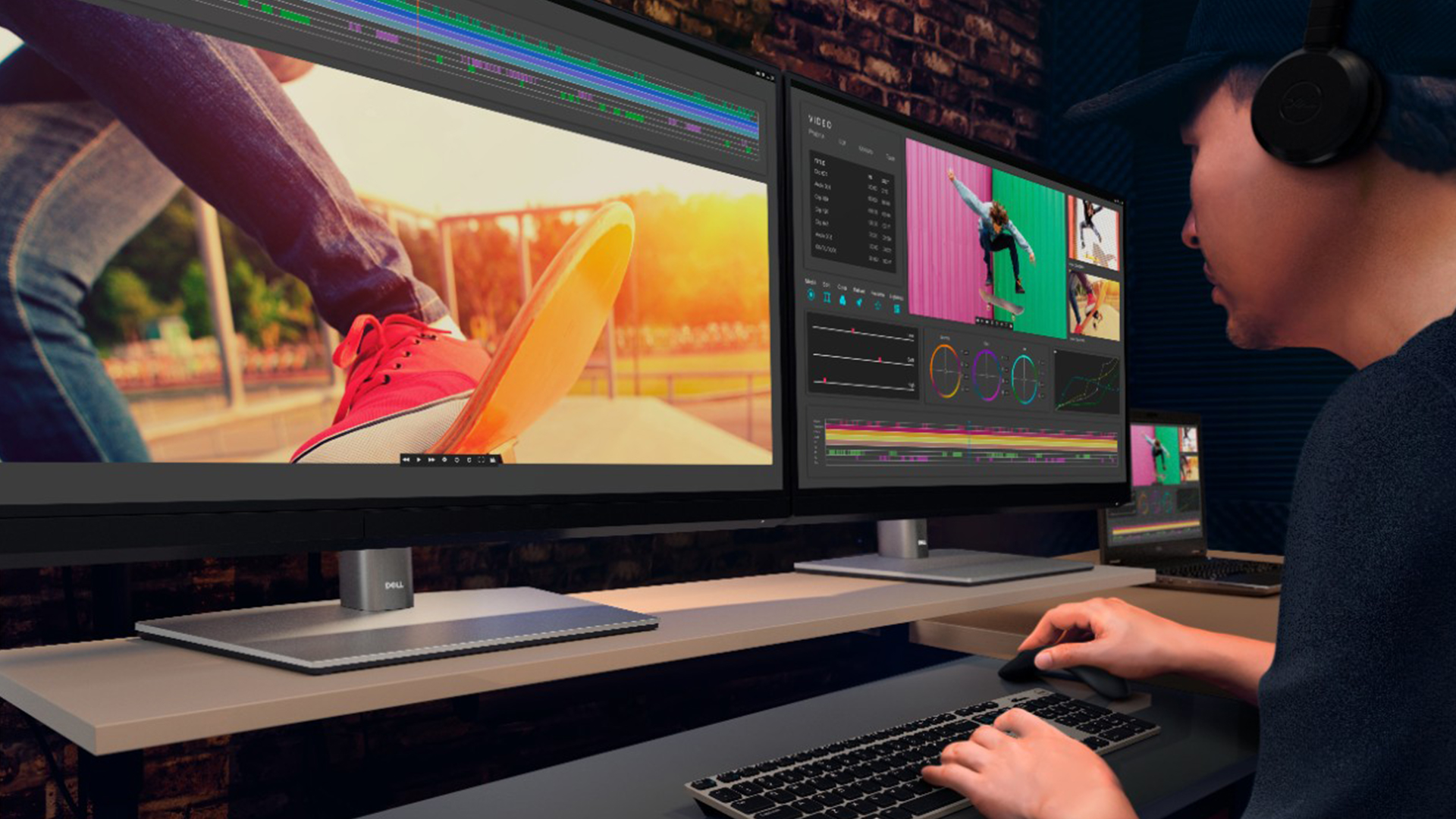 Dell is kicking off October with a bang, as the company has announced a brand-new lineup of premium monitors. All the following electronics — from creator-friendly HDR monitors to curved hub monitors — are slated to release by the end of 2020, and some are even available today. In typical Dell fashion, each comes with a lengthy warranty and continues the design philosophy of crafting stylish, professional devices.
While there aren't any promotions or discounts are currently available for the hot new products, you can always set up a Deal Alert and we'll let you know when they first see discounts. Alternatively, Dell products are known for providing years of faithful service, so if you're too excited to wait you'll likely still get your money's worth.
Dell UltraSharp 32 HDR PremierColor Monitor (UP3221Q)

Retail Price: $4,999.99
Release Date: November 5th
Few 32-inch monitors on the market can command a $5000 price tag, but any content creator that has money to spare will find no better monitor better than this.
Dell's new PremierColor monitor is the world's first-ever professional monitor with 2K mini-LED direct backlit dimming zones. It boasts a 4K HDR screen that is certified by the Video Electronics Standards Association — meaning you're getting a true HDR experience — and even includes a built-in Calman Powered colorimeter. While it's definitely not for everyone, those who care about top-quality visuals will love what Dell's latest product has to offer.
Dell UltraSharp 34 Curved USB-C Hub Monitor (U3421WE)

Retail Price: $1,199.99
Release Date: December 1st
If you're looking for a professional-grade monitor but the PremierColor is a bit out of the price range, the UltraSharp 34 Curved Hub Monitor might be a great choice. You'll still be getting an incredibly vivid picture with the 34-inch, ultra-wide WQHD curved screen and a color depth of 1.07 billion colors. You can also tilt, swivel, or adjust the height up to 150mm to get the perfect ergonomic fit.
The monitor also comes with a slew of connectivity options — including RJ45, USB-C, HDMI and DP14 — and can deliver stable ethernet connections and up to 90W of power to your laptop. You can even connect two PCs to the monitor and quickly change between them without the need for a second keyboard. It's a great fit for professionals who work from home and want to easily navigate between their home and work laptops without having to fuss with cables or build a second office.
Better yet, using the Picture-by-Picture feature, the monitor allows you to cast displays from two different computers onto the same screen, running them side by side.
Dell UltraSharp 24 USB-C Hub Monitor (U2421E)

One of the most affordable monitors offered by Dell is the UltraSharp 24 USB-C Hub Monitor at $449.99. It includes many of the same features seen on the more expensive 34 Curved Hub Monitor but in a smaller package. You'll get a 24-inch, 1920 x 1200 screen with a 60Hz refresh rate, built-in blue reduction technology, an extended vertical view and similar connectivity options – RJ45, USB-C – to laptops.
Shop Dell UltraSharp 24 USB-C Hub Monitor
For professionals who often work with spreadsheets and rely heavily on data analysis, Dell says that this monitor is made with you in mind.
P-Series Monitors (P2721Q, P3221D, P3421W)

If you don't need the features offered by a Hub Monitor, check out the P-Series family of products. These straightforward, professional monitors are perfect for daily tasks such as creating documents or spreadsheets, but can easily double as a screen for streaming movies or playing games. Some of them even offer impressive 4K resolutions.
The most affordable of the bunch is the Dell 32 USB-C Monitor. It's a no-nonsense product that is reliable, durable, and comes with a three-year warranty.
The Dell 27 is a bit smaller than others in the class, but what it lacks in size it makes up for with its 4K screen.
As far as curved screens go, you'd be hard-pressed to find one that rivals the performance of Dell's 34 Curved USB-C Monitor. Featuring an LED edgelight system and a massive 3440 x 1440 resolution, you're getting a monitor that offers a great viewing angle and brilliant, vivid colors.
The Dell 34 Curved USB-C Monitor will be available on October 21st.
Dell 34 Curved USB-C Monitor (P3421W) – Retail Price: $799.99
Dell Slim Soundbar

To complement many of these monitors, Dell offers the Slim Soundbar. This unique audio solution magnetically attaches to the bottom of your monitor without the need to run wires across your desk. It packs a punch too, with rich audio powered by 3.6W RMS speakers capable of reproducing sounds in the range of 180Hz to 20kHz.
The Slim Soundbar is available now and is compatible with the following models: U2421E, P2721Q, P3221D, P3421W.
Dell Meeting Space Solutions

While it may have been a few months since you last stepped foot in a conference room, there will come a time when we can all gather in the same space to collaborate again. To that end, Dell is introducing Meeting Space Solutions. The goal of the program is to offer products that allow you to create faster, smarter, more efficient meetings. From Dell Large Format Monitors to the tiny OptiPlex Micro desktop, there are solutions for companies – and conference rooms – of all sizes.
The service will be available starting on October 15th, but you'll need to directly contact a sales representative to discuss products and pricing.
Our editors strive to ensure that the information in this article is accurate as of the date published, but please keep in mind that offers can change. We encourage you to verify all terms and conditions of any product before you apply.