Microsoft's Surface Pro 7 and Surface Laptop 3 Get Big Updates for the Holiday Season
Microsoft's Surface lineup is refreshed with new processors and connectivity options.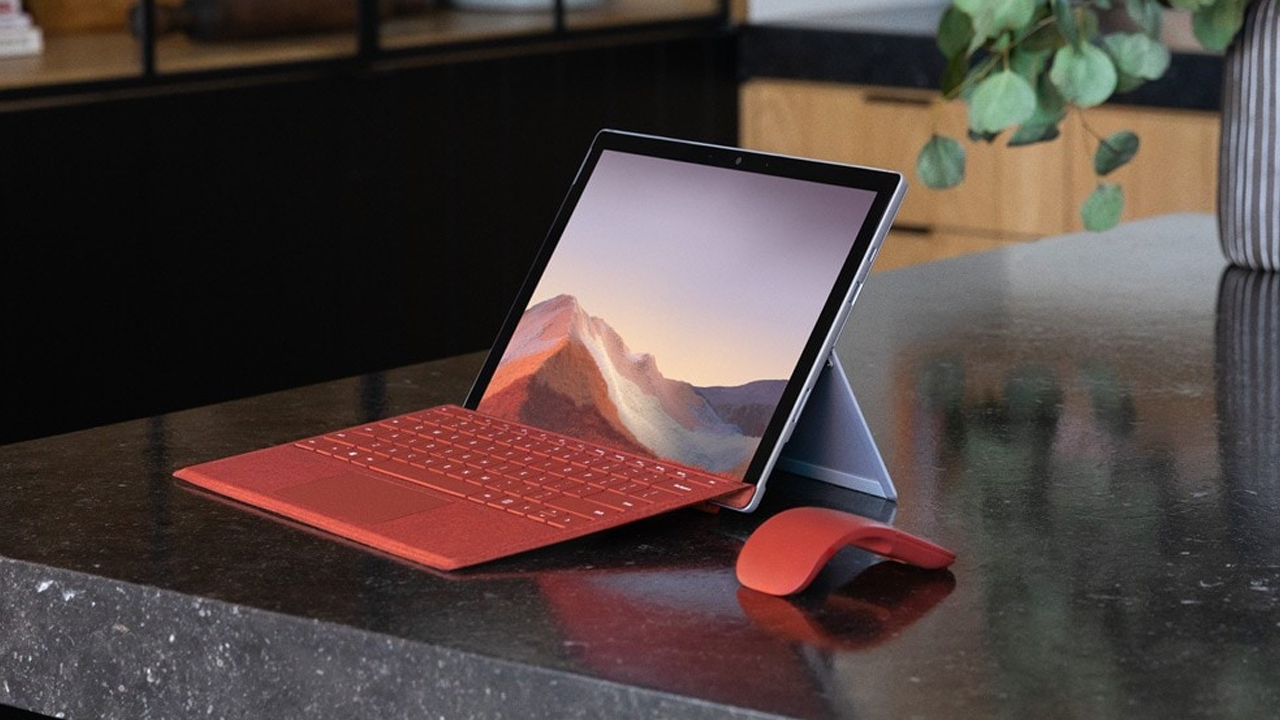 Microsoft has just updated its line of Surface devices with the new Surface Pro 7 and Surface Laptop 3, bringing improvements across the board for those in the market for a Windows-powered thin-and-light.
This year's models retain much of the same clean, minimalist exterior design as last year's Surface Pro 6 and Surface Laptop 2. However, Microsoft has made several hardware improvements this year, including newer processors and better connectivity.
We're taking a look at everything that's new in both of the updated Surface devices to help you decide which one might be best for you.
Microsoft Surface Laptop 3 — Starting at $999

Tech Specs:
13.5-inch or 15-inch touch screen display
2256 x 1504 Resolution (13.5-inch) / 2496 x 1664 Resolution (15-inch)
Surface Pen compatible
10th-Gen Intel Core i5/i7 (13.5-Inch) / AMD Ryzen 5/7 (15-Inch)
8-16GB DDR4 RAM
128GB – 1TB Solid State Drive options
Graphics: Intel Iris Plus (13.5-inch) / AMD Radeon Vega 9, RX Vega 11 (15-Inch)
Up to 11.5 hours battery Life
USB-C, USB Type-A, Surface Connect Port, Headphone jack
720p 5mp front-facing camera
Dual far-field mics
Weight: 2.79 – 2.84 lb (13-Inch) / 3.40 lb (15-Inch)
New 15-inch Screen Option

The most significant change to the Surface Laptop 3 this year is the introduction of a new 15-inch model, in addition to the 13.5-inch chassis that was previously offered. This is an appealing option if you like the look and feel of a full-size laptop, but still want the ultra thin and light profile that the Surface Laptop aims to provide.
The new larger model packs a 2496 x 1664 resolution display with 201 PPI (pixels per inch), which means it delivers sharp visuals ideal for high-resolution image and video viewing. While the 13.5-inch option has a lower resolution of 2256 x 1504, that equates to the same 201 PPI, meaning it's every bit as sharp. Both are touch screen and Surface Pen-enabled, which is convenient for artists, presentations and general media use.
More Ways to Stay Connected

You'll need fast processors to take full advantage of those high-res screens, and this year's Laptop 3 has been updated with new 10th-Generation Intel Core i5 and i7 CPUs in the 13.5 inch model, and AMD Ryzen 5 and Ryzen 7 chips in the 15-inch chassis. These are recent processors from their respective manufacturers, and Microsoft says they'll provide enough performance to support smooth multitasking and Instant-On functionality, while still being efficient enough to maintain up to 11.5 hours of battery life.
Also significant is the introduction of a USB-C port, enhancing compatibility with the newest devices on the market. Plus, it retains a traditional USB Type-A port, which is good news if you still have dozens of old memory sticks or legacy devices kicking about.
Meanwhile, if you spend a lot of time in conference calls or video chatting, enhanced dual far-field microphones will help make sure you're heard loud and clear.
And finally, if you're a stickler for style, new Alcantara material options offer a soft tactile experience that is fairly unique in the laptop market.
Main Takeaway: Thin and light computing in a traditional laptop frame with premium hardware
Shop the Microsoft Surface Laptop 3
Microsoft Surface Pro 7 — Starting at $749

Tech Specs:
12.3-Inch touchscreen display
2736 x 1824 (267 PPI)
4 – 16GB DDR4 RAM
10th-Gen Intel Core i3/i5/i7
128GB – 1TB Solid State drive options
Graphics: Intel UHD (i3) / Intel Iris Plus (i5, i7)
USB-C, USB Type-A, Surface Connect Port, Headphone jack, MicroSDXS Card Reader
5.0mp 1080p front facing camera
8.0mp 1080p rear-facing camera
Up to 10.5 hours battery life
Dual far-field mics
Weight: 1.70 lb (i3, i5) / 1.74 lb (i7)
Upgraded Power and USB-C Support

The Surface Pro 7 looks almost identical to the Surface Pro 6, but the eagle-eyed among you will spot one important addition to this year's model — that new USB-C port. Like the Surface Laptop 3, the USB-C is a welcome addition that replaces the former Mini DisplayPort. This sits alongside a trusty old USB Type-A port.
Meanwhile an improvement that you can't see on the outside is the new 10th-Gen Intel Core CPUs at the heart of the new Surface Pro. While the Core i3 serves as your entry-level option for those on a tighter budget, the Surface Pro 7 can be upgraded with the same Core i7 that's in the 13.5-inch version of the Surface Laptop 3. This upgraded option would be the better choice if you're taking on heavier multitasking workloads and graphics. And a maximum of 16GB of RAM helps to keep things moving along swiftly as you load up multiple applications.
The new chips also promise to deliver a boost to Wi-Fi performance with new Wi-Fi 6 (Gig+) hardware, while offering up to 10.5 hours of battery life.
Built with You in Mind

Microsoft pitches new standby modes and Instant-On functionality that will not only help you get back to work faster, but also apparently save battery life when you're away from your keyboard.
Speaking of which, the Surface Pro 7 uses the same Surface Pro Type Cover clip-on keyboard that previous or existing Surface owners will be familiar with. It's also compatible with the same Surface Pen and other accessories, so you'll find the transition from an older model —should you choose to upgrade — fairly seamless.
Surface Pro users will also be familiar with the diverse capabilities of the built-in kickstand, which can fold out to a wide range of angles. With the Type Cover connected, the stand can deliver a traditional laptop-like experience, or it can fold back far enough to keep the tablet propped up slightly above a flat table for an ideal drawing surface. And when it's not in use, it folds away completely, leaving you with a powerful yet slim and portable tablet device.
Main Takeaway: A premium 2-in-1 tablet/laptop that delivers big performance in super thin form factor
Shop the Microsoft Surface Pro 7
---
Set a Deal Alert to get the best price on a Microsoft Surface Pro or Surface Laptop. And be sure to browse the Microsoft Store page for the latest offers.
Check out today's best deal from Microsoft:
Search URL: https://slickdeals.net/newsearch.php?firstonly=1&pp=20&sort=newest&rating=frontpage&filter%5B%5D=517750&forumid%5B%5D=9&hideexpired=1&r=1
All Images Courtesy of Microsoft.
Our editors strive to ensure that the information in this article is accurate as of the date published, but please keep in mind that offers can change. We encourage you to verify all terms and conditions of any product before you apply.