NordVPN Offers Enhanced Online Privacy in a Streamlined Package
Protect your online data with a robust global VPN network.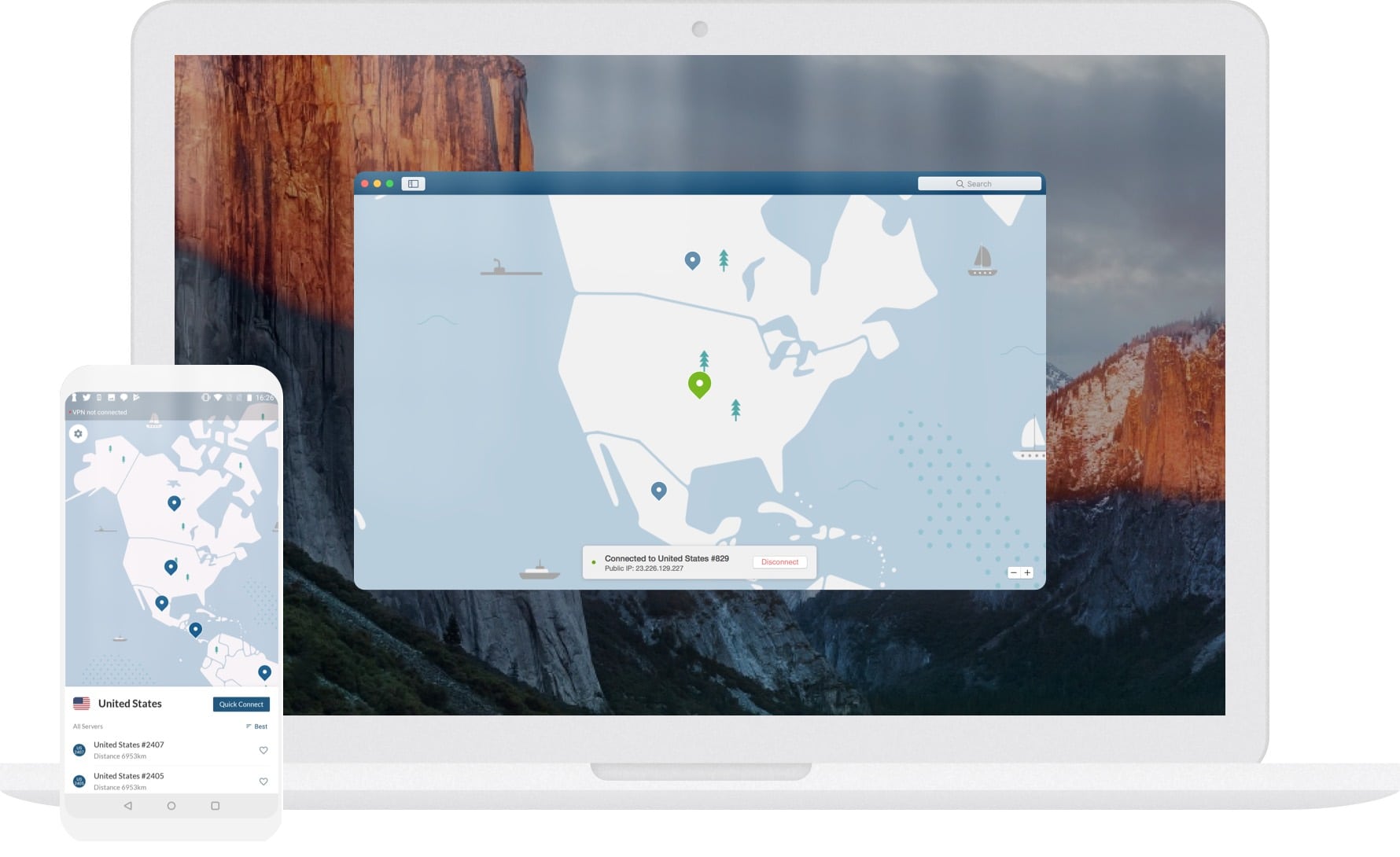 Online privacy has become a hot-button topic among those living connected lives. And between online banking, social networking and always-on smart devices that can potentially see, hear and track your every move, it's easy to see why.
Enter NordVPN, a virtual private network (VPN) service that offers peace of mind to its subscribers. With millions of users and near universal praise among critics, its popularity has risen alongside increasing public concern for online privacy.
For a small monthly or annual fee, NordVPN acts as a bridge — or virtual middleman of sorts — between you and the internet, masking not only your activity and IP address, but also your location and more. It offers users a sense of security and freedom when connecting to the internet. And the good news is that it's so simple to use, you'll barely even know it's there.
| | | | |
| --- | --- | --- | --- |
| 3-year Plan | 2-year Plan | 1-year Plan | 1-month Plan |
NordVPN Specifications
5,513 servers globally
More than 60 countries
Six connected devices simultaneously
Cybersec security and ad blocker
Support: Mac, Windows, iOS, Android, OpenVPN and more
Protection in One Click
While the concept of a VPN may seem very technical and daunting, NordVPN has matured into a highly streamlined product. It has simplified the whole setup process to the point where anyone capable of logging into Facebook and checking notifications should be able to use NordVPN without an issue.
From the NordVPN download page, subscribers can instantly install the client on a Windows PC, Linux or Mac. You can also download the app via the Android and iOS App Stores for smart devices, including Android TV. Once installed, you simply create or log in to your account, then click 'Quick Connect.' You'll then be almost instantly protected by a VPN connection.
Devices that aren't supported natively can still be protected by setting up your router with NordVPN-specific settings thanks to support for OpenVPN. While this is a more advanced setup process, the NordVPN tutorials page offers a robust set of walkthroughs to help.

Worldwide Server Network to Protect from Prying Eyes
There are a number of great VPN options on the market, but with an impressive list of features and a robust global network, NordVPN is one of the best.
An enormous network of more than 5,000 servers in 60 countries is among the most comprehensive available. A clean and intuitive user interface lets you pick from any of the many global servers with a single click — no fussing with IP or encryption settings; it's all automatic. As you'd expect from a VPN service, this helps protect your data from the prying eyes of hackers or malware, especially when you're using an unsecured WiFi network at a coffee shop or airport. Not even your ISP (internet service provider) will be able to spy on your online activity.
For added security, you can also use a Double VPN option. This lets you bounce your connection through two VPN servers before it reaches you. This is ideal if you regularly use public Wi-Fi, especially if you handle data of a private nature. It's also a good option for anyone who just wants to add an extra layer of security to their home network.
Location Masking
Crucially, your real location is masked completely, and you can hop between servers in any region at will, circumventing geo-based restrictions for online content.
This means that American users traveling abroad can still connect to U.S. services — access the U.S. versions of Netflix and Hulu, for example, from almost anywhere in the world (including tricky countries like China or the UAE). It also lets you access services that aren't normally available in the U.S. I was able to enjoy several episodes of the U.K. Top Gear show via the BBC's popular iPlayer service, which is normally geo-locked to U.K. residents only.
On that note, compatibility is also a strong point for NordVPN. Netflix, iPlayer and Hulu are notorious for blocking VPN services as part of their efforts to adhere to licensing restrictions. But all three streaming services work well via NordVPN, and all stream in high quality with only a small increase in initial video load times. This is also true when using multiple devices at once. And NordVPN's allowance of six simultaneous connections is generous when compared to its competitors.

Built-in Anti-virus Protection plus Ad-Block
NordVPN offers a feature called CyberSec, which acts as a shield against untrustworthy websites and apps. It blocks any traffic that may be harmful to your computer and its data — much like an antivirus application, but without the annoying daily updates and incessant popups.
CyberSec also acts as an ad blocker, automatically swatting down the more intrusive forms of forced marketing as you browse. On websites like YouTube, you're able to bounce freely from one video to another without dealing with those annoying introductory video ads. It's certainly convenient and oddly liberating, as long as you're okay with the moral dilemma of consuming content without rewarding your favorite content creators with your paid ad views.

Going for Speed
One of the main concerns with VPNs is performance. Since all of your data is being routed through an external third-party server before it reaches you, there are inherent penalties to speed (bandwidth) and response times (ping).
While testing NordVPN on my home network (a Gigabit/1000mbps connection), I came away suitably impressed. VPN clients of years past used to bring browsing speeds to a crawl. But on NordVPN, I was able to sustain a connection of around 100mbps, which is fast and reliable enough to support high quality video streaming — even at 4K.
Gaming via NordVPN is also possible, although not ideal. Connection ping times (the time it takes for a signal to be sent to or received from a location) are a concern with even the best of VPN connections. While normal web browsing is almost unaffected, online gaming can suffer from increased ping times by at least 35/40ms. This is manageable, but if you're playing a shooter like Apex Legends or another fast-paced action game online, you may prefer to disconnect from VPN for the very best performance.

Aim for a Long-term Subscription to Save the Most Money
All of these features make NordVPN a premium offering that justifies its monthly cost, and there are a number of payment options available. The basic month-to-month plan of $11.95 is one of the more expensive ones on the market, but it's really only for those who need VPN for a short window of time.
The service is significantly cheaper if you make a more long-term investment. For example, a one-year plan costs $83.88, which works out to be $6.99 per month. That's 40% cheaper than if you were to pay month-to-month.

The cheapest option, however, is a three-year plan costing $107.55 — equivalent to $2.99 a month. Of course, this is the biggest up-front investment, but at 75% less than the monthly plan, it's by far the most cost-effective way to protect yourself with a VPN.
Should You Subscribe to NordVPN?
NordVPN is not new, but what's impressive is how reactive the Panama-based company has been to critical feedback over the years. Now in 2019, the service has matured to the point of almost universal praise. Its simple and streamlined software makes VPN security easy enough for the most casual of users, while packing a laundry list of features that more advanced subscribers will appreciate.
NordVPN is also easy on the wallet when you opt for longer subscription terms. While it is possible to find cheaper VPN services out there, NordVPN is well established and reliable. Plus, it's backed by professional customer support. And if you're on the fence, you can try NordVPN risk-free with a 30-day money back guarantee. Visit NordVPN to get started, and if you're not happy, request a full refund within your first 30 days.
*****
Find more VPN service offers by visit our VPN Deals page. Alternatively, set a Deal Alert for your favorite VPN service.
Our editors strive to ensure that the information in this article is accurate as of the date published, but please keep in mind that offers can change. We encourage you to verify all terms and conditions of any product before you apply.