Oculus Quest Reviews: 10 Experts Weigh in on the VR Headset
The Oculus Quest has grown immensely since its 2019 release, but is it worth your time?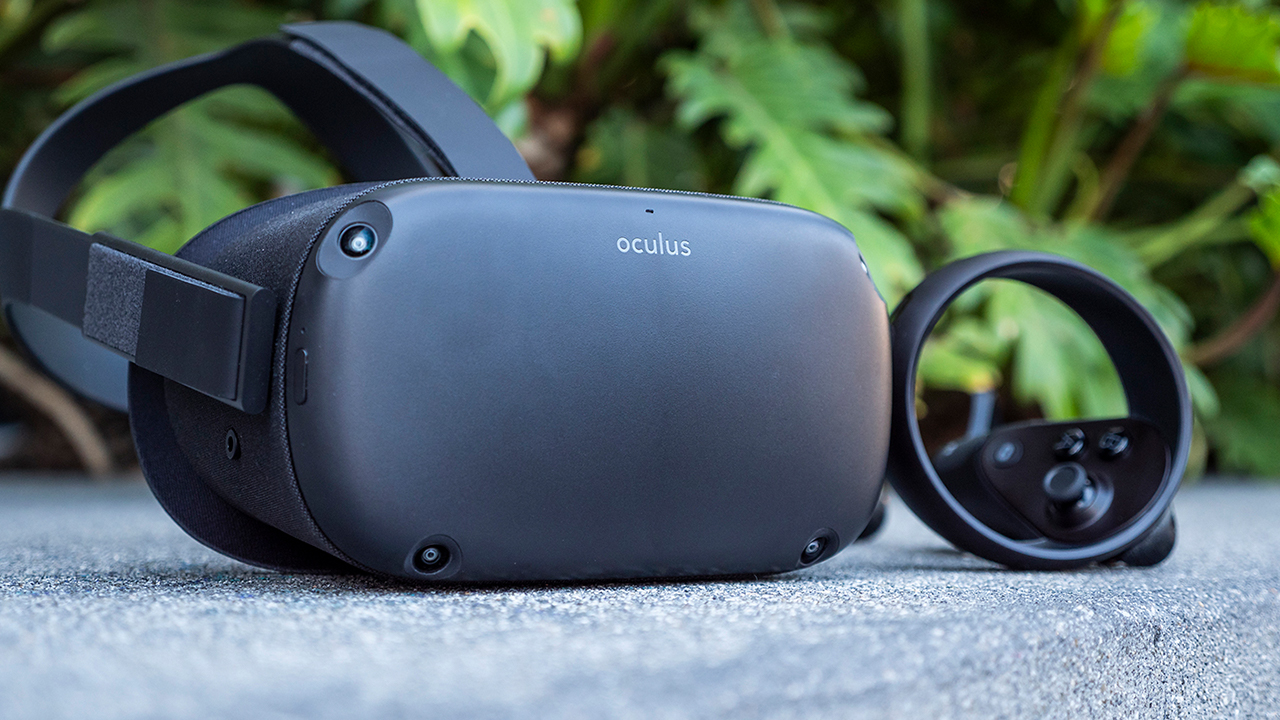 Although home virtual reality tech has come a long way from the Oculus Rift that launched on Kickstarter in 2010, it still feels like a stretch to call the industry mainstream a decade later. Price and ease of setup are still barriers of entry for many gamers, especially when you factor in the spacial and computing requirements of some VR headsets.
The Oculus Quest – a fully wireless standalone VR headset – arrived in 2019 to assuage these concerns, and reviewers agree it's one of the best VR devices out there. On top of that, it successfully avoids many of the issues mentioned above.
Starting at $399, Oculus Quest is very reasonably priced compared to other VR setups which can easily cost over twice that amount. With a growing library of content, added hand-tracking and PC link capabilities, the gaming community is more intrigued than ever. For anyone who's on the fence about finally diving into the world of VR, take a look at what the internet's leading experts have to say about the Oculus Quest.
Review Consensus: Is the Oculus Quest Worth It?
As it stands, you can find dozens of reviews across the internet for this budget-friendly VR device. With so many voices and opinions on offer, it can be difficult to tell which review best aligns with your specific queries.
To save you hours of research time, Slickdeals Aggregate Reviews compiles all the info you'll need to make an informed purchasing decision in one place. In this case, we've summarized the top 10 reviews for the Oculus Quest to bring you the most important takeaways.
Since the product has been around for a year, experts and VR enthusiasts across the web have had the chance to put it under a magnifying glass. The general consensus among reviewers for the gadget aligns with Engadget's statement, "if you're looking for a great way to play some trendy VR games easily without the hassles of PC or Console, it's your best bet."
Oculus Quest Specs
OLED Display with 1440 x 1600 Resolution Per Eye
72Hz Refresh Rate
Qualcomm Snapdragon 835 processor
4GB RAM
64GB or 128GB Storage
Up to 3 Hours of Playtime Per Charge
Two Touch Controllers
6 Degrees of Freedom
Weight: 571g
Design and Comfort

Consensus: Generally Positive (7/10 Positive, 3/10 Neutral)
Main Takeaway: Unlike traditional gaming consoles, comfortable design is a key consideration for VR headsets. Most reviewers found the Quest to be pretty ergonomic on their face and head, if a bit front-heavy. A couple reviewers had minor issues with light leakage around the nose, but none of these stumbles felt like deal-breakers.
"The Oculus Quest is one of the best-looking VR headsets currently on the market. It feels like a solid and well-designed piece of kit as soon as you get it out of the box. We've tried a lot of VR headsets and this is one of the softest and comfiest we've strapped to our faces to date." – Tech Radar
At about 1.26 lbs, the Oculus Quest is slightly heavier than its predecessor, the Rift. In an attempt to lessen the burden on your face, the device features an adjustable three-point strapping system similar to what you would find in a hard hat. Most reviewers applauded the strap design update, although a couple (like Jamie Feltham of Upload VR) were not quite as pleased.
"I'd feel the strain on the front of my face after anywhere between 10 – 20 minutes of usage. Not enough to stop playing, but enough to long for the comfort of Rift S's halo strap design." – Upload VR
As for the controllers, the infrared rings are now positioned above the user's thumbs (on the Oculus Touch controller, they sat below). For the most part, reviewers only had good things to say about these changes. However, a couple reviewers mention accidentally sliding the battery covers off of their controllers during intense gameplay sessions. This sounds like an issue that could be solved by the player "calming down" a little, but it's definitely something to watch out for in future controller iterations.
"The Oculus Quest is one of the best-looking VR headsets currently on the market. It feels like a solid and well-designed piece of kit as soon as you get it out of the box. We've tried a lot of VR headsets and this is one of the softest and comfiest we've strapped to our faces to date." – Tech Radar
The Oculus Quest has built in-speakers, so technically headphones are not required. However, many reviewers, like Adam Savage's Tested, deemed the spacial audio good, but lacking in bass response. To remedy this, Virtual Reality Oasis recommended using a nice pair of headphones for games like Beat Saber and Journey of the Gods to make the most of your gameplay.
"For the best experience… you'll want to use some nice headphones. Thankfully headphones fit over the Quest's headstrap without any issues, and it's a really comfortable experience." – Virtual Reality Oasis
Performance

Consensus: Mixed (4/10 Positive, 4/10 Neutral, 2/10 Negative)
Main Takeaway: The Oculus Quest's performance is a topic of controversy among the reviewers. Despite utilizing a three-year-old GPU, almost half of the reviews we consulted were impressed with the Quest's gameplay. The same amount of reviewers had a more neutral stance, and the overall verdict seemed to come down to how much each reviewer considered the Quest an "entry-level" product.
"Yes, Quest still has some caveats. A VR enthusiast that's owned an HTC Vive or Oculus Rift for the past three years is unlikely to be swayed by its limited processing power. But for the audience that's sat on the sidelines since 2016, waiting for VR's various barriers to come tumbling down, Oculus Quest is the real deal." – Upload VR
Although reviews were mixed for the graphics card, the testers were all pretty positive in terms of the display. Most relished in the vibrant colors and deeper blacks provided by the Quest's OLED screen. Though the refresh rate is a bit lower than the competition, most reviewers found 72 Hz adequate for the content currently available on the device.
"Even though all the processing power is on the mobile device, it actually is one of the better displays and visual experiences that we've seen in VR because it has a really high resolution display." – Adam Savage's Tested
While gameplay is the focus of performance critiques, many reviewers took time to praise the speedy setup process. Prior to the Oculus Quest, players needed extra sensors and equipment to layout their play space. Now, all that is built directly into the device, which is a remarkable step forward in terms of accessibility.
"The Quest is far easier to set up than any other VR system, and it's a lot more convenient to use than anything involving wires." – The Verge
Though the Oculus Quest can be played pretty much anywhere, reviewers came together on one disclaimer: Don't use the device outdoors. Virtual Reality Oasis went as far as to warn, "the lenses in direct sunlight could burn your displays and cause irreparable damage."
Battery Life

Consensus: Generally Positive (6/10 Positive, 3/10 Neutral, 1/10 Negative)
Main Takeaway: The Oculus Quest advertises 2-3 hours of game time between charges. Most reviewers found this to be plenty for a single gaming session, especially since VR is a much more physically demanding experience than traditional gaming. However, several reviewers did take issue with the charging speed. Even though the device comes with a USB-C cable, the Quest doesn't have fast-charging, so it reportedly takes roughly two hours to fully charge.
"Battery life is decent. I found I generally got at least 3 hours of use out of a single charge, which is plenty for a single gaming session. Any more than that, you'd probably start feeling rather queasy." – TechSpurt
While you can theoretically leave the Quest plugged in all the time, this is generally discouraged by reviewers because it defeats the purpose of the device's non-restrictive design. Many of the reviews feature "room for improvement" sections, and the battery is the most common complaint to come up.
"The major advantage of a standalone headset is somewhat crippled if you need to plug it in to charge it after two to three hours of use." – PC Gamer
The Quest headset features a battery indicator, but this feature is noticeably absent from the controllers.  This caused particular annoyance for Forbes' reviewer. They explained, "I was disappointed by the controllers' battery life. One would expect them to last a few weeks, but under intense applications they really only last maybe a week."
Other Features

Consensus: Universally Positive (10/10 Positive)
Main Takeaway:
The Oculus Guardian System was a highlight of all the reviews we consulted. It alerts players to real-world hazards such as walls or objects, and it received universal praise.
Feed streaming testers found the stream to be pretty smooth when casting to a mobile device or TV via Chromecast or NVIDIA Shield.
Hand-tracking is one of the biggest updates the Oculus Quest has received in the year since its launch. While post-launch reviewers shared excitement about this new feature, all still feel it is a work in progress. As it stands, these experts don't expect it to replace controllers anytime soon, even if the tech is making great strides.
"When [hand-tracking] works, it's an incredibly intuitive means of input that does away with button inputs designed with gamers in-mind. But it is still prone to losing tracking and failing to recognize gestures and comes with its own complications like a lack of haptic feedback." – Upload VR
Oculus Link  – which allows you to connect your headset to a PC as though it were an Oculus Rift – is another major post-launch update. Reviewers felt this feature closed the gap between casual and hardcore gamers. Since the Quest has a better display compared to its predecessor, reviewers were quick to recommend this upgrade.
Games and Apps

Consensus: Mixed (5/10 Positive, 4/10 Neutral, 1/10 Negative)
Main Takeaway: The Oculus Quest does not come pre-loaded with games. However, users do have instant access to five demos including Beat Saber and Journey of the Gods. At launch, there were 50 titles to choose from and at the time of writing the catalog has more than doubled.
"At this point though, I think you will have a hard time filling up a 128GB headset." –Engadget
The average game size runs about 500MB, but many reviewers still recommended going with the 128GB version of the Quest, as you aren't able to upgrade the device's storage capacity. At the same time. you can fit the majority of the current library on a 128GB hard drive, almost no reviewers had serious issues with space.

How to Find the Best Deals for the Oculus Quest
Due to its popularity, the Oculus Quest actually hasn't seen a discount since its release. This is attributed to the limited supply and the relatively low price compared to other headsets. While discovering a deal would be great, finding it in stock is already a win for most 2020 consumers.
Related: Here's Where You Can Find Oculus Quests In-Stock Online
To make sure you don't miss out on the next opportunity to purchase an Oculus Quest, head to our Deal Alert page to set up your notifications.
Reviews Consulted
Our editors strive to ensure that the information in this article is accurate as of the date published, but please keep in mind that offers can change. We encourage you to verify all terms and conditions of any product before you apply.