The Most Exciting New Products from Google's "Launch Night In" Event
Best Buy has already slashed the new Pixel 5's price by $50.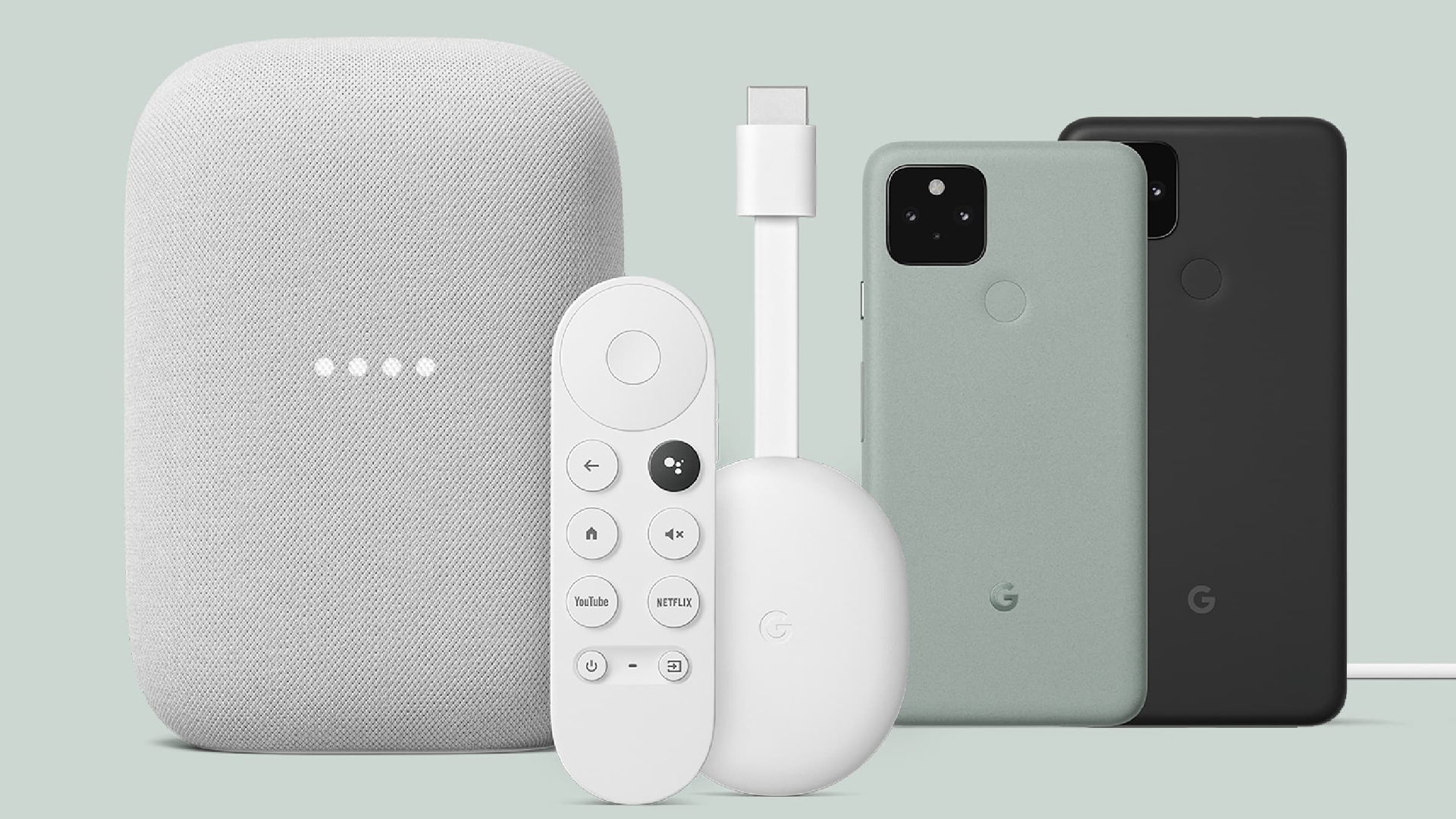 Google's "Launch Night In" press conference has come and gone, providing us with detailed information about several of its upcoming products. A 5G capable Pixel 4a was shown off, we learned about the new Chromecast and Google TV, and the rumored Google Nest Audio even made an appearance. However, the most compelling product that debuted during the presentation was the Google Pixel 5.
Starting at $699, the Pixel 5 is currently available for pre-order and will be released on October 15th.
Pre-Order the Pixel 5 at Google
Considering its reasonable price tag, Google was able to pack an impressive number of features into the new handset. From wireless charging — and reverse wireless charging to power other electronics — to the largest batteries ever seen in the Pixel family, there's a lot to be excited about with the Pixel 5. Most importantly, the Pixel 5 is built to run on the nation's new 5G network, letting you stream, game, or make phone calls with increased reliability and speed. Here's everything the Pixel 5 has to offer:

The Best Pixel 5 Pre-Order Deals
The Pixel 5 features a 6-inch FHD+ OLED display, a Snapdragon 765G processor, and a robust set of cameras. Unfortunately, not all retailers have made pre-orders available, but you can still grab one early from the Google Store.
However, Best Buy is currently running the best discount, with a $50 price reduction if you're willing to activate it immediately.
Best Buy
If you choose to activate your line at the time of purchase you'll get a $50 discount. Otherwise the price jumps back up to $699. It's worth pointing out that even if you choose to activate today, you're still getting an unlocked version of the Pixel 5.
Google Store
Trade-in offers are available, and you'll also get three months of Google One free with your purchase. Google is giving customers three carrier options — Unlocked, Google Fi (Unlocked), or Verizon. The latter isn't currently available, but you can still sign up to be put on its waitlist. Regardless of choice, the phone's price is $699.
Amazon

Pixel 5 Specifications
Display: 6-inch HD+ OLED Smooth Display
Storage: 128GB
RAM: 8GB
Battery: 4080 mAh
Processor: Snapdragon 765G
Rear Cameras: 12 MP dual-pixel, 16MP ultrawide
5G Capable: Yes
Water Resistant: Yes
Wireless Charging: Yes
Other Products Revealed During Google's Launch Night In
The Pixel 4a 5G
Oddly enough, the Pixel 4a 5G seems to be more closely aligned with the Pixel 5 than the original Pixel 4a. It features most of the same internal components and user-friendly features, but has a slightly smaller battery and a bit less RAM. Still, the Pixel 4a 5G will make a great addition to Google's lineup and is sure to be incredibly popular at $499.
The Google Pixel 4a 5G will launch October 15th in Japan and November 9thworldwide. Pre-orders are now available directly from Google.

Although it's a budget smartphone, there's nothing budget about the technology under the hood. It has a slightly larger screen than the Pixel 5 but lacks its water resistance and wireless charging capabilities. You'll also have to make do with a bit less RAM, although most users probably won't notice the difference unless they're running several apps at once. The Pixel 4a 5G includes the following:
Display: 6.2-inch HD+ OLED
Storage: 128GB
RAM: 6GB
Battery: 3885 mAh
Processor: Snapdragon 765G
Rear Cameras: 12 MP dual-pixel, 16MP ultrawide
5G Capable: Yes
Water Resistant: No
Wireless Charging: No

Google TV
Billed as an easy way to find and watch your favorite content, Google TV is a curation system that pulls all your streaming services into one simple interface. And, when you're not using it to watch the latest shows or sporting events, it can turn your TV set into a massive digital picture frame. It'll be available on Android TVs, but is also standard on the new Chromecast.
New Chromecast
Google also announced a new version of Chromecast. The discussion was brief, but we learned that it will now come with a remote control and includes the new Google TV software. The upgraded product is now available for $49.99.
Shop Chromecast with Google TV

Google Nest Audio
With 50% more bass and 75% more volume than Google Home, Google Nest Audio is the ideal way to upgrade your in-home audio setup. The tiny-but-mighty speaker is wrapped in fabric that comes in five colors (Chalk, Charcoal, Snad, Sky, or Sage), one of which is bound to fit in with the rest of your home décor. Google Assistant has also been reworked to run faster and provide more accurate results — Google said it should be twice as fast as the original Google Home. Google Nest Audio will be available on October 5th for $99.99.
And make sure to set up a Deal Alert and we'll let you know as soon as any of these products sees a discount.
---
Any product or service prices/offers that appear in this article are accurate at time of publish, and are subject to change without notice. Please verify the actual selling price and offer details on the merchant's site before making a purchase.