The Best Portable Projectors for a Perfect Movie Night at Home
Popcorn not included.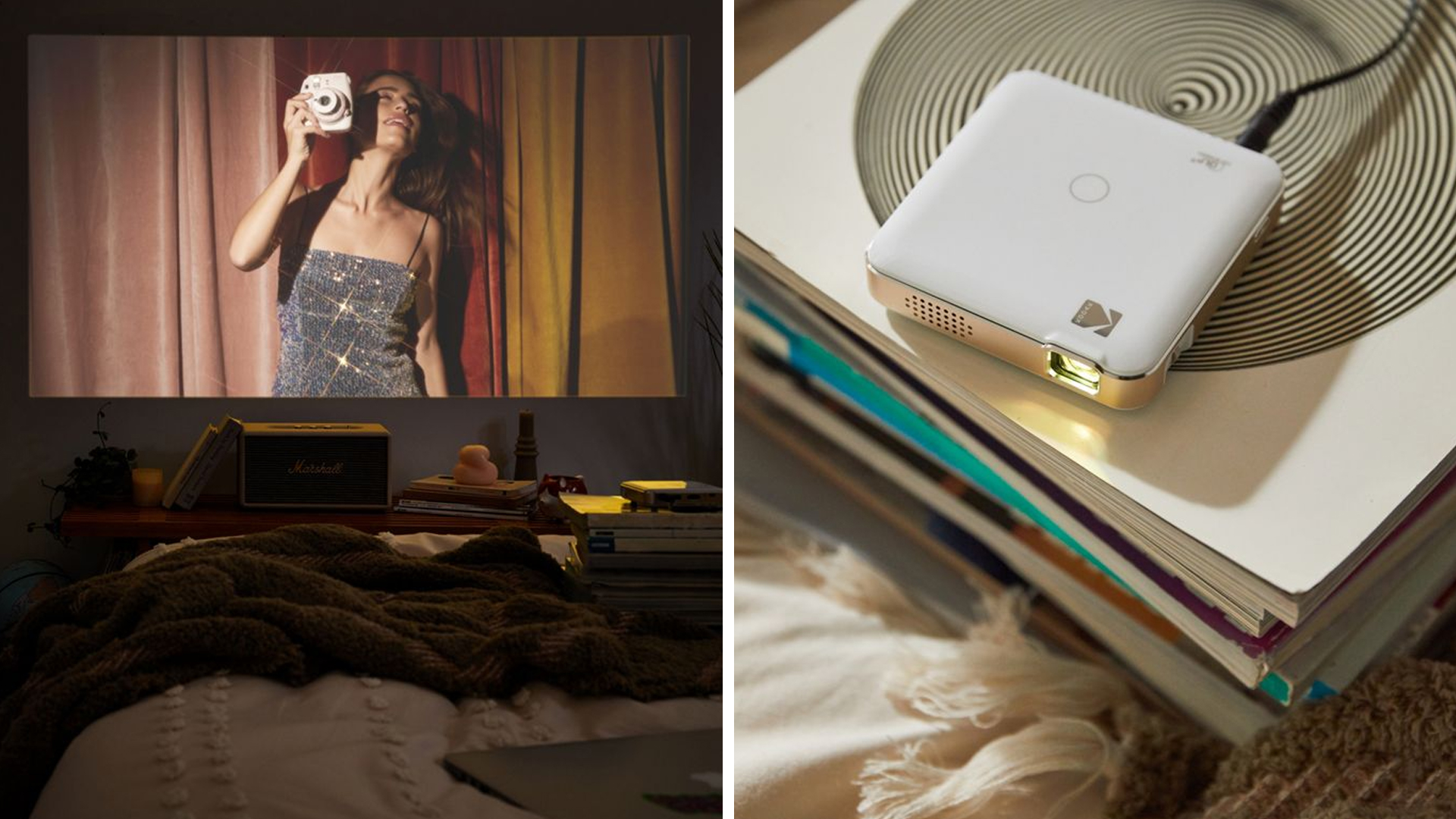 If you've been missing the movie theater experience as much as us, we have just the solution for you. A portable projector can help you re-create the cozy feeling of the cinema using only a blank wall or sheet. The best part is, you can easily move them around, making it easy to enjoy content in your living room, backyard or at a socially distanced movie night with friends.
Check Projector Deals on Amazon
Portable projectors come in all shapes and sizes. Despite their small stature, some portable projectors still offer a wide range of lenses, brightnesses and other features. Some projectors can even double as a portable video game screen!
We broke down some things to look for when shopping for a projector and highlighted a few of our favorite models.
Best Value: AAXA Technologies P300

Retail Price:$319.99 | Best Recent Sale Price: $264.99
The Verdict: The screen projects the best in low-light conditions and is the best value for its long-lasting LED lights.
Pros: At 6×4 inches, this is a great compact projector. Plus, the LED lamp lasts up to 20,000 hours, which will save you money on replacements.
Cons: Battery life is reported at about an hour.
The AAXA is a really fun mini projector with great clarity. While the battery only lasts about an hour, it recharges at a similar rate and offers 2,600 lumens of brightness. Well-known for its picture modes (movie, standard, presentation, user) and color temperatures (warm, normal, cool, user), customers love the customization they can get with this device.
---
Best for Kids/3D Movies: Epson PowerLite Home Cinema 2040

Retail Price:$700 | Sale Price: $369.99
The Verdict: If you have kids or just enjoy a 3D movie, this is the projector for you. The low lag time and battery life will keep kids entertained for hours.
Pros: Low lag time feature eliminates the stall 3D movies can sometimes have.
Cons: Built-in speaker is underwhelming.
This 3D projector is small and sleek in design. Epson's easy set up makes this one of the most straightforward devices for families. For a crisp picture, Epson upgraded the resolution to 800 x 600 SVGA and now has a viewable screen of up to 350 inches, allowing everyone in the room to have the perfect view. Reviewers share that they occasionally plug in an external speaker to improve the volume. While this device originally retailed for $700, you can typically find it for around $500 nowadays, and its price dips even lower during especially good sales.
---
Crowd Favorite: VANKYO Leisure 3 Mini Projector

Retail Price:$119.99 | Sale Price: $55.99
The Verdict: Great value for having so many features, a small size and optimal cooling fan.
Pros: Great picture and easily connects to PS4, Xbox One and Nintendo Switch.
Cons: No built-in battery.
With over 16,000 ratings, Vankyo continues to be an Amazon bestseller. Amazon customers love it for the watching size (from 32 inches to 170 inches) and its cooling fan technologies—suppressing the noise of the fan while you watch. "It runs really cool, after a 2 hour movie it is barely warm. The fan is not loud, and I didn't even notice it during the movie, and I was sitting right next to the projector," said one Amazon reviewer. It's also on the less expensive side at $119.99.
---
Best Portability: KODAK Luma 150

Retail Price:$199.95 | Sale Price: $169.99
The Verdict: Amazing for those on the go, this one fits in your hand and has a media processor compatible with Android and Apple systems.
Pros: Compact size.
Cons: Internal battery delivers 2 hours of streaming until you need to recharge.
Check Offers on Urban Outfitters
This palm-sized KODAK projector can project up to 100 inches of video. With on-board media player and built-in speakers you'll enjoy a non-fussy movie night in or out. Just plug it into your smartphone, computer, or gaming console to enjoy this louder-than-expected projector. Urban Outfitters has them at $199.95.
---
Best For Work and Play: DR. J Professional HI-04 1080P

Retail Price:$139.99 | Sale Price: $119.99
The Verdict: Truly perfect and lightweight portable projector
Pros: Wireless, connects with Bluetooth devices
Cons: Low resolution in darker rooms
To ensure a perfect movie night, make sure you have adequate lumens to make the picture color pop. If you plan to watch in ambient light, go for a projector with at least 1,500 lumens. And keep in mind: the higher you go, the brighter and better the picture will be. Dr. J Professional has 1,500 lumens and weighs only three pounds. At $134.99, it's great for movies and gaming. Amazon customers recommend playing around titling the projector to find the perfect angle from wall to couch.
---
Best Sound: 3Stone Mini Projector

Retail Price:$89.99| Sale Price: $79.99
The Verdict: Some things aren't too good to be true.
Pros: Affordable price without compromising on features.
Cons: Must download the app prior to using.
At less than $100, the mini projector projects images from 32 to 176 inches at a distance of 4.9 to 16.4 feet. With built-in magnetic speakers for surround-sound effects, you'll save the trouble of connecting to an external speaker and have movie theater vibes in minutes.
Make sure to set up a 
Deal Alert
and we'll let you know when any of these projectors go on sale. Or check out these other projector deals on our Frontpage:
Search URL: https://slickdeals.net/newsearch.php?firstonly=1&q=projector&pp=20&sort=newest&rating=frontpage
Our editors strive to ensure that the information in this article is accurate as of the date published, but please keep in mind that offers can change. We encourage you to verify all terms and conditions of any product before you apply.