Beats Powerbeats Pro Reviews: What Makes a Pair of Earbuds Worth $250?
Its rank among exercise headphones and its place in your ears are literally unshakeable.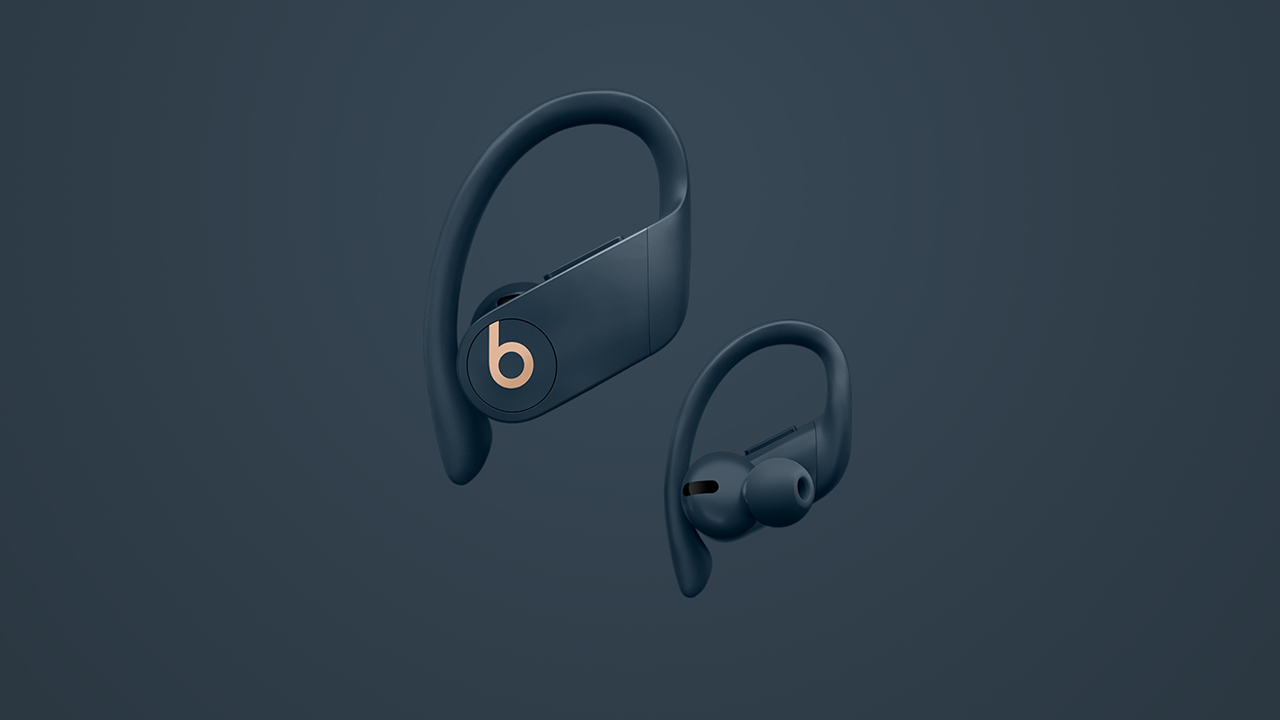 For many, music is one of the most important ingredients for a successful workout. When things start heating up, a good playlist can be a serious motivator, especially when paired with a high-quality set of headphones. As a result, there are literally hundreds of fitness-focused headphones available online, and Beats Powerbeats Pro Totally Wireless Earphones are among the most talked-about options.
Check Current Powerbeats Pro Deals
Beats has been owned by Apple since 2014, and these headphones seek to combine music industry expertise with the electronic prowess of one of the world's biggest tech companies. But does this harmonious pairing justify an MSRP of $249.95? That's what we're here to find out.
Consensus: Are the Beats Powerbeats Pro Worth It?
As it stands, you can find dozens of reviews across the internet for Powerbeats Pro Totally Wireless Earphones. With so many voices and opinions on offer, it can be difficult to tell which review best aligns with your specific queries.
To save you hours of research time, Slickdeals Aggregate Reviews compiles all the info you'll need to make an informed purchasing decision in one place. In this case, we've summarized 10 reviews from top reviewers for the Beats Powerbeats Pro to bring you the most important takeaways.
Since the product has been out for a while, experts and headphone enthusiasts across the web have had the chance to put the latest Powerbeats Pro through their paces. The general consensus among reviewers aligns with CNN's statement, "these are the best earbuds for fitness and active oriented lifestyles."
Beats Powerbeats Pro Specifications
Adjustable, secure-fit earhooks for lightweight comfort and stability
Apple H1 headphone chip
Bluetooth connectivity for both iOS and Android
Volume and track controls on each earbud
Microphones fitted on both earbuds
Compatible with Siri and other virtual assistants
IPX4 sweat & water resistant
Nine hours of battery life per charge with 15 additional hours from charging case
Fast charging enabled: 5 minutes for 1.5 hours of playback
Lightning to USB-A cable included
Design and Comfort

Consensus: Generally Positive (7/10 Positive, 3/10 Neutral)
Main Takeaway: Most of the reviews we consulted gave a lot of praise to Powerbeats Pro's earbud design. Even though ear shape varied across reviewers, the headphones got a thumbs up for comfort and fit from just about everyone. The biggest qualm didn't actually fall on the headphones themselves but rather the charging case. Pretty much all the reviewers described it as "massive" in so many words.
"It'll leave a pretty big bulge in your pocket, so you'll probably want to leave it in a bag or locker at the gym." – CNET
Many vloggers underwent tantrums of intense head-shaking to exhibit just how well these earbuds stayed in. Testers were also quite pleased with the headphones' styling. Tech Radar specifically liked the fact that, "it has a sport look to it, while still being practical enough to wear around outside the gym." Though it wasn't touched upon in any reviews, there are an assortment of color options to choose from: Ivory, Moss, Navy, Spring Yellow, Glacier Blue, Cloud Pink, Lava Red and Black.
"You can think of these as AirPods but if Apple actually cared about them staying in people's ears." – Marques Brownlee
As mentioned before, the size of the charging case is the lowlight of the product according to reviewers. Unbox Therapy's tester had an AirPods case to show in comparison and the difference is pretty dramatic. At the same time, this wasn't a deal-breaker for everyone. Youtuber Flossy Carter actually preferred the larger size as it may prevent the Powerbeats Pro charging case from being easily lost.
Setup and Connectivity

Consensus: Generally Positive (6/10 Positive, 2/10 Neutral, 2/10 Negative)
Main Takeaway: Since Beats falls under the Apple umbrella, reviewers naturally found pairing Powerbeats Pro headphones to an iPhone was a quick, simple process. Mirroring the AirPods setup, you open the case next to the phone and it will recognize the device almost instantaneously. The headphones are not exclusive to Apple products though, so Android users can set up the device via Bluetooth as well. In terms of connectivity, there were mixed impressions from the reviewers ranging from flawless performance to intermittent connection drops.
"We'd had a blip or two walking downtown, but that grew into a succession of between 10 and 15 dropouts. It was quite the headache, and took away from the luxury vibe the sport-centric buds otherwise present." –Digital Trends
Though Digital Trends experienced some connectivity issues, this wasn't the case for most of the other reviewers who tested the device in a closed setting. This may boil down to which specific device reviewers were using or the test. In Flossy Carter's vlog, he puts the Powerbeats Pro through a live distance test and found no issues in connectivity up to 30 feet away from his iPhone.
"One of the key reasons you'd want to use an Apple device is to take advantage of the new H1 Wireless Chip, the same one that just went into the Apple AirPods. With it, you'll notice faster pairing times and hands-free Siri. You can certainly survive without those features, obviously, but hands-free Siri is a spectacularly useful feature if you want to place calls or send texts without picking up your phone." –Tech Radar
Sound Quality

Consensus: Universally Positive (8/10 Positive, 2/10 Neutral)
Main Takeaway: One of the most notable traits of Beats as a brand is its laser focus on bass. While many reviewers knew what they were in for, they were pleasantly surprised by the balanced sound quality of the Powerbeats Pros. The testers also complimented the device on its impressive volume. But at the same time, some reviewers felt this was a necessity to make up for the lack of noise cancellation. A few reviews also praised the clarity of phone calls.
"One of my major gripes with earbuds is they don't get loud enough. These get super loud. Nice mids, nice highs but most importantly, a lot of bass." –Flossy Carter
Founded by Dr. Dre and Jimmy Iovine, there is no doubt that Beats headphones lean toward specific genres of music. Unbox Therapy really wanted to drive home the point, "these are hip hop headphones. They really shine when you feed them some bass. They want to eat some bass." They further reiterated the Powerbeats Pro may not be the best choice for avid lovers of classical music.
"The Powerbeats Pros are better than the Airpods in this regard (sound isolation) but not as good as other wireless earbuds that we've tested." –Linus Tech Tips
Since Powerbeats Pro and AirPods technically come from the same company, the reviewers couldn't help but make comparisons between the two. There is much agreement that these headphones trump Apple's when it comes to sound quality and isolation. However, a few reviews also gave a shout-out to the Sennheiser Momentum 2 as a better option for people who listen to genres other than hip hop.
Functionality

Consensus: Universally Positive (8/10 Positive, 2/10 Neutral)
Main Takeaway: Unlike other true wireless devices, the Powerbeats Pro feature actual buttons to press instead of tapping gestures. This was a big win for most of the reviewers as it resulted in more control and less unintentional hiccups.
"You also get the volume rocker on the top of the bridge, which is quite handy. It works when paired with a smartphone, laptop or tablet, but more importantly, it works with other fitness trackers. This way, if you're on a run and leave the larger device behind, you can easily make adjustments." –CNN
Reviewers also appreciated having pressable volume controls on both earbuds. Even though videos make the buttons look kind of small, testers were able to alter the volume with little to no issues. You can access other functions like play/pause, skip track and going back a song by pressing the Beats logo button once, twice and three times, respectively. Unfortunately, most reviewers found the triple press for jumping back to a previous track a little inconsistent and one tester actually encountered issues with just the single press to play/pause.
"One problem that I have found is the play/pause…The pause side of it, I've had no issues. But when then trying to restart music or a video, I'm pressing it and nothing appears to be happening." –ASBYT
Despite these minor technical difficulties, reviews were still largely positive for this feature on the Powerbeats Pro headphones. And even if you hit a snag, your paired phone still has full control of your headphones as shown in many of the vlogs.
Battery Life

Consensus: Universally Positive (10/10 Positive)
Main Takeaway: Of all the aspects of the Powerbeats Pro, battery life is perhaps the most well-regarded. Beats claims a full charge offers up to 9 hours of playback and this number is pretty consistent among all reviews. The headphones also feature fast-charging which gives an hour and a half of uptime for just 5 minutes of charging.
Reviewers did mention the charging case only powers up with a lightning cable, so Android users have to carry more than one type of cable around. Even so, the non-Apple reviwers felt it wasn't too much of an issue as the case offers an additional 15 hours of charge for the earbuds.
"Kind of unfortunate if you have a lot of USB Type-C components. This has iPhone users first and it makes sense because these Powerbeats Pros are going to be sold in Apple stores." –Unbox Therapy
Similar to other wireless earbuds, the charging case has magnetic contact points for the earbuds to sit in and charge. However, reviewers did have some issues docking them in there. Due to the unique shape of the Powerbeats Pros, the testers didn't find its placement in the case to be very intuitive.
"When it's time to recharge the case, you'll need to do it over Lightning, as wireless charging is not supported. That's a little bit of a bummer, but I can live with it." –MacRumors
While battery life is unanimously applauded, dealing with the charging case is not. Like several reviewers, Eric from MacRumors is not a fan of the single LED power indicator situated on the case. "Checking the battery level of the Powerbeats Pro is a little more complicated than some other earphones on the market, as there are no LEDs on the earphones themselves to provide any idea of battery level." The only way to see the power remaining is through an iOS device, so this is a shortcoming that Android users will have to face.
How to Find the Best Deals on the Beats Powerbeats Pro
With the popularity of the Beats brand under Apple's electronic lineup, ultra-deep discounts for these headphones are rather hard to come by. The lowest we've seen the Powerbeats Pro occurred during Black Friday of last year. Thanks to some savvy savers, Slickdealers were able to utilize Target's 20% off Black Friday coupon to bring the already discounted $199.95 price down to $159.99.
There is a possibility of getting a deal like this again for this year's Black Friday. But if you can't wait, the Powerbeats Pro does revisit the $200 price point pretty often. Unfortunately, this discount is not available currently. Just know that when it's up, it usually spans across multiple online retailers like Target, Best Buy, Amazon and even Apple. So you have lots of options to find it discounted and in stock.
And if you don't mind buying refurbished, you can find these headphones as low as $120. In any case, the best bet is to set up a Deal Alert to be notified instantly of the next time these sport-centric earbuds go on sale.
---
Reviews Consulted
Other Slickdeals Aggregate Reviews:
Our editors strive to ensure that the information in this article is accurate as of the date published, but please keep in mind that offers can change. We encourage you to verify all terms and conditions of any product before you apply.