Review: Razer's Basilisk Ultimate is the Benchmark for Gaming Mice
Razer's premium wireless mouse is a feature-packed masterclass in performance and ergonomics.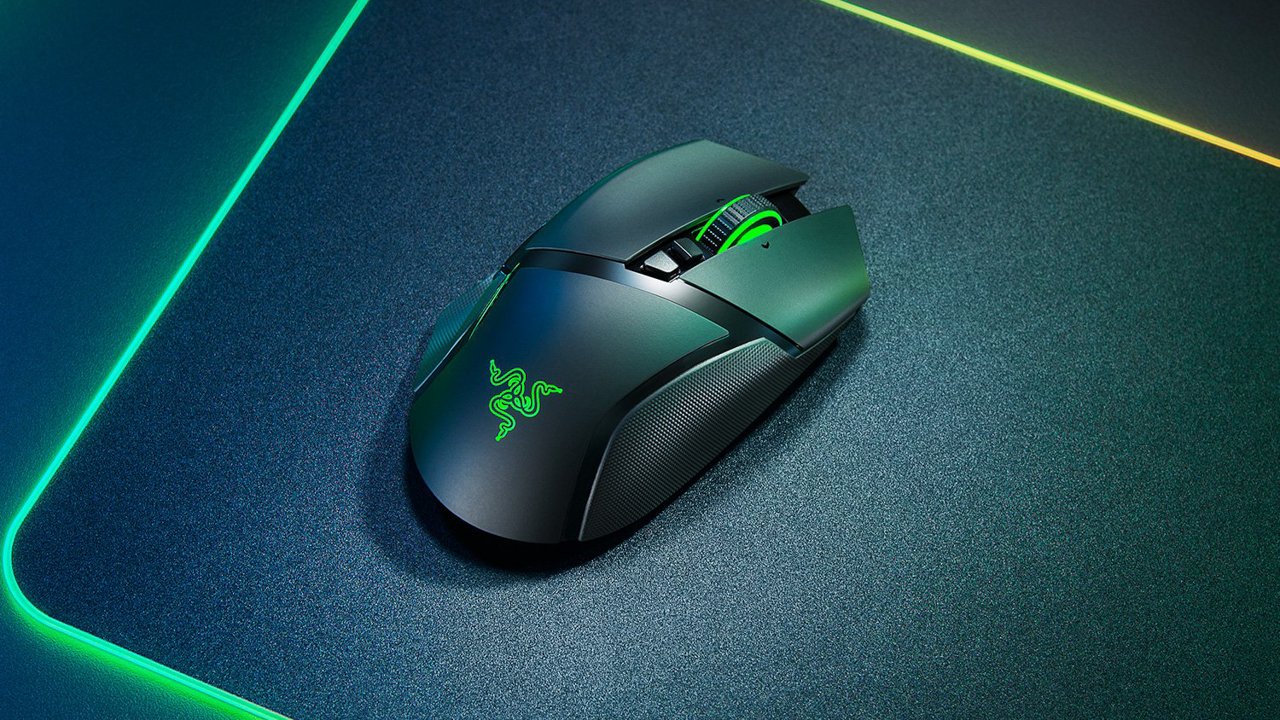 The Razer Basilisk Ultimate is one of those gaming peripherals with a specs list so ridiculously over-the-top that it has you questioning how much of a tangible difference most of it really makes. But you helplessly lay out the cash anyway because it's just so damn sexy.
You can buy a perfectly good gaming mouse for $40, but it won't be like the Basilisk Ultimate. It won't have infrared beams of light for button switches, touch pads made of specialist materials or a self-calibrating sensor.
Sometimes you just have to do things in excess and that's exactly what the aptly named Basilisk Ultimate represents — its a no-compromise gaming mouse for those that want the most premium input device possible for their PC gaming. And it manages to deliver this wirelessly, thanks to Razer's ultra-low latency wireless tech.
It's not a perfect mouse, but if you get a kick out of edgy-looking, high-end PC equipment and you're not phased by the $169.99 asking price, this is likely the mouse for you.
Shop the Basilisk Ultimate:
Best Buy | Amazon | Razer Store
Razer Basilisk Ultimate Technical Specifications
20,000 DPI Razer Focus+ Optical Sensor
Razer Optical Switches
Razer HyperSpeed Wireless Tech
Up to 100 hours battery life
11 programmable buttons
14 customizable RGB lighting zones
Charging dock
Adjustable Mouse Wheel resistance
Wired mode (via USB)
107 grams
Razer HyperSpeed Wireless Technology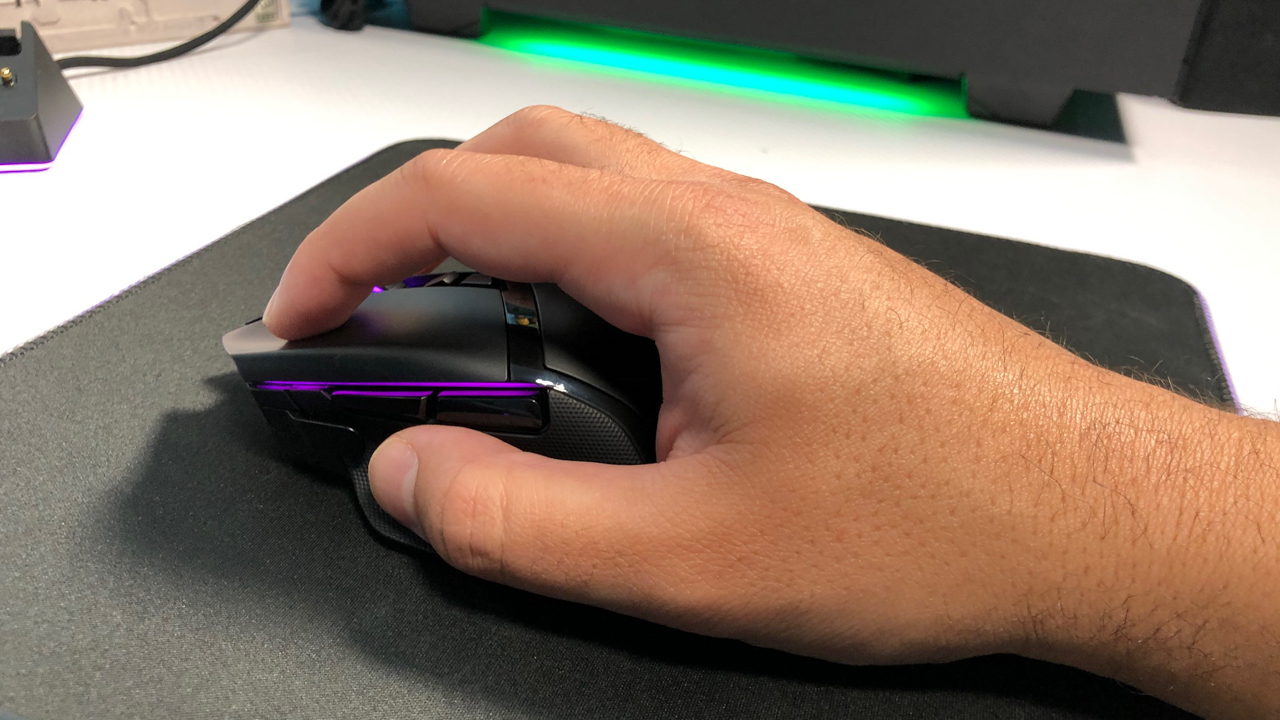 Don't be concerned about the wireless nature of the Basilisk. As we said in our review of the Razer Viper Ultimate, the arrival of these HyperSpeed Wireless mice (and those of their ilk) could spell the end of the wired mouse forever.
You can read in more detail on how HyperSpeed Wireless works in our Viper Ultimate review, but in short, Razer has come up with a proprietary technology that is not only super stable and reliable, but is also "25% faster than any other wireless technology available."
In practice, its responsiveness makes it impossible to tell that there isn't a wire connecting the mouse. It's all benefits from here on out — now you don't have to worry about cable drag or snagging things on your desk. It also makes for a neater, more efficient setup, and it's travel-friendly.
Peace of Mind & Convenience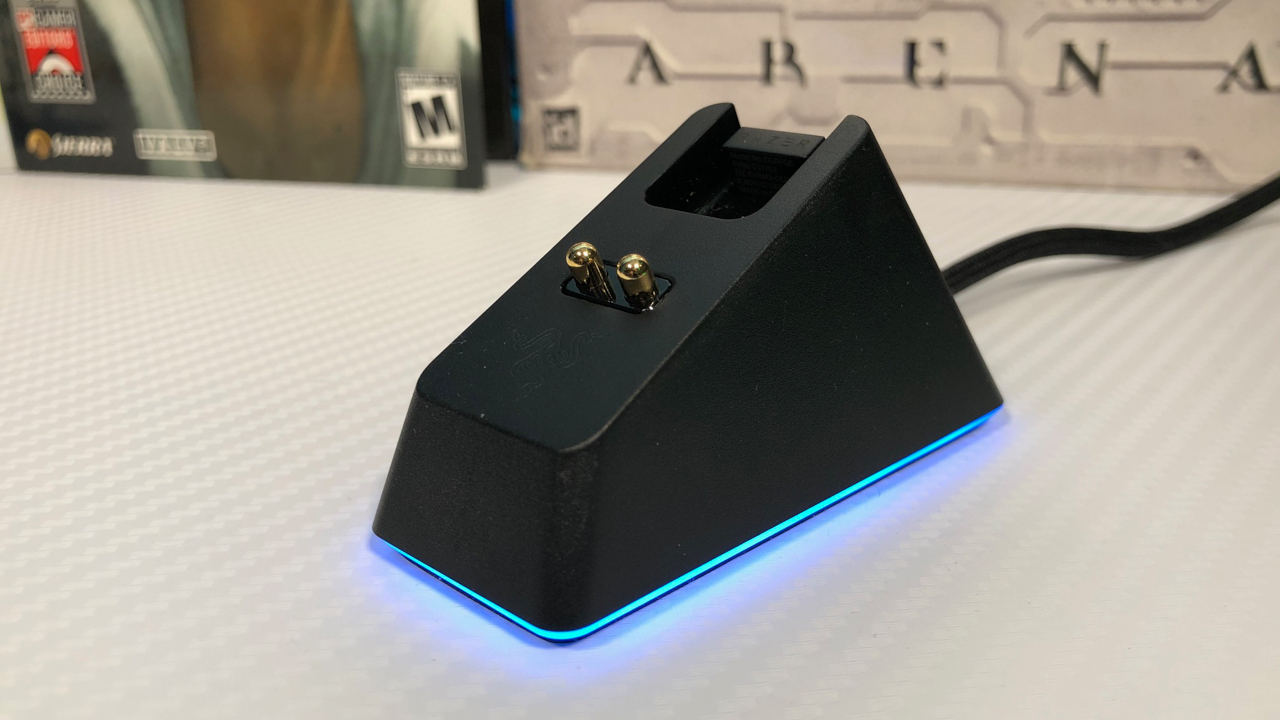 The dock that comes included with the mouse makes wireless life easy. It houses the USB dongle, meaning the wireless transmission doesn't have far to travel, and has two metal prongs for easy mounting. The programmable RGB lighting around its edges aren't just for looks either – when the mouse is placed on the dock, both the internal mouse lighting and the dock itself will glow specific colors (from red up through green) to represent battery charging progress.
Battery life is a non-issue with up to 100 hours claimed. But, just in case, the cable connecting the dock to the PC is a detachable USB cable that can be plugged directly into the mouse. So if you forget to charge your mouse, you can simply operate in wired mode.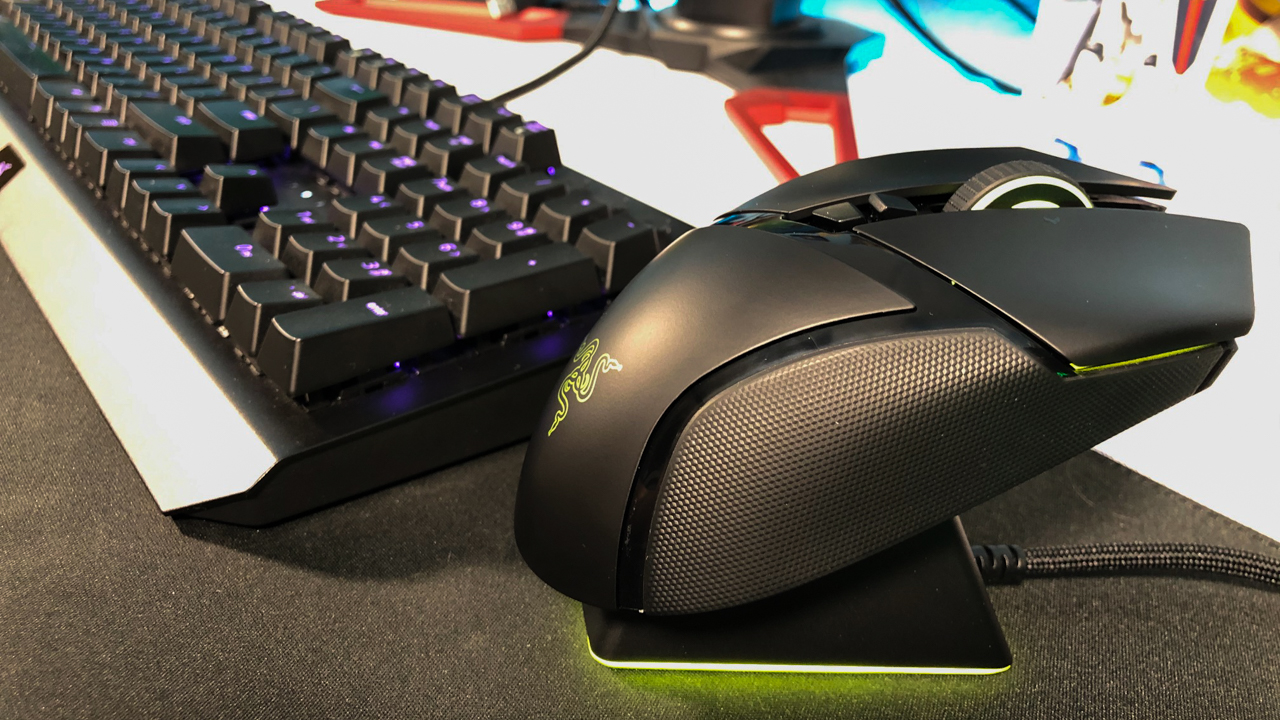 This has the added benefit of delivering a rock-solid connection when you do find yourself in an environment of extreme wireless interference (such as at a tournament), although it's worth noting that I have yet to experience any interference at all, even with other wireless devices nearby.
My only complaint with the wireless nature of the mouse is it's somewhat tardy wake-up response after it has slipped into a discrete low-power mode following a period of idle time. It's only about a second or so, but it's long enough for you to grab the mouse, think something's wrong, and start wiggling it to wake it up.
Choosing Your Weapon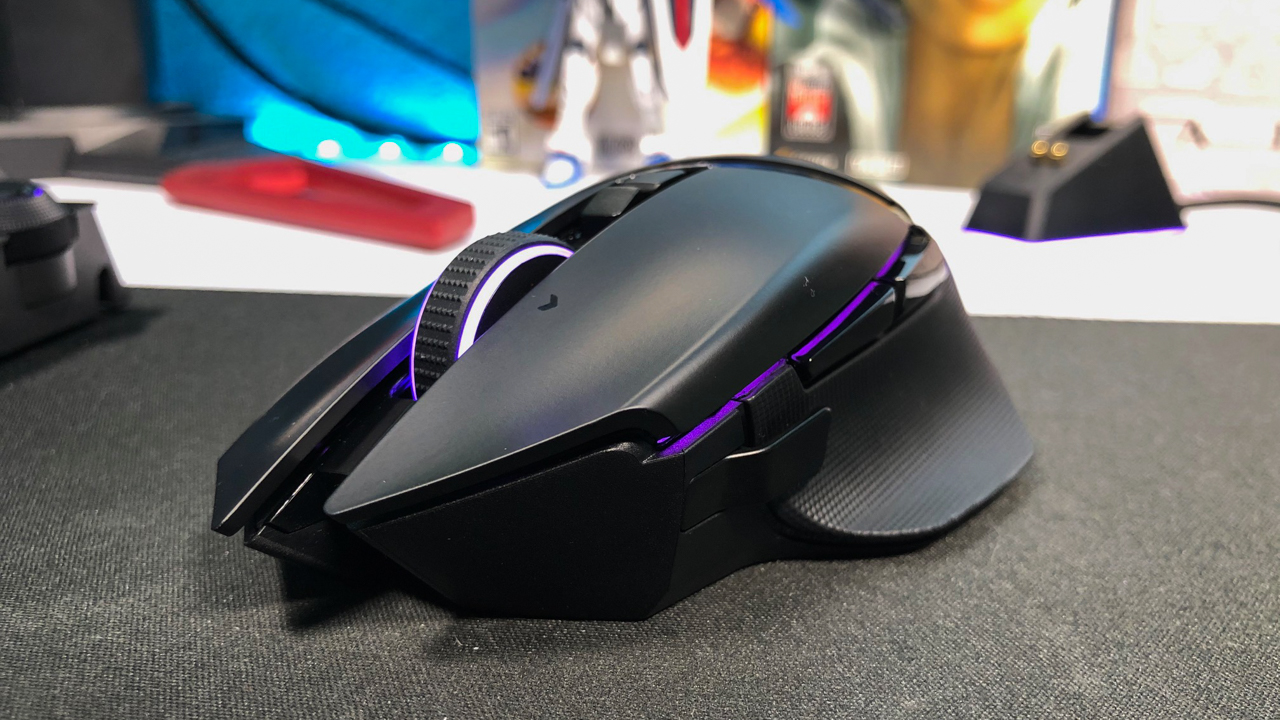 The Basilisk Ultimate sits next to the Viper Ultimate as one of the most high-end mice from the manufacturer, and thus it shares much of the same internal components.
HyperSpeed Wireless aside, the other common specs are predictably lofty. The 20,000 DPI optical sensor boasts a 650 inches-per-second max tracking speed (well in excess of your fastest flick-shots) and a claimed tracking accuracy of 99.6%. You probably won't ever use the mouse at that high of a resolution setting, but the level of accuracy means you can count on your every move being relayed.
Razer's proprietary Focus+ Optical Sensor also differentiates itself from other mice with its ability to detect changes in the play surface and dynamically adjust its lift-off sensitivity, maintaining ultra-high accuracy without needing to be manually tuned.
More proprietary tech can be found under the two main mouse buttons. Razer's Optical Mouse Switches use infrared beams of light to detect actuation, resulting in the fastest possible click detection and extraordinary durability (a claimed 70 million clicks).
Even the contact pads on the underside of the mouse receive special attention — they're made from a super-slick 100% PTFE, the likes of which is also used for non-stick pans.
The Basilisk Difference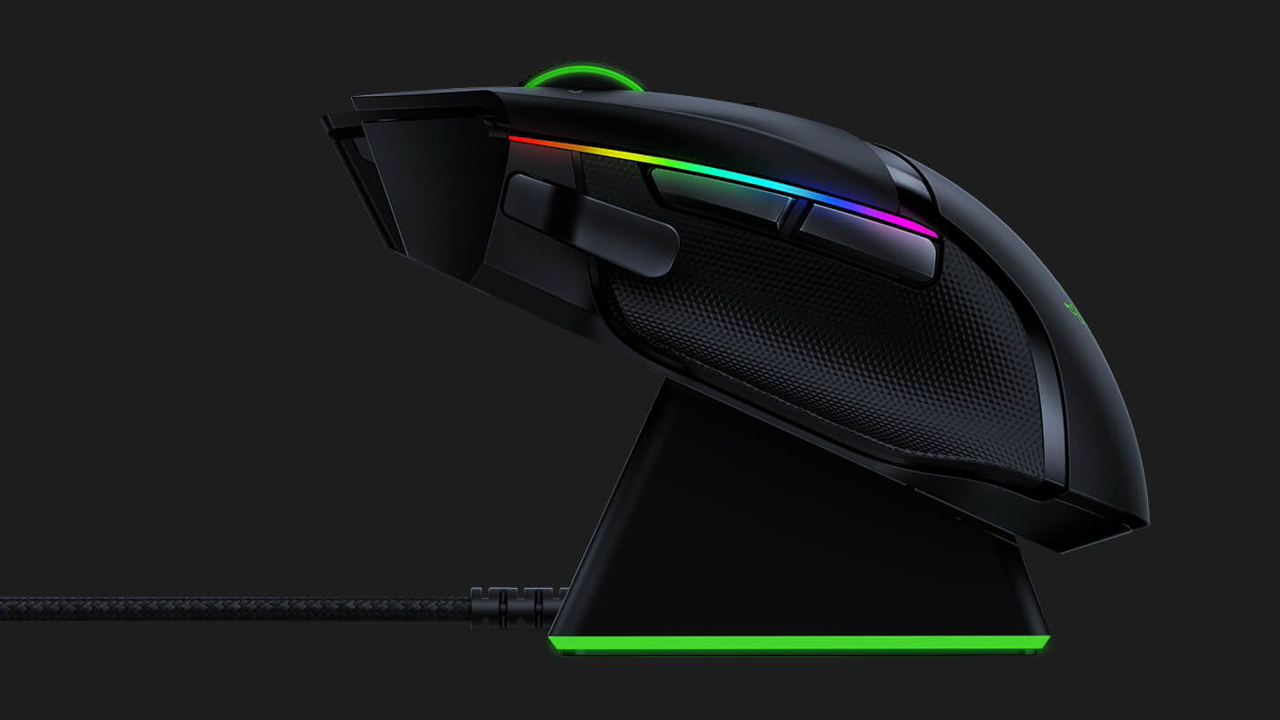 But while the Viper Ultimate was designed to be as light (74 grams) and streamlined as possible, the Basilisk Ultimate adds a whole list of functional enhancements at the sacrifice of a bit more weight (107 grams).
To start, you get 11 programmable buttons, up from 8 on the Viper Ultimate (of which only five are truly usable since two are for left-handed use, and one is on the underside of the mouse). The Basilisk Ultimate also offers the addition of a tilt-and-click scroll wheel, two top-side buttons for quick and easy sensitivity adjustment, and an optional multi-function paddle, which can be easily detached if you don't like it.
By default, the multi-function paddle is used as a quick low-sensitivity button, ideal for a moment of high-precision aiming in an FPS game. But as with every other button on the mouse, it can be reprogrammed to any function you'd like. It makes for a perfect Hypershift key — a button that activates a secondary layer of functionality on every other button on the mouse.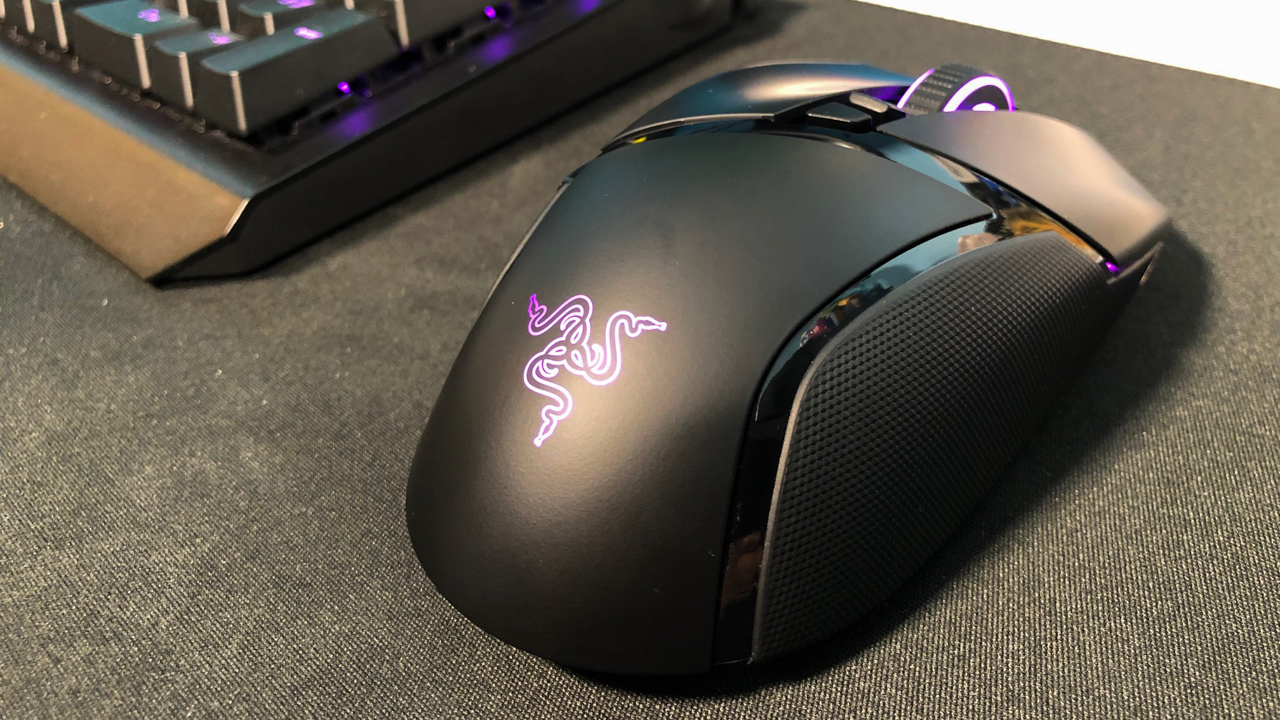 Also unique to the Basilisk Ultimate, the mouse wheel features adjustable resistance, ranging from free-spinning to extremely clicky, and has its own RGB zone for the obsessed lighting tuner.
And of course, the Basilisk Ultimate also receives a more contoured, arguably more ergonomic design. This is obviously entirely subjective, but I prefer it. The thumb rest is nice, and the increased size and weight fits well in my palm. It does, however, lack the ambidextrous attribute of the Viper, and it's just a tad narrow for a mouse described as being for "medium to large hands."
Should You Buy the Razer Basilisk Ultimate?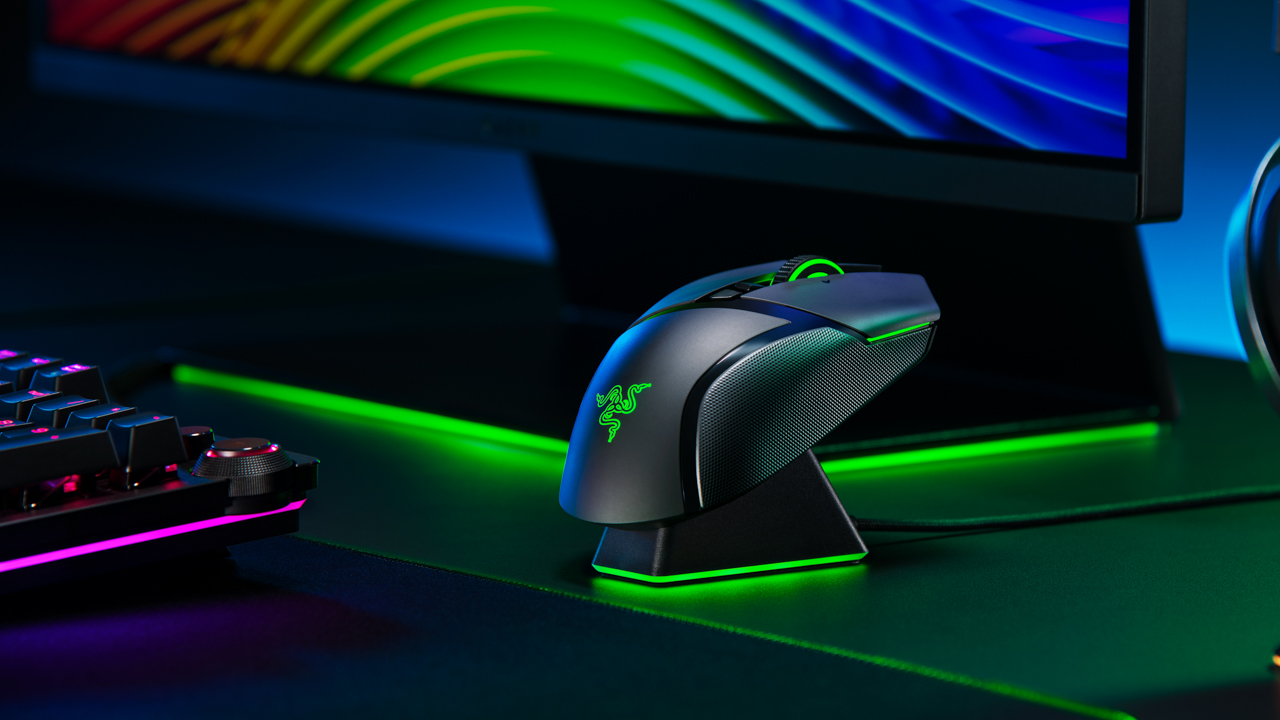 The Basilisk Ultimate is awash in proprietary technologies aimed at making it the fastest and most accurate mouse money can buy. It has a specs list so feature-packed it borders on the absurd, but it justifies its lofty asking price of $169.99 with cutting edge technology and extreme attention to detail.
Some may prefer the featherweight and streamlined design of the Viper, but the Basilisk Ultimate offers more buttons, more features and of course, more absolutely essential RGB effects.
If you're pushing the extremes of your budget, it's worth noting that the Basilisk Ultimate can be purchased without the charge dock for a lower price of $149.99.
Shop the Basilisk Ultimate:
Best Buy | Amazon | Razer Store
Our editors strive to ensure that the information in this article is accurate as of the date published, but please keep in mind that offers can change. We encourage you to verify all terms and conditions of any product before you apply.