Razer's New Blade Stealth 13 Is the First Truly Capable Gaming Ultrabook
Upgraded hardware yields impressive performance from this tiny laptop.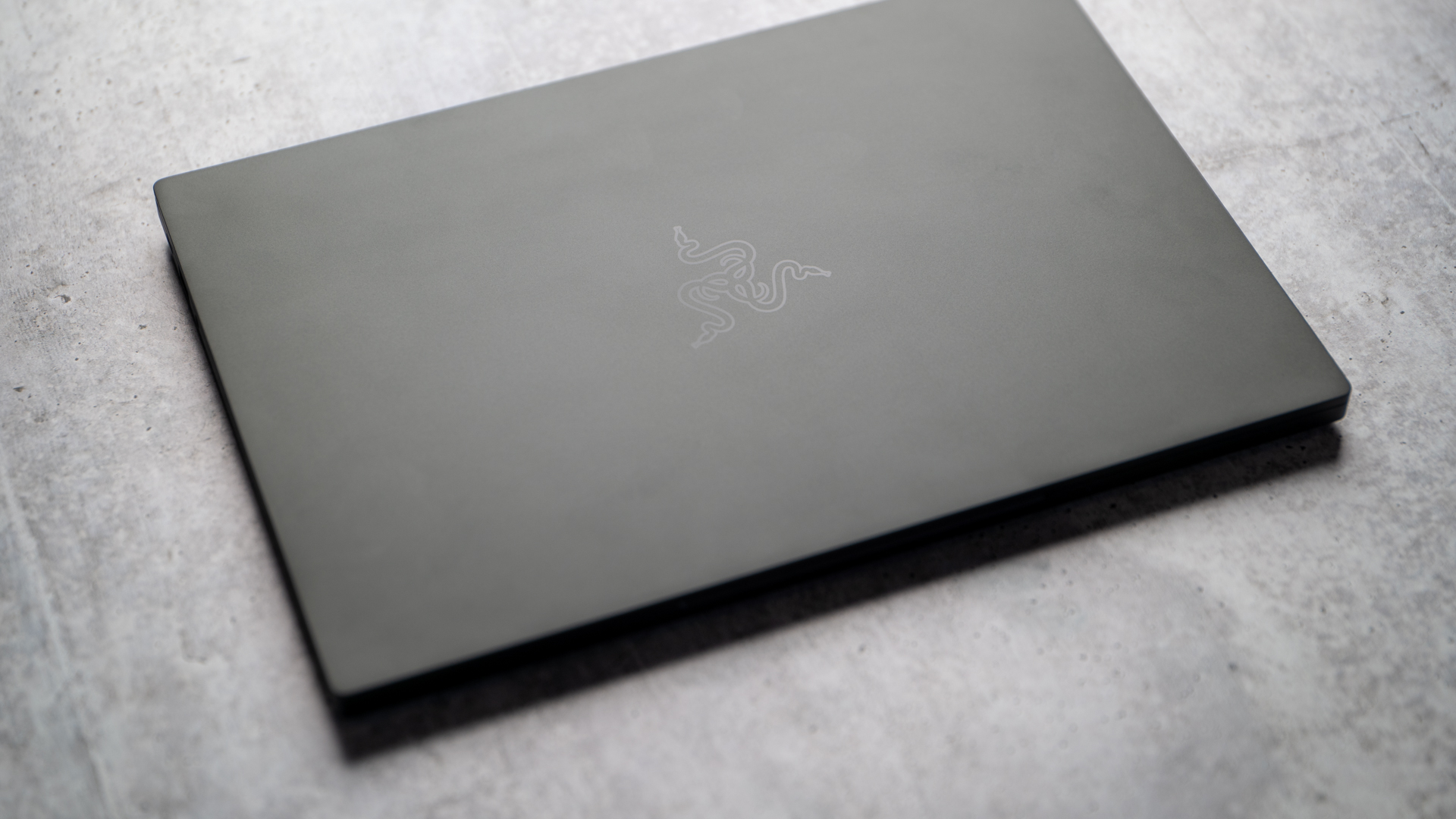 Competition is fierce in the laptop market, and every manufacturer would have you believe that there's something unique or exceptional about their designs. Rarely is that actually true. But what we have here is something genuinely special.
After multiple attempts, laptop maker Razer has finally graced us with a 13-inch ultrabook that delivers proper gaming performance. Released in late 2019, the newly updated Razer Blade Stealth 13 now packs a GTX 1650 Max-Q — a significant graphics upgrade for a chassis this small.
This is a laptop that's so thin and light that you could forget it's even in your bag (true story), and yet it's capable of playing Doom (2016) or Apex Legends on ultra settings at over 80 frames-per-second.
It's not a cheap device — if you want the most GPU power for the least amount of cash, this is absolutely not for you. But if you're willing to pay a premium for the unique privilege of an ultra-portable laptop that can also serve as a bonafide gaming PC, the new Razer Blade Stealth 13 may be your best bet.
Razer Blade Stealth 13 Technical Specifications
Quad-Core 10th Gen Intel Core i7-1065G7 Processor
NVIDIA GeForce GTX 1650 with Max-Q Design (4GB GDDR5 VRAM)
13.3″ 1080p display, matte w/ 4.9mm slim side bezel
512GB PCIe M.2 SSD
16GB DDR4 RAM (fixed, non-upgradeable)
53.1Wh battery, up to 8 hours
Single-zone RGB Keyboard powered by Razer Chroma
Ports: USB-C (with Thunderbolt 3, power port), USB-C 3.1 Gen 2, 2x Type-A USB 3.1
Legit Gaming Performance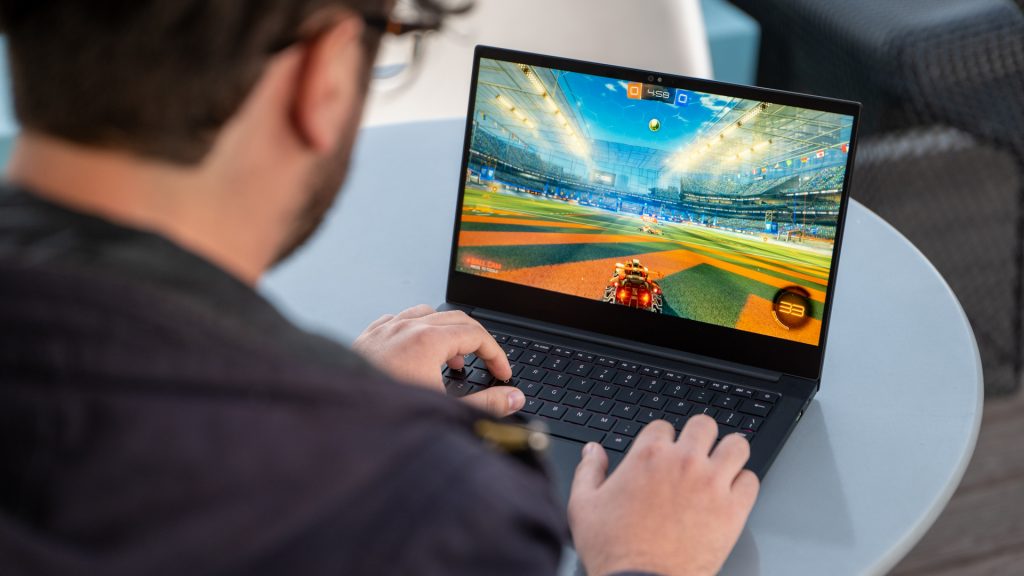 Razer laid claim to having the world's first 13-inch gaming ultrabook with previous models of the Stealth 13. But with lackluster power, those claims were rather bold. Now, with a GTX 1650 Max-Q and a 10th-generation Intel Core i7, the new Stealth 13 packs genuinely impressive gaming performance inside of a chassis that you wouldn't think was capable of such a thing.
Context is key here. In a larger laptop, the GTX 1650 Max-Q would be considered entry-level. But in a machine that's less than 12 inches wide, 0.6 inches thin, and only 3.13lbs, it's incredibly impressive.
thGReeQSBFI
On high settings at the screen's native resolution of 1920 x 1080 (1080p), this little thing is capable of churning out 60fps or more in many of today's big games, including Fortnite, Apex Legends and Rainbow Six Siege. More demanding games — such as Shadow of the Tomb Raider, bring those numbers down below the 60fps sweet spot, and medium settings are necessary. But if you can live with running games at a stable 30fps, you can even enjoy those tougher titles at console-like performance with visuals superior to PS4 and Xbox One.
Cool Under the Hood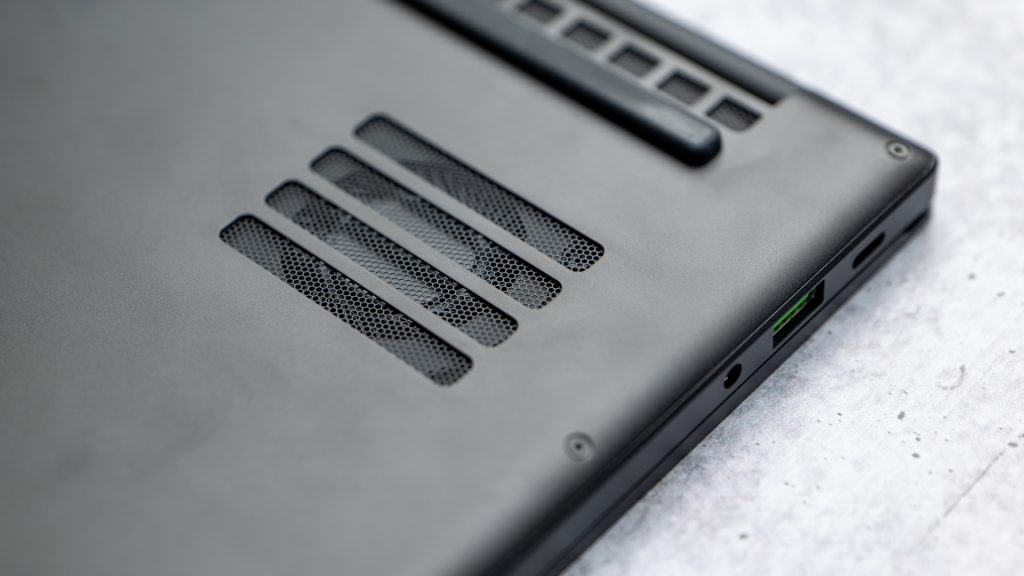 I'd have bet my house on the Blade Stealth 13 melting a hole through my desk and promptly burning its way down to the Earth's molten core. Yet somehow, it manages to achieve all this performance while staying remarkably cool. In fact, it's one of the coolest gaming laptops that I've ever tested.
Running Shadow of the Tomb Raider for an extended session, with VSync off to allow the game to push the hardware to its max, CPU temps never went over 83 degrees Celsius. And the GPU was even cooler at a max of 72 degrees. Keyboard and palmrest surfaces got warm, but not uncomfortably so. And the fans stay relatively quiet under load.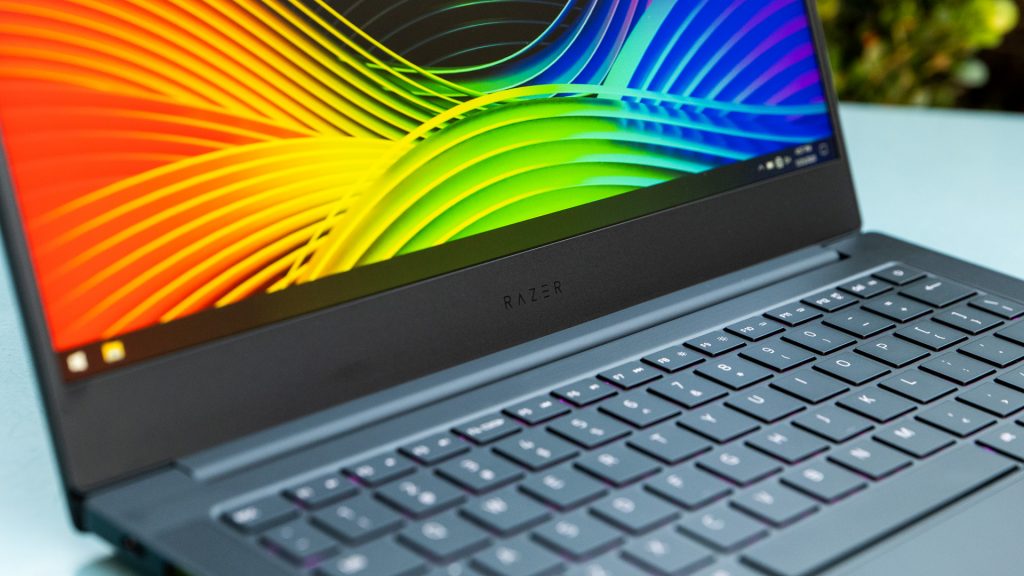 This is coupled with respectable battery life. I was able to get more than six hours of use out of a single charge during casual tasks, including light office work and watching videos, although Razer claims up to 10 hours in ideal situations. Battery life is obviously reduced significantly during heavier loads like video editing or gaming, but you'll never seriously play high-end 3D games on battery power if you know what's good for you.
Quite the Looker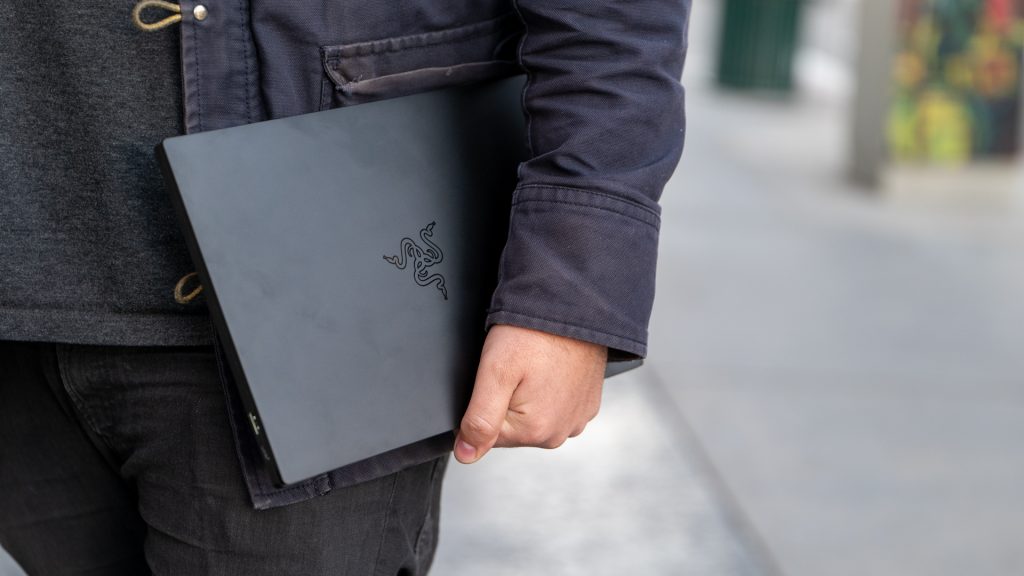 The Stealth 13 continues Razer's recent trend of turning out beautiful-looking hardware. The milled aluminum unibody chassis is sleek and minimalist, with only a single Razer logo polished into the outer case to hint that this is a serious gaming device.
Super thin bezels surround the 1080p 60hz display, which is not an overtly impressive resolution or refresh rate, but is plenty enough to deliver sharp graphics on a screen this small. (I'd argue that the 4k screen found on the highest version of the Stealth 13 is overkill, and at $1799.99, too expensive). While brightness is a little lower than ideal, color delivery is impressive, with every unit receiving individual factory calibration.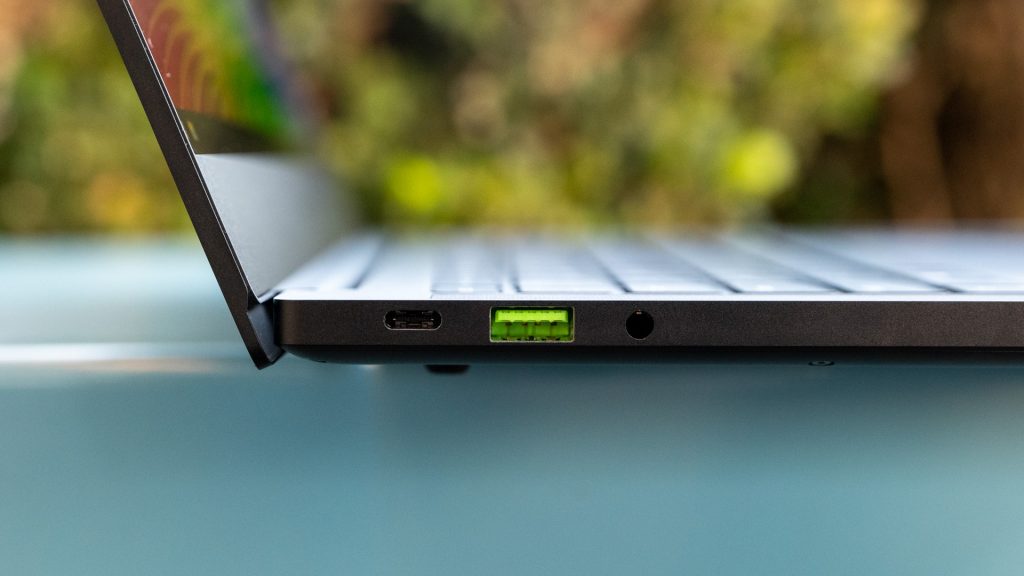 Only four ports adorn the sides of the chassis, but the two USB-C ports offer diversity, with power delivery, fast data transfer and video out all possible. While the two USB Type-A ports, increasingly rare on laptops this small, will serve as the handy legacy ports you'll use for a standard mouse, USB memory and other generic devices that still use the now old-fashioned connector.
Speaking of old fashioned, Razer has even retained a standard headphone port. And if you don't have headphones on hand, the on-board up-firing stereo speakers do an excellent job of pushing out sound on a device this thin. A webcam is also squeezed in, with 720p resolution and Windows Hello capability, which is nice.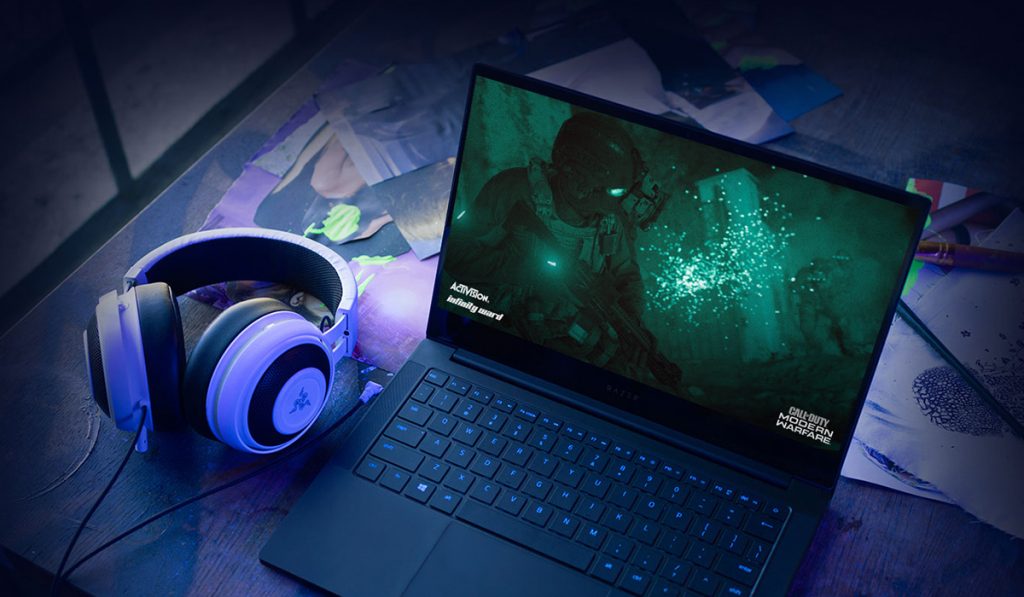 This all comes together to make the Stealth 13 a worthy candidate for an ultra-portable mobile workstation. The backlit RGB keyboard is great to the touch with satisfying travel and clickiness, and the glassy touchpad is large and responsive. The only issue is if you use the right-shift key while typing, the shrunken size and placement of this key will take some getting used to.
Should You Buy the Razer Blade Stealth 13?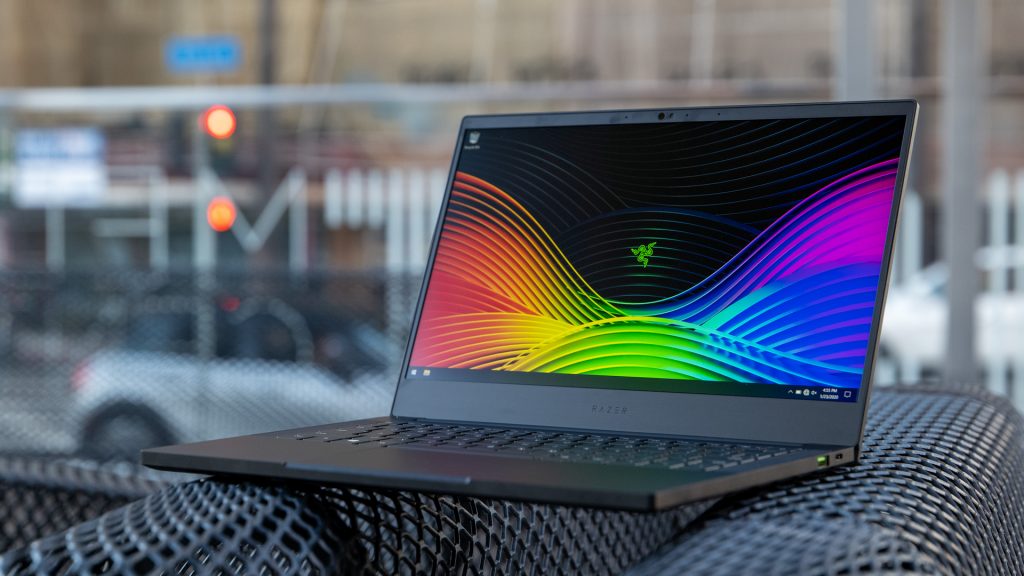 Ultrabooks have always delivered excellent portability, but at great cost to performance. Those days are over — the new Razer Blade Stealth 13 is quite remarkable. Razer has finally produced a supremely thin and light ultrabook that also has the chops to consider itself worthy of being called a gaming laptop.
You'll certainly pay a premium for such a cutting-edge device, but for $1,499.99 at the time of writing, this little monster places you at the forefront of what is possible on a 13-inch laptop, with impressive performance and top-tier build quality.
Buy the Razer Blade Stealth 13
---
Stay updated on all the latest offers on the Stealth 13 by setting a Deal Alert. We'll email you as soon as a new deal is posted.
UP NEXT:
Our editors strive to ensure that the information in this article is accurate as of the date published, but please keep in mind that offers can change. We encourage you to verify all terms and conditions of any product before you apply.