Review: The Razer Book 13 Is a Stunning and Powerful Ultrabook Made for Enthusiasts
Razer bursts onto the productivity scene with one of the best ultrabooks money can buy.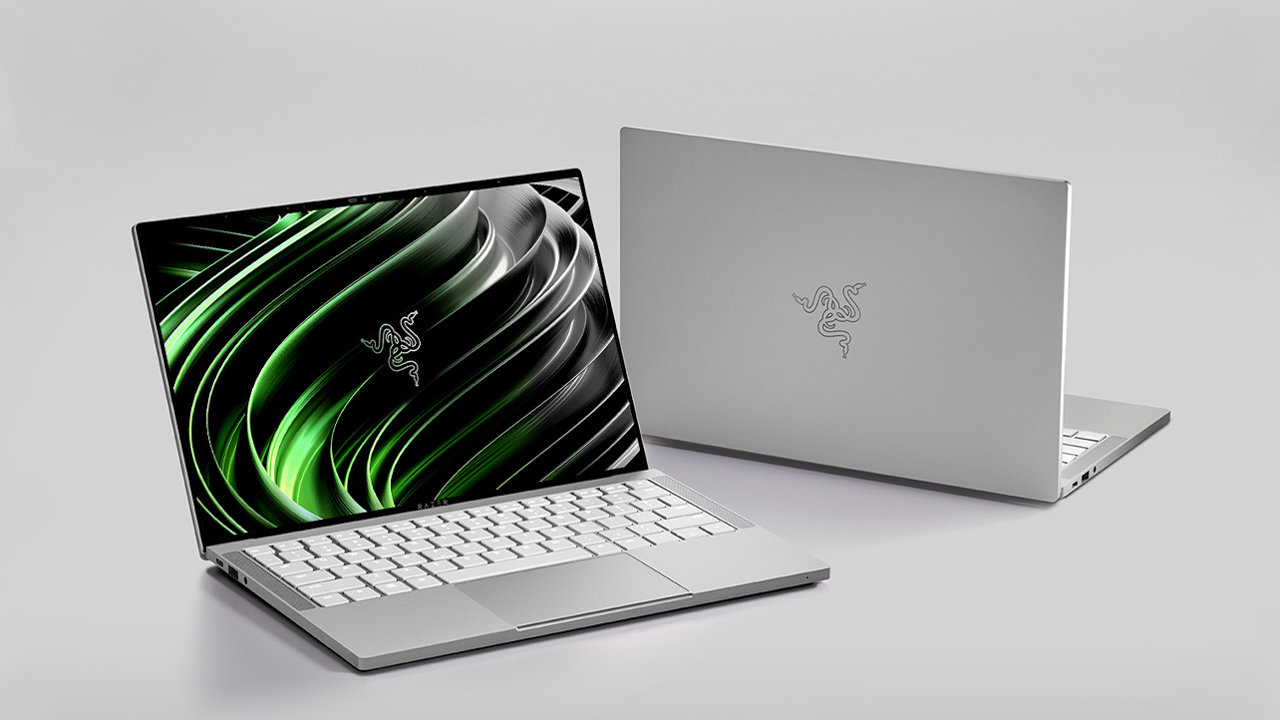 When you think about Razer laptops, you think of high performance gaming and sleek aesthetics. These have been the tentpoles of Razer's laptop design since its start. But now the company is finally diversifying.
The Razer Book 13 is the brand's first-ever productivity-focused laptop. And it's here to make a bold statement: Work laptops don't have to be dull. The Razer Book 13 may not be a gaming machine, but it has brought over the same elite production values and bold design queues of the Razer brand, along with a high-performance CPU that will serve the productivity professional or busy student it was designed for.
With a clean-looking, thin all-metal chassis, high quality display and powerful processors, this is a premium laptop. And it's well positioned to take on the likes of Dell's XPS 13 and Apple's MacBook Pro 13.
Razer Book 13 Technical Specifications
Intel Core i7-1165G7 CPU
13.4-inch 60Hz touch screen display
1920 x 1200 resolution (16:10 ratio)
Intel Iris Xe Graphics
16GB RAM
256GB NVME SSD
Per-key RGB keyboard lighting
Intel Wireless-AX 201 (IEEE 802.11a/b/g/n/ac/ax)
Bluetooth 5.1
55Whr battery, 65W power adapter
1x USB 3.1 Gen 1 (USB-A), 2x Thunderbolt 4 (USB-C), HDMI 2.0, MicroSD Slot
Dimensions: 15.15mm x 198.50mm x 295.60mm
3.09lbs / 1.40Kg
Built True to Razer's DNA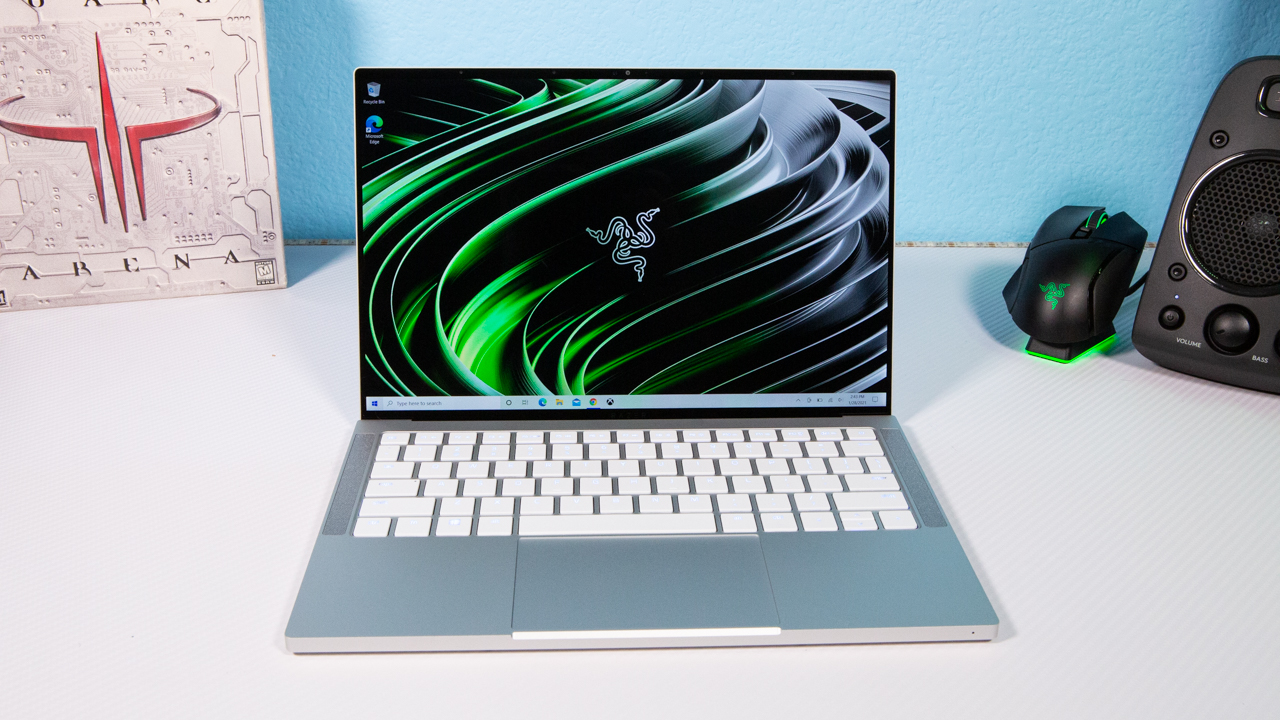 This may be Razer's first non-gaming laptop, but anyone new to the brand will certainly be able to tell that this is not Razer's first rodeo. Right out of the box, you can tell that the Razer Book 13 is one supremely well-built laptop.
It's slim and relatively light, weighing just over 3 pounds, yet it feels like a solid and densely packed machine. It looks great, too. The all-aluminum external casing sports a clean minimalist look, with the large Razer logo etched proudly yet tactfully on the outer shell.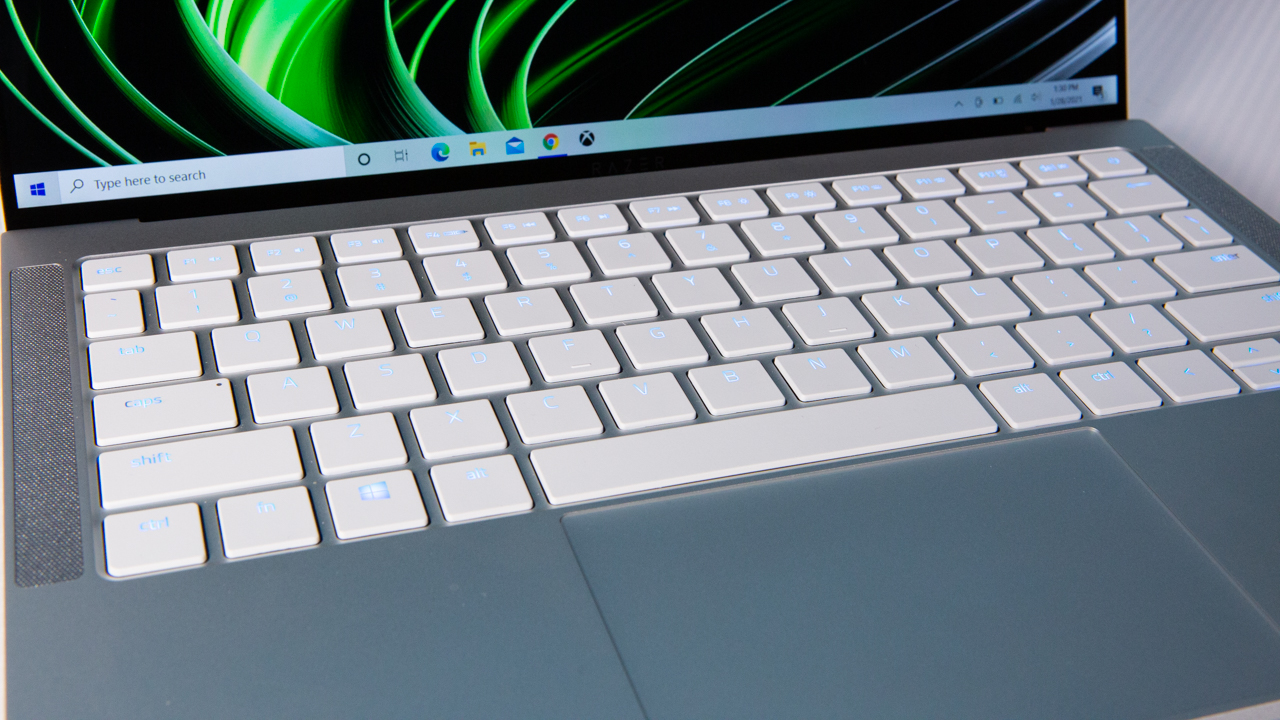 Unfold the perfectly weighted hinge and you reveal a bright and beautiful 16:10 ratio display, an all-while keyboard and a large glass touchpad. This may not be a gaming laptop, but Razer gave it full per-key customizable RGB lighting anyway. It's surely some of the brightest and most extravagant keyboard underlighting ever to grace a productivity laptop.
The keyboard is flanked by a dual array of up-firing speakers. This is nice on such a compact laptop, where many manufacturers save on space by relegating the speakers to the underside.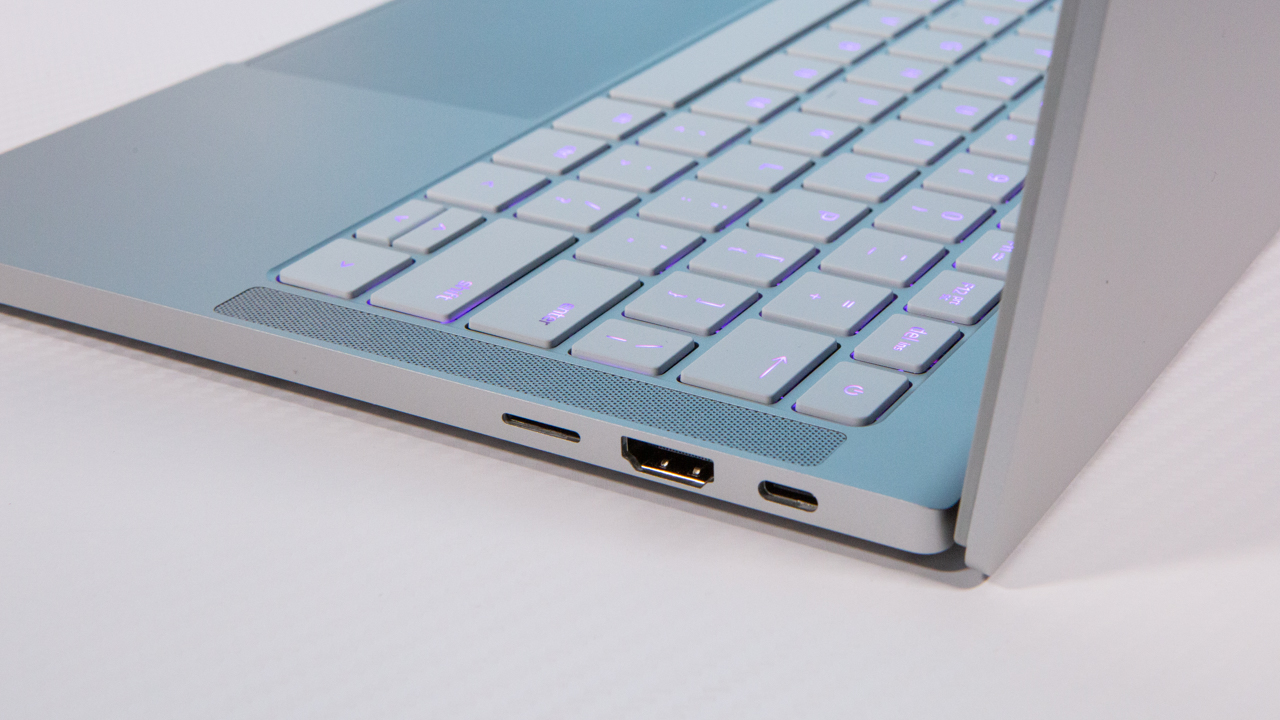 Also impressive for the 13-inch ultrabook category is the comprehensive selection of ports. Two Thunderbolt (USB-C) ports are joined by one USB Type-A port and a full size HDMI 2.0 port. When compared with the XPS 13, which only has USB-C and forces the use of adapters for anything else, this is very convenient indeed. A standard headphone port and a slot for a Micro SD card also make an appearance.
Made for Productivity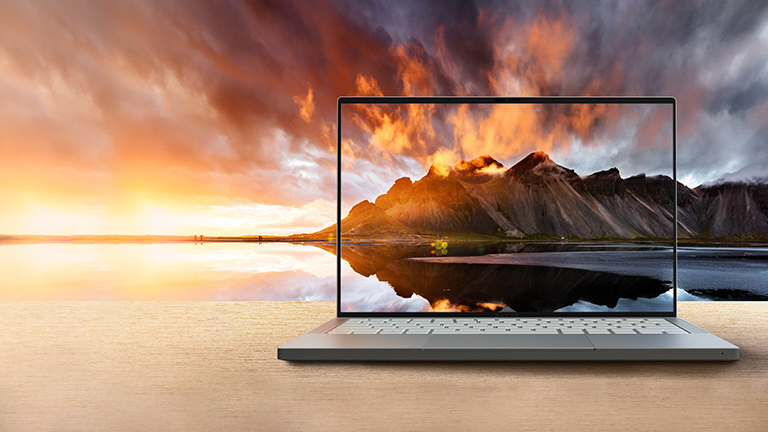 The Razer Book 13 may be one of the lowest-priced Razer laptops ever, but Razer fans should be explicitly warned: Don't buy one expecting a budget gaming machine. The Razer Book 13 has no discrete graphics, meaning it really doesn't perform well for gaming. I tried Fortnite, just for the heck of it, and struggled to maintain even 30fps on low settings, with terrible stuttering throughout. DOOM Eternal doesn't even boot without warning you that it's not compatible with the on-board Intel Iris Xe graphics driver.
So the Razer Book 13 is a productivity laptop through and through. But with no beefy graphics card inside, what you get is a lighter, cooler, more power-efficient and more affordable laptop as a result.
That said, the 11th-gen. Intel Core i7 in this laptop boasts 4 cores and 8 threads, with a max boost frequency of 4.7Ghz. That's a massive amount of performance for a slim and light 13-inch ultrabook.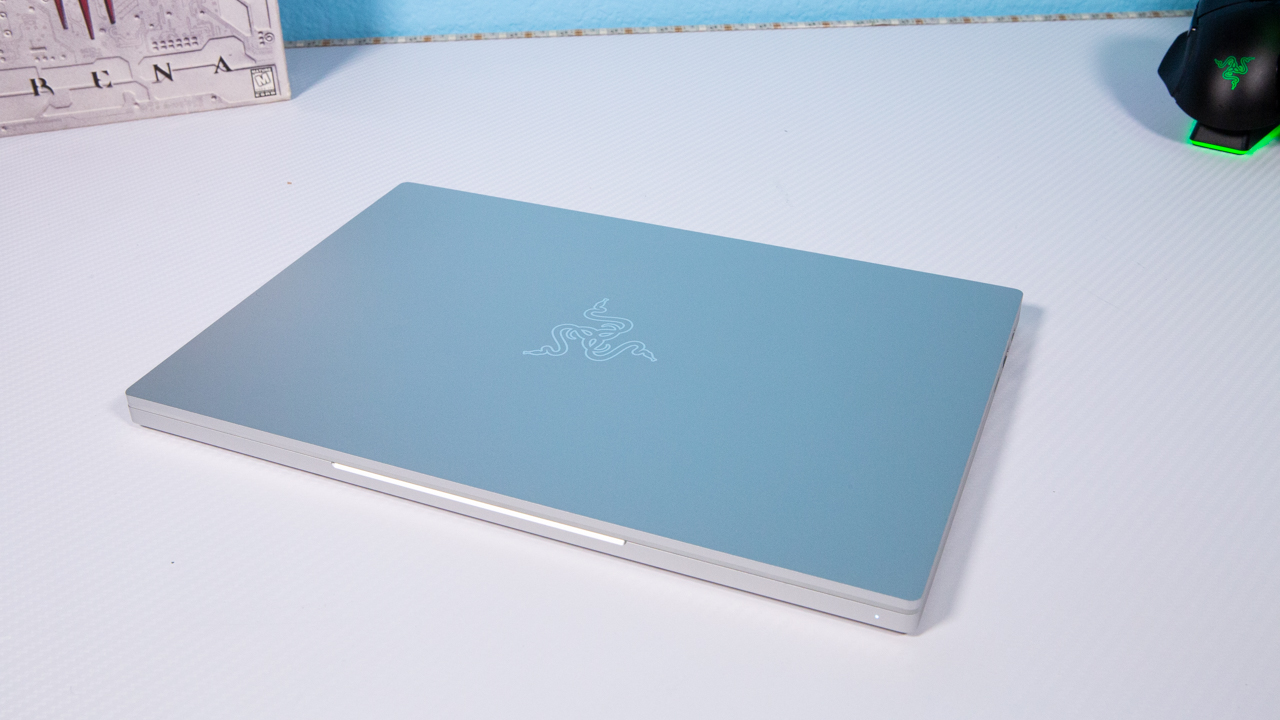 With that CPU, 16GB of RAM and an ultra-fast M.2 SSD for storage, this little PC lets you whip around your files and applications with the greatest of ease. Opening multiple documents, web browser windows, several applications, large PDF files or high-resolution videos posed no problem for the Razer Book. And that makes it an incredible performer for the office and productivity workloads it's intended for.
Intel chips are known for putting out a lot of heat and the 11th-gen. processors are no difference. Razer has employed the use of a vapor chamber to cool this little laptop, and that does help to keep this fast chip running high clock speeds. Thermal throttling doesn't seem to be an issue.
That said, the heat that this laptop generates is immediately apparent. The all metal chassis gets noticeably warm to the touch, even when doing relatively light tasks like browsing the web or watching YouTube. And it gets even warmer if you place it on your lap, choking the two underside vents, which quickly crank up the fan speed as they struggle to draw in air. It's not a critical problem, just something to bear in mind.
Thoughtful Finishing Touches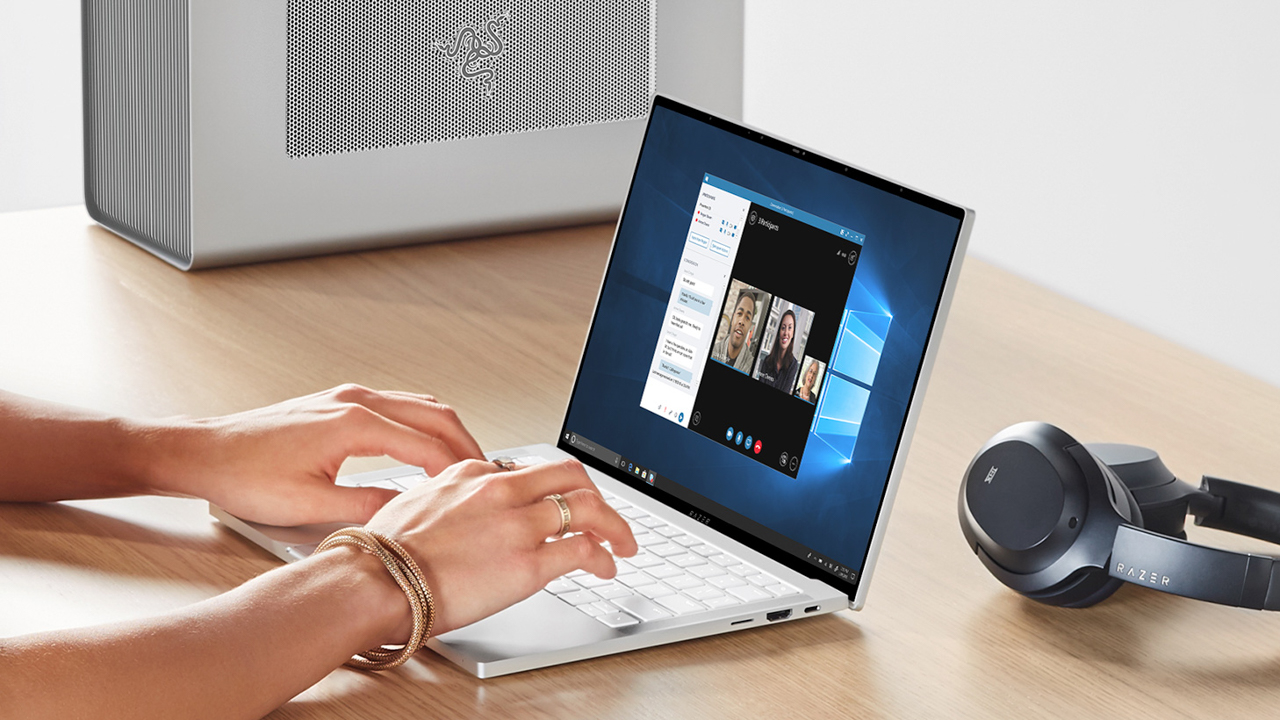 Razer's hardware management software, Razer Synapse, has made the jump from its gaming rigs on the Book 13. And it offers similar options here, including full RGB lighting control, performance and battery saver modes, fan control, and fully customizable key bindings. The keyboard itself is excellent, with a tactile clickiness and comfortable geometry.
Touch-enabled versions of the Razer Book are also Intel Evo verified, which means it fulfils a defined set of productivity-focused performance metrics. This includes instant-wake on opening, 9+ hours of battery life (non-4K models only), 40GB/s transfer rates on its Thunderbolt 4 ports, fast Wi-Fi 6 support and more. A webcam in the upper bezel is present for video meetings, and supports Windows Hello for convenient login via facial recognition.
The display is also geared for productivity. The 16:10 ratio offers a slightly taller profile than regular 16:9 screens, giving you more real estate for reading documents or scrolling web pages.
Our touchscreen FHD (1920×1200 resolution) unit boasted great factory calibration out of the box, with bright, vibrant color reproduction and excellent viewing angles, perfect for photo and video editing on the go. A 4K version is also offered, but the standard FHD display looks so crisp already. I honestly don't think the 4K option is necessary on such a small display, especially considering the reduced battery life you'll get as a result.
Should You Buy the Razer Book 13?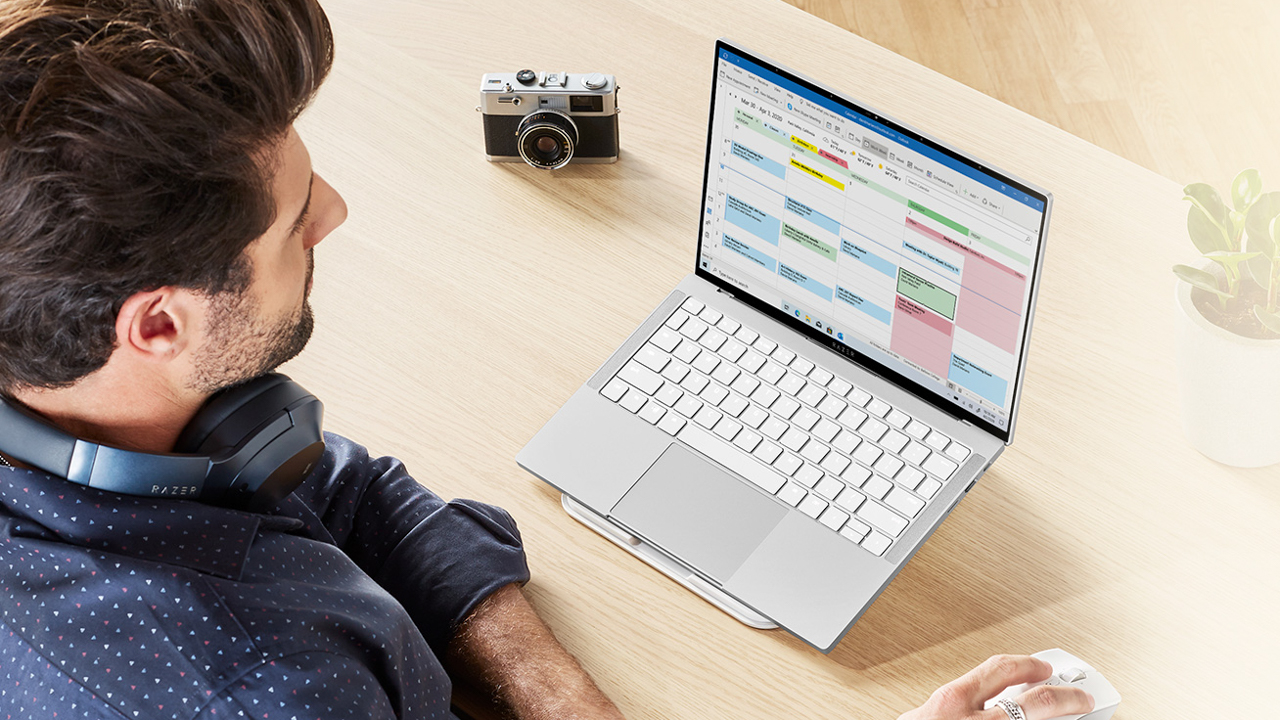 This may be Razer's first foray into the productivity market, but it's off to a blistering start. The Razer Book 13 stands shoulder-to-shoulder with the best ultrabooks available. It boasts MacBook Pro-like looks, and has a better selection of ports than the XPS 13.
I'd argue that the 'Full HD Touch' version that we tested (priced $1,599.99) is the best option, boasting the faster Core i7 CPU that the non-touch version lacks, and better battery life than the 4K model.
---
Set a custom Deal Alert to stay up to date on the latest discounts and sales as soon as they drop. And browse through our Razer Promo Codes and Coupons page for all the current offers from the brand.
Up Next:
Our editors strive to ensure that the information in this article is accurate as of the date published, but please keep in mind that offers can change. We encourage you to verify all terms and conditions of any product before you apply.