Review: Razer's Naga Pro Is a Transforming Wireless Mouse for Every Game Genre
From FPS to MMO, Razer's latest wireless mouse is a Swiss army knife for PC gamers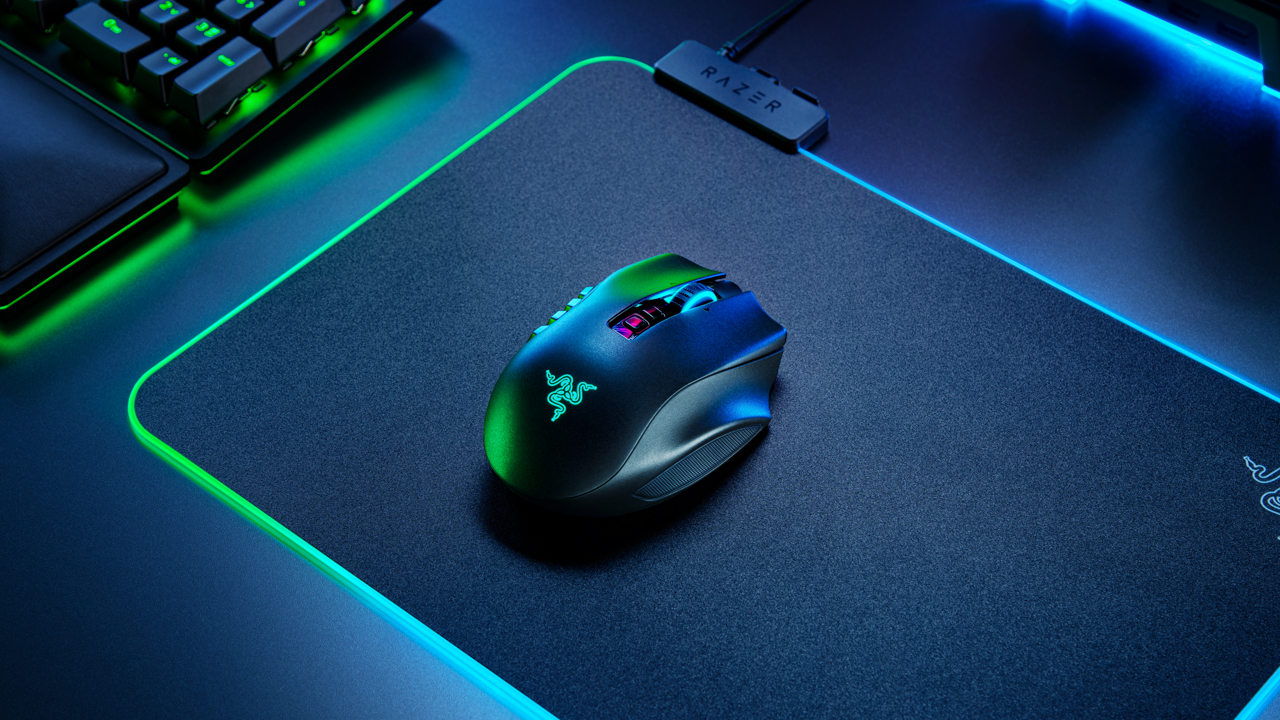 Gaming mice come in all different shapes and sizes, and are built to cater specifically to one genre or another. But what if you like to explore huge MMO worlds in between bouts of Call of Duty? Do you need two different mice?
Not if you have a Naga Pro. Razer's latest wireless mouse features a modular design that was first seen on the original Naga Trinity, with interchangeable panels that lets you transform the mouse to your liking.
You can go from the common two-button design to a fully-fledged 12-button MMO design instantly. And with the full array of Razer's best gaming mouse technology alongside optional Bluetooth support, the Naga Pro is a premium mouse designed for just about every use case.
Razer Naga Pro Technical Specifications
20,000 dpi Razer Focus+ Optical Sensor
Optical Mouse Switch
Up to 19 programmable buttons
Three interchangeable button plates
HyperSpeed Wireless (2.4Ghz Wifi)
Switchable Bluetooth wireless support
Razer Mouse Dock compatible
Wired Mode support
Chroma RGB lighting
PTFE Mouse feed
5 profiles stored in on-board memory
Up to 150 hours of battery life
Unique Modular Design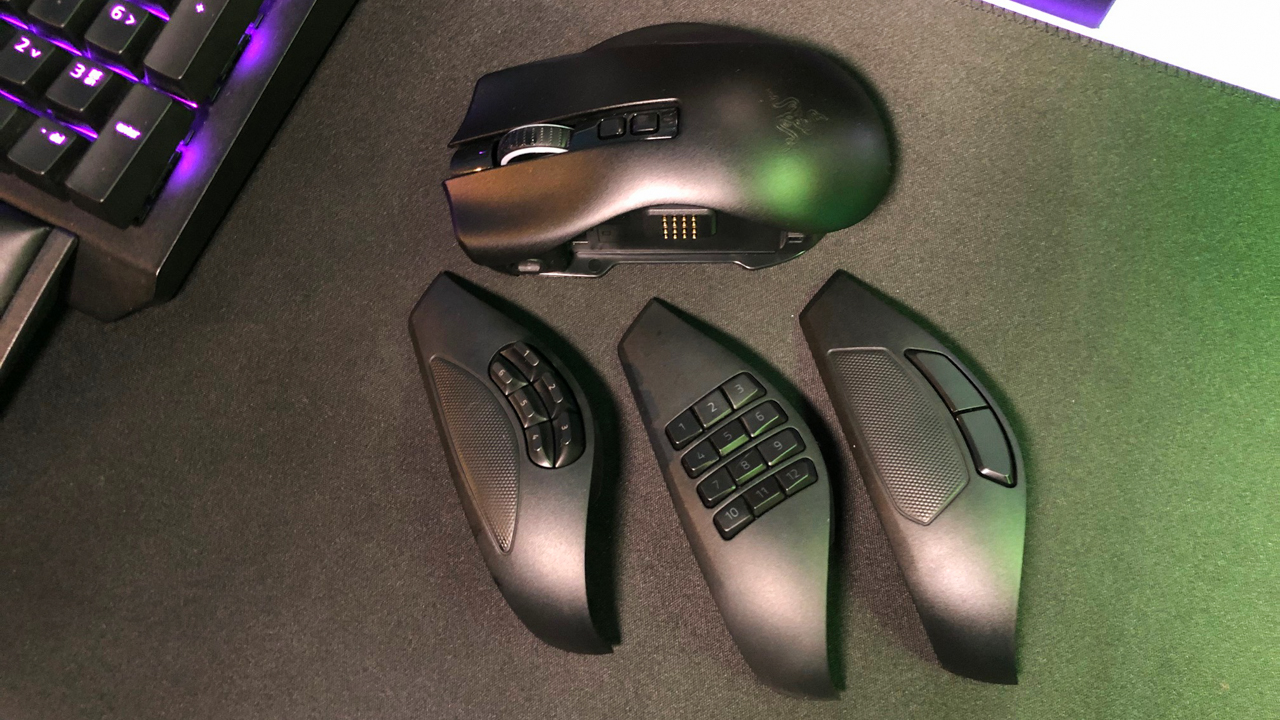 The big draw of the Razer Naga Pro is its three side plates that let you switch between two, six and 12-button configurations. Changing the panels is easy thanks to a magnetic connector that simply snaps firmly into place.
The benefits of this design are clear. Whether you play first-person shooters, battle royale, MMO games or all of the above, the Naga Pro adapts to suit the situation perfectly.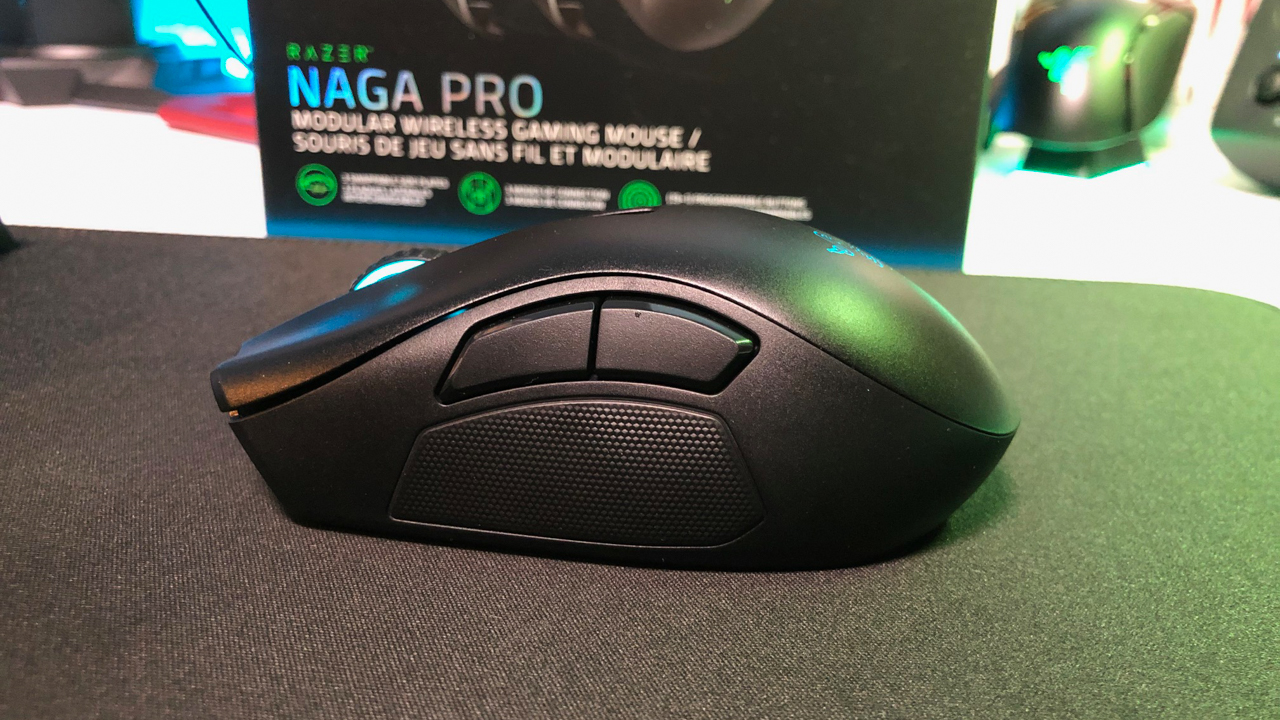 The two-button panel is a conventional affair that is great for casual Windows use thanks to the standard back-page and forward-page binding. It's also likely to best suit FPS games that need only a couple of inputs for things like grenades or melee attacks.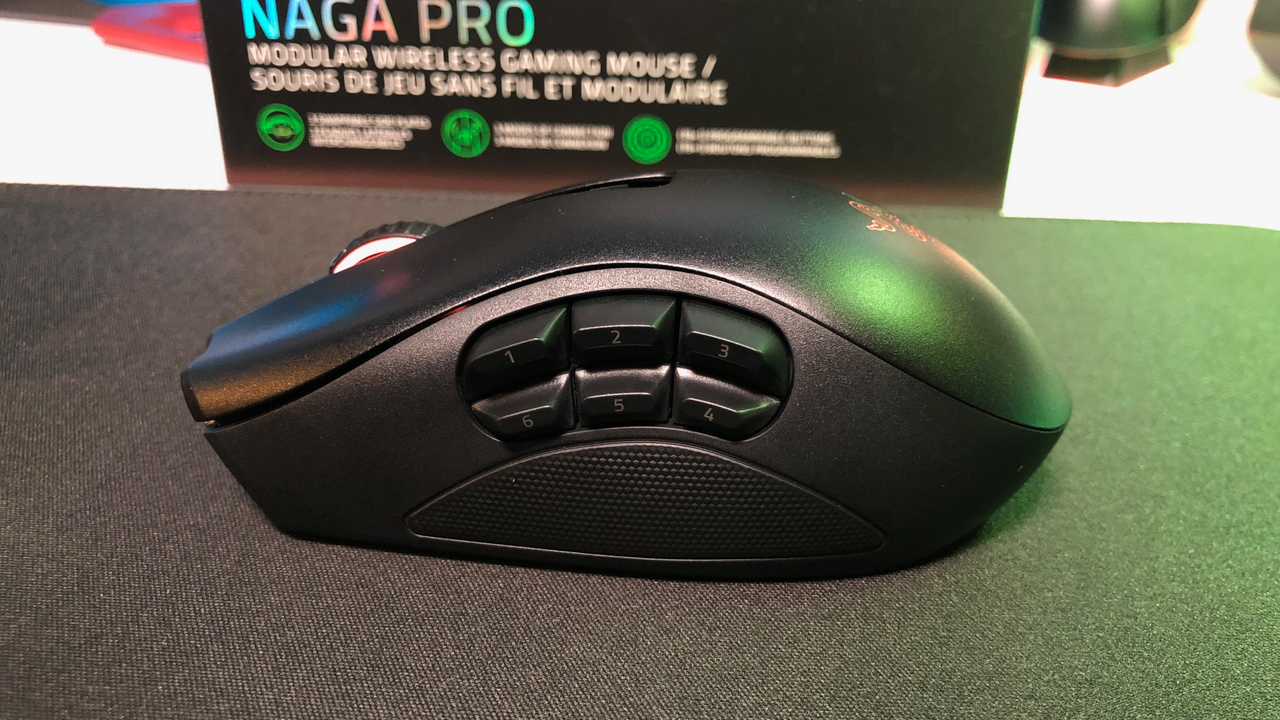 Stepping up to the six-button panel gives you more programmable options while retaining a rubber grip surface. This is billed as the ideal setup for battle royale games, and comes with inputs for tagging supply drops, enemies and objectives in Apex Legends, or looting and building in Fortnite. I also found this plate useful for FPS games like DOOM Eternal, with my six most used guns bound to their own side-button for easy weapon switching.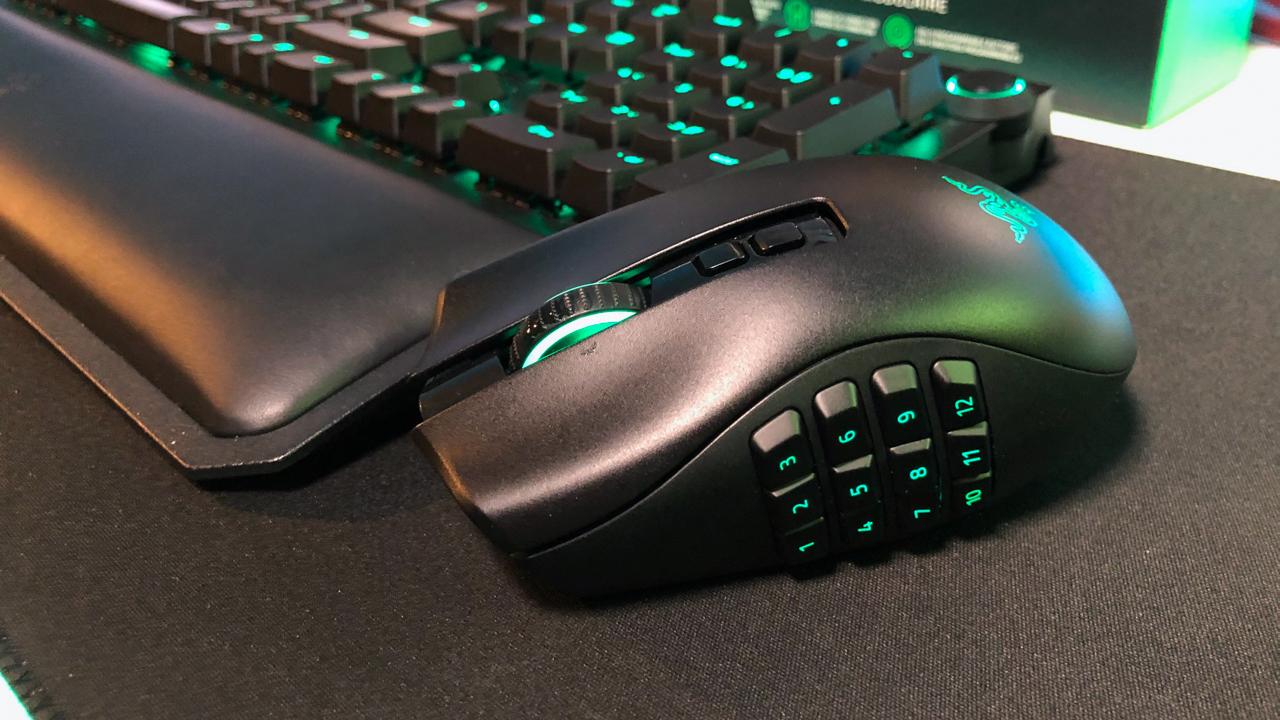 Meanwhile, MMO players will obviously gravitate towards the 12-button plate, where binding a dozen spells or macros to their own buttons proves invaluable.
Hypershift mode, which lets you instantly switch to a second layer of functions for every button via the Razer Synapse 3 software, effectively doubles all of your button counts. That's a frankly ridiculous proposition with the 12-button panel (who can remember 24 presets?), but proves useful no matter what configuration you use.
All of this makes the Naga Pro mouse the most diversely capable gaming mouse out there. It's perfect for gamers with varied tastes, but also handy for digital artists or photo/video editors who will find plenty of uses for its expandable inputs. And RGB fans will be pleased to note that the 12-button plate features programmable lighting.
Bigger Is Better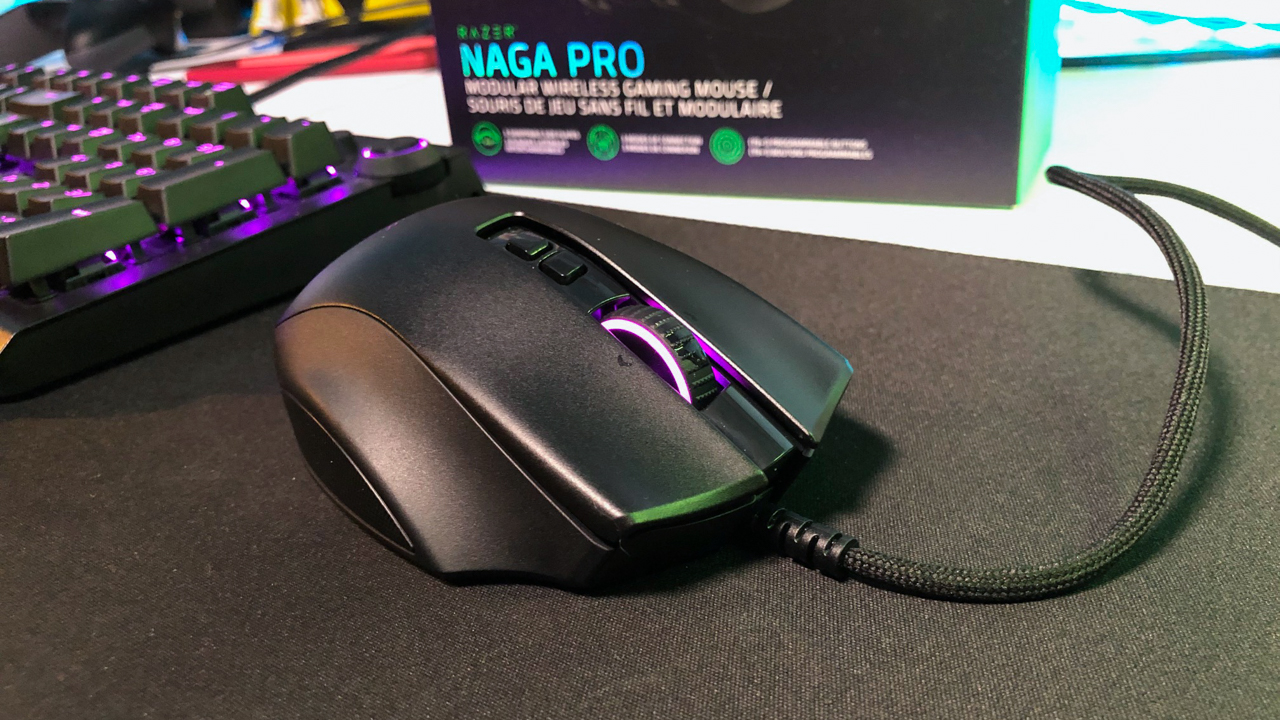 The Naga Pro is rather uniquely wide in its design compared to Razer's other offerings. From a top-down perspective, it resembles a Viper Ultimate with an extended section on the right edge.
This added surface area serves as a perfect resting spot for your ring finger, with a rubber surface for your pinky to grip. Additionally, its bulging palm area fills a larger hand more effectively than other mice like the Razer Basilisk or Viper Ultimate.
Everyone will obviously have their own preferences, especially when you consider your hand size and grip style. For me personally, though, this robust, ergonomically contoured design makes the Razer Naga Pro hands down (no pun intended) the most comfortable gaming mouse I have ever used.
Powerful Mouse Tech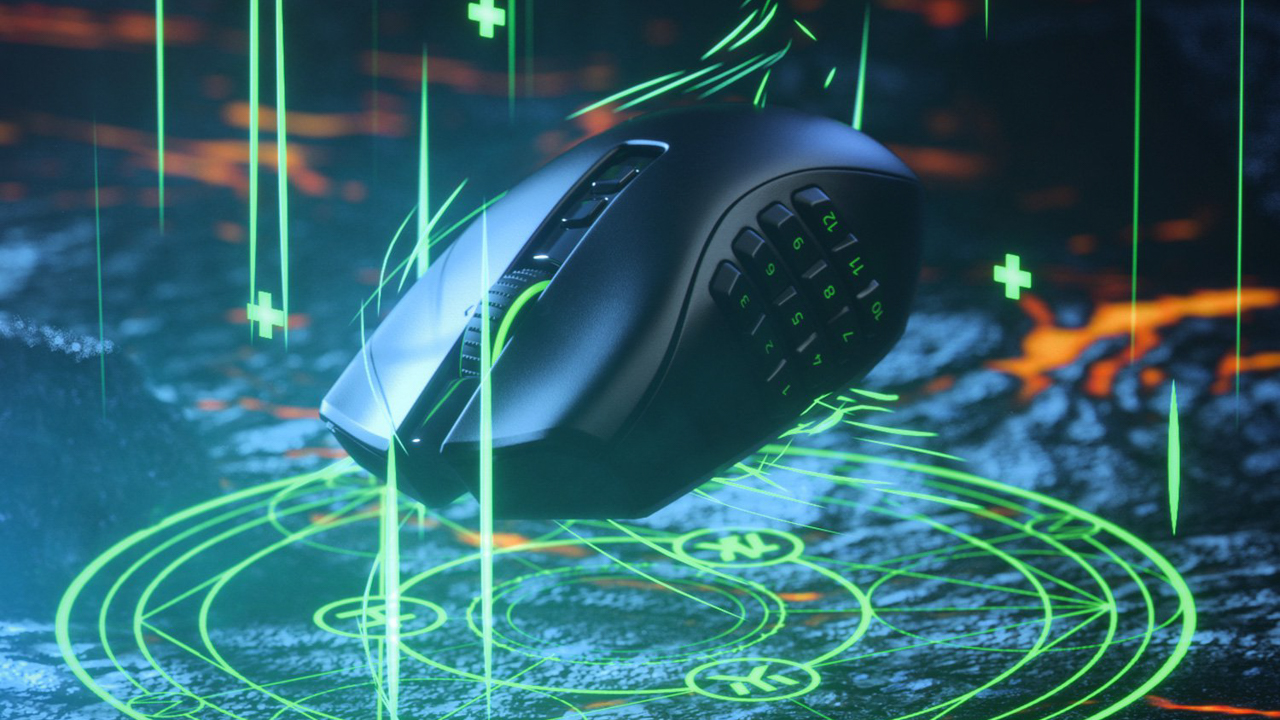 Razer's latest premium gaming mice have featured some impressive and widely praised tech, and all of this has, of course, found its way into the Naga Pro.
Your movements are detected with microscopic precision via a no-holds-barred 20,000 dpi optical sensor. And smart tracking features let it automatically calibrate itself to adapt to changing surfaces and lift-off sensitivities.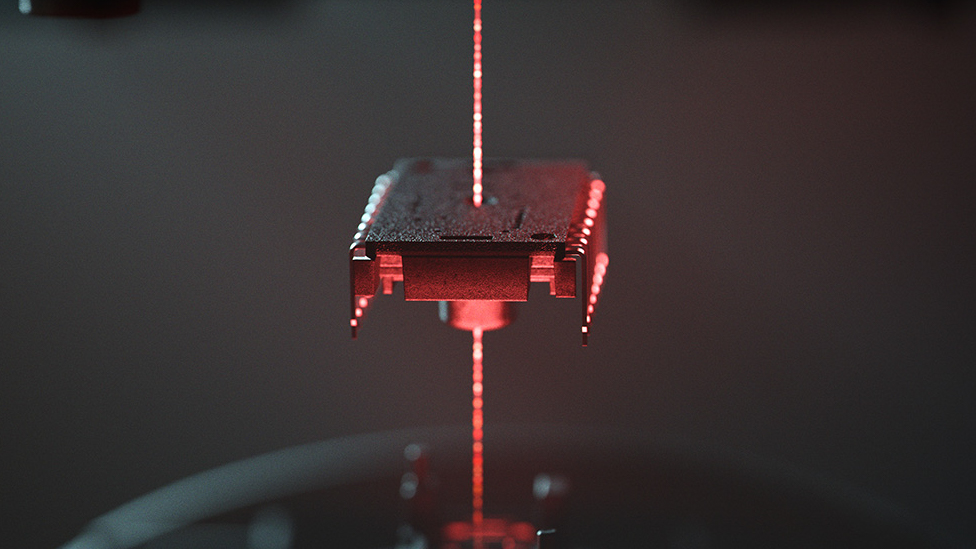 The two main mouse buttons feature Razer's optical switch, which uses infrared light to detect actuation, boosting response times and durability (rated for an impressive 70 million clicks).
To ensure all of these speedy inputs actually make it to your PC unhindered, Razer has its Hyperspeed Wireless tech. It claims that this proprietary 2.4GHz Wi-Fi-based signal provides the fastest and most reliable connection on the market. And as we've stated in our Viper and Basilisk Ultimate reviews, it feels indistinguishable from a tethered mouse.
A wired connection is possible though, via the included USB cable. This allows you to use the mouse while charging, in the event that you push the limits of its "up to" 100 hours of battery life.
Meanwhile, the Naga Pro also has a Bluetooth mode, which not only makes it more widely compatible with other devices than the Basilisk Ultimate, but also extends battery life to 150 hours, according to Razer. Bluetooth mode does, however, result in inherently slower response times.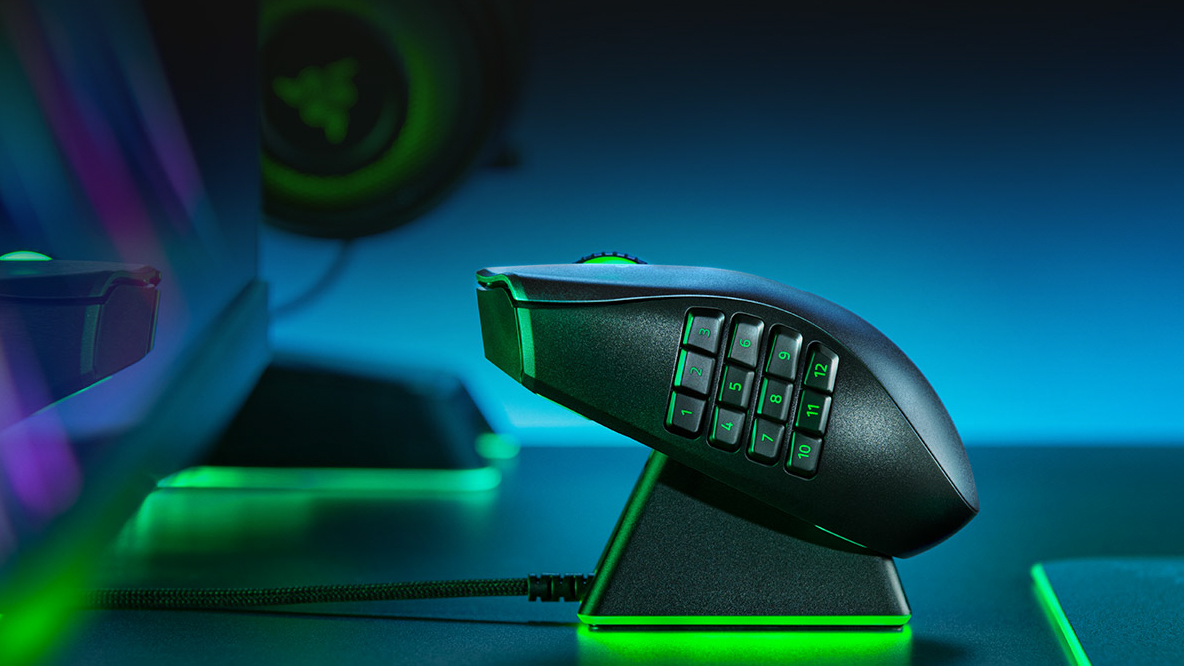 The Naga Pro is also compatible with the new Razer Mouse Dock. Although, oddly, there's no option to buy the Naga Pro with the dock included in the box.
The dock costs $50 when purchased separately, and the Naga Pro and dock together are going to be slightly more expensive when compared to the other top Razer gaming mice. However, Razer.com is currently offering a bundle deal that slashes $30 off when you buy both the Naga Pro and Mouse Dock together in one order using the code NAGADOCK at checkout.
Should You Buy the Razer Naga Pro?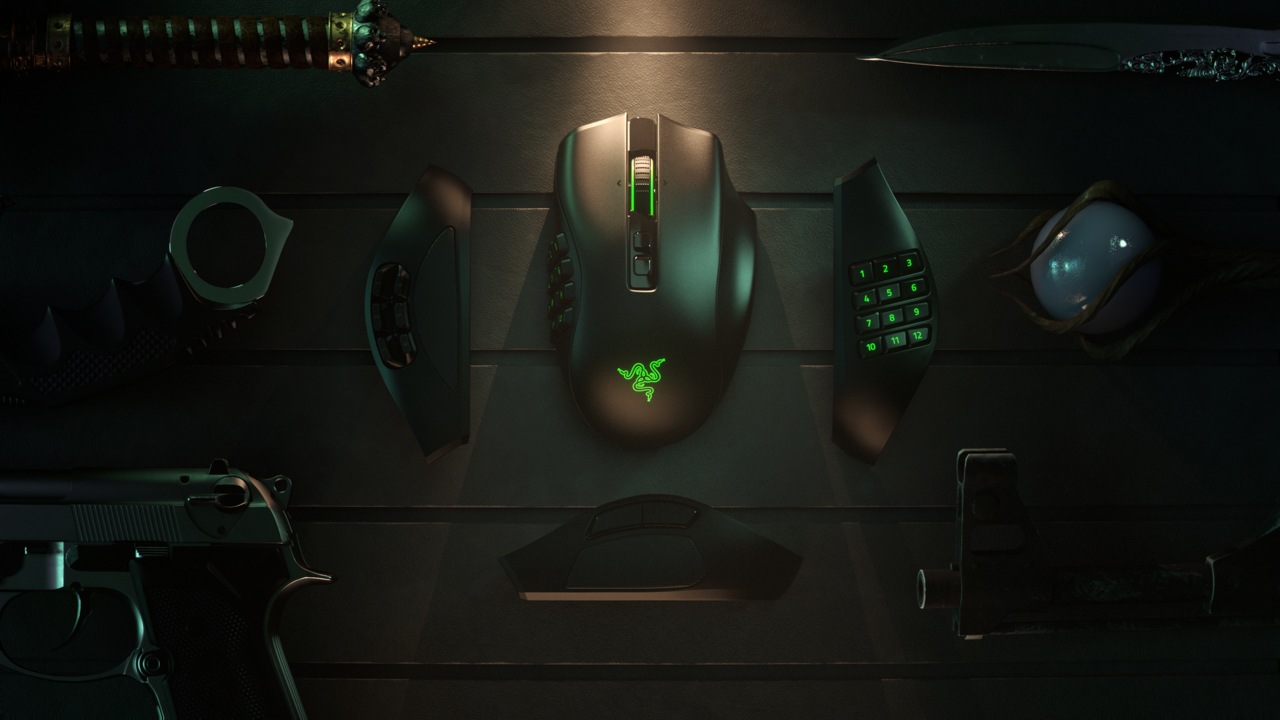 With three interchangeable button plates alongside proprietary Hyperspeed Wireless, Bluetooth and wired connection options, the $149.99 Razer Naga Pro is one of the most diverse and flexible mice available.
Perfect for any genre of gaming and even a Swiss army knife for productivity, the Naga Pro can be adapted to suit just about any need, and should definitely be at the top of list for gamers with varied tastes. Plus, its larger dimensions make it supremely comfortable for gamers with bigger palms.
---
Set a Deal Alert to avoid missing out on any upcoming price drops. And browse through our top Mice Deals here for all current offers.
Up Next:
---
Any product or service prices/offers that appear in this article are accurate at time of publish, and are subject to change without notice. Please verify the actual selling price and offer details on the merchant's site before making a purchase.