Finally Found Them! Gaming Speakers That Meet My High Standards
Razer's Nommo Pro 2.1 system is THX certified and delivers on both sound and style.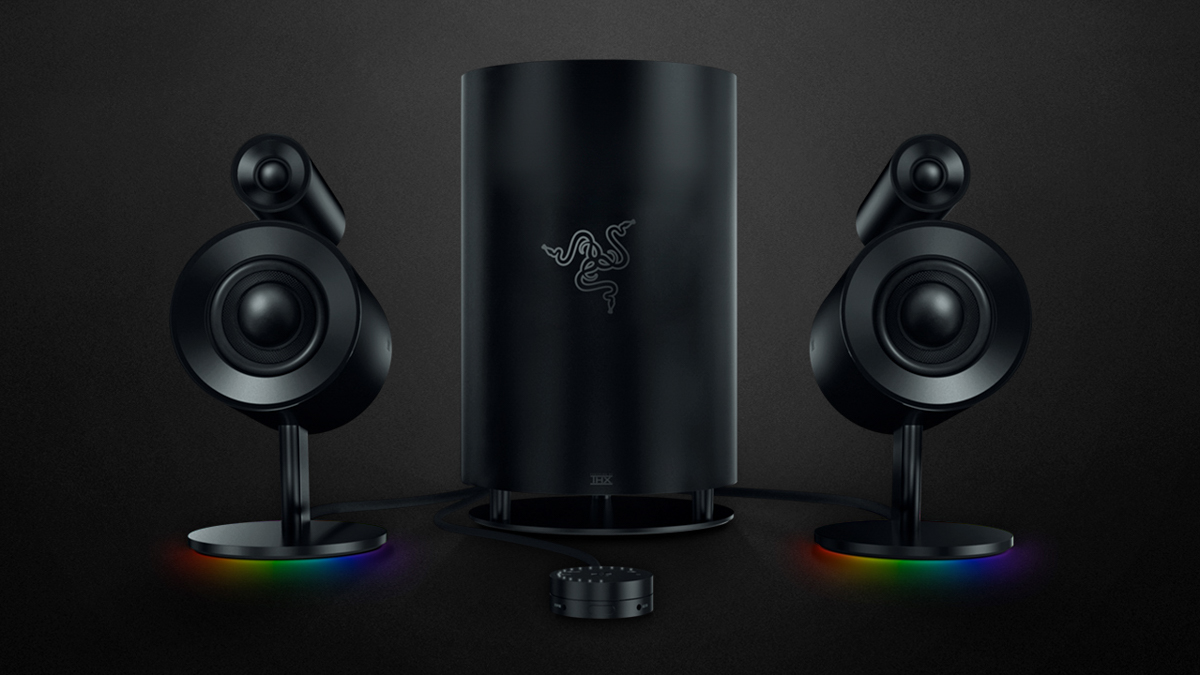 When it comes to entertainment experiences, I'm very particular. I'm the type of person who goes to an IMAX theater not just for the gigantic screen, but also for the 20,000 watts of room-shaking sound. I built a home theater system when I really didn't have the space for it, and my first set of gaming PC speakers cost a few hundred dollars when most were selling for around $10 – $20 back in the mid-'90s.
It's been decades, and I've yet to retire my original Cambridge SoundWorks 4.1 gaming PC speaker system, but not for lack of trying — that's just how good they are.
The company has since gone out of business, and my system is finally starting to waver in its stability. But of all the times that I've tried to replace them with top picks from one of the many "best gaming PC speakers" lists out on the Internet, I end up returning them almost immediately. Most had almost no bass, or had too much poor quality boom-y bass in an attempt to make you feel like you had a bigger system.
Maybe I'm too picky, or maybe people don't think gamers need high quality audio — whatever the reason, I was on the verge of building a custom system from scratch. But before I dropped a ton of cash, I figured I'd give one last shot to a system I had heard a lot about: Razer's Nommo Pro THX Certified 2.1 Gaming Speakers.
And after all these years, I'm thankful to finally be able to relieve my Cambridge SoundWorks speakers of their duty. Keep reading to learn about the different ways that Nommo Pro has been able to meet my high expectations.
Caution: Objects Are Larger Than They Appear Online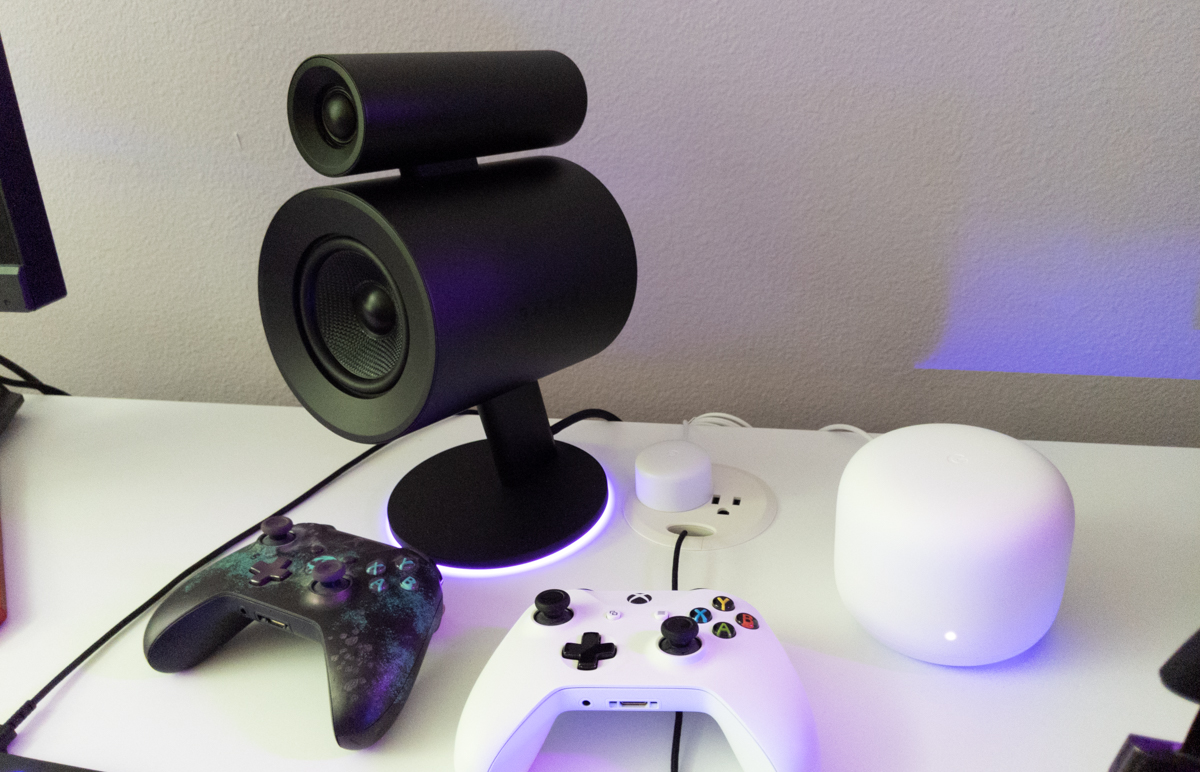 There's no need for Razer to pretend that Nommo Pro is a big system because it's actually physically quite large. Pictures online and in social media don't do it justice.
In my experience, PC speakers are typically these tiny pebbles that try to take up as little space as possible, often sacrificing sound performance for size. That's not the case for Nommo Pro. Its overall footprint isn't intrusive to my desktop space, but its presence is made known since they're essentially bookshelf speakers without the box-y frame — imagine if you had x-ray vision into a speaker box.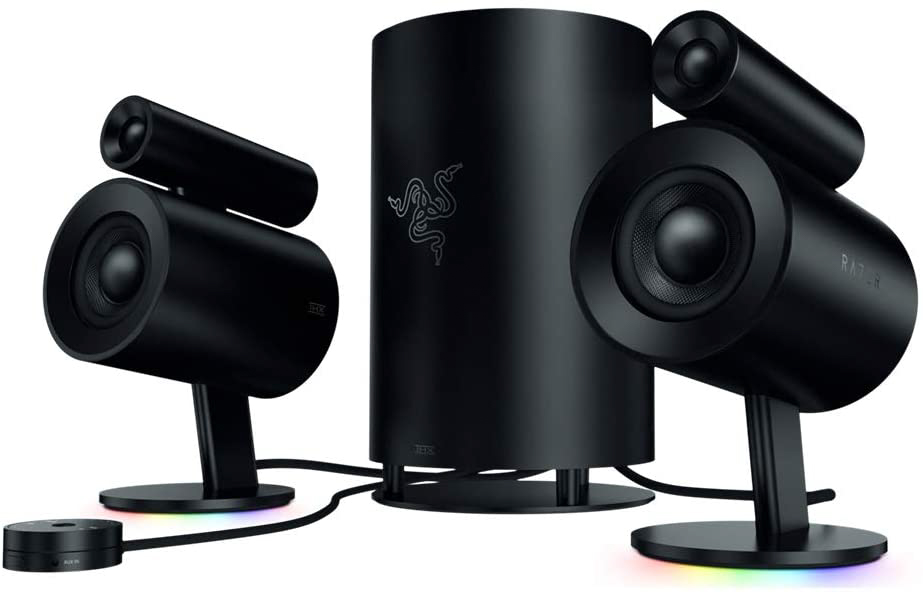 Each speaker features a 3-inch Kevlar-coated full range driver and a silk woven 0.8-inch tweeter. The physical size of the speaker is important because you want something that can produce enough volume at around 50% or less of its max capability. This is where you'll get the full range of sound without pushing its limits for loudness-sake.
Same goes for the subwoofer, which also doubles as the control center. The frame of the down firing subwoofer comes up to just below my knee. Even at first glance, I already have confidence that this thing is going to produce some solid bass tones.
While the Nommo Pro system is big, it's not complicated at all. The PC, two speakers, and multi-function dial plug directly into the subwoofer unit using pre-wired connections — no wire splicing or twisting involved. All that's left is to power on the system, and I'm ready to rock.
An Impressive Soundstage for Movies, Music and Games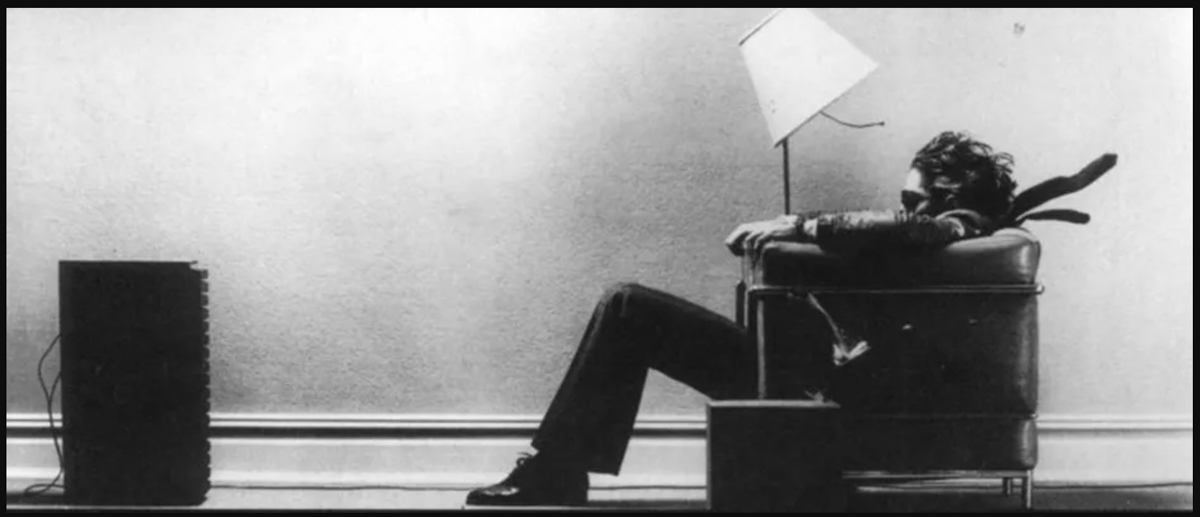 You're all probably too young to remember the Maxell cassette tape ads from the early '80s, but the guy in the chair was me when I first fired up the Nommo Pro.
Even with my old 4.1 speaker system, I never felt this much powerful and clean sound coming right at me. In fact, there's so much audio available that it's almost uncomfortably loud if I set the volume above 30 percent while seated at my desk. There's more than enough volume to power a house party, if you wanted to.
As all audio enthusiasts know, loud sound doesn't mean it's good sound. Thankfully, the Nommo Pro is more than capable of delivering a high quality audio experience with its THX certification, Dolby Virtual Surround, plus fully customizable equalizer.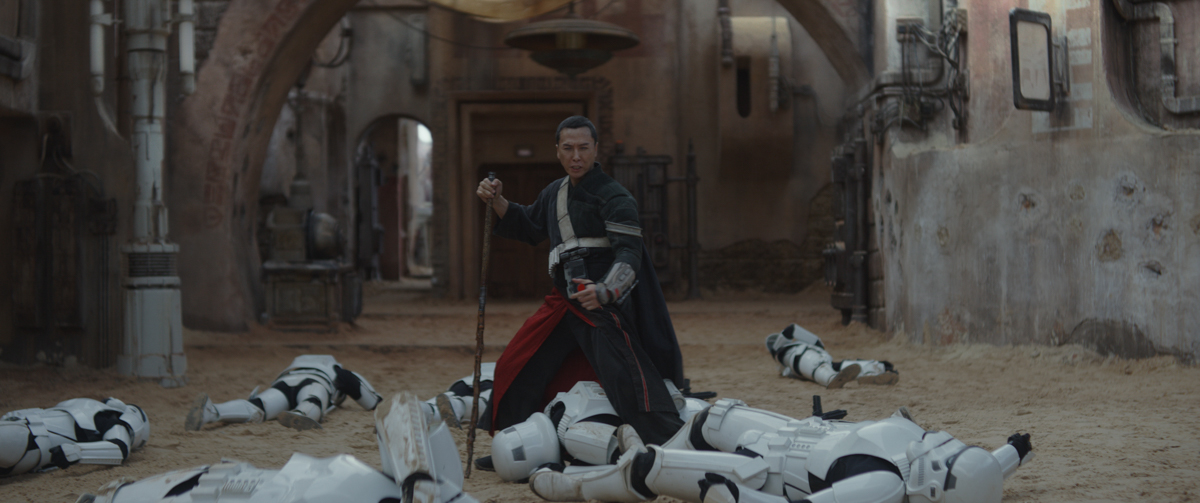 Let's start with the THX audio — I loaded up Rogue One: A Star Wars Story, and it felt like I was at the movie theater. The speakers flank my monitor and are angled towards me, but the sound felt like it was coming from directly in front, as if there was a center speaker. The surround effects and ambient details were all so crisp that I felt like I was part of the action.
The THX setting makes great use of the subwoofer, delivering rich but not boom-y bass tones which give the audio a feeling of fullness that most desktop speakers can't achieve. I find myself using the THX preset tuning for just about everything, from YouTube to gaming. For my tastes, it seems to offer the most versatile audio experience across a wide range of genres.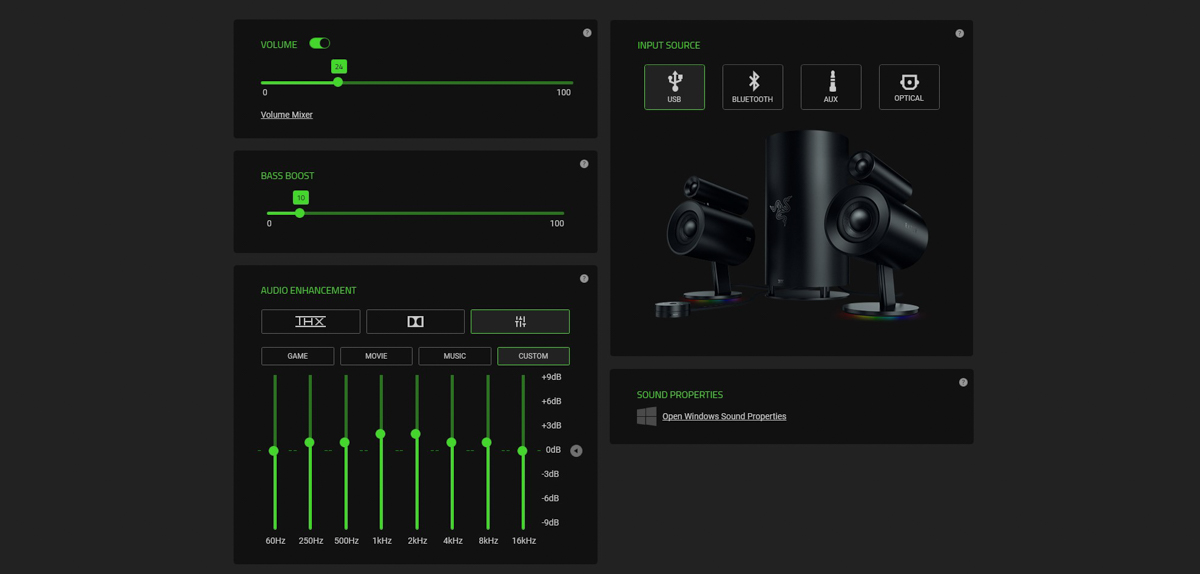 If you like things a bit more tailored, the Razer Synapse app does allow full control over the equalizer (EQ) settings. There are eight channels to adjust for precise tuning, so you can increase the vocal range for songs or boost the bass to really feel those explosions.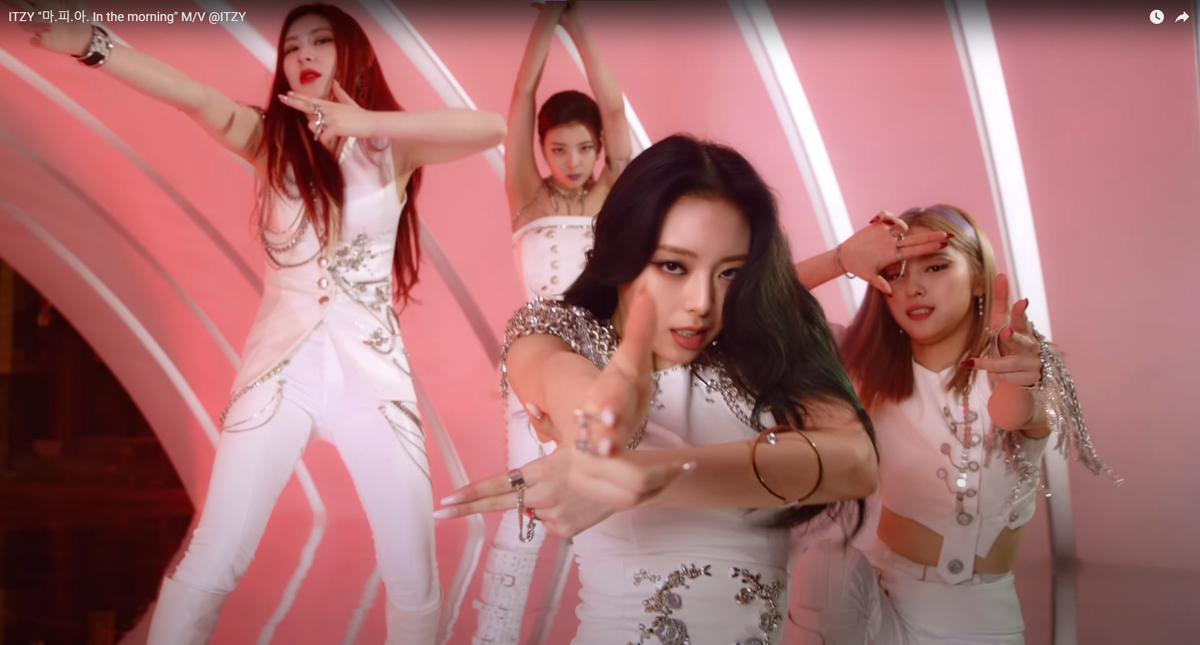 Like I mentioned before, the THX preset will probably be just fine for most people. But I've found that songs benefit the most from a custom EQ setup when you tune for the specific style of music. For example, the smallest adjustments in the mid-range can help vocals stand out against a bass-heavy track, like in the latest single from K-pop sensation ITZY. It really changes the listening experience from feeling a bit conservative to bright and lively.
I have yet to find a situation where the Nommo Pro didn't excel. It does more than just produce sound — it delivers an immersive and detailed audio experience that can't be achieved with just headphones. Simply having physical distance from the speakers gives the sound waves room to bounce around and envelop me, adding to the feeling of being in the moment instead of just watching the moment.
At the end of the day, sound quality is a very subjective topic, and will vary greatly from person to person depending on their preferences and previous experiences with speakers. If I had to be nitpicky, I can see how some people might find the Nommo Pro to have a bit too much of a bass bias. But as someone who loves to feel their audio and plays a lot of action games, it's just the way I like it.
"For Gamers. By Gamers."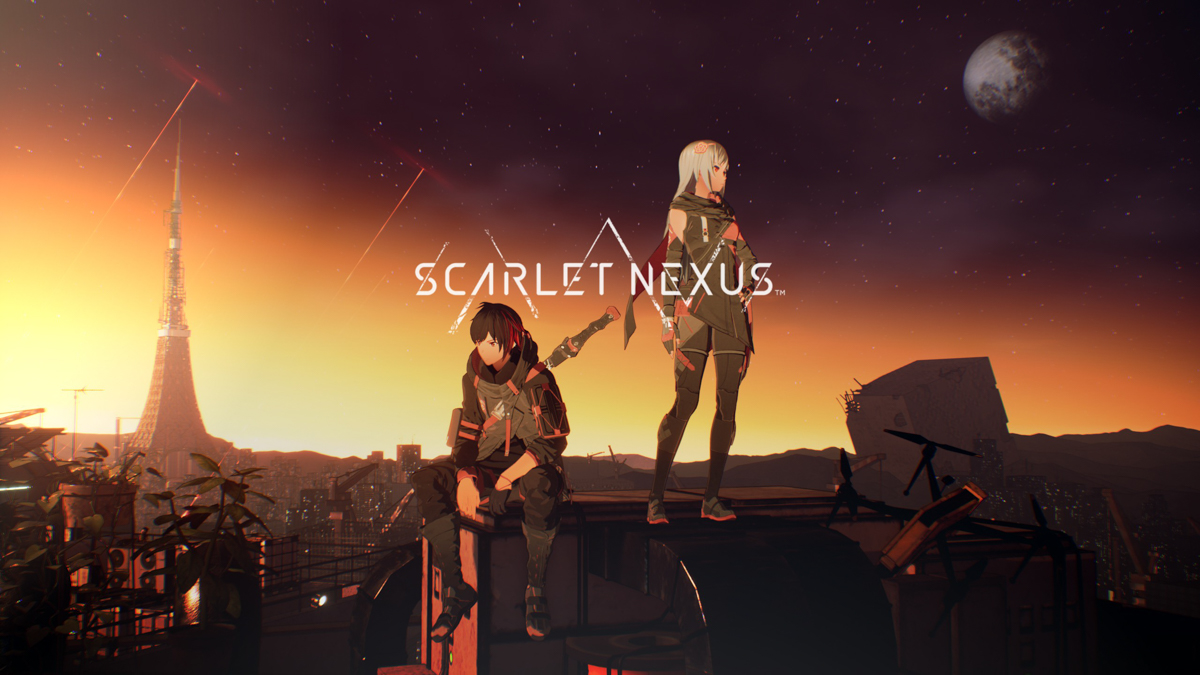 The landscape of PC speakers is vast and varied. Some claim to be designed for gamers, but don't deliver on sound performance. Others are constructed for audiophiles and professionals, but lack visual flair and are difficult to set up.
Razer's Nommo Pro addresses both the performance and lifestyle requirements of gamers, and is the most comprehensive all-in-one system I've found so far. Of course, Chroma RGB is a given, and each speaker has eight customizable zones for you to express your favorite colors or patterns. The lights can even be set to react to music.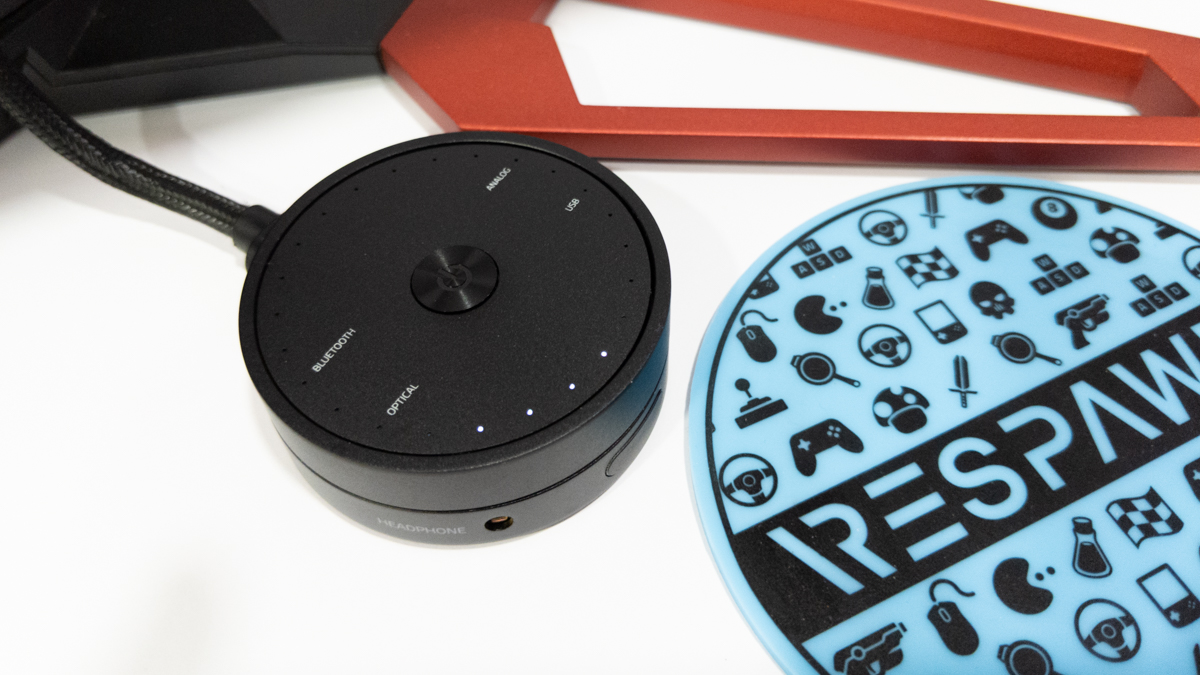 The system is completely stand-alone — meaning your PC doesn't need to be on for the other inputs to work — and allows for a variety of audio devices to be connected physically and via Bluetooth. If you wanted to have a separate stereo receiver just for listening to vinyl records, you could use the optical or auxiliary connection, and the multi-function dial lets you quickly cycle through inputs.
This dial also provides convenient access to power and volume controls, and has a 3.5mm audio port for traditional gaming headsets. I'm impressed by the system's flexibility and legacy support — you can game and listen to music however you want.
Overall, I appreciate Nommo Pro's unique design and its ability to backup its looks with true performance. It's quirky enough to be a statement piece, and any anti-fans will be quickly silenced once they hear the symphony coming from the speakers. I'm glad to have finally found a speaker set that is worthy of retiring my old system.
Where to Buy Razer Nommo Pro Gaming Speakers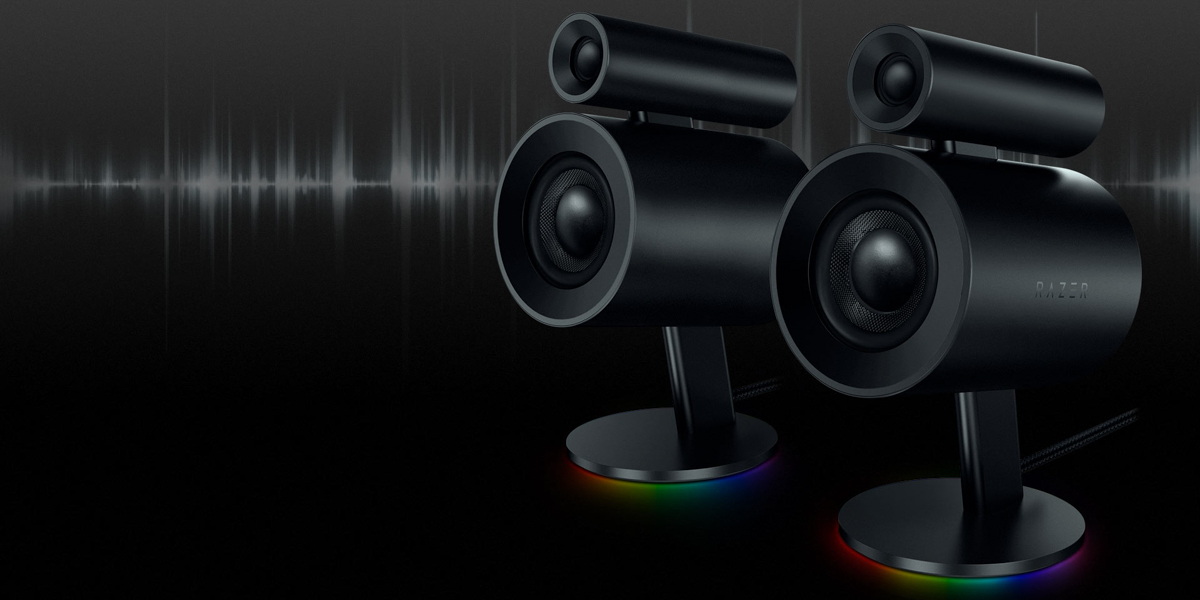 Razer's Nommo Pro 2.1 gaming speaker system is regularly available for $599.99, but it's on sale for $490.12 at Amazon and GameStop, at the time this article was published.
Shop Razer Nommo Pro at the following retailers:
Our editors strive to ensure that the information in this article is accurate as of the date published, but please keep in mind that offers can change. We encourage you to verify all terms and conditions of any product before you apply.