Running Watches Are the Best Way to Improve Your Speed and Endurance
No matter your fitness level, picking the right running watch can completely change your workouts.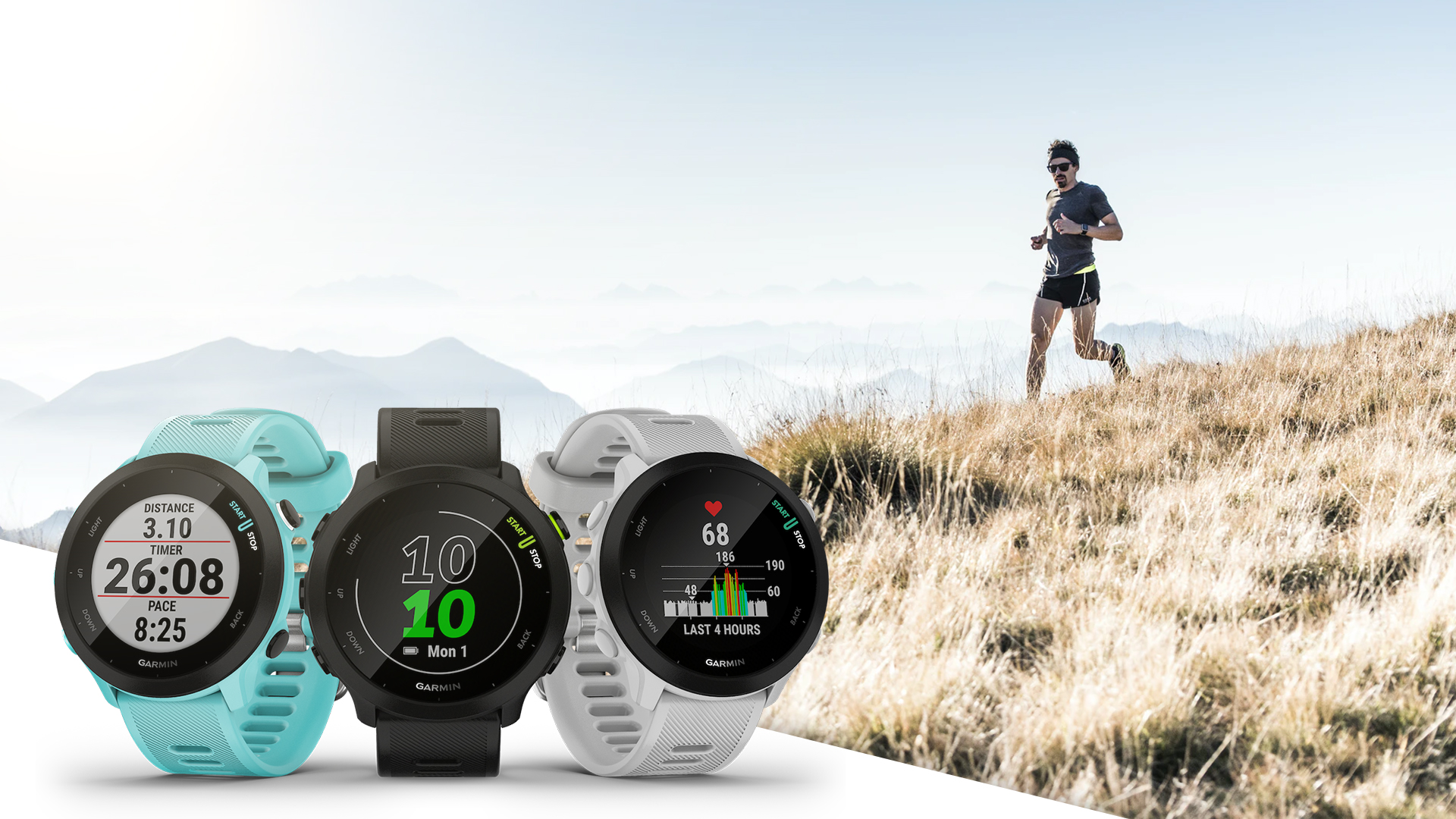 If you're looking to improve your running speed and endurance, it can be near impossible to keep pushing the pace without any semblance of metrics to monitor your progress. Though you could try and use an app to keep track of your runs, carrying a phone for miles on end gets really old, really fast — not to mention holding a bulky object in one hand can mess up your rhythm.
That's where running watches come in. Different from a standard wristwatch, these fitness trackers are built specifically with runners in mind and use GPS technology to track your mileage, speed, heart rate and more.
Investing in a GPS watch took me to the next level as a competitive cross country runner. A firm reliance on my watch and the information it provided helped advance me from one of the slowest members of my team all the way to the California state championship.
Finding the best watch to help you meet your goals can be daunting, so we compiled a guide to break down the basics of what to look for.
Picking the Best Beginner Running Watch

If you aren't running on the level of elite athletes, you don't need all the bells and whistles offered by some higher-end watches. I ran competitively with the same Garmin Forerunner 15 for four years and found it met all my needs without the high-tech features found on newer models.
Here's a list of some of the most important features to look for when choosing your new arm candy:
Accurate GPS Tracking — I've found this to be the most valuable tool a running watch has to offer. Without GPS functionality, a wristwatch can only tell you how much time you've been running, so it's tricky to calculate how much mileage you really covered.

A GPS watch also records your average pace, which is important to keep track of if you want to improve your speed.

Comfortable Fit — If your watch is too bulky or doesn't fit to your liking, you'll probably never want to wear it.

I recommend trying out your watch on both wrists and playing around with the different tightness settings to see what feels the best before moving onto a different model.

Affordable Price — High-end GPS watches can get expensive with price tags over $600, but don't let that deter you from giving some budget ones under $100 a chance. The most expensive watches are rigged with tons of advanced features that you just won't use as a new runner.

Consider investing in a slighter older or certified refurbished model of the Garmin Forerunner series if you're just starting out.
Great Watches for Beginner Runners
When starting out, it's best to keep things simple and stick to the essentials mentioned above.
Garmin Forerunner 35

Recent Sale Price: $98.98 | Regular Price: $169.99
Garmin is one of the most well-known and loved fitness watch brands. Though the Garmin Forerunner 35 isn't the newest model on the market, it's easy to use and has everything you'll need as a beginner for a reasonable price.
The Forerunner 35 comes fully equipped with accurate GPS tracking, and you can store and review your activity data online with a free Garmin Connect account.
This is a super underrated tool, as the site makes it way easier to analyze your progress and organize your running history — it can be tricky to compare data using the watch interface alone. You can even look at a map on Garmin Connect that shows you the exact path you ran thanks to the watch's GPS tracking.
The Forerunner 35 can be paired with a compatible cell phone so you receive smartphone notifications directly on your watch, eliminating the disconnect you may initially feel when running without a phone in hand.
We've seen this watch discounted to $38.99 once before in select Target locations — but that seemed to be a one time occurrence, considering the average sale price runs between $80 and $90.
---
Garmin Forerunner 55

Recent Sale Price: N/A | Regular Price: $199.99
Released in June 2021, the Garmin Forerunner 55 is a solid upgrade from its predecessors and was built with new runners in mind. We've yet to see a discount on this watch considering how recently it was released.
This fitness tracker is a great solution if you're just starting out and want a bit more guidance when planning out your runs. Factoring in your own personal metrics, the Forerunner 55 suggests workouts created just for you — all while considering your training history and necessary recovery times.
Made with a battery life that lasts up to two weeks in smartwatch mode and 20 hours in GPS mode, this watch is built to last.
This model also has a critical safety feature that sends a message along with your real-time location to emergency contacts if it detects an incident during your workout.
Higher-End Features for Advanced Runners

If you're no stranger to running competitively or want a more in-depth analysis of your running performance, consider upgrading to a running watch with some of these advanced features:
Advanced Performance Metrics — Some high-end watches provide analyses of metrics such as your stride length, ground contact time and heart rate.

This information is important to ensure you're running as efficiently as possible, and it's hard to get these data points without the help of a watch.

Navigation Capabilities — If you're a big fan of exploring new trails or running in different cities, consider upgrading to a watch that has turn-by-turn navigation and maps built in.

This feature may cost a pretty penny more, but it can save you a lot of time and stress when running in a new environment.

Music Compatibility — Leave your phone at home and look for a running watch that can connect to music streaming platforms. This feature is mainly found in newer models and makes a huge difference for longer runs when you don't want to be weighed down by a cell phone in your hand.
Great Watches for Intermediate Runners
While they certainly cost more than our entry-level picks, seasoned runners will appreciate the premium add-ons found in the following watches.
Garmin Forerunner 245

Recent Sale Price: $298.99 | Regular Price: $349.99
The Garmin Forerunner 245 is an upgrade from its predecessor, the 235 — a longtime favorite in the running community — though this newer model is fully equipped with extra exciting features.
You can listen to pre-loaded music by syncing the watch up with your Spotify account, making for a much more exciting run that only requires a pair of Bluetooth headphones.
Having a well-rounded understanding of your form and performance is crucial to moving onto the next step in your competitive performance. This watch does way more than track distance and pace, providing users with performance data that alerts you if you're training too hard or not enough.
Though the Forerunner 245 has an impressive advertised battery life of seven days in smartwatch mode, keep in mind that the time is cut down to six hours or less when using GPS and music features.
There are rarely any Garmin deals for this watch — the lowest we've seen it go is $250 once before on Amazon.
---
Garmin Fenix 6 Pro

Recent Sale Price: $584.99 | Regular Price: $649.99
The Garmin Fenix 6 Pro is not messing around. At a hefty price tag and bulky frame, this watch comes with built-in features that are loved by elite athletes and endurance runners.
One of its most impressive tools is the built-in topographical maps and global navigation system — you will never get lost with this watch. The Fenix 6 Pro also takes into account the presence of hills when calculating your splits to ensure utmost accuracy.
This a multi-sport watch that is water resistant up to 100m, so you can feel comfortable using it to track your swim exercises when you want a break from running.
Built with an advertised battery life of 14 hours with GPS and music, you can rest easy knowing this watch won't be dying anytime soon during your workouts. We've seen this watch go for as low as $549.99 only once before, so you'll likely have to commit to the bigger price tag for its impressive features.
Using an Apple Watch as a Running Watch

For those of you who stay strapped with the latest Apple technology, you may want to turn to an Apple Watch for your running needs.
Apple's latest smartwatches have made huge strides in the running community over the last few years, and though they don't have as many features as some classic Garmin watches, they still have a lot to offer for a runner.
Music compatibility — Within the last year, a long-awaited update finally allowed Apple Watches to store music from Spotify and not just Apple Music — a huge win for those of us who have yet to join the Apple Music craze.

You don't need to keep your phone nearby, just grab a pair of Bluetooth headphones.

Apple Pay — Having access to Apple Pay directly from your watch is a super helpful feature for when you're out on a run and don't want to carry your phone with you.

Many times I've wanted to stop at a 7-11 on a run but I didn't come prepared with my wallet — this contactless payment feature is a great solution that Garmin can't compete with.

Smooth GPS tracking — These smartwatches have proven to be reliable and accurate in their GPS tracking, comparable to that of Garmin fitness trackers.
If you're trying to pick which watch series to get, take comfort in knowing there isn't a ton of difference between the capabilities of the Series 5, 6 and SE when it comes to performance. The Apple Watch Series 6 has some newer features including a blood oxygen sensor and sleep tracking, but for the higher price tag you probably won't get a ton of use out of those.
Your best bet is to keep an eye on which of the newer models is currently on sale if you're looking to use your Apple Watch as a fitness tracker.
---
Read Next:
Our editors strive to ensure that the information in this article is accurate as of the date published, but please keep in mind that offers can change. We encourage you to verify all terms and conditions of any product before you apply.