Apple AirPods 2.0 Review: A Study in Small Upgrades
The new model promises faster connections, better sound quality and a new wireless charging case. But is it worth the upgrade?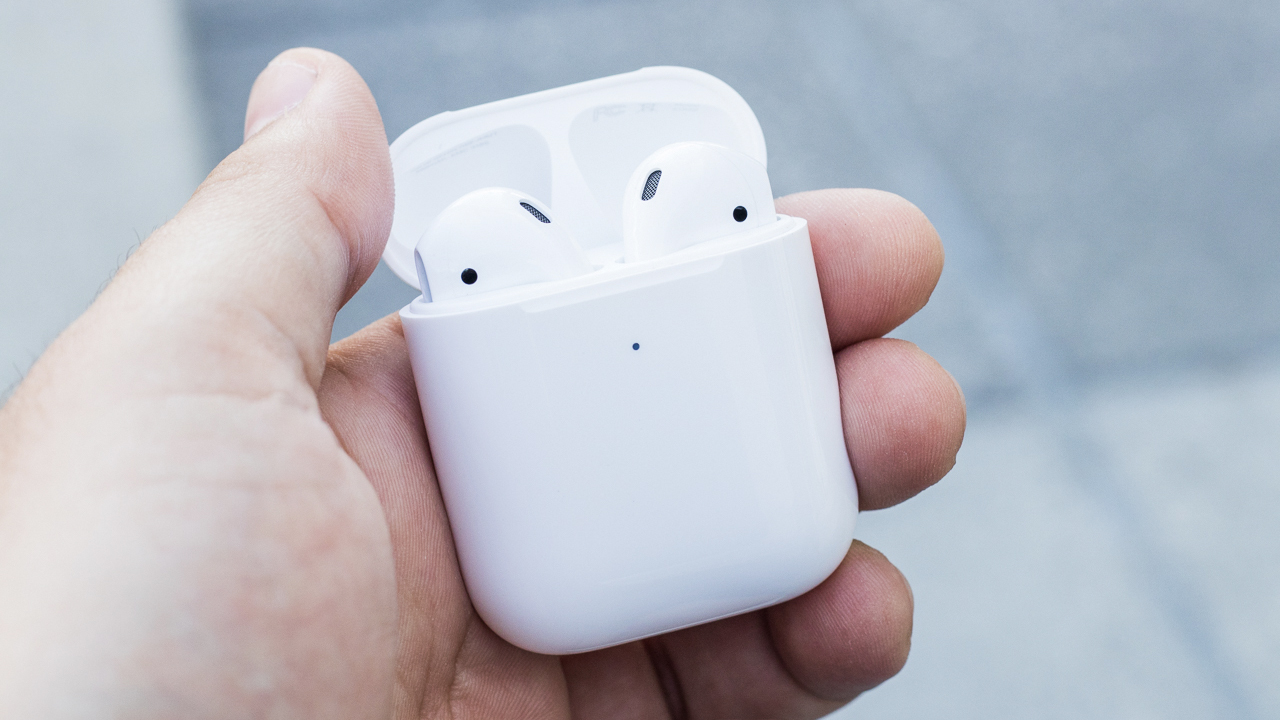 In March of 2019, Apple introduced AirPods 2.0. Officially, they're still just called AirPods, but in trying to differentiate the second generation from the originals, we'll call them 2.0.
While the upgraded AirPods with a wired charging case cost the same as the originals, we'll be looking at the AirPods that come with the wireless case — an extra-cost option.
While testing AirPods 2.0, it became apparent this review would need to answer two questions.
First, are AirPods 2.0 worth getting? And second, are they worth the upgrade if you already own the original AirPods?
Before we get started, I'd recommend reading my review of the original AirPods here, since all of its features carry over to the new ones.
Apple AirPods 2.0 Specifications
Wireless Bluetooth
Weight: AirPods (each): 0.14 ounces (4 g); charging case: 1.41 ounces (40 g)
Dimensions: AirPods (each): 0.65 by 0.71 by 1.59 inches (16.5 by 18.0 by 40.5 mm)
Wireless charging case: 1.74 by 0.84 by 2.11 inches (44.3 by 21.3 by 53.5 mm)
AirPods Sensors (each): Dual beamforming microphones; dual optical sensors; motion-detecting accelerometer; speech-detecting accelerometer
Qi-compatible wireless charging case: More than 24 hours listening time; up to 18 hours talk time
AirPods (single charge): Up to five hours listening time; up to three hours talk time
15 minutes in the case equals up to three hours listening time or two hours talk time
System Requirements
iPhone, iPad and iPod touch models with iOS 12.2 or later
Apple Watch models with watchOS 5.2 or later
Mac models with macOS 10.14.4 or later
Apple TV models with tvOS 12.2 or later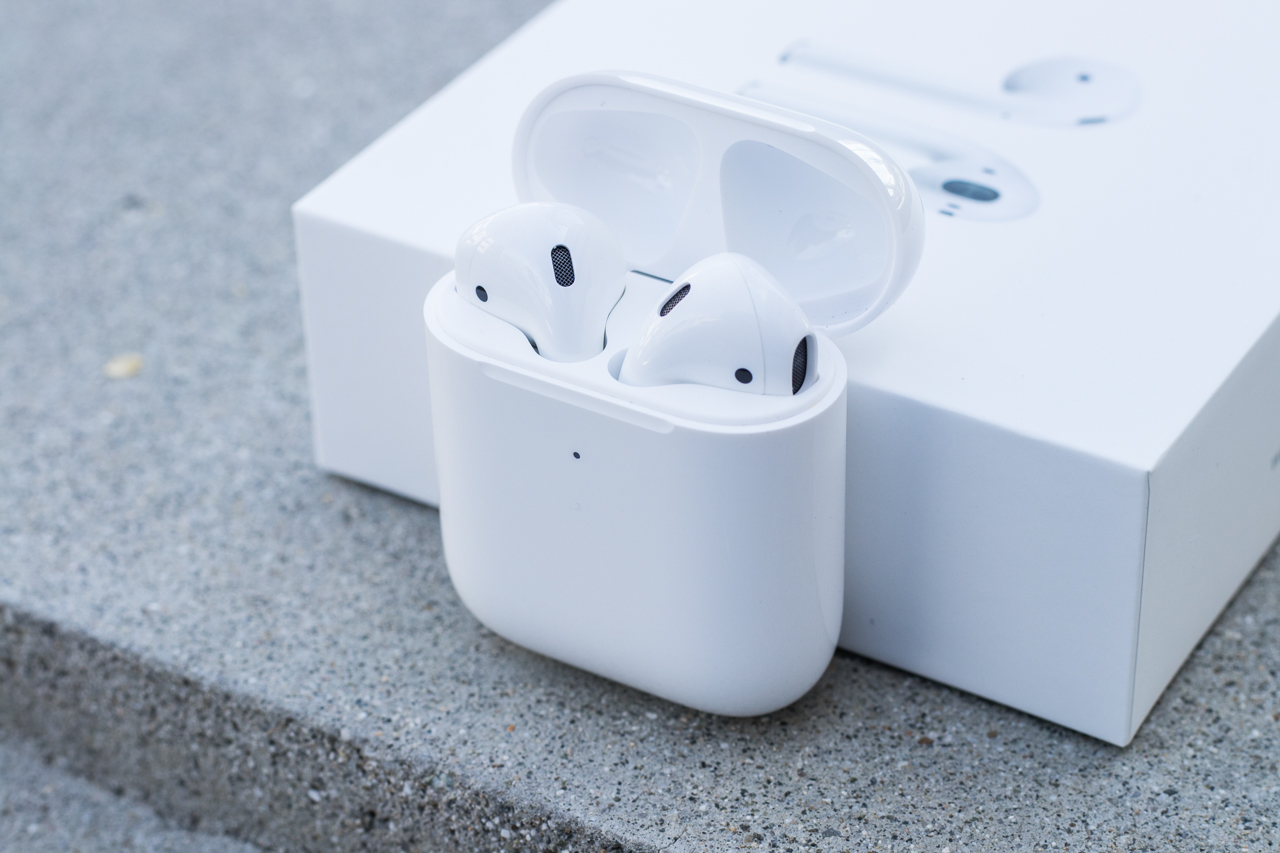 Quick Takeaways
Positives
New, wireless Qi-compatible charging case
As comfortable as Apple's original AirPods
Easier to pair with iPhone
Same, great integration with Apple devices
Audio quality slightly better than original
Lightweight and stay in ear better than expected
Negatives
New, wireless Qi-compatible charging case costs an additional $40
Not comfortable over long hours of use
No noise blocking
Audio quality still not great
Out of the Box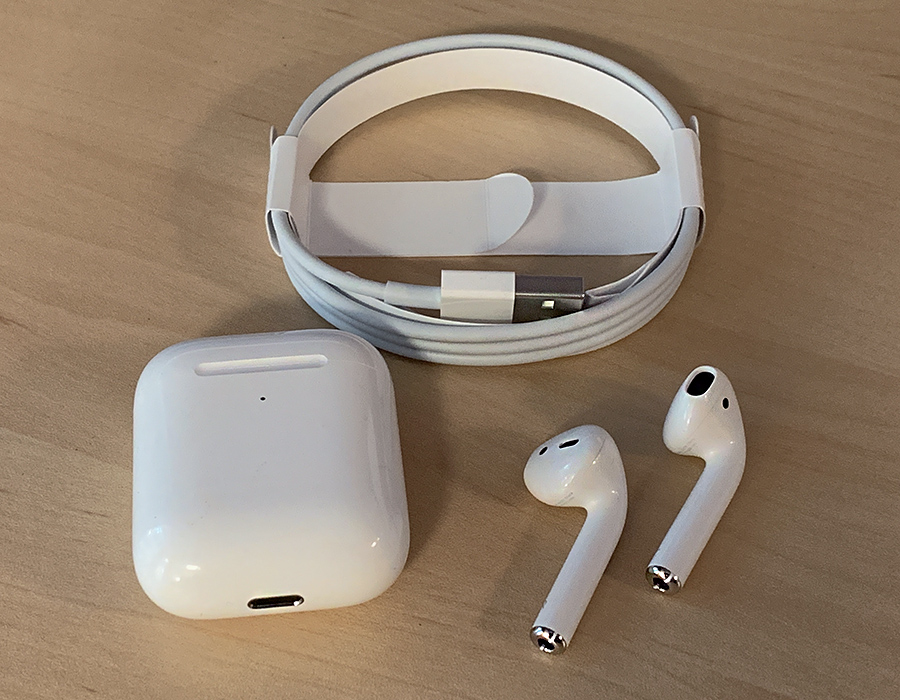 Inside the AirPod 2.0's box, you get the new AirPods, a wireless case (with a lightning charging port on the bottom) and a lightning charging cable. Keeping the lightning port is a good decision on Apple's part because you're not locked into wireless charging only.
Also included are instructions and lots of legal text in tiny type.
Fit and Comfort

The exterior of the AirPods 2.0 are identical to the originals. They sit in the ear comfortably for two to three hours. After that, they become noticeably less comfortable, although they're never painful to wear. Plus, three straight hours is longer than most people will wear them anyway.
Wearing AirPods while exercising is another matter, however.
Even though they stay in place better than expected, rigorous movement can cause them to fall out. Sadly, sweat resistance was not included in this upgrade, so AirPods 2.0 are just as prone to moisture damage as their predecessors. 

Ease of Use
As with the original AirPods, the first-time connection is instantaneous. One flip to open the case and Apple is asking to pair. Why can't every Bluetooth connection be this easy?
Though the new AirPods are system agnostic (iPhone or Android), connecting to Android will not take advantage of the H1 chip benefits. They'll just connect using standard Bluetooth.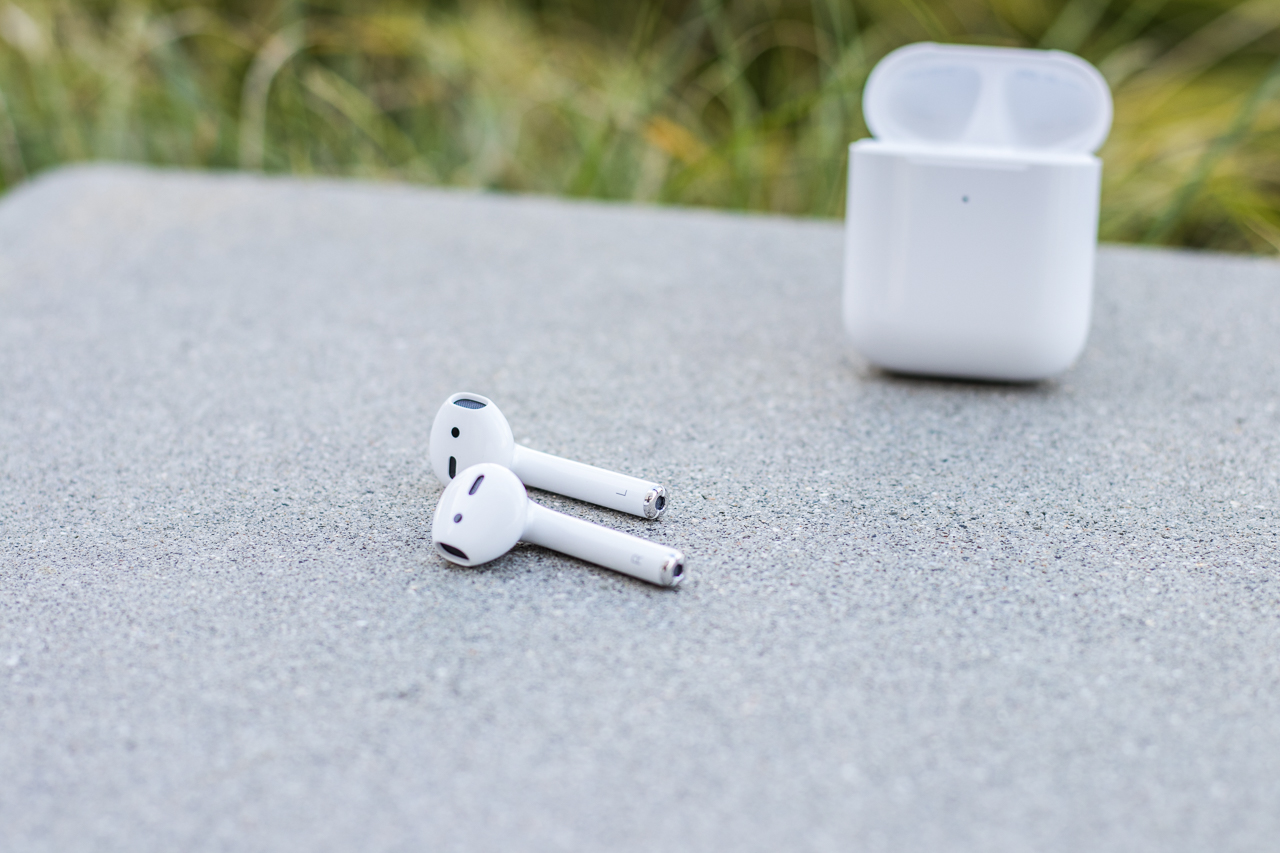 Tapping functions can be customized, as with the first generation, though they're limited. Double-tapping either the left or right AirPod can be individually set.
The choices include: Bring up Siri, play/pause, next track, previous track or off. The option to customize settings is hidden within the Settings app/Bluetooth/AirPods.
AirPods 2.0 are an upgrade, so everything that impressed me with the first AirPods holds true. They were (and still are) my "go-to" earbuds for one simple reason: convenience.
Every time I make or receive a phone call, I can pop one of the AirPods (you can use either the left or right independently) in my ear and make a near-instant connection. It's much more convenient than traditional Bluetooth.
With AirPods 2.0, the W1 chip has been replaced by the H1 chip. The difference? H1 is even faster and more reliable.
It's twice as fast when switching among devices, arguably a weak spot with the W1 chip. Apple says the H1 is also 1.5 times faster for phone calls, and while it does kind of feel quicker — 1.5 times faster? That feels like a bit of a stretch.
Siri is Still Mostly Terrible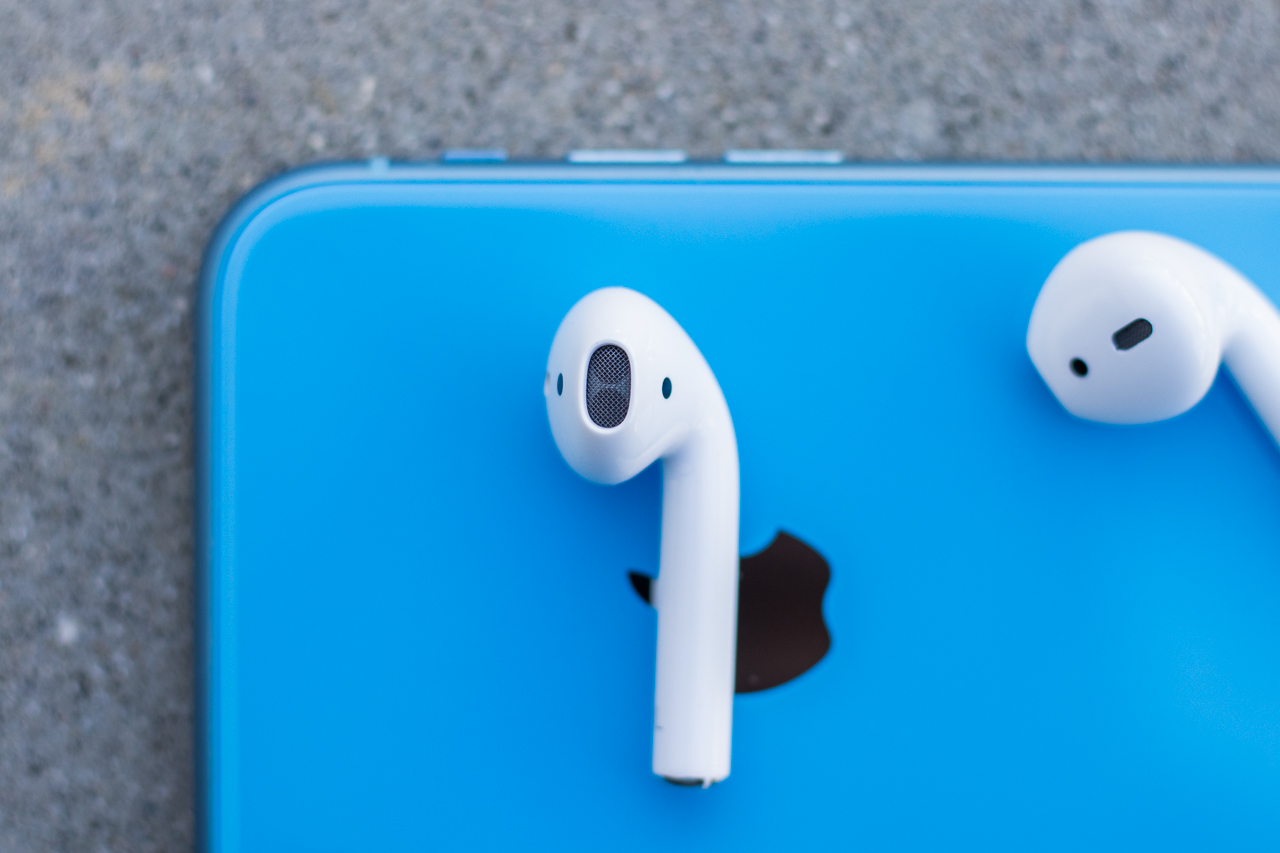 The main attraction of the H1 chip, however, is how it's tied in with Apple's Siri. With the H1 chip and Siri, no tapping is necessary. All you have to do is say "Hey Siri" and she answers immediately. That's great, except for one problem — Siri is still Siri. And by that I mean she is just as bad as ever.
Here's a frustrating example. While using AirPods 2.0 and listening to music from the iPhone XS Max, I said (in a normal tone), "Hey Siri, play some Roxy Music." Half a second later, she said, "Here are some popular Roxy Music songs." Terrific! She understood me just fine!
However, instead of automatically playing some popular Roxy Music songs, I had to look down at the iPhone and press the Play button on the screen.
If that wasn't irritating enough, Siri played the David Bowie song, "Velvet Goldmine"—not a popular Roxy music song. Despite several additional attempts, Siri failed to play a single song that matched my request.
I no longer ask Siri for anything important, like, for example, directions. I expect her to either A) bring up some random web page or B) steer me into a Florida swamp. Stick with Google for the important stuff.
The Wireless Charging Case: Upgrade or Gimmick?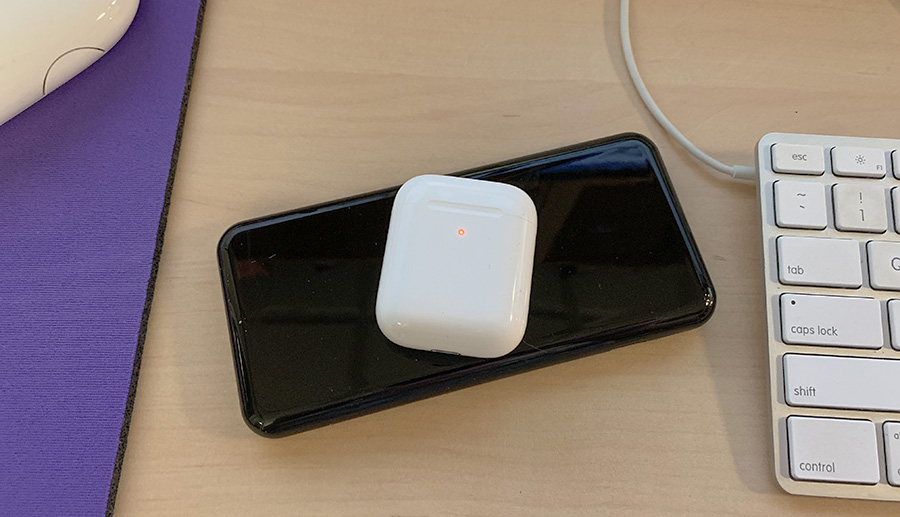 How about the wireless charging case "upgrade"? It's no secret that wireless charging is almost always much slower than wired. It's the price of convenience.
Apple hasn't come out and said it, but I suspect it added wireless charging to AirPods primarily because of the Apple AirPower charging mat. After repeated delays, Apple never could get the AirPower mat to work and finally canceled the project.
I think this happened (at least in part) because you needed to position the AirPods case has in just the right spot on the mat or it wouldn't charge. Of course, the doomed Apple Charging Pad was designed for objects to be placed anywhere.
The wireless charging case does work as advertised, but I have trouble reconciling that we are paying for the privilege of slower charging. However, if you already own the original AirPods and prefer to go wireless, Apple sells the wireless case separately.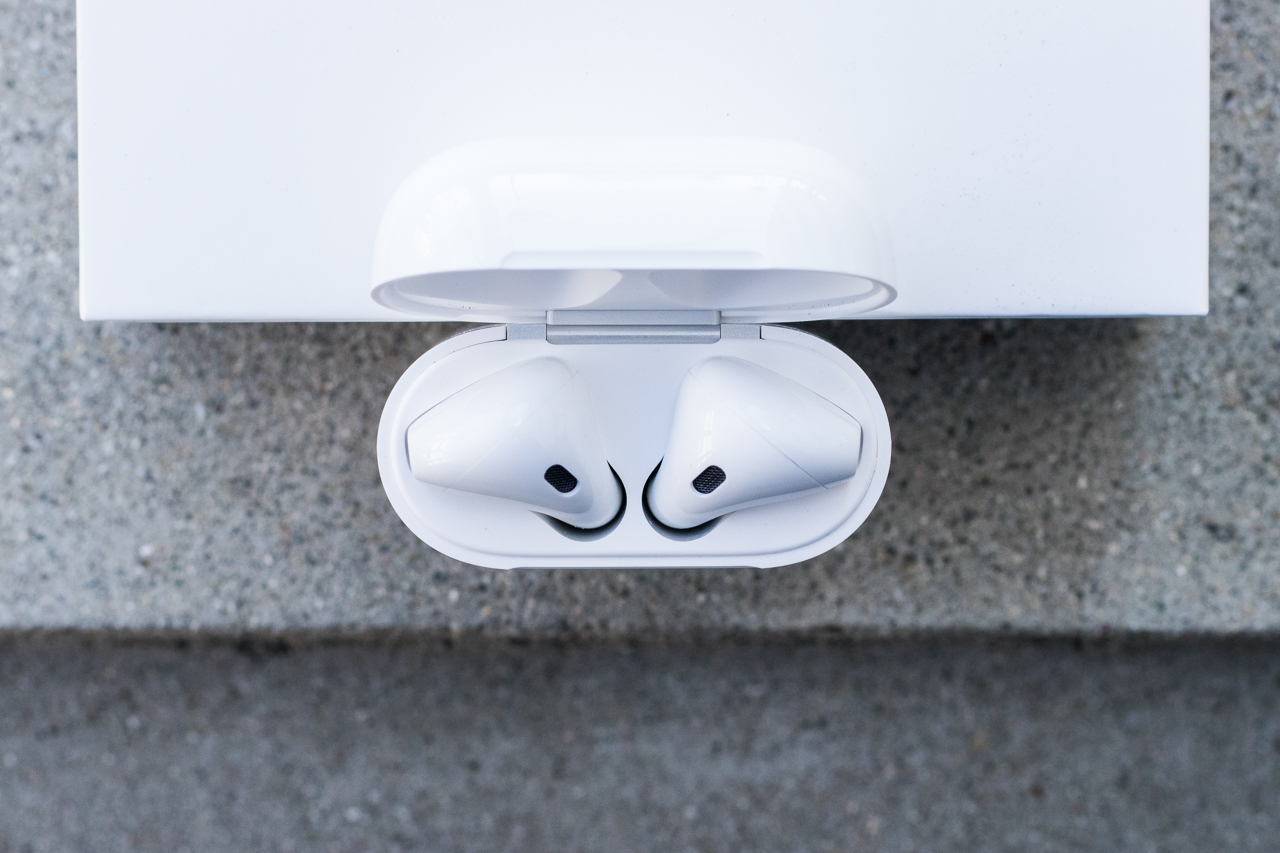 For fidgety folks, the new wireless case is as fun to play with as the original.
The hinge on the new case has a more brushed metal look instead of shiny chrome. And AirPods will magnetically snap into the interior of the case and stay in place until they're pulled out. 
Sound Quality

Apple designed the AirPods to provide an adequate listening experience, and they do just that. They are not audiophile quality by any measure, but they work just fine.
The bass isn't great, mostly because there is no noise-blocking seal. Middle and higher frequencies are warm with no too-bright or harsh sounding notes.
Ultimately, AirPods are almost perfect for walking on a busy city street or short commutes. That's because they don't block outside noise, which is a good thing when walking among traffic and other potential hazards.
Should You Buy the Apple AirPods?
Since I already own AirPods, I knew what to expect with AirPods 2.0. I wasn't disappointed with the quality and convenience factor, but I was let down by the lack of game-changing improvements. The new AirPods are an incremental improvement rather than an overhaul.
Yes, the connection to the iPhone is quicker, but not by much. And yes, Siri is fun to call up occasionally without touching anything — but you may look a bit strange talking to yourself. The price is also right at $159 — unless you want to go wireless. You'll have to pony up $199 for that privilege.
Apple says that AirPods 2.0 sound better. And maybe if you swap the two versions back and forth, the audio improvement could be noticeable. I couldn't tell the difference.

Ultimately, the answer to whether you should buy AirPods depends on you.
If you have never owned AirPods before, and you're in the Apple ecosystem, then absolutely you should buy them. I have grown dependent on them for hands-free calls and even use them for music listening on occasion. They have become a part of my life — even more than my Apple Watch.
On the other hand, if you already own the original AirPods and they are in good condition, I strongly recommend saving your money. If you have to go wireless, just buy the case and save $120. Or, sell your AirPods and put the money towards the new ones.
Otherwise, I say wait until Apple delivers a third generation. Hopefully, those will have biometrics and other major advancements built in and will become just as addictive as the originals were when they were new.
Other Slickdeals Reviews
AirPods
$159; $199 with wireless charging case
Good Fit For:
Even more seamless integration with Apple Products
Faster, more stable connection
Solid build quality
Sound quality better
Not a Good Fit For:
Not the best audio quality
Not sweat resistant
Wireless case option adds expense
Our editors strive to ensure that the information in this article is accurate as of the date published, but please keep in mind that offers can change. We encourage you to verify all terms and conditions of any product before you apply.