Sonos Beam Soundbar Delivers Big Upgrades to Your TV's Audio
Sonos' new soundbar impresses with a slick feature set and solid audio.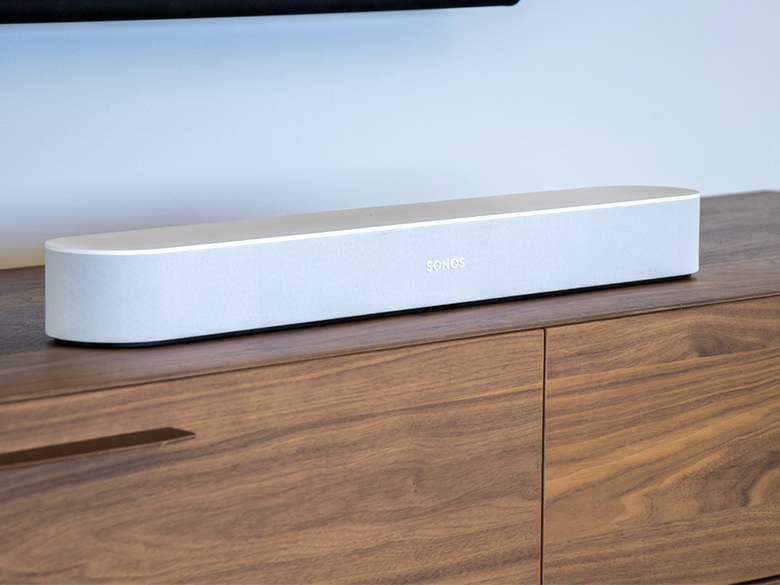 As the latest entry in the Sonos lineup, the Beam plays an important role. For would-be Sonos adopters, this new, smaller soundbar provides a lower cost of entry into the company's ecosystem. And while it's less expensive than the Playbar and Playbase, the Beam offers the same potential for expandability, along with an array of smart features.
Seamlessly expanding your home theater system one piece at a time is certainly nice, but it's not the reality for most households. For many, a soundbar is a one-step solution to the abysmal quality of TV speakers. With the Beam, Sonos is hoping to provide a soundbar with a small footprint and price tag, while still packing enough punch to stand on its own, if needed.
Does the Beam get the job done? Let's find out.
Product Review 41195
Sonos Beam Specifications
Dimensions (H x W x D): 2.70 x 25.625 x 3.94 in. (68.5 x 651 x 100 mm)
Weight: 6.2 lbs (2.8 kg)
Ports: HDMI ARC, Optical Audio
Connectivity: 10/100 Mbps Ethernet, 802.11 b/g/n WiFi, AirPlay
Voice control with Amazon Alexa and Apple Siri (Google Assistant coming in 2019)
Speakers: Four full-range woofers, three passive radiators, one tweeter
Minimalist Design with Premium Quality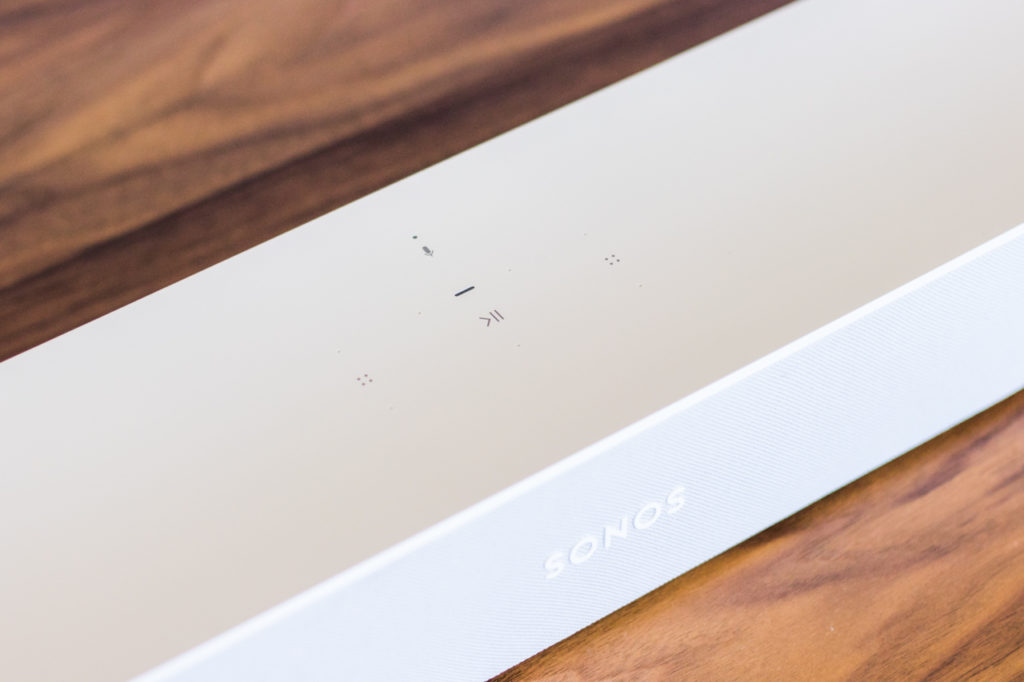 As with most Sonos offerings, the Beam looks and feels like a premium product. It boasts excellent build quality and a handsome, understated design. Inside the minimalist housing are four full-range drivers, three passive radiators, one tweeter and five class-D amplifiers. Similar to the Playbar and Playbase, those drivers and radiators are positioned along the edges and front of the housing to create room-filling sound.
At the top of the device are touch controls for volume, play and pause, previous/next track, and muting the microphone. An LED light indicates the unit's current power state, and gives visual feedback when using voice controls. An HDMI port, Ethernet jack, power connection and pairing button provide connectivity at the back of the device.
At 2.7 inches tall, 25.6 inches wide, and 3.9 inches deep, the Beam is significantly smaller and lighter than its Playbar sibling. It's compact enough to work in a wide range of rooms without requiring a complete rethink of your furniture situation. Plus, it comes in both white and black finishes. That diminutive size also means it will sit comfortably in front of most televisions. However, Sonos also offers a wall mount if desired.
Getting Set Up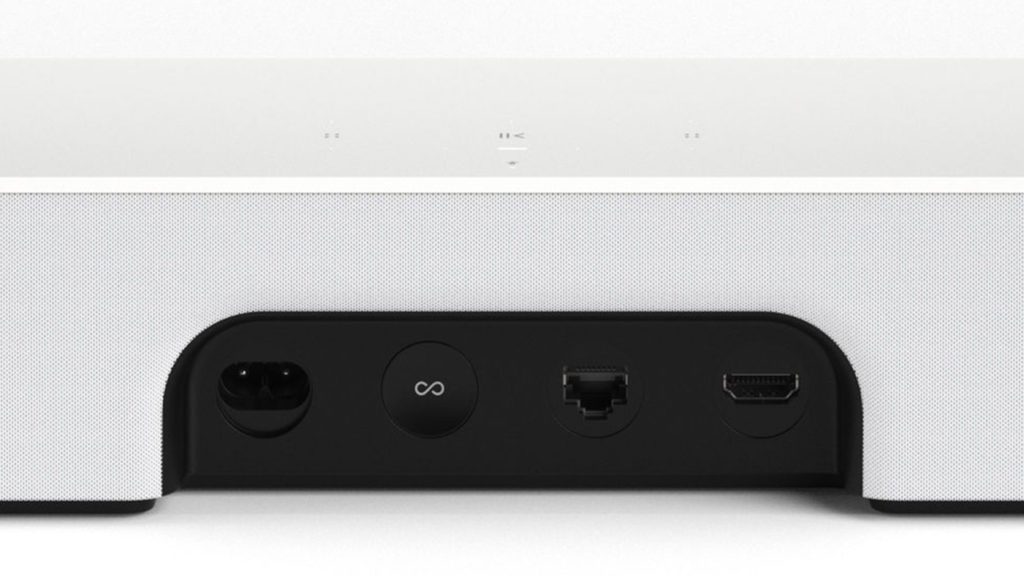 To get started, you'll need to download the Sonos app. It will guide you through the setup process, and also get the Beam onto your local network and paired up with other Sonos devices (if applicable).
If your television supports HDMI ARC (Audio Return Channel), the setup process is nearly effortless. This connection allows the Beam to sync up the audio and picture on its own. Folks without an HDMI ARC port aren't left high and dry, though, as the Beam also includes an optical adaptor. However, the latter requires more tweaking on the back end to make sure the audio timing matches what's happening on-screen.
The app itself provides volume control, as well as an array of audio services and enhancements. For example, Night Sound cuts the bass frequencies to prevent disturbing anyone else nearby. While the Speech Enhancement mode adds more clarity to dialogue. Both can be toggled on or off directly from the control menu.
Another key feature of the Beam is the ability to control it using Amazon Alexa, Apple's Siri, and Google Assistant. This means that you can say things like, "Alexa, turn up the volume ten percent." And if you're using an HDMI ARC port, you'll also be able to turn your TV on and off with Alexa commands. Siri integration works similarly, but we'll have to wait until later this year to see how Google Assistant does with the Beam, as a device update sometime in 2019 will add that functionality.
It's also worth noting that the Beam isn't just a soundbar. Like other Sonos devices, it's designed to work across your Sonos network. This means you can potentially send one audio stream throughout the entire house. You will, of course, need other Sonos devices to do that. However, it's not a stretch to speculate that the Beam is Sonos' way of providing an affordable point of entry into the company's larger ecosystem for upgrades down the road.
Room-Filling Performance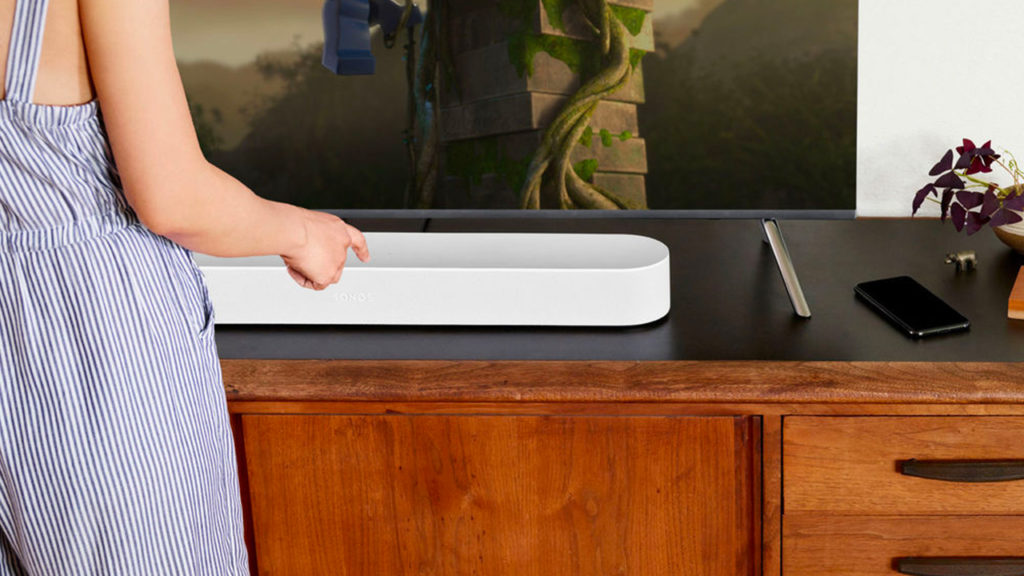 Once everything was up and running, we fired up The Grand Tour to get a sense of the Beam's dynamic range and its ability handles a wide range of frequencies simultaneously. As expected, the tradeoff for the Beam's smaller size versus something like the Sonos Playbar or Playbase is a tangible amount of depth, most notably in low frequencies. Still, the Beam impressed us nonetheless.
While the bass output isn't earth-shattering, it's certainly heard and felt at moderate volumes, maintaining balance with mid-range and treble frequencies to deliver a nice, even response. If you're looking for a little more oomph on the low end, Sonos also offers a subwoofer that can be paired with the Beam.
But even without that additional thump, the Beam delivers plenty of warmth and detail. Even at high volumes, its output should be more than sufficient for most medium-sized rooms.
Should You Buy The Sonos Beam?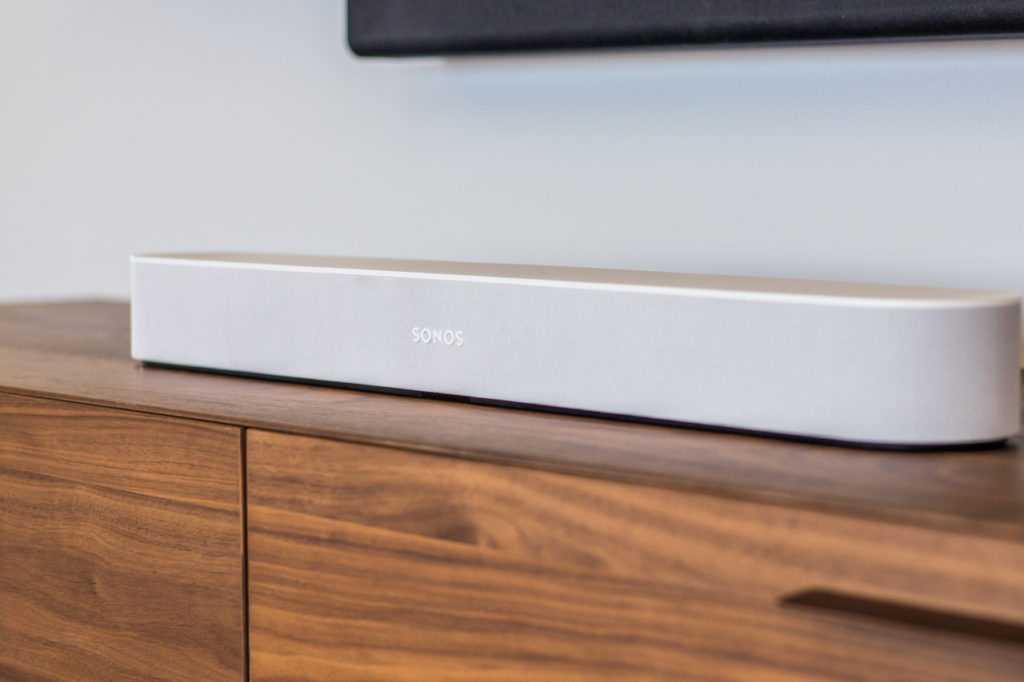 The Beam is a compelling package if you want a high-quality soundbar with a small footprint and a wide feature set. Although the sound quality won't match a full home theater system, the modularity of Sonos devices allows for incremental upgrades. With that said, the Beam's output is admirable in its own right.
While serious Sonos audiophiles may want to opt for the Playbase or Playbar, if you're simply looking for a big upgrade from TV audio, you're likely to find what you're looking for with the Beam.
Stay on top of discounts for the Sonos Beam by visiting Slickdeals' Audio/Video category page, or simply set a Deal Alert to be automatically notified of an upcoming sale.
Our editors strive to ensure that the information in this article is accurate as of the date published, but please keep in mind that offers can change. We encourage you to verify all terms and conditions of any product before you apply.