These Sony Headphones Offer Supreme Comfort and Incredible Noise Cancellation
For now, it seems Sony has taken the top spot in the premium headphones game.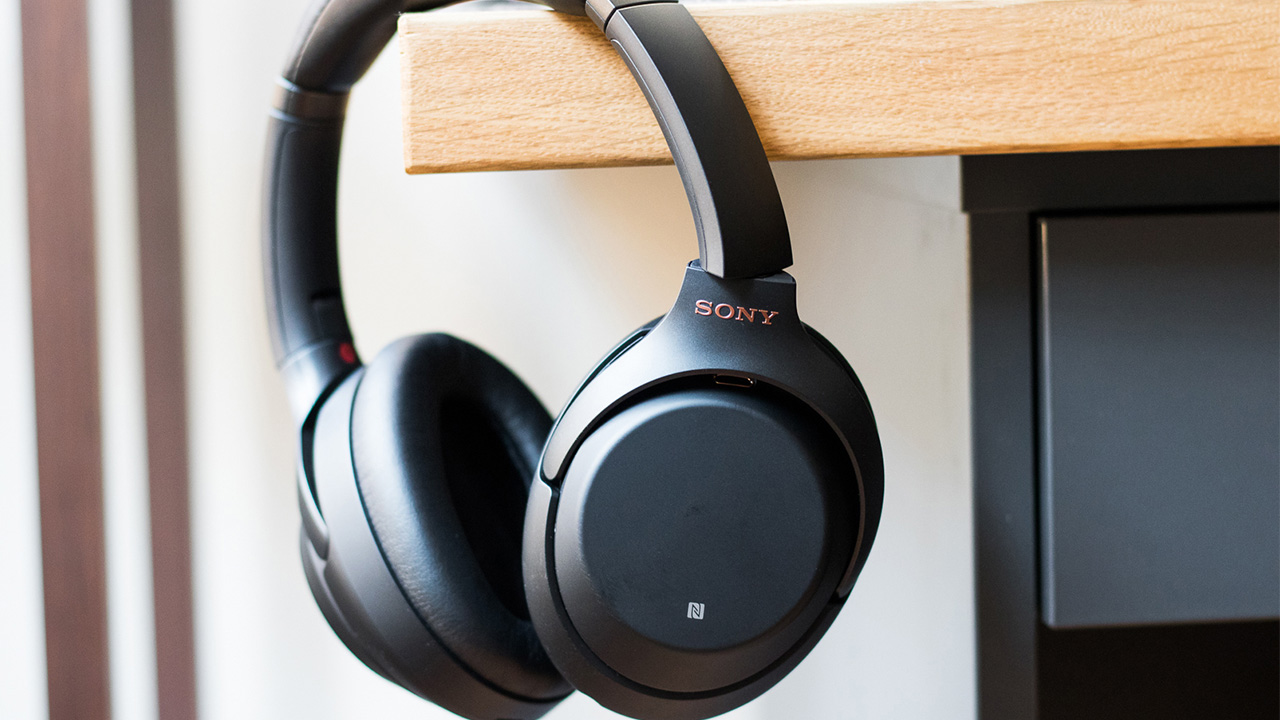 The best headphone options are typically made by companies that specialize in audio only — think Bose, Focal, Grado or Bowers and Wilkins. And then there's Sony, a company that makes all kinds of consumer products.
Enter the Sony WH-1000XM3 Wireless Noise-Canceling Headphones. Considering Sony's wide focus, it's impressive to see the company create a headphone on par with — and in some ways better than — what specialty companies have to offer. 
As the reigning Active Noise Cancellation (ANC) champ, Bose threw down the gauntlet with its QuietComfort series. Sony has stepped up to this challenge with the WH-1000 headphone, and listeners are paying attention.
Sony WH-1000XM3 Specifications
1.57″ dynamic speaker
1.57″ dome speaker
Stereo Mini Jack input
4′ stereo Mini Plug cable
4 Hz-40,000 Hz frequency response
HD Noise-Canceling Processor QN1
Features
Passive operation
Wireless Bluetooth with NFC (near-field communication)
Atmospheric Pressure optimization
Adaptive Sound Control
What's in the box?
Sony WH-1000XM3 wireless headphones
Zippered hard case
48″ Mini Plug cable
Short USB-C to USB charging cable
Airline adapter
Overall Fit and Comfort
In terms of comfort, the Sony WH-1000XM3 headphones are some of the nicest I've ever worn — an honor once held exclusively by the Bose QuietComfort series.
The headband is soft with thick padding and the ear cups are made of cushy foam that forms nicely to the head without getting too warm (in an air-conditioned room, at least). Clamping is snug but not too tight, even for people who wear glasses. 
While the build quality is good, much of the WH-1000XM3 is covered in plastic. This helps keep the headphones light, but at the same time they don't feel as solid as they could be. Thankfully, Sony includes a hard case for protection.
Features and Enhancements
Right out of the box, Sony makes using the WH-1000XM3 headphones easy. Bluetooth pairing is completed by pressing the power button for seven seconds, or through built-in NFC (near-field communication) if you're not using Apple products. Once paired, you're good to go.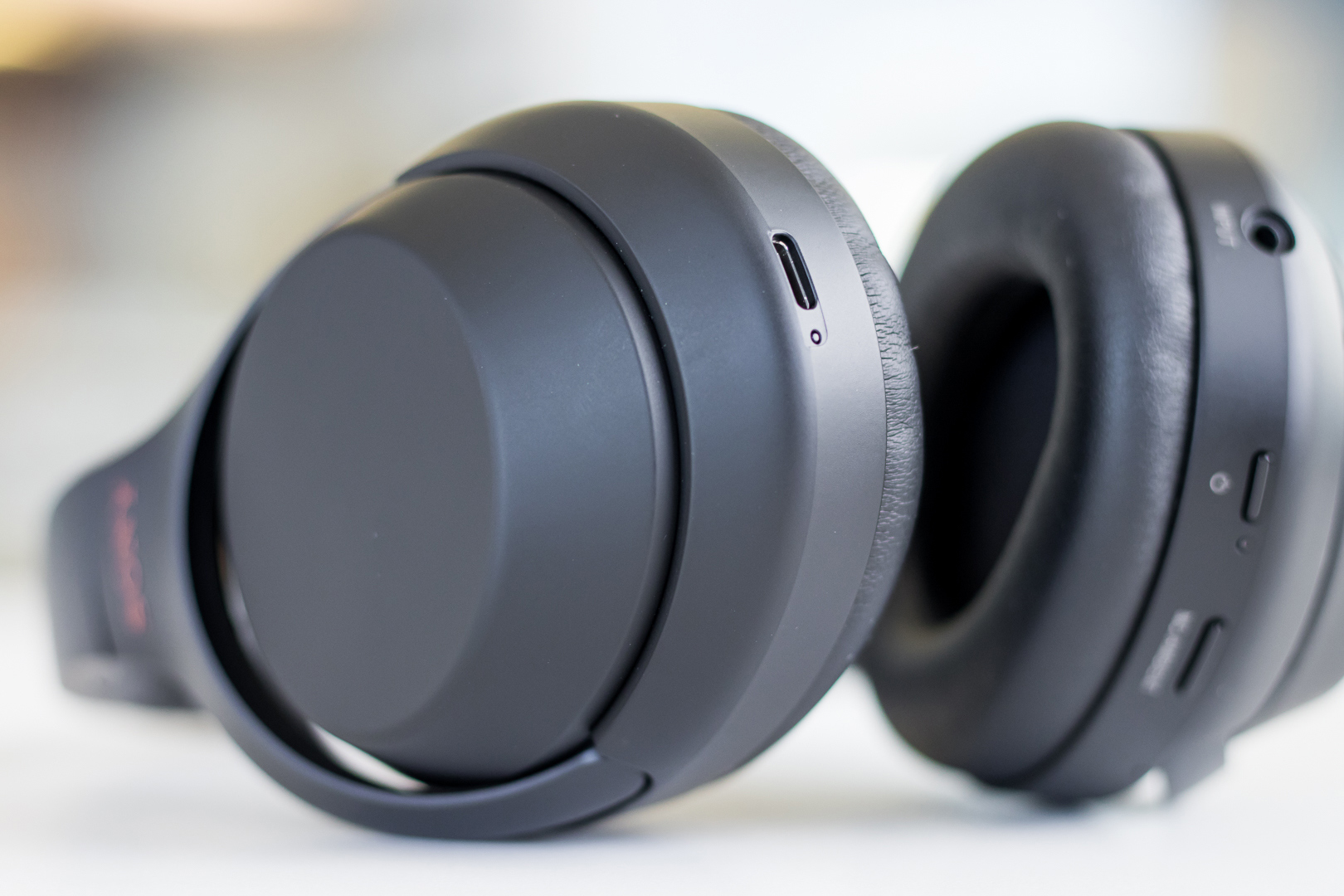 A voice prompt tells you when the WH-1000XM3 headphones are paired, when they turn on and off, and the current battery life — which is advertised at 30 hours of playtime when fully charged. I only had to recharge the headphones once in the time I spent testing them. And if the battery runs out of juice, you can connect the Mini Plug cable and use the headphones in passive mode (with no ANC). On top of all that, 10 minutes of charging buys you five hours of listening.
In other words, you shouldn't have to worry about the battery running out on you.
The right ear cup panel performs several functions via built-in fingertip controls. Sliding a finger up or down adjusts the volume. Sliding a finger to the front advances one track, and sliding back either starts the track over or plays the previous song. Double-tapping pauses a song and will also answer a phone call.
Hands-Free Phone Call Capabilities
Sony's marketing points out how well others can hear you when you're using the WH-1000XM3 headphones to make calls. While my experience with the headphones didn't totally invalidate this, I'm not sure I can recommend them solely for this purpose. The people I spoke with could hear me fine, but most could tell I was not talking directly into my phone, and one person even said my voice sounded mechanical.
Since Apple Airpods offer near-imperceptible hands-free calling, I'd recommend them over Sony's WH-1000XM3 headphones if all you want to do is talk.
That said, I can't imagine buying ANC headphones just to make phone calls. These are made for people interested in high-quality audio, and as a secondary feature the phone options are just fine.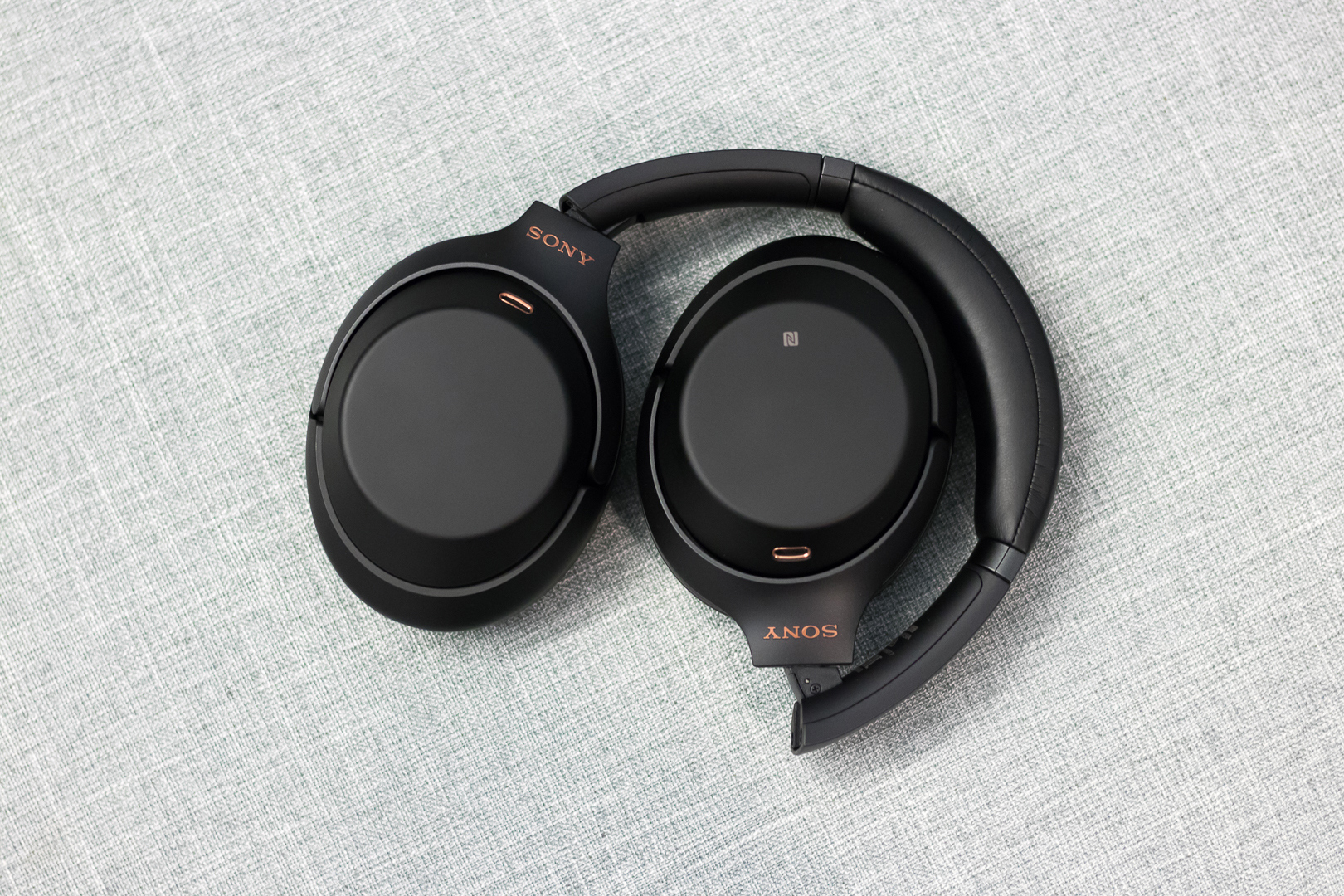 Apps and Settings
If you want to experience everything the WH-1000XM3 headphone has to offer, you'll need to dig into some apps. Sony has two free downloadable apps, one for controlling headphone settings and one for playing music.
The Music Center app connects to both Apple Music and Google Play so you can pick songs without needing to leave Sony's app. This may be convenient for some, but I found myself using Apple Music directly like I always do. Old habits are hard to break.
The Sony Headphones Connect app lets you control all kinds of settings:
Adaptive Sound Control
This setting has four presets — Staying, Walking, Running and Transport. When Adaptive Sound Control is turned on, the WH-1000XM3 headphones detect which one of these presets is happening and adapts the sound quality to match.
It was spot-on during my testing, doing things like letting in additional ambient noise when walking for safety purposes. These presets can even be individually customized within the Ambient Sound Control settings.
Noise Canceling Optimizer
This magical setting measures your wearing condition (head size, hearing and even how much your hair is affecting the seal around your ear) along with atmospheric pressure. Once that's done, noise-canceling is personally optimized for you. I'm not exactly sure how this is accomplished, but wow, it cut the background noise to almost nothing. It was absolutely amazing.
I thought the ANC was good when I first put the headphones on, but it got a lot better once I used the built-in Noise Canceling Optimizer. I've tested out a ton of ANC headphones and for me, Sony currently holds the crown for ANC (with Bose coming in as a close second).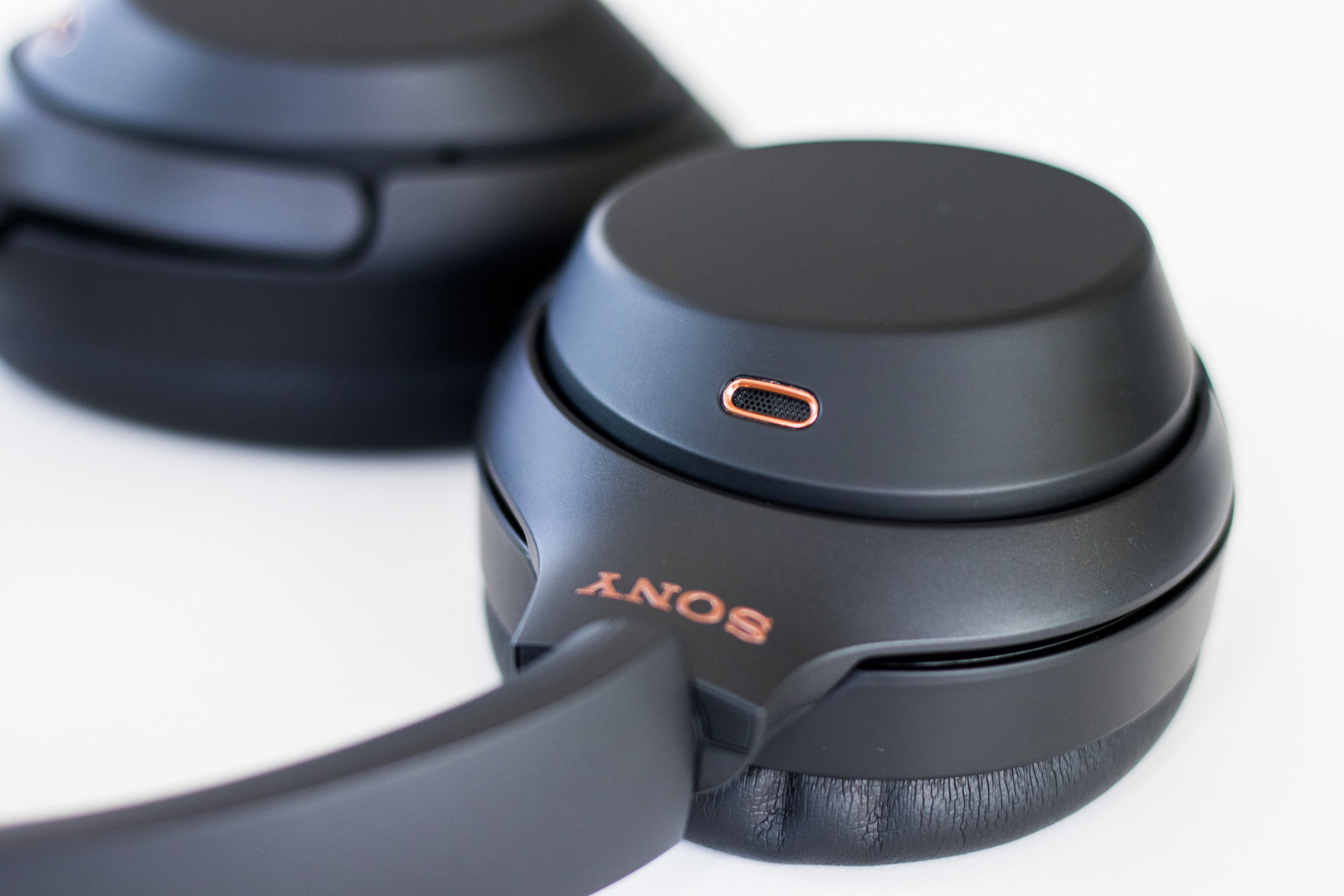 Sony has managed to make headphones that sound great with or without ANC. The dedicated ANC processor is kept separate in the WH-1000XM3 headphones, which prevents the noise-canceling circuitry from interfering with the audio circuitry.
When these headphones are hard-wired to a music source they somehow sound even better, especially with ANC on. Using the Mini Plug cable with my iPhone (along with hi-res music from Tidal), songs sounded a bit fuller and more enveloping. However, they still sound great over Bluetooth, so you're not making a dire mistake by only listening wirelessly. 
Sound Position Control and Surround (VPT)
Sound Position Control allows you to place the sound anywhere around you — I.E., in front of you, behind or at a variety of points near your head — conjuring the feeling of being in a room with music playing. The drawback to this is everything becomes mono — or at least sounds like it since the audio is coming from a single source point.
Surround (VPT) is supposed to simulate surround sound, but it only lets you pick from five virtual settings (Arena, Club, etc.), and no matter what you choose the effect isn't that convincing. 
AI Assistants
The WH-1000XM3 headphones incorporate both Amazon Alexa and Google Assistant. I found each easy to set up and use, although they won't work unless the app is on (at least on iOS). Additionally, the Noise Canceling button must be pressed to access either, making it a less-than-seamless operation. 

Should You Buy Sony WH-1000XM3 Headphones?
In my previous review of the Bose QuietComfort 35 II headphones, I claimed no one does it better than Bose. However, it seems I may have spoken too soon. In many ways, Sony matches the QuietComfort headphones. And when it comes to sound quality and battery life, the WH-1000XM3 headphones are arguably even better than Bose's offering. 
Some people will never spend $350 on a pair of headphones no matter how good they are, which is reasonable. It's a lot of money for something that's not a necessity. But if you travel a lot for your job or commute daily on noisy trains, subways or buses, you owe it to yourself to invest in a pair of decent ANC headphones. If you've never experienced what they can do for you, they will open your eyes — and ears. The Sony WH-1000XM3 headphones are that good.
---
Don't forget you can be notified whenever a new sale on the WH-1000XM3 headphones is posted by setting a Deal Alert.
Other Slickdeals Reviews
Sony WH-1000XM3 Noise Cancelling Headphones
$298.00
Our editors strive to ensure that the information in this article is accurate as of the date published, but please keep in mind that offers can change. We encourage you to verify all terms and conditions of any product before you apply.