Is This Exercise Board the Next Wii Fit?
If you need motivation for your next high-intensity workout, look no further than the STEALTH Core Trainer.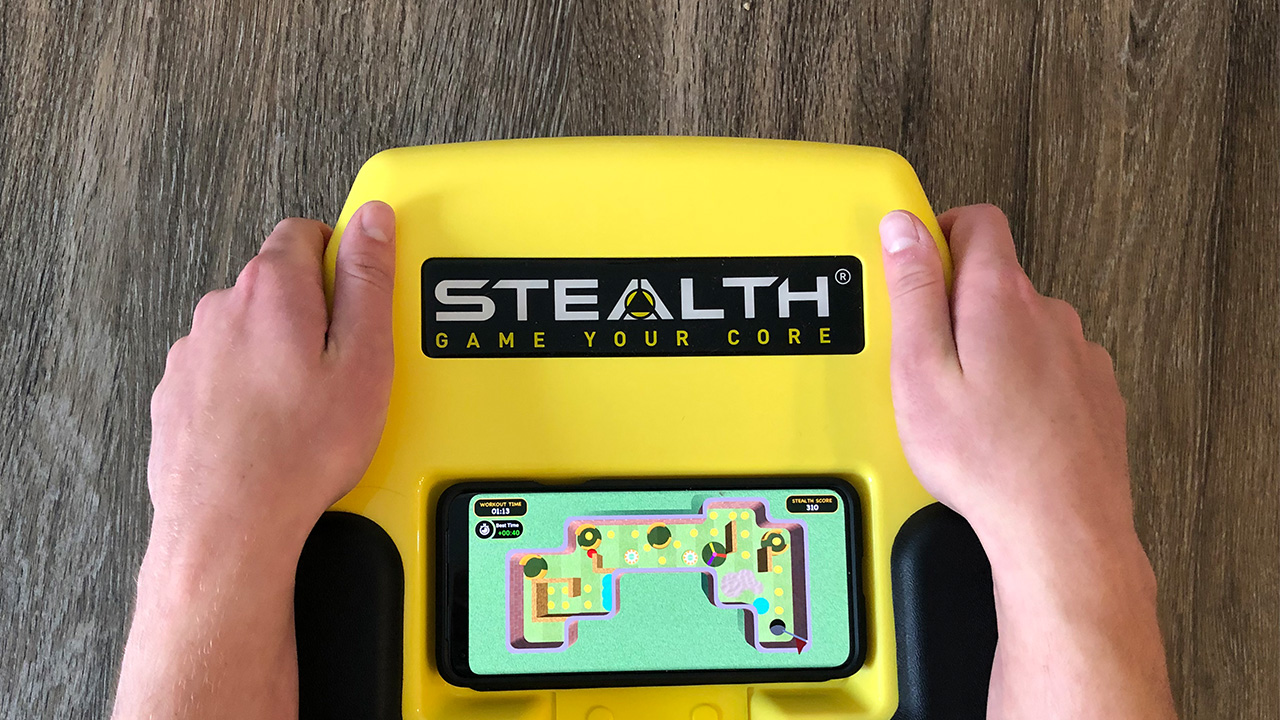 There are a million different ways to get that perfect "summer bod." Whether you're sitting on the ground doing crunches or heading to the gym at night, one of the main sticking points with getting fit is often that it feels too much like work – after a long shift at your day job, the last thing you'll want to do is dedicate an hour to a boring workout routine.
Wii Fit solved this problem back in 2007, offering a gamified experience that made fitness fun. And now – more than a decade later – the STEALTH Core Trainer is looking to pick up where Nintendo left off. It's not a perfect replacement for the beloved board, but STEALTH provides an ultra-intense workout without making it feel like a second job.
What is the STEALTH Core Trainer?
The STEALTH Core Trainer is an exercise board that helps strengthen core muscles as you work your way through a variety of mobile games. The board itself resembles a kite, with a bright yellow design and comfortable foam cushions for your arms. Simply get into a plank position with your elbows at the back of the board, place your smartphone into the center cutout, load up one of its many games and start playing.
All of STEALTH's games require you to carefully tilt back and forth to control the action, and you'll feel the burn in your abs, arms and legs within seconds. Four titles are included for free, with an additional 19 offered to premium members who pay $4.99/month. There's also a variety of ways to track your progress and join challenges with other users, including a leaderboard for each game.

Entertaining Games, Lackluster Software
Before going any further, let's clear one thing up – the STEALTH Core Trainer isn't the next Wii Fit. It's without a doubt an incredible way to break a sweat and tighten up your core, but as a casual workout device, it falls well short of the iconic Nintendo game. All of its interactive titles revolve around the same mechanic – tilting your body while holding a plank – and only about half of them are exciting enough to make you want to power through the pain.
And despite how much you might want to, don't step on the STEALTH Core Trainer. Multiple warning labels remind you the board won't support your full weight. It's a bit of a shame, too, because every time I look at the trainer, I think about how much fun it would be to try and balance on the wobbly board.
Instead, you're relegated to the planking position.
Even with this limitation, the core trainer manages to offer a variety of interesting games. You'll need to download a free app to your smartphone before playing any of these titles, and while most of the games are fun, the software used to access them could certainly use some updating.
Navigating the games catalog is somewhat clunky – the software isn't smart enough to auto-rotate if you're playing a horizontal game, so you'll need to remove your phone from the holder every time you want to start a new one – and the menu for Challenges and Leaderboards are mostly just giant walls of text.
They're minor gripes, but seeing as you're paying $150 for the board and an additional $4.99/month for premium games, I was expecting more of a premium user experience.
As for the games? They run the gamut from incredibly fun to incredibly average. Of the 20+ titles available to premium members, I found seven that managed to hold my attention, six I'll steer clear of and a bunch I'll only play when I need a change of pace.
You'll almost definitely need to spring for the $4.99/month membership plan because only two of the four free titles are high quality, with the others offering nothing more than a barebones introduction to STEALTH.
Best Games in the STEALTH Catalog
STEALTH is only as good as its best games – and its best games are actually really fun. Here are the titles that'll make you excited to crawl onto the core trainer and work out every day.
Color Chase (Free): Roll a ball through a winding course, attempting to hit obstacles that are the same color as you. Every so often you'll go through a Color Gate that changes your color, meaning you'll need to pay close attention to upcoming hazards and carefully plan your moves if you want to get on the leaderboard.
Space Escape (Free): It's Doodle Jump, but the action is controlled by tilting side to side. This is one of the few instances in which a "knockoff" game actually works – and it's one of the best you'll find on STEALTH.
Treasure Hunt: This is a simple hidden object game, although the entire room will go dark after just a few seconds of searching. Once that happens, you'll need to twist and turn your body to move a flashlight and find your target.
Plank Timer: Hold a plank position as long as you can, earning bonus points for keeping your core centered on the target. It's a simple game but one I found myself returning to every day as I attempted to beat my old score.
Speed Racer: Played in a third-person perspective, you'll need to navigate the dangerous terrain and avoid geometric shapes hurtling toward you. The course becomes more elaborate the longer you last, with the game require gut-busting twists and turns once the timer hits the one-minute mark.
Baseline: Slowly work your way up a mountain by completing a series of challenging levels. Each level sees you keeping your core centered on a moving target, steadily increasing the time required for completion.
Mini Golf Mania: Each level might look like a mini-golf course, but this is essentially played like the old wooden Labyrinth games. Tilt your body to tilt the gameboard, navigate the "golf ball" toward the hole and avoid the moving obstacles and sand traps that get in your way.
The rest of its catalog consists of uninspired knockoff games, with Fitman – a hilarious Pac-Man clone – being the worst offender and a variety of less-than-exciting racing sims. STEALTH is at its best when it's not trying to emulate other titles and focuses on simple, engaging mini games. The smartphone app seems to be updated regularly, so let's hope more games like that are added in the future.
STEALTH is Sturdy, But Don't Stand on it
As I mentioned earlier, STEALTH isn't built for your feet. It's built for planks – and it's built well. I've pushed and pulled and tilted and turned, and STEALTH performs better than when it arrived. Its arm pads are comfortable for extended use, although I found my workouts limited to less than 15-minute intervals before needing to step away for a break.
For those shorts bursts you're using it, however, it instills you with confidence – not only is it entertaining to twist and turn the board, but there's something about the bright yellow that immediately tells you this thing is "fun."
Depending on your height, you might have to use the core trainer in different positions than others. For example, folks who are over six feet tall like me will need to grasp the front of the board to get their elbows on the pad, while shorter users should be able to easily put their entire forearm and hands on the cushion. It's not a dealbreaker – and STEALTH itself offers a quick guide letting you know either position is fine for the workout – but I've found myself worried on a few occasions that my dangling fingers would get pinched between the board and floor if I leaned too far during frantic game sessions.

Fast and Furious Exercise
If you've ever tried to hold a plank for more than a few minutes, you'll immediately understand how intense the STEALTH Core Trainer is. Not only are you holding a plank, but you're putting your arms on a wobbly exercise board, twisting your body as you try to beat your old high score. There's no doubt in my mind that STEALTH is offering a high-quality workout along with its high-quality games.
Depending on your current fitness level, however, your initial workouts might be quick ones. I've found myself typically setting games to run for two minutes, with my time consisting of 55 seconds of planking, ten seconds of resting and another 55 seconds of planking. I'll then repeat this multiple times depending on the day of the week. There's no option to program in a rest period, so you'll just need to keep an eye on the timer and create your own workout regimen.
You can make things easier on yourself by widening the space between your feet – or even dropping to your knees for a half plank – but it would have been nice to have a feature that automatically pauses the game for a rest period. As it stands, you'll need to get creative and come up with your own routine.
However, no matter how you use the STEALTH Core Trainer, know you'll be getting a full-body workout that'll have you sweating after just a few minutes. Unlike the friendly Wii Fit, STEALTH is a high-intensity workout board that's best played in short bursts.
STEALTH Offers a Gamified Workout, But it's No Wii Fit
The STEALTH Core Trainer isn't a spiritual successor to Wii Fit, but it still offers a surprisingly fun workout. Despite relying on the same planking mechanic for all its games, many of them bring something new to the table and give you an exciting reason to come back the next day.
Think of it this way – Wii Fit was a game first and a workout device second. The STEALTH Core Trainer is a workout device first and a game second. It's also meant to specifically work out your core muscles. When viewed with those limitations, you'll find STEALTH to offer an impressive amount of value. Only time will tell if the premium membership sees enough new games and updates to be worth the extra $4.99/month, but there's no doubt you're already getting an intense workout for your money – just remember not to stand on it.
More to consider:
Our editors strive to ensure that the information in this article is accurate as of the date published, but please keep in mind that offers can change. We encourage you to verify all terms and conditions of any product before you apply.